What could be better on a summer day than a freezer full of my new favorite treat: Homemade Chocolate Peanut Butter Ice Cream Sandwiches? 1-Bowl, tender, deeply chocolate wafers, stuffed with No-Churn Peanut Butter Cheesecake Ice Cream! Over the top? Of course! So good!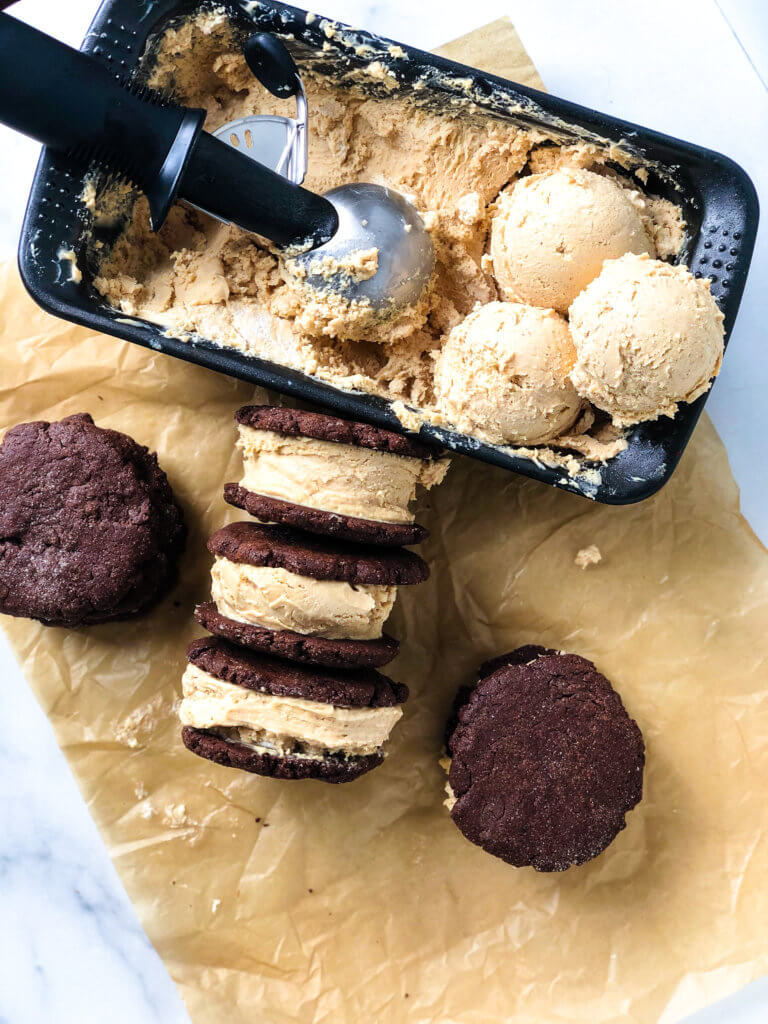 This Homemade Peanut Butter Ice Cream Sandwich recipe all started with a pie that I made several years ago, when my blog was just a baby. It was this fantastic and gorgeous Peanut Butter Pie, which was so so scrumptious that I've been dreaming of it ever since! It was something of a frozen Peanut Butter Cheesecake pie, covered top and bottom in chocolate. I mean, what's not to love with that combination? I love it so much, I've been trying to figure out a way to make it something I can have a slice of whenever I want, not just if I make a whole pie. You know, something like a hand pie.
As time went by, I busied myself with making a lot of other peanut butter recipes, and other pie recipes, but still this one was one I wanted to make a hand pie version of. But the more I thought about it, that's really what an ice cream sandwich is, isn't it? A hand pie version of an ice cream pie.
And that's where no-churn ice cream came in. I made the filling into a no-churn recipe, and Voila! Homemade Chocolate Peanut Butter Cheesecake Ice Cream Sandwiches. I know, that's a pretty long name. But they are delicious enough to deserve it, I promise!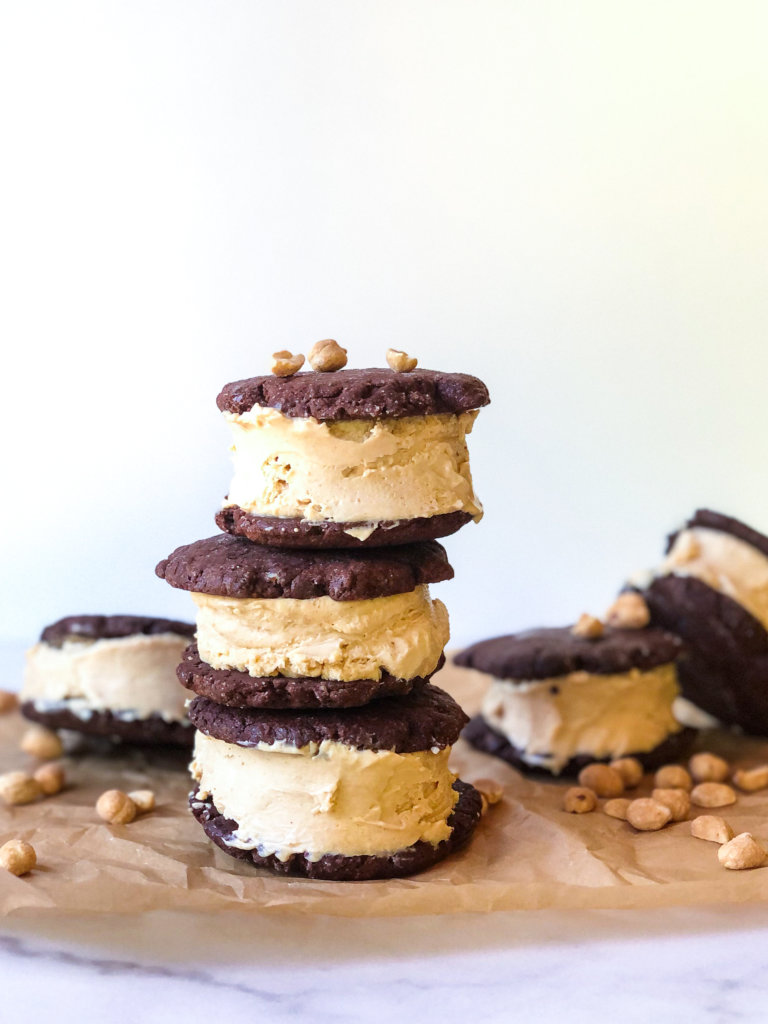 And, here's the deal with this recipe: You get the smooth and creamy no-churn peanut butter ice cream and the most scrumptious chocolate cookies. I had been tempted to just put the ice cream between chocolate graham crackers or those chocolate wafer cookies you can get, but I'm telling you, these wafers are SO MUCH BETTER – so much deep chocolate flavor! Perfectly textured for freezing and eating. Soft enough you won't feel like you're breaking a tooth. Chocolatey enough you may have just found your new favorite chocolate cookie, as well as your new favorite ice cream.
And, you don't need to make giant sandwiches like I did 😳. If you use the method of pressing the dough into a sheet pan or 13×9, you can cut them as small or large as you like. If you want to make smaller round cookies, just be sure to cut some time off of the 11-minute bake time.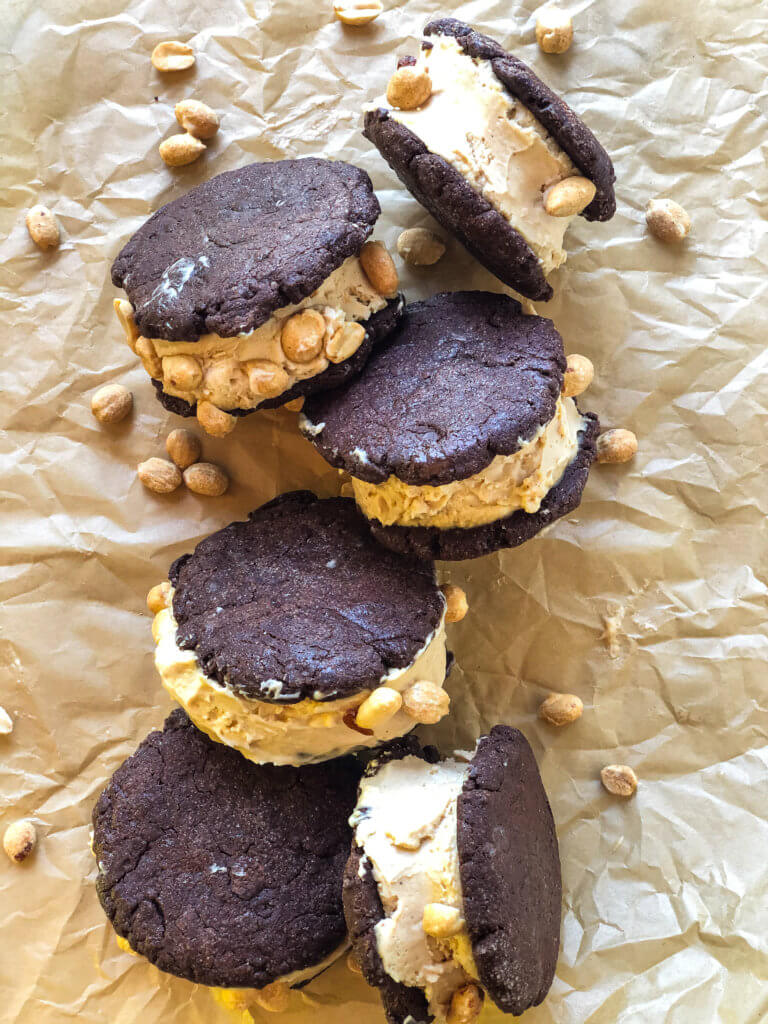 So make yourself a freezer full of hand pies! These ice cream sandwiches will become your favorite treat of the summer!
Enjoy!
If you love peanut butter, you'll love these recipes:
Oh-So-Good Peanut Butter Banoffee Pie
Old Fashioned Peanut Butter Sheet Cake
Easy Crunchy Peanut Butter Granola
No-Bake Chocolate Peanut Butter Cheesecake
If you want to try other no-churn flavors, how about these:
No Churn Key Lime Cheesecake Ice Cream
No Churn Salted Caramel Ice Cream
No Churn Chocolate Ice Cream with Pretzels and Popcorn
No Churn Salty Peanut Butter Ice Cream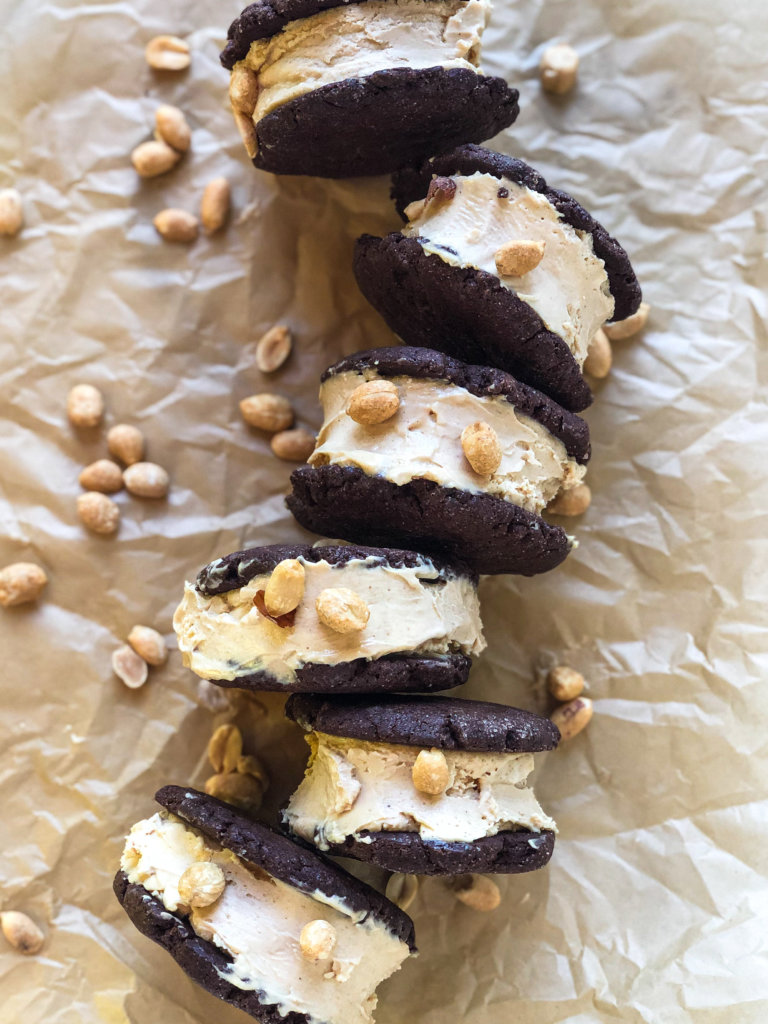 About the Recipe ->
I am an Amazon Affiliate, so please know any purchases you make through links provided on my page allow me to make a small commission, to maintain this site, but at no additional cost to you. The links I provide are in the section below labelled "Some items you may need to make this recipe".
The best thing about this recipe, besides just how yummy these sandwiches are, is how simple they are to make.
You can make either the ice cream or the wafers first. It doesn't matter, because with each, there's some waiting involved before you can eat the sandwiches. And, it's best to freeze them overnight (or at least most of a day) before serving them.
But I made the wafer (cookies first). These cookies, from Martha Stewart, are deeply, intensely chocolate. Not too sweet, but nice and tender and chewy. They maintain this texture when freezing so you won't be biting into an ice block. And, it's a simple one-bowl recipe that you'll just scoop the dough onto a sheet pan and bake, then cool.
Such a simple recipe: first, you'll melt the chocolates and butter, then add sugar and salt, fold in the flour, and refrigerate to firm it up a bit. One hour should do. Just don't let it chill much longer as it can get really hard, and you'd be unable to work with it until it warms up a bit.
In the recipe, you might see that there are several different ways to form the wafers. I found the dough pretty sticky, so I decided to just scoop it rather than roll it out. This made for a more "rustic"-style cookie, rather than formed with a shaped cutter. I also experimented with patting the dough into a 2-13×9 pans, (you could also use a single half-sheet pan), and that worked nicely, too. This made thinner square or rectangle wafers. You can try to roll the dough if you want, but these two ways worked perfectly fine without rolling.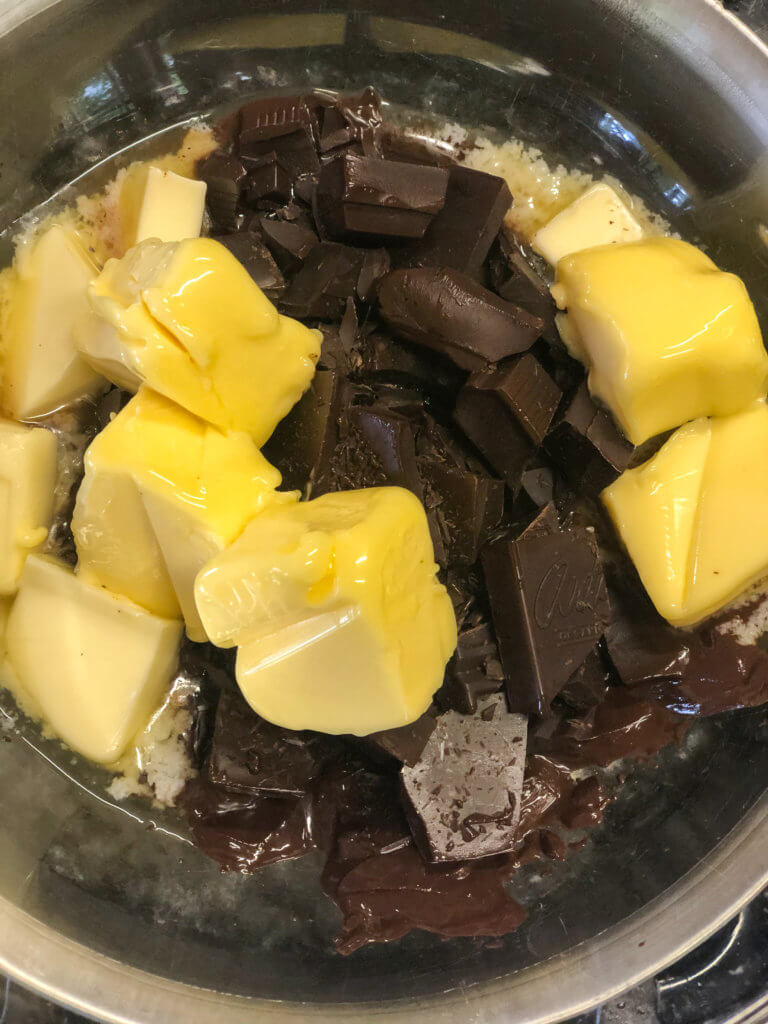 While the cookies were in the oven, I started the ice cream. Again, a super-easy no churn, where you mix all the ingredients except for the sweetened whipped cream first. Then, you'll mix in a bit of the cream to lighten the peanut butter mixture, followed by gently folding in the rest of the whipped cream. Pop it into the freezer for at least 3 hours until it's scoopable to make the sandwiches.
I hope you enjoy these as much as we did! They are super-scrumptious! Depending on which method you use for the wafers, you'll be able to get 12-18 sandwiches. Using the "scoop and press" method, I got 14!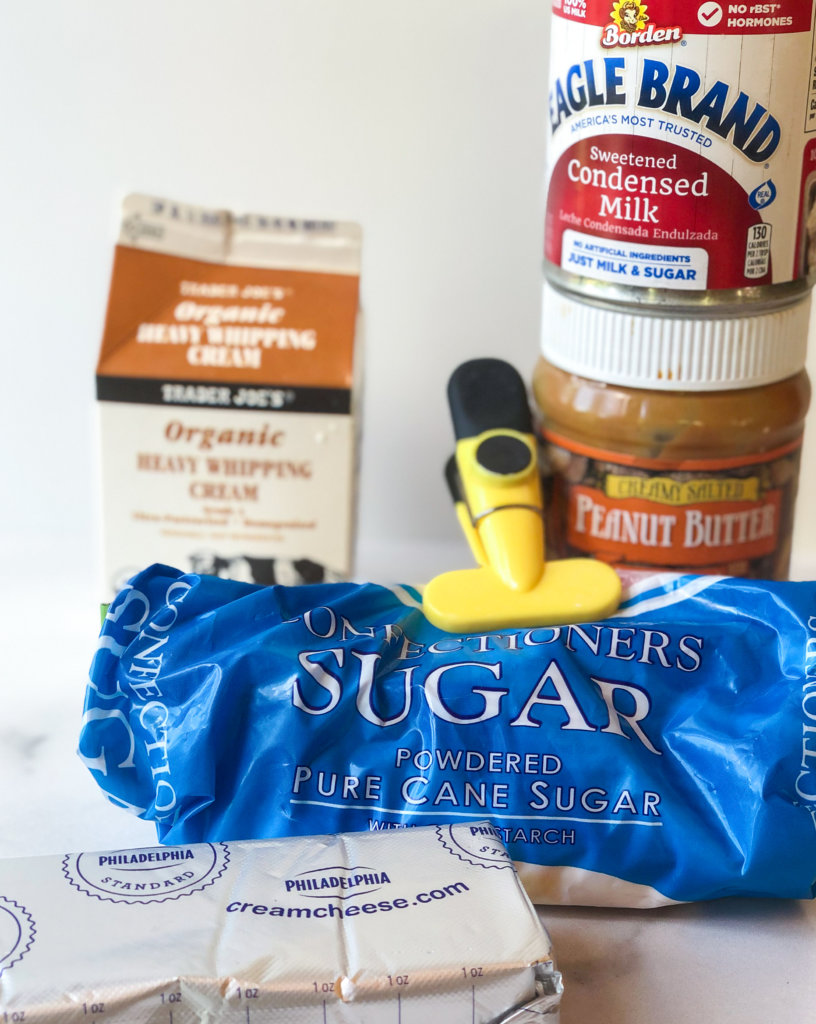 Some items you might need to make this recipe:
PIN Homemade Chocolate Peanut Butter No Churn Sandwiches ->
Print
Peanut Butter Ice Cream Sandwiches
My inspiration to make this recipe was from a frozen peanut butter pie I made years ago. It was so peanut-buttery, and contained cream cheese for a Peanut Butter Cheesecake flavor! I loved it so much, I decided to make a hand-held version of that frozen treat! 
The super-chocolatey, tender, not overly sweet wafer recipe is adapted from Martha Stewart. I found the dough a little sticky, so instead of rolling it out and shaping, I scooped and smashed the dough for baking. You could also pat it into a baking sheet then cut into squares once it is baked.
Ingredients
For the Wafers:
5 oz

. (

142g

) Semi-sweet chocolate

4 oz

. (

114g

) Unsweetened Chocolate

3/4

c (170g, 1 1/2 sticks) Butter

1 tsp

Salt

1 1/2

c (290g) Granulated Sugar

3

Large Eggs

2 1/4

c (270g) All-Purpose Flour
Extra sugar for pressing the cookies
For the No-Churn Ice Cream:
14

-oz. (396g) Can Sweetened Condensed Milk

1

c (256g) Smooth Peanut Butter – I used All-natural, stirred well

1/2 tsp

Salt

8 oz

. (

227g

) Cream Cheese – ROOM TEMP

2

c (1 pint, 473 ml) Heavy Whipping Cream

4 Tbsp

(

25g

) Confectioner's Sugar
Instructions
Make the Wafers:
In a heatproof bowl, set over simmering water, melt together the semi-sweet chocolate, unsweetened chocolate and butter until completely smooth. Whisk (or stir) in the salt and sugar until nicely incorporated, and remove the bowl from the heat.
Add the eggs in, one at a time, until completely incorporated. Fold in the flour. Let cool to room temperature. Then cover with plastic and refrigerate an hour. (If you refrigerate longer, the dough will be too stiff to roll or press.)
Heat oven to 350F (Conventional) or 335F (Convection/Fan)
Using a Medium Cookie Dough Scoop (#40, or 2 Tbsp), Scoop balls of dough onto a parchment-lined baking sheet, around 8 per sheet. Sprinkle a pinch of sugar over the top of each ball, and press down with the bottom of a cup or glass to around 2 3/4″ – 3″ diameter. (See Note 1 for other methods)
Bake in preheated oven 11 minutes. Remove to cool a few minutes in pan, then transfer to a wire cooling rack to cool completely.
Make the No-Churn Peanut Butter Ice Cream:
Place the bowl in which you will be whipping the cream in the freezer to chill. In the meantime, stir whisk together the Sweetened Condensed Milk, Peanut Butter, Salt, and room temperature cream cheese, until smooth.
Into the chilled bowl, pour the cold whipping cream and confectioners sugar. Whip until cream is fluffy and peaks are nearly stiff. 
Take about a quarter of the cream and gently stir it into the peanut butter mixture. This will "lighten" the mixture a bit. Then gently fold the rest of the cream into the peanut butter mixture until incorporated and very few streaks, if any, are visible. You'll want it to retain as much "fluffiness" as you can.
Pour the finished mixture into a loaf pan, bowl or container that holds around 2 liters. Cover and freeze 3 hours before scooping onto fully cooled wafers.
Make the Ice Cream Sandwiches:
Using a large scoop (1/3-1/2 cup, (80-120ml), place scoops of chilled, but not completely firm ice cream between 2 wafers. Press gently to make a sandwich. Wrap each sandwich individually or place in covered container to freeze completely, preferably overnight, before serving.
Notes
Instead of scooping and pressing, there are 2 other options. First, you could roll out the dough and cut into shapes using cookie or biscuit cutters. To do this, sprinkle your surface with SUGAR, roll the dough to 1/4″ thick, then cut into desired shapes and bake as directed. Alternatively, you could press the dough into a half-sheet pan, or 2-13×9 baking pans. I lined mine with parchment for easy removal. It ends up being about 1/4″ thick. Bake 14 minutes. Once baked, let cool 10 minutes, remove from pan, and slice into squares or rectangles. Let cool completely.
Recipe Card powered by