All the joyful flavor of Greek Salad in a super quick and easy dip! Perfect for a Barbecue or Cocktail party!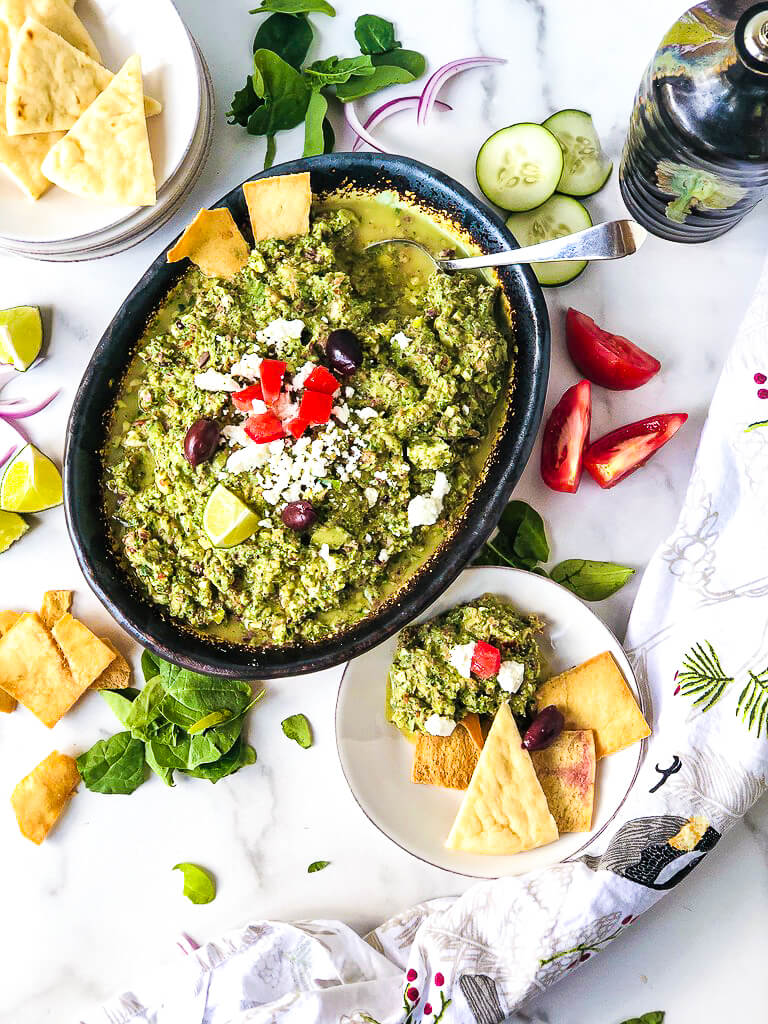 I first tasted Greek Salad at my first job. As a teenager, I was a carhop. Not the kind on skates – I know you were going to ask, because everyone does. But no, just on foot. Skates would've been a bit disastrous on those restaurant floors. We had 14 stations for cars, and often, all 14 were full. They would ring the buzzer, and we would take their order from the restaurant kitchen, then bring the food out to their cars. We did have trays, where we set the food, right outside a car window. And everyone loved our "Big Buster", an improved version of that other double-decker burger. We also served a "Frosty," which actually was invented before that other famous Frosty. Customers were friendly, tips were good.
Anyway, one day a new item popped up on our menu. "Greek Salad"! Always the greatest flavor, but second salad on our menu, only to our classic "Chef's Salad". It was a Romaine-based salad, complete with Feta Cheese, red onion, Kalamata Olives, Beets, Pineapple … you know, all the traditional ingredients. Wait….what? Beets? Pineapple? Yes, indeed, beets and pineapple. Don't ask me, I just worked there. Maybe not traditional (or is it?), but, strangely, tasty! And very popular!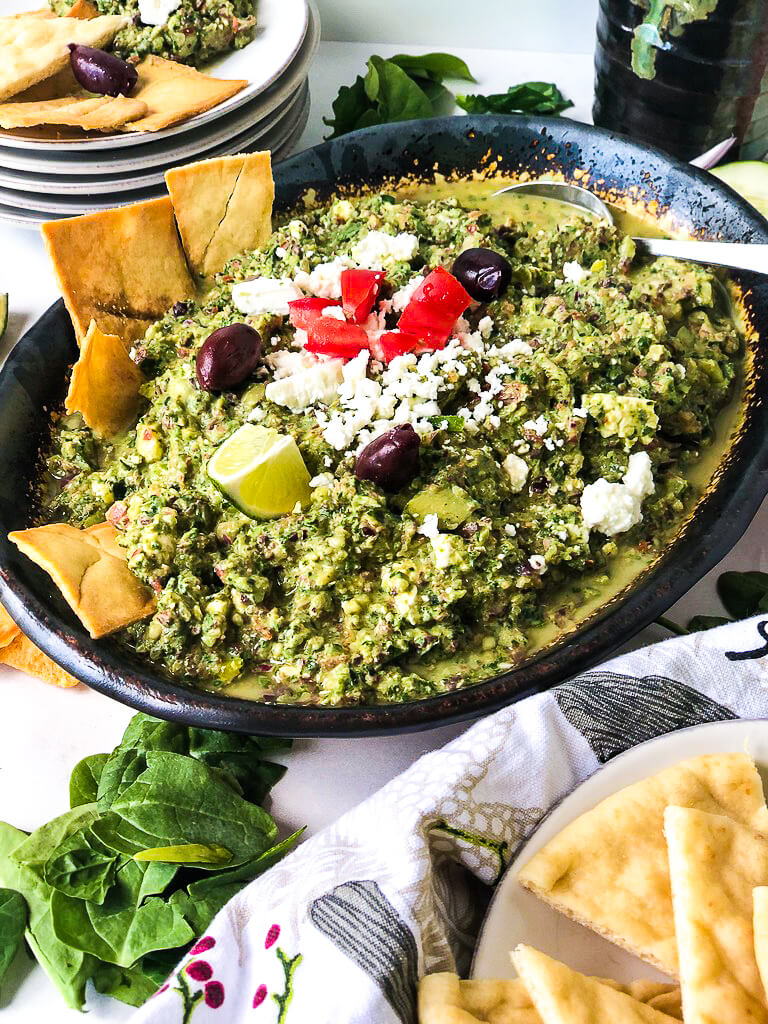 One thing I learned working in restaurants through high school and college is that awesome flavor can happen with just a few minutes of work. Starting with fresh flavorful ingredients is always the first step. And this Greek Salad Dip is one of those super-easy and loaded-with-flavor dishes for which EVERYONE wants the recipe. Fresh, juicy tomatoes, crispy cucumbers, briny Kalamata Olives, Pepperoncini peppers, a bit of red onion, and earthy feta cheese. I don't know about you, but to me, these flavors are positively JOYFUL!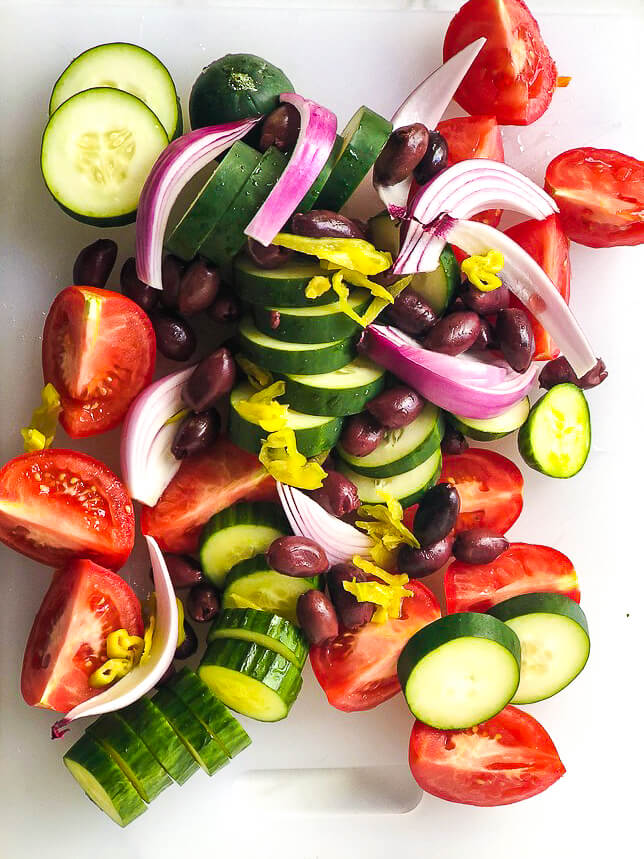 This dip does not contain pineapple, by the way. Nor beets. But maybe you can tell me – are those ingredients traditional? Please, please, let me know if you've ever had these ingredients in YOUR Greek Salad!
Enjoy!
If you're looking for appetizers or dips, don't miss these:
Muhammara – a Middle-Eastern red pepper and walnut spread
Super Crispy Oven Fried Buffalo Wings
Other Greek/Meditteranean flavors can be found here:
Grilled Greek Salad with Gyros Meat
Sheetpan Greek Chicken with Vegetables
Doner Kebab with Lamb and Pita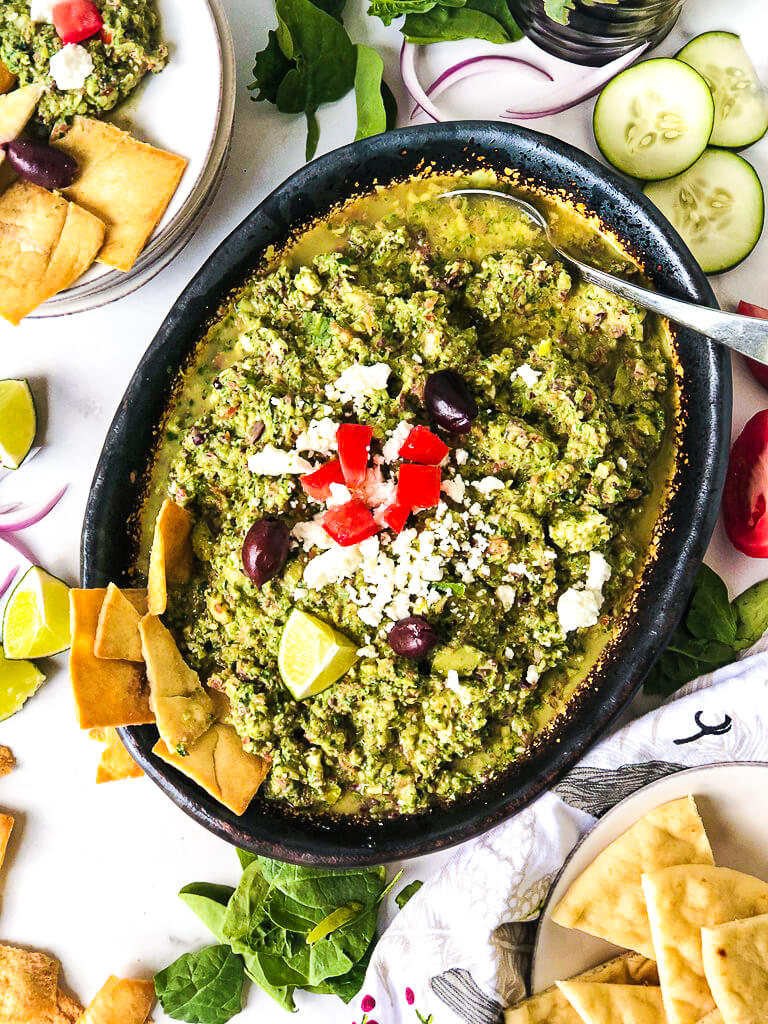 Greek Salad Dip Details ->
I am an Amazon Affiliate, so please know any purchases you make through links provided on my page allow me to make a small comission, to maintain this site, but at no additional cost to you.
This Greek Salad Dip is adapted from a recipe from Amy Schumer and Chris Fischer, as seen on "Amy Schumer Learns to Cook." Highly recommend that show – on Food Network. I adapted the recipe I found on Food Network. Since I love the brininess of Greek Salad, I added some additional brine in the form of pepperoncini peppers and also some red onion for some bite. This recipe is ideal for a gathering, because it has all the salty-briny flavor of Greek Salad in a hand-held form. Just dip with a chip or a toasted pita – so much flavor!
The best things about this recipe are:
Super Quick and Easy Prep! I made this in just a few minutes in my food processor (This is the one I have – I love it!). Just two steps: process the vegetables in a food processor, drain them while you whiz up the yogurt and spinach. Then mix. So simple! You could make the yogurt sauce in a blender, if you like, but a blender would tend to liquify the vegetable portion – something you don't want for this dip.
The longer you drain the processed vegetables, the better. And even though I added some extra brine from the pepperoncinis, it's because I wanted that flavor in there. It does coat the vegetables, even though most drains off ultimately. So be patient, stir the veg around a bit in your colander, and it will drain nicely.
Greek Yogurt adds some creaminess. I wanted to make the dip as "creamy" as I could. So I thought about adding an avocado for some extra creaminess, but decided not to, as it would likely brown quickly and I wanted to preserve the color. Instead, I used the thickest yogurt I could find, Greek Yogurt. Full fat would be best, but you could use 2% as well.
It's Super Healthy! Seriously, just look at the ingredients – it's just vegetables and yogurt! Vitamins, fiber, calcium, protein! It's all in there!
So Versatile! I used it not only as a dip, but as a topping for salmon, and additionally in a pita sandwich with some chicken and a big pile of Greek Salad Dip! So delicious!
Flavor for days! The yogurt is so flavorful, and like many dishes, improves as time goes by. Store refrigerated, and it will last a day or two more, if there's any left!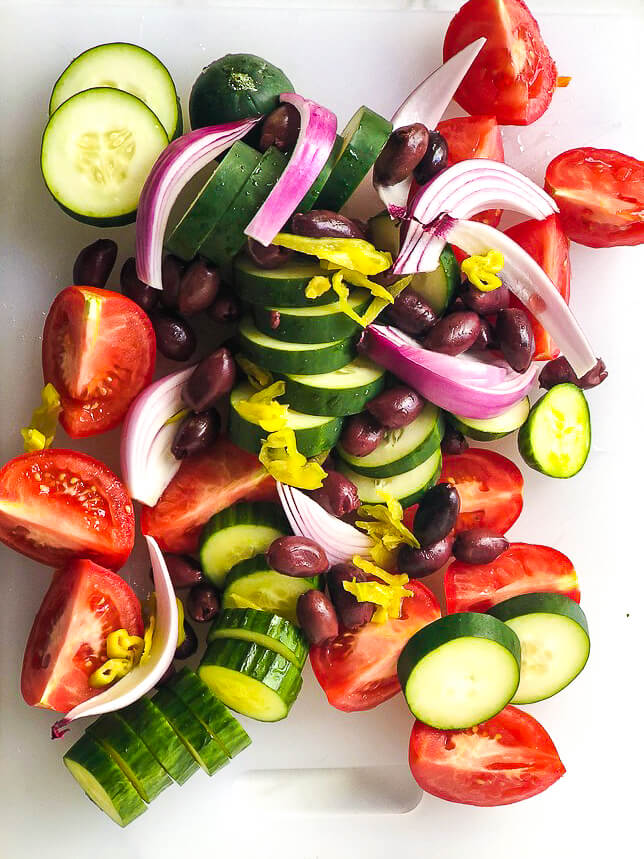 PIN this recipe for later ->
Print
Greek Salad Dip
From Chris Fischer and Amy Schumer, I adapted this recipe by adding pepperoncini peppers for a bit more brine and some red onions, for a little extra bite. The key to this recipe is draining the cucumber-tomato portion really well. Otherwise it will be a little "wet". Still delicious, though!
Special equipment needed: A food processor, or a really good vegetable chopper. You could substitute a blender, but that would tend to liquify the ingredients instead of finely chop them, so I wouldn't recommend using the blender for the veg, although you could use it for the yogurt mixture.
Author:
Prep Time:

15 min

Total Time:

15 minutes

Yield:

3 1/2

–

4

cups

1

x
Category:

Dips and Spreads

Cuisine:

Mediterranean
Ingredients
2

Medium Cucumbers, sliced

2

large, or 3 medium Tomatoes (about

400g

total), quartered

1 cup

(

130g

) Pitted Kalamata Olives

1/4

Large Red Onion, sliced thinly

2 Tbsp

(30ml)Pickled Pepperoncini Peppers, with 2 t brine from the jar

5 oz

(

150g

) Baby Spinach leaves

1 1/2

c (360 ml)Plain Greek Yogurt, Whole milk or

2

%

1 Tbsp

(15ml) Extra Virgin Olive Oil
Kosher Salt

1

c (about

4 oz

, or

114g

) Crumbled Feta cheese
Juice of

1/2

–

1

lime (about

2

–

5

tsp or

10

–

25

ml)
Pita Chips, Totilla Chips, crackers or toasted pita bread triangles, for serving
Instructions
Into the bowl of your food processor, place the sliced cucumbers, quartered tomatoes, pitted olives, onion, and pepperoncini peppers. Process until everything is finely chopped. Then pour the mixture into a colander or sieve to drain. You'll drain off a lot of liquid. Drain as much as you like or can, because the dip will exude a bit more once it's made.
Once the processor bowl is empty, (or use a blender), process the yogurt and spinach, until there are no (or very few) bits of spinach. Drizzle in the olive oil and give it one last pulse or two to combine. Pour the yogurt mixture into a large bowl and stir in the crumbled feta.
Add the drained vegetables to the yogurt mixture, along with the lime juice and salt to taste, likely 1/2 to 1 teaspoon.
Serve with chips or pita bread. Cover and refrigerate any leftover.
Keywords: Greek Salad, Dip, Greek, Easy, Appetizer, Vegan Adaptable
Recipe Card powered by