There's a reason Crispy Oven Fried Chicken Wings are a Must-make Game Day treat! They are so easy! And shatteringly crispy! And, Oh, that sauce!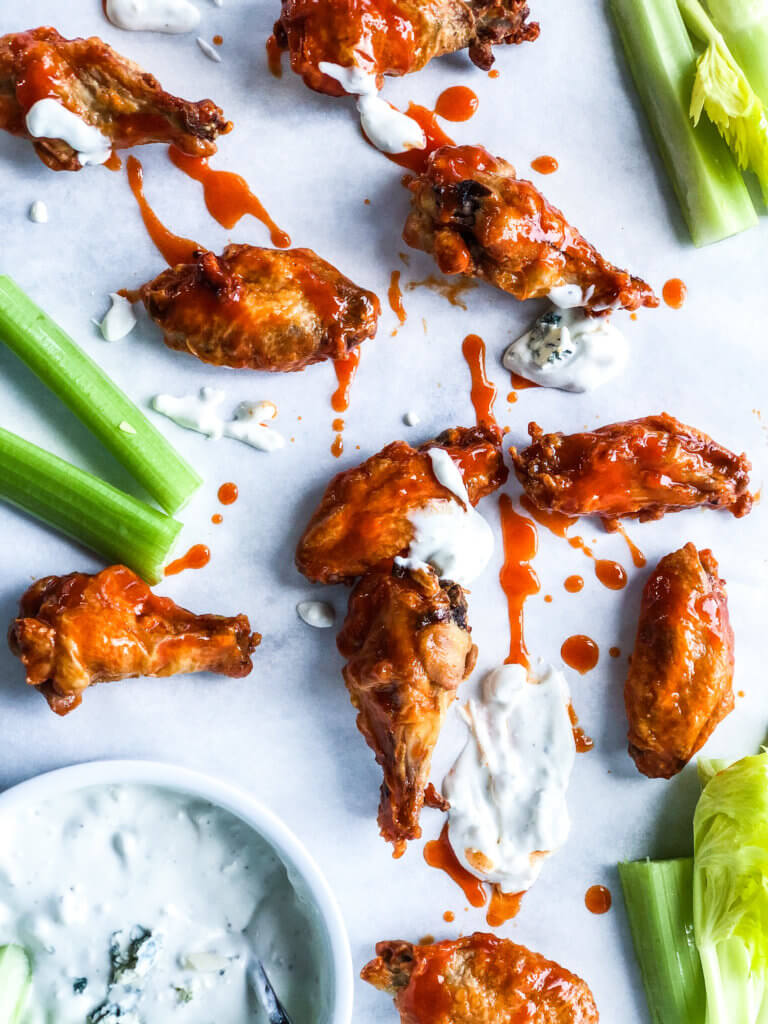 Have you ever heard of a "SuperTaster"? These are people who taste foods so sensitively, they can detect small amounts of flavors in each dish. Doesn't that sound dreamy? "Ooh, do I detect a hint of tarragon?" Of course there's the flip side. They often dislike intensely flavored, super-sour, or spicy foods, and are especially sensitive to bitter flavors. I used to think I would like to be a supertaster, but if I couldn't enjoy spicy food… or bitter flavors…or tart flavors….well, that would be devastating! Learn more about supertasters here. And, if I couldn't enjoy those flavors, I imagine these Crispy Oven Fried Chicken Wings with Buffalo Sauce would be off-limits for many reasons. 😱
Fortunately, most of us are not SuperTasters, so we all NEED to know how to crisp up our chicken wings for game day, or any random Tuesday. But, now that I know the secret ingredient, I'll be using it for chicken in general, not just wings!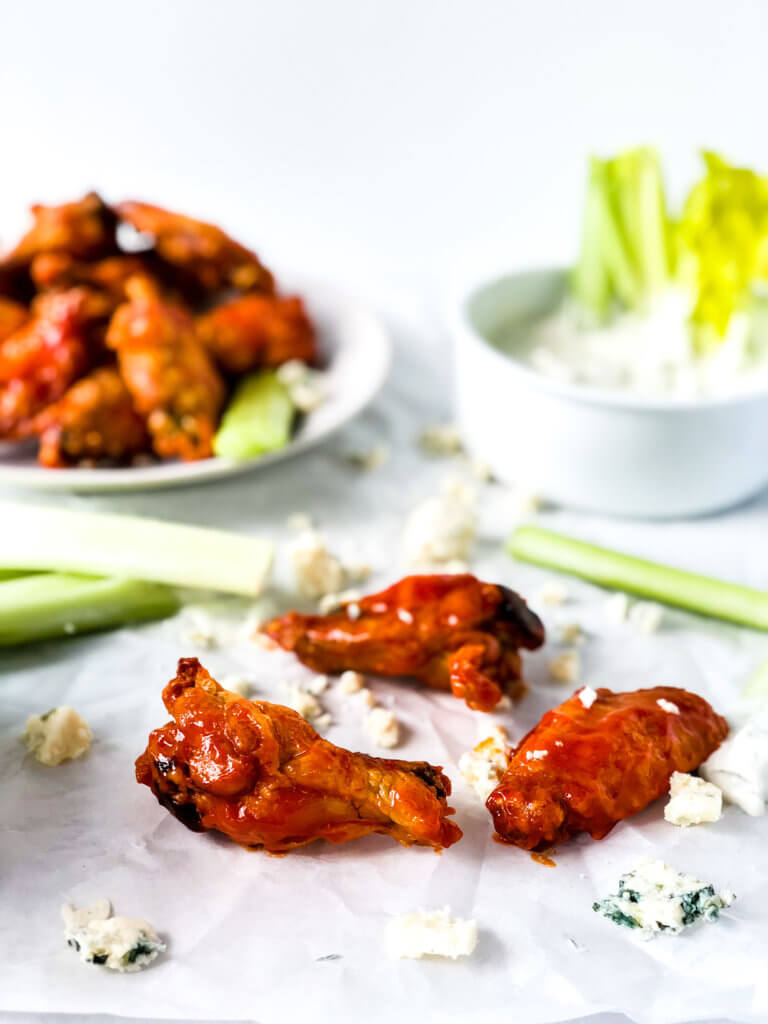 These wings, I promise, are shatteringly crispy! Roll them around in some simple to make buffalo sauce, and it's heaven! This method was perfected by the folks at Cook's Illustrated, who are responsible for so many excellent recipes. And this one is no exception. 
Just a little bit of baking powder is enough to dry out the chicken skin so it exudes a bit of fat at low temperature, then crisps nicely when the heat turns up. So you'll be baking the wings 30 minutes at a low temp, then turning up the heat for an additional 40-50 minutes. And making the sauce is easy as can be, just mix all the ingredients in a saucepan and heat them up. 
So, I'm hoping you love Crispy Oven-Fried Chicken Wings as much as I do! And add some buffalo sauce, (unless, of course, you're a supertaster,) and need to eat them plain. Either way, it's the new way to "fry" some chicken wings!
Enjoy!
If you're looking for appetizers, don't miss this enticing and flavorful Muhammara Dip and don't forget some Peanut Butter Swirled Brownies for a sweet treat!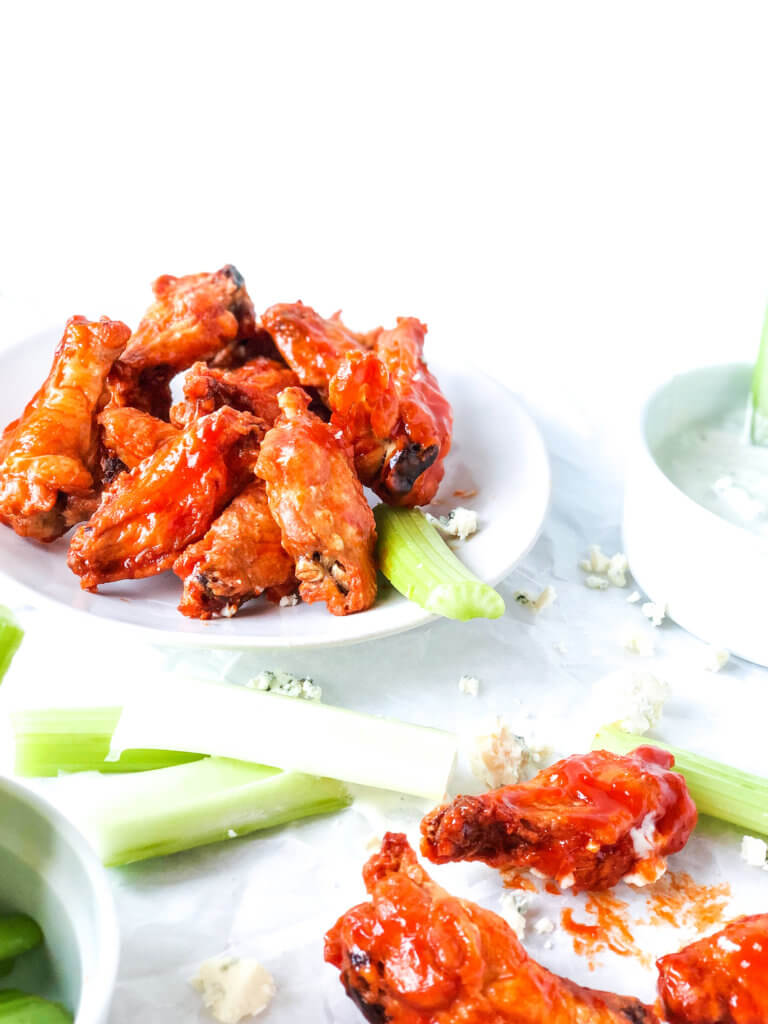 Buffalo Wings Recipe Tips:
The miracle that is baking powder is what brings us these truly crispy wings. Baking powder dries out the skin, enabling it to crisp so nicely. 
This easy recipe involves just shaking up the pre-cut wing pieces that you can purchase by the pound at most grocery stores (drumettes and wingettes) with a little baking powder and some salt. Best to do the shaking in a large zippered bag. Then, lay them across a rack on a foil-covered sheet pan. [This Sheet Pan and Rack (#ad) by USA Pan are excellent quality!] It's ok if they touch! Bake at a low temperature (250F) for 30 minutes. This will melt some of the fat from the skin, to begin the crisping process, as well as keep the meat moist. Then, turn that temperature up to 425F for a good 40-50 minutes until the wings are crisp.
This somewhat long cook time gives you ample time to make some blue cheese dressing – so easy, just mix together all of the ingredients. Also making the wing sauce, which you can do in a small pan, or microwave, again, just mixing all ingredients together. Then just toss the crispy wings in the sauce and you have Crispy Buffalo Wings, right from you oven!
What if you have whole chicken wings instead of drumettes and wingettes?  The best thing to do is to cut them into the 3 parts: drumette, wingette, and flapper. This video from The Cookful shows and tells how to cut them into these easily edible pieces. You can use the flapper if you want, or just use it to make chicken stock, which is always nice to have on hand.
This is a big recipe. What do I do with leftovers? You can store leftovers, once fully at room temperature, covered in the fridge for several days. Unfortunately, they do lose much of their crispness once refrigerated. But they are still delicious!
Can I use this method with other chicken pieces, like drumsticks or thighs? I've used it to make oven-fried chicken, and can report that indeed it does work. Be sure to use the baking powder with "no added aluminum", though, for optimal flavor, as you won't get a sort of "metallic" taste. Use about 4 teaspoons for 3 lb chicken pieces.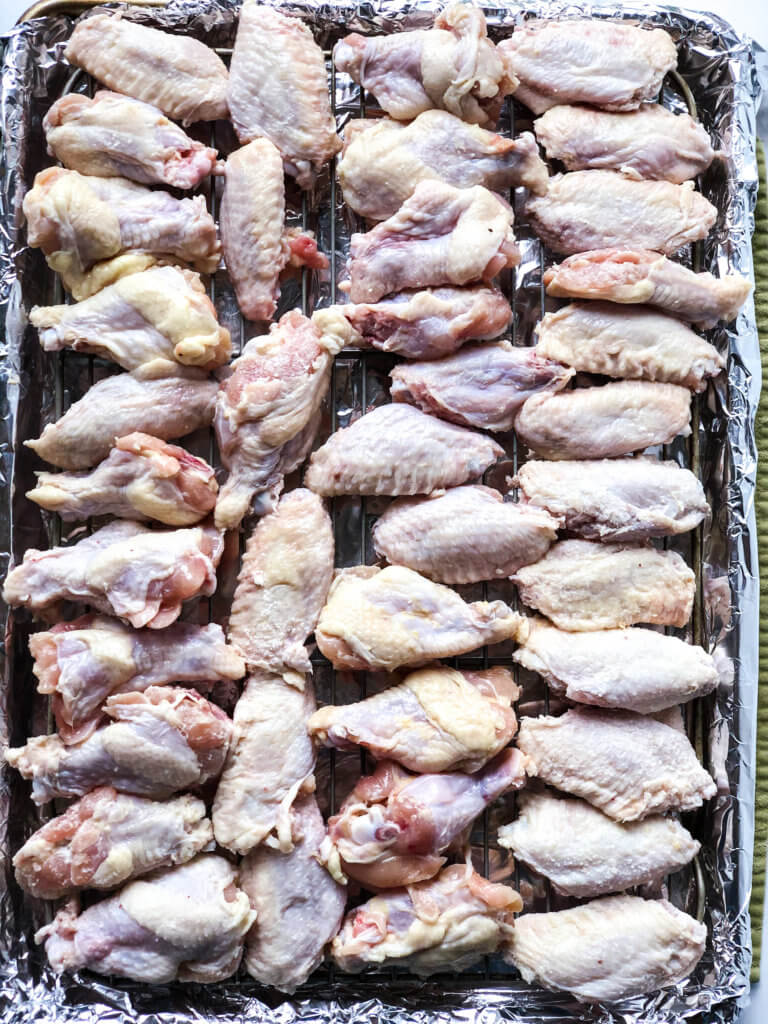 Print
Crispy Oven Fried Chicken Wings with Buffalo Sauce
Adapted from a recipe from Cook's Illustrated, as seen on Recipe Tin Eats. Both fine sources of cooking excellence! I adapted this recipe only very slightly to my tastes and preferences, but the Blue Cheese dressing recipe is my own. (Feel free to substitute jarred dressing if you like!)
The brilliance of this recipe is that baking powder crisps the wings to perfection, and the low cook renders the fat from the skin, while the subsequent higher temperature then crisps the wings. These wings are excellent!
Equipment needed:
12×18 rimmed half-sheet pan
cooking rack to fit the sheetpan
foil
large zippered plastic bag
Author:
Prep Time:

15 min

Cook Time:

1 hr, 20 min

Total Time:

1 hr, 35 min

Yield:

8

–

10

servings

1

x
Category:

Appetizer

Method:

Bake

Cuisine:

American
Ingredients
Wing Ingredients:
4

lb. Raw Chicken Wing Drummettes and Wingettes

5 tsp

. Baking Powder (Non-Aluminum preferred!)

1 tsp

. Salt
Buffalo Sauce:
1/2

c Frank's Hot Sauce

2

T Brown Sugar (dark or light)

2

T Butter

1/2

t Salt
A few grinds of black pepper
Blue Cheese Dressing:
1/2 cup

crumbled Blue Cheese (any variety, such as Roquefort or Gorgonzola)

1/4

c Mayonnaise

1/2

c Plain Greek Yogurt (Full fat or 2%)

2

–

3

T Lemon Juice, to taste

1/2

t Salt
Pepper, to taste
For Serving:
Celery sticks and/or carrot sticks
Instructions
Prepare Wings:
Prepare sheet pan by lining it with foil, and placing a greased or sprayed wire baking rack into the sheet pan. Preheat oven to 250F, and position oven rack at its lowest level.
Dry the Drumettes and Wingettes well with paper towels. The dryer the skin is, the crispier the wing will be.
Place the wing parts in a zippered bag. Spoon in the baking powder and salt. Shake bag well so ingredients are well distributed over all of the wing pieces.
Line the rack in the sheetpan with coated wing pieces, skin side down. They will shrink a bit while baking, so it's ok if they touch a bit. The sheetpan should fit 4 lb, or little more, of wing pieces. Place coated wings in the oven for 30 minutes.
After 30 minutes, place the baking sheet with wings on an oven rack in the top third of your oven, and increase heat to 425F.
Bake for 40-50 minutes, turning wings to skin-side up after 15 or 20 minutes. Leave in oven until they are golden brown and crispy.
Prepare Sauces:
While wings are cooking, prepare the blue cheese sauce. Mix together the mayonnaise and yogurt (or sour cream). Mash in the blue cheese crumbles. Add salt and pepper, and lemon juice to taste. I used the full 3 Tablespoons. If it's a little too thick, thin it out with a bit of milk.
Just before wings are done, prepare the Buffalo sauce by mixing all ingredients over Medium-low heat in a small saucepan. Stir occasionally while heating until bubbly. 
Pour the buffalo sauce into a large bowl. When wings are done, place them all in the bowl with the buffalo sauce. Using tongs or a large teflon spatula, mix the wings and sauce together until all wings are coated.
Serve sauced wings with celery sticks and blue cheese, if desired.
Keywords: Chicken Wings, Baked, Crispy, Buffalo, Sauce
Recipe Card powered by
PIN Oven Fried Buffalo Wings ->