Blood Orange Olive Oil Loaf has the amazing texture of a pound cake. It is so moist and alluringly fragrant, you might just want to make 2, so you can try both the glazes!
Back in the day, when I was maybe 7 or 8, my Mom made this certain cake. Then, a few weeks later, she made it again. And again a couple weeks after that. She must've loved that cake! We loved it, too, and we especially loved its funny name: Harvey Wallbanger Cake. It was so tasty, and had this sort of mystery flavor and aroma that was so enticing. But we just couldn't figure out what that mystery was or why it was so awesome.
So, of course what Mom didn't tell us, and likely would've possibly resulted in outright refusal of cake by six cake-loving little girls, was that "Harvey Wallbanger" is a cocktail, which is made with orange juice, vodka and Galliano, an herbal-flavored liqueur which is vaguely citrus, vaguely anise- and vanilla-flavored. And so the cake contained the actual alcohol. Never mind the alcohol itself bakes out of the cake, but leaves those flavors along with a certain, I don't know, a certain "essence." It was one of my favorite cakes ever!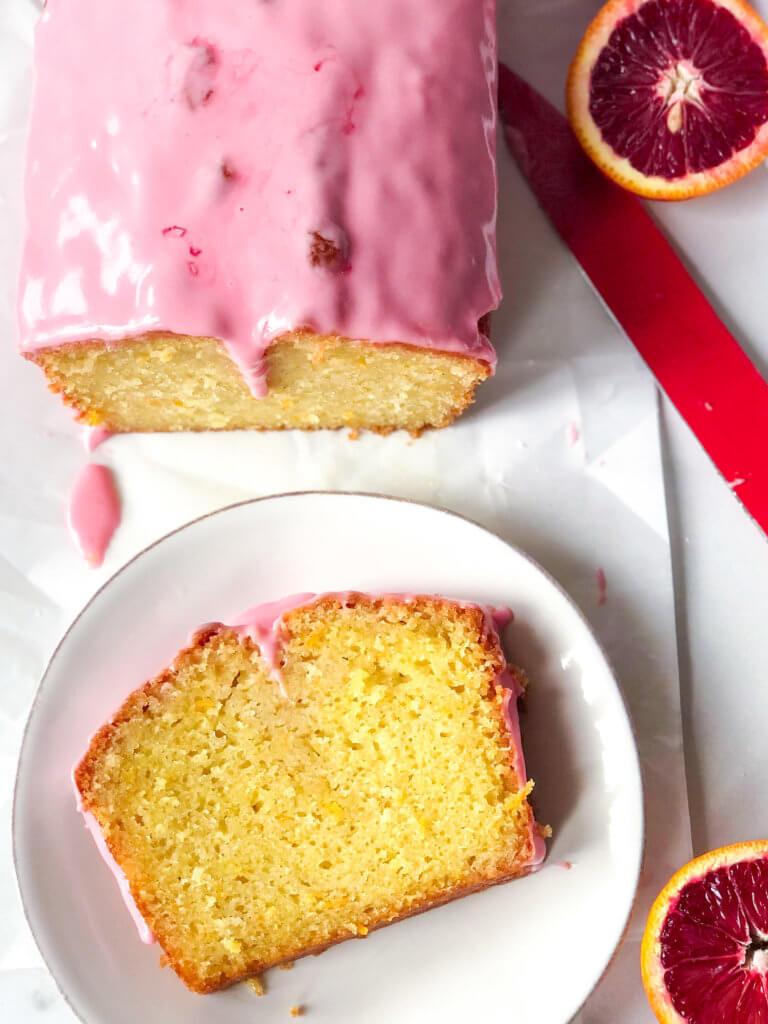 That cake was all the rage in the early 1970s. It was generally made with a boxed yellow cake mix, and jazzed up with some orange juice and some Galliano and often a nice shot of vodka, to boot. Then, it was topped with a glaze that included Galliano liqueur. Thus the "essence" we found we actually loved as kids. Don't worry, some of us we turned out just fine.😉 (King Arthur Flour has a from-scratch recipe for the Harvey Wallbanger cake, or you can find the box mix recipe at The Spruce Eats)
The memory of that cake and all it was made me excited to make this recipe for a Blood Orange Olive Oil Loaf Cake that includes an orange liqueur. The cake's texture is very much that of a poundcake, but is made with olive oil instead of butter, so remains very moist for many days. And the orange liqueur adds that flavorful essence we loved even as kids. Inspired by and liberally adapted from this recipe from Epicurious, I made my Glazed Orange Loaf Cake with Blood Oranges and Grand Marnier, but you could substitute Cointreau or Triple Sec as a liqueur perfectly well, if that's what you have, or prefer.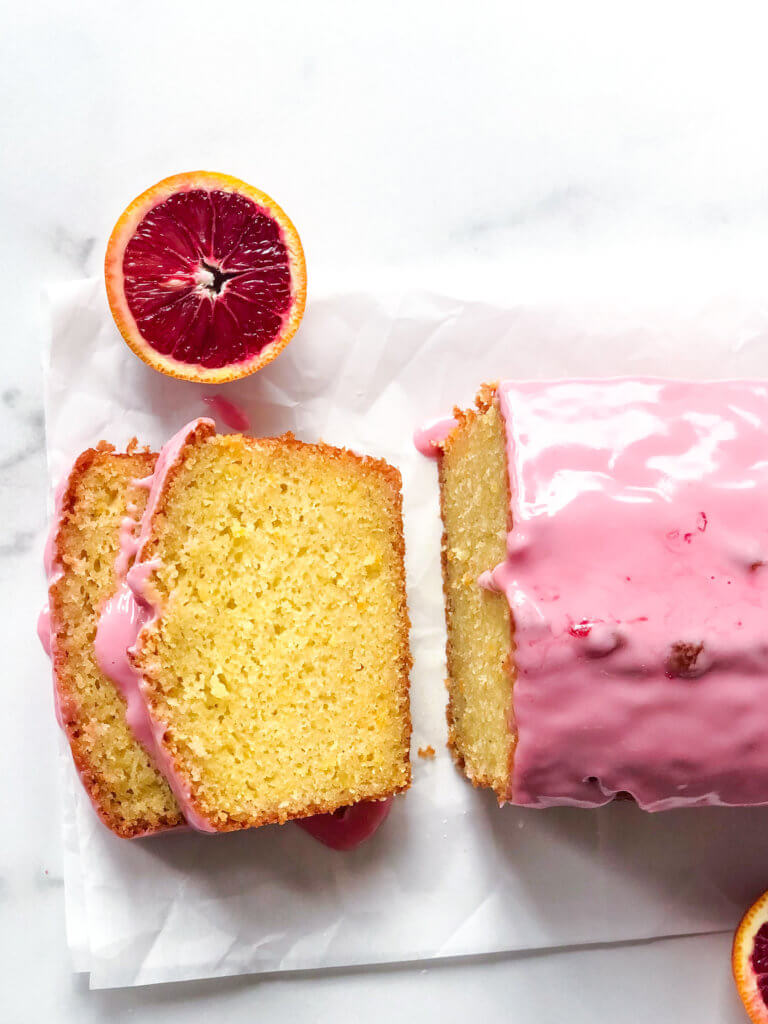 My family LOVED this cake, as much as we loved my Mom's Harvey Wallbanger Cake! As far as I'm concerned, this Blood Orange Olive Oil Loaf is the NEW Harvey Wallbanger! But, I'm curious, have you ever even heard of Harvey Wallbanger Cake? Have you ever tried it? 
Enjoy!
Looking for other loaf cakes? How about this Pumpkin Chocolate Chip Loaf or my White Chocolate Cranberry Loaf or this truly memorable Banana Bread?
Other great citrus flavors can be found in my favorite Key Lime Tart or these Blueberry Lemon Hand Pies.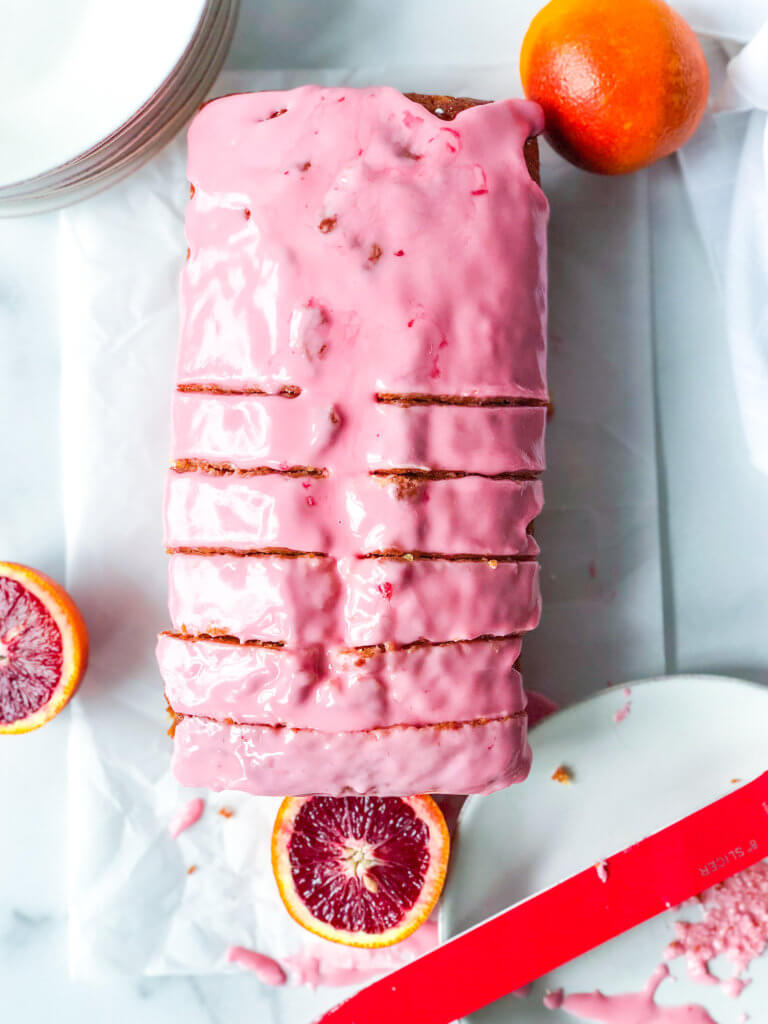 Blood Orange Cake Recipe Details->
Affiliate Disclosure: As an Amazon affiliate, I earn a small comission from purchases of products to which I link in posts, at no cost to you. For more information, please click on "Privacy" in the menu at top of post.
This recipe is super-easy and super-quick to put together. What takes the longest is juicing and zesting the blood oranges and zesting the lemon. From there, just gather and measure the rest of the ingredients. It will take less than 10 minutes to make the batter.
First, preheat your oven, and prepare your loaf pan (This one, from USA Pan, is a favorite!). I like to be able to lift my cake out of the pan rather than dump it. So I spray the pan with baking spray, line it with a parchment sheet, then spray the parchment.
You'll want to have two Mixing bowls. In the first (a medium bowl), whisk together flour, baking powder and salt. In the second, larger bowl, whisk the 3 eggs and the sugar. Then whisk in the remaining wet ingredients, including the zest and juice. Finally whisk the dry ingredients (medium bowl) into the wet ingredients (large bowl). The end batter will be pretty thin. But no worries, it will all work out.
Bake until the cake is golden brown, likely cracked down the middle, and a tester inserted into the middle comes out clean. For me this took about 64 minutes.
Then, you can glaze the cake if you like. There are two types of glazes. One is a syrup glaze, made from blood orange juice and granulated sugar. You'll want to use a pastry brush and spread it over the entire surface of the cake. This will create a shiny top and likely crisp up the outside of the cake a bit when it "hardens".
The second type is the beautiful pink frosting-style glaze. This one uses more sugar and a different type – Confectioners' Sugar, along with the blood orange juice. You will also want to add some salt to it, just because it ends up being quite sweet – you'll be glad you did! You'll probably want to wait until the cake is fully cooled for this one. 
Other Considerations:
Can you use juice from a navel orange, or tangerine or any other type of orange? Yes, of course you can. I chose the Blood orange for its beautiful color and it's sweet-tart juice, but any orange will work. You just won't have that beautiful pink glaze.
What other types of liqueur would work? Really, many different ones would be good. Something 40-50 proof is probably best as it has a lot more flavor than others. Triple Sec, Cointreau and Grand Marnier are orange flavored. Galliano, the liqueur used in the Harvey Wallbanger Cocktail, would also be very tasty!
How do I keep the cake fresh? This cake is super-moist, so it will keep at room temperature if covered for 3-4 days. Like many baked goods, the flavor is better the second day, and even better the third day, if it lasts that long. You could also cover the cake tightly and refrigerate for up to a week, assuming it would last that long. It would also freeze well if well-wrapped for up to 2 months.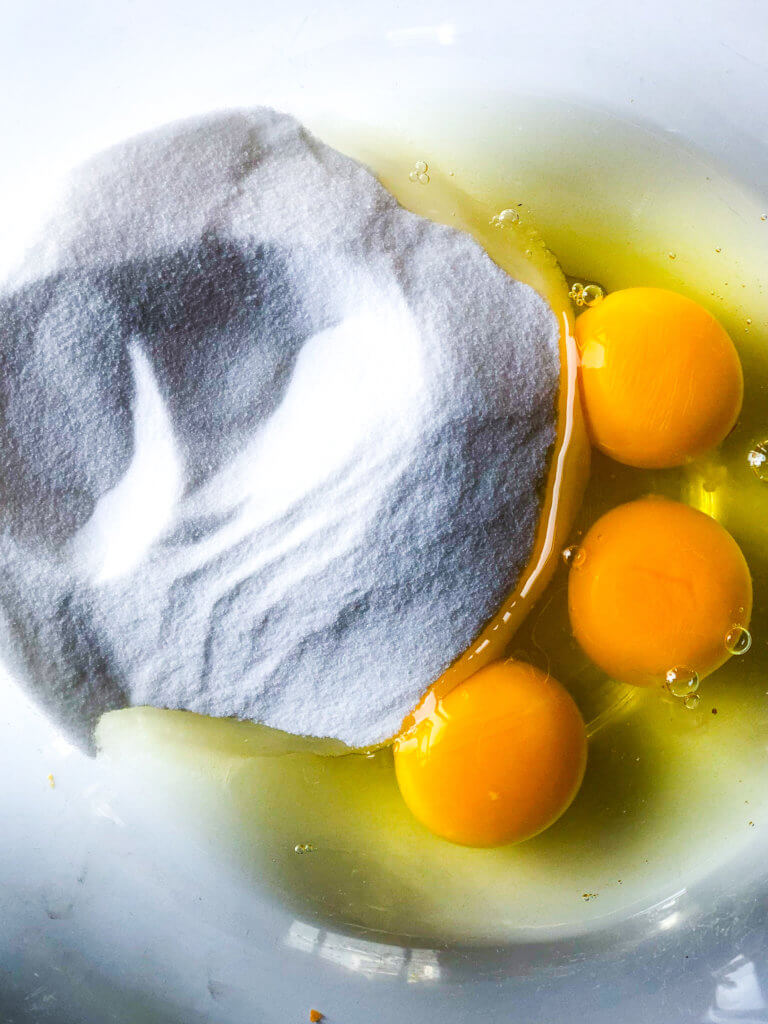 Print
Blood Orange Olive Oil Loaf
This super-moist Blood Orange Pound Cake takes just minutes to put together, once you squeeze the juice and zest the orange and lemon. You can eat the cake without a glaze, or choose the juice syrup glaze or a thick pink glaze. The juice glaze will help crisp up the crust of the cake, but the pink glaze is so beautiful. It's a tough decision!
Special Equipment needed: 9×5 Loaf Pan
Author:
Prep Time:

15-20 min

Cook Time:

65-75 min

Total Time:

80-95 min

Yield:

1

Loaf Cake

1

x
Category:

Cakes

Method:

Baking

Cuisine:

American
Ingredients
For the Cake:
2

c (240g) All-Purpose Flour

1

T (12g) Baking Powder

1/2

t Kosher Salt

3

lg Eggs

1

c (198g) Granulated Sugar

1

c (240ml) Olive Oil (any type)

1/2

c (120ml) Plain Yogurt (dilute

1/3 cup

with water or milk if using Greek yogurt)

1/4

c (60ml) Orange-Flavored Liqueur, such as Cointreau or Grand Marnier

1

T Grated Lemon Zest

1

T Grated Blood Orange Zest

1/3

c (80 ml) Fresh-squeezed Blood Orange Juice
For a Brush-on Glaze:
1/4

c (60 ml) Fresh-squeezed Blood Orange juice

1/4

c (49g) Granulated Sugar
For a Pink Frosting-like Glaze
1/4

c (60 ml) Fresh-squeezed Blood Orange juice

1

c Confectioners' sugar

1/4

t salt, or more, to taste (I added a pinch more than

1/4

t)
milk (Or your chosen liqueur), to thin, if desired or needed
Instructions
Preheat oven to 325F for Conventional Oven, 315F for Convection/Fan. Prepare a loaf pan by spraying with baking spray, or butter, or lining with parchment and spraying.
Mix the Ingredients
In a medium bowl, whisk together the flour, baking powder, and salt.
In a large bowl, whisk together the eggs and sugar. Then whisk in olive oil, yogurt, liqueur, lemon zest, orange zest, and orange juice.
Add the dry ingredients to the wet ingredients, whisk to combine. Batter will be thin.
Pour the batter into the prepared pan and bake in preheated oven for 60-70 minutes, until a tester comes out clean. The best way to tell it's done, is that you can really smell the aroma just before it is completely done. Cool cake in pan on a rack for 5-10 minutes, then flip out onto a wire rack, turn upright to cool.
If using brush-on Glaze:
Mix the sugar and orange juice together until sugar is dissolved. Brush on warm cake. Allow to cool before serving.
If Making Pink Glaze:
Mix the Confectioners' Sugar, juice, and salt together. Thin with a little milk if desired. Pour over cooled loaf. If you would like the glaze to firm up, wait an hour or so prior to serving, and it will firm up nicely.
Keywords: Blood orange, loaf, cake, olive oil, glaze
Recipe Card powered by
PIN Blood Orange Loaf Cake ->