Blueberry Lemon Hand Pies! Your own personal handful of joy: the flakiest tender crust envelopes a lush fruity blueberry jam and the whole thing is covered with super-lemony-sweet glaze! Is your mouth watering yet?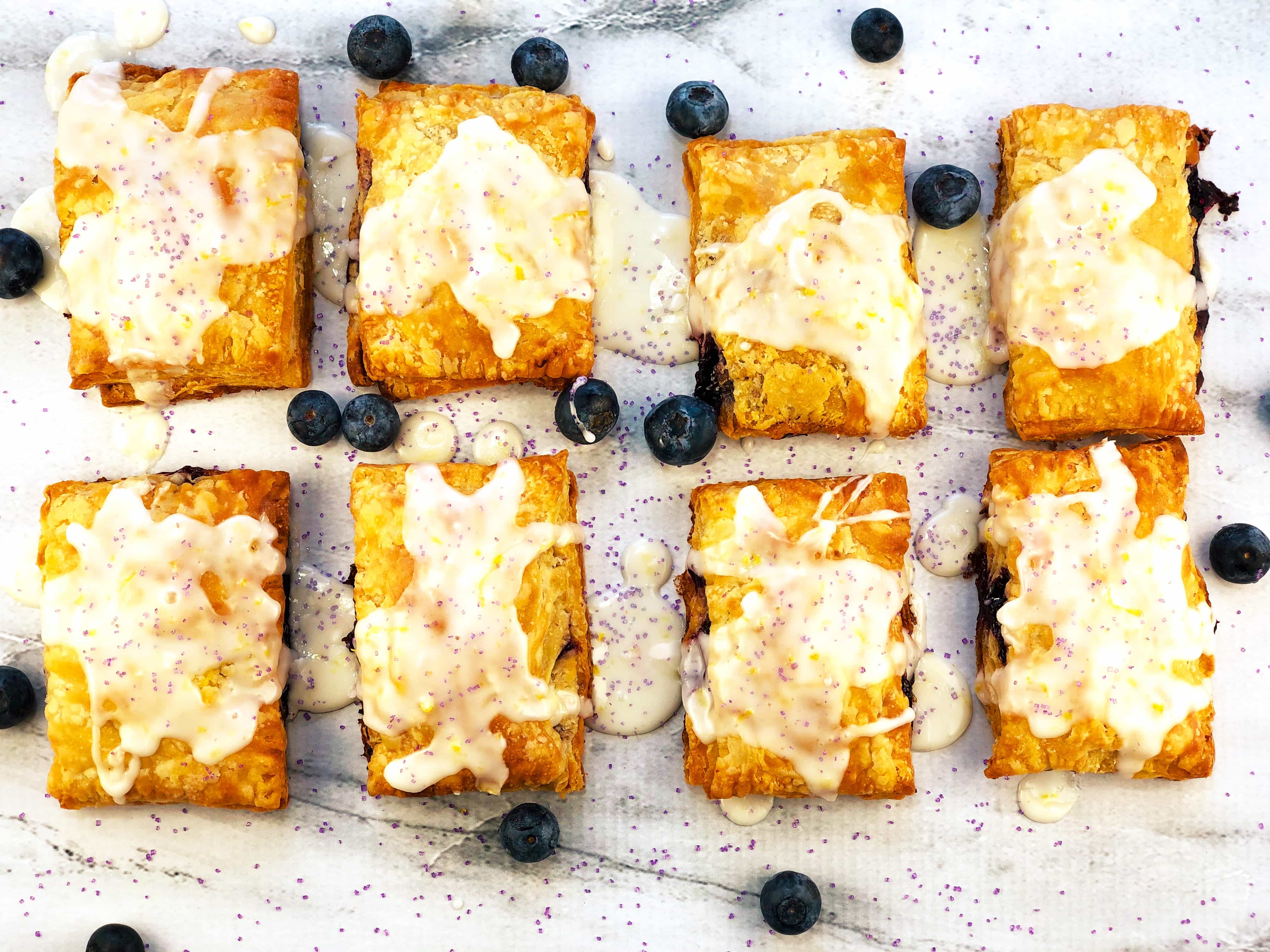 In the summertime, when we were kids, we always looked forward to our 2-week vacation. On Day 1, Mom and Dad would wake us up at 4 in the morning, when it was still dark, pile us in the back of the station wagon, with both the middle seat and the rear-facing "way back" seat down. (I know! These days there aren't many "way back" seats in station wagons, much less REAR FACING!). Anyway, they would add a few pillows and a couple of blankets, and we were off! Seatbelts? Not sure we even knew those things came in the car. But we looked forward all year to our annual trip to Kansas to visit grandparents, aunts, uncles and COUSINS! 860 miles. Sometimes all in one day. But sometimes not.
So, after the sun came up(!) and we'd completed the first 100 miles or so, we were more bored than hungry. (And, just think 760 more miles to go! Poor Mom and Dad!) So, Mom would break out the breakfast. Something we couldn't spill in the car, for sure. About the time I was about 5, we got our first taste of PopTarts! In those days they were thick with jam or brown sugar filling, with tender pastry and a nice layer of frosting on top. Understandably, we thought we'd died and gone to heaven! What was this magic? Parent-approved pie for breakfast! Who wouldn't want that?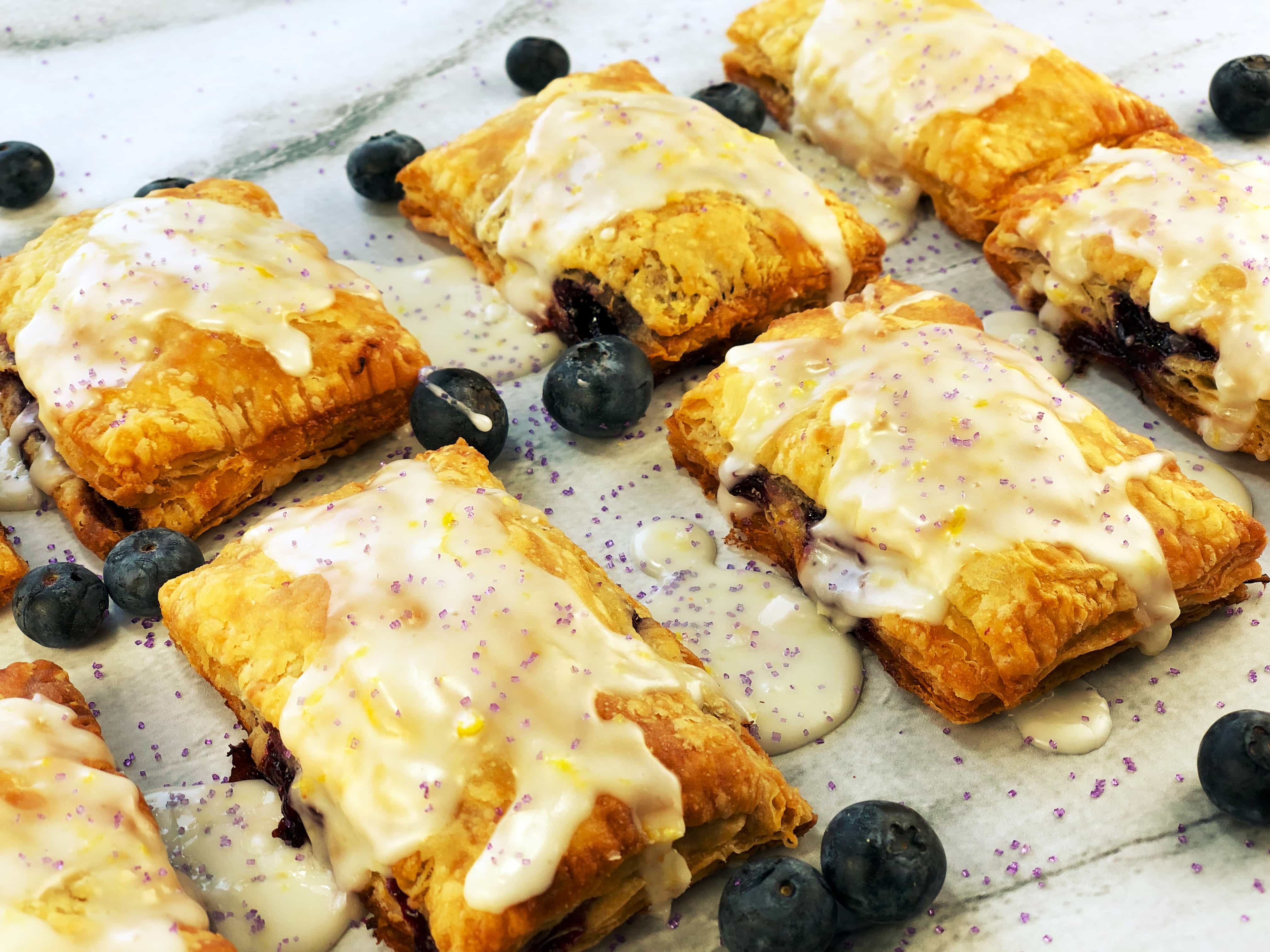 Today, I understand Kelloggs sells more Poptarts year over year, adding more flavors all the time. But I do miss the old PopTarts, the ones that were soft and thick, filled with fruity jam or brown sugar cinnamon, and covered with frosting. Because of that, this is my attempt at creating PopTarts, or in this case, proper Blueberry Lemon Hand Pies. The the tenderest, flakiest pie crust – just look at those flaky layers – surrounds a simple homemade jam made from fresh blueberries, all topped with a super simple lemony glaze. And, if you don't like to or want to make pie crust and jam from scratch, just get storebought. No judgment, bakers!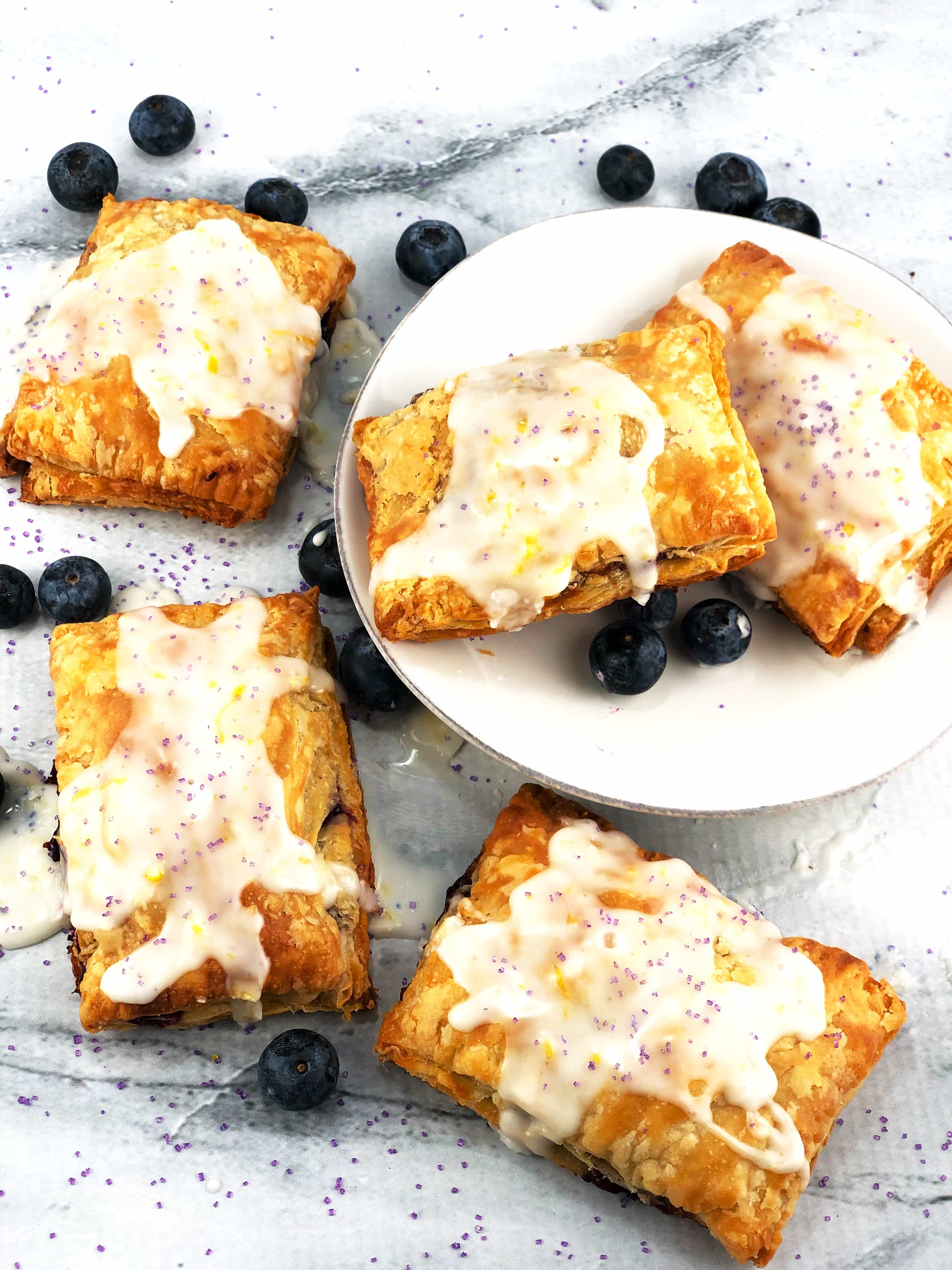 Now, I don't know about you, but I could eat Blueberry Lemon Hand Pies for breakfast any day of the week. Or mid-morning snack. And, then again as an afternoon snack. Or dessert. Or late-night snack. So useful, these little bundles of joy!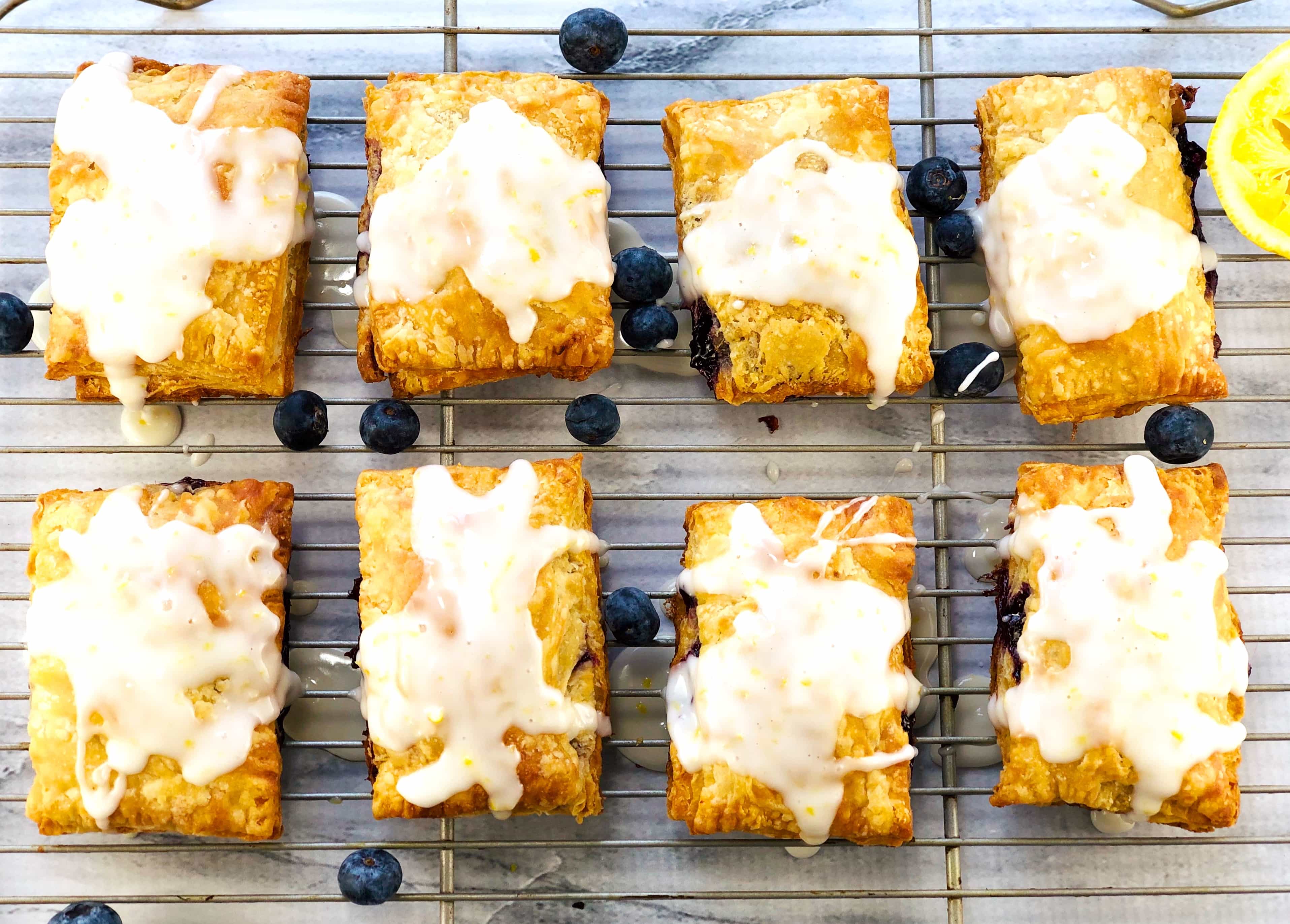 So, go ahead, make this embarrassingly easy (yet PERFECT!) crust, jam it up, top it, and glaze it for a PopTart (or Hand Pie!) you won't regret it!
Enjoy!
For more Blueberry-Lemon creations, click HERE!
Or for more pies, check out my Key Lime Tart or this Peanut Butter Pie or my Grandma's Sour Cream Raisin Pie
PIN Blueberry Lemon Handpies ->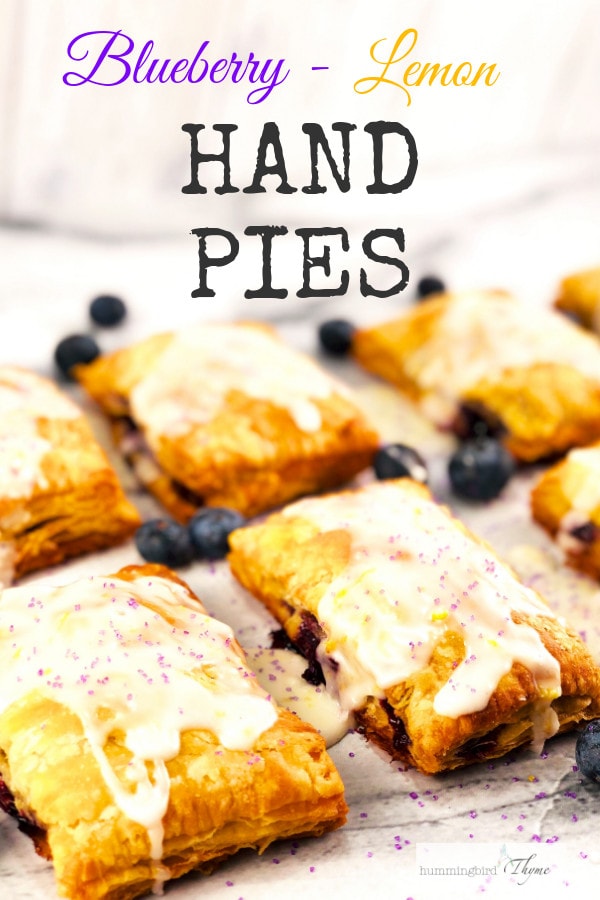 Print
Blueberry Lemon Handpies
These Blueberry Handpies with the tastiest tangy-sweet Lemon Glaze ever are simple to make!  You can shape them in rectangles, as I did, following directions from King Arthur Flour or just fold over circle or rustic (read:random) shapes to make them. I was able to make 3 extra "rustic" Handpies with the scraps!
You can use a store-bought pie crust if you want, or your favorite crust recipe – here's mine: Food52 Stand Mixer Pie Crust – truly, it has changed my pie-making!
Fill with a simple blueberry jam, or one from a jar, no judgment, then top with a super-easy lemon juice + confectioner's sugar glaze!  Magic!
Author:
Cook Time:

30-32 min

Total Time:

0 hours

Yield:

9

Hand pies

1

x
Category:

Pies, Snacks

Method:

Baking

Cuisine:

American
Ingredients
For the Crust
1

c + 2 T (

254g

) Butter, super-cold, cut into slices (about 10 per stick)

2 1/4

c (292g) AP Flour

5

t (20g) Granulated sugar

1 1/2

t Kosher Salt

1/3

c  (80 ml) Ice Water, plus extra, if needed
For the Filling
1 pint

(

360g

) Fresh or frozen blueberries

2

T Water

1/3

c Granulated Sugar
Juice of

1/2

Lemon (about

2 Tablespoons

)

1

Egg (to be used as egg wash prior to filling)
For the Glaze
1 1/2

c (188 g) Confectioners' Sugar, sifted
Juice of

1/2

Lemon
Zest of

1/2

Lemon
Instructions
Make the Jam:
Into a small saucepan, and over Medium-high heat, place the blueberries and the water. Mash with a large spoon or a potato masher. Add the sugar, mix until dissolved, cooking an additional minute.
Add the lemon zest and juice and bring to a rolling boil.  Continue boiling 7-8 minutes until mixture begins to thicken.
Place in a glass or ceramic dish to cool completely. 
Make the Crust:
Slice the cold butter – about 10 slice per stick. Place slices in the freezer while you gather the other ingredients for the crust. Into the bowl of a stand mixer fitted with a paddle attachment, place the flour, sugar and salt. Mix a few seconds to combine. Add the slices of cold butter. Have the ice water at your side.
Turn the mixer to the lowest speed and mix for several seconds, just until slices appear to be coated with flour and a little misshapen. Turn off mixer.
When you're ready to add the ice water, return the mixer to lowest speed and slowly drizzle in the water, until the point where the dough still has a "shaggy" look and the flour at the sides of the bowl has disappeared. This takes only a very short time, maybe 12-15 seconds or so.
On a floured surface, pour out the dough. Divide in half. Shape each half into a small rectangle about an inch thick. Wrap each tightly in plastic wrap and place in the fridge for at least an hour, up to several days.
Shape the Hand Pies:
Preheat oven to 350F (conventional), or 325F for Convection. After refrigerating crust, remove from fridge and let it set at room temperature 10-15 minutes, this will make it easier to roll out. Roll each rectangle into a larger rectangle of about 9×12 inches, plus a little extra at the edge.  This will give you enough crust to cut each into nine 3×4" rectangles. Feel free to cut them free-form or using a ruler. Depends how perfect or rustic you care to make them. No need to separate the shapes from each other yet, just cut the lines as you wish. Designate one of the sheets of crust as "bottom" and one as "top".
Using a pastry brush, coat the "bottoms" sheet of rectangles with an egg wash, just your egg beaten nicely with a Tablespoon or two of milk or water.
Place a heaping tablespoon of the blueberry jam on each egg-washed rectangle.  Top each with a "top" 3×4 rectangle. Using your fingers, press down around the edges of each rectangle to seal.
Gently separate each rectangle from the others at this point. Then, using a fork or a chopstick, press the edges together to further prevent the filling from leaking. 
Place each pie onto a baking sheet, leaving at least an inch between pies.
Bake in preheated oven 30-32 minutes, or until golden brown.  Don't worry if filling leaks a bit while baking.  
Top the Cooled Pies:
When pies are fully cooled, mix together the Glaze ingredients and top each pie with a spoonful of the glaze.  Decorate with sprinkles or finishing sugars as you wish. 
Pies keep at room temperature for several days.
Keywords: Blueberry Lemon Hand Pies, poptarts
Recipe Card powered by