KEY LIME Tart is a lovely smooth custard that is citrusy, tart and sweet – nestled in a buttery graham cracker crust and piled high with a mountain of the fluffiest meringue you'll ever taste! YUM!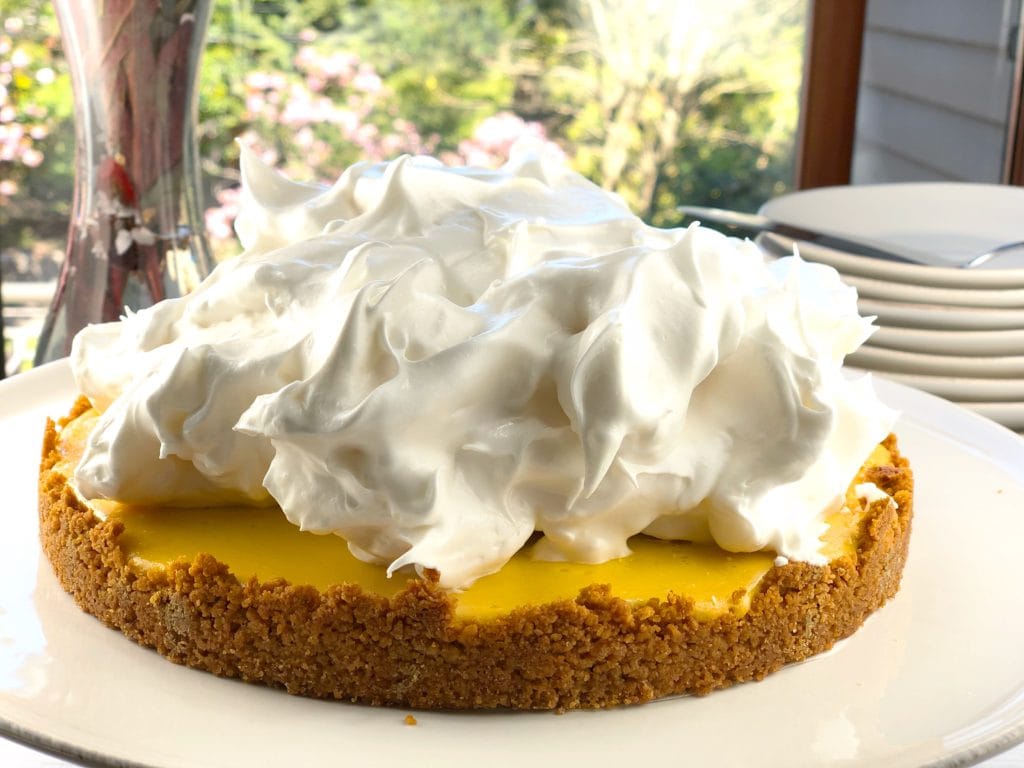 Growing up in what I thought was a mansion, but was actually a standard 60's era suburban 2-story with a "bonus room" (a.k.a. a bedroom for 3 of the 6 of us kids). However, the activity center of our home was actually the kitchen. That's where we ate all of our meals together, did homework, celebrated birthdays. It's where the phone was located. Hence, someone was always in the kitchen, either cooking, doing schoolwork, playing a board game, or talking on the phone.
Also in the kitchen, there was this long, narrow, magical drawer. It was just to the right of the kitchen sink. All that was in that drawer were 3 things. And it was packed full of these three items. We loved them all. They included: Boxes and boxes of Jello-Brand pudding, boxes of Jello Gelatin, every flavor that existed at the time, and probably 20 small packets of Kool-Aid mix, the kind that you added sugar. What could be better? We loved when Mom would open that drawer. That meant there would be dessert that night, or a sweet beverage that afternoon!
I loved all of it, but my favorites were Chocolate Pudding – the cooked kind, because I'm one of those weirdos who loves the "skin", Cherry Jello, and Grape (!?) Kool-Aid. (Ok, since when does the flavor of Grape anything have any resemblance to the taste of an actual grape?) Anyway, at some point, I realized that in the realm of citrus flavors there were lime and orange gelatin, as well as lime and orange Kool-Aid (which no one liked), and, of course, one could make Lemonade. But no pudding flavors that were citrus-y. Maybe that's why I never thought there could be such a thing as Key LIME pie.
Fast forward to my grownup self, and my discovery of key lime pie. WOW – so fresh and vibrant! Those fake lemon and lime flavors from the past were gone from my life for good! Key Lime pie is one of those things I make a few times a year, and I am so partial to this recipe above all other Key Lime recipes. Now, all I've done for this Key Lime Tart was to use that same 4-ingredient key lime custard I make for the pie and put it in a tart, for a more elegant presentation.
I also used the same meringue as I used for my Grandma Clara's Sour Cream Raisin Pie. This meringue is meringue as it should be – so light, fluffy, marshmallow-y, divine! Adapted from a recipe I found on Allrecipes, this is the best meringue ever! It takes an extra step or two beyond whisking egg whites with sugar, but once you make it, you'll feel like you're shortchanging your dessert if you don't go the extra step for this particular meringue. (Just note it's not cooked, so you either need to heat the whites to 160F before whipping them, or bake 15-20 minutes after applying the meringue, or live with the risks of raw eggs, if you are concerned with the risk!)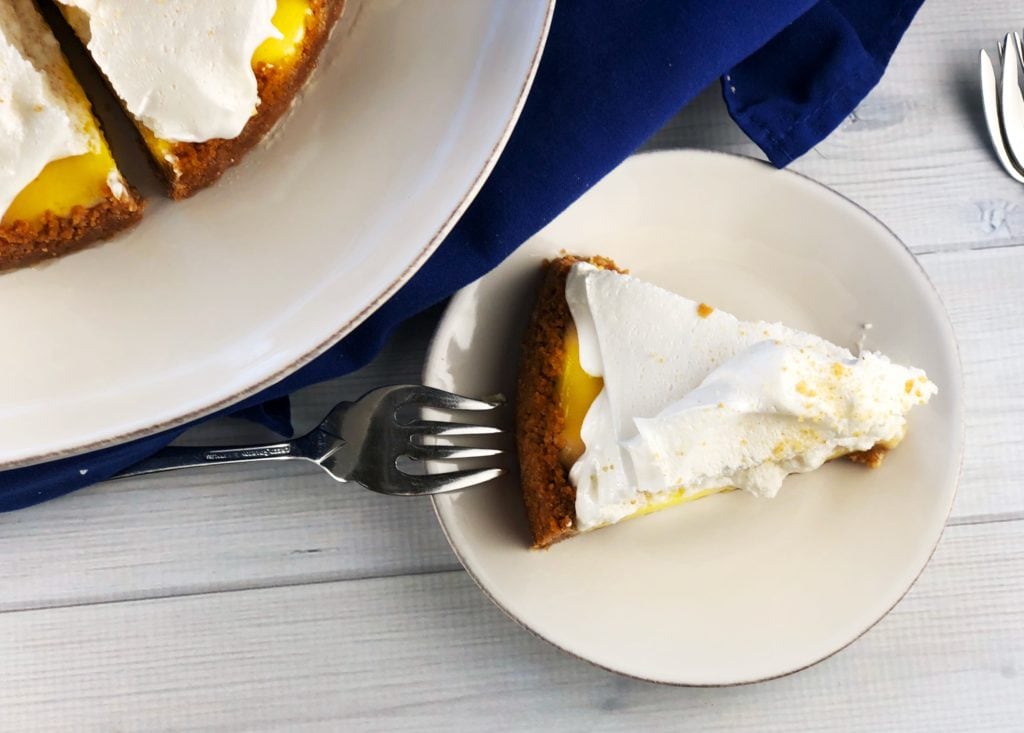 If you want to learn more about perfecting a meringue, check out this great summary, from What's Cooking America, which details which eggs and how to handle them properly to ensure a fluffy result. But give this easy Key Lime Tart a try – whether you make it in a pie plate or tart pan, it's bound to be incredible! It is especially good following a spicy meal. I often think of it for Cinco de Mayo or Fat Tuesday. It makes me want the Jello Pudding people to make some Key Lime flavored pudding – any takers? Enjoy!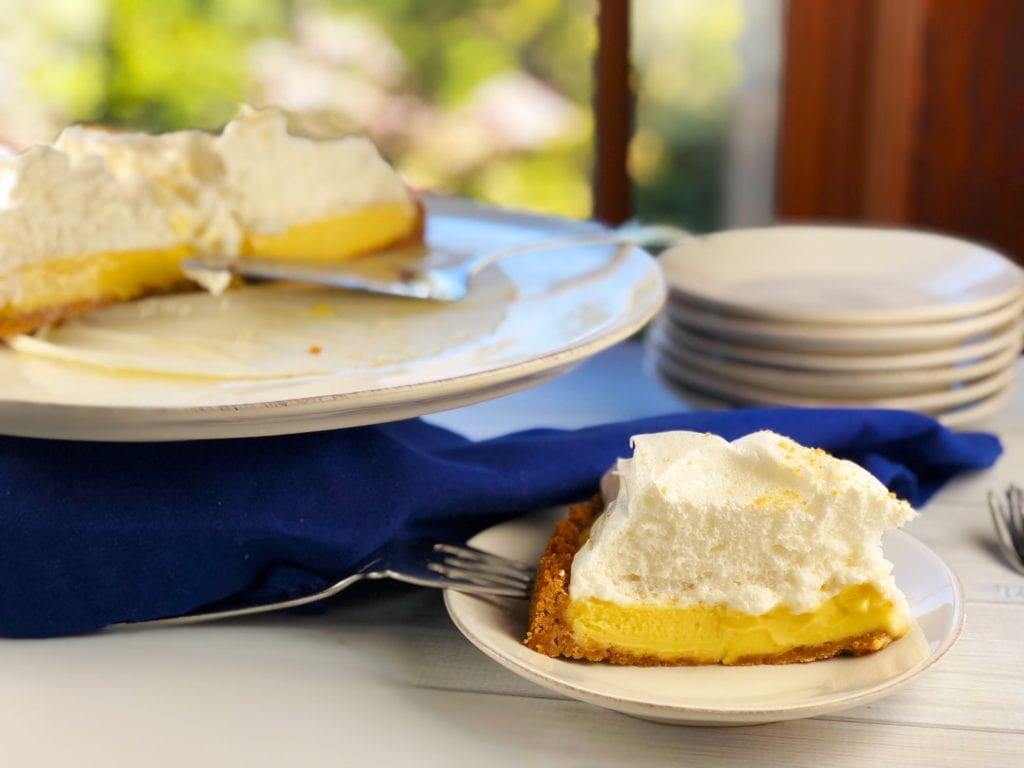 Print
Key Lime Tart
This recipe can make a pie or a tart, it just depends how you want to present it! I've made it both ways. The tart is a bit more elegant presentation, if that's important for your occasion.  I feel like you also might get more servings from a tart than a pie, but maybe that's just how I slice it!  An all-time favorite in my house!
You can top it with meringue, whipped cream, or nothing at all!  The meringue recipe I use is has a couple more steps than most, but it turns out so fluffy and marshmallow-y, the extra step of making the cornstarch mixture is SO WORTH IT! It doesn't deflate or weep, even if refrigerated.  If this is more work than you want, just whip your egg whites for a minute until foamy, then slowly add the sugar and continue to whip just until you see stiff peaks. Feel free either way to toast it in a 350F oven for 10-15 minutes or until browned as you like, or serve as is! Also wonderful without any topping for sure!
Note:  Raw or undercooked eggs can increase your risk of foodborne illness.  You should be aware of those risks, especially to those with lowered immunity.  
Author:
Prep Time:

25 min

Cook Time:

25 min

Total Time:

50 min

Yield:

10

servings

1

x
Category:

Pies and Tarts

Method:

Baking
Ingredients
For the Crust:
12

Graham Cracker Sheets (

24

squares)

1

T Granulated Sugar (optional)

7

T Unsalted butter, melted

1/4

t salt
For the Custard:
4

Large Egg Yolks

1

–

14

oz. can Sweetened Condensed Milk

5 oz

. Key Lime Juice (or regular lime juice is perfectly substitutable!)

1/2

t Cream of Tartar
For the Meringue:
1/2

c Water

1

T Cornstarch

8

T Granulated Sugar, divided

4

Lg Egg Whites

1/4

t Cream of Tartar
Pinch Salt

1/2

t Natural Vanilla
Instructions
Make the Crust:
Crush the graham cracker squares in a food processor or by placing them in a gallon-sized zippered bag, and crushing with a rolling pin.  Pour the crumbs, together with the (optional) sugar and salt, into a medium-sized bowl.
Pour the melted butter into the crumb mixture and stir until it looks like wet sand.
Press into a 9" tart pan, making sure the crumbs come up the side of pan about 1 1/2".
Bake in 350F oven for 10 minutes. Cool while you make the custard.
Make the Custard:
In a stand mixer, or with a hand mixer, vigorously beat the egg yolks 5 minutes until they are thickened and light colored.  Lower mixer speed to medium-low, and slowly add the sweetened condensed milk until combined. While beating, add the lime juice and cream of tartar. Mix until completely combined.
Pour filling into pie crust.  Return to oven for 13-17 minutes or until custard is firm and appears slightly dry. Remove to cool.
Make the Meringue:
In a small saucepan, heat the water, cornstarch, and 2 T sugar over Medium-Low heat, stirring constantly until thickened.  This should take just 2-4 minutes. Mixture may remain slightly cloudy.  This is ok. Once mixture is thickened and smooth, remove from heat and let cool a bit while you whip the egg whites.
Place egg whites, cream of tartar and salt into a metal bowl, attached to a stand mixer (hand mixer works too!). Mix on medium-high until nice and foamy.  Once whites are foamy, add the vanilla extract and slowly stream the remaining 6 T sugar and continue to whip until soft peaks are formed.
Once the meringue is at the soft peaks stage, slowly stream or spoon in the cornstarch mixture and continue to whip until peaks are stiff.
Pile meringue atop the custard.  If you want to toast it, place it over the warm custard and return it to the oven for 10-15 minutes or until it is browned to your liking.  I did not toast mine, rather, I refrigerated the pie for an hour before serving.  The meringue is actually best if served as is, without refrigeration.  This is good to know if you have any leftovers.
Nutrition
Serving Size:

1/10 recipe
Recipe Card powered by
Pin for Later ->