Savory-Sweet-Spicy! And so Simple! This Honey Sriracha Salmon starts with a sauce you can use on any type of meat or vegetable – grill or oven-roast! Just minutes from fridge to table!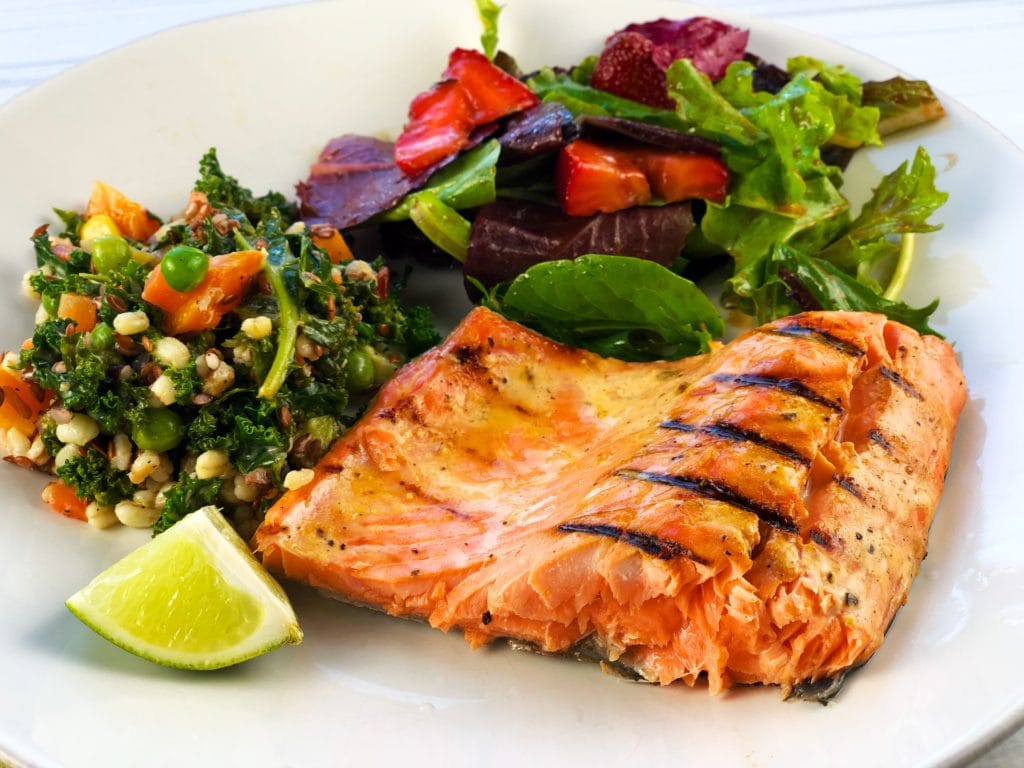 I'm spent. Raw. Exhausted. Heartbroken. Over the past few weeks, I've had moments in which I could hardly cope or know what to feel. I've also had moments among the most joyful of my life.  A lot of life in a short period of time. Today I'm remembering a specific moment that was a bit of joy. First, though, I should give you a peek inside my heartbreak. You see, just 11 days ago, the world lost one of its great gentle men, my Dad.
It's (of course) impossible to encompass everything I'd want you to know about him in a single post. But trust, although he was throughout his life tough as nails – a trait honed through trials thankfully most will never face – he's the one that was steadfastly calm in a storm, the one with the most sage advice, the one with the witty one-liner you think about for several days, smiling after you realize both its sharp and softer sides.  He truly lived for helping others, not for himself. Quite a father, quite a human being.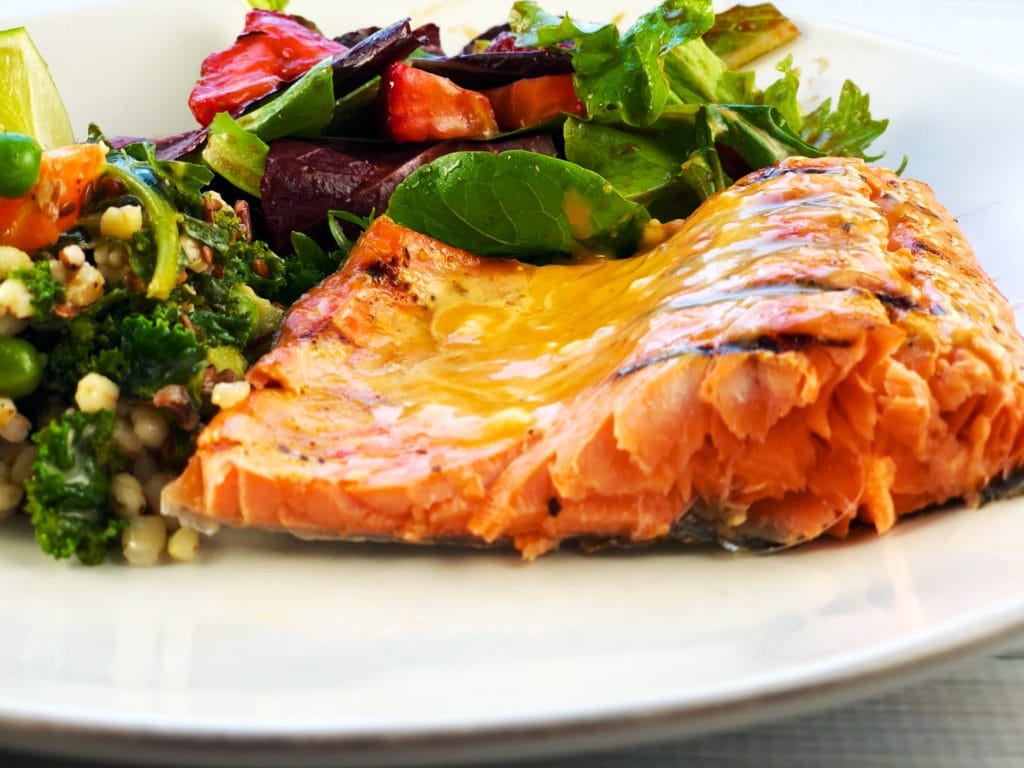 I spent several days with him at his home a couple weeks ago.  Although he seemed to be recovering well from a recent surgery, I think that in some way, he also knew the end was near.  The reason I think this is because he asked something of my sister Julie and me.  Not a big ask, mind you, a small one we were more than thrilled to give.  But this simple ask was noteworthy because I honestly can't remember this always giving man ever (EVER!) asking anyone (ANYONE!) for anything.  He asked my sister Julie and I to make him dinner.  Whatever you want to fix, he said. Well, maybe some salmon, he added.  I know it doesn't sound like a big deal, but for him, it was. And Julie and I knew it was. This was one of those little "lightning bolts" we all occasionally feel. Julie and I looked at each other, maybe both recognizing something perhaps he wasn't aware of, or maybe he was.  I don't know.
But I wondered if I should also make him his favorite dessert, my Grandma Clara's (his mom's) Sour Cream Raisin Pie. For various reasons, including that on some level I knew this might be one of the last moments I had time to spend with him, I didn't make that pie, pledging to myself I would make it for him "next time" I saw him, which, to my mind, would be sometime this summer. Because as much as I wanted to believe it, I didn't know for sure whether the "lightning bolt" was just my own worry. So, I reasoned that the pie needed more time to chill than we had that afternoon, and other such nonsense.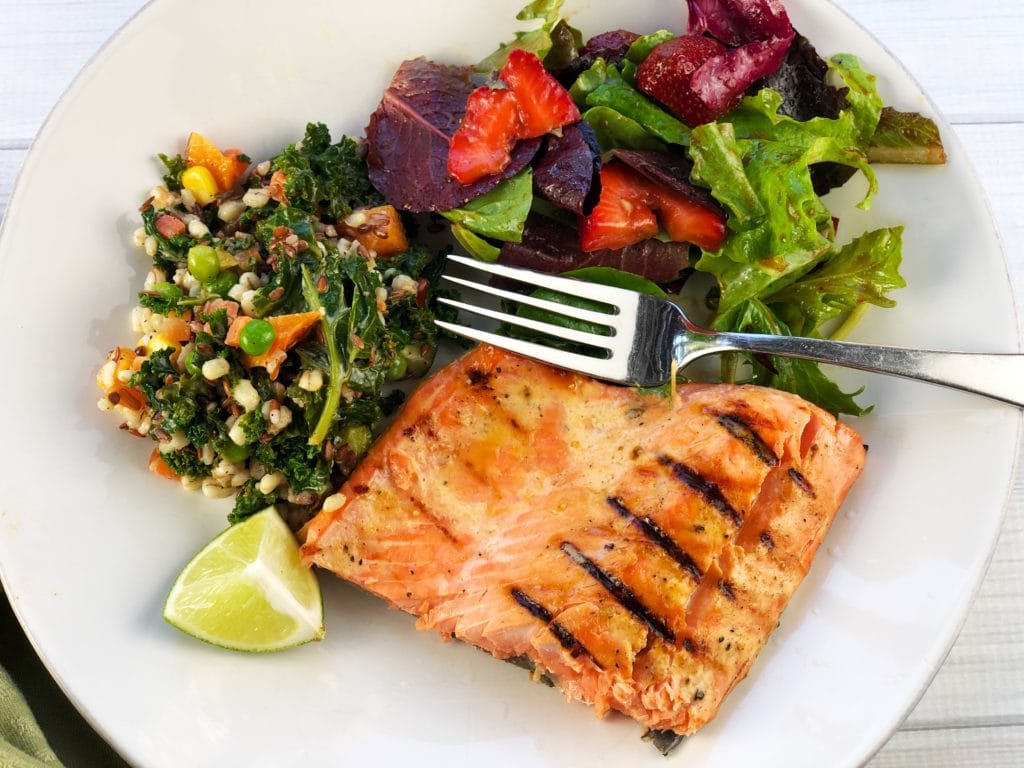 Julie and I both know how much he loved a spicy dish (we kids once gave him a "Hot Sauce of the Month" club for Christmas), so we whipped up this glorious Honey Sriracha Salmon, and served it with Ina Garten's Best Brussels Sprouts, and some Easiest Homemade Biscuits Ever.  He loved it so much, he asked me the next day if there were enough leftovers for a couple more meals for him and his wife.  Yes, indeed, I said, we did make enough for leftovers, as I was leaving for the airport. The following day, he was back in the hospital.  It soon was obvious these were his last days. It all happened so quickly. So. Quickly. I didn't make it back in time. Part of me wishes I'd made that pie.  But I'm happy to have made this salmon for him and spent some time. He truly enjoyed that dinner.  We all did. Because family meals can be everything, can't they?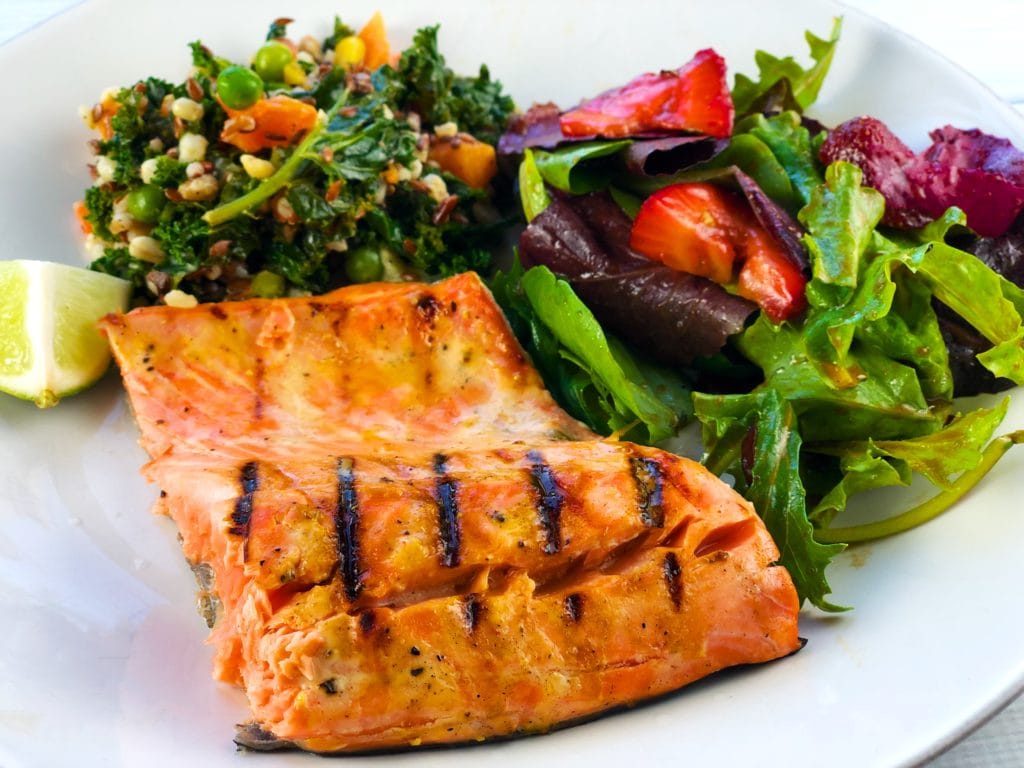 This Honey Sriracha Salmon is so easy, too – just 3 ingredients in the sauce, paint it on both sides, then bake, broil or grill. It hits all of the right notes, too.  Sweet, Savory, Spicy.  Melts in your mouth!  Dad loved it, and we loved doing this for him. Make it for someone you love. And, if you need some dinner music to play, try a dramatic classical piece like Tchaikovsky's "1812 Overture" in honor of my Dad, a truly good man. It was always a favorite of his. Enjoy!
Print
Honey Sriracha Salmon
This spicy-savory-sweet Salmon is made with a sauce you can use as a marinade, a dip, or a simple sauce to brush over any protein before cooking.  So tasty!
I cooked it on a grill pan on my stovetop.  This fish was pretty thin, so it took only 8 minutes to cook to a nice medium-rare.  I usually cook salmon about 12 minutes per inch of thickness, whether roasted in the oven or on the grill.
Author:
Prep Time:

3 mins

Cook Time:

12 mins

Total Time:

15 mins

Yield:

4

-

6

servings

1

x
Category:

Seafood

Method:

Grill or bake
Ingredients
1 1/2

–

2

lb Salmon Fillet

1/4

c Mayonnaise

1

T Sriracha (or to taste)

1

T Honey
Lime wedges (for serving, optional)
Instructions
Salt and pepper salmon fillets, and place skin-side up on cutting board or work surface.
In a small bowl, mix together mayonnaise, sriracha sauce and honey.
Brush sriracha-honey mayo over both sides of salmon.
Preheat oven to 400F or grill pan to Medium/Medium-High on stovetop.
Cook salmon on grill pan flesh side down 4-5 minutes and then skin-side down 4-5 minutes.  Or if cooking in oven,  10-12 mins per inch of of thickness, skin-side down on large baking sheet. (See Note 1)  If you see little white liquid flecks coming through the flesh, it is time to take it out of the oven.  Let rest 5 mins.
Serve with lime wedges, if desired. 
Notes
If roasting in the oven, there is no need to turn the salmon over. Just cook skin-side down the whole time. Begin to check for doneness at 8-9 minutes.
Recipe Card powered by
Pin for Later->