Milk Bar Compost Cookies were originally created to use up leftover bits from other recipes – a good lesson that we can all make something from remnants of days past.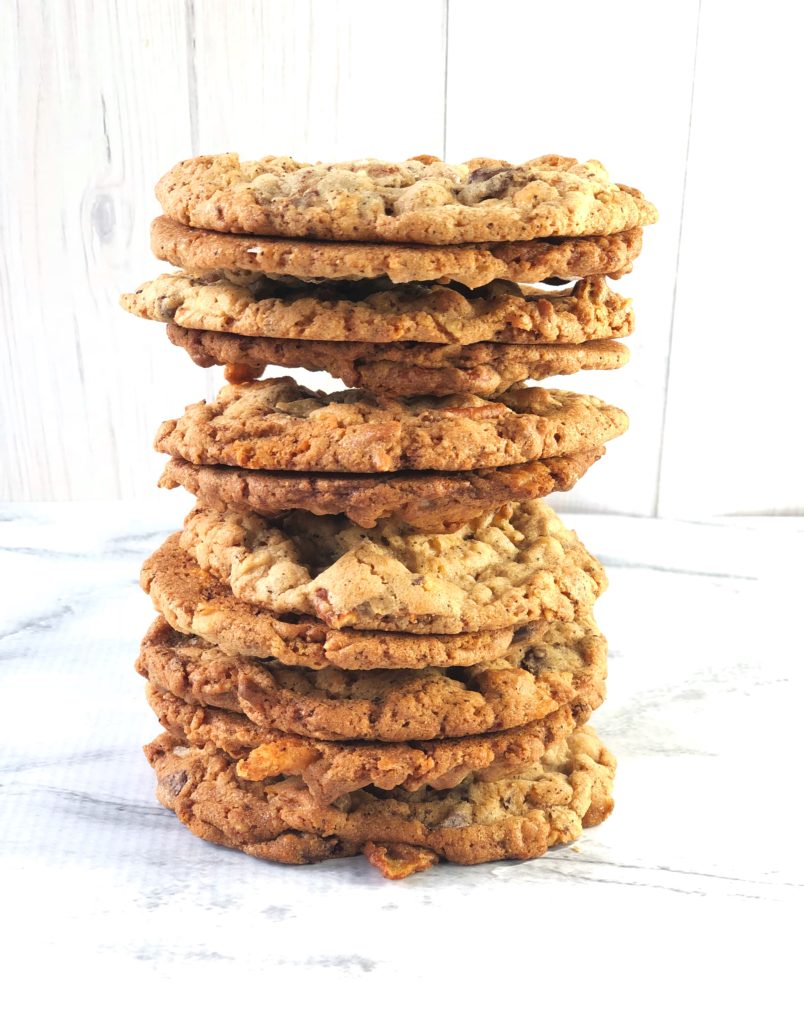 I really love the idea of compost – you pile all your leftover feelings food and some yard bits in a heap or into a bin, patiently tending to it, waiting for it to break down and become something that will be the fertilizer of all fertilizers to feed absolutely everything else in your yard. If we could only speed up the process. Turning the sorry leftovers into something new. I did once start a compost bin. I think it lasted a month, before I gave up because nothing seemed to be developing in that bin. This was an occasion where my patience wore thin. The very idea of composting, developing something of value from the feelings scraps leftover from something that was alive and beautiful is what led me to this cookie. These are the famous MilkBar Compost Cookies.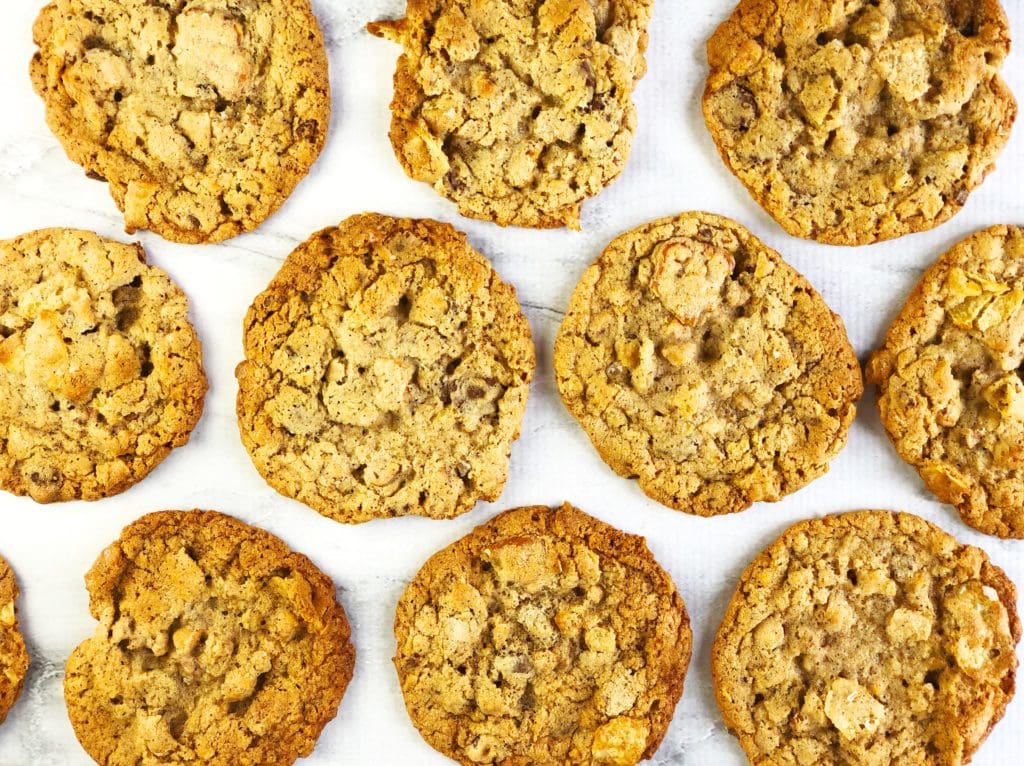 Do you ever find yourself with an extra half-cup of chocolate chips? Half a bag of potato chips that you really – no, really – don't want to eat all by yourself? Well, you can rest assured Christina Tosi, founding chef of Momofuku Milk Bar and purveyor of its infamous Crack Pie has come to our collective rescue, using all of the leftover bits to create her legendary Milk Bar Compost Cookies. With its large collection of ingredients, this cookie is truly EVERYTHING. It includes things you would never put in a cookie (coffee grounds?). Things you would always put in a cookie (chocolate!). Things that compliment both (potato chips!).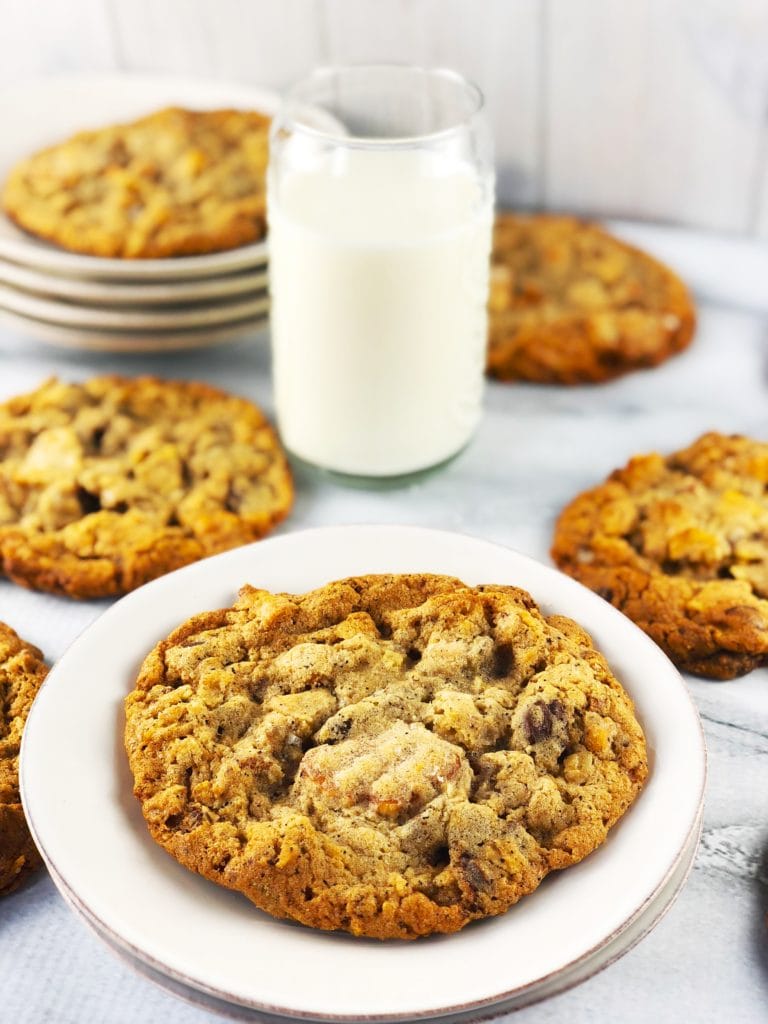 I made these Compost Cookies just as the recipe directs, with only slight adaptations. The result was an explosion of sweet and salty flavors all in a perfectly crispy-edged, chewy middled delight! I made them in 2 batches, and decided for the second batch to amp up the salty a bit, so I sprinkled some flaky sea salt on the tops just prior to baking. I highly recommend this. (Although it did, for me, place them in the "OMG, these are addictive" category, just a warning.) Alternatively, you could add some roasted salted pecan bits to the mix for a similar effect.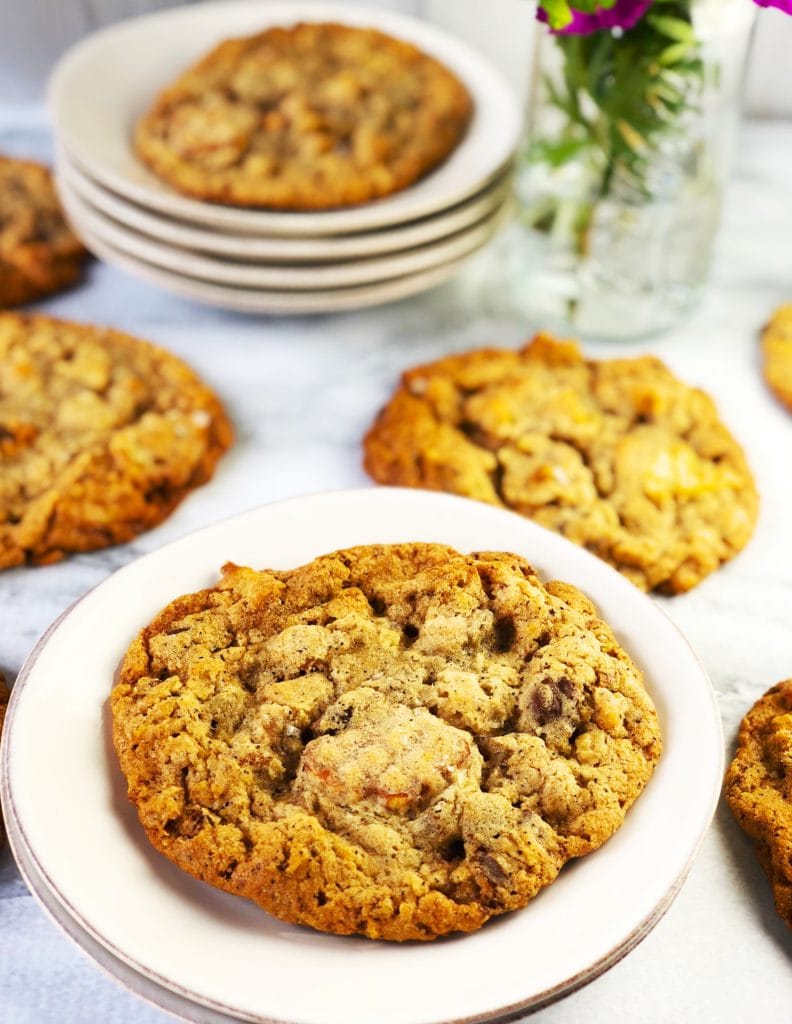 Maybe, just maybe, I'll give the compost bin another try. Maybe. But I'll definitely make these Milk Bar Compost Cookies again. Way less time. Way less patience required. Because don't we all need to create something good from all of our leftovers? Enjoy!
If you're interested, please enjoy some other cookies I've made:
The BEST Chocolate-Dipped Coconut Macaroons
Ina Garten's Jam Thumprint Cookies
And if you want to know about all these "feelings" I mention, you are welcome to see my previous post, Honey Sriracha Salmon
Print
Milk Bar Compost Cookies
This recipe is adapted slightly from MilkStore.com, and is for Milk Bar's Famous Compost Cookie.  The original called for 2 T Glucose, but I substituted 1 T Golden Syrup (you could use Light Corn syrup). Feel free substitute any kind of candy or sweet chips, such as toffee chips or peanut butter chips, for the sweet ingredients or any kind of salty snacks (popcorn or nuts) for the potato chips and pretzels.
The recipe produces a large, flat cookie with a crispy edge and a marvelously chewy middle. In my oven they took 14-16 minutes at 340F, rather than 18 min at 375F. So I recommend WATCHING them at around the 14 minute mark to see if they are just getting a pale golden ring around the edge while still being pale in the middle. That is the time to take them out.  As they cool on the sheetpan, they will complete their baking.
I was able to make 18 cookies from this recipe.
Author:
Prep Time:

30 min

Cook Time:

15-18 min

Total Time:

45-48 min, plus cooling

Yield:

18

cookies

1

x
Category:

Cookies

Method:

Baking
Ingredients
For the Cookies:
2

sticks (16 T, or

1/2

lb) butter, at room temp

1

c Granulated Sugar

2/3

c Light Brown Sugar, firmly packed

1

T light corn syrup or Golden syrup

1

Large Egg

1/2

t Natural Vanilla Extract

1 1/3

c AP Flour

1/2

t Baking Powder

1/4

t Baking Soda

1

t Kosher Salt

3/4

c Chocolate Chips

1/2

c Butterscotch Chips

1

Recipe Graham Crust (recipe below)

1/3

c Rolled Oats

2 1/2

t Ground Coffee

2

c Kettle-Cooked Potato Chips

1

c Mini-pretzels or salted nuts
For the Graham Crust:
6

T (or

3/8

c) Graham Cracker Crumbs

2

T Milk Powder

1 1/2

t Granulated Sugar

1/4

t Kosher Salt

1

T Butter, melted

1

T Heavy Cream
Instructions
Make the dough
In the bowl of a stand mixer, cream together the butter, granulated sugar and brown sugar and corn syrup at Medium-High speed for 2-3 minutes. Scrape down the sides of the bowl and add the egg and vanilla. Beat at Medium-High for an additional 7-8 minutes until smooth, light and fluffy.  (During this time, make 1)the flour mixture: whisk together flour, baking soda, baking powder and salt in a medium bowl; and 2) the graham crust.)
For the graham crust, into a small bowl, mix the graham cracker crumbs, milk powder, sugar, and salt.  In a ramekin, whisk the melted butter and cream, then stir into the dry ingredients until it looks like wet sand.
Turn the mixer to Low.  Add the flour mixture, and continue to mix until just incorporated. This should take no more than 1 minute. Scrape down sides of bowl again.
Gather all of the mixins.  Turn off mixer, then add in the chocolate chips, butterscotch chips, graham crust, oats, and coffee. Mix, again at Low speed, until incorporated, about 30 seconds.
Add the potato chips and pretzels, and mix on Low until just incorporated – 10-15 seconds, being careful not to break down the chips or pretzels appreciably.
Using an ice cream scoop (2 3/4 oz), or a 1/3 cup measure, portion the dough into domes on a parchment-lined sheet pan.  Pat down the top of each dome so it is still flat, but the dome is still around 1-inch thick. Cover pan of cookie dough portions tightly in plastic wrap and refrigerate at least 1 hour, and up to a week. Remove from refrigerator when ready to bake.
Bake
Preheat oven to 375F. (350F for convection oven). Important: Be sure to bake cookie dough straight from the refrigerator!
Arrange chilled dough at least 4" apart, on parchment or Silpat-lined baking sheets, fitting 4-6 per pan. Place in oven to bake, where the mounds will puff a bit and then spread into large, flat-ish cookies. Bake in preheated oven until cookie develops a slightly golden ring around the outside, but the middle is still pale.  This may take about 18 minutes, but in my (Convection) oven, they took 14-16 minutes.
Remove cookies from oven, cooling completely on sheetpan before transferring to an airtight container.  Store at room temperature up to 5 days, or in the freezer for up to 1 month.
Recipe Card powered by
Pin for Later ->