One of my ALL TIME (!) favorite cookies, these Chocolate Dipped Coconut Macaroons are so scrumptious! Definitely one of my most-requested recipes, these dreamy Macaroons are crispy on the outside, chewy on the inside. And a coating of dark chocolate is the perfect touch! Perfect for the Holidays (my FAVORITE Christmas cookie!) or any given Wednesday.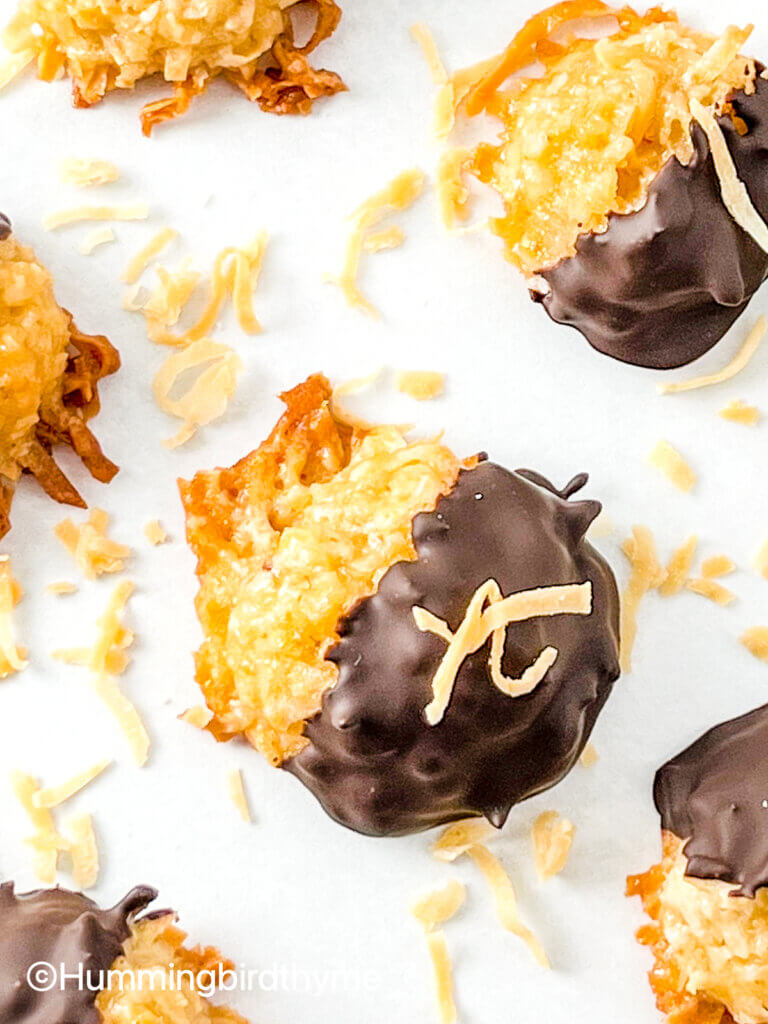 Sometimes we all just need to get out of our own heads, you know what I mean? The very first time I was making these delicious mounds of coconut coated in a shell of smooth, luscious, dark chocolate, I was talking to my then 6- and 8-year-old daughters about our decision to send them to a new school for 1st and 3rd Grades. While my Chocolate Dipped Coconut Macaroons were baking in the oven, I asked what questions they had about this move. Rather than ask directly, they retreated to the kitchen table, and huddled together, big sister writing the questions they each had about this move to a new school right on the paper where this recipe is written.
I hesitate to admit that the questions they asked were kind of shocking to my (then) working-mom sensibilities. Do you think they were curious about the strength of the academic programs, about whether there would be art, music and drama, whether they would be able to make friends? It turns out, none of these items were on their list. Rather, "How many recesses a day?" ("We will ask," I wrote in reply.) Also, "Can we wear our spring dresses?" ("Some days, yes.") and, "Will our baby brother get to go?" ("When he's 5.") For me, this was a lesson in perspective, to get me out of my own head and understand their wants and needs. Stopped me in my tracks, to be sure. Isn't this a lesson we all need occasionally!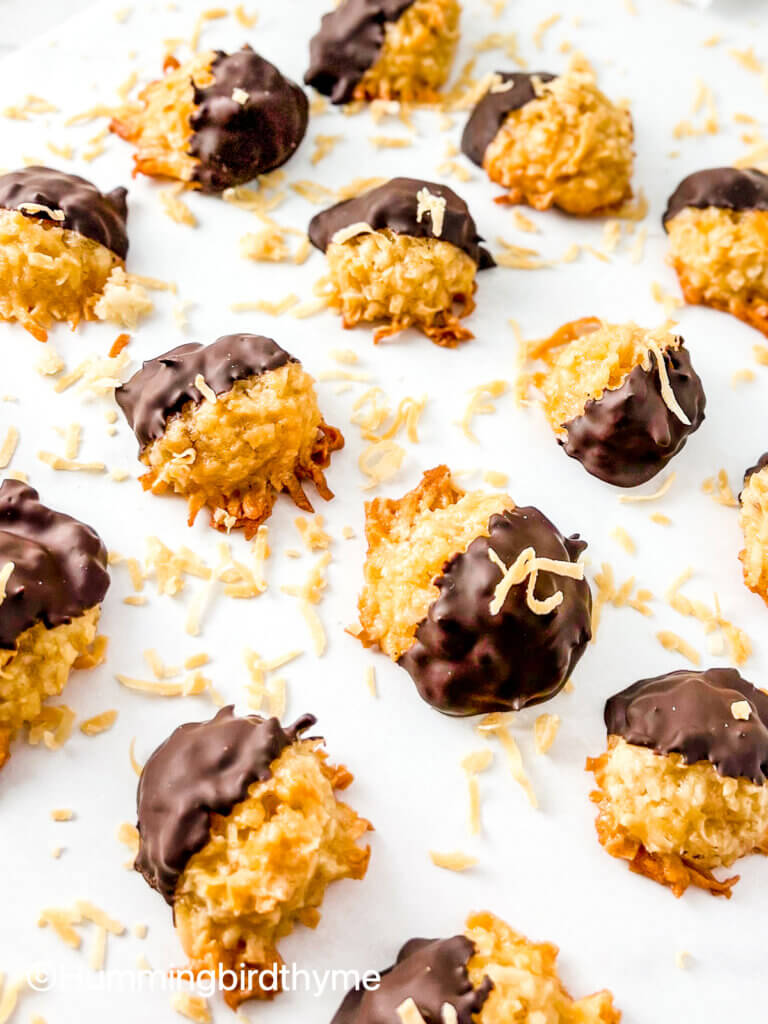 Anyway, now when I hear a question I didn't expect, I stop. And realize I don't have all the answers precisely because I don't know all the questions. That is, unless the question is, "What cookie do you make during the holidays every year?" Well, the answer to that is my Chocolate Dipped Macaroons! It's a classic macaroon recipe, one where you'll cook the easy dough, let it cool a bit, and then scoop it onto cookie sheets. They bake up with a nice crispy edge and nicely tender, sticky and chewy coconut middle. I love dipping them in Bittersweet Chocolate, but if your aren't as Bittersweet as I am (!), go ahead and use Semi-Sweet or Milk Chocolate. You can't go wrong with a chocolate coat, right?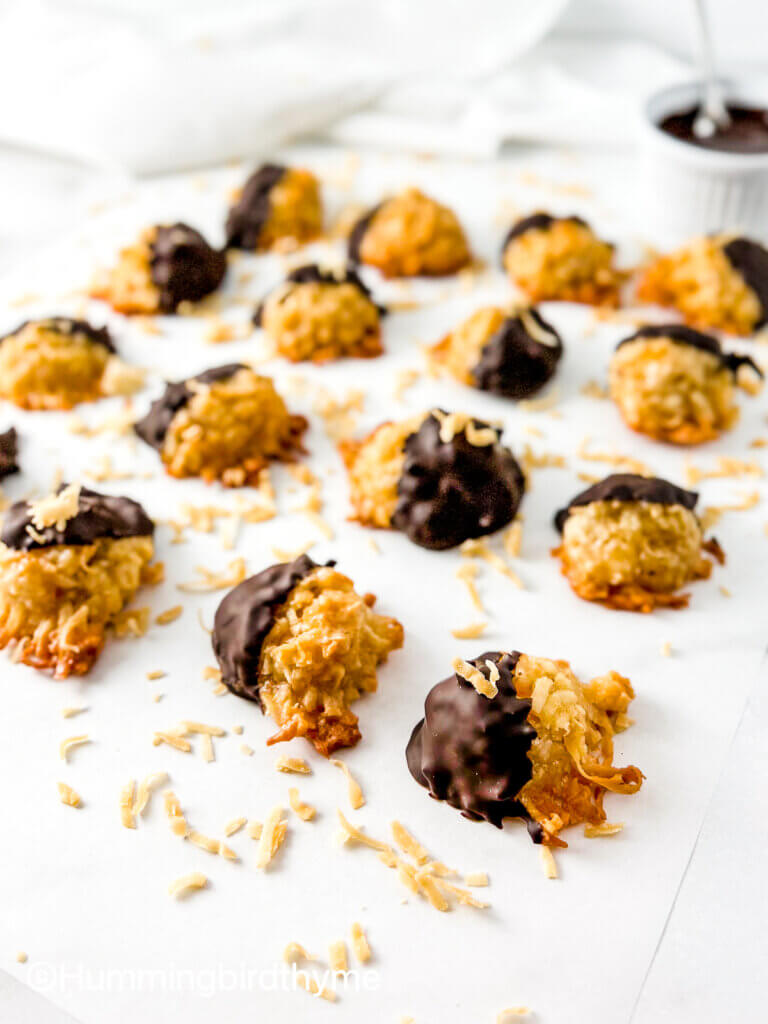 So, when, months later, I made these cookies for our new school's staff meeting, the next day, an email arrived – "Especially good were the coconut macaroons.  Whoever made those, would you be willing to share the recipe?"  Of course! Here it is! 
Now I treasure my question-covered recipe as much as I treasure this fabulous easy Macaroon recipe! Reading the recipe makes me appreciate the lesson to get out of my own "stuff" and to remember what's really important.  And it reminds me how a simple recipe can bring together people in ways you don't imagine. Enjoy!
Looking for other Scrumptious Cookies? Why not try these:
Brown Butter Oatmeal Chocolate Chip cookies
Old Fashioned Sour Cream Raisin Bars
Almond Shortbread with Cranberries and Orange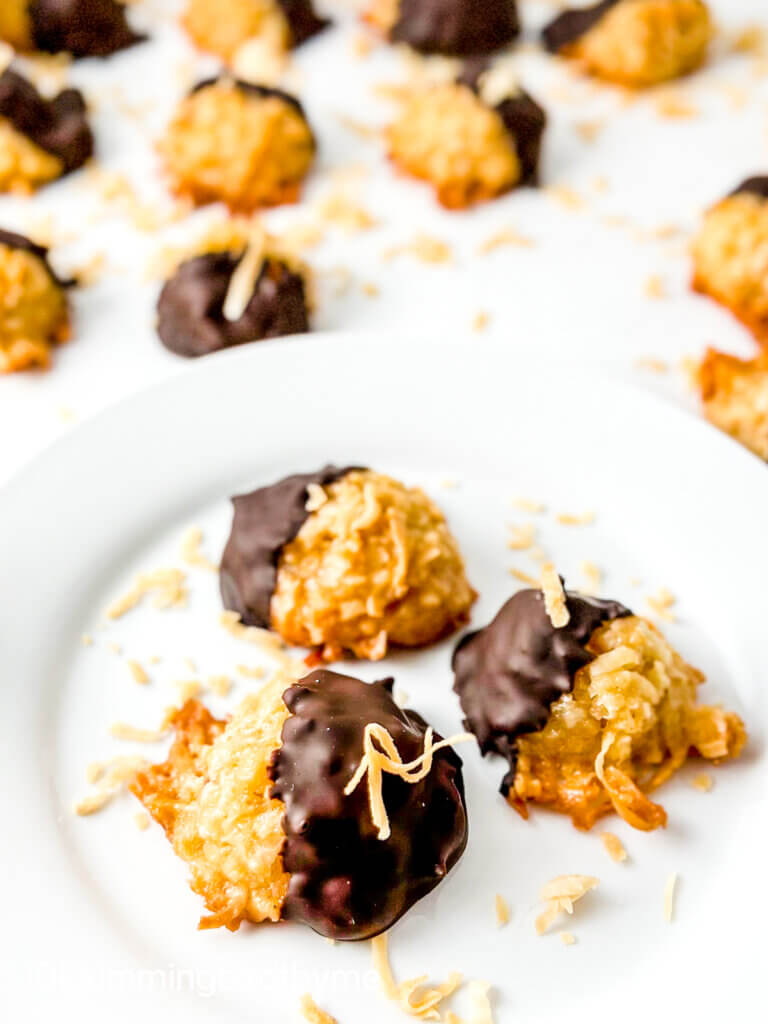 How to Make Chocolate Dipped Macaroons:
This post may contain affiliate links. As an Amazon Affiliate, I may earn a small commission, at absolutely no cost to you, for purchases you may make of items linked from this site.
Simple Steps to make the best Macaroon recipe:
Quick and Easy Recipe for outrageously scrumptious Macaroons!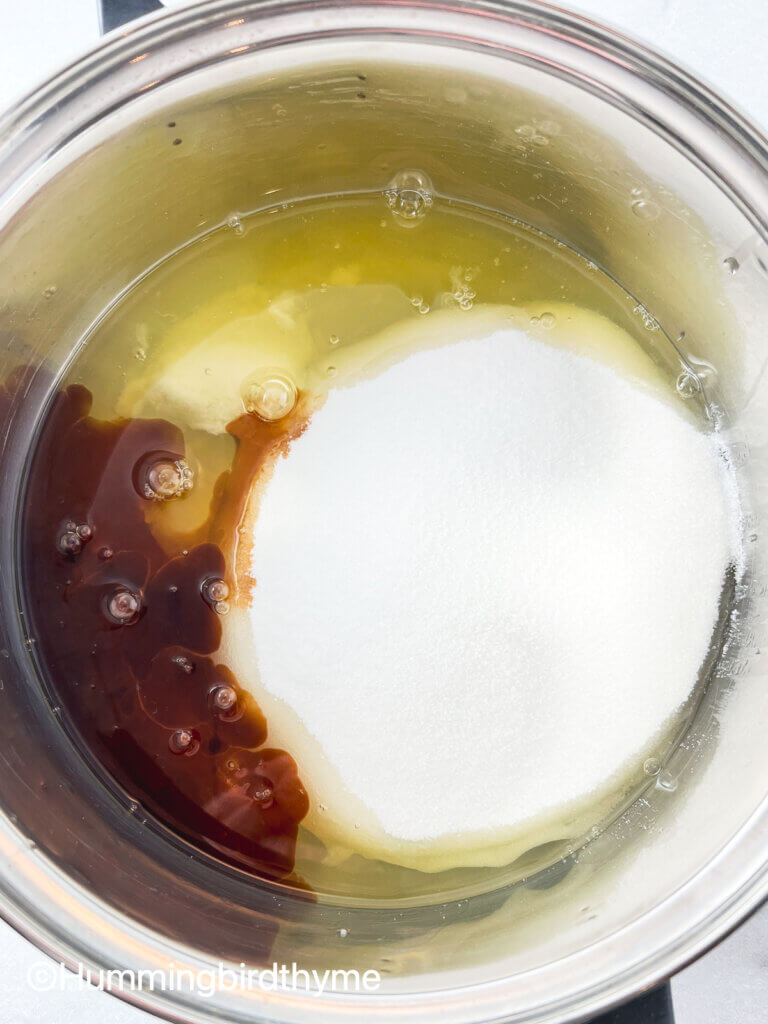 Make the Batter/Dough
First, into your heavy, larger saucepan – I use a 3-qt size – you'll stir or whisk the egg whites with sugar, salt and extracts. You don't have to use the almond extract, but I recommend as it adds some good, nutty flavor!
Stir in the shredded, sweetened coconut.
Sift in the flour. If you stir, rather than sift, you'll end up with lumps of flour in your macaroons – no one wants that!
Stir while heating over Medium Heat for 5 minutes. If you're using an electric stove, preheat the burner to medium first, so you'll get the whole 5 minutes of heat.
Turn up the heat to Medium-High, and continue to stir constantly. In 3-5 minutes, the batter will begin pulling away from the sides and the bottom while you are stirring. This signals it is DONE! Then, pour it into a heat-proof bowl, and cover the surface of the dough with a sheet of plastic. Refrigerate until chilled, or at least 2 hours until room temperature.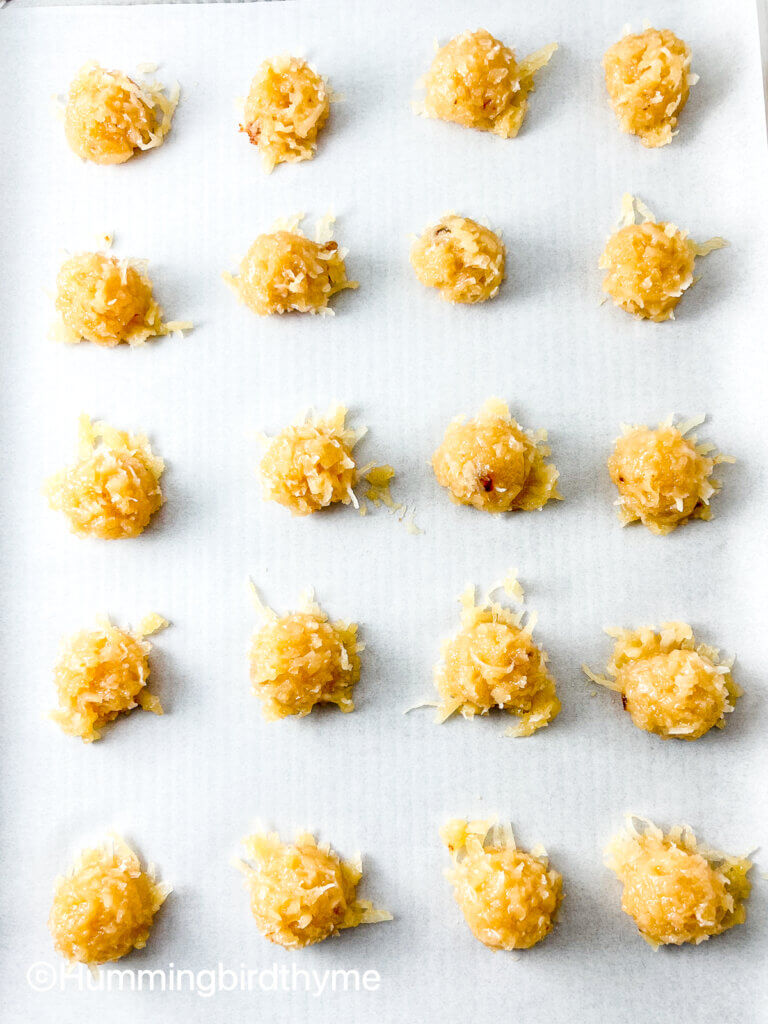 How to bake Coconut Macaroons
Preheat your oven to 325F. Then, using a 1 Tablespoon (15ml) scoop, scoop portions of dough onto the lined sheet pan.
Bake until they are golden brown and look crispy. In my convection oven at 300F, or an electric oven at 325F, this took 24-30 minutes, so be sure to keep an eye on them once they've been in around 24 minutes or so.
Let cookies cool on a wire rack to room temperature. The melt some chocolate (I like bittersweet, but you can use any type – semisweet, milk chocolate, or even white chocolate). Dip half-way, then return to the wire rack or place in the fridge until the chocolate has cooled and set. Store macaroons in an airtight container. They also keep well in the freezer when wrapped tightly.
Macaroon Recipe Variations
You could skip the almond extract if you like, or add a bit more (up to 1 teaspoon) if you don't have any, or especially love almond!
Skip the chocolate dip and just enjoy your macaroons naked!
Or, use salted caramel chips, chocolate chips, peanut butter chips, white chocolate chips!
You can make bigger macaroons, too! I used to use a 30ml, 1 oz. scoop. They take a bit longer (maybe 4-5 more minutes) to bake, just keep an eye on them, and take them out when they are golden and crispy.
Want to Save this recipe for the Best Macaroons ever? Pin it!
Print
Chocolate-Dipped Coconut Macaroons
The best Coconut Macaroons ever – crunchy on the outside, tender and coconutty inside and enrobed in dark chocolate – simply heavenly!  This recipe is adapted from a recipe found in Gourmet Magazine, as seen on Epicurious.com.
Store macaroons in an airtight container. They also keep well in the freezer when wrapped tightly.
Author:
Prep Time:

15 mins.

Cook Time:

25 mins.

Total Time:

40 minutes

Yield:

34

–

36

Macaroons

1

x
Category:

Cookies

Method:

Baking
Ingredients
9

Large Egg Whites

2 1/3

c

(462g) Granulated sugar

1

heaping teaspoon Kosher Salt, or

1/2

heaping teaspoon table salt

1 Tablespoon

Natural Vanilla Extract

1/2 teaspoon

Almond Extract

1

–

14

0z. Bag Sweetened, Flaked Coconut (

5 1/3 cups

)

3/4

cup

All Purpose flour

8

–

10

oz

. Fine-quality Bittersweet Chocolate, (or chocolate chips)
Instructions
In a 3-quart saucepan, stir together the egg whites, sugar, salt, vanilla and almond extracts.  Then add coconut, and stir until well-mixed. Then sift in the flour, and stir again. Over moderate heat, cook 5 minutes, stirring constantly. The mixture should thicken slightly and get bubbly. Increase heat to medium-high, and continue to stir until mixture thickens and begins to visibly pull away from the sides and bottom of the pan, about 3-5 minutes more.
Transfer thickened mixture to a bowl, and cool slightly. Cover its surface with plastic wrap, and chill until the mixture is just cold. This takes quite a while, maybe a couple of hours. (I admit I usually wait maybe 60-90 minutes, and scoop and bake room temperature macaroon with no problem (!).
Preheat oven to 325F (or 300F for Convection/Fan). Using a 1/2 oz (1 Tablespoon or 15ml) scoop, scoop the dough onto a buttered or parchment-lined baking sheet, leaving 2 inches between scoops. Bake until golden. In my (convection) oven, this took 24 minutes. In a conventional oven, they may be golden around 25-26 minutes. Transfer to a cooling rack.
When macaroons are cool, chop the chocolate. Set a metal or glass bowl over a pan of simmering water, and melt the chocolate, stirring occasionally, until smooth. Dip the macaroons into the melted chocolate, one at a time, coating them halfway. Transfer the dipped macaroons to a parchment- or foil-lined tray. Refrigerate until the chocolate is set.
Notes
These Macaroons keep in an airtight container in the refrigerator for a week or so.  If kept in the freezer, they will last longer, just be sure to take them out 30 minutes prior to serving.
Nutrition
Serving Size:

1 Macaroon

Calories:

113
Keywords: Chocolate Dipped Coconut Macaroons, coconut, macaroons, Macaroon recipe
Recipe Card powered by