Earthy Goat Cheese and fig jam tart w/ crispy prosciutto (easy with puff pastry!)-the PERFECT holiday appetizer, or light meal with a salad!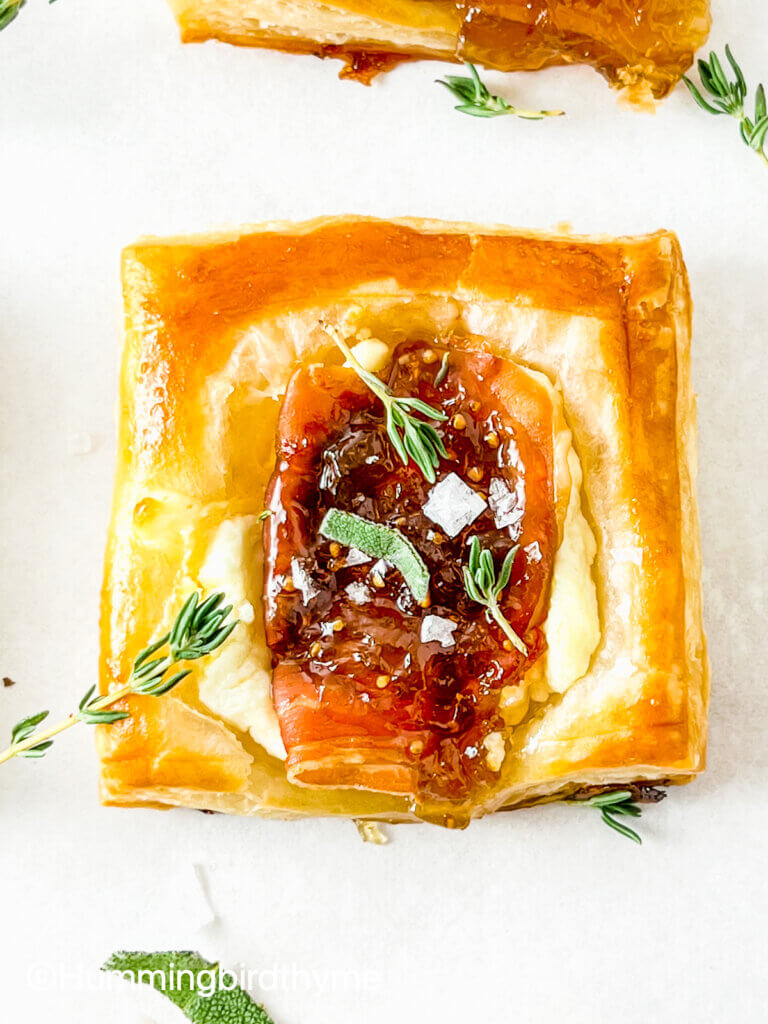 It's always good to have a shortcut up your sleeve, right? You know, like microwaving a lemon half or two for 20 seconds to double the juice you can oh-so-easily squeeze? Or, grating-then-freezing butter for flaky pie crusts? Salt in the water while boiling eggs to peel easily? Or that the simplest appetizer with just 4 store-bought ingredients has the best combination of flavors and textures ever? This Goat Cheese Fig Jam Prosciutto appetizer can't be beat! So easy-to-make with flaky, buttery, store-bought puff pastry, this one just might become your go-to Holiday Appetizer! I've had this glorious combination of Goat Cheese (chevre) with Fig Jam and Prosciutto on Crostini before, and it's delicious, to be sure! But I find puff pastry so easy to work with and that added texture of buttery flaky pastry – WOWZA!
The secret to puff pastry is two-fold: First, let it defrost in the fridge overnight before using it. And, when rolling it out, do so gently, just to flatten and get any creases or cracks out, not to roll it out. Using the "quick defrost" – just setting it out on the counter a couple hours, you can try to unroll it too soon, and it may crack or tear, or too late, when the butter starts to melt, which may lose the "puff" of the pastry that is so lovely! So, definitely, plan ahead and if possible, defrost overnight in the fridge for optimal workability and puffiness!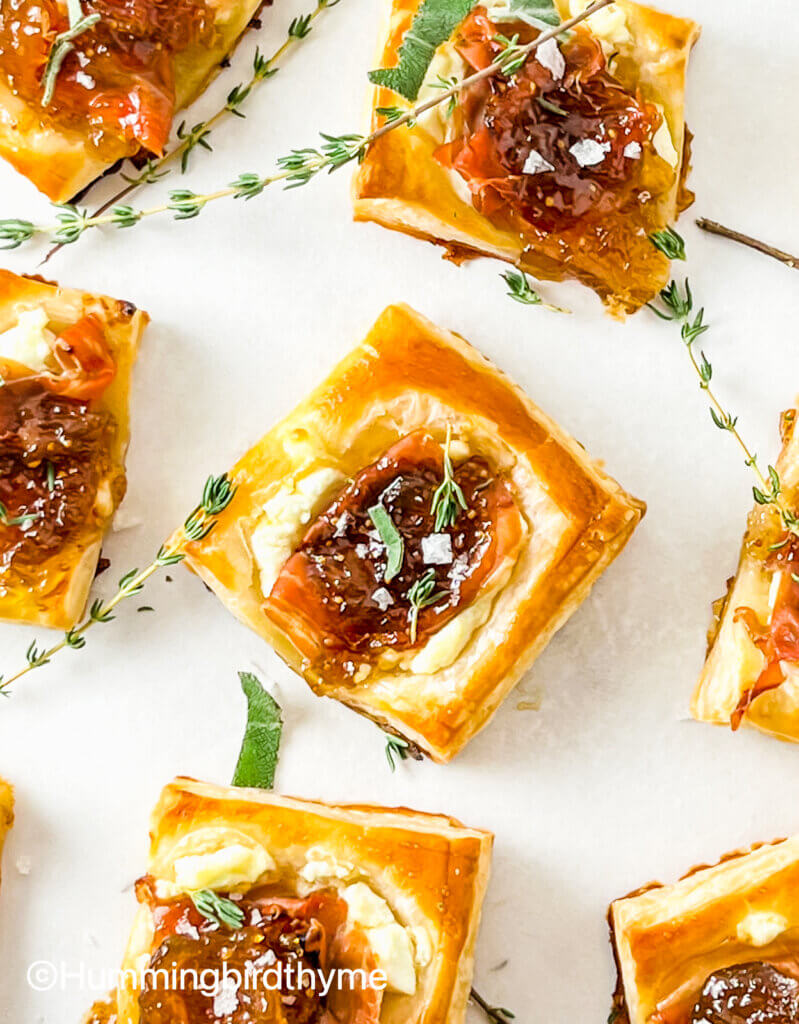 This particular appetizer has everything we want in an appetizer. Personally, I like an appetizer that is 1-2 bites, that can be picked up and eaten – an appetizer for which a plate is nice to have, but not necessary. And, most of all, it needs to have both great FLAVOR and awesome TEXTURE! And, this one's got all those things! Crispy, light layers, topped with creamy, earthy goat cheese, fruity fig jam and savory, salty prosciutto. Outrageously delicious! A light topping of fresh thyme seals the deal.
You could also make the full tart, not cut into 2-bite squares, but rather serve 3 or 4 using the full-sized tart – a beautiful light meal when paired with a crispy salad! A completely versatile and impressive recipe either way!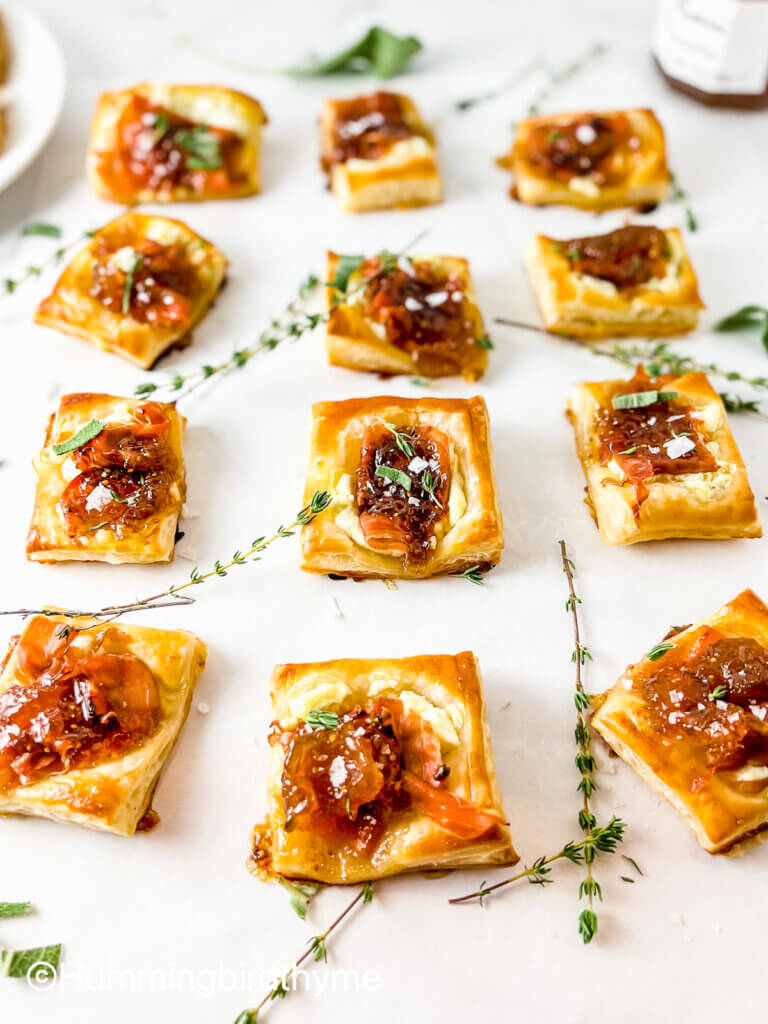 So, what are your favorite kitchen shortcuts? I have to say, the microwaved lemon has got to be the most-used shortcut in my kitchen! But for an appetizer? Puff pastry with chevre, fig jam an proscuitto!
Looking for other simple holiday recipes? Why not try:
All my Favorite Christmas Cookies
How to Make Goats Cheese Fig Jam and Prosciutto Appetizer:
Easy Steps to make a Goat Cheese Fig Jam Puff Pastries:
Gather your ingredients.
You'll need one sheet of Puff Pastry. Look for an "All Butter" pastry. These work the best and taste the best. It's found frozen, and you'll need to defrost it. I've defrosted the quick way – 2 hours at room temperature, and also the slower way – overnight in the fridge. Far better is the slower way. No cracks or tears, and way easier to ensure it's totally defrosted. Using a lightly floured surface and a floured rolling pin, gently roll the sheet of pastry to make it smooth. You don't really want to stretch it or press on it too much. But it is likely to increase slightly in size. That's ok!
Cut it into squares, score about 1/4″ around the edges of each square and prick with a fork. Lay squares out on a lined or buttered baking sheet.
Divide the cheese crumbles among the squares
Top with a folded or rolled bit of super-thin prosciutto.
Top each with a heaping teaspoon of fig jam, and brush the scored edges with the egg wash. Pop into the oven until nicely golden brown and shiny around the edges! Enjoy!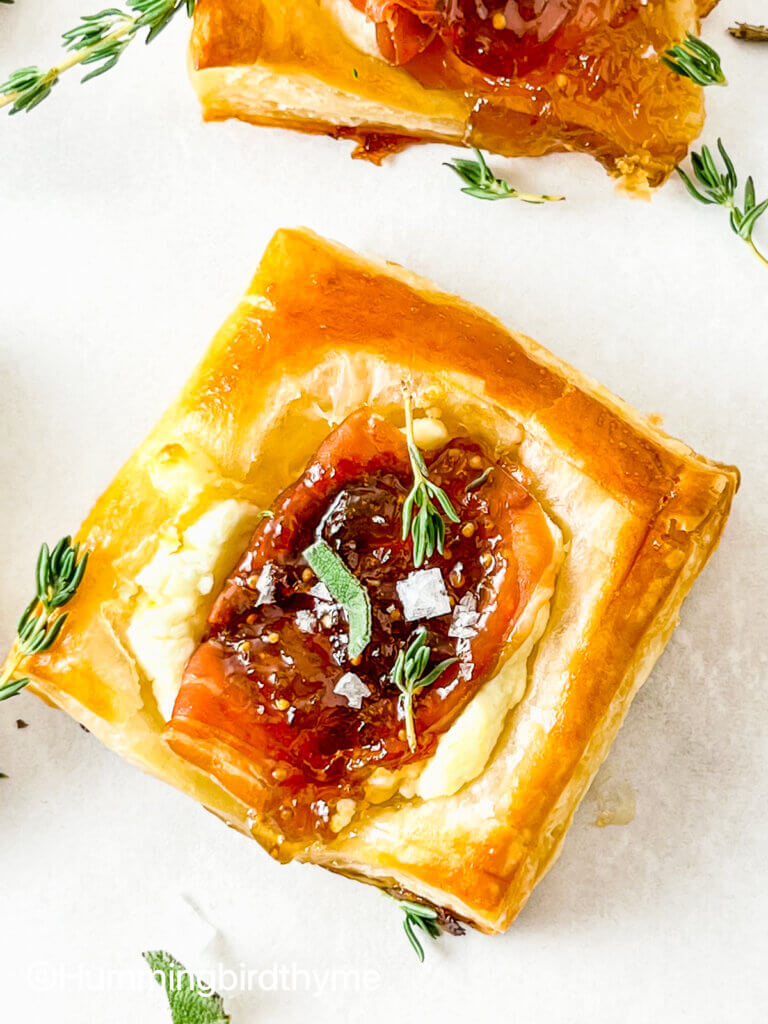 Some Variations and Substitutions of this Goat Cheese and Fig Tart include:
Cheeses: I like this tart with Goat Cheese, but if you don't care for Chevre, it would be delicious with brie, fontina, or even a bit of shredded Parmeggiano-Reggiano. Any cheese that provides a counter-point to the sweetness of the jam and/or the salty, savory Prosciutto.
Meats: If you don't want the prosciutto to crisp up, you could just place the jam on top of the cheese, bake a bit, then then add the uncooked prosciutto on top. Or, you could fry up some cubed ham or bacon instead of the prosciutto.
Jam: This would also be delicious with Apricot Jam with it's slight tartness, or any jam you love

Puff

Pastry

: I've also made these using crostini. If you prefer this to puff pastry, just lightly toast thin slices of baguette and top as directed, then place in the same preheated oven for about 6-10 minutes, watching carefully. Baking time will be shorter as you don't need to bake the pastry. You will also have less crispy prosciutto.
Want to Save this Holiday Appetizer Recipe for Later? Pin it!
Print
Goat Cheese and Fig Tart with Crispy Prosciutto
An enticing bite of flaky puff pastry with earthy goat cheese, salty prosciutto and sweet fig jam! So much flavor and texture!
A perfect holiday appetizer or don't separate the squares and serve as a tart, along with a fresh green salad for a delightful lunch!
Author:
Prep Time:

15 minutes

Cook Time:

15-18 minutes

Total Time:

30-33 minutes

Yield:

16

servings

1

x
Category:

Appetizers

Method:

Baking

Cuisine:

International
Ingredients
1

–

9

oz (255g) sheet Puff Pastry, thawed overnight in the refrigator

4

oz

. Goat Cheese, crumbled or stirred

2

oz

. Prosciutto, shaved super-thin

6 Tablespoons

Fig Jam

1

egg, beaten with 1 Tablespoon water or milk
(Optional: Fresh herbs such as sage or thyme, flaky sea salt, such as Maldon)
Instructions
Preheat oven to 400F. Line a baking sheet with butter or parchment paper.
On a flat surface dusted with flour, gently roll the sheet of parchment paper just to flatten out any creases or cracks. It may increase in size just a bit – this is no problem at all. You just need to be gentle so as to not crush or stretch the pastry. Cut the square into 16 roughly evenly sized squares, but don't separate them just yet. First, using a long, sharp knife or bench scraper, score the edges of the squares in the grid, making sure not to cut all the way through. Then prick the insides of each square's grid marks 3 or 4 times with a fork. This will help the middles remain flat while the edges "puff" up during the bake. Separate the square from one another and lay out over the prepared baking sheet.
Top the center of each square with a bit of the cheese, distributing the cheese roughly evenly amongst the 16 pieces. Next, take small pieces of prosciutto, folding them so they fit over the cheese, and distribute over the squares. Then top each bit of prosciutto with about a teaspoon of fig jam.
Beat the egg with milk (or water) and then brush the egg wash over the edges of each square (the parts you scored in step 2).
Place the sheet in the preheated oven and bake until edges are nicely shiny and golden brown, cheese is melty and prosciutto pieces are nicely crisp. Feel free to scatter chopped herbs (thyme is delicious here), and/or flaky sea salt.
Serve warm or at room temperature.
Notes
To reheat leftovers, it's best to place in a 350F oven for about 5-6 minutes. Microwaving may result in soggy puff pastry.
Keywords: puff pastry, appetizers, holiday, christmas, prosciutto, goat cheese, chevre, figs, fig jam, goat cheese and fig jam appetizer, easy appetizers, puff pastry appetizers
Recipe Card powered by