Chocolate Coconut Pecan Tart is a "truth" in my house. And, the truth is: My family doesn't care what else is on the table at Christmas or Thanksgiving, as long as this pie is there.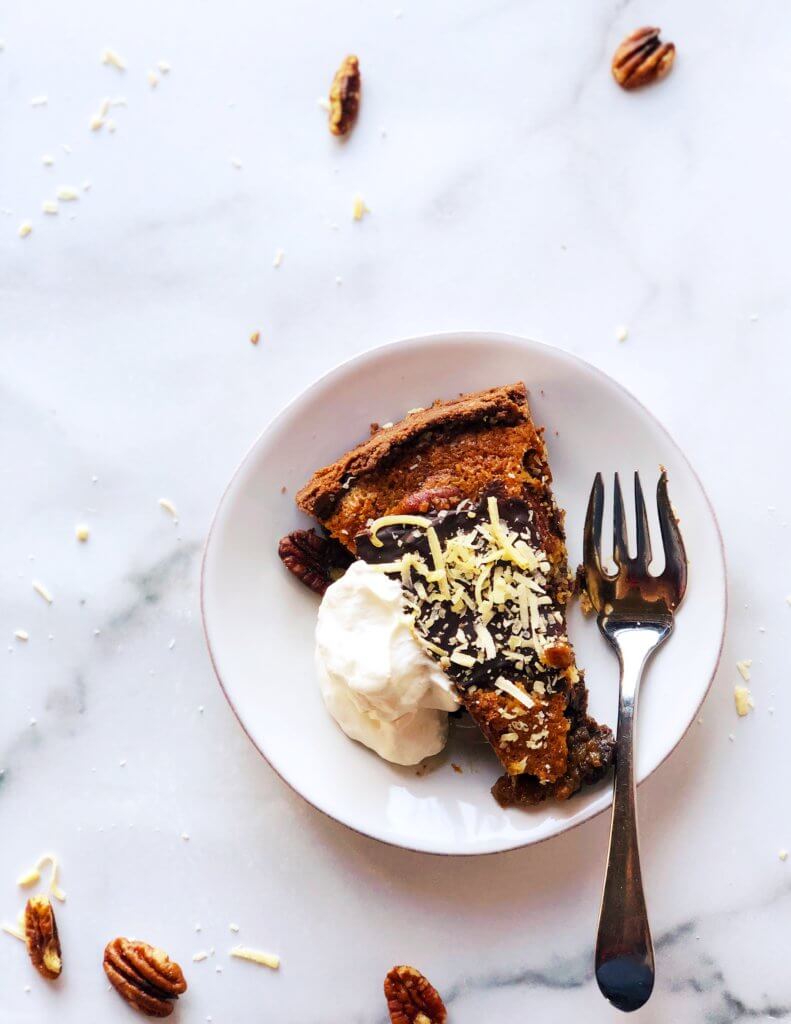 Note: I originally published this recipe a few years ago, but have updated it with some new photos and process shots, as well as updating the text of the post a bit.
This pie. It really is THAT GOOD! I've been making it since 2001, when I saw it in the November issue of Bon Apetit. It's been on my Thanksgiving and sometimes Christmas table ever since. Every holiday, my son swears this is the dessert he wants for his Birthday! Let me just repeat: It's THAT GOOD!
A not-too-sweet chocolate crust holds an ooey-gooey maple-syrup-based pecan pie with bittersweet chocolate and bits of coconut. And here's the deal. Strangely, I don't really care for regular Pecan pie, but this pie? Yes yes yes! Those who know me well would say it's the ample amount of gooey bittersweet chocolate that does the trick. They know me so well. And, you? …. Is there even a question whether YOU need to make this?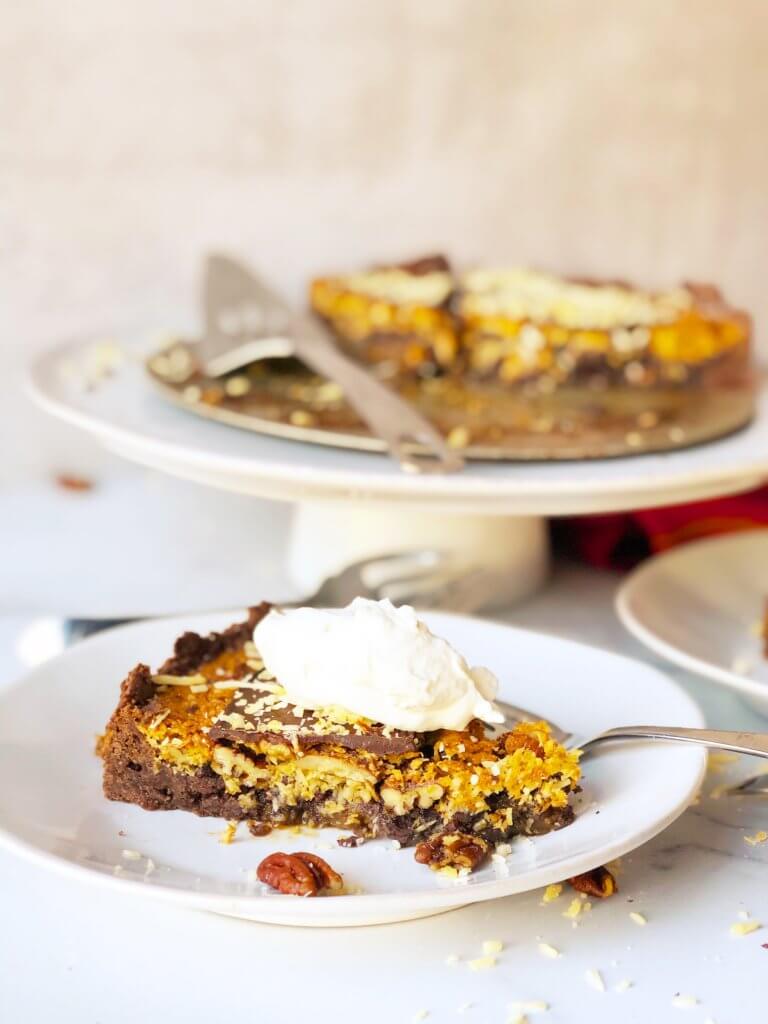 Now, I've made changes to the original recipe along the way. Some I've kept, others not. I substituted maple syrup for the original corn syrup many years ago, but the inside became a little runny. So I added a Tablespoon of molasses at some point, hoping that thickening it up would be the solution. I'm not sure whether it thickened it, but it did make for a less runny pie and added some richness (as if with this list of ingredients one would need more richness😉). This year, in addition to the molasses, I added a tablespoon of all-purpose flour, following the lead of Sally's Baking Addiction in her pecan pie and my pie was easier to cut! It still doesn't hold together quite as well as the corn syrup version, but it isn't so sweet your teeth hurt. 
I love the maple syrup in here, as it complements the brown sugar that's in the filling as well. If you use maple syrup, don't confuse it with "pancake syrup", be sure it is Real Maple Syrup, preferably B-Grade. I've also considered using Lyle's Golden Syrup, that delicious stuff from the UK. For me, much more pleasing than corn syrup, and probably adds a bit of toffee-ness to the pie.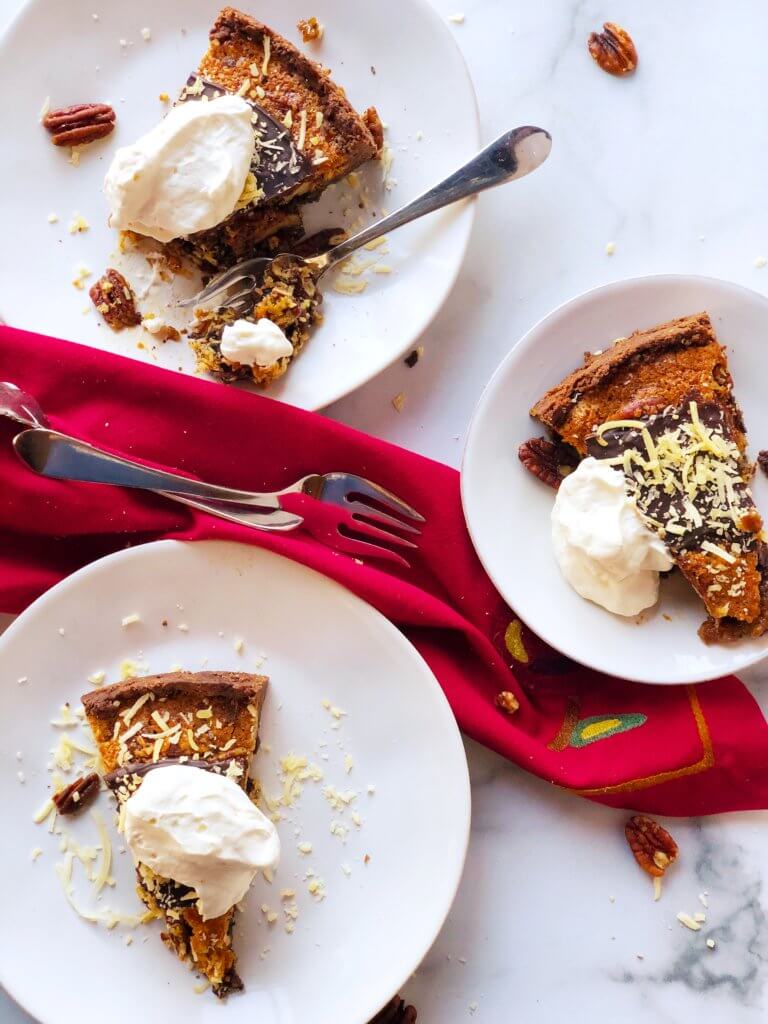 So, if you're looking for a festive dessert for the holiday season that everyone will LOVE, this pie is for you! If this pie isn't your jam, maybe try this White Chocolate Cranberry Loaf Cake, with it's hint of orange and cream cheese frosting.
Enjoy!
Looking for more Christmas treats? Take a peek at this Sticky Toffee Pudding or these awesome Chocolate-Dipped Coconut Macaroons or their Gluten-Free version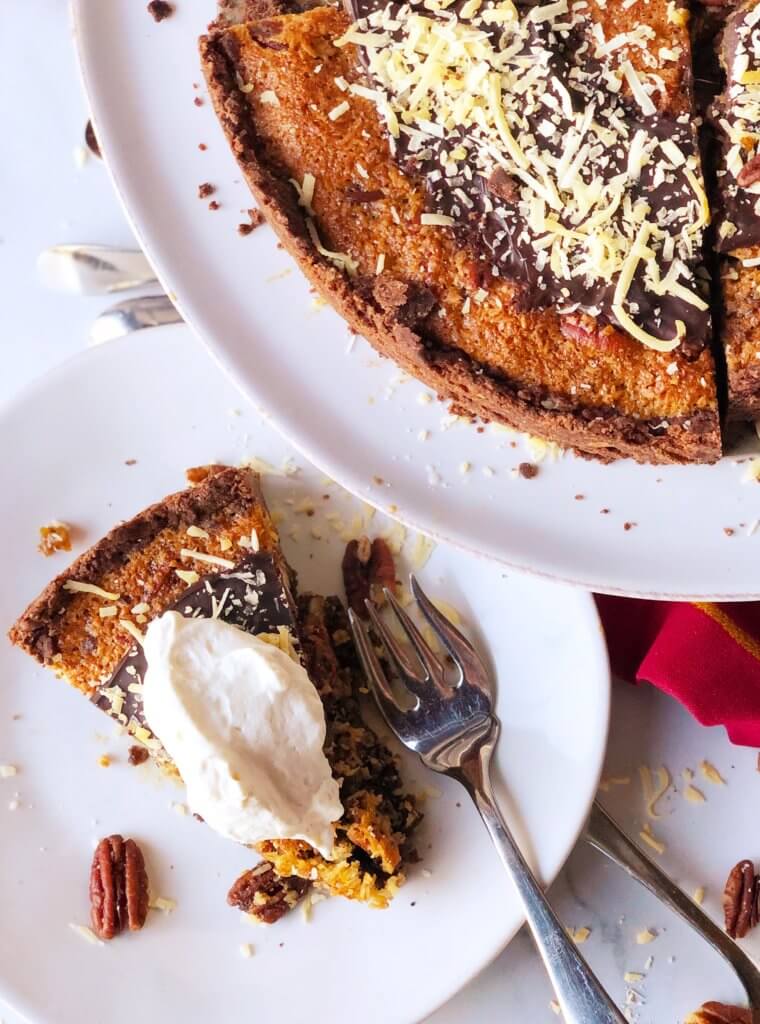 Recipe Details ->
This pie recipe is pretty straightforward. The crust is a chocolate version of a traditional pie crust. The dough is somewhat drier than a regular pie pastry, but is somewhat drier, due to the addition of the cocoa powder. So you'll mix together the dry ingredients, cut in the butter and then add the 3 egg yolks. At this point, if you squeeze a handful of the dough, it should come together. At this point, press it into a tart or 10" springform pan, like This one as shown in the photo, and bake. If it is just too dry and doesn't press an inch up the side of the pan, add a tablespoon or two of ice water, and it should press well.
While the baked pie crust cools a bit, just mix the filling ingredients together in a bowl and pour into the crust. You may need to distribute the pecans a bit if they are all on one side of the pie. Then bake until it s nice and golden brown, and only a bit of jiggle in the filling.
Melt, then spread, some chopped chocolate or chocolate chips on the top and sprinkle with a few tablespoons of coconut. You can use toasted or sweetened coconut on the top, but I just use the same unsweetened coconut I used in the filling.
Cool to room temperature before serving. The pie keeps well at room temperature, loosely covered with foil. After cutting, it still stores well at room temp or can be refrigerated, but the crust will lose a bit of its crispness.
Crust dry ingredients

Crust dough pressed into pan

Baked crust

Filling ingredients

Mixed filling

Baked tart with melted chocolate

Finished Pie!
Print
Chocolate-Coconut Pecan Tart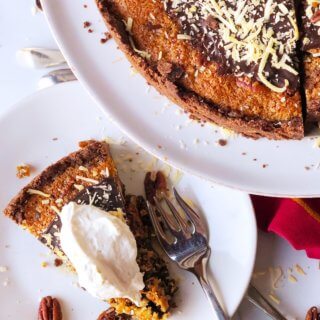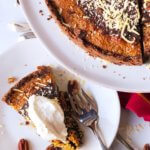 Originally from Bon Appétit, this pie is a holiday tradition in my house. I make it every year at either Thanksgiving or Christmas, or maybe both. It's THAT GOOD!
Equipment needed: ideally, a 10" Tart or Springform pan. I've baked it in a 9" springform as well using the same baking time.
Author:
Prep Time:

30 min

Cook Time:

45-57 min.

Total Time:

90 min

Yield:

1

–

10

" Pie or Tart

1

x
Category:

Pies, Desserts

Method:

Baking

Cuisine:

American
Ingredients
For the Crust:
1 1/2 cups

(

180g

) AP Flour

6

T (36g) Unsweetened Cocoa (regular or Dutch-process is ok)

1/4

c (48g) Granulated sugar

1/4 tsp

Salt 

1/2

c (1 stick, 127g) Butter, well-chilled, cut into small pieces

3

large egg yolks
For the Filling:
1/4

c Butter, melted

1 Tbsp

AP Flour

3/4

c (148g) Light Brown Sugar, packed

3

Large Eggs, slightly beaten

1 cup

Pure Maple Syrup, B-grade (240ml)

1

T (30 ml) Full Flavor Molasses

2

t Natural Vanilla Extract

1/2 tsp

Salt

1/2 cup

, 3 oz. (

90g

) Bittersweet chocolate, chopped, or chocolate chips

3/4 cup

(

60g

) Shredded, Unsweetened Coconut

1 1/2 cups

, (210-2

40g

) Pecan halves (I used Roasted & Salted pecan halves)
For the Topping:
1/2 cup

, or 3 oz. (

90g

)Bittersweet Chocolate, chopped, or chocolate chips

3

T (15g) Shredded, Unsweetened Coconut
At the Table:
Maple Whipped Cream – 1 1/2 cups heavy cream, whipped, then add 1 T Maple Syrup
Instructions
Make the Crust:
Preheat oven to 375F or 350F for Convection oven. 
Place flour, cocoa, sugar and salt into medium-sized bowl. Whisk or stir with a spoon. Add the bits of chilled butter, and cut in with a pastry blender or with fingertips until mixture is like a coarse grain.
Whisk together the egg yolks and stir into the mixture for 20-30 seconds. Mixture will be quite dry, but should hold together if you squeeze it. If it doesn't hold together, slowly drizzle in 1 or 2 Tablespoons of ice water. (I've only had to do this once in the 15-20 times I've made this pie)
Press the mixture into the bottom and up the sides of a 10" Springform pan. Bake 15 minutes or until set. Cool while preparing the filling. Reset oven temp to 350F or 335F for Convection oven.
Make the Filling:
In a medium bowl, whisk the following: melted butter, flour, brown sugar.  Stir in the eggs, followed by the maple syrup, molasses, vanilla and salt. Stir in the 1/2 cup chocolate chips or chopped chocolate, 3/4 cup coconut, and the pecans. Pour into the baked crust.
Return the pie to the oven, and bake for 35-42 minutes until filling is golden brown and still a bit of jiggle, but it shouldn't appear liquid (no sloshing!) in any way.
Add the Toppings:
Sprinkle the 1/2 cup chopped chocolate or chocolate chips into a circle pattern on the crust. Wait a few minutes until it is melted and glossy, and spread until smooth and in the shape you like.
Sprinkle the melted chocolate with the 3 T coconut. 
Allow pie to cool completely before serving.
Cover loosely with foil to store at room temperature.
Notes
Instead of Maple Syrup and molassses, you can substitute 1 cup corn syrup.
I've used Bittersweet chocolate or Bittersweet Chocolate chips in this recipe, but semi-sweet chocolate would work, too.
You can toast the coconut for the topping if you like.
You can make the pie up to two days in advance of serving, and it will keep at room temperature up to 5 days. I've also refrigerated it after serving and it's fine that way, too.(It's unlikely there will be any left at this point.)
I like to top it with Maple Whipped Cream. Just whip 1 1/2 cups heavy cream and at the end of whipping, add 1 T Maple syrup.
Nutrition
Serving Size:

1/12 recipe
Keywords: Chocolate Coconut Pecan Pie
Recipe Card powered by
PIN Chocolate Coconut Pecan Tart ->