Tender Roasted Sweet Potatoes and Brussels Sprouts meet nutty, chewy farro, Balsamic Maple Dressing & fresh herbs for super-tasty, healthy dish that is totally delicious enough for Holiday table! (Vegan!)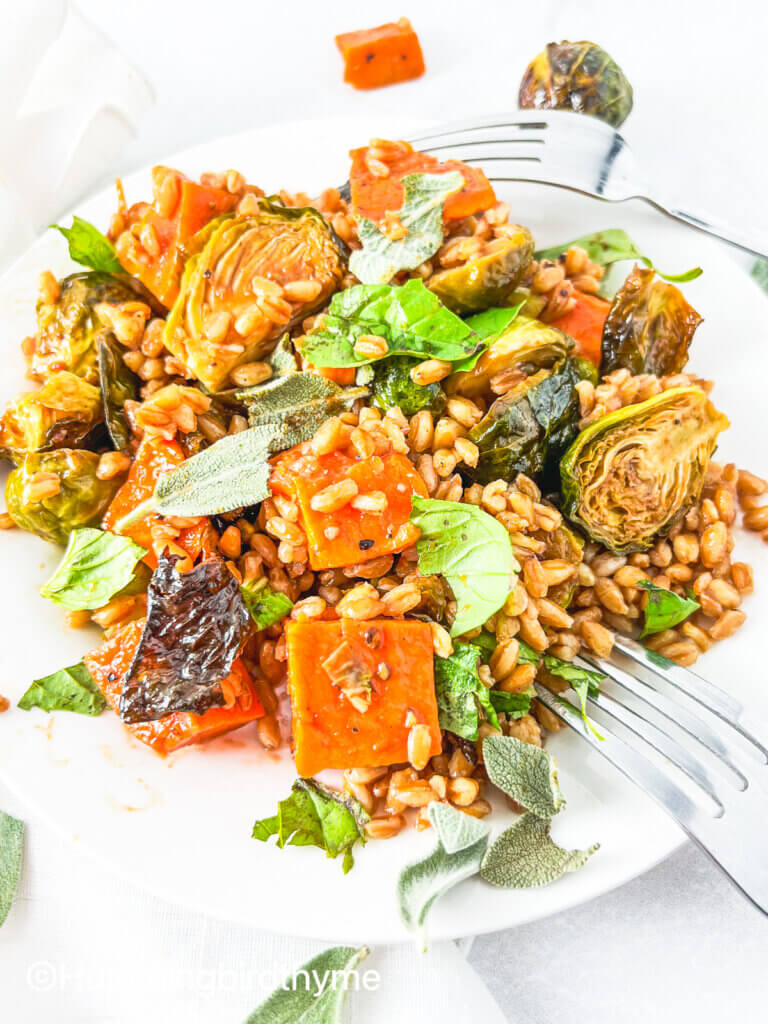 You know, I love me some Brussels Sprouts and Sweet Potatoes! I don't know why, but together they are a dynamic duo! The slight bitterness from the leafy sprouts provides a nice counterpoint for the sweet, earthy, creamy, roasty sweet potato. Totally a match made in healthy-food-heaven! Mix it together with my favorite ancient grain – chewy, nutty Farro – and you have a salad, side dish, or main dish that will satisfy you with flavor and texture! Topped with fresh sage and basil – you'll need this on your Holiday table as well! And, don't get me started on the health benefits!
Now, before you turn your nose up at the lovely green Brussels Sprouts, you need to realize, these are not the sprouts you were forced asked to just take a single bite of as a child – they are completely new and more palatable varieties with smoother, less bitter flavor. They roast up to a crispy, layered, leafy delight. And Sweet Potatoes, which can sometimes get a bad health rap, are actually rich in Vitamins C and E, are full of anti-oxidants and anti-inflammatories, have twice the fiber of white potatoes, and are so tasty, particularly when combined with my Balsamic Maple Dressing and topped with fresh sage and basil!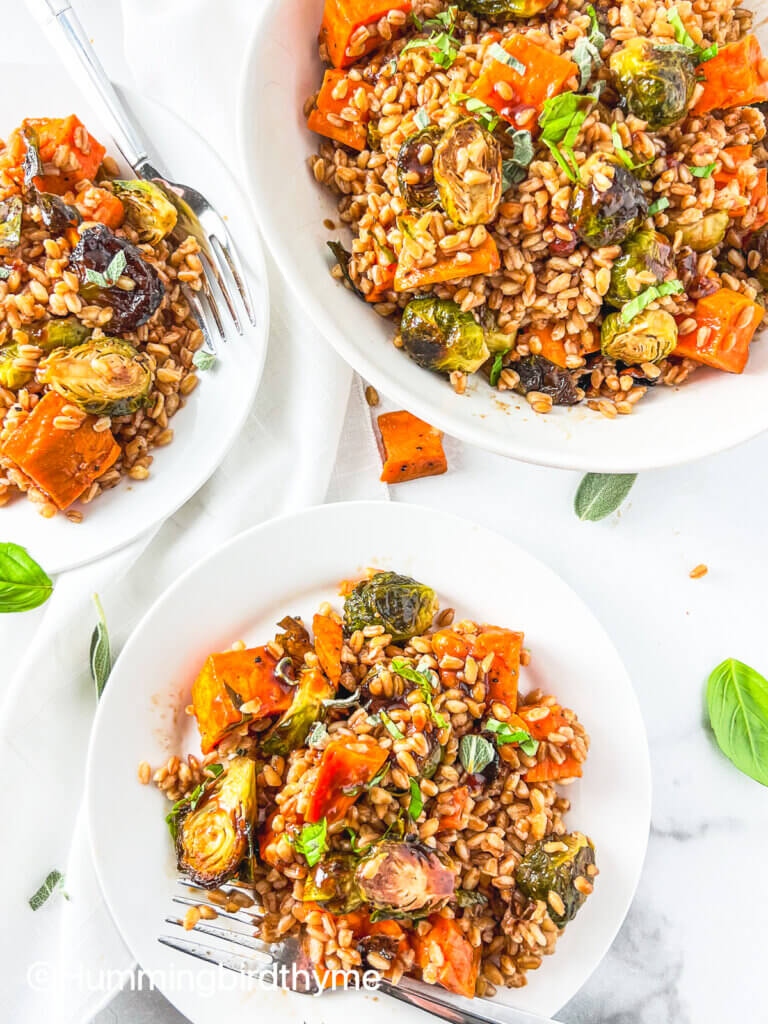 Farro is super-healthy, too! It's an "Ancient Grain", meaning it's remained largely unchanged from how it was originally harvested by humans. A single serving, about 1/4 cup dry or 3/4 cup cooked farro, includes 5-8 grams of fiber, and 7-8 grams protein! And the mild, nutty flavor and chewy texture are so satisfying! These are why farro is definitely one of the grains I reach for most often!
And, when you combine the Farro, Sweet Potatoes and Brussels Sprouts with a tangy/sweet Maple Balsamic dressing, then top it all with fresh herbs – so tasty, so satisfying, you'll just want to share it with everyone, or maybe just keep it to yourself. It is a big batch, it could make 4 or maybe 5 good lunch portions!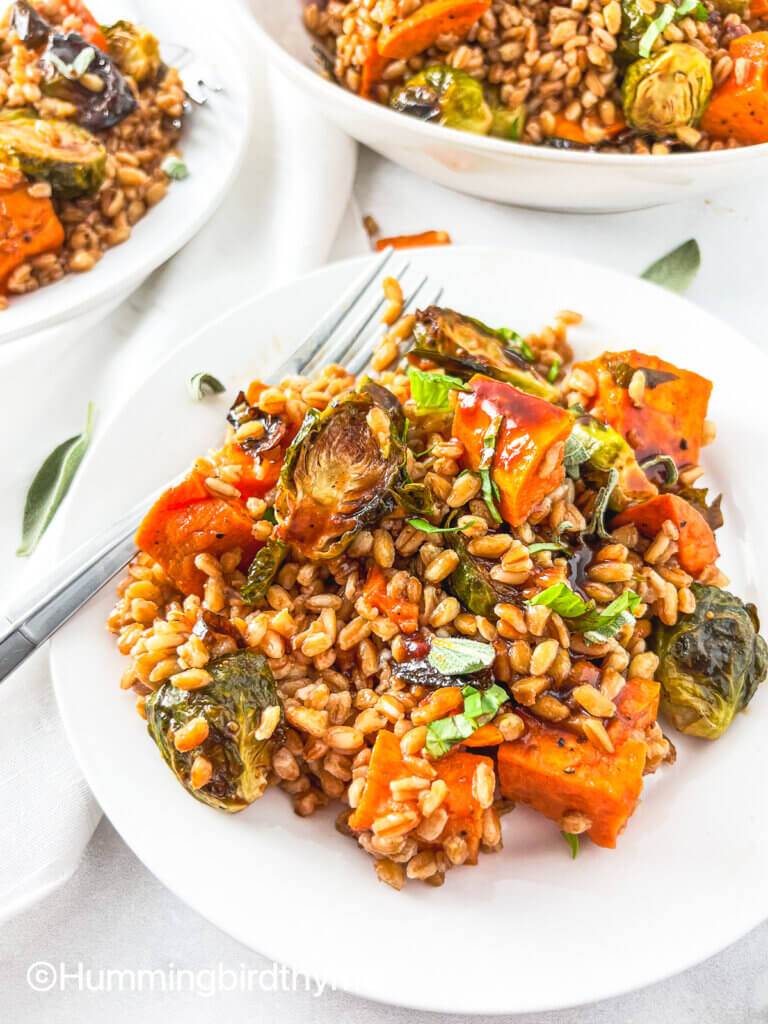 So, do you love Sweet Potatoes and Brussels Sprouts? And, how do you feel about Ancient grains? Have I convinced you to cook up some Farro? I know – So many questions!
Enjoy!
Looking for other delicious Autumn sides? Try these:
Sheet Pan Roasted Root Vegetables
Roasted Balsamic Thanksgiving Vegetables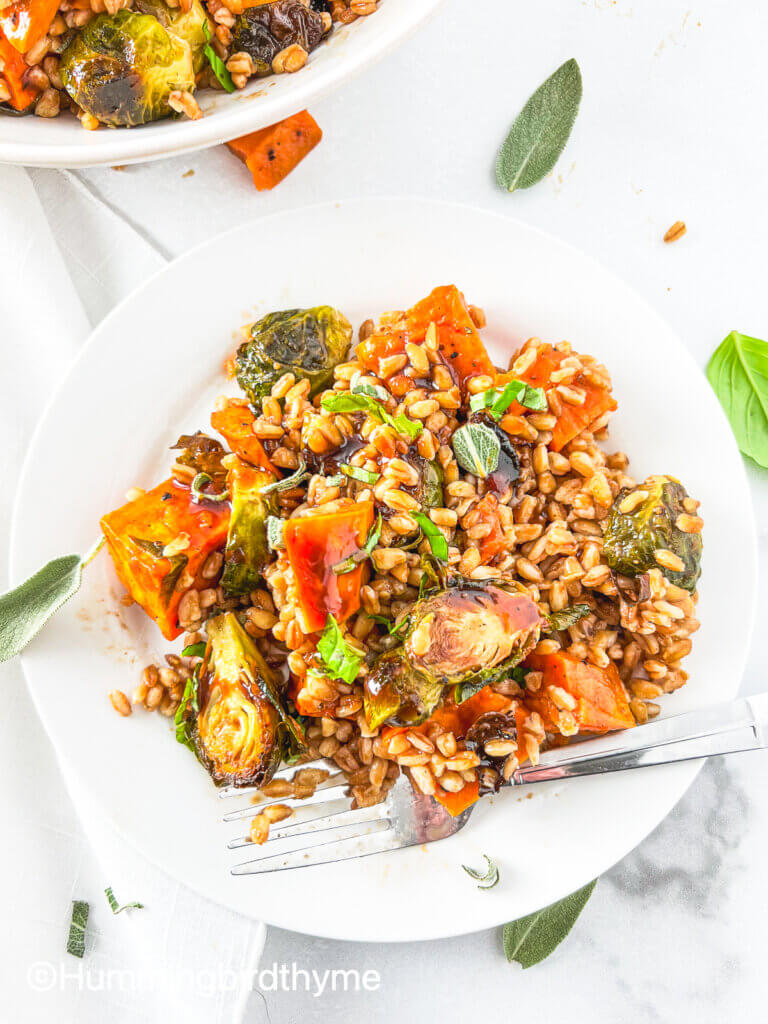 How to make this easy Farro with Sweet Potatoes and Brussels Sprouts Salad with Balsamic Maple Dressing:
This post may contain affiliate links. As an Amazon Affiliate, I may earn a small commission, at no cost to you, for purchases you may make of items linked from this site.
Simple steps to this delicious farro salad recipe:
This recipe is very easy! You'll first want to roast the Brussels sprouts and sweet potatoes. I like the pieces to be bite-sized, so most Brussels sprouts get halved, and I like to peel and chop the potatoes in about 3/4″ cubes. For each pound of vegetables, drizzle with 2 Tablespoons Olive Oil, and toss in 1 teaspoon of Kosher Salt (or a half-teaspoon table salt) and a half teaspoon of pepper. Roast on a parchment-lined or sprayed sheetpan, like this one I use and love!) until they are tender and roasty-looking.
While those are roasting, cook the farro per the package directions. Farro, a term used to describe emmer, spelt, or einkorn, all ancient grains, is not gluten-free. It comes three different forms: Whole, Semi-pearled, and Pearled. Each has a different cook time. (I like this one from Bob's Red Mill). Whole farro will need up to 40 minutes, while the most refined, the pearled variety will need only 10-15 minutes.
Refinement of the grain involves removing the husk and part of the bran, but even the most refined still contains nice amounts of protein ad fiber. But you'll need to use the directions on your farro package to determine how long to cook your farro. I often use the least processed from, but for this recipe I used the Semi-Pearled variety, and cooked it for about 25 minutes.  I usually fill a Medium Saucepan about half way with water, boil it, then stir in the farro and simmer until it's done. You can cover your pot if you want, or just simmer uncovered. Easy-peasy.
Whisk together the dressing ingredients, then when everything is done, combine the farro and roasted veggies, stir in as much or little dressing as you like – I like to reserve about a third of the dressing to drizzle on at the table, but you can mix it all in if you like.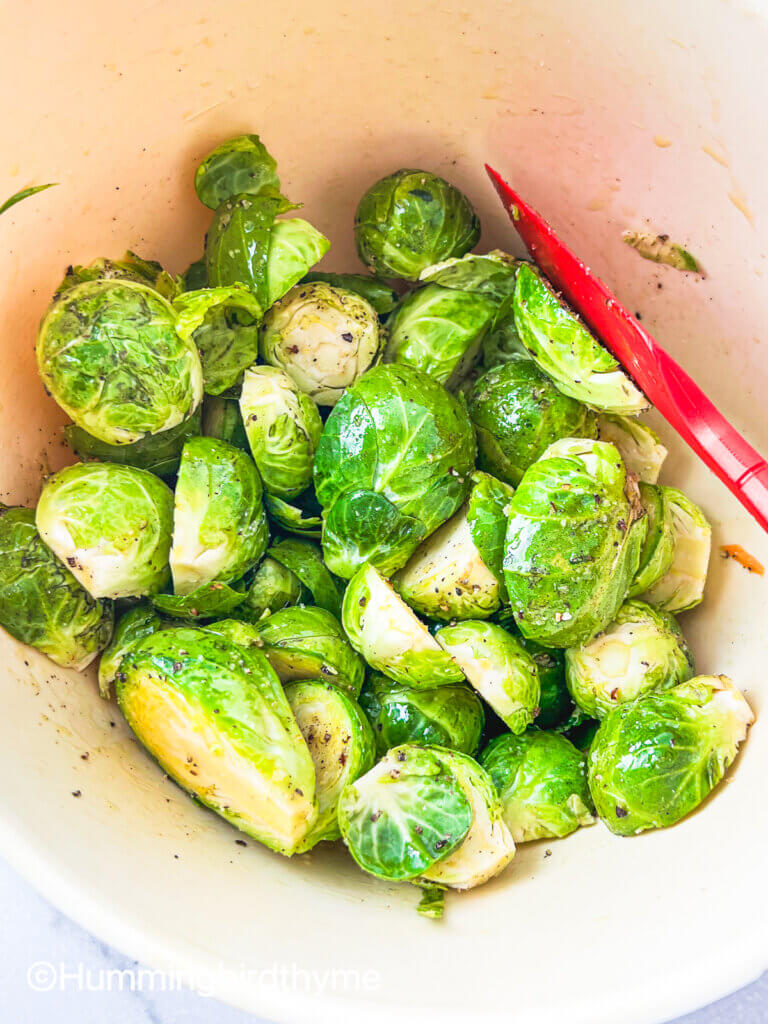 Some Variations of this Sweet Potatoes and Brussels Sprouts Recipe include:
Use different Vegetables! For this particular recipe, about 2 lbs of veggies is perfect, so feel free to substitute for all or part of the sprouts and potatoes. Some ideas include:

Onions
Turnips
Carrots
Parsnips
Gold or Waxy-type Potatoes

Don't have Olive Oil? You can use Canola Oil, Vegetable Oil, Avocado Oil, any relatively mild oil that can withstand a 400F Oven.
Use a different grain! I love Farro, but you can use Couscous – I recommend Israeli or pearl Couscous, brown rice, white rice, truly, just about any grain will work here.
Don't want to make your own dressing? You can use your favorite Bottled Salad Dressing – Italian or other vinegar-and-oil varieties work best!
Add additional Protein! Feel free to add sliced chicken, steak or cubes of tofu or tempeh! Makes a super-satisfying healthy meal!
Use different herbs! I love using fresh herbs here, and you can use any you especially like: thyme, rosemary, parsley, cilantro, even mint will work – I love the combination of mint and basil!
Want to save Farro and Sweet Potato Recipe for later? Pin it!
Print
Farro with Roasted Sweet Potatoes and Brussels Sprouts
A super-simple, super-tasty and versatile salad or side dish! You can serve it warm or cold, add extra protein like sliced chicken, tofu, steak, a fried egg! 
The Balsamic Maple Dressing and fresh sage and basil make it a perfect healthier dish for a Holiday Table!
Author:
Prep Time:

10-15 minutes

Cook Time:

40 minutes

Total Time:

50-55 minutes

Yield:

8

servings

1

x
Category:

Side Dish, Salad

Method:

Oven Roast, Stovetop

Cuisine:

global
Ingredients
For the Roasted Vegetables:
1

large (about

1

lb) Sweet Potato

1

lb

. Brussels Sprouts, cleaned and sliced in half

4 Tbsp

Extra Virgin Olive Oil

1 Teaspoon

Salt or (

2 teaspoons

Kosher Salt)

1/2 teaspoon

black Pepper
For the Farro:
1 1/4

cup

Farro (any type – I used "semi-pearled"), rinsed

1/2 teaspoon

salt or

1 teaspoon

Kosher Salt
For the Balsamic Maple Dressing:
4 Tablespoons

Balsamic Vinegar

2 Tablespoons

Maple Syrup

1 Tablespoon

Tomato Paste

1 teaspoon

Dijon Mustard

1/4 teaspoon

salt (or

1/2 teaspoon

Kosher Salt)

1/4 teaspoon

pepper
Garnish:
Fresh Basil leaves, sliced or chopped
Fresh Sage leaves, sliced or chopped
Instructions
Preheat oven to 400F. Spray or parchment-line an 11×18 sheet pan. Peel Sweet Potato if desired, then chop into 3/4″ (bite-sized) cubes. Place in bowl with sliced brussels sprouts. Drizzle with olive oil, sprinkle with salt and pepper and stir together to distribute seasonings. Pour over sheet pan in a single layer. Roast in preheated oven for 35-40 minutes until roasty and tender. Stir after 20 minutes.
While veggies are roasting, boil about 6 cups of water in a Medium (3-quart) saucepan, along with the salt. When boiling, add the farro, and cook until tender or according to package directions. There are several types of farro for which cook times vary. When done it should be tender, but still chewy. Drain when done cooking, pour into serving bowl, and fluff with a fork.
Make the dressing: In a small bowl, whisk together all of the dressing ingredients.
Mix the roasted vegetables into the farro and top with about 2/3 of the dressing, saving the rest top drizzle at the table, if desired.
Top salad with the sliced or chopped herbs – I like mine with lots of fresh herbs – about a handful of each – these two herbs together are delicious!
Serve warm or cold, if preferred.
Keywords: farro, roasted vegetables, fresh herbs, how to cook farro, vegan thanksgiving, sweet potatoes and brussels sprouts, roasted sweet potatoes, how to cook brussels sprouts, healthy holiday side dish recipe,
Recipe Card powered by