Kung Pao Brussels Sprouts are so easy to make! Easy sheet pan dish! Tender and spicy sprouts covered with spicy, tangy, slightly sweet sauce and roasted peanuts and sesame seeds! Flavor for days!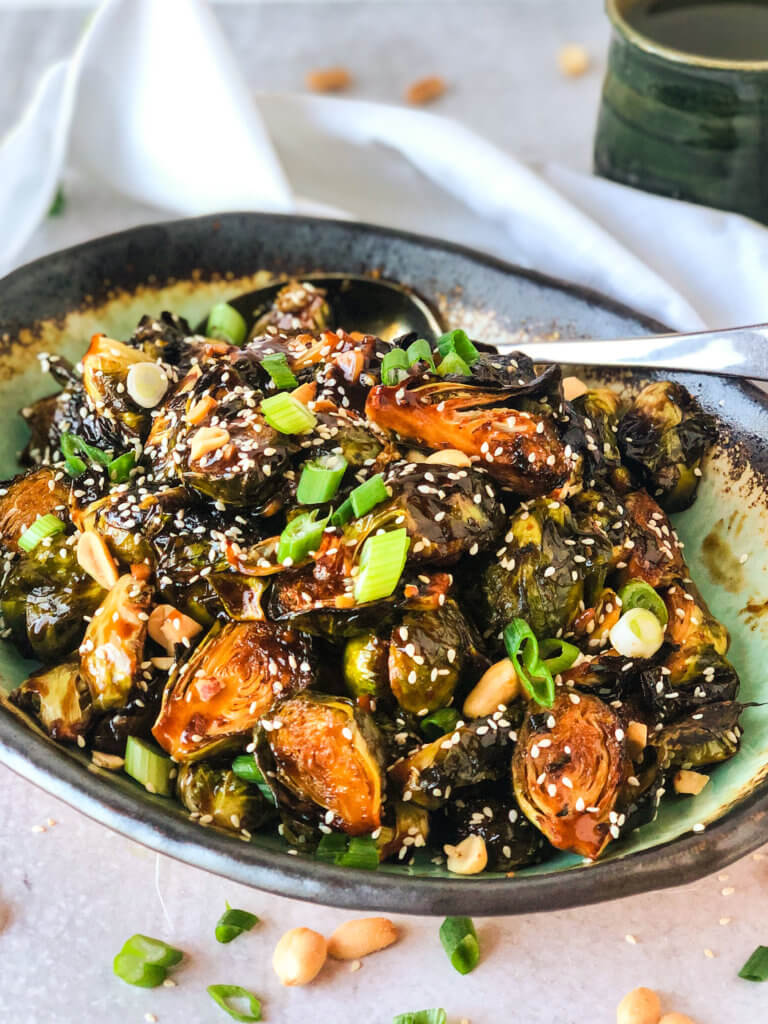 Do you remember the first time you ever had Brussels Sprouts? Was it when you were a kid? Yeah, me too! And were they cooked by boiling in slightly salted water? Mine, too. And did you – at first, think the name "Brussels Sprouts" could absolutely positively not be the name of something tasty? Absolutely agree. And, don't even get me started on the aroma. So, when you finally worked up the courage to put that first bite in your mouth….well, let's not even go there. Because, well, they just didn't taste the same back then, did they? At least that's what we all think now.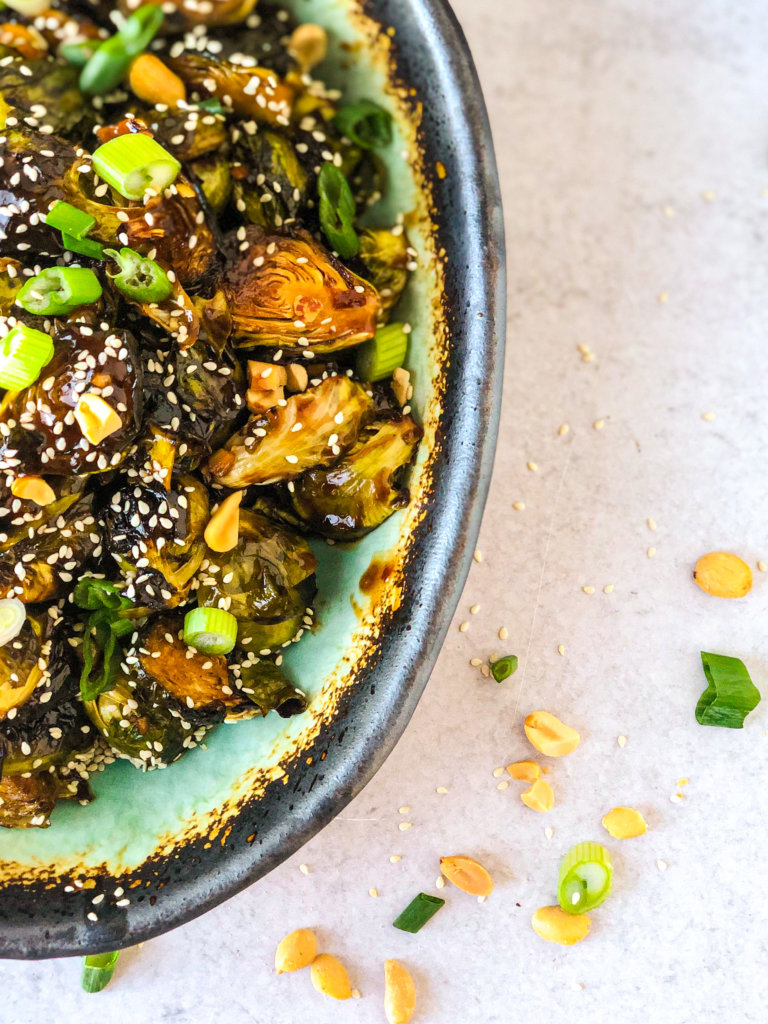 And you know what? We were right! Even though these are a vegetable -you know, those delicious and nutritious things that grow in the ground – Brussels Sprouts have changed over the years. To be more accurate, thanks to Science, the specific Brussels Sprouts we eat are different now.
Turns out, a scientist at a seed company identified the specific compound, called Phenylthiocarbamide (PTC), in the Sprout that accounts for that bitter taste we all grew up hating. Or, to be most accurate, 70% of us grew up hating (-read the article, "only (!) 70%" have the bitter-detection gene that makes us dislike the sweet Green Sprout). And, since there are hundreds of varieties of Brussels Sprouts, specific low-PTC containing varieties were identified. Then they were grown, harvested and tasted. And, wouldn't you know, they were not only a lot less bitter, they were delicious!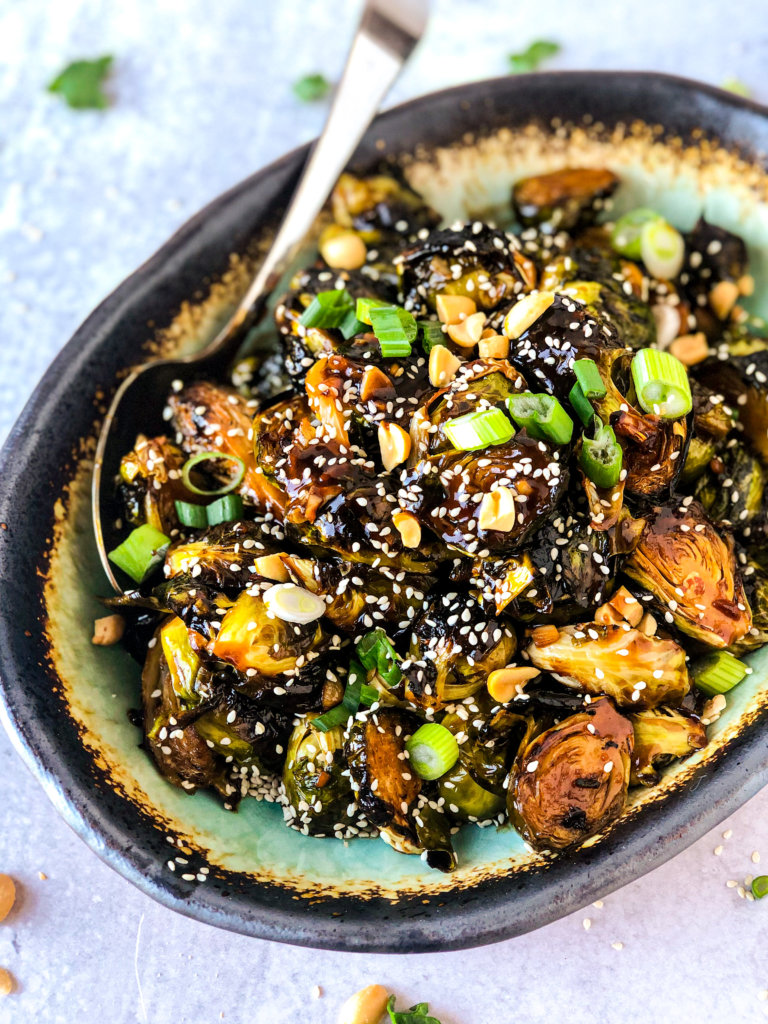 This discovery has led to demand for these tender green sprouts of joy to skyrocket, and now they are harvested year-round to satisfy the Sprout-tooth of people like me, and hopefully, you, too!
So, if it's been awhile since you've treated yourself to some of these gorgeous green orbs, I suggest you try these awesome Kung Pao Brussels Sprouts. These delicious crispy-edged, tender sprouts are bathing in a thick, dark sauce of savory/salty/sweet/tangy and spicy ingredients. Resting on top are fragrant sesame seeds, some chopped green onions, and roasted peanuts. I mean, this is heaven!
I adapted this recipe from this one, from Delish, changing the amounts of just a couple of the ingredients.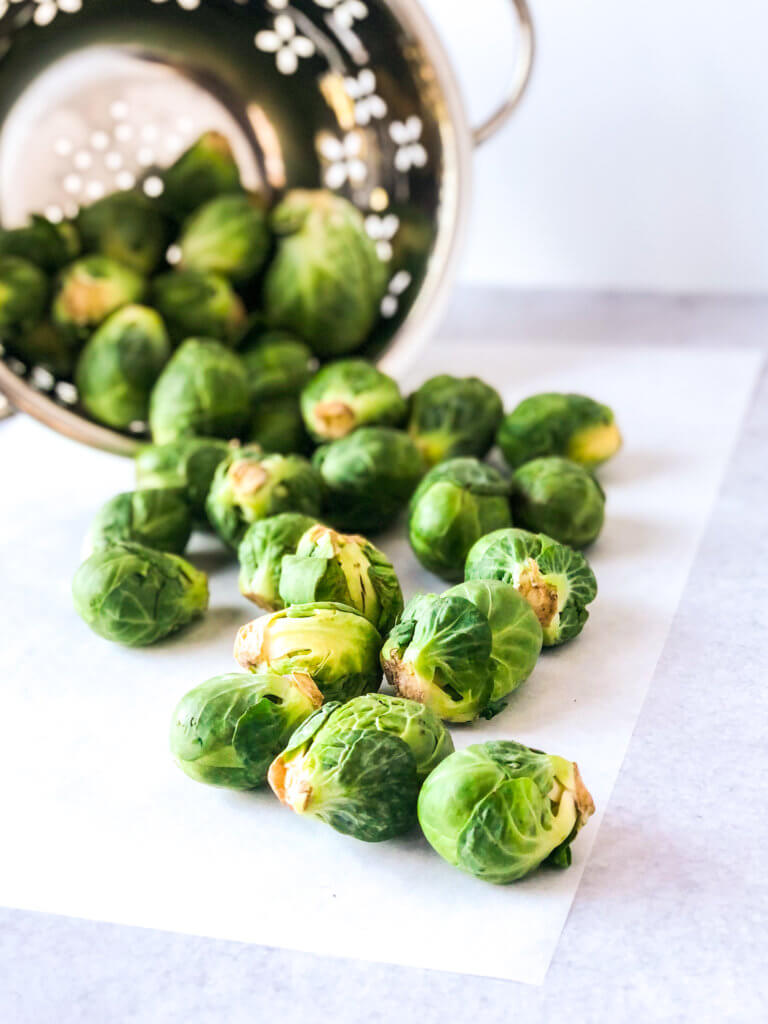 Here's one of my favorite things about Brussels Sprouts. My kids have grown up in a world where Brussels Sprouts are delicious, not bitter. To me, that's a good thing! It's a veggie they all love! They absolutely can't believe I didn't like them as a kid. Now, that's a win for Science!
Enjoy!
If you're looking for other side dishes, check out my Za'atar Sweet Potatoes and Garlicky Kale or these super-flavorful Green Beans Mediterranean Style !
Need a dessert? I love the idea of a citrus dessert, like my Key Lime Tart with the Fluffiest Meringue or this yummy No-Churn Key Lime Cheesecake Ice Cream!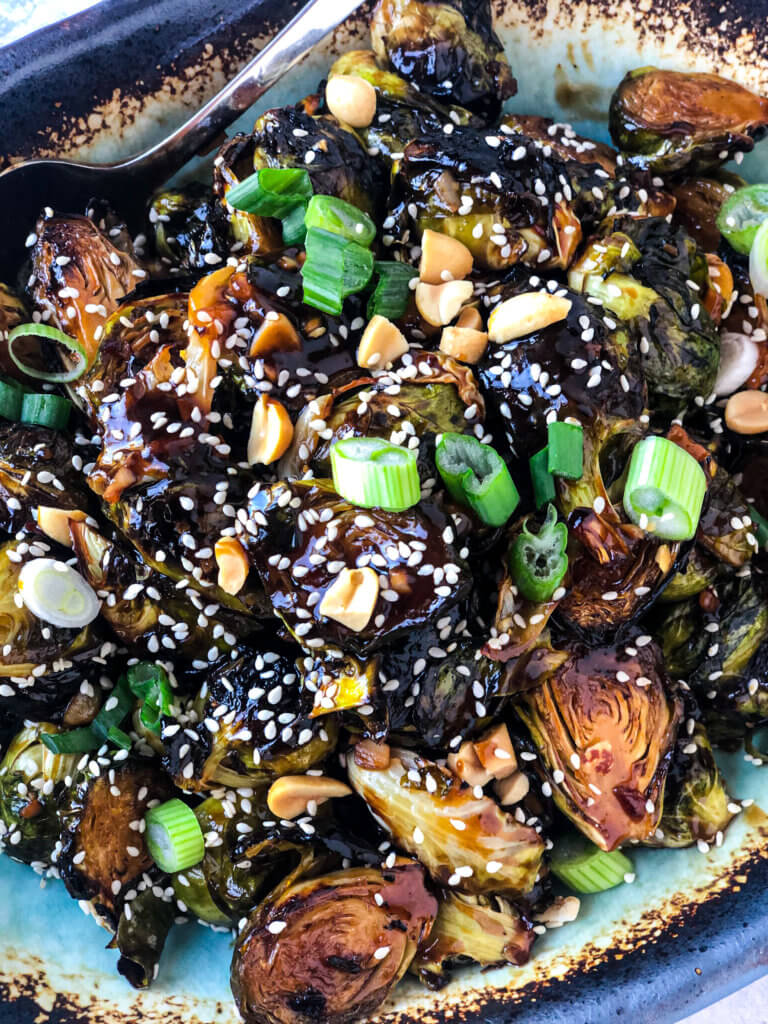 Kung Pao Brussels Sprouts Details ->
This post may contain affiliate links. As an Amazon Affiliate, I may earn a small commission, at no cost to you, for purchases you may make of items linked from this site.
These Kung Pao Brussels Sprouts are super-easy to make! Don't be fooled by the length of the ingredient list!
First you'll want to wash, dry and cut your sprouts in half. Drizzle a couple tablespoons of Olive oil over them. Salt and pepper. And spread them across a Sheet Pan. 20 minutes in the oven, they will be tender and starting to crisp around the edges.
While they roast, make the sauce. You just need a small Saucepan. And it comes together pretty quickly, so I recommend having all your ingredients right in front of you, and even portioned out if you like.
Heat a tablespoon of sesame oil in the saucepan. Once it's hot, saute the minced garlic until it's fragrant. Note, this happens quickly, and you need to be careful not to burn the garlic, since no one likes burnt garlic. So 30-60 seconds for this step.
Next, stir in the cornstarch. Then add all of the other ingredients. Stir and let it come to a boil. Then simmer until it thickens a bit. This takes about 3 minutes.
After the sprouts are done, set your oven to the broil setting, about 500F. Pour the roasted sprouts into a big bowl. Keep your sheetpan handy, you'll need it again. Pour the sauce over the sprouts, coating all of them nicely. Then pour them back onto the sheetpan. Broil them 2-4 minutes until the sauce thickens. Your sprouts might start to char a bit. But that's how you know they're done. Then, dig in! 
Some questions you might have:
Do I need to use the Sesame Oil? I don't have any. You don't need Sesame Oil specifically, although if you have it, the extra bump of flavor it gives is nice. You could use any heat-resistant oil, like canola, vegetable, corn oil – any neutral-flavored oil.
I don't have (or don't want to) Broil. If you don't broil, you could just turn the heat up to 475-500F, and roast another 5 minutes or so. The sauce will thicken a bit. And you'll still enjoy all the flavors!
This is a big recipe. What if I have leftovers?  These Sprouts make great leftovers! Just cover with plastic and refrigerate, and microwave when you're ready to enjoy them!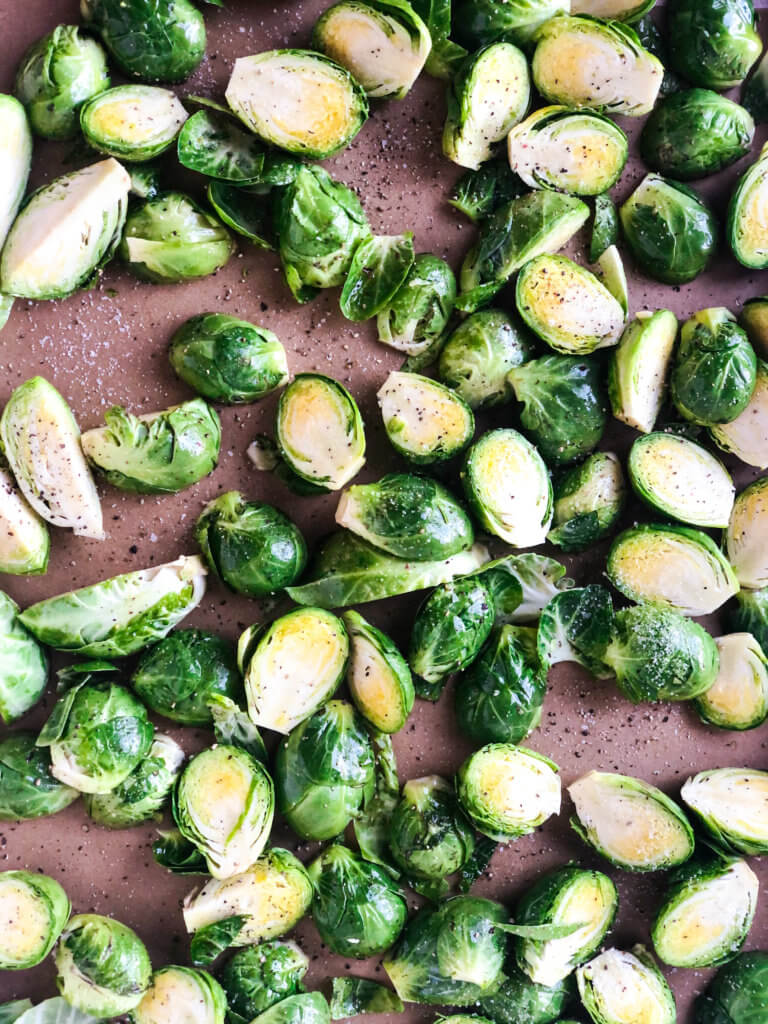 Print
Kung Pao Brussels Sprouts
From Delish, these Kung Pao Brussels Sprouts will change the way you roast your sprouts! Sweet, tangy, spicy, garlicky! These sprouts are truly addictive! Tender, crispy-edged, and saucy! So so good!
Just 10-15 minutes prep and 25 mins in the oven is all you need!
Author:
Prep Time:

15 min

Cook Time:

25 min

Total Time:

40 min

Yield:

6

Servings

1

x
Category:

Side Dish

Method:

Stovetop/Oven

Cuisine:

Asian
Ingredients
2

lb Fresh Brussels Sprouts, halved

2

T Olive Oil

1

T Sesame Oil

2

cloves garlic, minced

1

T Cornstarch

1/2

c Low-Sodium Soy Sauce (Shoyu)

1/2

c Water

2

T Rice Vinegar or Apple Cider Vinegar

1

T Hoisin Sauce

2

T Brown Sugar

2 tsp

Garlic Chili Sauce (or any hot sauce)
Kosher Salt
Black Pepper
Pinch Red Pepper Flake
Garnishes:
1/3

c Roasted Peanuts, chopped

2

Green (spring) Onions, chopped

1

T Sesame Seeds
Instructions
Roast the Brussels Sprouts:
Preheat oven to 425F (Conventional), or 400F for Convection/Fan.
In a bowl, drizzle the sprouts with the olive oil, then scatter them over a large, rimmed sheet pan. Salt and pepper the oil-coated sprouts. Then place in oven for 20 minutes until they are tender and begin to crisp. 
While sprouts roast, make the sauce. When the sprouts finish, preheat the oven to the "Broil" setting.
Make the Sauce:
In a small (2-qt.) saucepan over medium heat, warm the sesame oil. Add the minced garlic and saute until fragrant, 30-60 seconds.
Add the cornstarch and stir. Then add the soy sauce, water, vinegar, hoisin, brown sugar, and chili sauce. Season with 1 tsp salt, 1/2 tsp pepper, and a pinch of red pepper flake. Bring to boil, then lower heat to simmer. 
Simmer 3-5 minutes, until the sauce thickens.
Finish the Sprouts
Pour the roasted sprouts in a large bowl. Coat with the warm sauce and pour back onto the baking sheet. 
Put under the broiler for 2-4 minutes, or until sauce thickens. I took mine out when the sprouts began to "char" on the tops.
Garnish with chopped peanuts, green onions and sesame seeds. Serve immediately.
Keywords: Brussels Sprouts, Kung Pao, Sheet Pan, Side Dish
Recipe Card powered by
PIN Kung Pao Brussels Sprouts Recipe ->