Did you ever notice that often, the "sidekick" is just as entertaining as the main character? George Constanza from Seinfeld? Donkey from Shrek? Dwight Schrute from The Office? All so so good!  Here's another side that will never let you down!  Za'atar Sweet Potatoes and Garlicky Kale?  What?  Read on…
You all know I just published a brilliant Buddha Bowl recipe with Sweet Potatoes and Kale, right?  That bowl was downright de-lic-ious!  I had a few extra sweet potatoes and, after learning how to soften up the kale a bit, I was game to try a new variety. So I found this recipe on Epicurious and bought myself some Sumac, and whipped it up in no-time flat. I'm here to tell you, this is a side dish with some serious Main Course Vibes!  It's a standout!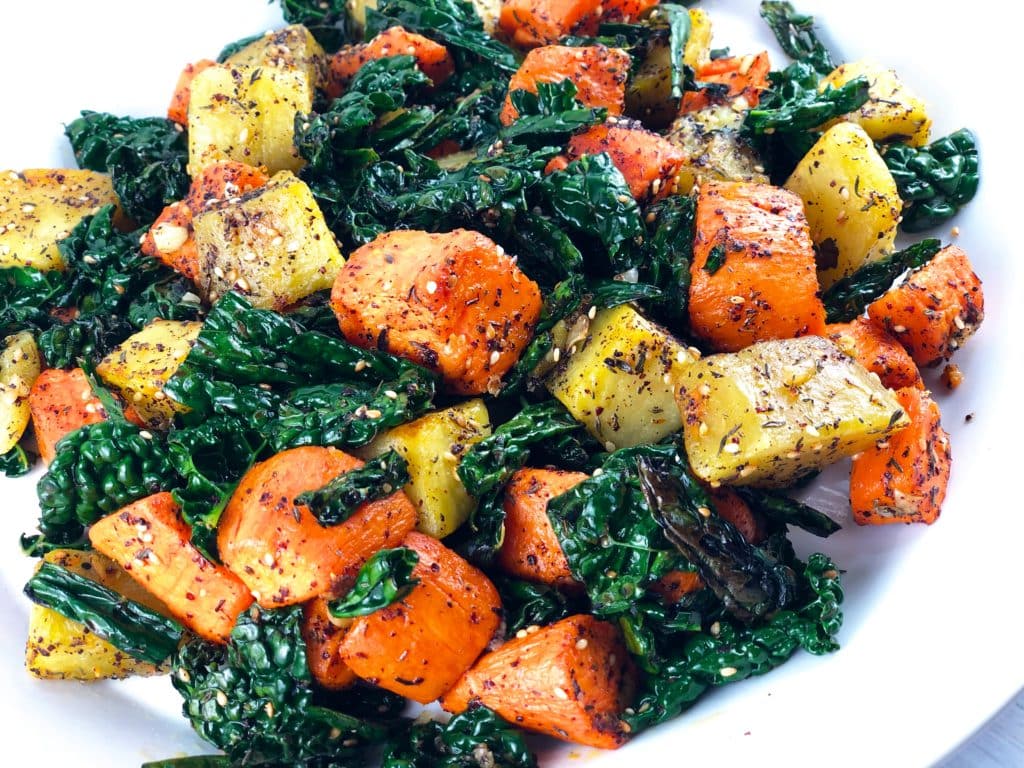 Now, I've seen Sumac listed in recipes before, but have never purchased or used it.  After trying it in this Sweet Potato Kale masterpiece, Sumac has earned a permanent spot in my spice drawer! Sumac is a super-flavorful spice, providing a tart, fruity, citrus-y taste.  Combined with toasted sesame seeds and herbs (such as thyme or oregano), it creates Za'atar, often used in Midddle-Eastern cuisine. Such flavor!  Seriously! Where's it been all my life?
I used two different varieties of sweet potatoes here – a garnet and a Japanese Sweet Potato, so you can use any type you like or whatever your local grocery carries.  Like I mentioned, I felt so good about the kale I used in my Buddha Bowl recipe, I decided to try a newer (to my grocery) variety, the Lacinato (or Tuscan) Kale.  I have to say, although the flavor of this kale was a bit sweeter and milder, it was a little more difficult to tenderize with a squeeze of citrus and some salt. So, if, like me, you aren't completely charmed by the texture of kale, it's safer to go with the lighter colored, leafier varieties. I served this side with some simply-prepared salmon for a quick, healthy and utterly satisfying dinner.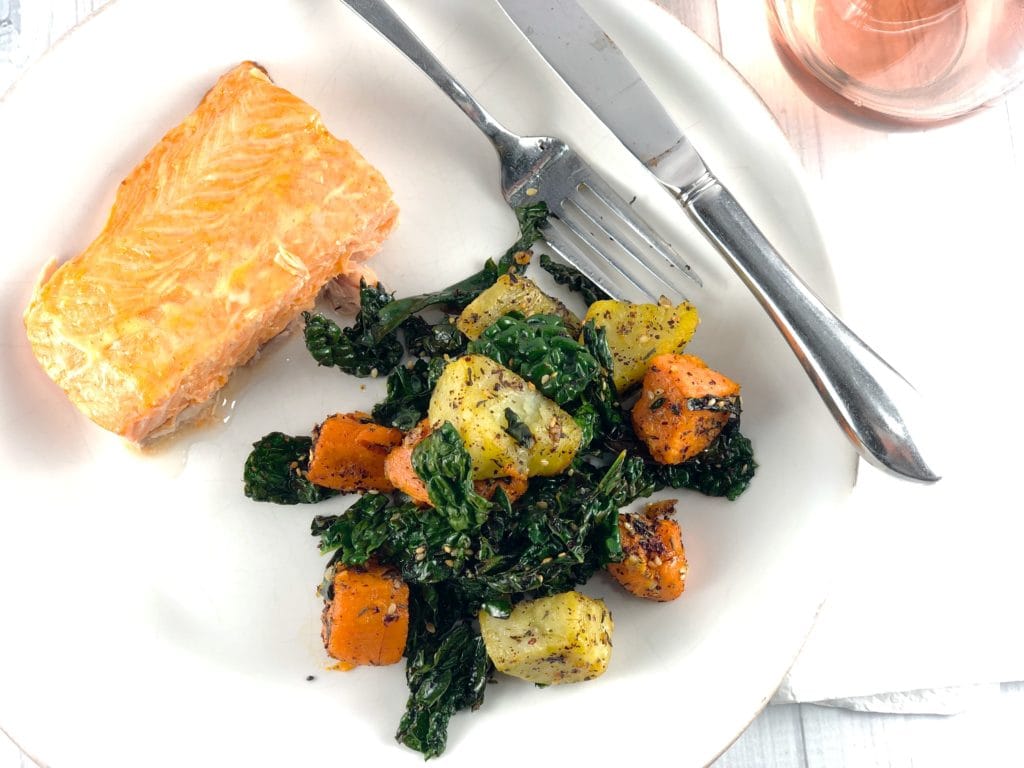 This Sweet Potato Kale dish is nobody's sidekick!  I'd gladly add an egg, chicken slices, or some sautéed tofu to make it a main dish.  I enjoyed it warm as well as cold the next day. I'll be adding it to my favorite list of sides. So, tell me, who's your favorite sidekick?  I'm going to bet that once you try this Za'atar Sweet Potato Kale dish, it will be on your favorites list, too!
If you like sweet potatoes, be sure to check out my Red Lentil and Sweet Potato Soup, or the Autumn Buddha Bowl I mentioned earlier. And, if you love Vegan recipes, don't forget Anthony Bourdain's Brilliant Beet Salad!  So yummy!
PIN Za'atar Sweet Potatoes and Garlicky Kale for later ->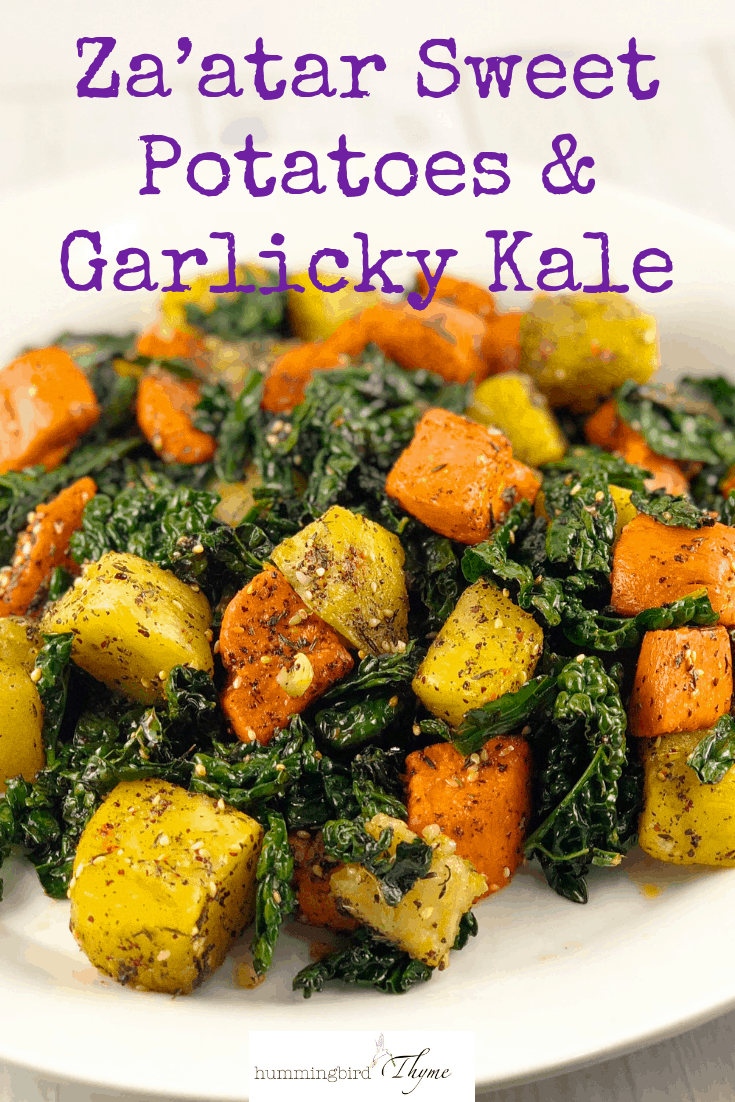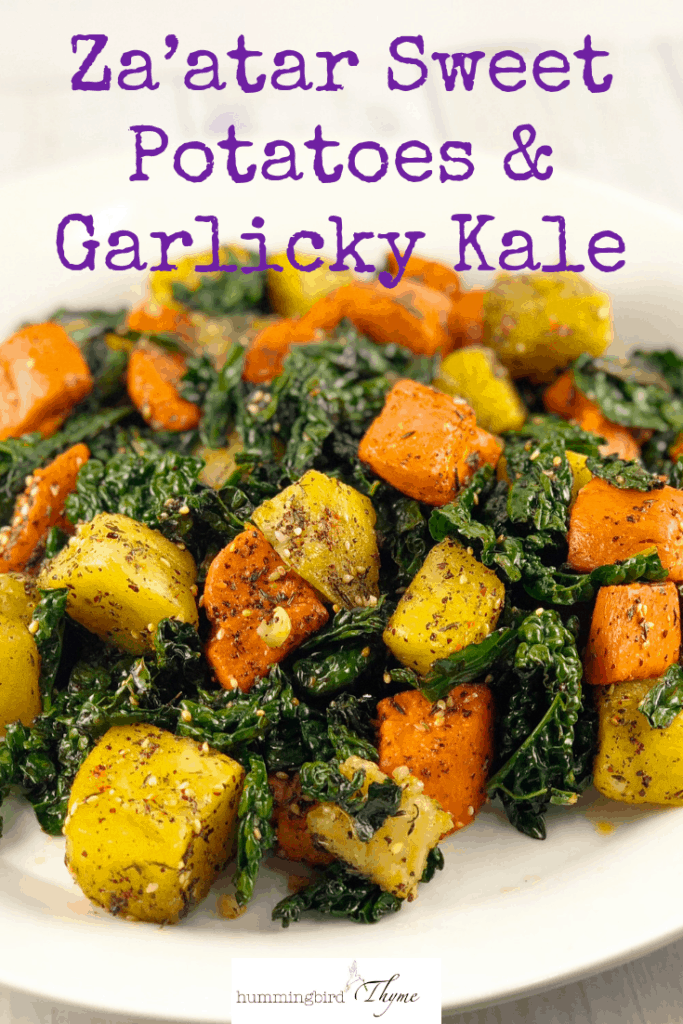 Print
Za'atar Sweet Potatoes and Garlicky Kale
Adapted from a recipe I found on Epicurious, from the book One Part Plant by Jessica Murnane, this side dish is so delicious you'll want to make it a main dish.  That's easy, just add your favorite protein – an egg, some sautéed tofu, chicken slices.  It's a dish that tastes good and is so healthy!
The Za'atar is easy to make, too!  It's a spice mix that will definitely make its way to other dishes in your kitchen, guaranteed!
Author:
Prep Time:

15 min

Cook Time:

20 min

Total Time:

35 min

Yield:

2

-

4

Servings

1

x
Category:

Salad

Method:

Saute

Cuisine:

Middle Eastern
Ingredients
For the Za'atar:
1

T Sesame Seeds

1

T Sumac

2

t Dried Thyme

1/4

t Sea Salt (Kosher is fine, too!)
For the Vegetables:
2

Medium-to-large Sweet Potatoes (any color)

4

T Olive oil, divided

3

Garlic Cloves, chopped

1

Bunch Kale, any type, roughly chopped

1/2

Lemon or lime
Large pinch salt
Instructions
Prehaeat oven to 400F.
Make the Za'atar:
In a small pan, toast sesame seeds in a small pan over medium heat, until lightly browned.  Stir occasionally.  Pour into a small bowl to cool.
Combine the cooled seeds with sumac, thyme and salt.  Set sumac aside.
Prepare the Kale:
Chop the kale into small pieces. Place in a bowl.  Squeeze lemon or lime over the greens and toss with a pinch of salt.  Set aside while you prepare potatoes.
Prepare the Potatoes:
Line a large baking sheet with parchment or coat with oil.
Fill a Medium (3-4 qt) saucepan halfway with water. Bring to a boil.
Peel potatoes and cut into 1" cubes.  Add to water, and parboil (cook partially) 5-7 minutes until they are just beginning to soften. Drain.  Transfer to a bowl.
Toss potatoes with 1 1/2 T olive oil and 1 T Za'atar seasoning until coated.  Spread on prepared baking sheet.  Roast for 15 minutes, stirring after 10 minutes.  They should be just starting to brown.
Into the remaining Za'atar,  pour 1 T Olive oil, or a bit more, as desired.  Set aside.
Saute the Salad:
In a large skillet, heat the 1-2 T olive oil over medium heat.  When the pan is hot, add the garlic.  Saute about a minute, until it becomes fragrant.  Add the greens and stir until they begin to soften.  Add the sweet potatoes and heat everything a few more minutes.
Plate the salad and then top with some of the Za'atar and oil mixture.  Serve, passing any remaining Za'atar mixture at the table.
Keywords: Sweet Potatoes, Kale, Za'atar, sumac
Recipe Card powered by