Simple. Fresh. Astoundingly delicious. This Beet Salad – a brilliant composition of flavors from the late, great, Anthony Bourdain – try it once and it will become a staple on your table!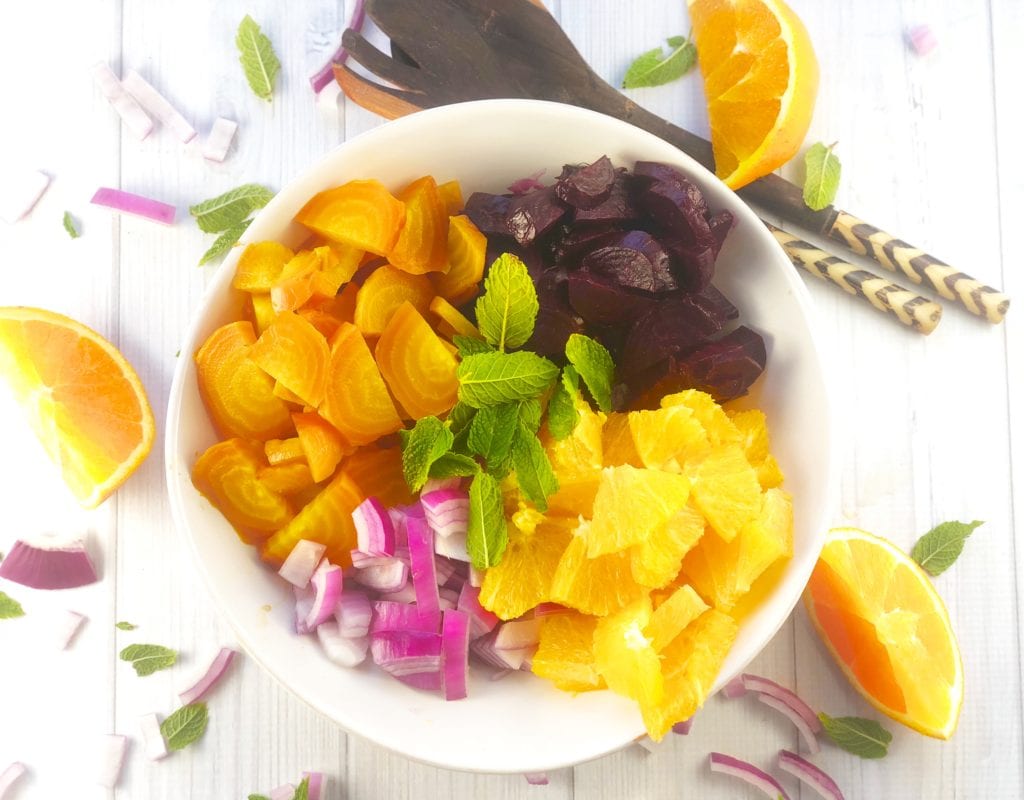 Sometimes the simplest things are the best, aren't they?  This is a lesson taught to us over the years in so many ways. The late, great, Anthony Bourdain was a Master of showing us all how often the most simple is the most sublime. I've been fan of his show Parts Unknown  since the beginning. And I've always been amazed at his ability to interact so beautifully with people who he'd never before met, in remote villages of the world many of us will never go, speaking through interpreters about customs we might find as strange as they would find ours. I've admired his perspectives on the human condition, his respect for all those with whom he came across, his intelligence and his wanderlust. Because he was not an extravagant person, he spoke language we could all understand, dressed simply, travelled as locals travel. But mostly it was his ability to make us feel an unfamiliar culture, his deference for the importance of its customs and its special occasions, often through a meal or two. And, this Simple Beet Salad, from his cookbook Appetites, is much like he was in these shows. Straighforward. Well composed. Pointed. Curious. Informative. Balanced.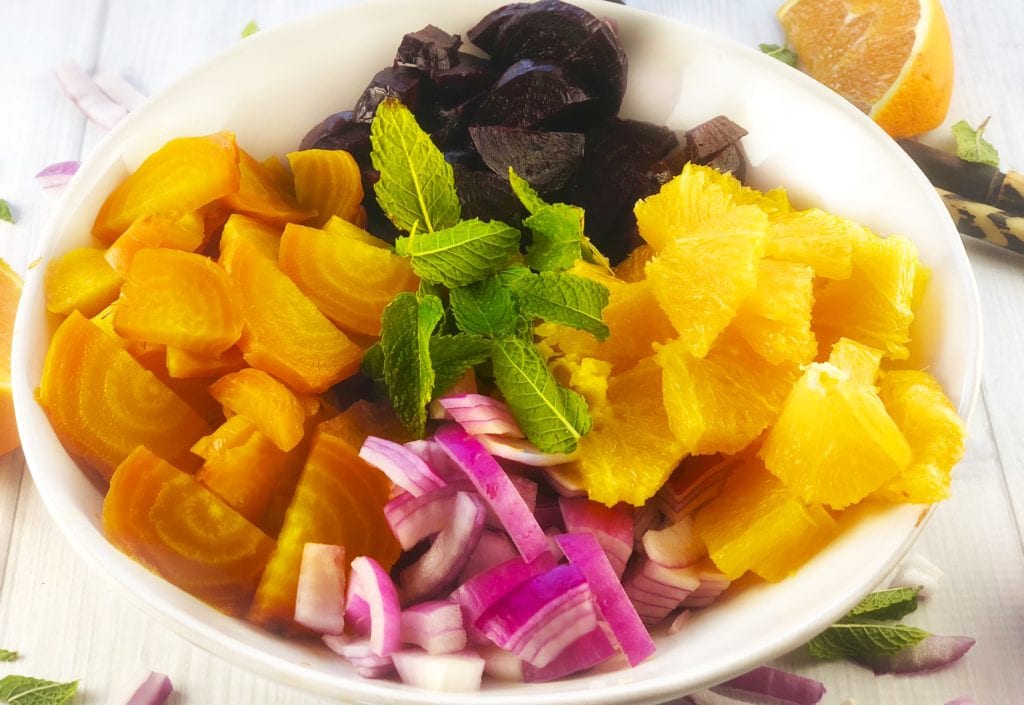 You may say, "Hmmmm. I've never had a CURIOUS or INFORMATIVE salad before." But I need to let you know, to me, it was curious that the elements of this Beet Salad – beets, oranges, onion, and mint – when eaten all together, produce a flavor so pleasant, so delicious, that I tried in each subsequent bite to get a piece of each ingredient on my fork. So good. And, it was informative, how these things I myself wouldn't think of pairing are perfect together.  How much flavor from such few and simple ingredients and easy prep – something you don't expect.  Just like Mr. Bourdain's show. With each episode, I learn to be more curious.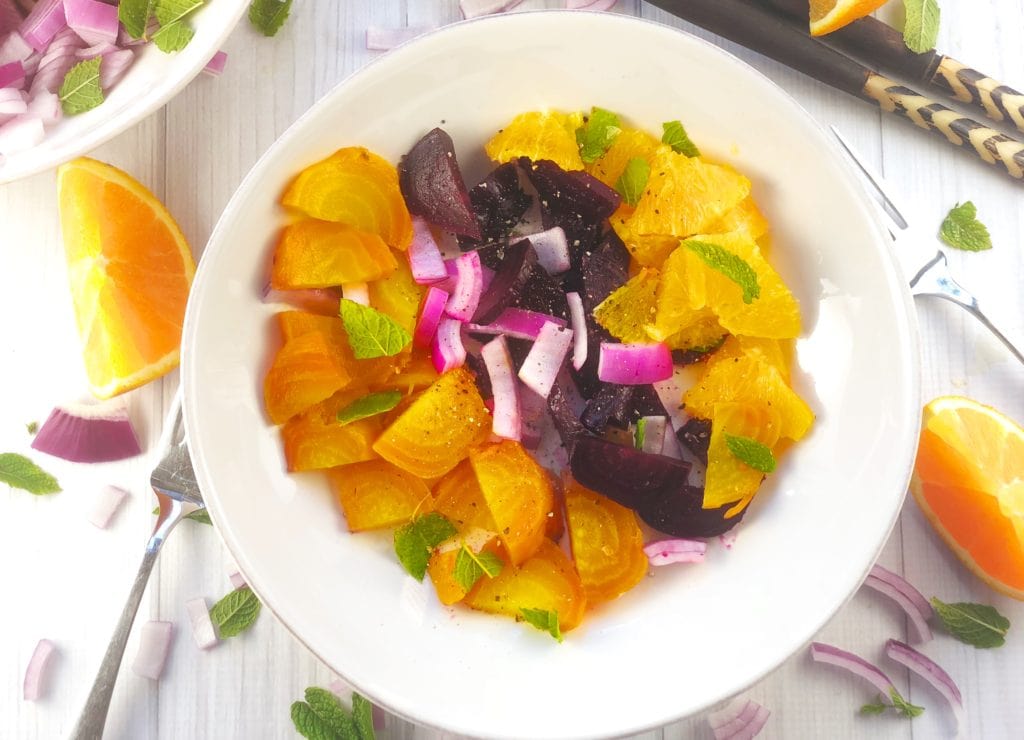 So tell me, are you a fan of Parts Unknown? What is you favorite episode?  For me, it's tough to choose, because they are all so different. But I recently watched "Singapore" which I found positively fascinating. I learned so much about this City-country  so small that is really just a big, shiny, gorgeous city – one that looks so similar yet is so different from our own big cities. His interviews with some local young professional people made my jaw drop. Sorry I can't say more, but if you watch it, let me know what you think! It left me with the same feelings I have about this salad – the curiosity of learning, the joy of seeing things in a way you haven't before. He taught us in ways we wished we learned in school.  So, with great respect and admiration for its creator and a man who was a wonderful teacher about the world, its inhabitants and its food, Enjoy!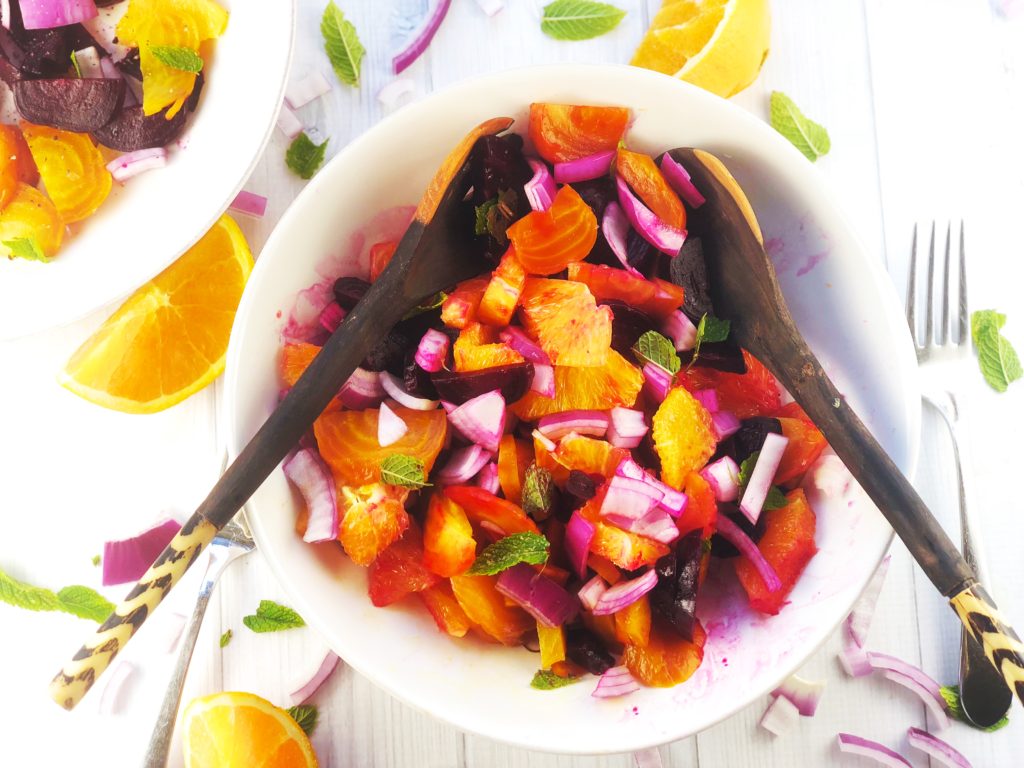 Other beautiful and delicious SALAD RECIPES you may like can be found by clicking HERE.
Or check out more VEGAN RECIPES by clicking HERE.
Print
Anthony Bourdain Beet Salad
Adapted from Anthony Bourdain's Appetites Cookbook, this Beet Salad is a symphony of simple flavors: roasted beets, juicy oranges, red onions, and mint.  So easy to compose. Dressed so simply with olive oil and cider vinegar, you will turn to it again and again.
You can sometimes buy your beets already roasted, or rub a little olive oil on them, wrap them (tightly) in foil and roast for 45 minutes, until fork-tender.
Author:
Prep Time:

10 min

Cook Time:

45 mins + cooling time

Total Time:

55 min plus cooling

Yield:

4

Servings

1

x
Category:

Salad
Ingredients
For the Salad:
1

lb (6-8) baby beets, any color

1

large, or

2

medium, navel oranges

1/2

medium red onion, thinly sliced

2

T Extra-Virgin Olive Oil, separated (can substitute your oil of choice)
Handful (12-15 leaves) fresh mint, chopped

2

t Cider Vinegar
Pinch of salt and Ground Black Pepper
Instructions
Roast Beets
Rub each beet with a small amount of olive oil, then wrap each tightly in aluminum foil. Place foil-wrapped beets on a sheet pan (you don't want them to leak in your oven).
Roast in 450F oven for 40-45 minutes, until fork-tender.
Cool completely.  Peel and slice into 1/4" thick slices or half-slices.
Compose Salad
Peel and pith orange.  Slice into 1/4" thick wheels and cut wheels into bite-sized pieces.
Slice onion thinly, then cut into small pieces.
Arrange sliced beets, oranges, onions.  Mix together the remaining 1 T olive oil and the vinegar.  Pour over salad. Salt and pepper salad.  Garnish with torn mint leaves.
Keywords: Beet, Salad, Anthony Bourdain, oranges, easy
Recipe Card powered by
Pin Anthony Bourdain Beet Salad ->