Sometimes simplest is best!  You'll be shocked how quickly these Easy No Bake Cheesecake Bars come together!  Creamy, dreamy perfection on a hot day, a busy day, or any day!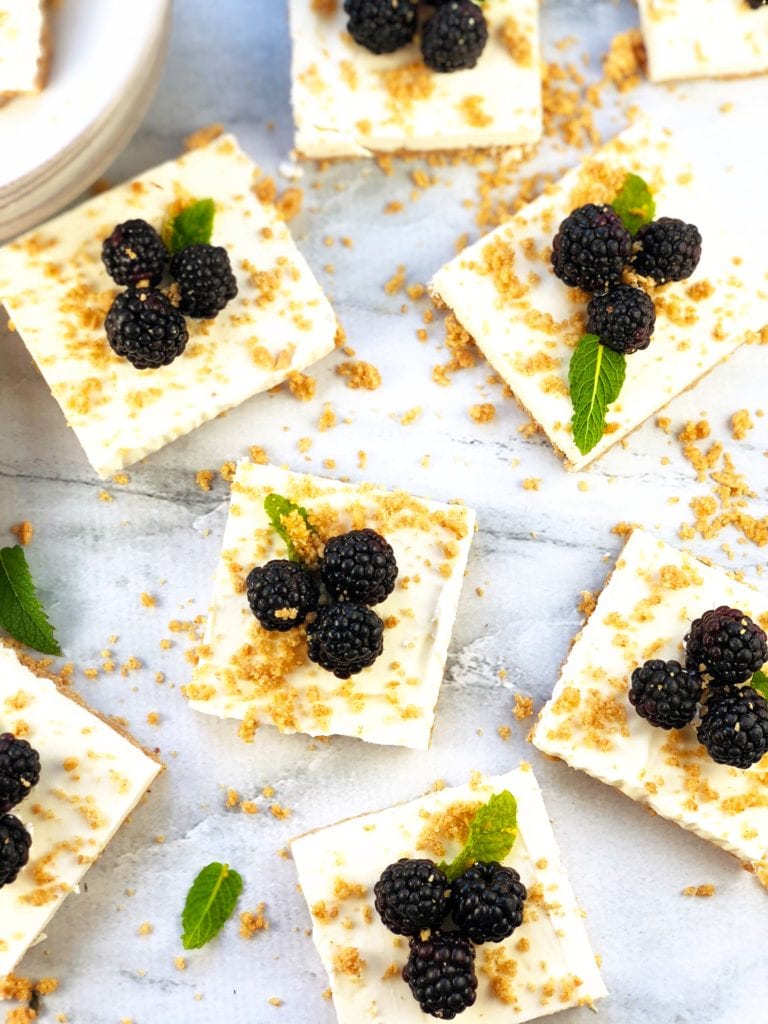 I heard the other day that the average temperature last month in Death Valley, California, was 108 degrees. Think about that. The lowest daily low temperature all month long was 82, and the highest high was 127 . 10 days of the month the temperature NEVER got lower than 100 degrees. Good grief!  Living in the Pacific Northwest, I freely admit I've become a "weather weenie." What I mean by this is that any temperature over, say, 80 degrees, seems unbearably hot to me.  And that's without appreciable humidity.
Last week we had a super-hot week (I think it got over 90 a couple times – I know, I'm seeing you do "the worlds smallest violin" – Ha!) where I didn't even want to turn on the stove or oven. But, you have to understand, most of us DO NOT have air-conditioning, and many older homes don't even have insulation, so whatever the outdoor temperature, basically becomes the indoor temperature without careful use of shades, windows and fans.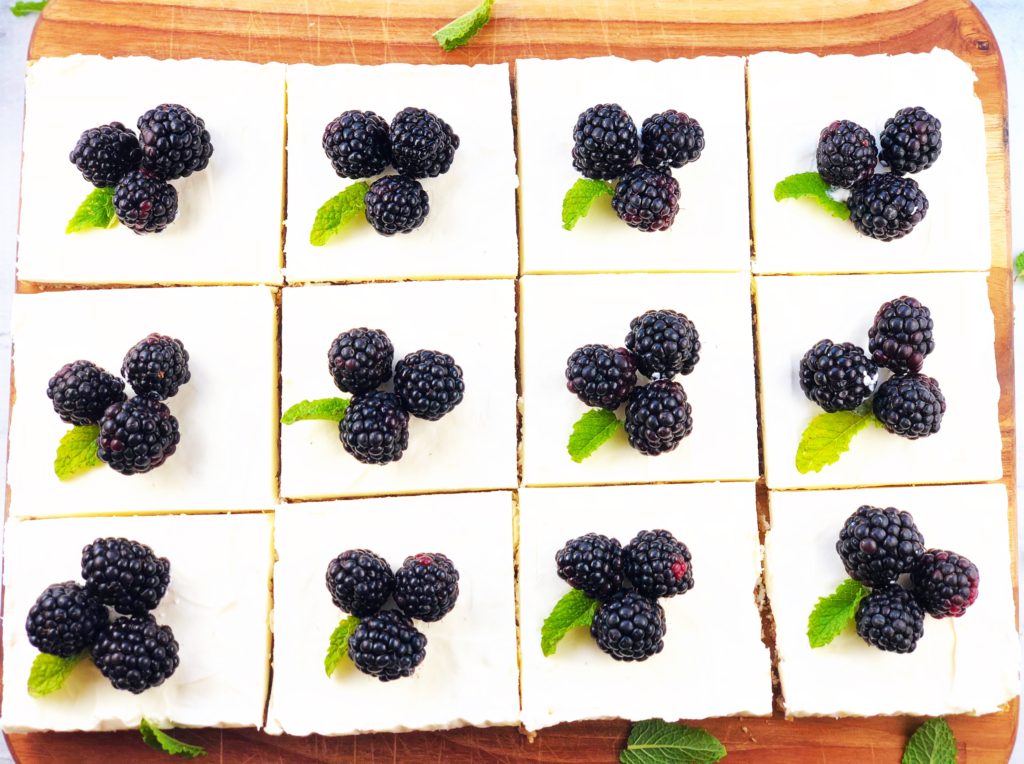 So, when you combine all of that with my NEED to bake on Sundays for our always-special Sunday dinners, I had a difficult time deciding what to make.  But then I remembered this No Bake Chocolate Peanut Butter Cheesecake  I made about a year ago and was inspired to make these creamy dreamy No Bake Cheesecake bars.  Just a few ingredients, all at room temperature, a quick stir or two, and NO BAKING!  I made every attempt to not use stove, oven or even electric appliance.  (I did have to use the microwave to melt butter, though ?).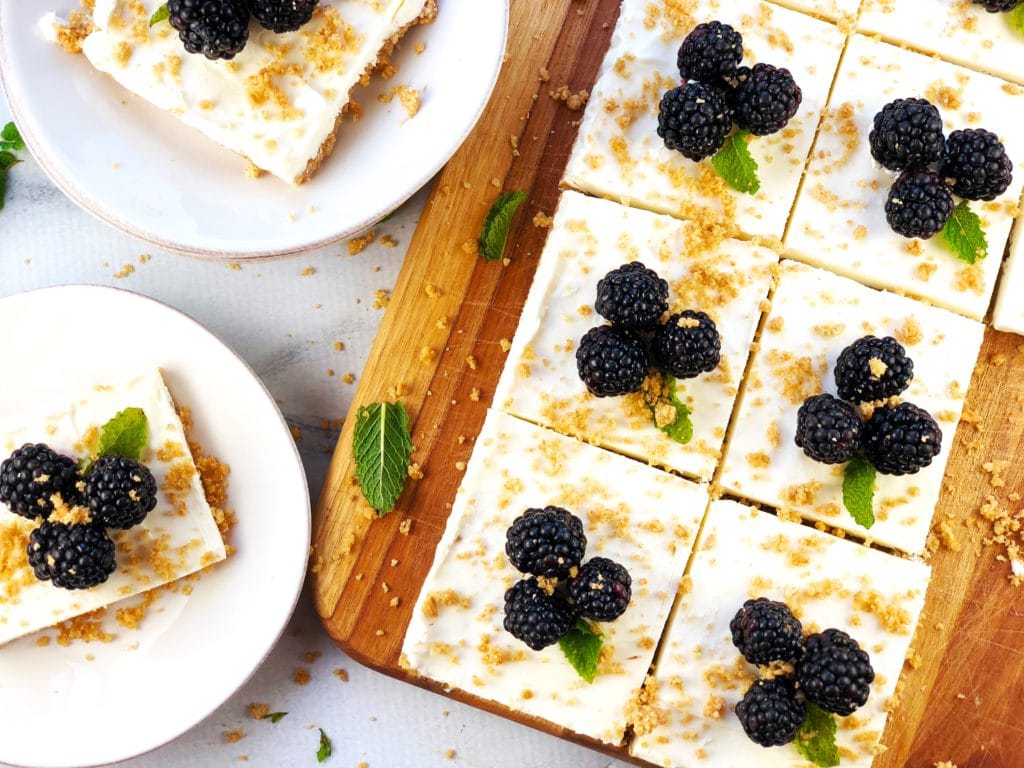 And these bars are per-fect! A crispy buttery graham cracker crust with a filling that is just 4 ingredients, these bars are not too sweet, super-creamy, tangy, delicious! Just making sure the ingredients are at ROOM TEMPERATURE before putting this together ensures a light and creamy texture. Feel free to keep it frozen for an extra-frosty treat, or refrigerate for a light and creamy delight! You can top these bars with fresh fruit, jam, whipped cream, chocolate sauce, or buttery graham cracker crumbs.  So delectable!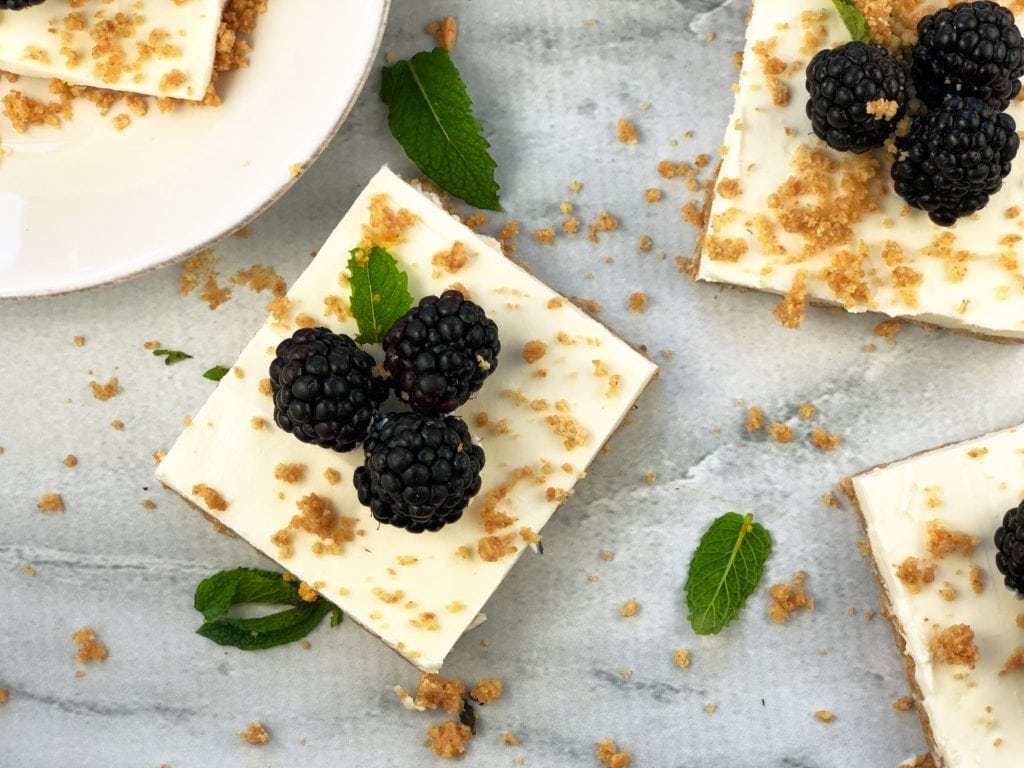 So, whether you live in Death Valley, CA or Nome, Alaska, you can enjoy a fabulous No Bake Cheesecake! Enjoy!
Be sure to check out other cheesecakes I've made by clicking HERE.
Print
Best Easy No Bake Cheesecake
This creamy, dreamy dessert is so simple – just a few ingredients and a whisk produce the a light, sweet and tangy filling you can top with whatever you want! I topped mine with blackberries and graham cracker crumbs that I made with 3 crushed graham cracker sheets and 2 T butter.  So so good!
If you make sure the cream cheese is at room temperature, this recipe is so easy and quick, you'll wonder why you don't make this every day!
Author:
Prep Time:

15 min

Total Time:

15 min + chilling

Yield:

12

-

20

bars

1

x
Category:

Desserts

Method:

No Bake
Ingredients
For the Crust:
2 1/4

c (15 sheets) graham cracker crumbs

10

T (1 1/4 sticks or

5 oz

.) melted butter
Pinch Kosher Salt
For the Filling:
16 oz

. (

2

Bricks) Cream Cheese, Room Temperature

1

c Sour Cream or Full-Fat Plain or Vanilla Greek Yogurt (I used half Sour cream/half yogurt)

1

c Confectioners' Sugar, sifted

2

t Natural Vanilla Extract

1/4

t Kosher Salt
(optional) Toppings:
Fresh Berries
Jam
Chocolate Sauce
Graham Cracker Crumbs
Whipped Cream
Instructions
Make the Crust:
In a zippered, gallon-sized plastic bag, place graham crackers, and roll out with a rolling pin until crumbs are quite small, almost-but-not-quite, sand-like.
Pour crumbs into a bowl. Add salt and melted butter.  Mix until the consistency of wet sand.  Press into a thin layer in a 9×13 pan.  Place in freezer for at least 30 minutes, then prepare the filling.
Make the Filling:
Using a whisk, beat together the room temperature cream cheese and sour cream and/or yogurt, until very creamy and smooth, about 2 minutes. Sift in the confectioners sugar, whisk until fully incororated.  Add the vanilla extract and salt.
Pour over graham cracker crust.  Return to freezer for at least 1 hour to make sure the crust is set perfectly, then feel free to move to the refridgerator if you want your dessert frozen or creamy. (I kept mine in the freezer, then transferred to refrigerator 1 hour prior to serving.) Chill or freeze at least 2 hours.
Top, slice, serve.
Keywords: No Bake, Cheesecake, Easy
Recipe Card powered by
PIN Best Easy No Bake Cheesecake ->