Do you long for a beach vacation?  Capture that beach vibe by grilling these Hawaiian Chicken Skewers with their smoky bacon, sweet and tangy pineapple and a fantastic marinade and sauce!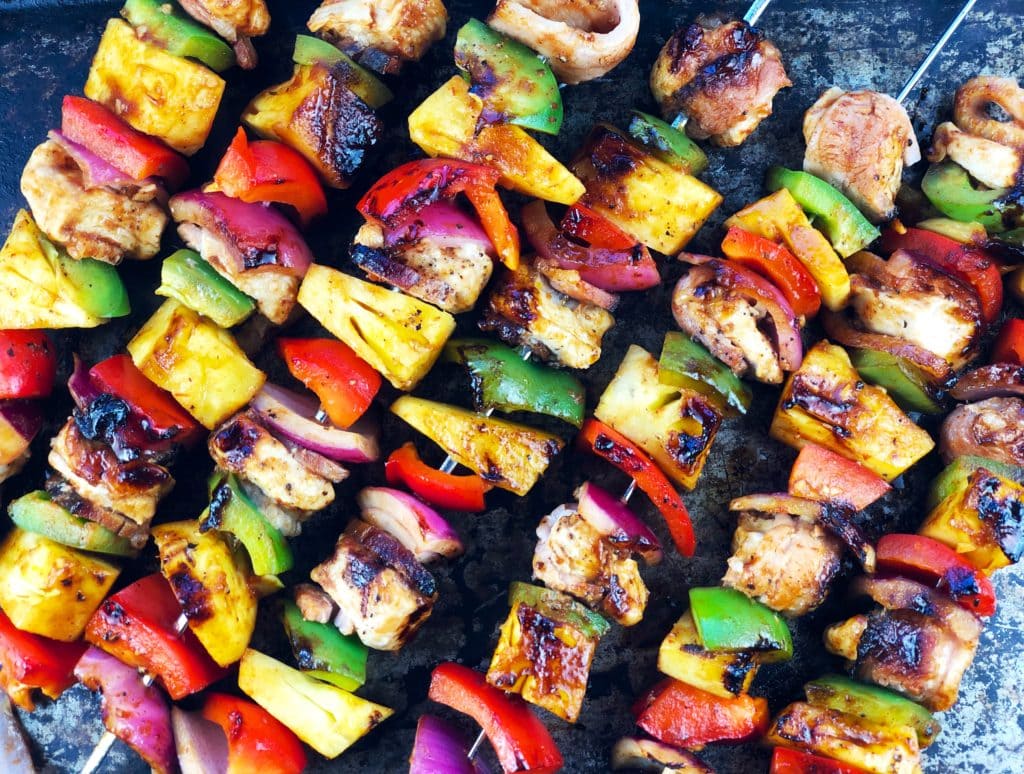 Is it just me, or do we all have too many choices?  I feel like I am increasingly terrible at choosing just about anything.  What color should I paint this room?  Well, with 1600 shades of blue, is it any wonder why I can't choose just one? And what about the 10 different brands, each with 1600 shades, all slightly different from one another?  And that's assuming I've narrowed it down to blue!  I remember being a teenager and walking with a friend into a hip new store to buy a super-cool pop-up collar polo shirt (I know I'm dating myself here, but –  the story, OK?).  There was an entire wall covered with shirts, exactly the same style, but with various colors and patterns of shirt, all cute as can be. My friend quickly chose one. It was awesome!  I, however, couldn't make up my mind to save my life.  The light blue with purple stripe?  The one with the little alligators all over it?  The bright pink? For me, this is the ultimate misery. Making a choice I will have to live with for a while. Too many choices. Do I have a commitment issue? Turns out, I just want it all. (Is that bad?)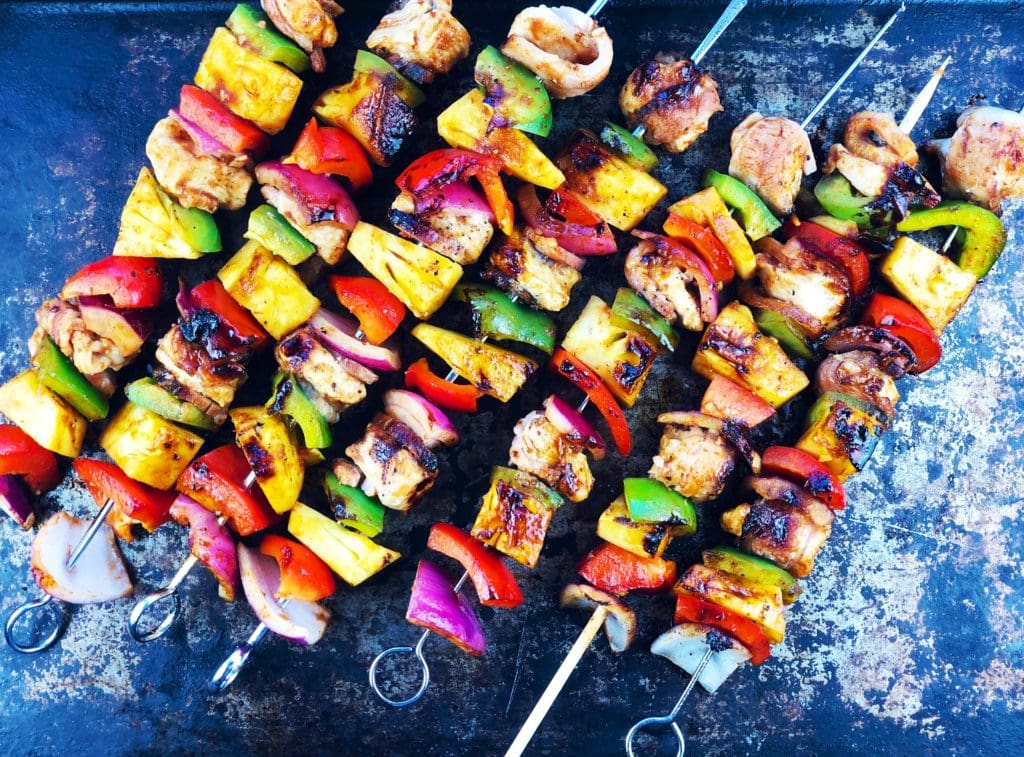 I think this is why I like cooking.  It's possible to make a new choice every day, without having to fully commit. I can try things out. Commit to some, and forget the rest.  These Hawaiian Chicken Bacon Pineapple Skewers reminded me of that stressful day in the store because it represents what became my choice that day and many times in the future – a little of everything.  If I'm pressed to choose just one thing, like a fantastic polo shirt, I almost always go for the multi-color.  These bright beautiful Chicken Skewers illustrate that as well with their variety of colorful veggies and pineapple and the flavorful sauce that hits all of the notes – tangy, sweet, savory, smoky, tart. And, how many times have we all heard, "Eat the Rainbow!"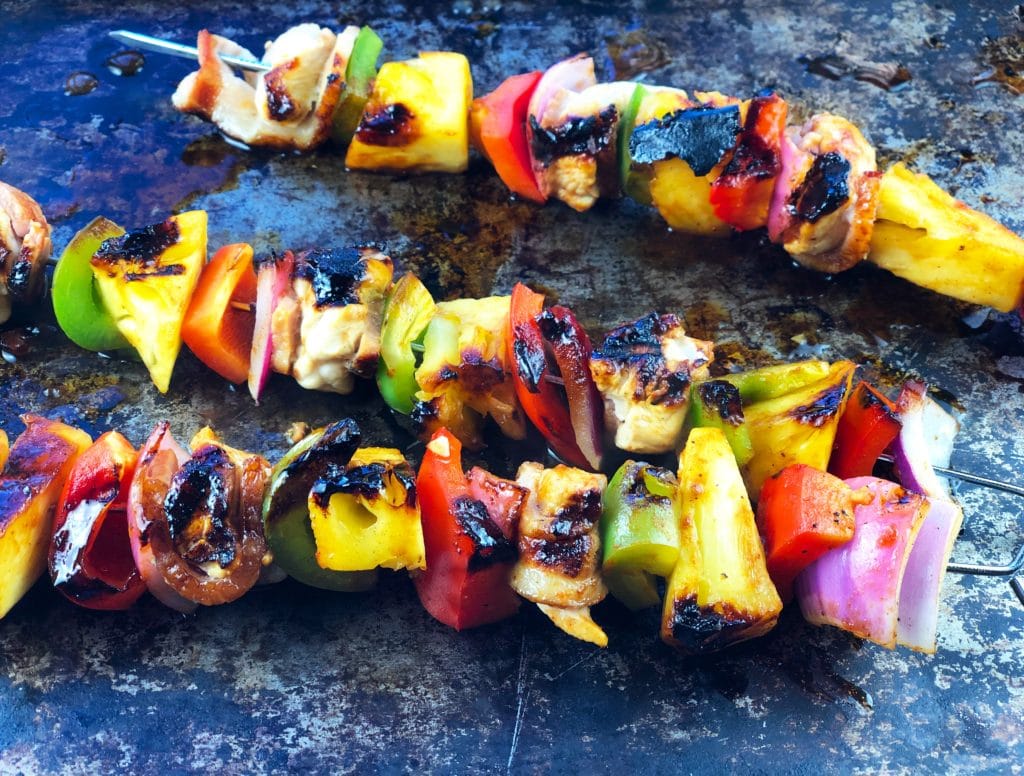 I found this recipe at Cafe Delites, and I made it pretty much as written, with only a couple of minor changes (noted in the recipe).  No commitment issue here, this will definitely be a permanent fixture in my summertime grilling.  It reminds me so much of this beautiful Salmon with Pineapple Bacon Salsa I made a while back. And who doesn't think pineapple plus bacon is a brilliant combination? Especially on a grill – the smokiness improves both!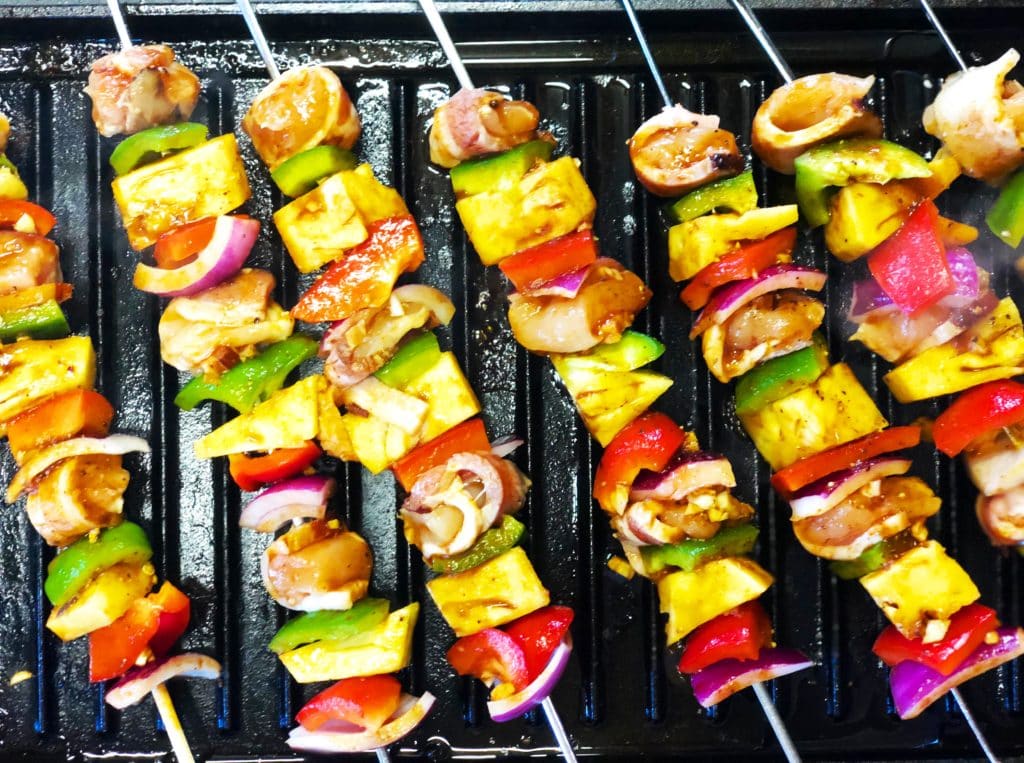 So if you have the same commitment challenges I do, don't choose just one – choose something that has a bit of everything – flavor, texture, color!  These Hawaiian Chicken Pineapple Bacon Skewers fit that choice! Enjoy!



If you like grilling, check out these other dishes I've made on the grill, by clicking HERE.
PIN Hawaiian Pineapple Bacon Chicken Skewers ->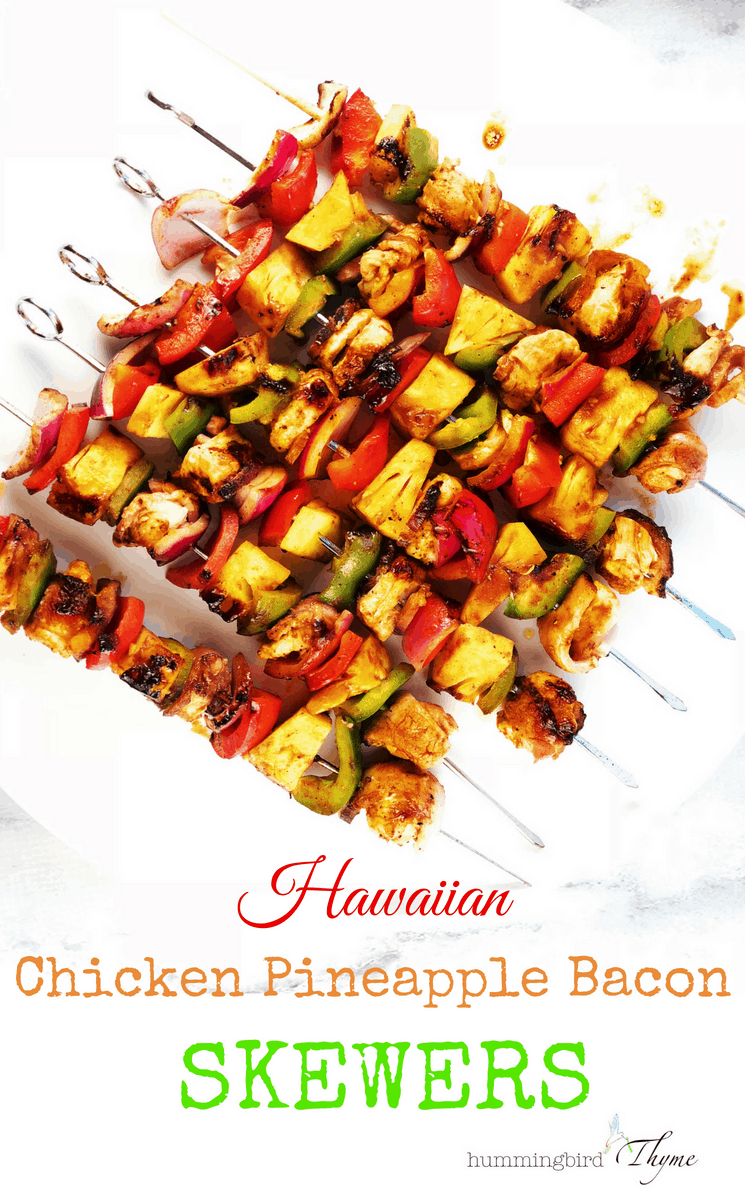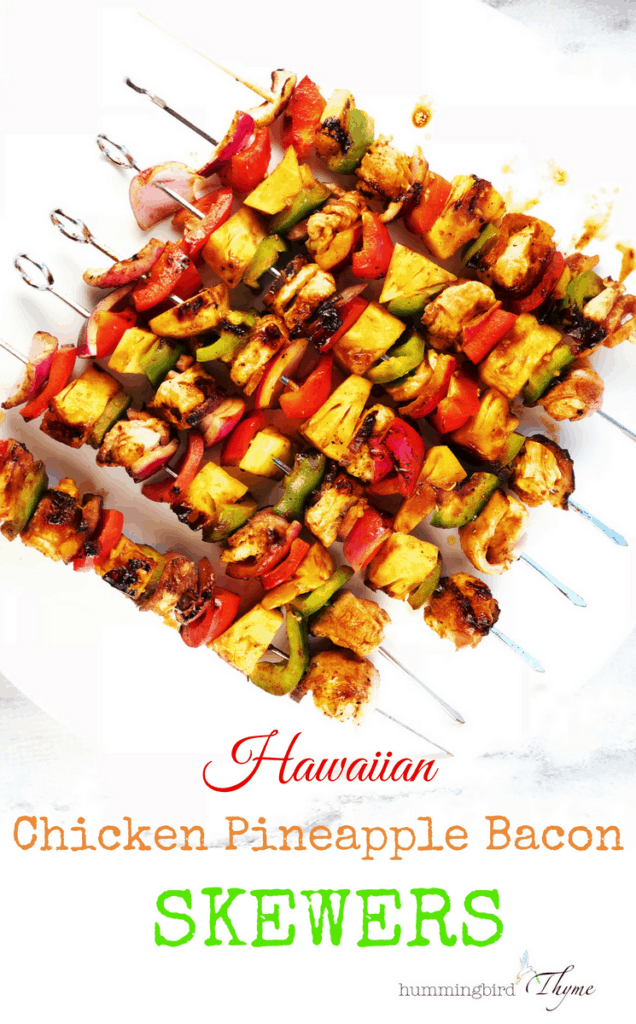 Print
Hawaiian Chicken Bacon Pineapple Skewers
Smoky-Sweet-Tangy-Succulent!  These Hawaiian Chicken Pineapple Bacon Skewers will take you to a faraway beach, with a marinade and sauce so delicious you'll want to bottle it!
I adapted this recipe ever-so-slightly from Cafe Delites.  I added an additional tablespoon of brown sugar (for a total of 2), and also added in 1/2 t Liquid Smoke.  Feel free to leave these out if you want to use the original recipe. As noted, if you don't have rice vinegar, you could substitute cider vinegar.
Author:
Prep Time:

30 minutes

Cook Time:

10 minutes

Total Time:

40 minutes

Yield:

4

-

5

servings

1

x
Category:

Main dish

Method:

Grill
Ingredients
For the Sauce:
1/2

c prepared Barbecue Sauce (any type)

1/2

c Soy Sauce

1/4

c Pineapple Juice

2

T Brown Sugar

1

T Rice Wine Vinegar (or Cider Vinegar)

1 1/2

T Minced Garlic

1/2

t Liquid Smoke

1

t Sesame Oil
For the Skewers:
1

lb Boneless Chicken Breasts, cut into

1

" Cubes

8

–

10

slices of Bacon halved lengthwise and cut into 2 1/2" segments

3

c fresh cubed pineapple

1

Lg Red Bell pepper, seeded and cut into

1

" x 1" pieces

1

Lg Green Bell pepper, seeded and cut into

1

" x 1" pieces

1

Lg Red Onion, cut into

1

" pieces
Salt and Pepper

1

T Olive Oil
Instructions
Make the Sauce
Mix together all ingredients in a medium bowl.  Set aside.
Build the Skewers
If using wooden skewers, soak them in water for at least 30 minutes prior to using.  If using metal skewers, begin threading the chicken, bacon, pineapple and veggies. When threading the bacon and chicken, thread the end of 1 piece of bacon, add a chunk of chicken, then thread the other end of bacon. This wraps the chicken around the bacon, kind of in a "C" shape. I threaded in this order:  onion, red pepper, pineapple, green pepper, bacon-chicken.  Repeat until all of the chicken or veggies have been used.  Pour half of the marinade over the skewers.
Preheat grill or grill pan to Medium heat. Brush olive oil over grates. Grill skewers on 1 side for 5 minutes, brushing with half the reserved marinade. Turn, brush remainder of marinade over while the second side is cooking, an additional 4-5 minutes.  Test to make sure chicken is cooked thoroughly.
Serve with rice or your preferred side dishes.
Keywords: Chicken, skewers, kebabs, grilling, pineapple, bacon
Recipe Card powered by