Pineapple. Bacon. Salsa. Not sure what could be better. Oh, I know! Let's put it on a lovely broiled Salmon! OMG Good!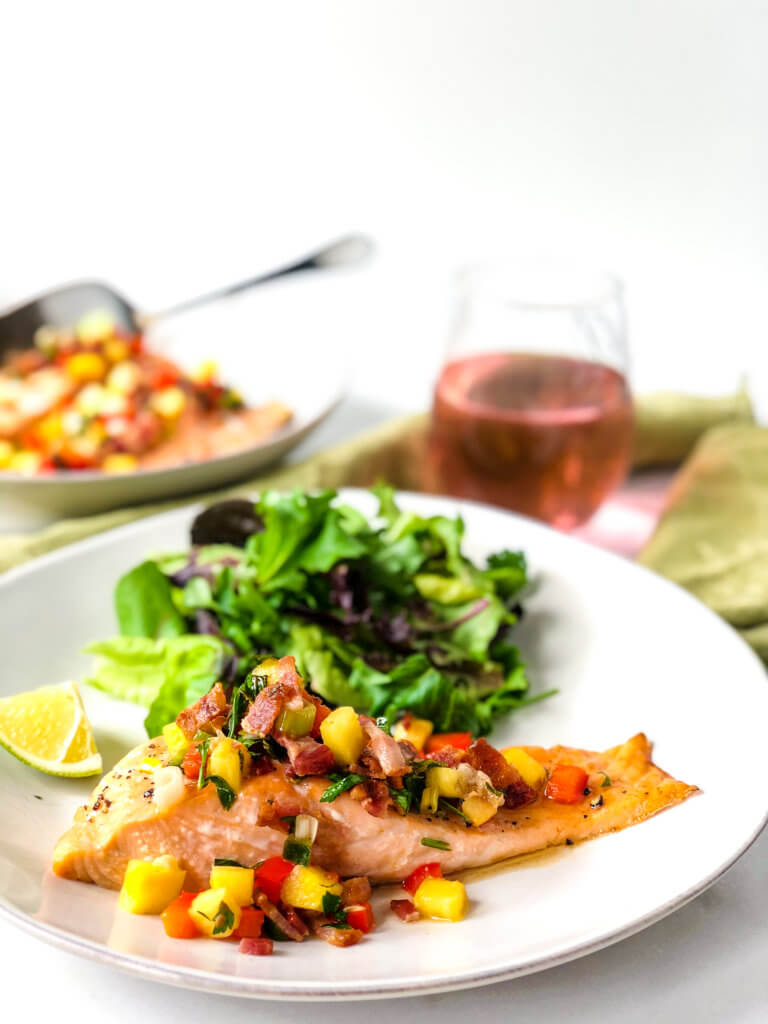 Growing up in a big family in the Midwest, to us, salmon came in a can. We thought of it as much like tuna (also only in a can), but pink. Our Mom never cooked it. Not once. On top of that sad state of affairs, the word from Mom was that Dad did not like fish. To be fair, he grew up in Kansas, so fresh fish was usually not on the menu.
So, on that rare occasion we could eat fish sticks or our beloved canned tuna, we rejoiced! We were completely and blissfully ignorant that real (fresh) salmon was truly one of the most beautiful, tasty (and healthy!) foods on earth. And, for proof that even Dad had, by that time, overcome his anti-fish sentiments, see this recipe he requested for a special birthday.
Now that I live in the Pacific Northwest, I love to try new ways to cook salmon. When it is in season, it's nothing short of spectacular! We cannot get enough! We like to grill it or roast in the oven, but, most recently I've been broiling on the low-broil setting in my oven and it has been awesome, as it gets a bit crispy on top while maintaining its juicy tenderness! This method has been perfect for cooking it Medium to Medium-Rare, the sweet spot for this lovely fish.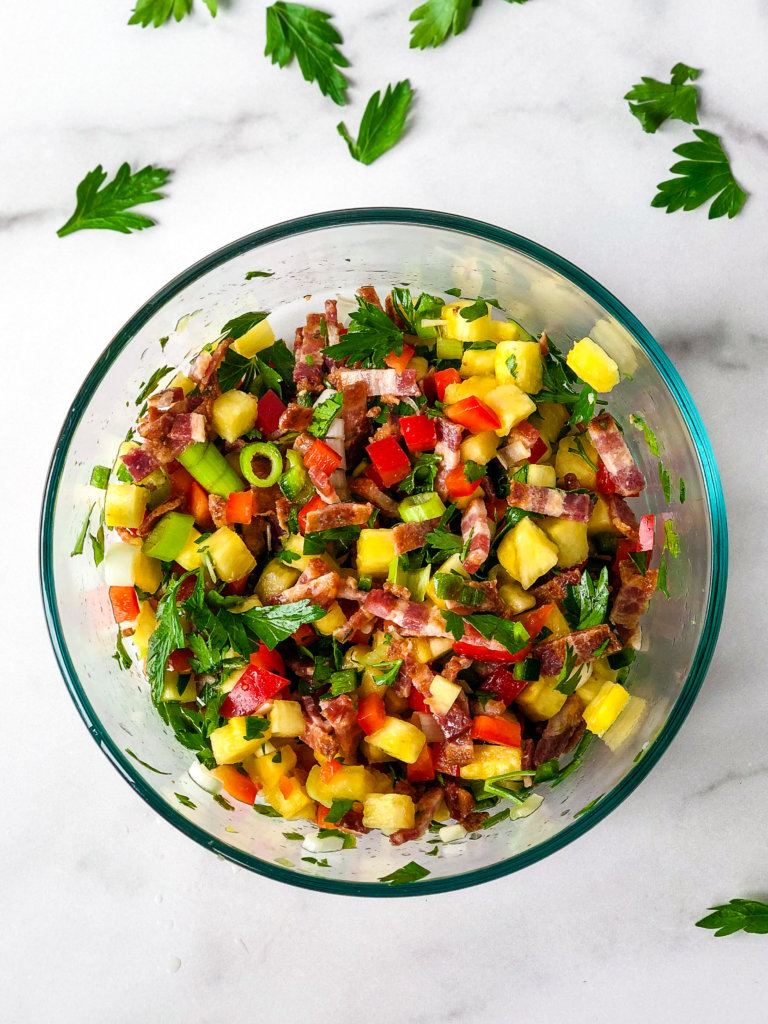 This Salmon with Pineapple Bacon Salsa recipe was inspired by a meal I had at a fantastic restaurant in town called Salare. One of the things we ordered was an appetizer of fried okra which was accompanied by a relish of tangy-sweet, juicy pineapple and salty, smoky bacon. What a total flavor BOMB that was! It inspired me to prepare this salsa with fresh pineapple and bacon. Placed atop salmon (or anything else for that matter), it is divine! It even rated a "This is good!" from the family. I don't know about you, but my table, that's high praise, for sure.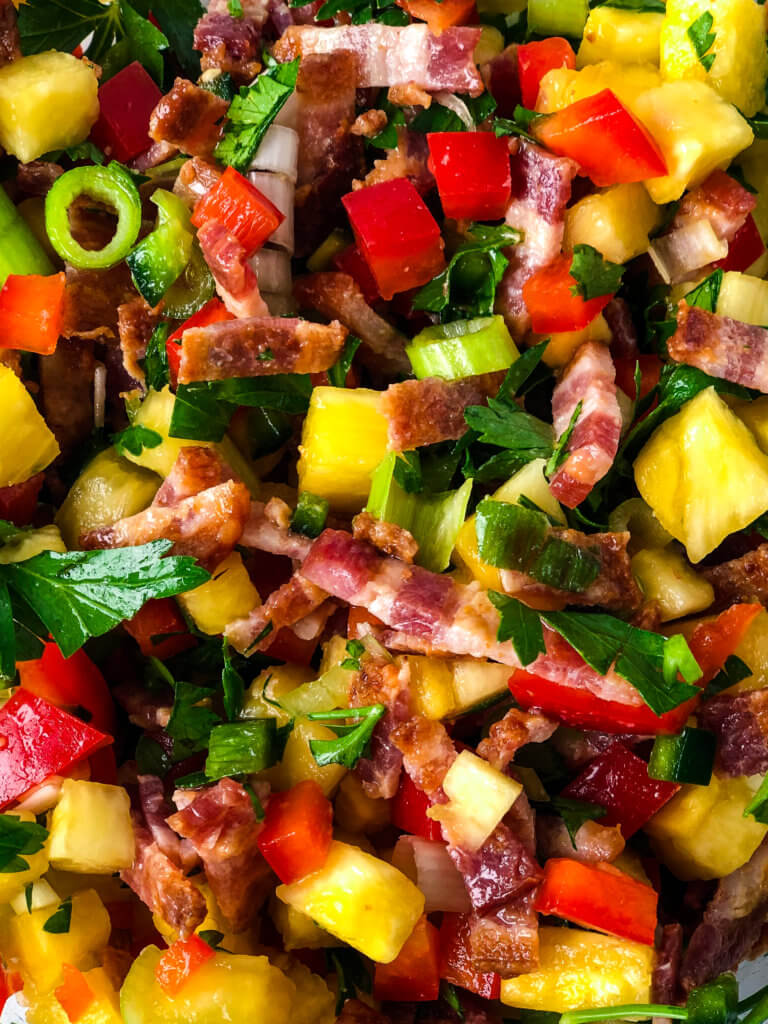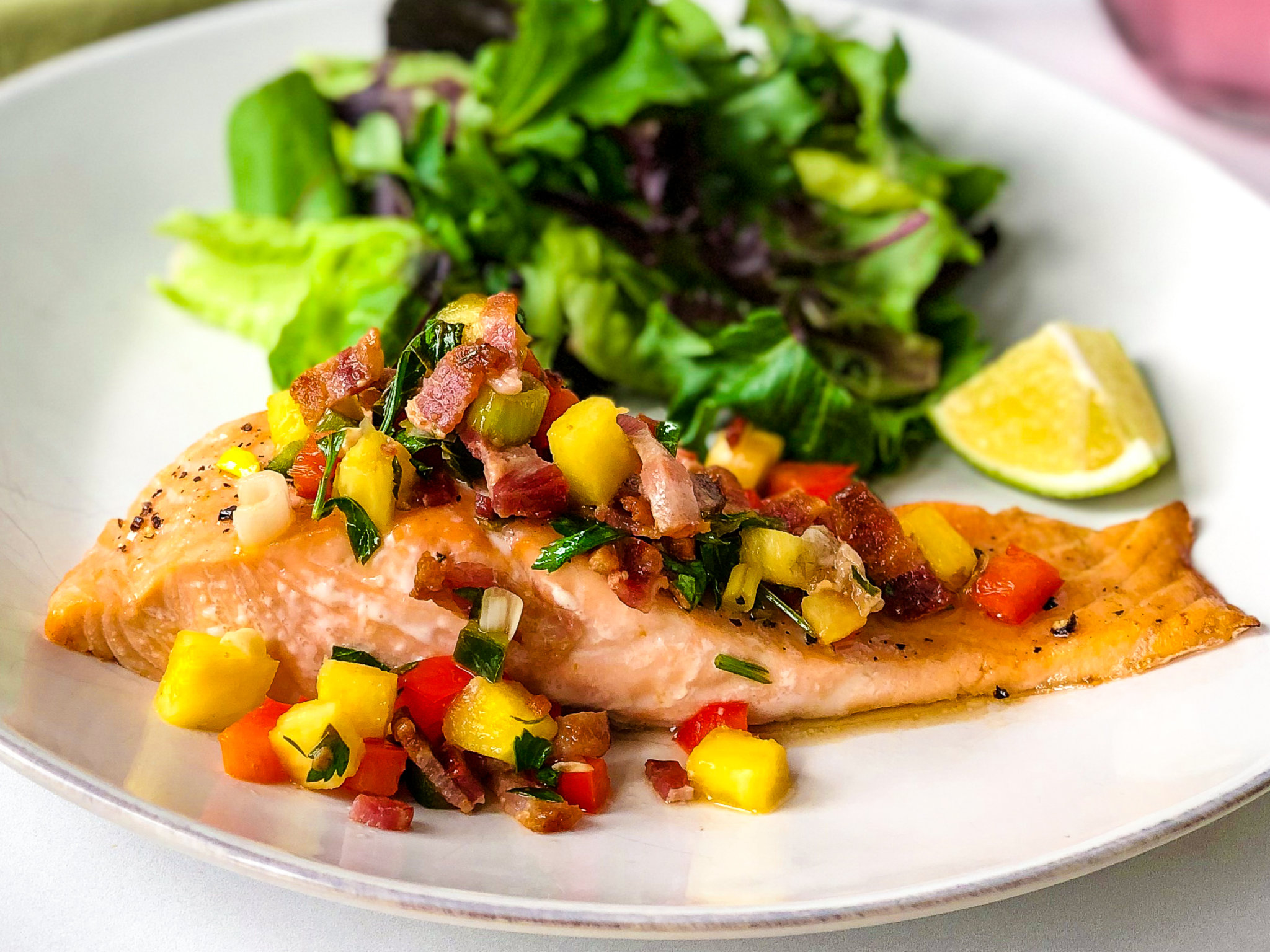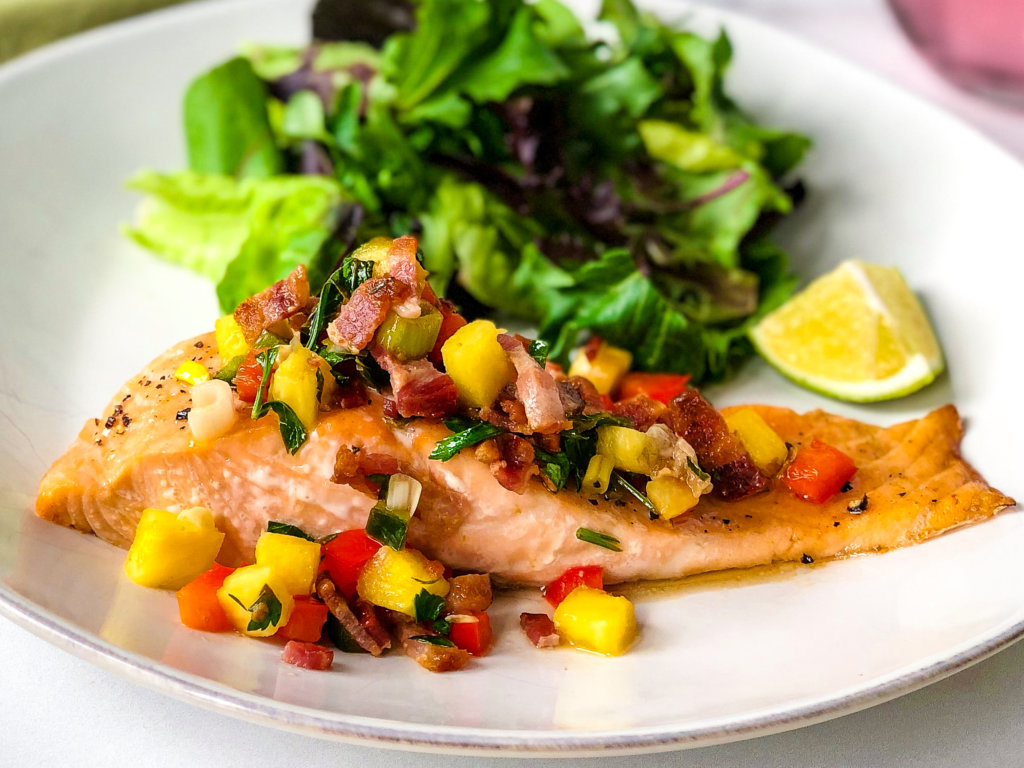 This dish is super-easy to prepare, too! The salsa is just chopped pineapple, bacon, sweet and spicy peppers, onion and parsley. Squeeze a little lime juice and refrigerate to let the flavors improve as time goes by. For the salmon, just 5 minutes in the broiler (or maybe 7 to bake), then top with the salsa and broil a minute or 2 more and dinner is served! Enjoy!
If you're looking for other seafood recipes, don't miss these favorites:
Quick Swordfish with Oregano Caper Sauce
Grilled Vegetable Nicoise with Salmon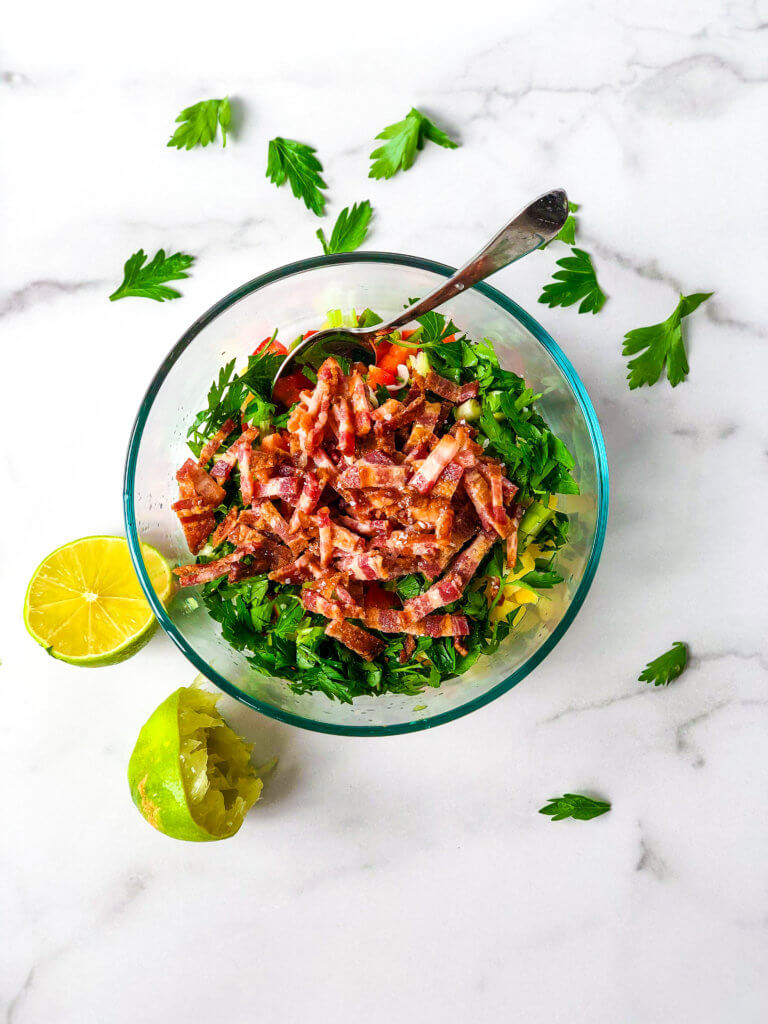 Salmon with Pineapple Bacon Salsa Recipe Details ->
This post may contain affiliate links. As an Amazon Affiliate, I may earn a small commission, at no cost to you, for purchases you may make of items linked from this site.
This is a recipe I've been making for years. I had posted it a few years ago, when my blog was just a baby, but it didn't get a lot of views. It's so delicious, I decided I'd post it again. I changed the recipe only slightly, and took new pics. Here is my favorite of the old pics – what do you think?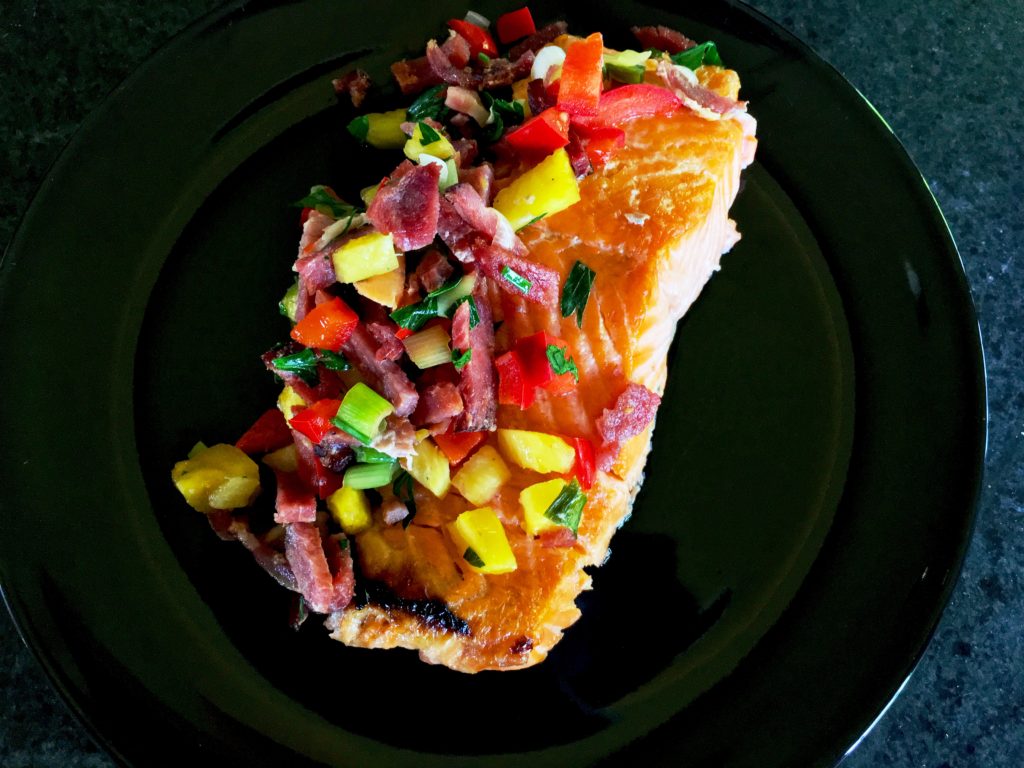 This recipe is super-easy. The most important thing is you have a nice chef's knife, because there's a lot of chopping necessary. I know, it's an investment, but for me, I'd rather not have to replace it anytime soon, so I'd spring for the good one. 
Anyway, first you'll want to cook your bacon. I like this recipe with thick-cut bacon, just for all that smoky flavor. I like to cook it in the oven because it always ends up (relatively) flat, perfectly crispy, and really low mess. I just line it up atop a baking/cooling rack, which I've set into a foil-lined sheet pan. (This one is my favorite!) When cooked at 400F, thick-cut bacon cooks to crispy in about 15 minutes and thin cut in about 12-13 minutes.
While it cooks, chop up the pineapple, peppers and onions, all into small pieces. You want each to be of uniform size, and the smaller, the better. I cut mine aiming for about 1/4″ cubes, with the bacon in tiny strips, about 1/4″ wide.
When you're choosing a green pepper, if you want to add a lot of spice, you'll likely want a Serrano or jalapeno. And, you may want to limit what you add to 1 Tbsp. However, if you don't want so much spice, choose a larger pepper like Anaheim or Poblano. I used Poblano, and added about 4 Tbsp, or 1/4 cup.
For the herb addition, if you don't like, or don't have parsley, feel free to use Cilantro. 
And, for the acidic note, I used lime juice, which I really like with the pineapple and the bacon. But you could use a vinegar. I've used Apple Cider Vinegar, but rice vinegar or white balsamic would be good as well.
And, if you can, make the salsa early in the day. The flavor that develops as it all melds together is awesome!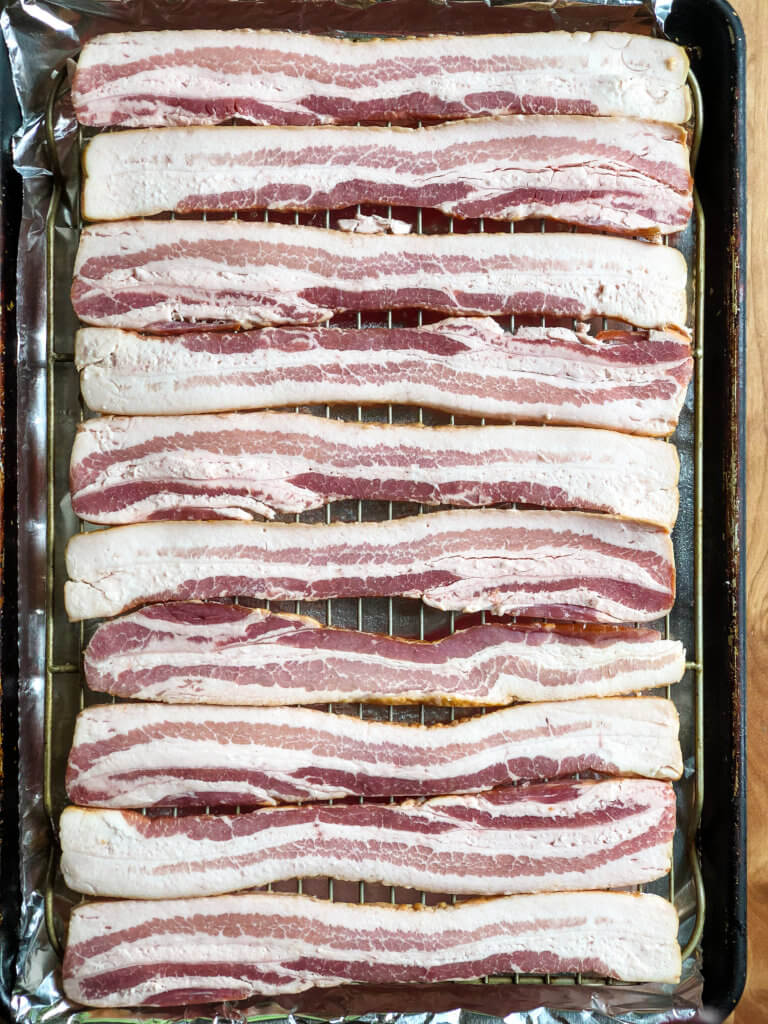 PIN Pineapple-Bacon Relish Recipe for later ->
Print
Salmon with Pineapple-Bacon Salsa
An enticing salsa made from fresh pineapple, red pepper, green onions and crispy bacon complements any meats. I use it here with fresh roasted salmon fillets, but it's also wonderful with boneless, skinless chicken breasts or oven-fried chicken!
Easy to make and keeps about 5-7 days in the fridge!
Author:
Prep Time:

20 minutes

Cook Time:

8 minutes

Total Time:

30 minutes

Yield:

4

Servings

1

x
Category:

Seafood

Method:

Oven

Cuisine:

Global
Ingredients
For the Salmon
1

–

1.25

lb. Salmon, about

1

-inch thick at thickest point, cut into

3

–

4

fillets

1 Tbsp

Sugar

1 tsp

Salt

1/2 Tsp

Freshly Ground Pepper
For the Salsa:
4

strips thick bacon, crisped (See Note 1)

1

c fresh pineapple, cut into

1/4

" cubes

1/2

Red Bell Pepper, medium, cut into

1/4

" bits

2

Green (Spring) Onions, sliced thin

2

–

4

Tbsp Spicy Green pepper (Jalapeño, Anaheim, Poblano – See Note 2), Cut into 1/4″ bits

1/4

c Chopped Parsley

1

Large Pinch Sea Salt
Juice of

1/2

lime, or more, to taste
Instructions
Prepare the Salsa:
Cut the bacon into short, thin slices, about 1/4″ wide.
Place the chopped pineapple, red and green peppers, onion, and parsley in a Medium Bowl. Sprinkle with salt, and add the chopped bacon. Squeeze with half a lime. Stir, cover and refrigerate. It's preferable to make this in advance of the salmon, as the flavor improves as the ingredients meld together.
Prepare the Salmon:
In a small bowl or ramekin, mix together the sugar, salt and pepper. Sprinkle over the salmon fillets.
Set oven to 400F, or if you have a low broil setting (about 400F), feel free to use that. Roast or broil 6 minutes, about 6-7 inches below broiler element. Add the salsa to the top of the fillets. Return to oven and roast or broil another minute or two. Salmon should be only slightly translucent to barely opaque in middle when done.
Serve with more salsa on the side.
Notes
1. You can pan-fry the bacon, but my preferred method is to bake at 400F, with the strips on a grate, set over a foil-covered sheet pan. 15-17 minutes for thick-cut, or 12-15 mins for thin-cut. 
2. I used a Poblano pepper, which is only mild-to-medium spicy. I would add 1/4 cup of this pepper, as opposed to maybe 1-2 Tbsp of Jalapeño, which tends to be medium-to-hot.
Keywords: Salmon, Pineapple Bacon Salsa, Relish
Recipe Card powered by