Thick, tasty Shrimp Burgers where the sweet, succulent shrimp really shines! Slathered with delicious tartar sauce, and on a brioche bun, this sandwich is heaven!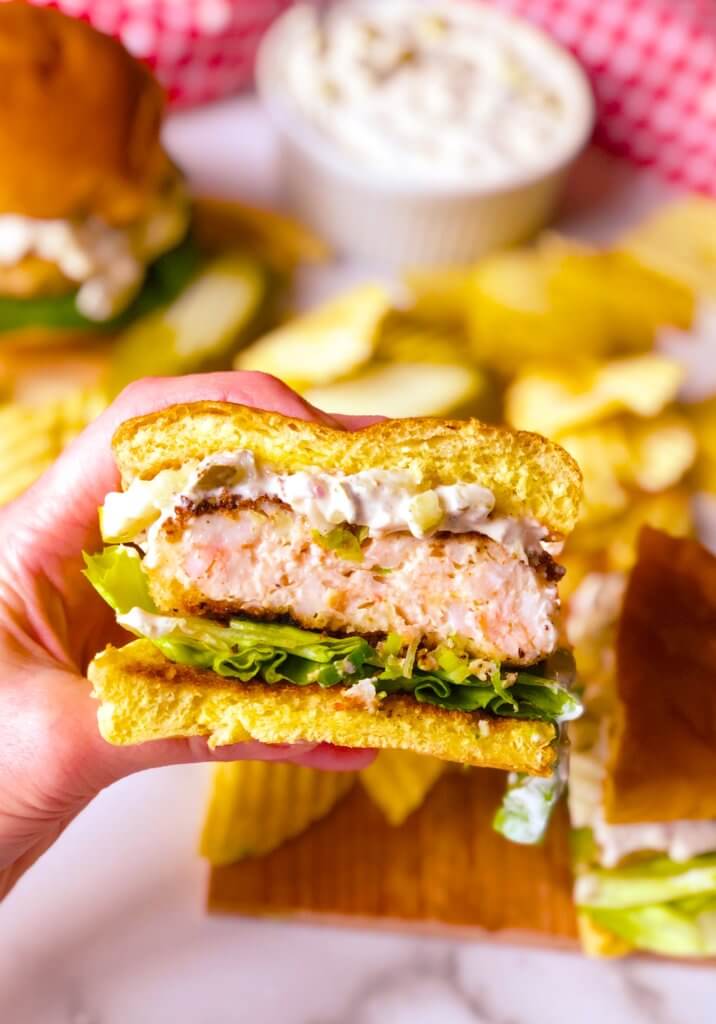 Years ago, while living in North Carolina, I visited the lovely state of South Carolina several times. Gorgeous beaches, pleasant climate, friendly people, and of course, awesome food! (Charleston, anyone?) Once, I saw "Shrimp Burger" on a menu. I have to admit, I was a little skeptical. Because how could you make shrimp into a burger? And, to be perfectly honest, why? Well, I tried it. Then I knew. And once you try this sweet, succulent Shrimp Burger, you will know, too!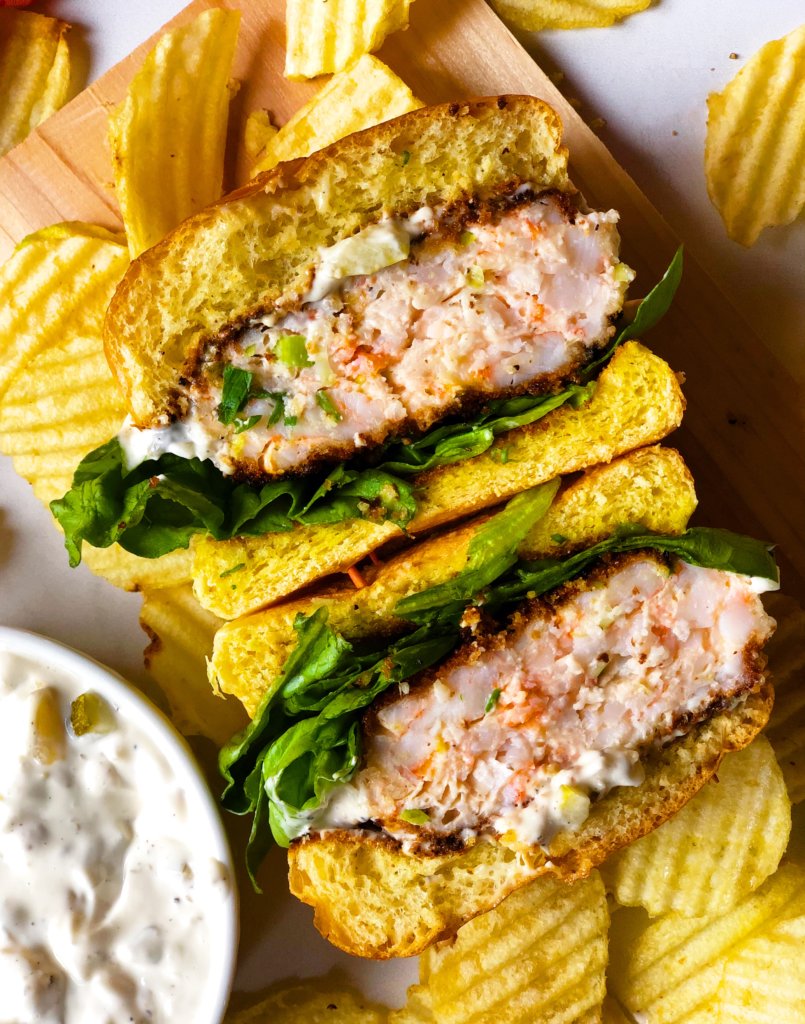 The difficult part of making a burger out of shrimp is the choice of a "binder". It has to stick together in a cohesive, hand-held unit. Because you know we don't want all of those gorgeous shrimp falling out of that sweet brioche bun, along with the briny tartar sauce. For these Shrimp Burgers, a paste is made from shrimp and mayonnaise, along with some Old Bay Seasoning. Then the rest of the shrimp are incorporated, making a lovely mixture to form thick, panko-coated Shrimp patties.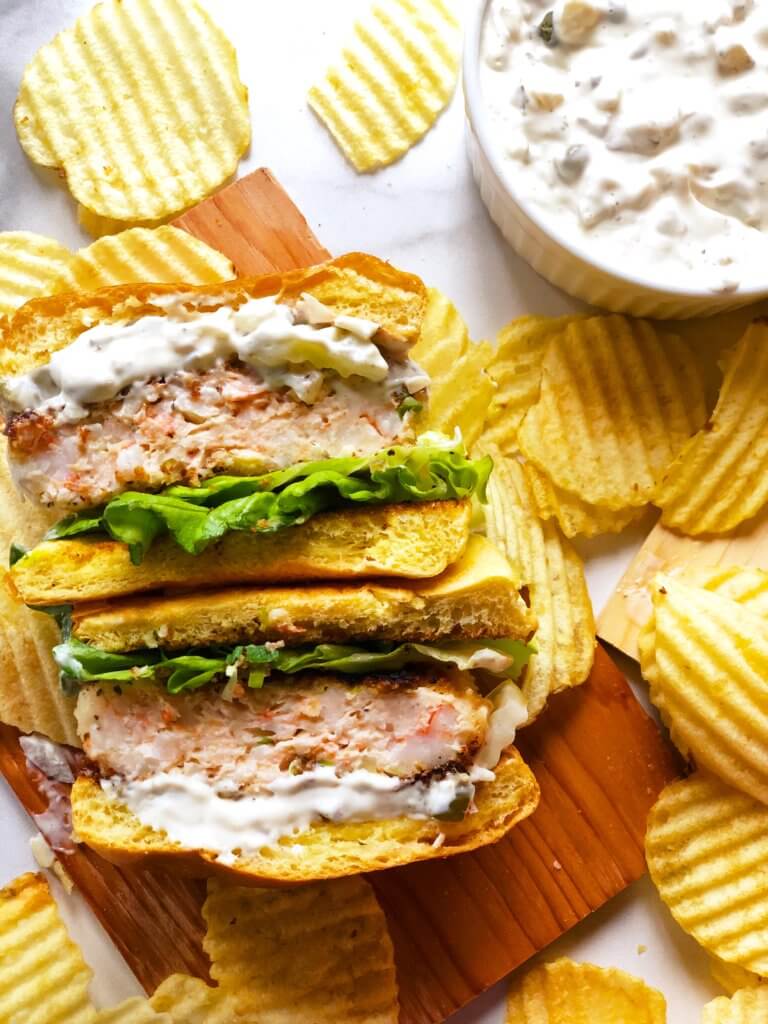 This quick meal is bound to get rave reviews! Just a few minutes to make the tartar sauce and form the patties, and they cook in 10 minutes or less. What could be better?
Enjoy!
If you're looking for burgers, take a look at my Turkey Burger with Special Sauce, this awesome and flavorful Asian Style Ginger Pork Burger, or this amazing Lamb Burger that cooks in its bun, or for something really different, my Homemade Doner Kebab sandwich.
Other shrimp recipes include this amazing Spicy Shrimp Corn Chowder or this Shrimp Cobb Salad with Cilantro and Lime.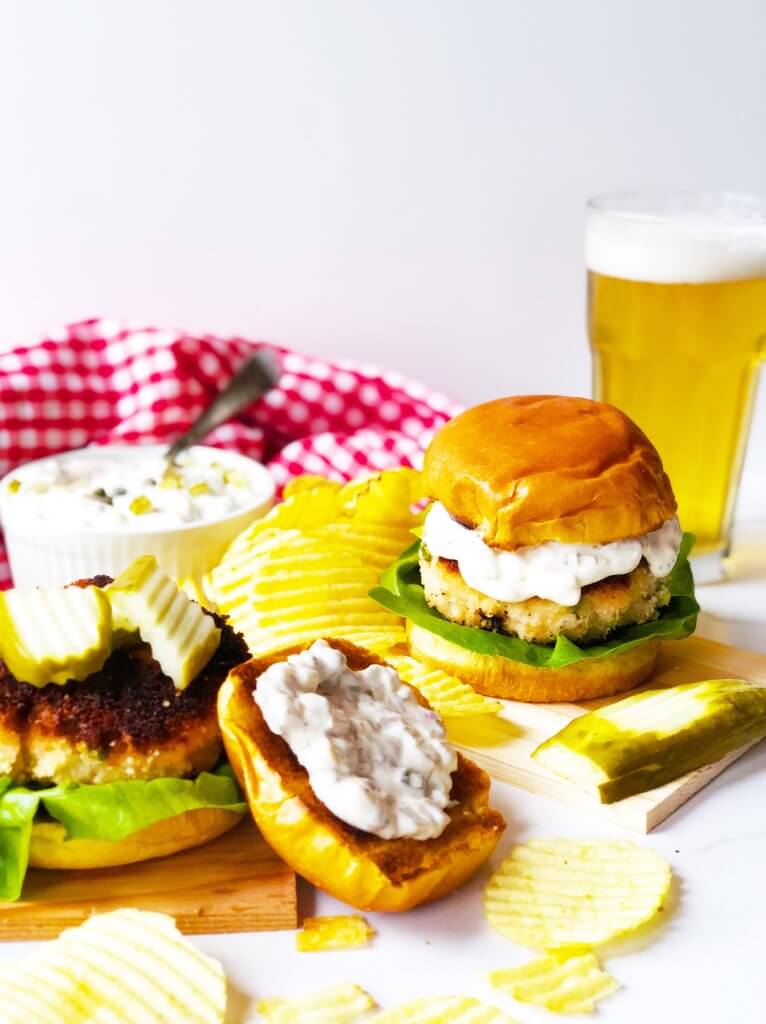 Recipe Details
This Shrimp Burgers recipe is easy and straightforward. I saw this Shrimp Burger recipe prepared on Cook's Country, and have followed that recipe with the exception of changing the spices.
I've made these burgers with both fresh and thawed (previously frozen) shrimp. I do not recommend using FROZEN, thawed shrimp! When I used previously frozen shrimp, my burgers were lacking in both flavor and texture. It was difficult to even shape the burger. I suppose if I were to add more panko this could've been prevented, but I still don't recommend this. Use Fresh shrimp!
First make the tartar sauce, by mixing all of the ingredients together. Put the sauce in the fridge while you make the burgers.
Then, you'll want to grind the panko into a coarse powder. You can do this using small portions in a spice grinder, or in about 30 seconds, or 15 pulses in a food processor. (I use This one)  Pour the ground panko into a shallow bowl that you can use to dredge the Shrimp Patties. Then, make a paste in the processor by using about 1/3 of the Fresh (not frozen!) peeled, deveined, tail-off, shrimp, some mayo and Old Bay Seasoning.
Next, you'll want to create a binder for your burger, and this is done by creating a "paste" made of ground shrimp, mayonnaise and spices. To the paste, add the whole shrimp, then pulse 4-5 times. You want to be able to see shrimp pieces, but there should no longer be any whole shrimp in the mix. If you don't have a food processor, cut each shrimp into 2-3 segments and mix with the paste.
Once you have your shrimp mixed in, add the chopped scallions and form patties. The recipe should form 4 patties, each 3/4" thick. I made 1 1/2 recipes, in order to make 6 patties. Then dredge each patty in the ground panko, pressing it in a bit, but shaking off any excess panko.
Heat a skillet over medium heat, and add the oil. Once the oil shimmers, add the patties and cook 3-5 minutes per side. The panko should become dark, golden brown, and crispy.  I cooked some in a non-stick and some in a regular, flat-bottomed skillet, and greatly preferred the result in the regular flat-bottom skillet – 4 minutes per side was perfect over medium heat.
Be sure to check the temperature if you have a thermometer – it should be 140-145F. Or cut one open. You should see bits of pink from the cooked shrimp. If it is still opaque, it needs more cook time. Put the cooked patties on a nice brioche bun, slather with tartar sauce. A leaf or two of lettuce, and some sweet or dill pickles are a nice addition, too!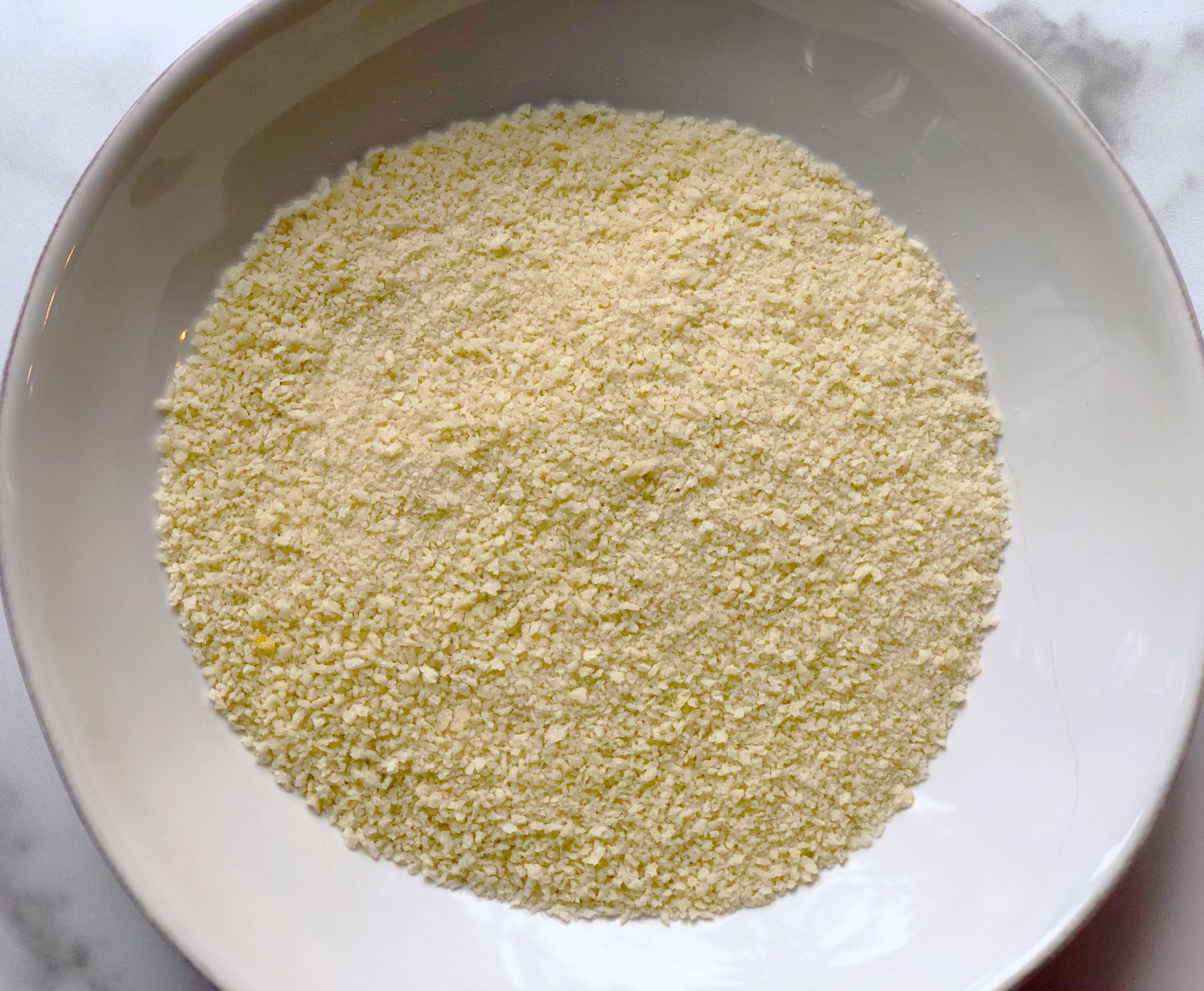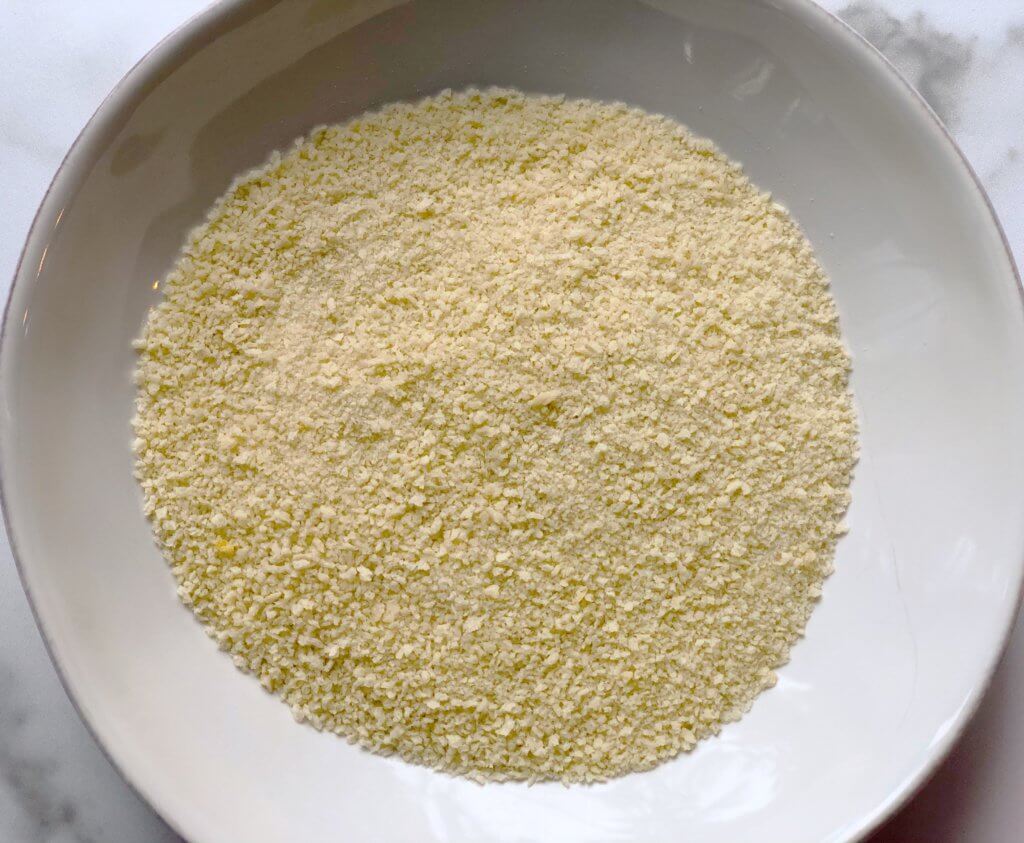 Print
Shrimp Burgers
This recipe was made on Cook's Country in 2015. The only adaptation I made was to substitute Old Bay Seasoning for the spices (paprika, salt and pepper) they used. The best thing about this tender burger is you can really taste the sweet and succulent shrimp.
Author:
Prep Time:

20 min

Cook Time:

10 min

Total Time:

30 min

Yield:

4

Patties

1

x
Category:

Burgers

Method:

Stovetop

Cuisine:

American
Ingredients
For the Tartar Sauce:
3/4 cup

Mayonnaise

1

small Shallot, minced

1 Tbsp

Capers, chopped

3 Tbsp

Dill pickles, minced

1 tsp

Brine from the pickle jar

1/4 tsp

Pepper
For the Shrimp Patties:
1 cup

Panko bread crumbs

20 oz

. (600g) FRESH Medium-Large Shrimp (

20

–

24

or 26-30/lb), peeled, deveined, tail-off

2 Tbsp

. Mayonnaise

1/2 tsp

Old Bay Seasoning

3

Scallions, chopped finely

3

T Canola or Vegetable Oil
Instructions
Make the Tartar Sauce:
Mix all Tartar sauce ingredients together in a bowl. Place in fridge while you cook the patties.
Make the Shrimp Burger Patties:
Process the panko by pulsing 15 times or blending 30 seconds to grind it to a coarse sand texture. Place panko into a shallow bowl, where you can dredge the shrimp patties before cooking them,
Using a food processor or blender, take about 1/3 of the shrimp, the mayonnaise, and Old Bay seasoning. Blend into a paste by pulsing 8-10 times or processing about 15-20 seconds.
To the paste, add the remaining shrimp. (If you don't have a food processor, then cut the peeled, deveined shrimp into 2-3 segments apiece and add to the paste and stir until well-mixed). Pulse the processor 3-5 times, scraping down the sides as needed. You should be able to clearly see segments of shrimp, but no whole shrimp. Remove the mixture to a separate bowl.
Stir in the chopped scallions.
Form the mixture into 4 equal sized balls, then press down on them to form round patties. I like to do it this way to ensure the patties are equal sized, because it's easier to make add/subtract from the balls of mixture than it is to the patties already formed. (If you're making ahead of time, place plastic wrap over the patties at this point and refrigerate up to 8 hours before cooking)
Dredge the patties in the ground panko, removing to a separate board or plate prior to cooking.
Cook the Patties:
In a large, flat skillet, heat the oil over Medium heat. Once it shimmers, add the patties. Cook 3-5 minutes per side until golden brown and insides are 140-145F. If you don't have a thermometer, cut the patties open and determine whether it is fully cooked. If you see areas of pink, this denotes the shrimp is cooked. You should see no translucent areas.
Serve patties as is, or on buns (brioche!) with tartar sauce and leaf lettuce.
Keywords: Shrimp Burgers, South Carolina Shrimp burgers, Southern Shrimp Burgers
Recipe Card powered by
PIN Shrimp Burger Recipe ->