Super-Crispy Grilled Pita Bread encases spicy, juicy, flavorful lamb. A fresh and simple Tahini-Yogurt Sauce contrasts the richness of the lamb.These Grilled Lamb Stuffed Pitas Yogurt Sauce is the new way to do a burger!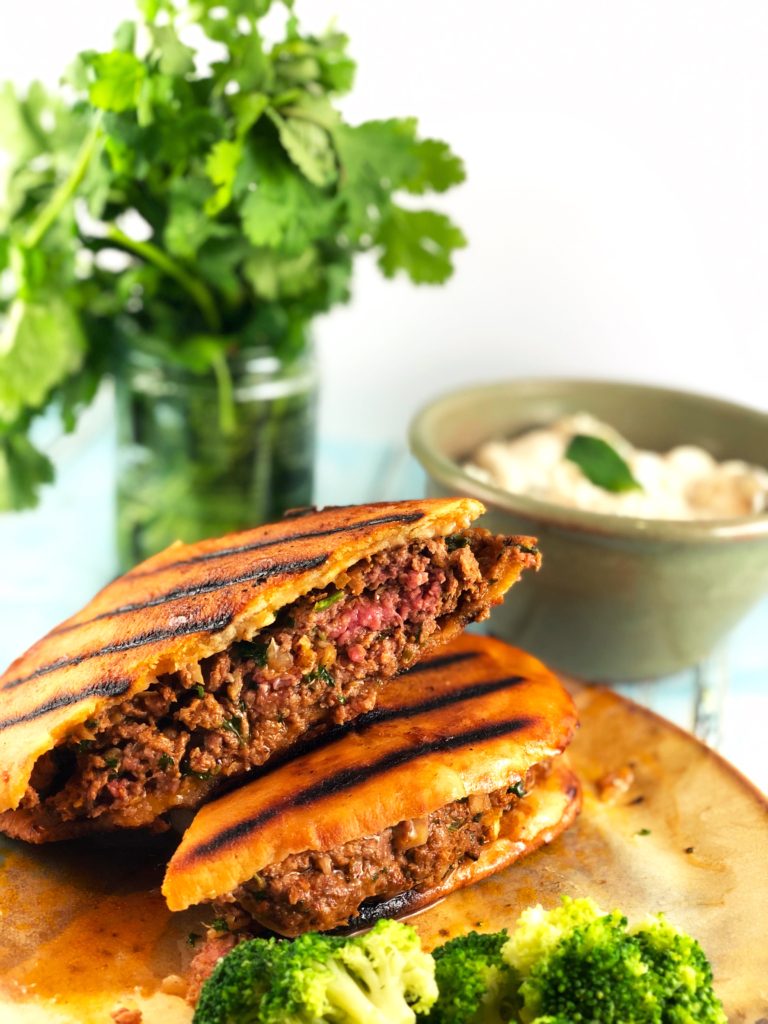 Sometimes it's good necessary to shake things up. Make a change. Do something new. Good for the mind. Good for the soul. We often get caught in a rut. There's a difference between tradition – a fine Hannukah meal or a Christmas tree, or, for instance, or a favorite family recipe passed down through the generations – and a rut, doing the same thing over and over again when it doesn't produce joy. Tradition has meaning beyond what the symbol of it is. A rut, not so much. Change it up! Sometimes just a bit of tweaking is necessary. Sometimes a basic burger seems a bit, boring, a bit "rut-like", to me anyway. That's where this Grilled Lamb Stuffed Pita comes in. So so satisfying in every way that it's my new favorite burger recipe!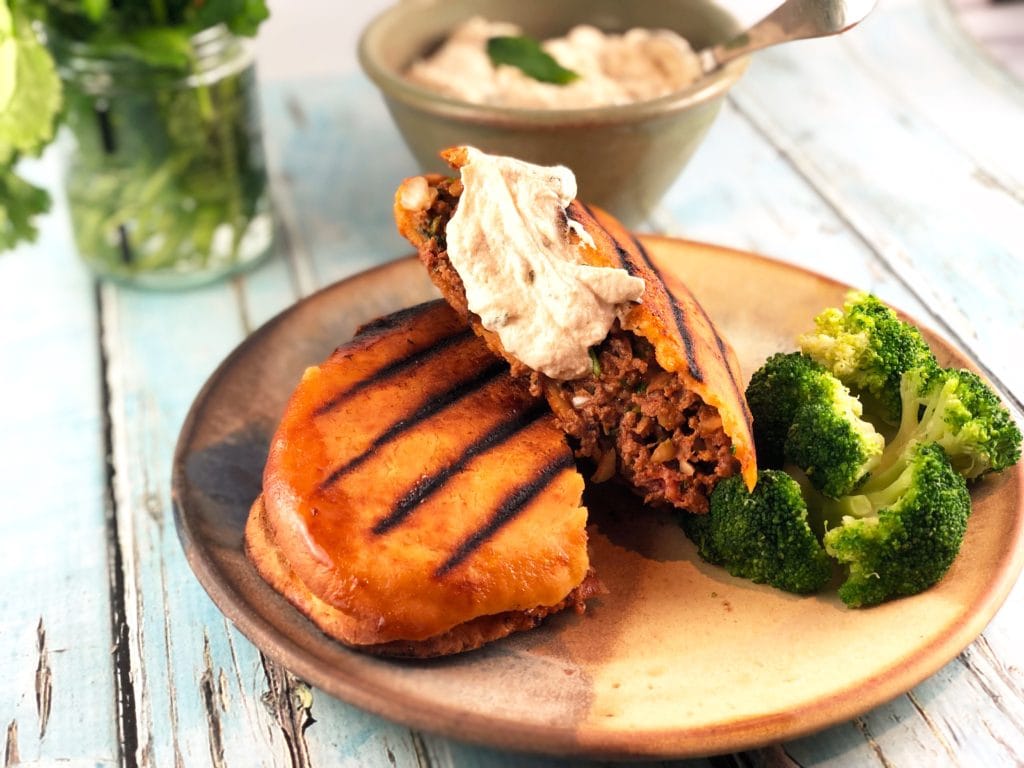 I saw this fantastic sandwich being made on America's Test Kitchen and immediately knew I had to make it. So I did what anyone would do – Googled it, and found a recipe on The Splendid Table. This sandwich is so easy – chop some aromatics, toss in a healthy amount of spice, mix it up with ground lamb (or beef, turkey). You sandwich the meat mixture between pita bread, or if you have some good knife skills, naan. Grill the whole sandwich, bread and all, indoors like I did, or outdoors. It's magical! Truly.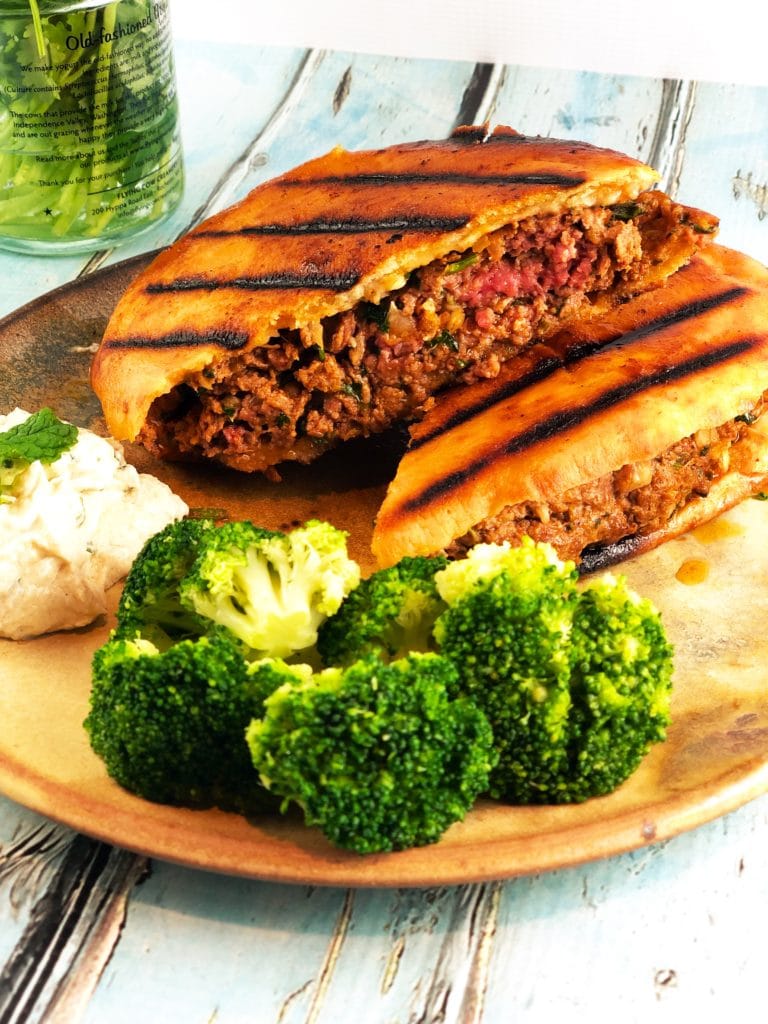 Savory, spicy, rich meat, encased in the crispiest, thinnest of "bun". The soft texture of the meat is complemented by the crispy – almost crunchy – pita (or naan). It's like nothing you've ever had, I promise! Slather it with a beautiful, fresh Tahini-Yogurt-Mint sauce. This sandwich. Best (savory) thing I've tasted this holiday season. Seriously.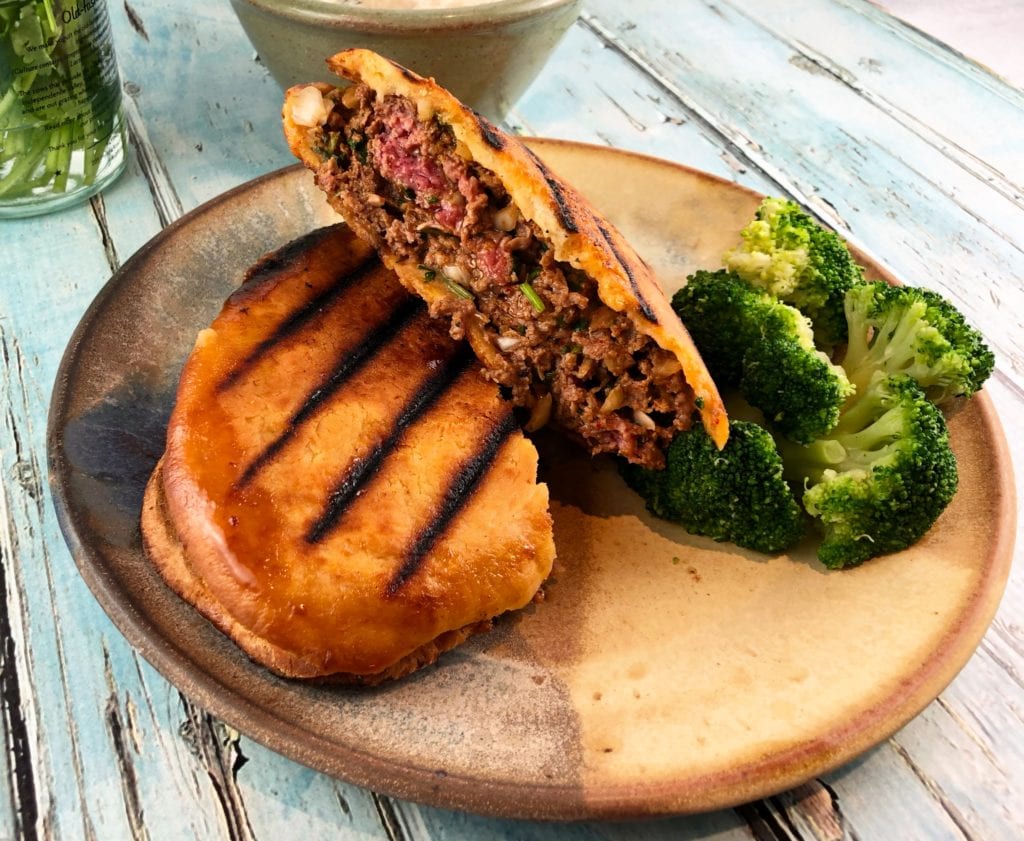 Even in this season of traditions, it's good to make a few changes. This Lamb Stuffed Pita is a good start! Enjoy!
If you want to see other lamb recipes like Lidia Bastianich's Lamb Ragu with Peppers, click here.
Or, check out these other burgers: this succulent Shrimp Burger, or super-flavorful Asian Style Ginger Pork Burger, or this Turkey Burger with Special Sauce!
PIN Grilled Lamb Stuffed Pita for later ->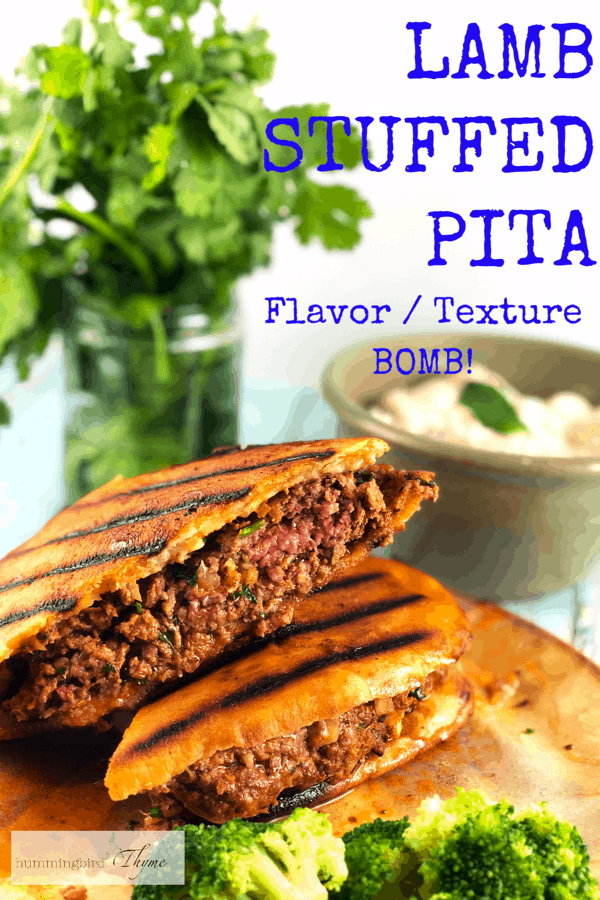 Print
Grilled Lamb-Stuffed Pitas Yogurt Sauce
This sandwich, with its crispy, thin pita (or naan), is so juicy, spicy and warm, you will absolutely love it!  The yogurt-tahini sauce is a fresh complement to the richness of the meat and spice, so be sure to include it with your sandwiches!
After seeing this recipe on America's Test Kitchen, I knew I had to make it!  I found it on The Splendid Table and quickly got to work.  I noticed several of the comments on the site mentioned the pitas burning a little too much, and since I knew I was making this "grilled" dish indoors, I tried a couple of different ways to "grill" them.
I made half the sandwiches on a grill pan on my stovetop, and the other half on a heated sheet pan in a 375F oven.  Both turned out well, but the grillpan definitely had a crispier texture on the outside.  Those cooked on the sheetpan were still crispy, but came out a little greasier. I think due to the fatty nature of the meat, a grill or a grillpan is necessary to catch the fat that the meat exudes during cooking. I might suggest putting the grillpan in the oven, preheating it, oil it slightly, and cook the sandwiches there if you are reluctant to do it stovetop.  
You can use pitas or naan.  Pitas, because of their pocket, will be easier to slice horizontally. The naan I found were thicker than the pitas , and you'll want about 1/4" thickness or a bit more, ideally.  Grill the less fragile side (the one with the char marks in a "dotted line" pattern) first!
Author:
Prep Time:

15 min

Cook Time:

20 min

Total Time:

35 min

Yield:

4

–

8

sandwiches

1

x
Category:

Sandwiches

Method:

Cooktop, grill or oven

Cuisine:

Middle Eastern
Ingredients
For the Sauce:
1

c Plain Greek Yogurt

1/2

c Minced Fresh Mint

2

T Lemon Juice

2

T Tahini

2

T Extra-Virgin Olive Oil

1/2

t Salt
For the Sandwiches:
2

lb Ground Lamb (can substitute beef)

1

onion, cut into

1

" pieces

1/4

c Extra-Virgin Olive Oil

1

T grated Lemon Zest

3

T Lemon Juice

1

T Ground Coriander

1

T Ground Cumin

1

T Paprika

2

t Salt

1 1/2

t Ground Cinnamon

4

(8-inch) Pitas, or Na'an Breads
Instructions
Make the Sauce:
Mix all ingredients together in a bowl.  Set aside.
Make the Sandwiches:
In the bowl of a food processor, pulse the onion and cilantro 10-12 times, until they are finely chopped and fairly uniform.
Place the lamb in a large bowl.  Add the onion and cilantro, the oil (you can add a bit less than the full 1/4 cup if you like), lemon zest, lemon juice, coriander, cumin, paprika, salt, pepper, cayenne and cinnamon.  Knead gently with your hands until everything is incorporated.
Set your pitas (or naans) with the less fragile side down (the side with more even, smaller char marks). Using a sharp bread knife or kitchen shears, cut around the perimeter of the bread, and separate into two halves. Remove the tops and place 1/4 of the meat mixture on each pita. Use your hands or a spatula to spread the meat over the pita, leaving 1/2" border around the edge. 
Top each with the thinner pita half. Press firmly. The meat will spread just a bit but there should still be about 1/4" perimeter of bread around the meat. If you are not grilling immediately, cover sandwiches with plastic wrap for up to an hour before cooking. 
To cook Stovetop:
Heat a grillpan over Medium-high heat.  Brush with just a bit of high-temperature tolerant oil (grape seed or vegetable oil).  Turn the heat down a bit, place each sandwich over the grate, and grill 14-20 minutes total, turning half-way through. Feel free to move them around the grillpan as they toast, because they do get pretty charred.
Transfer sandwiches to cutting board or platter.  Slice in half and serve with reserved Yogurt-Tahini sauce.
To cook in the Oven:
Preheat oven to 375F.  Place a grillpan (preferred) or a sheetpan in the oven to preheat as well.  Brush lightly with high-temp tolerant oil (grape seed or vegetable). Place sandwiches on hot pan. 
Cook 20-25 minutes, checking after 8-10 minutes, and turning once during the cook process. Bread should be evenly browned and crisp.
Transfer sandwiches to cutting board or platter. Slice in half and serve with reserved Yogurt-Tahini sauce.
Keywords: Lamb, pita, yogurt, grilled, sandwich
Recipe Card powered by