Asian Ginger Pork Burgers are one of the most flavorful burgers you'll ever taste! Fresh ginger, garlic, scallions and a touch of heat make this easy burger unforgettable!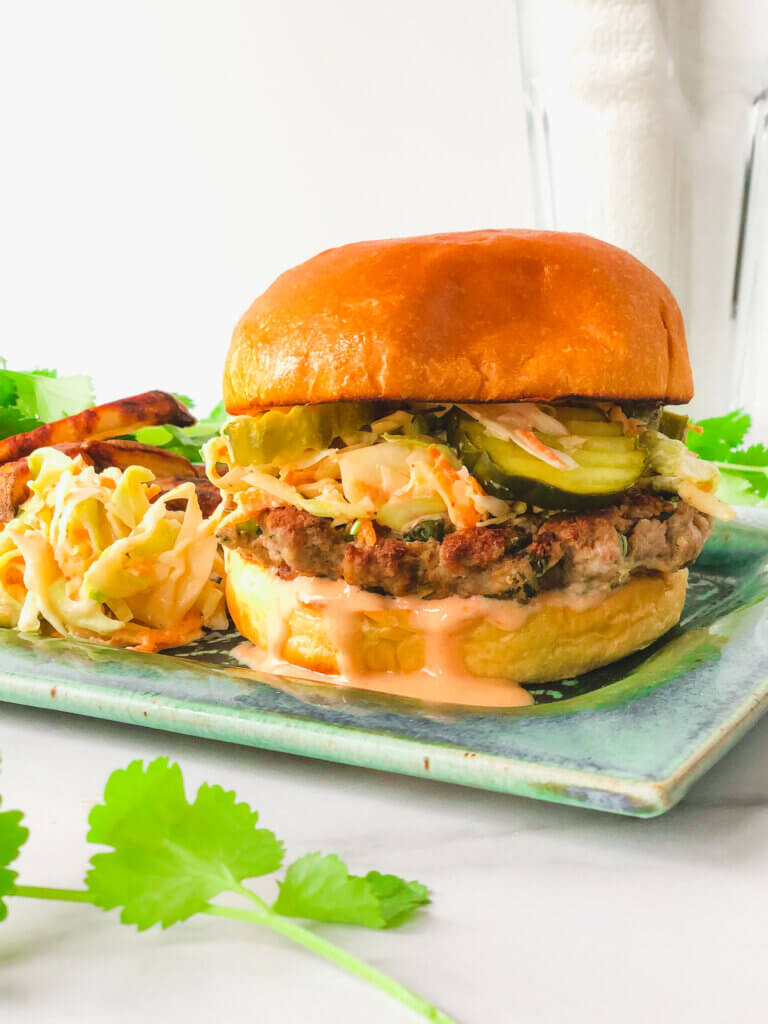 There used to be a commercial that began with the age-old question, "What are you hungry for when you don't know what you're hungry for?" And what was the answer? "Something on a crisp Ritz Cracker!" My response to that: Maybe, but probably not. Sorry, Ritz Cracker. Because those days I'm not sure what I want are the days I'd rather have a burger. But, in similar fashion to that commercial, many burgers end up all about the toppings. A well-designed burger should be complimented by the toppings, not hidden by them.
But in this case of this Ginger Pork Burger, the burger is definitely the main event. Don't get me wrong, I still need the toppings, but, truly (!) for this burger, I'd still be thrilled without them. A crispy-edged pork burger, tender, flavored with fresh ginger, garlic, and cilantro. A bit of spicy in the background. Flavor similar to the filling of your favorite pork dumpling.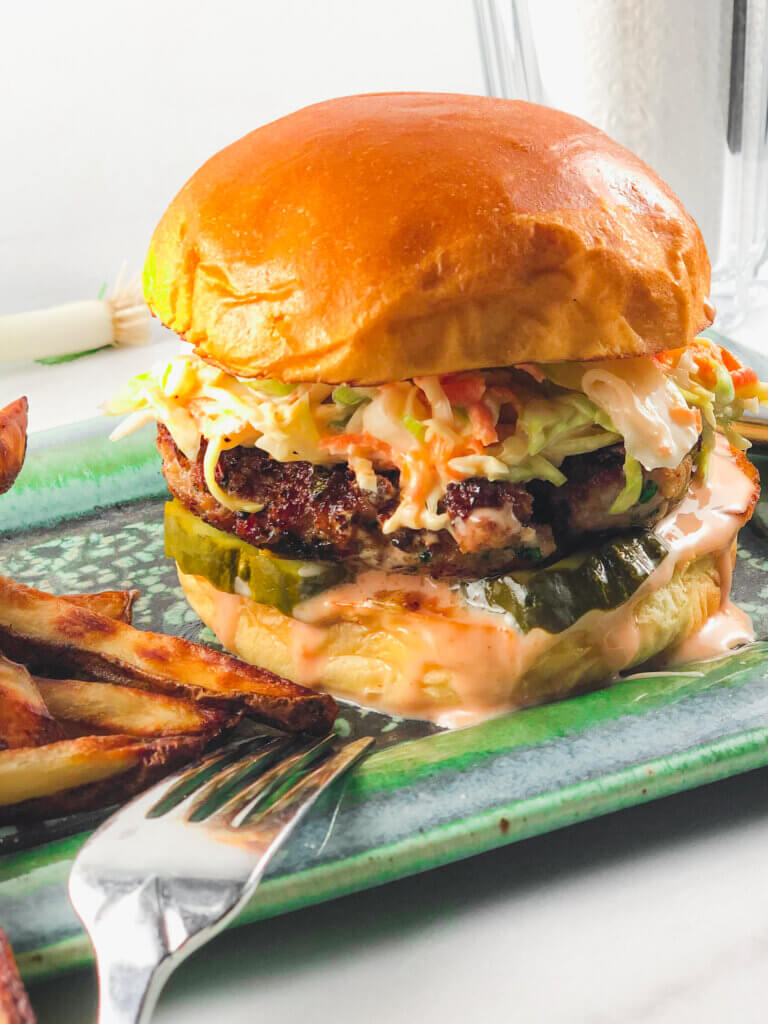 My recipe is adapted from this one from Epicurious, but I added a healthy dose of fresh ginger. Minced, along with garlic, and complimented by a nice hit of cilantro, these are the flavors that stand out in this burger. Topped with a sweet and spicy slaw and some bread-and-butter pickles, this burger is truly about the burger. One taste and you'll believe – it's what you're hungry for and you know it.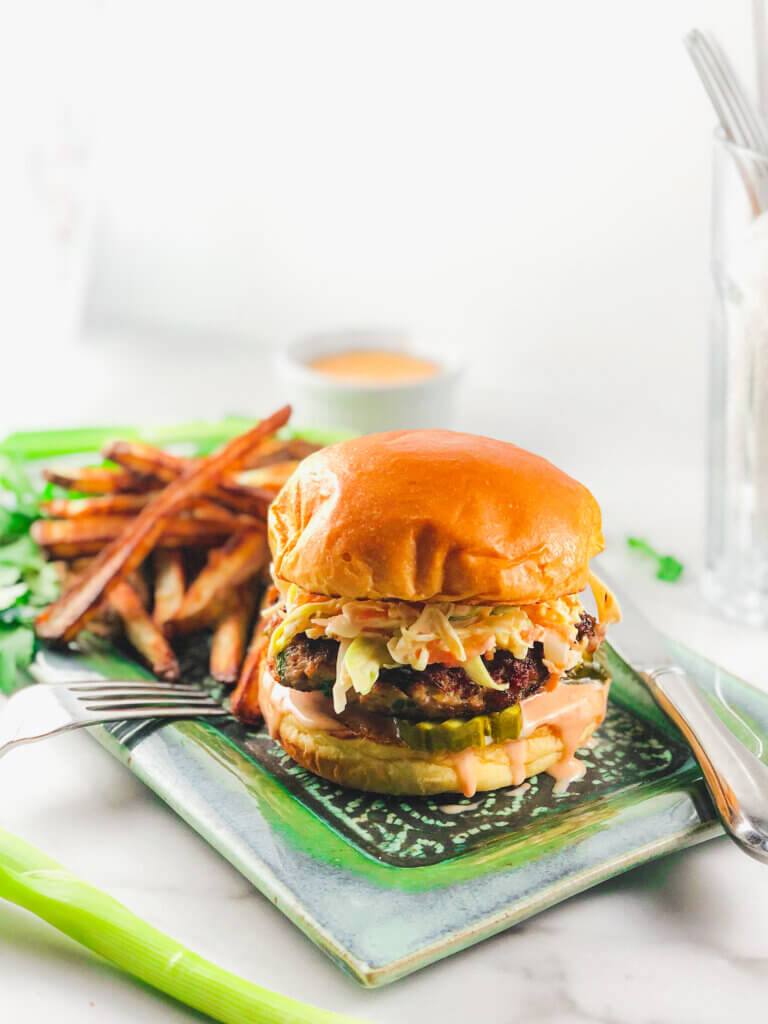 So, make the burger itself the main event! Try this Uber-tasty Asian-Style Ginger Pork Burger!
Enjoy!
Looking for other burgers or sandwiches? Don't miss these:
Super-Tasty Shrimp Burger
Turkey Burger with Special Sauce
Easy Crockpot Pulled Pork Sandwich
PIN Ginger Pork Burger ->
How to Make Asian-Style Pork Burgers ->
This post may contain affiliate links. As an Amazon Affiliate, I may earn a small commission, at absolutely no cost to you, for purchases you may make of items linked from this site.
Some things you might need to make these burgers:
Mandolin – I've had this SwissMar Borner Mandolin for several years – totally love it!
Microplane Zester– Top-ratedHandheld zester perfect for mincing the ginger and garlic in this recipe!
Cast-iron Skillet – You can't beat a Lodge 10-inch skillet – for a lifetime pan with ease of use at a great price!
Mixing Bowl – You know how I love OXO products, and this set is easy to use, handle, and clean!
Glass Measuring Cup – my Pyrex Glass Measuring cups are indispensable!
Measuring Spoons – This set is the one I want!
Kitchen Thermometer – I have a Thermapen MK4 (#notanaffiliate) and love it – I don't know how I cooked without it before! Totally worth the price.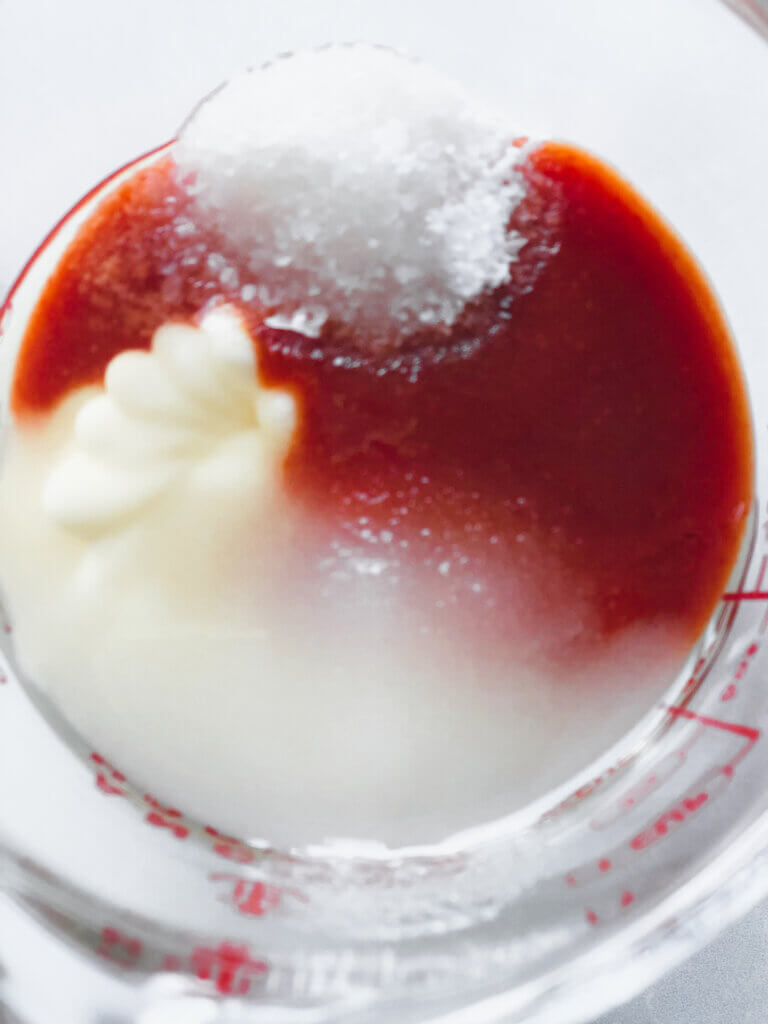 GINGER PORK BURGER RECIPE STEPS
This recipe involves just 3 easy steps, each of which are just mixing all the ingredients together. You can make each of the parts ahead of time and refrigerate up to 8 hours before cooking the burgers.
Mix the Sauce:  Just mix all the ingredients together. I do this in a small, Pyrex measuring cup, that way it's easy to portion the mayo, add the seasonings, then remove all the dressing but 1/4 cup, because you'll want to save that amount for dressing the sandwiches.
Make the Slaw: You can buy pre-made slaw mix, or you can shred your own. I like to use my Mandolin for this, because it does the job quickly and is simpler to clean than my Food Processor. You'll just shred 4 cups of cabbage, or around half of a small cabbage.Then shred a small or medium carrot, and thin-slice the green onions. 
Make the Burgers: Just toss everything into a bowl (except for the buns!), mix, and you're ready to cook! Or separate with parchment and refrigerate until it's time to cook. 
QUESTIONS YOU MAY HAVE:
Can I use ground chicken or turkey, or even beef for this recipe? I have only used pork, because there's something about it that compliments the seasonings so well, especially the nice hit of ginger. I have not tried the other meats, but beef would have similar fat content to pork, but I feel the flavors would be great with ground chicken. You may need some extra oil in  the skillet if you are using ground chicken, though.
What if I don't have (or don't like) Sriracha? If you don't have Sriracha, you can go ahead and substitute Thai Chili Paste (Sambal Oolek), or Sweet Chili Sauce. If you do use Sweet Chili Sauce, you may not need the Hoisin, which is added for a touch of sweetness.
Is there a substitute for Fish Sauce? If you don't have Fish Sauce, you might want to add another half tsp salt, or 1/2 tsp Soy Sauce. Fish sauce adds a depth of flavor that's hard to get otherwise, it's kind of like an Asian "Worcestershire" – lots of flavor, hard to replicate.
I like a thicker burger, can I make larger ones? If you like a bigger burger, you can make 3 large burgers instead of 4 burgers this recipe calls for. Also, you will need to cook them longer, maybe 7-9 minutes. Always check with pork that you cook to 160F.  You may also have a bit of extra sauce, but is there really a downside to that?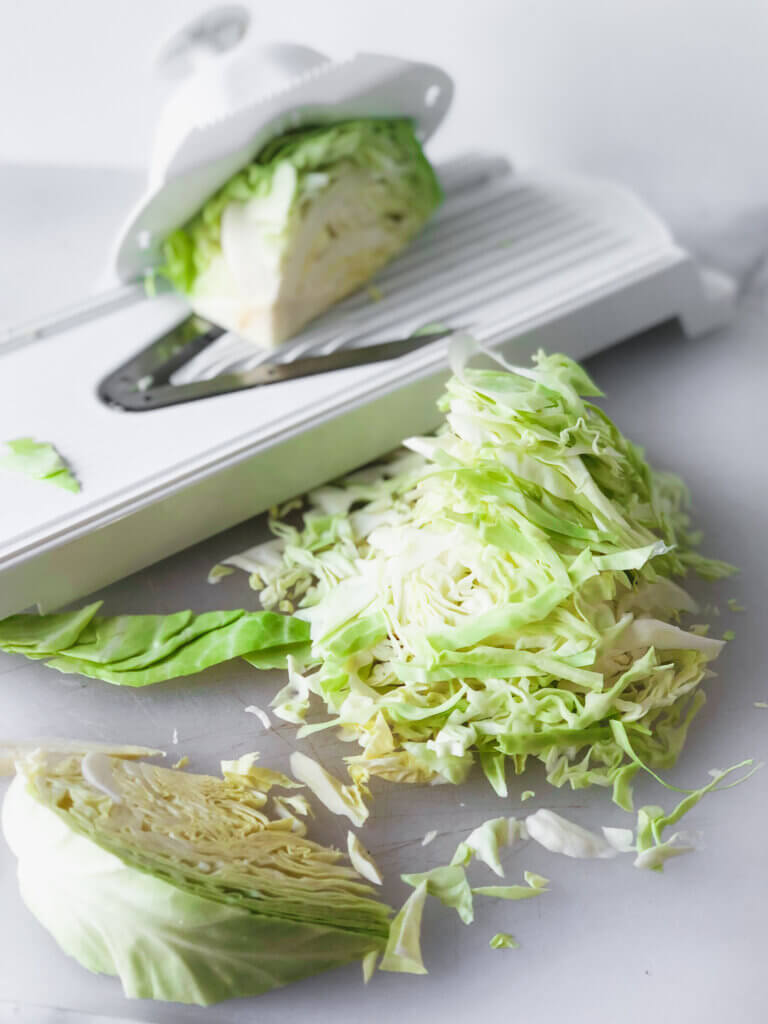 Print
Asian Style Pork Burgers
Super-flavorful and easy-to-make, these pork burgers are flavored with fresh ginger, garlic, and sesame oil, with a touch of spicy in the mix! So delicious!
Top with some creamy, spicy slaw and bread-and-butter pickles, and you're in for a treat!
Inspired by and adapted from an Epicurious recipe, to which I added fresh ginger and Hoisin, both of which amp up the flavor.
Author:
Prep Time:

45 min

Cook Time:

8 min

Total Time:

45-55 min

Yield:

4

servings

1

x
Category:

Burgers

Method:

Stove top

Cuisine:

International
Ingredients
For the Dressing:
1/2

c (120ml) Mayo (I like Kewpie or Hellman's Brand)

1

T (15ml) Rice Vinegar (Seasoned preferred)

1

T (15ml) Sriracha Sauce

2

t (8g) Granulated Sugar

1

t Kosher Salt
For the Slaw:
4

c (fill a 1 qt or

1

liter bowl) Slaw Mix or Thin-sliced cabbage

1

carrot, peeled and shredded or grated

4

Green Onions, white and light green only) thin-sliced 

1/2 tsp

Kosher Salt
For the Burgers:
1

lb Ground Pork

1

clove Garlic, minced

2 tsp

minced, fresh Ginger, from 1″ knob

1 tsp

(5ml) Sriracha Sauce

1 tsp

(

5

ml) Toasted Sesame Oil

1 tsp

(5ml) Hoisin Sauce

1/2 tsp

(3ml) Fish Sauce

1/4

c (small handful) chopped Cilantro leaves

1/2 tsp

Kosher Salt

4

Burger Buns (I recommend Brioche-style buns, but you can substitute others)
Instructions
Make the Dressing
Mix all the ingredients together. I like to do this in a glass measuring cup, because it's easy to measure the mayo, then just spoon all the other ingredients in and stir. It's then easy to scoop out what you'll need for the slaw, leaving enough for your sandwiches.
Set aside.
Make the Slaw:
If you're not using pre-packaged "slaw mix": Use a mandolin, sharp knife, or food processor to thin-slice the cabbage. Place it in a bowl, and add grated carrot, and sliced green onion.
Using the dressing you made, top the cabbage mixture with all but 1/4 cup (60ml) of the dressing, which you need to reserve as a sandwich spread. Stir it in with the veggies, then sprinkle the 1/2 tsp salt and stir again. Refrigerate for up to 8 hours.
Make the Burgers:
In a large bowl, place the ground pork. Add the minced garlic, minced fresh ginger, Sriracha sauce, Sesame oil, hoisin sauce, Fish sauce, cilantro leaves and salt. Using your hands (or a wooden spoon if you prefer), gently combine all the ingredients together. 
Form 4 roughly equal sized patties. I like to do this by forming 4 "balls" of meat, then pressing down on each portion. You want to make sure the burgers are kind of firmly together, so they don't fall apart while cooking. 
Heat a heavy skillet (Cast-iron prefered) over Medium to Medium-High heat until hot, and drizzle about 1 tsp vegetable or olive oil. Set the heat at Medium, and cook the patties 6-8 minutes until done. Internal temp should be 160F.
Slather buns with remaining sauce. Add the pork patties and top with slaw and sweet pickles if you like.
Keywords: ginger pork burgers, asian pork burgers, burger recipe, ginger pork recipe, Chinese pork burgers, Asian pork patties, pork patties, Chinese, garlic ginger pork, burger pork recipe, asian burger recipe, how to make easy pork burgers
Recipe Card powered by