Slightly Sweet, cocoa-y with some nice heat at the end, these Spicy Cocoa Glazed Chile Pecans are an homage to Trader Joe's Cocoa Glazed Spicy Pecans! So so yummy, accidentally VEGAN, and the perfect snack or addition to a cheeseboard!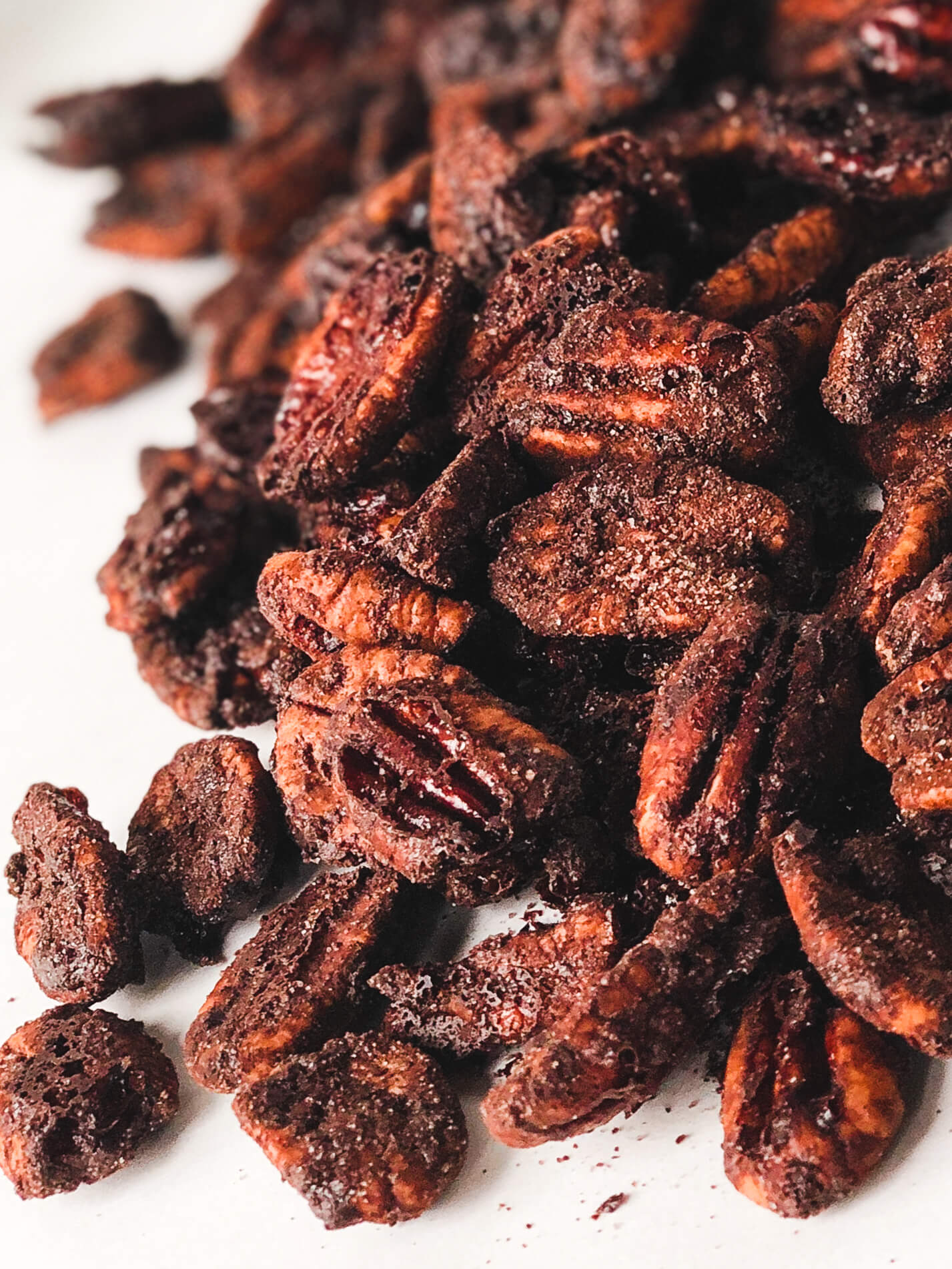 I have to say, I'm a little mad at Trader Joe's. It was around Christmastime they started selling these positively delightful Spicy Cocoa Pecans. Toasted pecans, covered in a sweet and spicy cocoa-y mix. The kind of spicy that kind of sneaks up on you? I mean, who doesn't want that? I kind of got used to eating a handful during "the witching hour". You know the witching hour, right? It's that time, mid-afternoon, usually right around the time kids get home from school or practice, and it's still an hour or more until dinner? The time of day no one is happy? Yeah, the time you (all) just need a snack but don't want to ruin appetites.
That was the time I would grab a handful of those Spicy Cocoa Pecans. The cocoa mixed with a little bit of sugar and little bit of spice, would take me right up to dinnertime with something that felt like a treat! So, needless to say, when I saw there were no more Cocoa Glaze Pecans at Trader Joe's, what do you think I needed to do? Why, make my own, of course!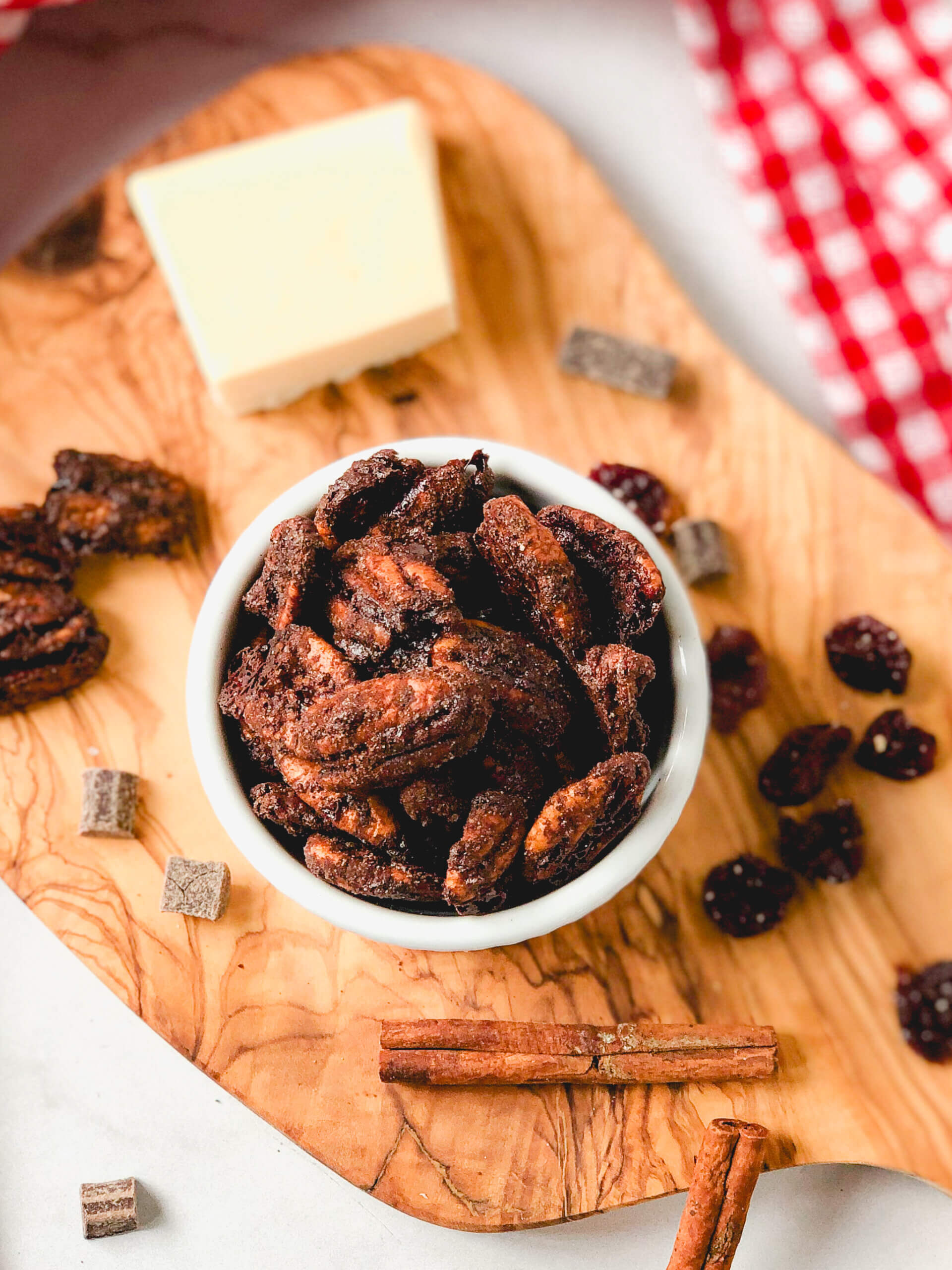 And, the best part about this recipe is that these lovely Spicy Cocoa Glazed Pecans are unbelievably quick and easy to make! You just need 3 cups (about 10-12 oz.) of raw pecan halves. Soak them in a sugar-salt-water solution. While they soak, mix up a dry glaze mix. Drain then coat the damp nuts, and bake until toasty! Witching Hour will never be the same! T
Also, here are some more ideas to use these crunchy, toasty, cocoa glazed pecans:
on a salad
over ice cream (so so yummy!)
to add flavor and crunch to a fruit salad
a lovely appetizer
on a cheese board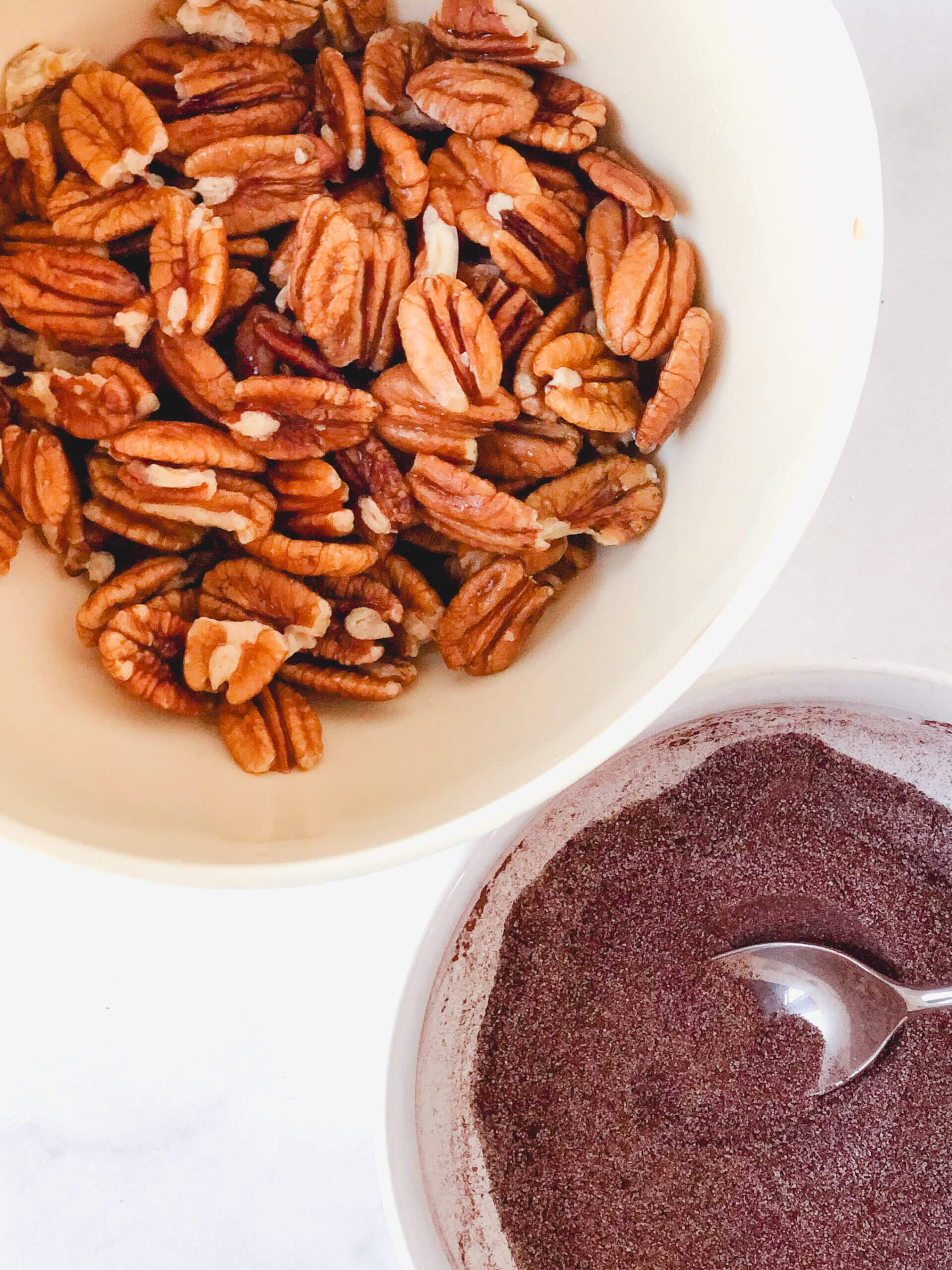 So, learn to celebrate those times where you just can't make it to dinner. Make some Sweet and Spicy Glazed Cocoa Pecans!
And, I'm curious – do YOU have a favorite snack that is difficult to find or discontinued? Let me know!
Enjoy!
Be sure to check out some of my other dishes with nuts:
Strawberry Gorgonzola Salad with Sweet/Spicy Pecans
PIN Spicy Cocoa Glazed Pecans ->
How to Make Spicy Cocoa Chile Pecans ->
This post may contain affiliate links. As an Amazon Affiliate, I may earn a small commission, at absolutely no cost to you, for purchases you may make of items linked from this site.
Some things you might need:
Sheet Pan – I love my easy-to-clean USA Pan Baking Sheets!
Measuring Cups and Spoons – this brilliant set is the one I want!
Parchment Paper – save money and time by buying a year's worth!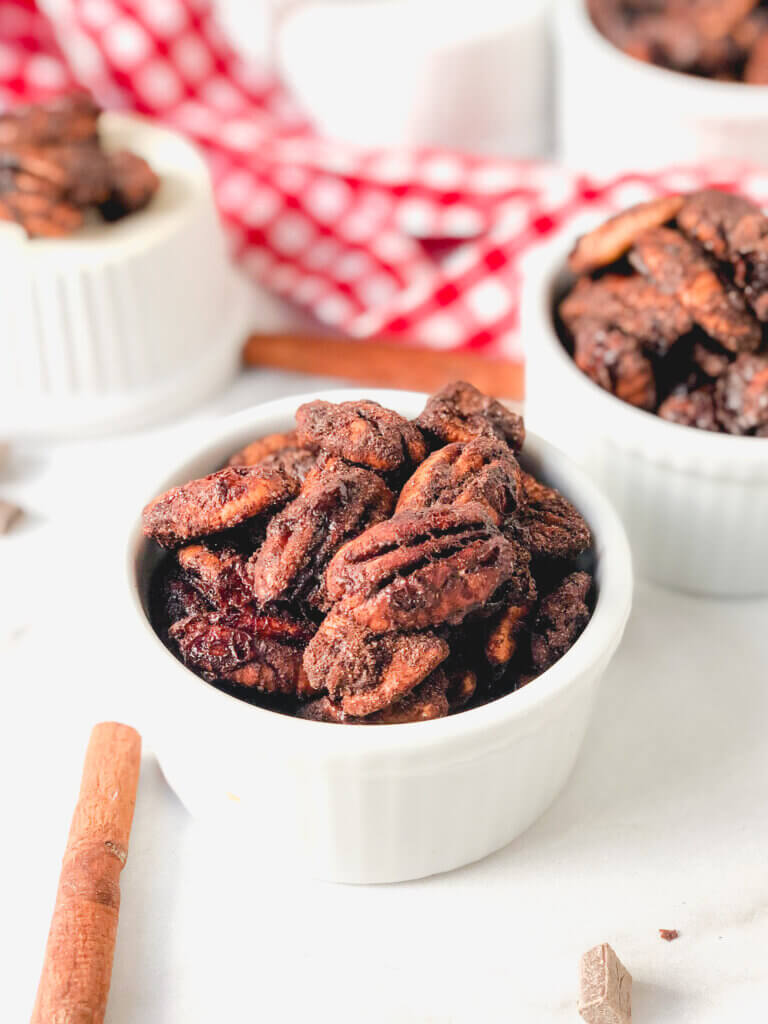 Making Sweet and Spicy Cocoa Pecans:
This recipe is so simple. First, you'll want to preheat your oven and line a sheetpan with parchment or cooking spray. Then, you'll want to soak your pecans in a warm, sugar-water solution for just 10 minutes. This will not only add flavor to the nuts, it actually has benefits for people sensitive to nuts. (see below for more information)
While the pecans are soaking, just whisk together the remaining sugar, cocoa, cayenne pepper, cinnamon, and salt. Pour that mixture over the pecans, stir them around until they are well-coated, then scatter them across the baking sheet. Bake 12-15 minutes, then remove to cool. Once they are completely cooled, they are ready to eat!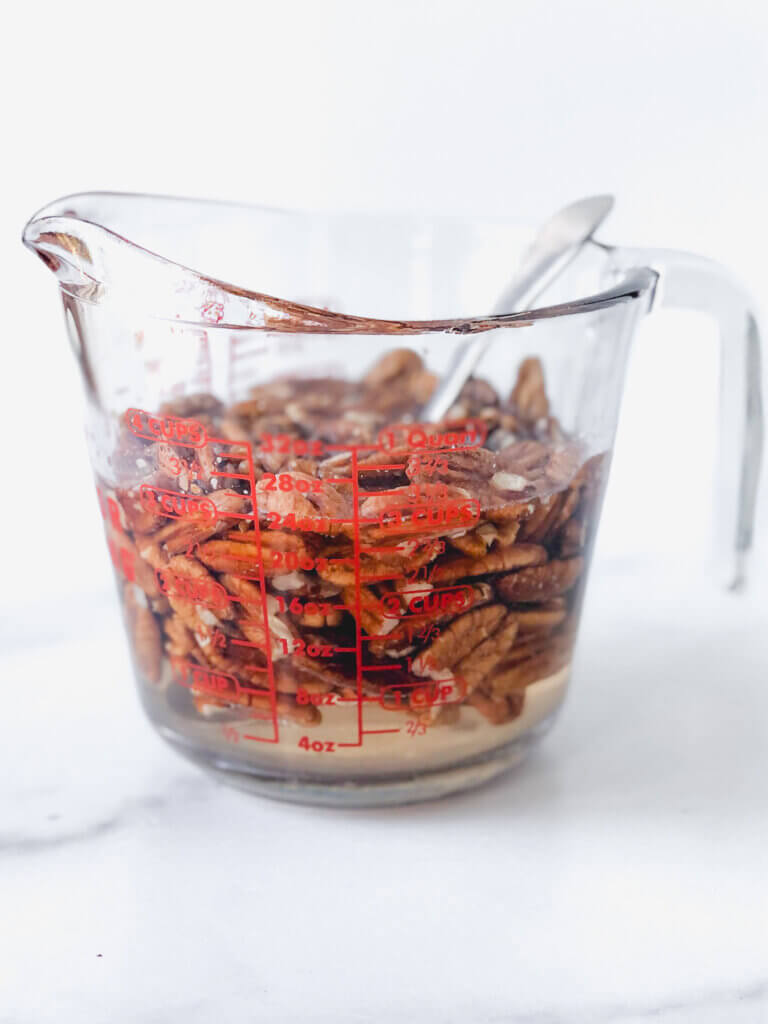 Some Questions you might have:
Why do you soak the pecans before baking?
There are a couple of reasons. One, the dampness of the nuts helps the seasonings "stick" and also helps to liquify the sugar a bit, for a head-start on caramelization. Also, it is believed water dissolves some of the enzyme inhibitors contained in the nuts that can lead, for some, to digestive distress. (Although a much longer soak – 8 to 24 hours – is recommended for this benefit to those who have difficulty digesting nuts.)
I really don't want to soak the nuts. Is there another way? 
Yes, there is! You can whisk up an egg white in a medium bowl until it's foamy and then stir the pecans into the egg whites. That will make the spice mix adhere to the nuts. Then, roast them as directed. After cooling, they will be a bit crispier than the soaking, and totally delicious!
Can I use Natural Dark Cocoa Powder instead of "Dutch Processed"?
Yes, you certainly can. It's likely your nuts will also have that lovely "bitter" note that natural dark cocoa has. But they will turn out similar to those made with Dutch Process Cocoa.
Can I use brown sugar instead of white?
Yes! I've substituted packed light brown sugar in this recipe, and it works as well. It may take a bit more time to dissolve in the warm water, but it gives a nice flavor to the nuts as well!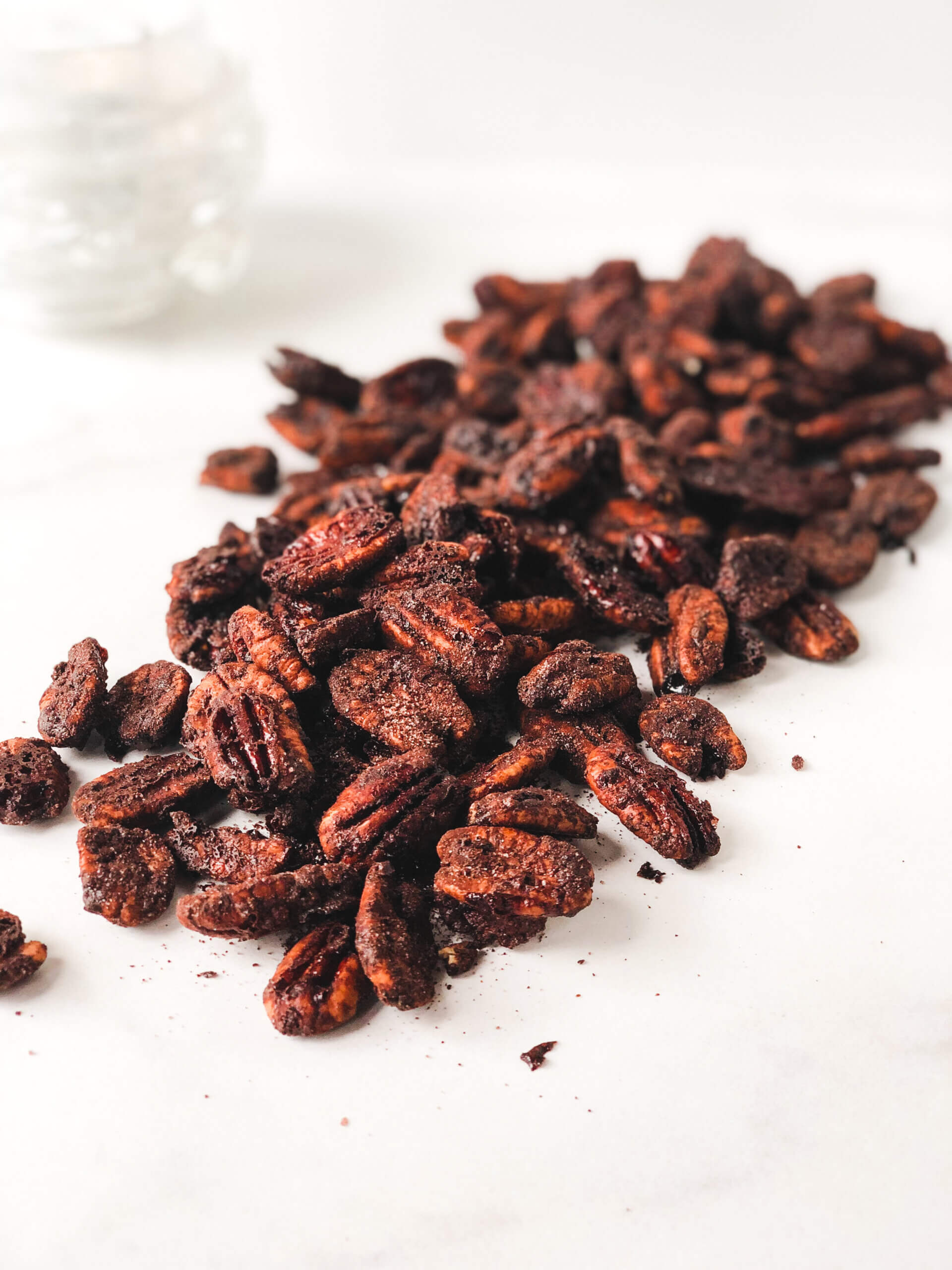 Print
Spicy Cocoa Glazed Pecans
Roasty, crunchy, slightly salty pecans coated in sweet cocoa, a bit of cinnamon, and cayenne pepper!  These hit every note!
Such a simple recipe, too!
Author:
Prep Time:

15 min

Cook Time:

15 min

Total Time:

30 min

Yield: About

4 cups

1

x
Category:

Nuts

Method:

Baking

Cuisine:

International
Ingredients
10

oz

(290g, about 2 1/2 – 3 cups) Pecan Halves, raw, shelled

3/4

cup

(150 g) Granulated Sugar, divided

2 Tbsp

(

45g

) Cocoa Powder, Either Dutch Process (preferred) or Natural

1 tsp

Ground Cinnamon

1/2

–

1

tsp Cayenne Pepper

1 1/2 tsp

Kosher Salt, plus a big pinch for the soaking water
Instructions
Preheat oven to 325F (Convection/Fan) or 350F (Conventional). Prepare a pan by spraying with cooking spray or lining with parchment paper.
Into a medium bowl or large measuring cup, pour 2 cups warm water. Dissolve 1/3 cup sugar and a nice pinch of kosher salt in the water, and add the pecans. Wait 10 minutes, stirring occasionally. Drain the liquid from the nuts and pat dry with a paper towel. Discard the liquid.
Preheat oven to 350F (Conventional) or 325F (Convection/Fan).
Mix together the remaining Sugar, Cocoa powder, Cinnamon, Cayenne Pepper (use the full tsp only if you're a big hot/spicy fan!) and salt.
Pour the dry mixture over the nuts, and stir until the nuts are nicely coated. There may still be some powder in the bowl. Just discard any excess.
Scatter the coated nuts over the baking sheet and place in the oven. Bake 12-15 minutes, rotating pan halfway through baking. When done, the nuts should smell nice and toasty, and appear mostly dry. Let cool on the sheet. Store in an airtight container. Nuts will keep at least 2 weeks at room temperature when stored in an airtight container.
Keywords: Spicy Cocoa Glazed pecans, cocoa Chile pecans Trader Joes, cocoa Chile glazed pecans, Roasted chocolate pecans, Coco Chile spiced pecans, cocoa pecans, sweet and spicy nuts, sweet spicy pecans, Trader Joes copycat recipes, snacks, Chocolate covered pecans, Cocoa nuts, Roasted nuts, roasted pecans
Recipe Card powered by