Do you ever feel like a fake?  A poser (or "poseur")?  Well, sometimes I do.   I usually tell people (quite truthfully) that when I can, I make things homemade. After all, I have a website that features recipes on the internet!  And this Strawberry Gorgonzola Salad with Sweet and Spicy Pecans – one of my signature dishes – is a salad that always seemed "homemade". I LOVE this salad.  Everyone who tries it loves this salad.  I bring it everywhere.
I made it once for my daughter's pre-prom dinner with a large group.  The next time this group got together, her friend asked her, "Is your Mom making THE SALAD?"  Well, of course I made the salad.  It is a perfect symphony of flavor and texture – from the sweet strawberries to the tangy and creamy Gorgonzola, to the crunchy Sweet and Spicy Pecans, all kissed with a sweet-tart balsamic vinaigrette. Love at first bite! For years I made the salad and the dressing and then sprinkled the Trader Joe's Sweet 'n' Spicy Pecans over the top. But, strangely, I felt a little bit guilty for not making the pecans myself.  They are so, so delicious, and they truly are the gilding on this salad's lily.  I could eat them every day – who am I kidding?  I could eat this whole salad every day!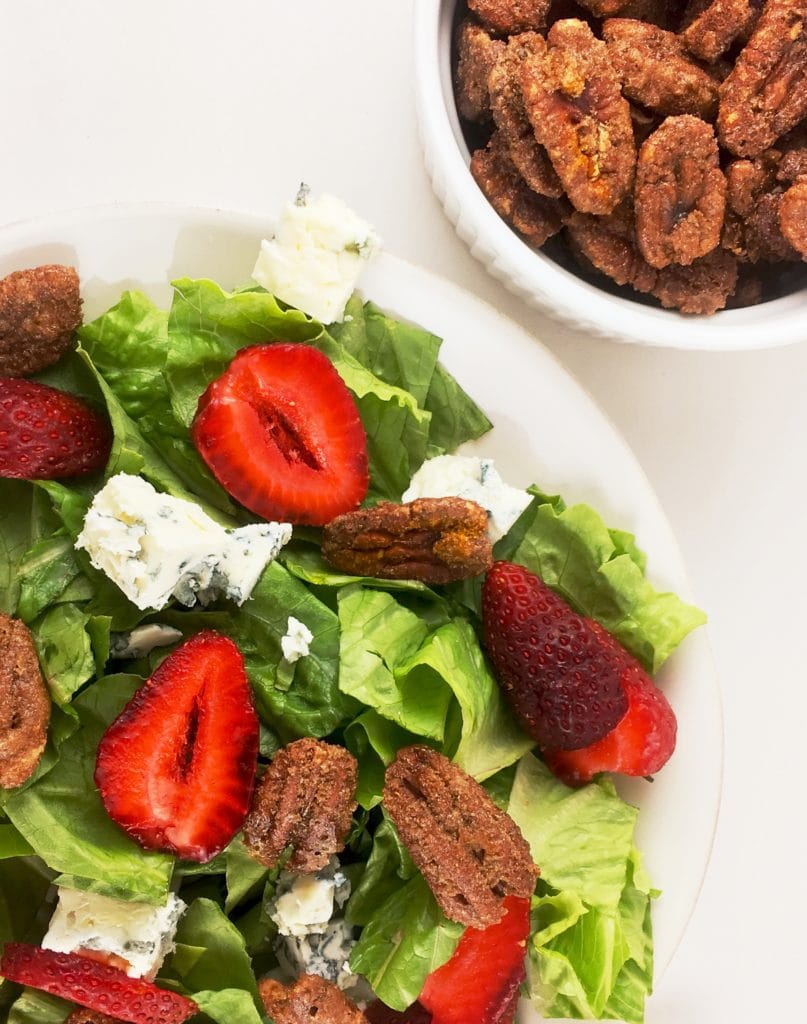 So last year, I decided I had to learn to make these for myself – they come in such a small package and, you know, a girl needs to be economical.  And, like I mentioned, I make this salad all the time.  So, first, I concocted a recipe that had the flavor of TJ's pecans, but not the super-crunchy texture.  This year, though, I feel like I've captured all of the qualities of the TJ's Sweet and Spicy Pecan – crunchy, sweet, earthy, spicy, Mmmmm.
The key is to coat the nuts with a frothy egg white prior to sprinkling on the spices and baking them.  This adds a layer of crunchiness and keeps all the delicious sugar and spice on the nut.  So now I can make a big batch and have them on hand for whenever I make this salad. Or when I need a snack.  Or when I need something sweet.  Or something spicy. Or something nutty. I've even been known to eat a handful of these as a pre-workout snack – bye bye energy bar!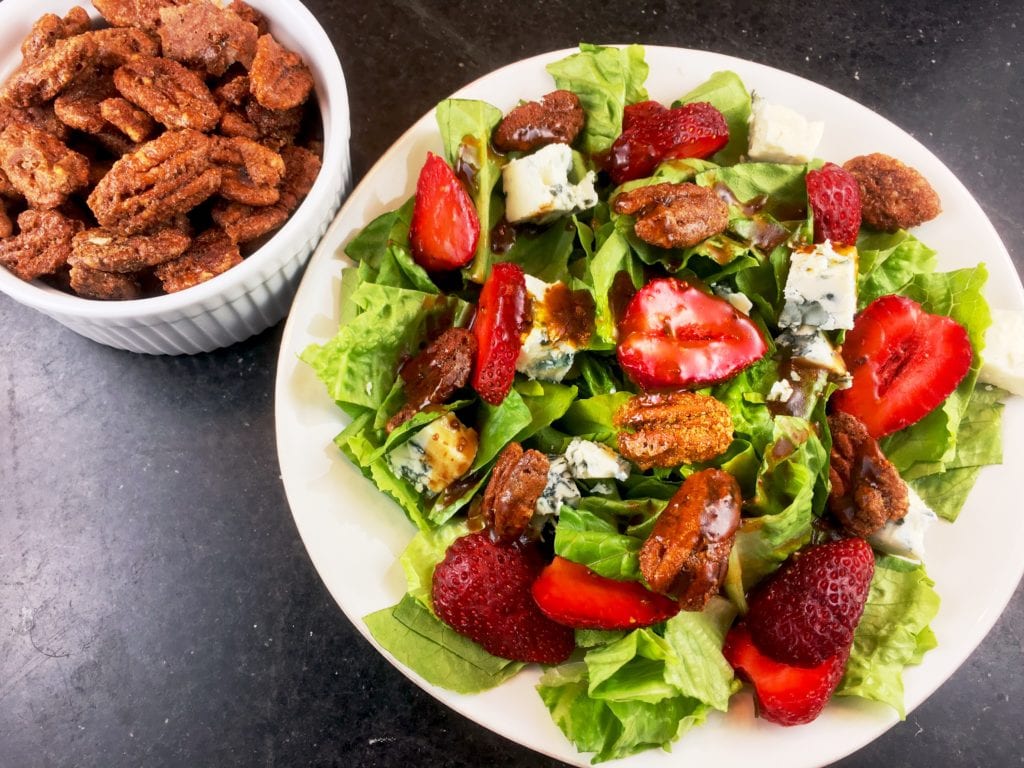 So don't be a poser!  Make this salad! And make these Sweet and Spicy Pecans.  You won't believe how easy it all is! And how delicious.  This can be YOUR signature salad, too!
Print
Strawberry Gorgonzola Salad with Sweet and Spicy Pecans
A symphony of flavors – sweet strawberries, tangy gorgonzola cheese, sweet and spicy pecans all topped with a balsamic vinaigrette – this is the salad you will be asked to make again and again.  The real secret is just how easy it is!
Author:
Prep Time:

10

Cook Time:

30

Total Time:

40 minutes

Yield:

6

-

8

servings

1

x
Ingredients
For the Pecans
3

c (12 oz.) Pecan Halves

1

egg white, room temperature

3/4

c Brown Sugar, packed – either light or dark is fine

2

t Kosher Salt

1

t Ground Cumin

1

t Ground Cayenne Pepper

1

t Ground Cinnamon
For the Salad
1

Head leaf lettuce or Romaine Heart

1 pt

Fresh Strawberries, sliced

3

–

4

oz. Gorgonzola Cheese
For the Dressing
1 1/2

t Dijon Mustard

1 1/2

t Granulated Sugar

1/4

t salt

1/4

t Black Pepper

1/4

c Balsamic Vinegar

1/4

c Extra Virgin Olive Oil
Instructions
Prepare the Pecans
Preheat oven to 300F.  Line a large baking sheet with parchment paper, or cooking spray.
In a medium bowl, whisk the egg white until it is very frothy.  Add the pecans, and stir with a silicone spatula until all are coated.
Mix together the brown sugar, salt, cumin, cayenne and cinnamon.  Pour over the pecans and stir until all of the mixture is coating the nuts.  Pour nuts onto the prepared baking sheet in a single layer.  Bake 30-35 minutes until toasty.  Cool on baking sheet, stirring occasionally as they cool so they do not stick together.
Prepare the Salad
Chop the lettuce. Slice the Berries.  Cube the cheese.  Arrange in a bowl or on individual plates.  Top with toasted pecans (about 3/4-1 cup total).
Make the Dressing
In a dressing container or jar with a lid, add the mustard, sugar, salt, pepper and vinegar.  Shake to mix. Add the oil, shake to emulsify.  Pour 1/3 – 1/2 of the dressing over the salad, passing the rest at the table.
Notes
Recipe makes many more pecans than you will need.  Store remainder in an airtight container for salads or snacking.  The nuts are also fantastic on ice cream.
Recipe Card powered by