You know, I've never loved fireworks.  Sure they are pretty, and even impressive.  But I think all of the warnings we received as children about burning or blowing off our hands and feet came with the side effect of making me a little skittish. And it also makes me a little nervous thinking about my children anywhere near fireworks.
However, what I do love about the 4th is the comraderie and patriotism! I love getting together with friends to socialize and catch up on one another's lives, and maybe watch some of those lovely fireworks, from a safe distance, of course. And my thoughts ahead of that are: what can I take to the party?  Are you still wondering what to take to that picnic or cookout to celebrate the 4th of July?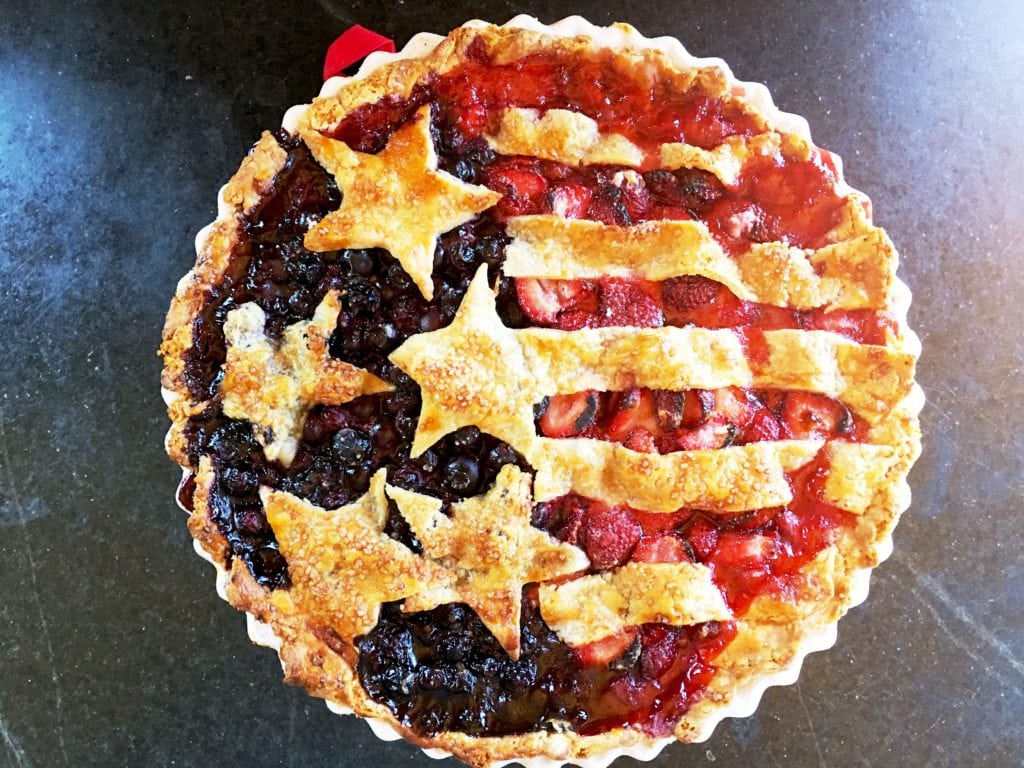 I was, too, when I saw this beautiful and festive 4th of July Pie!  All of my favorites are here – blueberries, strawberries, PIE ?, what could be better?  You can substitute or add other berries like raspberries, cherries, blackberries, you name it, it can go in this festive pie! It's as easy as a pie can be and so festive!
You really can use any fruit here, mix the blueberries with blackberries, add some raspberries to the red side.  If you're short on time, just use a refrigerated crust. Although I do have to say this Martha Stewart crust  is simple perfection – it may even become your forever favorite. I just used blueberries, (you know how I feel about blueberries) and strawberries.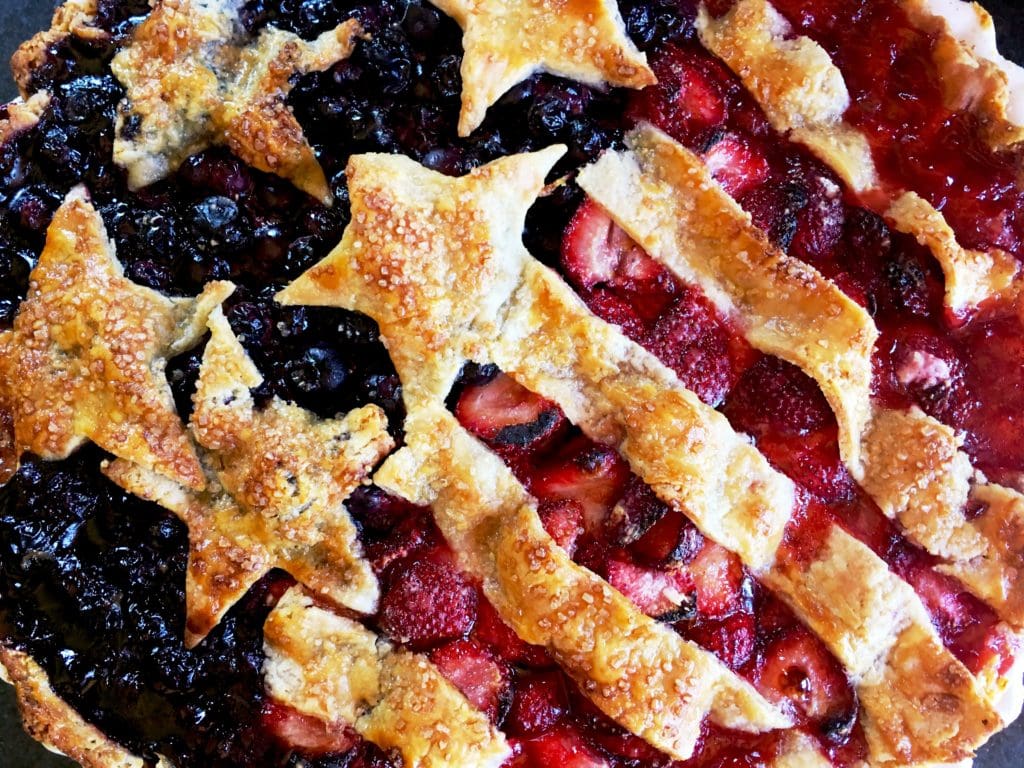 So get out there!  Watch those fireworks.  Preferably with a slice of 4th of July Pie in hand!  And you know me, invite me to any kind of party or celebration and I'll be there, probably with something easy and impressive, fireworks or not! Enjoy!
Print
4th of July Pie
A festive pie with blueberries and strawberries – or whatever berries you like – raspberries, blackberries, marionberries, cherries – you decide!  Use a store-bought crust or the recipe below, which is from Martha Stewart. You can see her recipe and instructions Here.
Special equipment needed:  star-shaped cookie cutter (any size).
Author:
Prep Time:

20

Cook Time:

55

Total Time:

1 hour 15 minutes

Yield:

1

-

9

" pie

1

x
Category:

Pies

Method:

Baking
Ingredients
For the Crust
2 1/2

c AP Flour, plus extra for rolling the crust

1

t Granulated Sugar

1

t Salt

8 oz

. Unsalted Butter (

2

sticks) cut into 1/2″ cubes

1/4

–

1/2

c Ice Water
For the Filling
4

c Red Berries

4

c Blueberries

3/4

c Granulated Sugar, divided
Zest and juice of 1 Lemon

1/2

c Cornstarch, divided
For the Egg Wash (optional)
Instructions
Make the Crust:
In a food processor, place the flour, sugar and salt.  Pulse to combine.  Add the COLD cubed butter. Pulse until the largest bits of butter are the size of a pea – you want to SEE the butter bits in the rolled out crust, this will make it flaky.  This took about 8-10 pulses in my processor.  Slowly add the water and stop when the dough just begins to form.  You will still have an amount of crumbly mixture but as long as it sticks together when you pinch it in your fingers, you're good to go.
Pull out 2 separate 12″ sections of plastic wrap, and pour half of the dough mixture on each.  Shape each portion into a 4-5″ disk about 1″ thick and wrap tightly.  Refrigerate at least 1 hour and up to 24 hours.
Roll out the first portion of dough into a circle large enough to fill your pie plate. Place into the pie plate, filling in any areas that crack or separate with small pieces of dough – I know Martha's don't do this, but mine always do. Make sure there is enough edge to create a crimp or design around the edge if you wish.
Roll out the second portion into a 10″ circle.  Run a knife down the middle to separate the two halves.  Using a star-shaped cookie cutter, make several stars for the blue half of the pie.
Create 1″ wide "stripes" for the red half of the pie.  Refrigerate the pie crust while you prepare the fruit.
Prepare the Fruit:
Preheat oven to 400F.
Using 2 medium-sized bowls, place the blueberries (or blackberries) in one, and your red berries in the other.  Pour half of the sugar over the blue berries and half over the red berries.  Likewise, pour half of the cornstarch, lemon juice and lemon zest into each of the two bowls.  Mix berries with a silicon or rubber spatula
Pour the blue berries into one half of the pie, the red berries into the other half.
Top the blue berries with you cut-out crust "stars" and the red berries with some of your "stripes."  (Extra Stars and Stripes you can bake separately for 15 minutes or roll out into "hand pies, that you can fill with jam or extra berries!)
Whisk together the egg and milk to make an egg wash.  Gently brush over the pie crust edge and Stars and Stripes.
Bake pie for 45-55 minutes in preheated oven until the filling is bubbly throughout.  If the crust browns too much during baking, cover brown areas with strips of aluminum foil to slow this process down.
Cool pie at least 45 minutes before serving.
Notes
I used blueberries and strawberries, but feel free to use berries of your choice!
Recipe Card powered by