Do you remember those days where a salad wasn't a meal except if you were "on a diet"?  I hate that term, by the way.  Call me crazy, but I feel like if you want to adopt a healthier lifestyle, "going on a diet" is the worst way to do it.  Because what do you do when your "diet" is over?  You can't very well switch to your old ways.  You'll end up in the place you were before the diet! To adopt a healthier lifestyle, a good way is to make some changes you are willing to keep for the rest of your life.  Not to sound preachy, but that's where this Pioneer Woman Big Steak Salad comes in.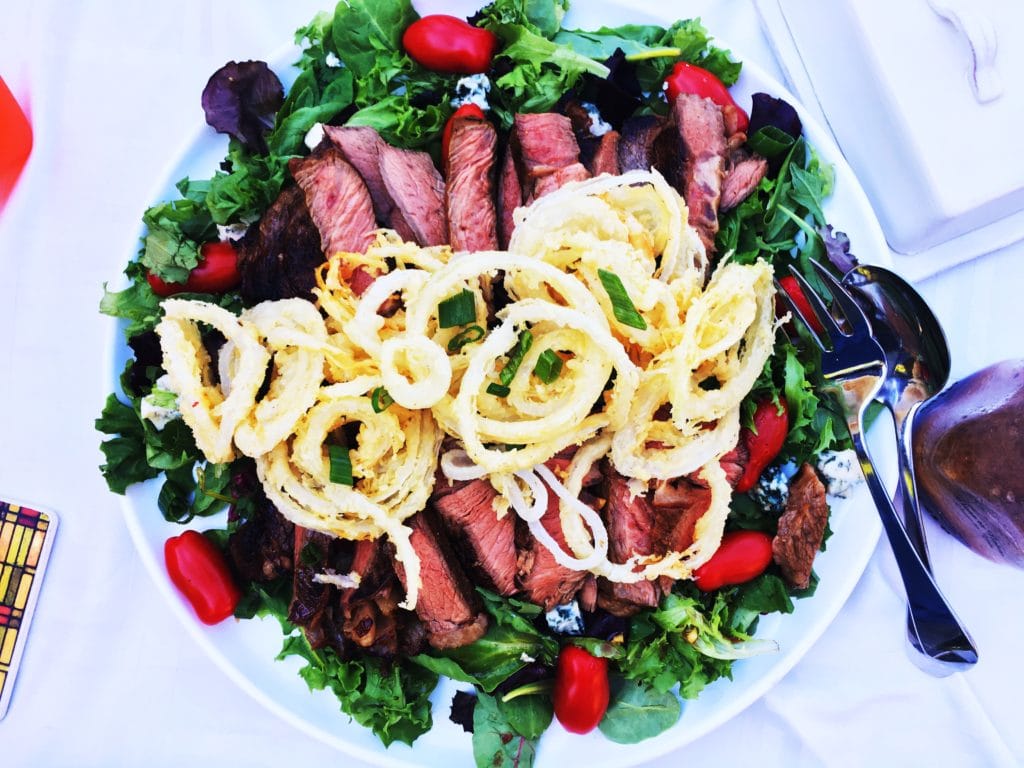 Of course, I didn't really learn this lesson the easy way.  But the thing that drove it home was a day that I was at the gym.  As part of a new gym members program, I was given a couple of complimentary training sessions.   After learning some new weight training techniques, I asked my trainer, a young man named Vincent, "How long will it take to see results from this?"  His (brilliant) answer, "Well, since this is something that I assume you will want to do for the rest of your life, it really doesn't matter if it's a few weeks from now or a few months from now, does it?"  Touché.
So how does that relate to this salad?  I think it made me take the long view of health.  Short term results are not so important if they don't last.  A reminder to not start something you can't keep up with. Kind of the "80/20 rule":  80% healthy, 20% treat, you know, everything in moderation, is something you can live with long-term. A little healthy from the salad, a little treat from the fried onion is something I can live with the rest of my life.  A plain ol' salad with some non-fat dressing, not so much. And truly, this satisfying Big Steak Salad is one you could eat the rest of your life. It has so much flavor and texture from the bits of blue cheese, tomatoes, succulent marinated steak, and bits of salty/crunchy fried onion. And don't get me started on the marinade and dressing.  Perfection! So satisfying in every way!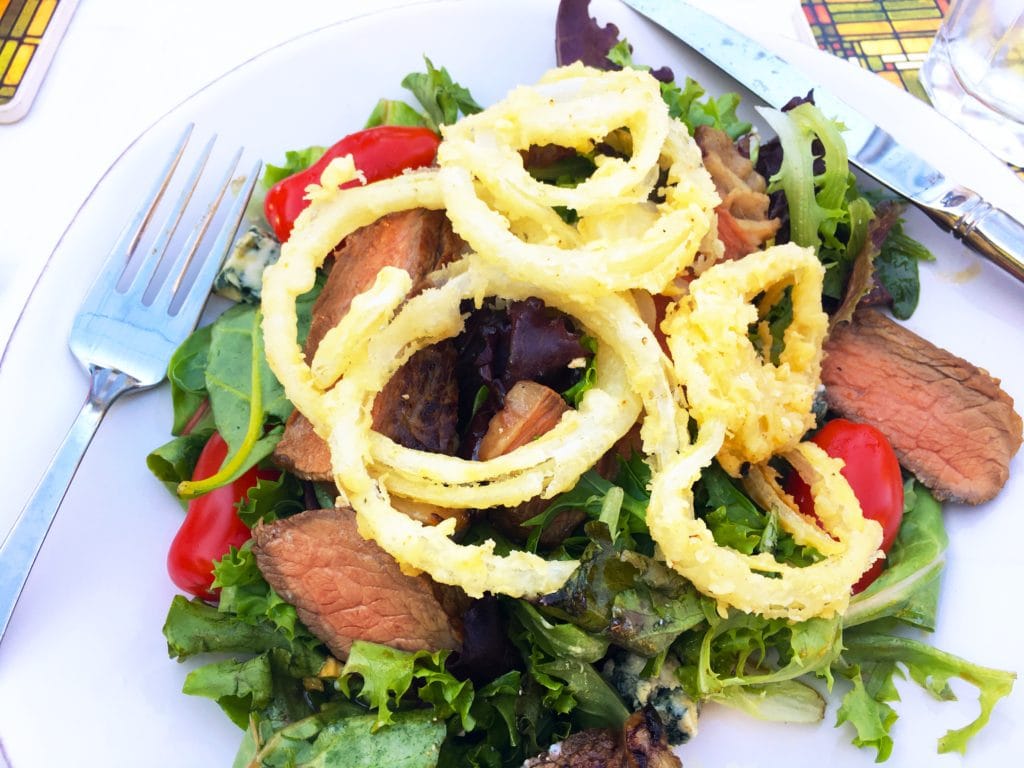 So if you're going to have a salad, have a SALAD! One that won't leave you wanting something more.  This Big Steak Salad! If this is moderation, count me in! Enjoy!
Print
Pioneer Woman Big Steak Salad
One of my all-time favorites from Pioneer Woman  Ree Drummond.  So easy, with a marinade that doubles as a luscious salad dressing, this salad has so much flavor, it will likely become your go-to Salad Recipe!
I've made this with Flank Steak as well as Ribeye, both equally delicious, just depends which you prefer to make.
Author:
Prep Time:

35 min

Cook Time:

35 min

Total Time:

1 hour 10 minutes

Yield:

4

-

6

Servings

1

x
Category:

Salad
Ingredients
For the Marinade and Dressing:
3/4

c Canola oil

3

T Red Wine Vinegar

1

T Balsamic Vinegar

2

T Lime juice (about

1

lime's worth)

2

T plus 1 t soy sauce

1

T Worcestershire Sauce

1/2

t Hot Chili Oil (see notes)

2

T sugar

1

T minced fresh ginger

3

cloves Garlic, minced and chopped

1

t Salt

1/2

t Black Pepper

2

1-inch thick Ribeye Steaks or 1 1/2 – 2 lb Flank Steak
For the Onion Strings: (You will need canola oil for frying)
2

Whole onions, sliced super-thin

2

c Buttermilk

2

c AP Flour

1

T Salt

1/2

t Cayenne Pepper

1/2

t Black Pepper
For the Salad:
6

c Lettuce mix (Romaine, arugula, radicchio)

3/4

c Crumbled Bleu Cheese

1

c Cherry or Grape Tomatoes
Instructions
Make the Marinade and Salad Dressing
In a pint-sized jar with a lid, combine the canola oil, red wine vinegar, balsamic vinegar, lime juice, soy sauce, Worcestershire, hot chili oil, sugar, ginger, garlic, salt and pepper.  Shake vigorously to emulsify.  Pour half into a gallon-sized zipper bag or a dish where you will marinade your steak.  Add the steak and marinate for 5-30 minutes (longer won't hurt, either)
Save the remaining marinade to use as salad dressing.
Make the Onion Strings
Place the thinly sliced onions in a large baking dish and cover with buttermilk.  Allow to soak.
In another dish, mix together the flour, salt, cayenne and pepper.
Heat 4 c Canola oil (could also use peanut or vegetable oil) in a large heavy pot or deep fryer to 375F.
Prepare a plate for the fried onions by placing a few layers of paper towels to absorb excess oil.  Grab a handful of the onions from the buttermilk, shaking off excess liquid, and place into the flour mixture, moving them around until all are coated with flour,  (I used tongs for this process).  Gently place into the hot oil and fry for a few minutes until light golden brown.  Remove to paper-towel-lined plate and continue frying small batches of onions until all are cooked.
Prepare the Steaks
Grill or saute steaks to your liking.  For Ribeye steaks, I like to sear them in a super-hot cast iron pan, 2 minutes on the first side, flip, then place in a 425F oven for 6 minutes for medium-rare.  You could also grill the steaks.  Flank steak takes a bit longer than ribeye.  Remove from heat and allow to rest 10 minutes.  Slice steak against the grain into very thin slices.
Compose the Salad
On a large plate or into a large bowl, place the lettuce, blue cheese and tomatoes.  Add about 1/4 of the remaining dressing and mix to lightly coat.  Place the steak over the salad, then cover with the onion strings.  Serve immediately, passing the remaining dressing at the table.
Notes
When I made this recipe, I did not have hot chili oil.  They also do not carry this at my corner grocery.  Alternatives would be:  1 t Sriracha, Cholula or other hot sauce or 1 t crushed red pepper flakes.  You can also make a simple chili oil by adding 3-4 T red pepper flakes and 1 c oil of your choice (canola, vegetable, peanut) to a saucepan.  Over medium-low heat, warm to 180F, about 5 minutes.  Pour into jar with a lid and you will have a supply to last many of these salads!
Recipe Card powered by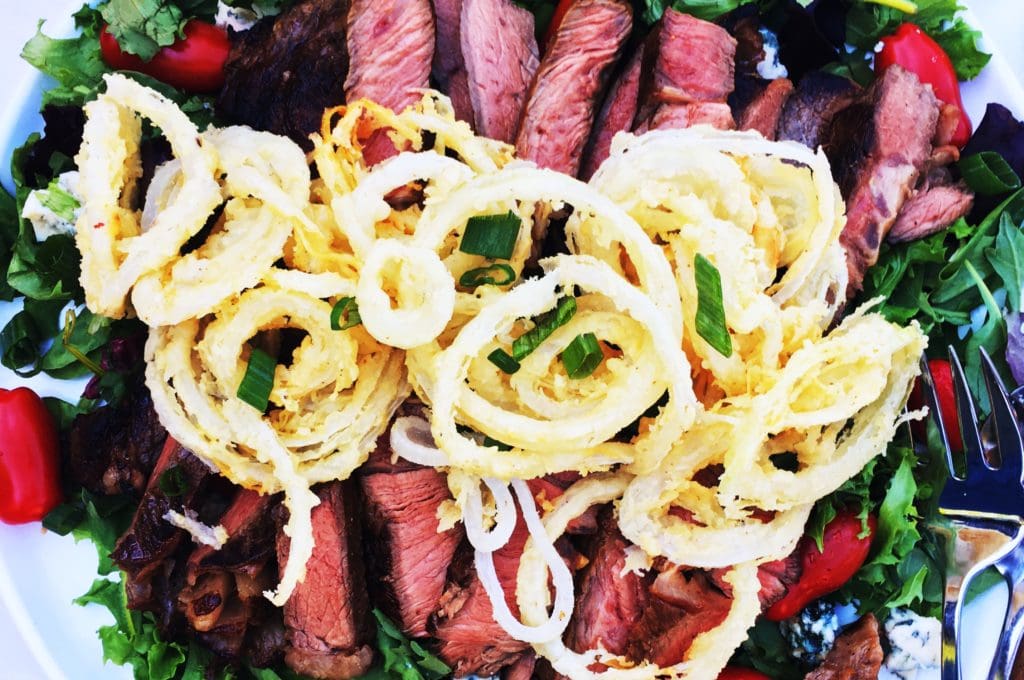 PIN Big Steak Salad ->