This Healthier Shrimp and Sausage Gumbo Recipe will become your go-to Creole Gumbo dish! Much lower in fat (and effort!) than a traditional gumbo with all of that awesome flavor!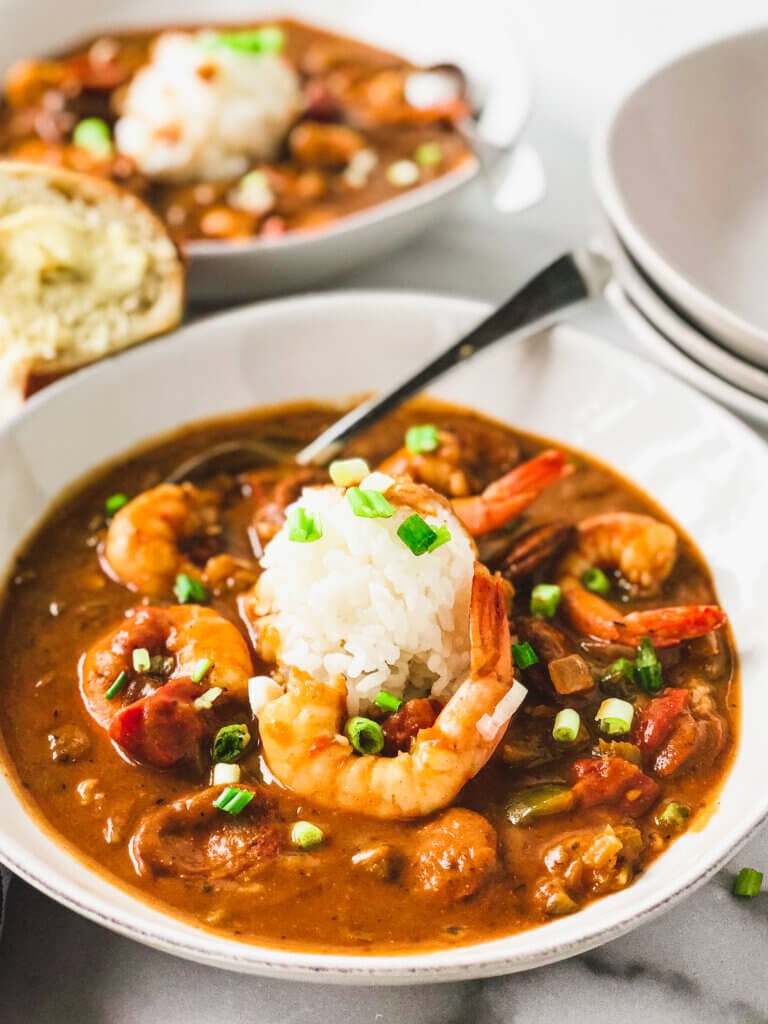 When cooking a meal, sometimes it seems like you have to choose taste or nutrition. Especially with some of the classics, like Cajun/Creole Shrimp and Sausage Gumbo Recipes. With these dishes, the flavors are absolutely incredible, but the price is a degree of unhealthy. I usually like to enjoy dishes as they were meant to be because the flavors are just about every time totally worth it. But sometimes there's a "workaround."
The Roux (pronounced 'rue') is the culprit in a gumbo, but it's what gives it that rich and hearty flavor. Often a cup of oil (Cajun) or butter (for Creole) and a cup of flour is what goes into that Roux, in addition to a good 30-40 minutes of stirring. Divide all that among a few people, once or twice a year, it's not that bad, but, it can be made healthier, (and save all that stirring!). So why not just make a healthier Shrimp Gumbo recipe? Because there is a workaround where you get the flavor and save those fat calories for, say, … dessert?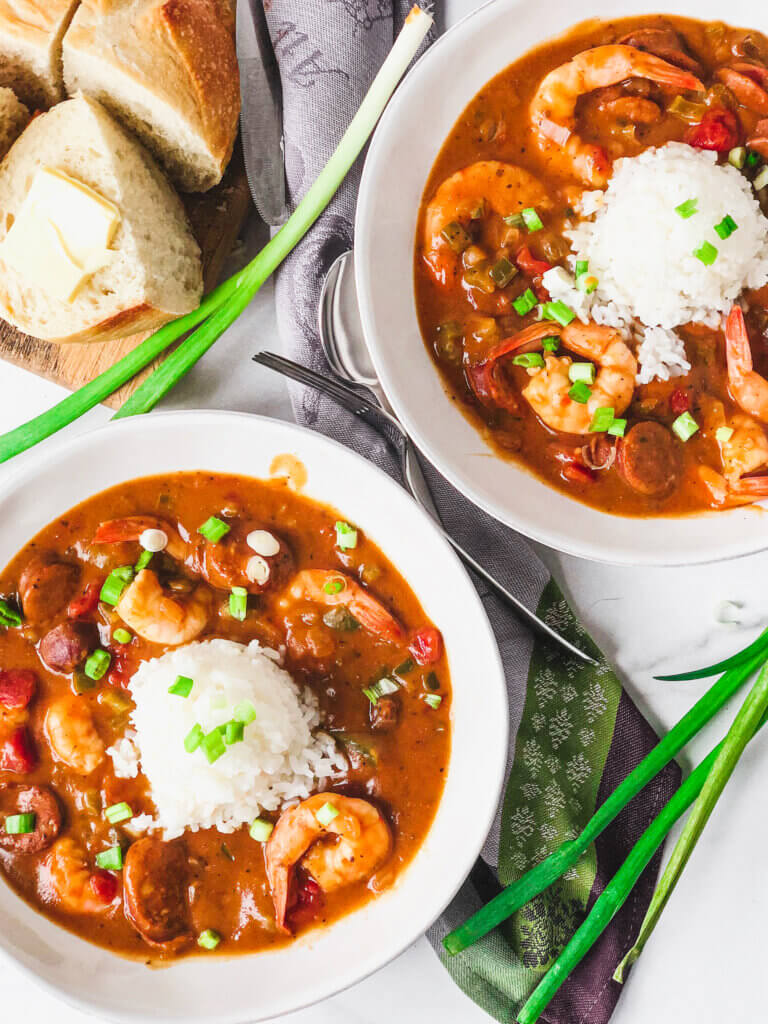 That's why I decided to try using a Dry Roux, with which one can use way less fat, and create the rich flavor by baking the flour. And, if you make a batch of dry roux, you'll want to make extra, because you can use that flavor-making oven-baked flour for gravies and other sauces, too! It takes some (a couple hours) of inactive time, you know, time you can be playing a game of Catan, watching a movie, internet shopping. (But here's a secret: you can buy Dry roux in a can. – I have a Link below!)
For this recipe, I chose to also add tomatoes, which makes a Creole-style Gumbo. The Cajun "Trinity" of onions, celery, green bell peppers makes a flavorful base for the Gumbo. It's thickened with that dry roux you either made or bought. Then I loaded mine up with Andouille Sausage and succulent Shrimp. Some nice Creole/Cajun spices and shrimp stock make this dish soooo tasty. Serve it over some white rice, and you'll be transported to New Orleans! You can have this all put together in about an hour! For a dish this special – that's not bad at all!
This recipe makes a big batch – enough for 6 hungry adults, possibly with leftovers!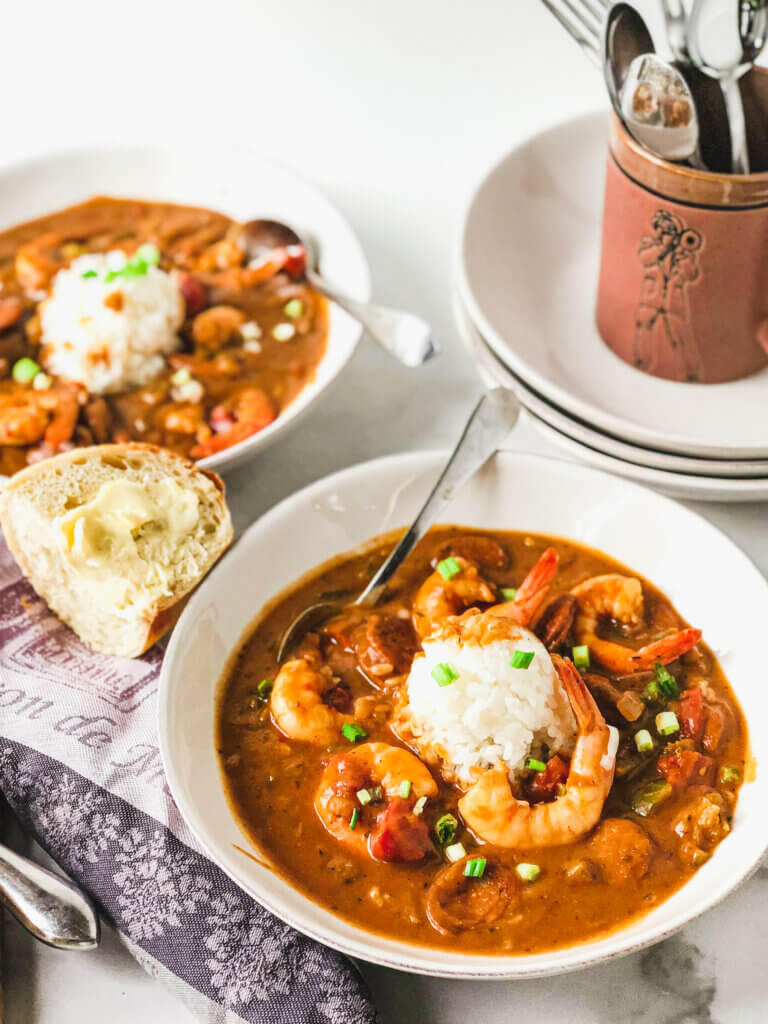 At this point, I have a confession to make: I did not previously know you could purchase DRY ROUX. I don't know if I'd have bought it or if I still would've made it. I do like having 2 more cups in the pantry, so there's that benefit. And, I'm curious, if you were making a Dry Roux, like I did, how would you spend the 2 hours? Or, are you more likely to just buy it ready-made?
Either way, I highly recommend making a pot of Healthier Shrimp and Sausage Gumbo!
Enjoy!
Looking for other Creole or Cajun Recipes? Check out my:
Jambalaya with Andouille Sausage and Chicken
Another great recipe that uses seafood in a soup is this popular and irresistible Eastern North Carolina Fish Stew!
Like this Recipe for Creole Shrimp Gumbo? Pin it!
How to make a Healthier Shrimp and Sausage Gumbo
This post may contain affiliate links. As an Amazon Affiliate, I may earn a small commission, at absolutely no cost to you, for purchases you may make of items linked from this site.
Some Items you may need:
If you don't want to make the dry roux, you can purchase pre-made Dry Roux and some Gumbo File by clicking HERE!
Heavy Soup Pot or Enameled Cast-iron Pot
How to make a Dry Roux:
A dry roux is just that – it's the flour part of the roux, pre-darkened for richness so you don't need to stand and stir for 40 minutes making roux before making Gumbo. You can use just a little oil or butter or even just water when making your roux, saving many calories – positively brilliant! In a dish like gumbo, which often uses 3/4-1 cup of oil or butter, that's a big benefit!
I use Kevin Belton's Recipe for Dry Roux. It's super-simple, you'll just need time, so I advise making it the day or night before when you have a couple hours to spare. You don't need to watch it constantly, as it requires only a little stirring every 30 minutes. Toward the end, you just want to be sure it doesn't burn, but the process is slow – mine took 2 hours. So worth it! But, if you're not into making it, check out this AMAZON LINK to purchase both dry roux and gumbo file!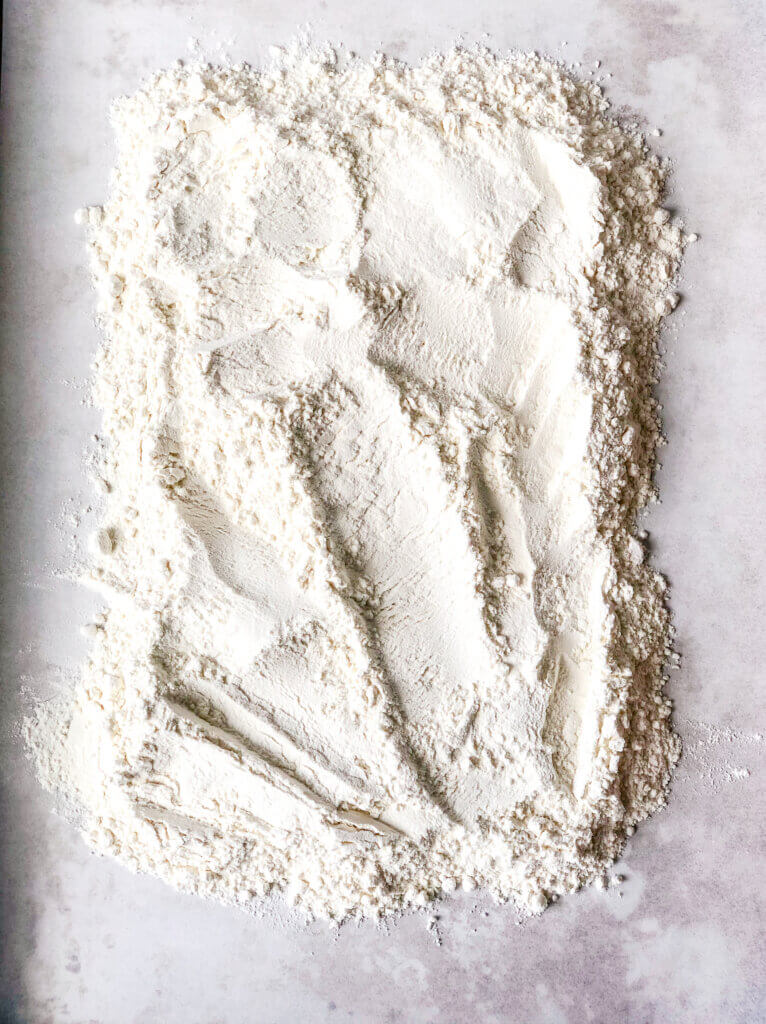 So Dry Roux is just baked flour. Making dry roux is so simple, but takes some time. I make 3 cups at a time, because it's great to use a a thickener for so many savory sauces or gravies. I baked mine at 350F, and 3 cups took 2 hours, with some stirring every 30 mins. Remember that when it hits the hot oil (or water), it will turn darker, so a light to medium caramel color is what you're going for.
Making Healthier Shrimp Gumbo Recipe:
A pretty straightforward recipe, the important part here is to have all the ingredients chopped and measured ahead of time. It will make a simple to prepare dish really feel simple. Just a few steps to this dish:
Step #1: Chop your veggies, slice the andouille (or whatever sausage you are using), have the dry roux measured, stir together the spice mix, and have your stock ready.
Step #2: Heat some oil, and brown the andouille. Remove browned sausage, and add another tablespoon or two of oil. Saute the vegetables a couple of minutes, then add the dry roux. A whole cup of it. Add in the salt and pepper. Then add just half of the spice mix. If you, and everyone you are serving loves super-spicy food, go ahead and use all of the spice mix. Otherwise, begin with half. In this lower fat version of Gumbo, the spice is much more pronounced, so half the mix goes a long way. I ended up using about 2/3 of the spice mix.
What if I make it too spicy? Can I lower the heat? This is a good question. You could add more stock, and more roux to thicken it, but this will make more stew, just a less meaty stew. What I would do is make a mixture of about 2 Tbsp lemon juice (or maybe cider vinegar) and 1 or 2 Tbsp of sugar. Pour that into the stew. It may lower the spice level. I felt like it worked for a member of my family who found the spice too much.
Step #3: Add the stock in 3 parts, making sure to incorporate each part well. Return the sausage to the pot. Then simmer 45 minutes. The gumbo should thicken nicely over that time as some of the liquid evaporates. Taste it after a few minutes of simmering. Then add more spice, but only if you find yourself wanting more. I love it super spicy, but I'm the only one in my house that does. So half the spice it is, for us. After 45 minutes of simmering, add the shrimp and Gumbo File, and stirring every minute or so, wait 3 minutes until shrimp is cooked. Serve with white rice! 
How do I make Shrimp Stock? The simplest way is to save the shells and feet from your shrimp. (I left the tails on.) Boil, then simmer, them in 2 quarts water with any bits of onion, onion skin, and celery pieces you can spare. After about 15-20 minutes, you should have about 6 cups of stock/broth after you pour it through a sieve to remove the shells and vegetables.
What is Gumbo File? Gumbo file is a traditional thickener for gumbo and other stews, made with dried, ground, sassafras leaves.
Step #4: Napkins! Gumbo is not fancy food. Gather some napkins, especially if you used tail-on shrimp. You'll be eating those with your hands. Just sayin'.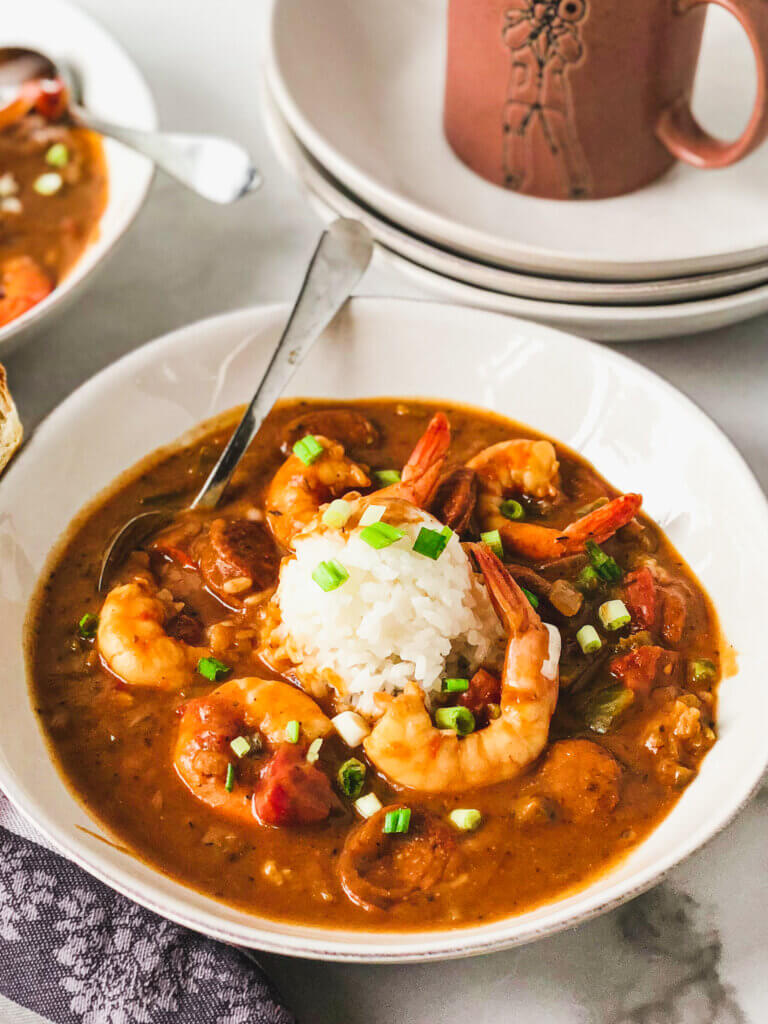 Print
Shrimp and Sausage Gumbo Recipe with Dry Roux
This healthy version of Creole-style Shrimp and Sausage Gumbo has all the flavor but way less fat than the traditional version. You'll just need to make your dry roux ahead of time. 
Author:
Prep Time:

15-20 min

Cook Time:

60min

Total Time:

75-80 min

Yield:

6

Servings

1

x
Category:

Main Dish

Method:

Stovetop

Cuisine:

Cajun/Creole
Ingredients
1 cup

(about

120g

) Dry Roux (recipe below)

2 Tbsp

(60ml) Cooking Oil (olive, vegetable, canola), divided

12 oz

. (

355g

) Andouille Sausage (I used Chicken Andouille)

16 oz

. (1 lb.,

454g

) Medium Shrimp, deveined and shelled, tail-on preferred

1 1/2 cup

diced white or yellow Onion (

1

medium)

1 cup

diced Celery (about

3

stalks)

1 cup

diced Green Pepper (

1

medium)

1 Tbsp

Kosher Salt

1 1/2 tsp

freshly-ground Black Pepper

3 tsp

Smoked Paprika

1 1/2 tsp

Garlic Powder

1 tsp

Onion Powder

1 tsp

Oregano

1/2 tsp

Thyme

1/2 tsp

Cayenne Pepper

1

14.5 oz. can Diced Tomatoes

6

(about 1.5L) cups Seafood or shrimp stock (or Chicken or Vegetable stock can substitute)

2

Bay leaves

1 Tbsp

Gumbo File
For serving: White Rice and/or French Bread
Instructions
Make the Dry Roux:
Preheat oven to 350F. Line a sheet pan with parchment, if desired. Keeping 2 inches (5cm) from the edges, distribute 3 cups All-Purpose Flour. Place the pan in the preheated oven, and using a bench scraper or knife, break up the flour, as it becomes compacted in the dry oven, every 30 minutes and stir around. Maintain the two-inch margin to prevent burning.
Between 1 1/2 and 2 1/2 hours, the flour will be the the color of a light caramel, or possibly beach sand, kind of a medium tan. Remove and cool
Sift 1 cup of the dry roux into a bowl to use for the gumbo, and reserve the rest for other purposes.
Make the Gumbo:
Prepare the ingredients: Slice the sausage, chop the vegetables, mix together the Smoked Paprika, garlic powder, onion powder, oregano, thyme and cayenne pepper.
Over medium heat, place a large, heavy pot, such as an enameled castiron soup pot. Pour 1 Tbsp Cooking oil, followed by the sliced andouille. Stir the andouille as it browns to be sure both sides are browned. Remove the slices to a plate.
Into the pot, pour the other tablespoon of oil, and place the chopped onion, celery and green pepper. Saute for about 2 minutes, then add salt and pepper, HALF the spice mix, and the dry roux. Stir the roux into the vegetable mix until it is evenly distributed.
Pour in the canned tomatoes, and 2 cups (480ml) of the stock. Stir (or you may need to whisk a bit), until the liquid works into the roux and it thickens. Follow with half the remaining stock, working it into distribute, then the other half of remaining stock. Add the two bay leaves.
Simmer gumbo 45 minutes. Taste after about 15 minutes and add additional spice mix, if desired. Add the shrimp and Gumbo File. Continue to simmer until shrimp are fully cooked, about 3 minutes.
Serve.
Keywords: easy gumbo recipe, shrimp and sausage gumbo recipe, healthy gumbo recipe, oven baked roux, dry roux for gumbo, Kevin Belton Dry Roux, shrimp and andouille gumbo recipe, how to make gumbo, how to make creole gumbo, cajun food, creole food, mardi gras recipes, mardi gras, new orleans shrimp gumbo recipe, creole gumbo recipe, creole shrimp gumbo recipe,
Recipe Card powered by