My very favorite dish in the Big Easy is this New Orleans BBQ Shrimp! A deceptively simple dish. Sweet, succulent shrimp in an easy-to-make spicy, buttery sauce! Dip a crusty French Loaf – it's as close to perfection as a meal can get!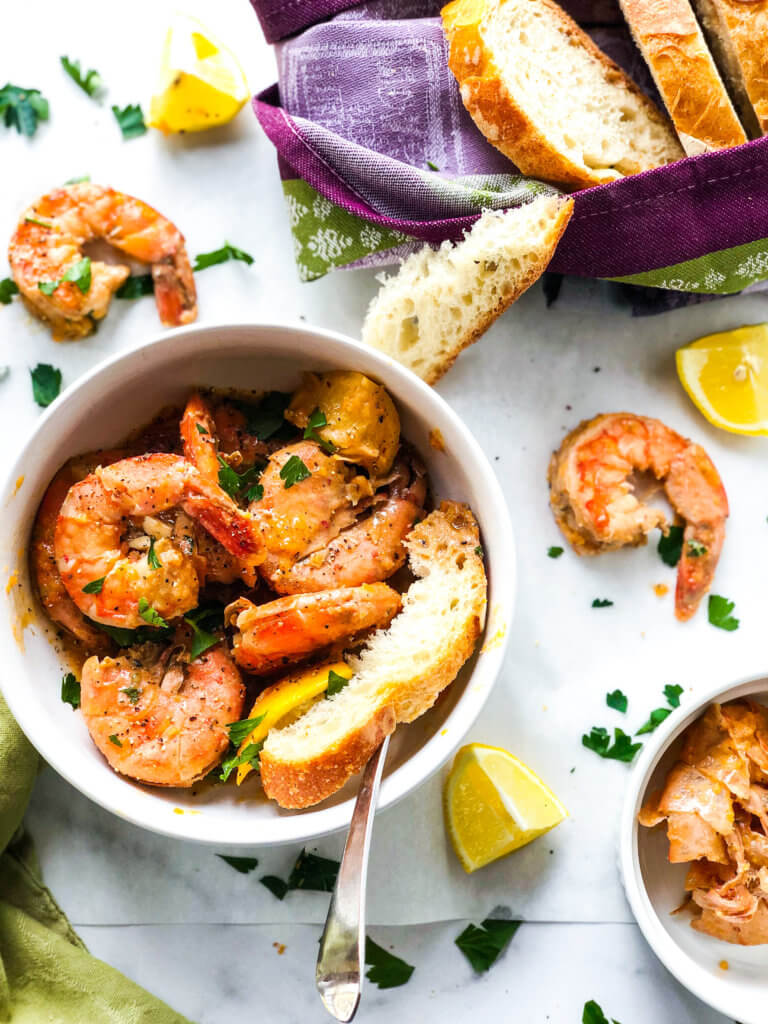 Have you ever been to New Orleans? Being there is a kind of sensory overload – daily parades of all types, beautiful architecture, tremendous jazz, great restaurants – so much amazing food and flavor! But, when I think of New Orleans, my first thought is this dish. New Orleans Style Barbecue Shrimp.
It all started the first time I visited NOLA. It was a business trip. A convention. And those were days where our work started around 6am, because the hours before the Convention opens is when you can get the attendees for focus groups. These long days ended around 10pm, because you needed wanted to entertain the attendees who were the "influencers." Don't get me wrong, fun was had. Great food was enjoyed. Business was good! But several days of that in a row? Exhausting!
Anyway, dressed in my cream-colored suit, having been on my feet for several days at that point hours, a colleague said, "Hey, a bunch of us are going to Pascal's! Do you want to come with us?" Pascal's? I had no idea what they were talking about. But so glad I learned.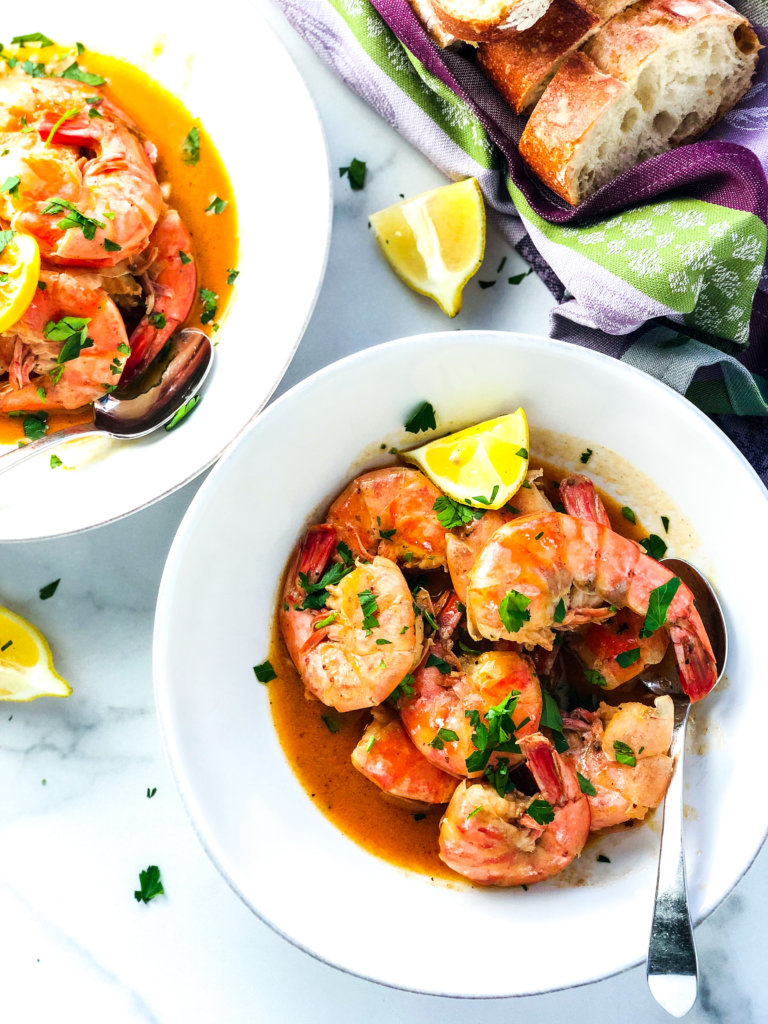 We all piled in a car or two, and went to Pascal's Manale Restaurant. Open since 1913, Pascal's is best known for their legendary New Orleans BBQ Shrimp! And, unlike the name implies, this spicy shrimp is not cooked on a grill. Nor is it slathered with a tomato-based sauce. There's not a tomato in the recipe. It's thought the name "Barbecue" refers to the color of the lip-smacking, finger-licking paprika-cayenne pepper sauce.
So, once we were sitting in the restaurant, I could tell just about everyone there orders the NOLA Style Barbecue Shrimp, because there are bibs at every place setting. Lots of Wetnaps, too! So each of us ordered the Cajun BBQ Shrimp. And when those beautiful bowls of spicy-buttery-lemony goodness were set in front of us, I realized why the bibs and Wetnaps were so important. Because there's no choice but to eat these beauties with your hands. The shrimp are complete with peel and feet. So you peel off their shell on the way to your mouth. And then sop up that awesome spicy sauce with wedges of crusty French Bread. It's messy. Not the lunch for a cream-colored suit, let me mention right here.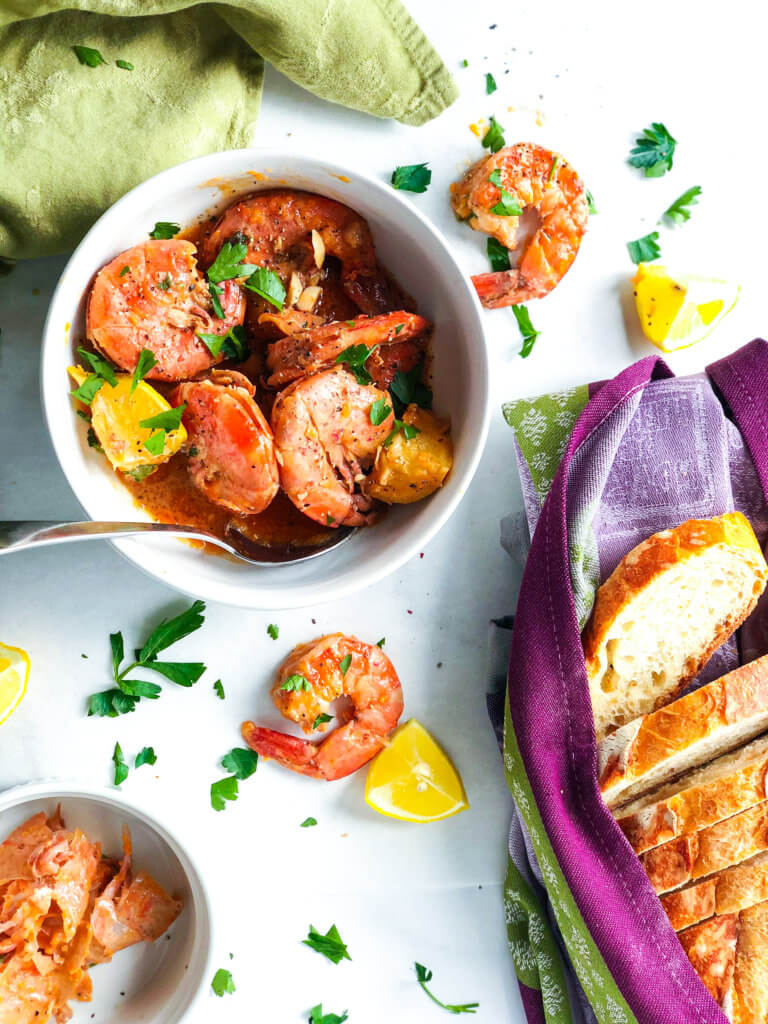 Sweet, succulent shrimp. Spicy-buttery-lemony-garlicky sauce! Crusty French bread. I want nothing else right now, just because someone mentioned New Orleans. Ok that was me, wasn't it? It is Mardi Gras, after all.
So, many thanks to Pascal's for the Bib and Wetnaps! My suit was saved, my belly was full and I've had one of the great meals of my life! It's truly the first thing I think of when I think of New Orleans. And I can't get it out of my head until I make it. It's THAT Good!
You can search and find Pascal's recipe, but I found this recipe at finecooking.com. It's a little simpler sauce than Pascal's and is quick and easy to prepare, and the flavor is all there! I adapted it by increasing the spices a bit. The butter (and there's a lot of it, so just go ahead and commit to it right now!) does a great job of taking the sting out of the spices. And the lemon cuts the richness of the butter. A beautifully well-balanced dish. And all the better with some additional spice from a few dashes of Tabasco Sauce!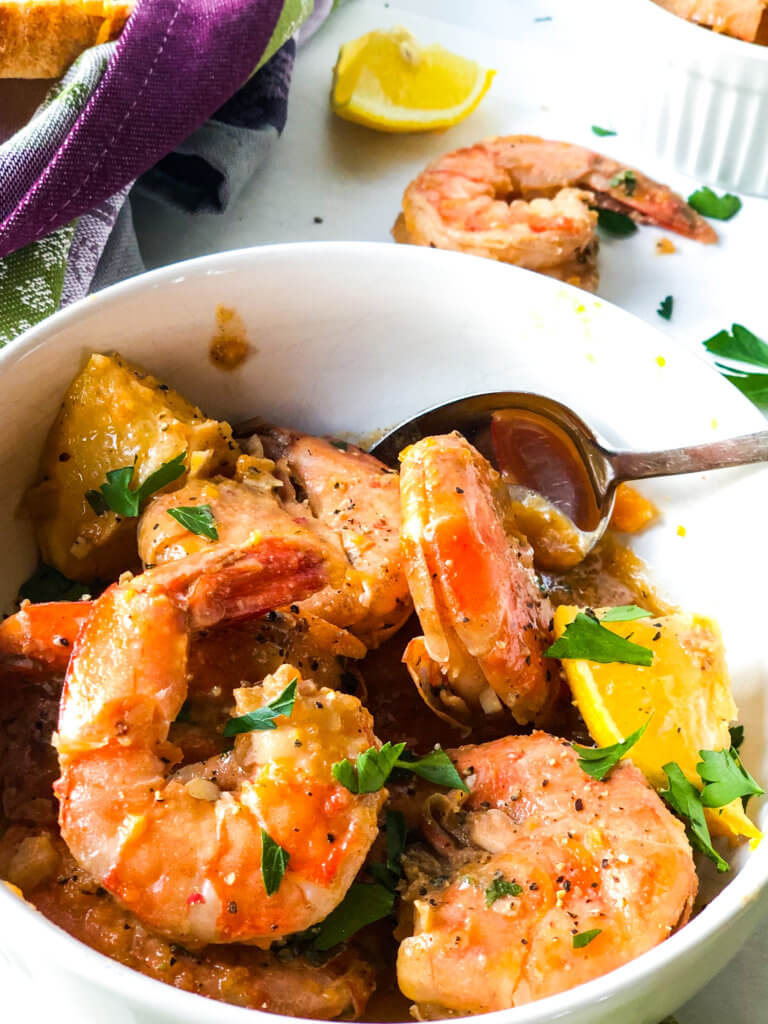 So, have you been to New Orleans, a.k.a "The Big Easy"? Maybe once you try this Barbecue Shrimp, the mere mention of New Orleans will send you out to buy some shrimp.
Enjoy!
If you like spicy food, why not try my Shrimp and Sausage Gumbo made with Dry Roux, this simple Jambalaya with Andouille and Chicken , or this Instant Pot Braised Korean Brisket?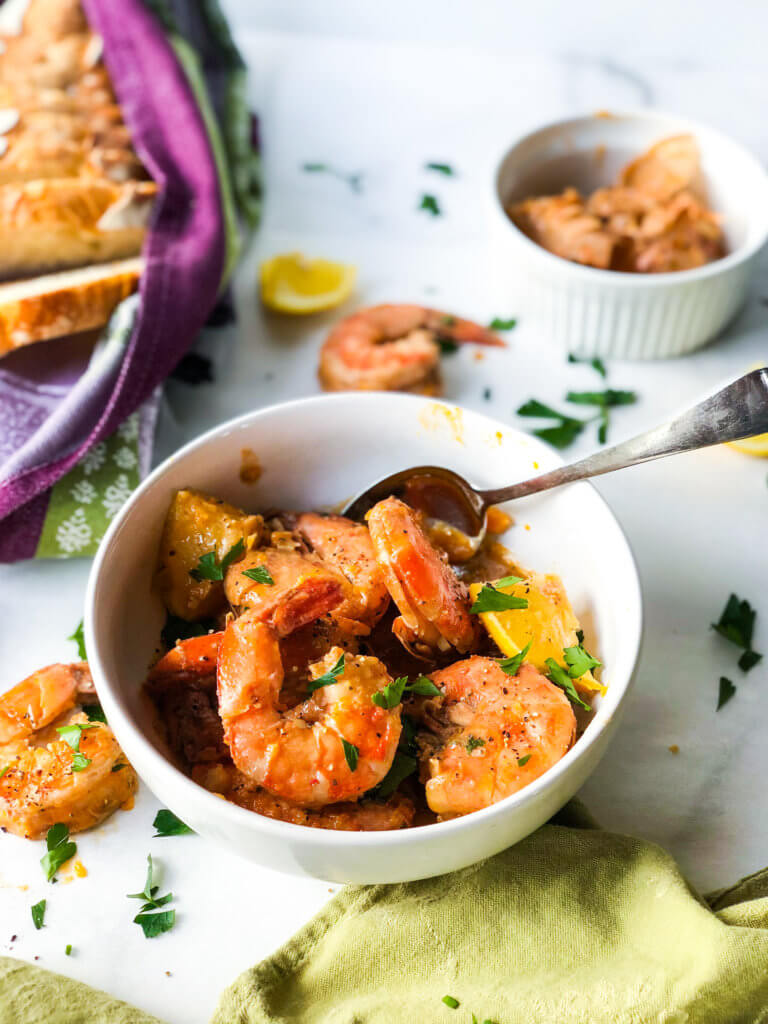 NOLA Barbecue Shrimp Recipe Details ->
This post may contain affiliate links. As an Amazon Affiliate, I may earn a small commission, at no cost to you, for purchases you may make of items linked from this site.
This shrimp dish is an eat-with-your-hands, super-messy and super-tasty meal! Among my all-time favorite dishes I've EVER had! Seriously. But here are some questions you may have when making the dish:
What pan should I cook this in? I used my Cast Iron skillet (This is the one I use), but you can use a 12" stainless pan, or an 12" enamel-coated castiron pan. My pan does not have a lid, so I used aluminum foil to cover it for finishing the shrimp.
Is this dish so spicy my family won't eat it? No, it is much less spicy than some similar recipes. I like to call it "pleasantly spicy". The butter and lemon juice cut the spicy cayenne and some of the richness of the dish to one that is perfectly seasoned with a nice kick. Feel free to increase the cayenne, black pepper and paprika a bit if you like intense spice! And, since I prefer my own plate to be boldly spicy, I add a few sprinkles of Tabasco sauce on my bowl when serving, and my family members who aren't as fond of hot'n'spicy foods eat it as is and love it!
Can I use smaller shrimp than the "Colossal" size?  I like buying the larger shrimp when they are on sale, but normally I purchase the 16/20 or 21/25 size. Just be sure to get "Unpeeled, tail-on" shrimp. If you can't find the big ones (which are often cheaper in the frozen section(!)), or want a more economical choice, go ahead and use the smaller ones. Just reduce the initial cooking time to around 3 minutes – they should get nice and pink in that time. And also reduce the off-heat finishing time to 8-10 minutes. Just be sure to check them for doneness when you stir the pot every 4-5 minutes. Because overdone shrimp 🍤 is not so good.
Can I use unpeeled shrimp? If you don't want to peel your shrimp at the table, individually, I might suggest a different recipe. The peel, feet, and heads, (if you can find "head on" shrimp), add so much flavor to the sauce of this dish, you might miss the full flavor you get with simmering shelled shrimp, complete with heads and feet. The cooking process will make the peels pretty much slide right off the shrimp as you're moving them to your mouth. Just be sure to have a spare bowl to set the peels in at the table.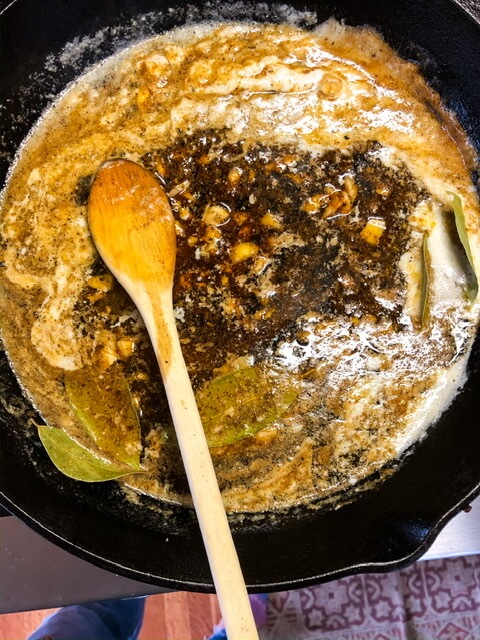 Print
New Orleans BBQ Shrimp
Even though the name of this Shrimp dish is "Barbecue", it isn't cooked on a grill, or slathered with thick, tomato-based sauce from a jar. It is a classic New Orleans dish, made famous at Pascal's Manale Restaurant, among others. The colors of the sauce evoke barbecue, but the flavor is nothing like you've ever tasted!
Succulent and spicy, you can serve this shrimp atop grits, or with crusty French bread to dip, which is traditional at Brennan's and Pascal's Manale. Since you peel the shrimp as you eat them, it's a messy experience. But truly, that's part of this meal, which you won't soon forget! 
Quick and easy, this recipe serves 4-6 hungry people.
Equipment needed: a large (12") skillet, cast-iron or stainless both work.
Adapted from Finecooking.com
Author:
Prep Time:

10 min

Cook Time:

25 min

Total Time:

35 min

Yield:

4

–

6

Servings

1

x
Category:

Seafood

Method:

Stovetop

Cuisine:

Cajun/Creole
Ingredients
1

large lemon

8 oz

. (2 sticks, 1 c,

227g

) Butter

2

T (30 ml) Worcestershire Sauce

4

–

5

cloves garlic, chopped (about

1 Tbsp

total)

4

Bay Leaves

1 1/2

t Sweet Paprika

1/2

t Cayenne Pepper

1

T Diamond Crystal (coarse) Kosher Salt

1 1/2 tsp

Freshly Coarse ground Black Pepper

24

UNPEELED, TAIL-ON Colossal Shrimp, or 2- 2.5 lb (between

8

–

15

shrimp/lb, or 16-30/kg) (You can use smaller shrimp, but you will need to reduce cooking time to about

10

–

12

mins total See Note 1)
(optional) Tabasco, Frank's, Crystal, or other hot sauce to add individually, as desired.
Instructions
Cut the lemon in half. Place the halves on a plate, and microwave for 20 seconds. Then squeeze all of the juice out into a bowl to reserve for later. Slice the rinds into 1/2" rounds or strips, and reserve those, too.
Heat a 12-inch skillet over Medium-High heat. Melt the butter, then reduce the heat to Medium-low, and add the Worcestershire sauce, garlic, bay leaves, paprika, cayenne, salt and ground pepper. Stir and simmer for 5 minutes to blend the flavors, being careful not to let the garlic brown.
Increase the heat to Medium and add the shrimp, stirring and turning the shrimp (tongs work well here for larger shrimp) until all have begun to turn pink.
Add the lemon juice and strips of peel. Stir so these get incorporated. 
Cover the skillet with a lid or foil and remove from the heat. Let sit 15 minutes so that the shrimp absorb the flavors and finish cooking. Stir every 4 or 5 minutes.
Serve with crusty French bread for dipping, lots of napkins, and bibs if you have them!
Notes
1. I used about 2.5 lb of 8-12/lb sized shrimp in my recipe. If you use smaller shrimp, say 21-25/lb, you'll need to reduce the initial cook time for the shrimp to about 2-3 minutes, and the covered, off-heat time to about 8 minutes. Just be sure to check for doneness at the end of the cooking time.
Keywords: New Orleans BBQ Shrimp, Cajun Spicy Shrimp, Pascal Manale Barbecue Shrimp, NOLA Spicy Shrimp, Louisiana Barbecue Shrimp
Recipe Card powered by
PIN NOLA Spicy Shrimp Recipe ->