Do YOU like to try new and possibly unfamiliar foods?  Here is reason I ask – I was reading a NYTimes article saying that most of the Winter Olympics attendees in South Korea Have yet to even try Korean food.  This makes me sad, because, for me, trying the food would be a reason to attend the games as much as the opportunity to watch the incredible athleticism and artistry and the thrill of victory. I would have been game (Ha!) to try many new dishes, of course. (And if you read that article, note:  It is SNOW CRAB SEASON in South Korea! – Is your mouth watering yet?) But it seems I'm in the minority here. Why? Maybe because it looks or smells different from native food of the visitors? Maybe the unfamiliarity of some of the ingredients?
I don't know, but I've come to believe that when there are dishes particularly beloved by an entire country, they are likely delicious. Certainly worth a taste. An "Adventure Bite", so to speak.  If you haven't ever tried Korean food, you should at least wade in, experience the spicy, tangy, savory, bitter, sweet, briny flavor of this Instant Pot Korean Brisket with Kimchi Coleslaw. (It really does have all of those flavors.) Not to invoke Dr. Seuss here, but I'd welcome this dish from an Instant Pot, from a slow cooker, from the oven.  On a bun, in a bowl, on a plate.  This brisket is meaty, beefy, delicious, craveable.  Wish I had made more.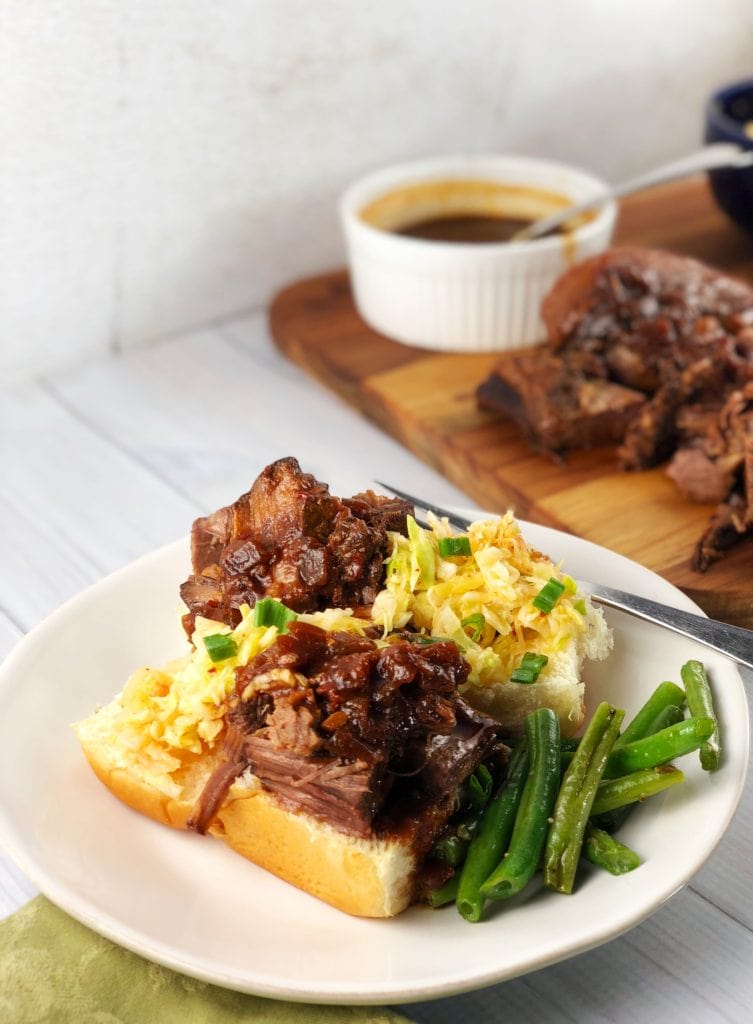 This Instant Pot Korean Brisket recipe, from Epicurious, best marinated in advance, is braised in a sauce of Gochujang ("Go-shu-Zhong") a chile paste made from the gochugaru chile. I've read that just about every Korean family has its own special gochujang recipe. It is also supplemented by gochugaru pepper flake (feel free to substitute other red pepper flake if you can't find the Korean version, but it's worth the effort of looking).  While this sounds insanely spicy, trust me, it's not.  Next time, I might add a bit more Gochujang.
Now, this Instant Pot Korean Brisket takes some time, even in an "Instant"Pot, but it is pretty easy and straightforward.  You just sear the meat, saute some veggies, mix up a sauce.  Then put all of those things in the pot.  Pressure cook.  Reduce the sauce.  Several steps, yes, but all easy and doable. Maybe not a weeknight meal, but a fantastic Sunday dinner for sure!  It would also work in a Slow-Cooker (instructions included below), if you like to set it and forget it for the day. Serve with the easy-to-make kimchi slaw and the out-of-this-world sauce on a bun and you have the best sliders you've ever tasted, or just thin-slice, sauce, and eat.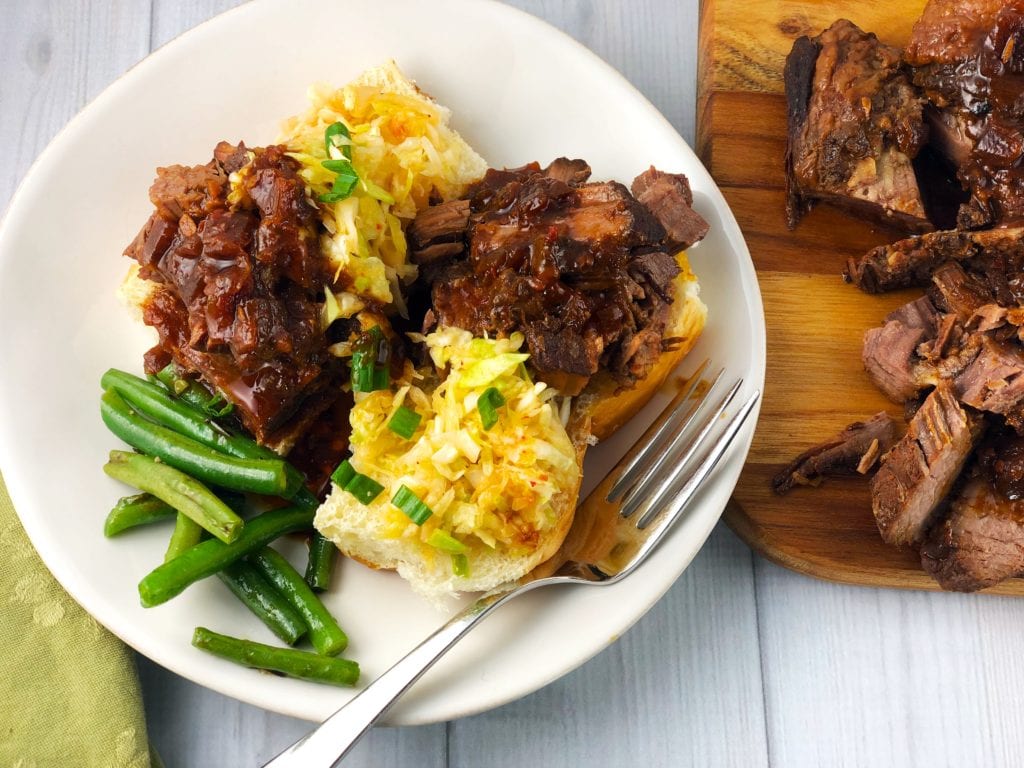 If you'd like to read more about Korean dishes, click here .  To see some of my other beef dishes, click  Here. Would you have tried the Japchae? Bulgogi? Tteotbokki? These all sound fantastic! Either way, wade into the flavors of Korean food with this Instant Pot Korean Brisket!
Enjoy!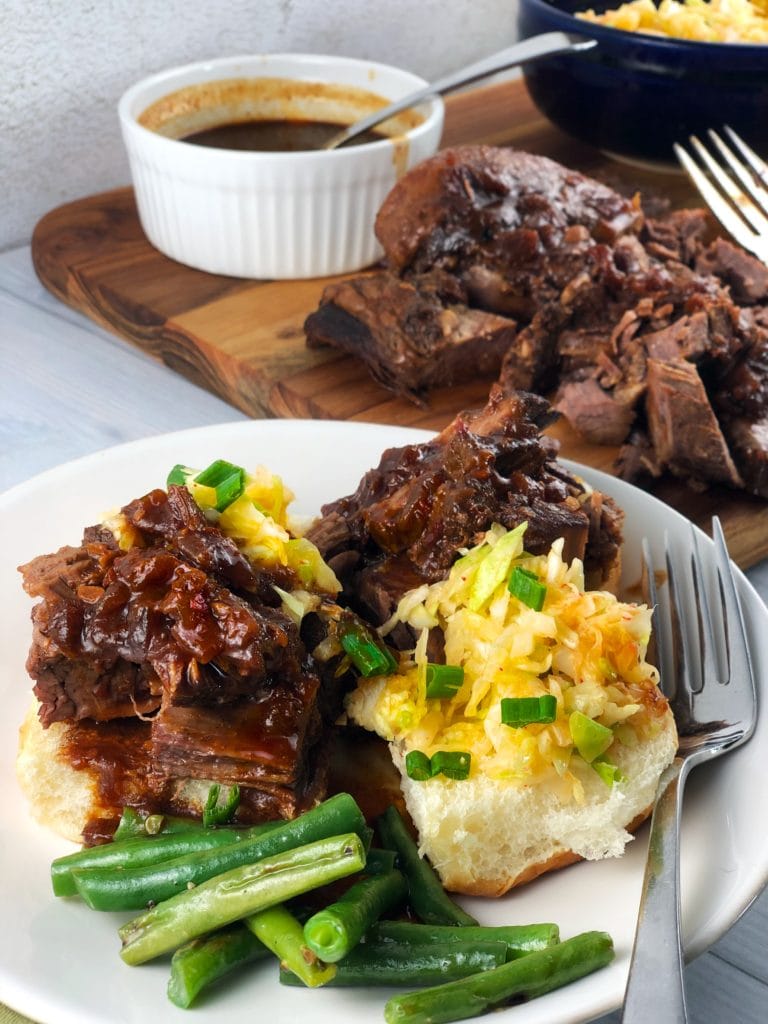 Print
Instant Pot Braised Korean Brisket with Kimchi Coleslaw
This dish, "braised" in a pressure cooker, is one of my new favorites!  Korean flavors of gochugaru (red chile) and gochujang (chile paste) are amazing in this tender brisket.  Slice and eat, or shred for sandwiches or sliders – either way will rock your brisket world!
To cook in Slow-Cooker, See Note 1.
The best way to prepare this Korean Braised Brisket is to plan ahead and dry-marinate the beef a day in advance.  It only takes a minute to prepare the spice mix and rub the beef.  The rest of the dish can be made the day of serving.  If you only have an hour to marinate, at least do that (I marinated mine at room temperature for 2 hours, covered loosely with plastic wrap.)
This dish is best when you try to find the Korean ingredients – Gochugaru (red pepper) and Gochujang (chile paste) are relatively easy to find in the Asian section of many grocery stores. Kimchi is found in the refrigerated section.  In my grocery it is in the refrigerated section of the produce, alongside packages of salad. It is a fermented spicy cabbage dish.  Since it is fermented, don't be surprised if it bubbles a bit when opened – this is a good sign!
Author:
Prep Time:

45 min

Cook Time:

2 hr, 15 min

Total Time:

3 hr, 30 min

Yield:

8

servings

1

x
Category:

Main dish, Korean

Method:

Pressure Cooker, Instant Pot

Cuisine:

Korean
Ingredients
For the Brisket:
4

–

5

lb beef brisket, cut into several pieces

1

T dried Korean Gochugaru (red chile flakes) – can substitute regular "red chile flake" if you don't have Korean gochugaru
 1 T sweet paprika

2 1/2

t Kosher salt, plus more to taste

1/2

t ground black pepper

1

–

3

T oil, as needed (I used safflower, but peanut or canola will work as well)

1

lg onion, chopped

4

Garlic cloves, minced

1

T Grated fresh ginger, peeled

1

c lager beer, or ginger beer

1/4

c Gochujang (Korean Chile paste) or Sriracha

2

T Ketchup

2

T Soy sauce

2

T Brown sugar

2

t Asian fish sauce

1

t Toasted sesame oil
For the Coleslaw:
5

c Shredded Cabbage (about

3/4

of a small cabbage)

1/4

–

1/2

c Chopped kimchi (I used

1/2

c)

2

T olive oil (any neutral oil will do)

1

t Toasted Sesame oil
Juice of

1/2

lime, plus more to taste

1/2

t Salt
Instructions
Marinate the Brisket:
Mix together the chile flakes, paprika, salt and pepper.  Rub onto both sides of meat.  Cover and refigerate for 1-24 hours.  You could also marinate for 1-2 hours at room temperature if you aren't preparing the day or night before cooking.
Cook the Brisket:
If using Instant Pot, you can saute the beef in the cooker (set to "Saute") or in a saute or cast-iron skillet.  Heat the pan, add 1 T oil, and sear the meat in batches until it is browned all over, adding more oil as needed.  Remove the pieces of brisket to a plate.
Add a bit more oil, followed by the chopped onion.  Saute the onion for 3-5 minutes, then add the garlic and ginger and saute until fragrant, about 1 minute.  Add the beef back to the Instant Pot. If you are using a skillet to saute, then add the onions, garlic and ginger to the Instant Pot at this point. In a separate Medium bowl, mix together the beer, gochujang, ketchup, soy sauce, brown sugar, fish sauce and sesame oil.  Stir mixture together.  Pour beer mixture over the beef in the Instant Pot.
Cover and cook at High Pressure for 90 minutes.  Let pressure release naturally for 20 minutes, then finish pressure release manually.
Make the Slaw
While the beef is cooking, mix together the cabbage and kimchi.  In a small bowl, whisk together the oils, lime juice and salt.  Toss well.  Taste, and add more salt, lime juice or a bit of granulated sugar if you like. Refigerate slaw until serving time.
Reduce the Sauce
Transfer the cooked beef to a cutting board and tent to keep warm. Set the Pressure Cooker to saute and simmer sauce for 15-20 minutes until it is reduced by at least half. Use a fat separator or spoon to skim off the excess fat.
Serve the sauce and Kimchi Slaw alongside the sliced beef, and include buns if you are serving the beef Sandwich-style.
Notes
Marinate and Sear the meat as directed above. Saute the onions, garlic and ginger in a skillet. Place the meat in the Crockpot, cover with the sautéed onion mixture, and then the beer mixture.  Cook on Low for 10-12 hours, or High 7-9 hours.
Recipe Card powered by
Pin for Later ->