You need to make this beautiful, layered Meyer Lemon Blueberry Trifle! You can make it totally homemade, or mostly store-bought!  It's all in the layering! Gorgeous for a family or a springtime holiday dinner!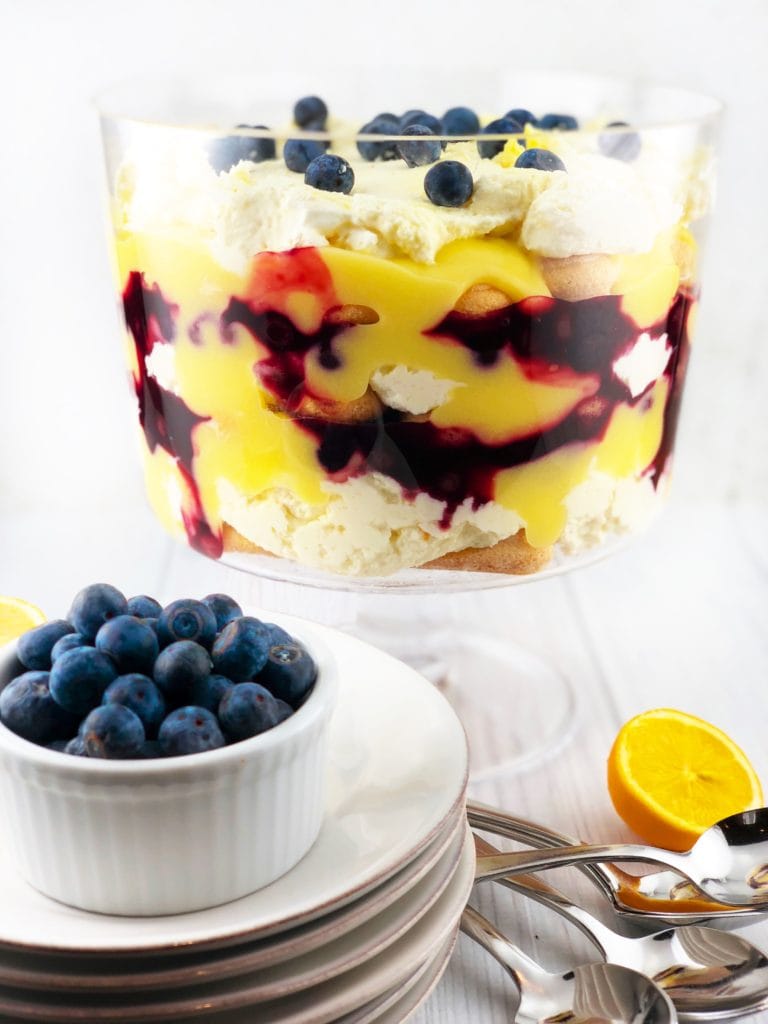 Layers.  We all have them. Each of us is a collection of "layers". Aren't we? I feel like some of us know exactly who we are and what we are meant to be from the moment we were born, and others (like me!) try on different hats over our lives to figure which brings us what it is we need.  (I realize this was all in my head several months ago when writing This post about Chocolate Ice Cream,  Ha!) Some "hats" we keep, others we toss aside. Am I the funny one? The dramatic one? The quiet one? The cook? The smart one? The writer? The athlete? We try out different things to learn what fits us best.
When I was younger, I truly thought that people don't change, that we are all born who we are. Period. And to some degree, I still think that is (somewhat) true. But when I look at changes I've made, consciously or sub-consciously, I realize we all change, in ways great and small, and the key is to recognize each of us is changing, all the time.  Anyway, before I get all too philosophical here, (feel free to comment and continue the conversation!) the idea is, we all make choices in how we choose to approach everything in life, big issues to daily decisions. That's what this Meyer Lemon Blueberry Trifle reminds me of. You can choose how to make each layer, and it is still everything you want a trifle to be – Sweet, creamy, tangy, fruity, cake-y.  A little mascarpone whipped cream doesn't hurt either.  Layers have never made me so happy.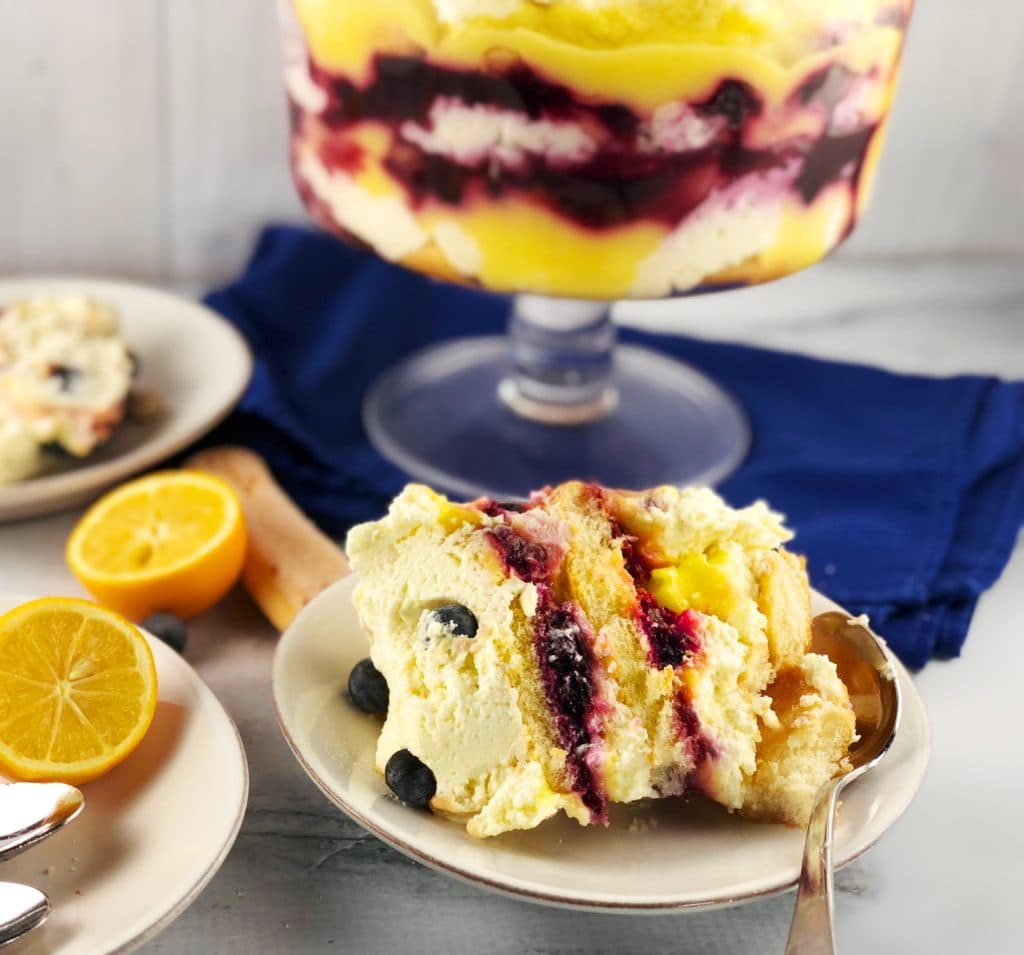 You all know I like to make just about everything from scratch.  I realize, though, sometimes that's a bit self-defeating.  Like the times I want to make something super-delicious and impressive but really have no time to do it.  For me, that is the perfect time to make a trifle!  This trifle is made of 4 different layers. I sometimes use leftover cake for a layer, like in this Chocolate-Gingerbread Trifle.
But when I made this Easy Berry Trifle , I found packaged ladyfingers a perfect substitute – they go from perfectly crunchy to cake-like when the berries, Meyer lemon curd and whipped topping are layered over them. And you can use store-bought lemon curd, but I have to say, this curd, (for which I found the recipe on SPCookieQueen ) made with Meyer Lemons, is positively the best lemon curd I've ever had, and the perfect consistency for layering – it's a little bit thinner consistency than lemon curd from a jar. Meyer lemons are nice and lemony, but don't have that kind of "bite" regular lemons have.  If you've never had Meyer Lemons, they are in season now, so give them a try!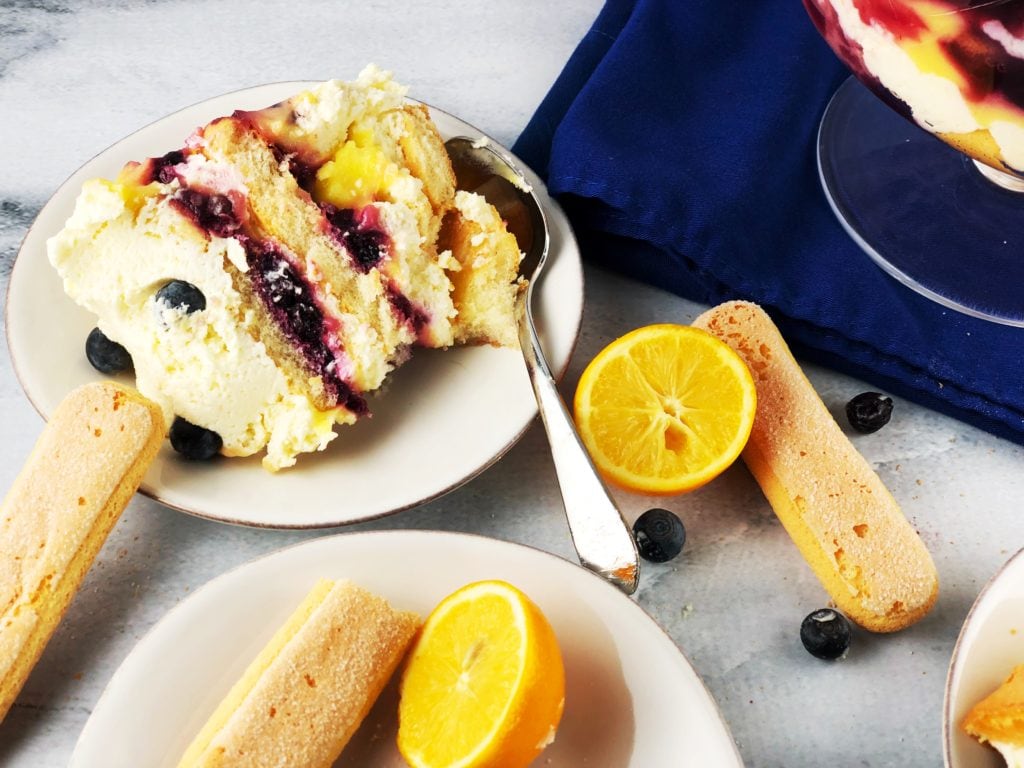 There are many ways to build a trifle – but however YOUR individual layers end up, this Meyer Lemon Blueberry Trifle will always be a hit! Enjoy!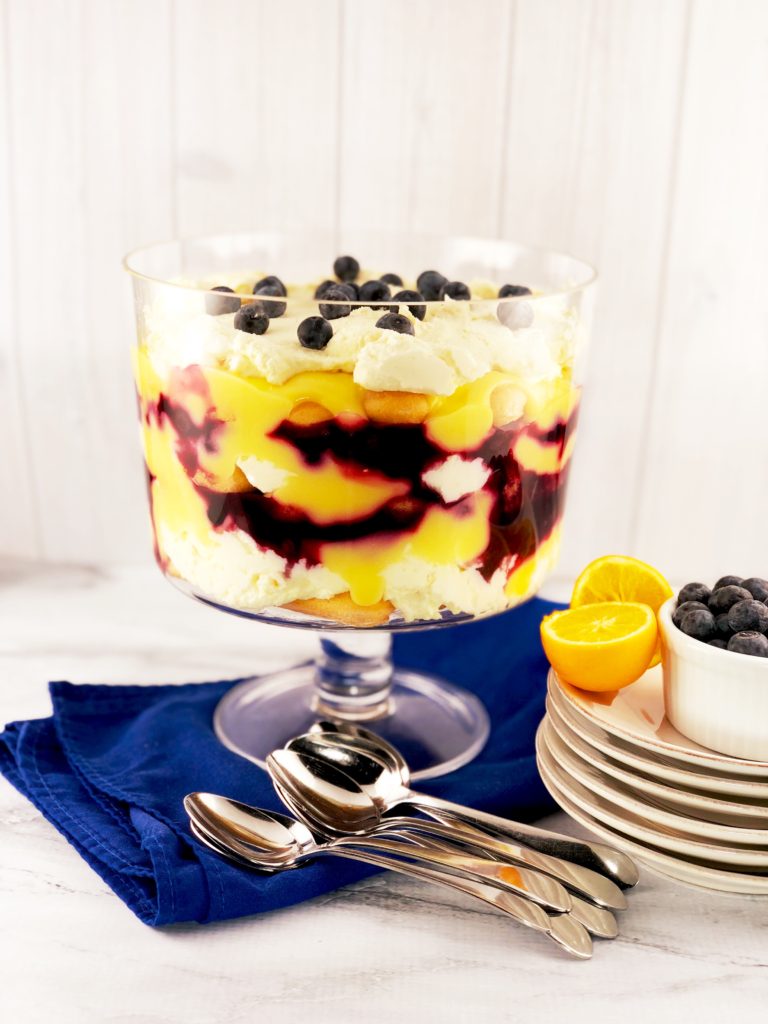 Print
Meyer Lemon Blueberry Trifle
This Meyer Lemon Blueberry Trifle is so good, you'll want to keep it all to yourself!  But rest assured, there's enough for everyone!
Use a trifle dish, a large, clear bowl, or a medium-sized clear Pyrex pan to show off the gorgeous layers.  In the casserole dish, you may only get 1 layer.  The trifle dish will give you 3!
Feel free to substitute store-bought jam along with fresh blueberries for the Fruit sauce (See Note 1).  Store-bought lemon curd is ok, too – try to find Meyer Lemon Curd if you can.  But the homemade lemon curd is amazing!
Author:
Prep Time:

60

Total Time:

60 min, plus refrigeration

Yield:

12

-

16

serrvings

1

x
Category:

Desserts
Ingredients
For the Lemon Curd:
3

lg eggs

3

lg egg yolks

1

c Granulated sugar

3/4

c Fresh Meyer Lemon juice (about

6

–

7

Meyer Lemons)

4

T cold butter, cut into

1/2

" pieces
For the Mascarpone Whipped Cream
2

c Cold Whipping Cream

16 oz

. Mascarpone Cheese (can subsitute Cream Cheese), room temp

1

c Confectioners' sugar

1

t grated Lemon Zest (from the Meyer lemons, preferably)
For the Blueberry Sauce (See Note 1)
2

c Fresh Blueberries

1/4

c Sugar

1/2

c Fruit juice (apple or grape preferred), divided

1

t lemon juice

2

T cornstarch
1

–

7

oz. Package Lady Fingers (also known as savoiardi)
Instructions
Make the Lemon Curd
Whisk the eggs, yolks, and sugar in a medium metal or glass bowl until blended.  Add the lemon juice.
Place over a saucepan of water that is simmering to low boiling.  Whisk the mixture frequently, being careful not to let it boil, for about 7-8 minutes, until it is about the thickness of a creamy salad dressing.
Pass the lemon curd through a strainer into a medium-sized bowl. Add the butter, stirring until it is melted.  Top with plastic wrap placed on the surface of the curd.  Let it cool a bit, then refrigerate until ready to use.
Make the Blueberry Sauce
Into a small saucepan, place the blueberries (reserving a handful for garnish), sugar, 6 T of the fruit juice, and lemon juice. Heat on medium-low until boiling. Simmer 5-10 minutes.
Mix together the remaining fruit juice and the cornstarch.  Pour into the simmering fruit sauce.  Stir until thickened.  Remove to a bowl and cool to room temperature.
Make the Mascarpone Cream
Using a handheld or stand mixer, whip the cream until it is almost stiff.  Set aside.
In a large bowl, place the mascarpone cheese, sift in the confectioners' sugar, and whip until smooth.  Then beat in 1/3 of the whipped cream.
Using a large, flat spatula, fold in the rest of the whipped cream and the lemon zest until incorporated. Refrigerate until you are ready to asssemble the trifle.
Assemble the Trifle
Into a trifle dish, layer 1/3 of the lady fingers, breaking them into smaller pieces if necessary. Add a layer of fruit sauce, followed by a layer of lemon curd, then a layer of mascarpone cream. Repeat this layering twice more until bowl is full. Garnish and refrigerate at least 4 hours, preferably overnight.
Notes
To make fruit sauce using jam, heat an 8 oz. jar of blueberry (or raspberry or cherry) jam or jelly and pour over the fresh blueberries.  Add 1 tsp lemon juice. Mix and let cool.
Recipe Card powered by