No Churn Chocolate Ice Cream! A simple recipe to stimulate your creativity! I added some salty and crunchy mix-ins, but you can choose to add what you like best, or nothing at all!
In a recent post, I professed my love for all things podcast.  I just can't get enough, so many different ones, Serial (!), Revisionist History (?!), Spilled Milk (!! – Thanks, Heather!). Recently I listened to a TED Talks podcast, which, at the end, said "Just go to www.TED.com for more information."  So I did. I stopped in my tracks at the cover page, which read, "Why Some of Us Don't Have One True Calling" by Emilie Wapnick. What? There are "some of us" out there? I couldn't wait to listen to that one! What would she say?  That "some of us" are the people who changed our college major 4 times then still couldn't figure it out so we went to graduate school?  
I thought I was one of the few who had no idea what I wanted to do when I grow up.  Emilie calls people like us "Multipotentialites".  My friend Mary calls us "Polymaths." We apparently are people who can learn many things well and combine different things we know into creating something new. Wish I'd have known that when I was 10 and the question "What do you want to be when you grow up?" seemed hopelessly difficult to answer. Strangely, this TED talk also reminded me of this recipe for No Churn Chocolate Ice Cream, which is delicious on its own, but also has so much additional potential to do other scrumptious things as well!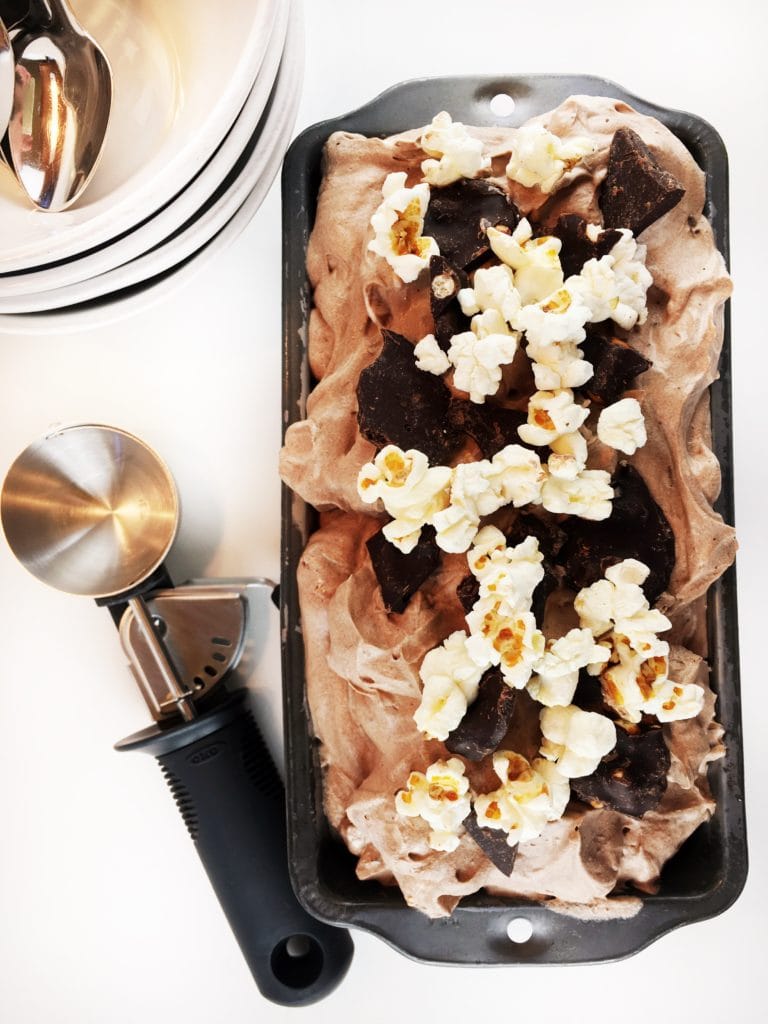 This No Churn Chocolate Ice Cream, first of all, is super-easy to make.  No need to cook a custard as a base.  No need to wait for it to cool or refrigerate overnight before churning. No need to churn 30 minutes and then transfer to a freezer container.  Just whip up some cream, fold in a couple more simple ingredients, and freeze.  Often, "no-churn" ice creams are a little icey in texture, but this no-churn ice cream is super creamy, like soft-serve, after 4 hours in the freezer and a little firmer but still scoopable after 6 hours. I added salted popcorn and dark chocolate-covered pretzels to the party, for a craveably sweet/salty flavor to the rich chocolate.  
And, I'm planning to use my Multipotentialite skills with this recipe.  I think the ice cream base could be modified several different ways.  For instance, one could skip the cocoa and use dulce de leche instead of Sweetened Condensed Milk and make a caramel base.  How awesome would that be? (Pioneer Woman gives a great Overview of either buying ready-made dulce de leche or a super-easy way to make your own, which I've been known to do and store in my pantry.) Maybe add some salty peanuts to that caramel base.  You can see my "sweet and salty tooth" working on this now, can't you?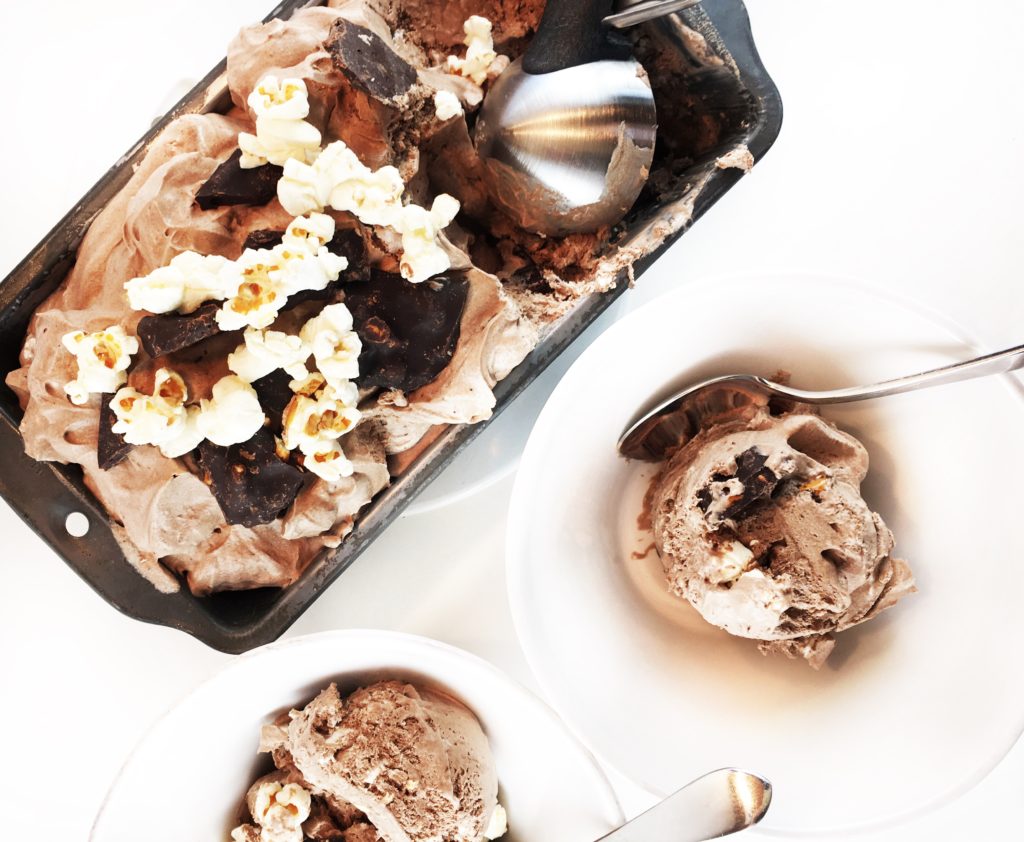 So I'd love for you to listen to Emilie Wapnick's talk – it's only 12 minutes – and let me know – are you a Polymath? Multipotentialite? Or have you always known your true calling?  And also, be sure to give this easy ice cream a try!  You won't be sorry! Enjoy!
Print
No Churn Chocolate Ice Cream with Chocolate Pretzels and Popcorn
A super-smooth, light and creamy chocolatey ice cream, made extra craveable with the addition of sweet and salty snacks:  salted popcorn and chocolate covered pretzels.  But the possibilities are endless – you could chop some cookies or even crumble some potato chips instead.  Or add some marshmallows and toasted almonds for Rocky Road.
Special equipment:  a hand- or stand mixer, and a loaf (9×5) pan.
Author:
Prep Time:

10 mins.

Total Time:

10 minutes

Yield:

8

-

10

servings

1

x
Category:

Desserts
Ingredients
For the Base:
1 pint

Heavy Cream

1

14-oz. can Sweetened Condensed Milk

1/2

c Cocoa, sifted

1

t Natural Vanilla Extract

1/4

t salt
For the Mix-ins:
1

–

1 1/2

c Salted Popcorn

1

–

1 1/2

c Dark Chocolate Covered Pretzels
Instructions
Prepare the Ice Cream Base:
In a medium-sized bowl, whip the Heavy Cream to stiff peaks. In a separate medium bowl, mix together the sweetened, condensed milk, cocoa, vanilla and salt until smooth.
Fold the the whipped cream, in 4 separate increments, into the condensed milk mixture until incorporated.  Mix should be light and fluffy.
Add Mix-ins:
Fold 3/4 of the popcorn and chocolate-covered pretzels into the ice cream mixture.  Spoon mixture into loaf pan.  It may seem like too much to fit, but it should be fluffy enough that it doesn't spill over the sides, so go ahead and pile it in the pan.  Top with the remaining mix-ins as a garnish.
Freeze at least 4-6 hours prior to serving, depending upon whether you prefer soft-serve or firmer ice cream.
Recipe Card powered by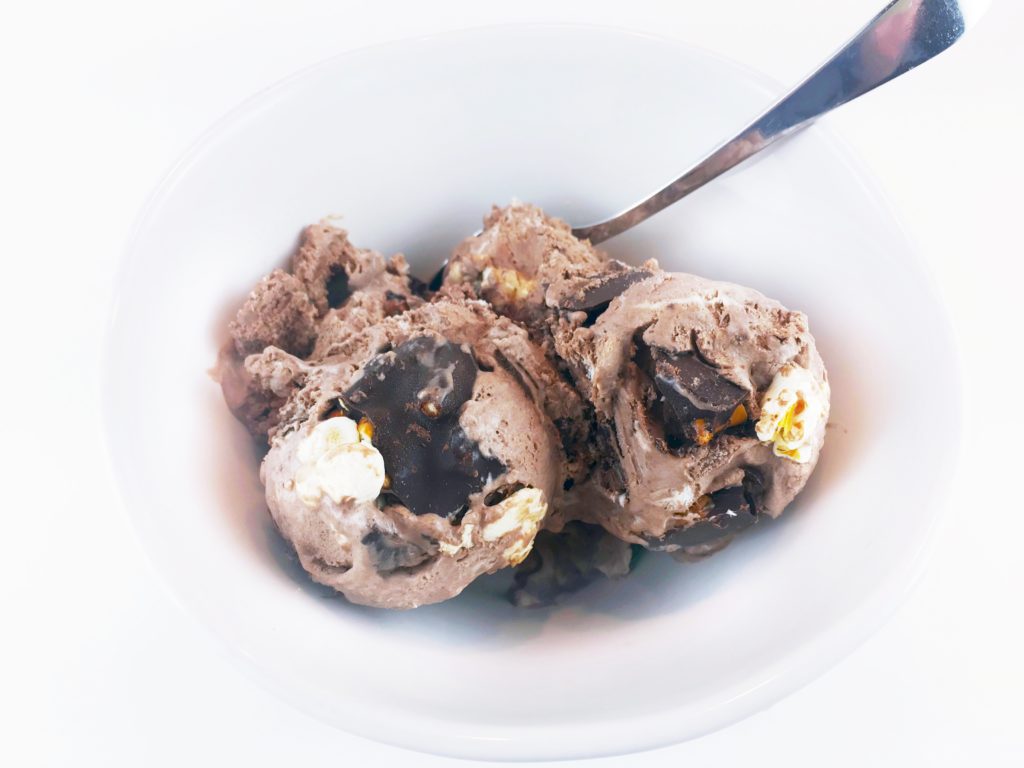 PIN for later ->