A classic Bakewell Tart, with Almond Frangipane filling and tart cherry jam, all over a tender shortbread-style crust! You won't believe how awesome this traditional English treat, adapted from THE Mary Berry, tastes!
Strangely, or maybe not so much, my children seem to have always wanted to be British.  From an early age, each of them has inexplicably developed a perfect British accent. My youngest, at the age of 5, (with all of the charm he could muster) even successfully convinced a waitress that we had recently adopted him from London.   She looked at us – "Wow!  Really?"  So, how did this happen? Do all kids do this? I've no idea. No one we know is British. We don't (generally) stream "Downton Abbey" nonstop. It's not like I'd been in the habit of making this fantastic Cherry Bakewell Tart.  Because if I had, we would have all wanted to be British.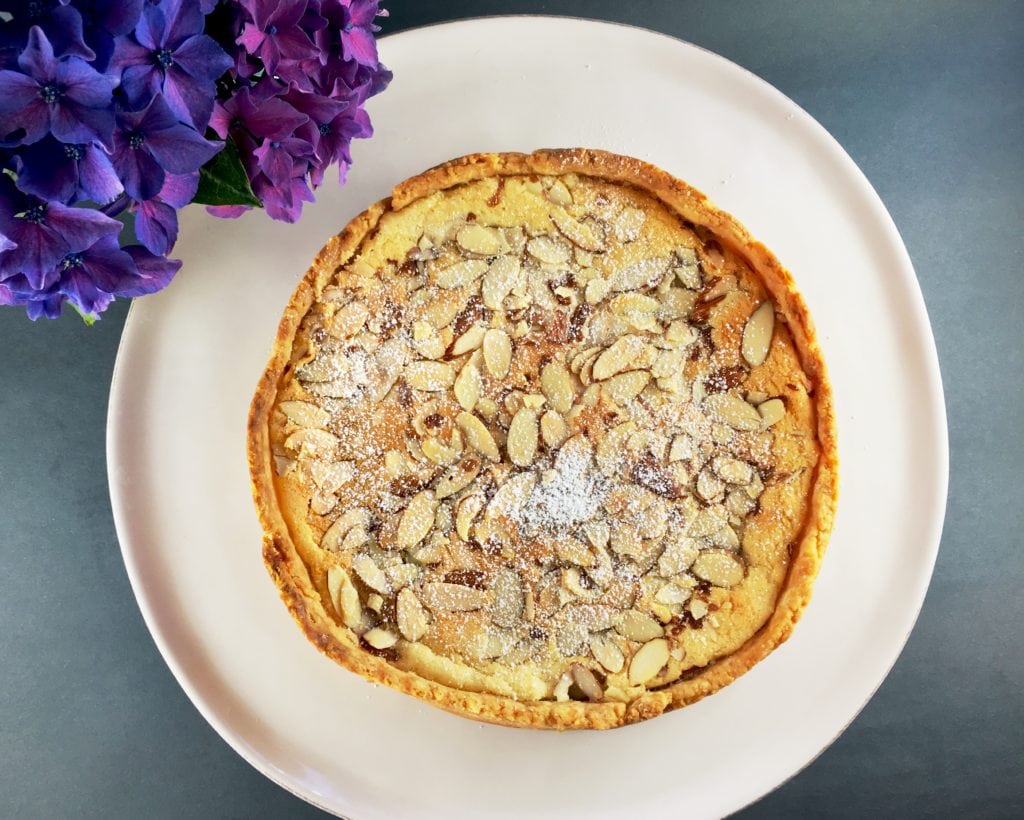 Years ago, when I was visiting London for the first time, I loved the cosmopolitan feel of the city, as well as its rich history, regal castles, the fantastic architecture, the museums, and don't even get me started on Harrod's. But the food? Meh. I thought it was kind of...bland. Could it have been that I was backpacking through several cities, on the $50 a day plan, the one that was supposed to include room and board? Maybe.
Could it be I was so much younger and didn't know where to find the culinary delights of London? Again, maybe. Clearly, I didn't know where to find a Bakewell Tart.  (Ok, dating myself here, but this is not what most of us used the internet for in those days.) I hadn't even heard of Mary Berry. Thank goodness now we have The Great British Baking Show (TGBBS) which stars Mary Berry, esteemed British Baker and author of 70+ cookbooks, to at least enlighten us on the baked goodness of Great Britain. One fine example is this traditional Cherry Bakewell Tart Recipe, adapted from a Mary Berry recipe. Trust me, you will wonder where this package of deliciosity (is that a word?) has been all of your life!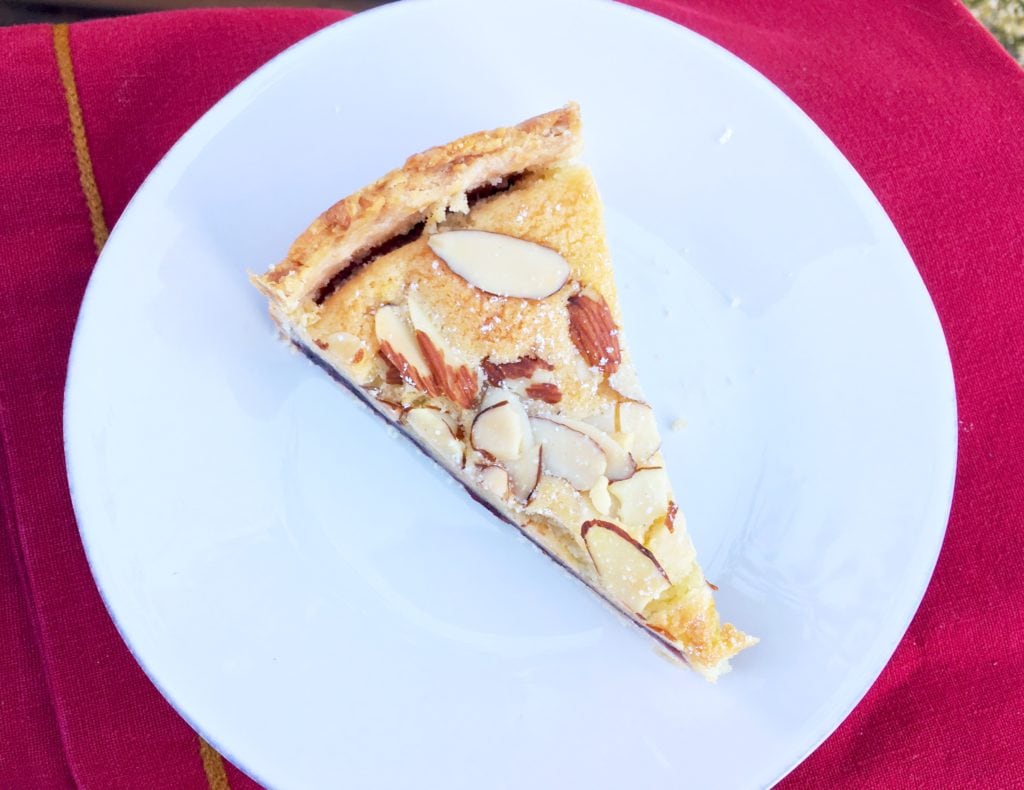 Since I've been watching TGBBS, I've tried Bakewell tart - a spectacular dessert that I can (not so eloquently) describe as a dense, almost custard-y almond cake in a buttery shortbread crust, slathered with delicious jam. This particular recipe called for raspberry jam, but I am partial to tart cherry jam, particularly when pairing with almond flavoring. So so crave-able! But you truly could use any flavor jam, from strawberry to apricot to fig jam and it would be amazing!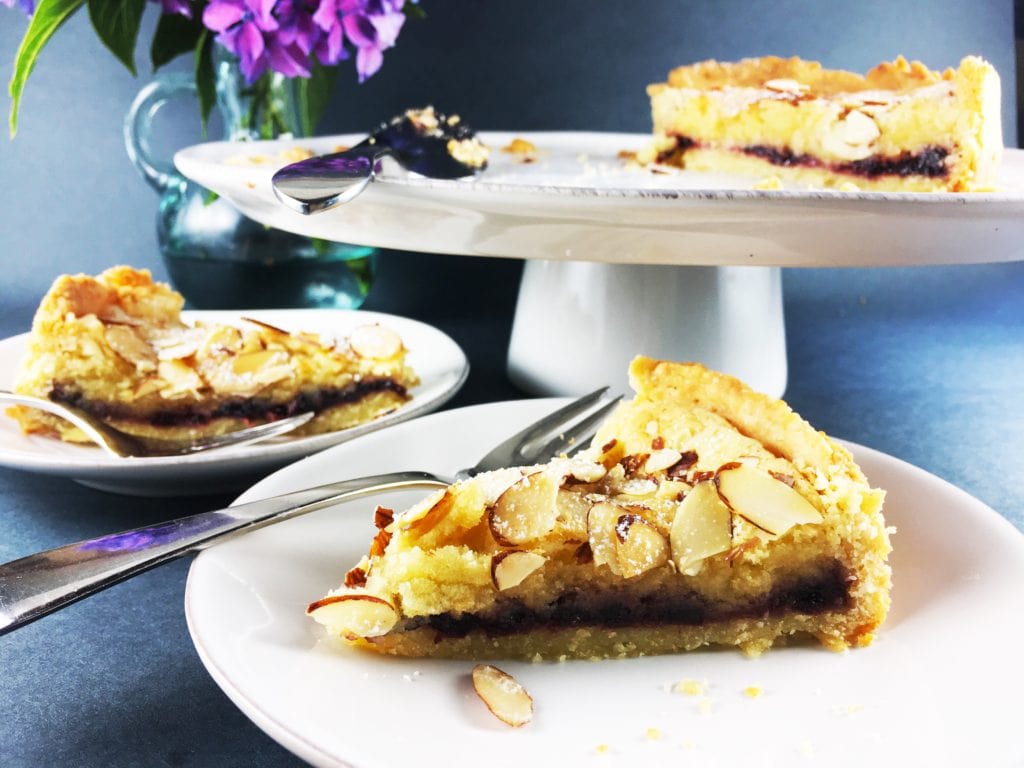 Once I made this tart, I knew what my faux-British children were looking for - A simple but scrumptious Cherry Bakewell Tart Recipe! Enjoy!
Interested in other British Desserts? Take a look at these:
Super-easy, NO BAKE! Chocolate Biscuit Cake
A-Party-in-Your-Mouth Peanut Butter Banoffee Pie
Discolsure: As an Amazon Affiliate, at no cost to you, Hummingbird Thyme receives a small commission for purchases made from links I provide. These help with cost of this website, but do not change the price you pay for the goods.

Print
Mary Berry(-ish) Cherry Bakewell Tart
This recipe is adapted from one that appeared on The Great British Baking Show, called "Mary's Bakewell Tart". I changed a few things.  I used Tart Cherry Jam, rather than making my own raspberry jam.  I also topped the tart with sliced almonds and confectioners' sugar, rather than a confectioners' sugar icing, and added a couple pinches of salt. 
The jam I used was This one. 
The original recipe was written with weights of ingredients, in grams, rather than Imperial measurements.  I calculated measurements from the weighted ingredients I used. So I recommend using the weights, as noted, if you have a scale. Special equipment needed:  a 9″ Tart pan or 9″ Springform pan, either with removeable bottom. It is worth mentioning that, like many baked goods, the flavor of this tart improves over time.  If you can make it a day in advance, I highly recommend it.  I like to keep the tart in the refrigerator because it makes the slices much easier and prettier.
Author:
Prep Time:

40 mins

Cook Time:

30 mins

Total Time:

1 hour 10 minutes

Yield:

10

-

12

Servings

1

x
Category:

Desserts

Method:

Baking
Ingredients
For the Crust
1 2/3

c. AP Flour (

225 g

/

8 oz

.)

11

T Butter, chilled (

150 g

/

5.5 oz

.)

1/4

c. Confectioners' Sugar (

25 g

/

1 oz

.)

1

Lg Egg, beaten

2

T ice water, plus more, if necessary to form a soft dough

1/4

t. salt
For the Filling
1/3

c. Tart Cherry Jam (or substitute any of your favorite jam)

11

T Butter, softened (

150 g

/

5.5 oz

.)

3/4

c. Granulated or Baker's Sugar (

150 g

)

1 1/2

c. Almond Flour or Finely Ground Almonds (

150g

,

5.5 oz

.)

1/4

t. Salt

1

Lg Egg, beaten

1

t. Almond Extract

1/3

c. Sliced Almonds

1

T Confectioners' Sugar, sifted
Instructions
For the Crust
In the bowl of a food processor (you could also do this by hand using a pastry cutter or your fingers), pulse together the Butter and Flour, until the largest chunks of butter are the size of large breadcrumbs or peas. Add the salt and confectioners' sugar, and egg, pulse again. Slowly add the ice water while pulsing until the ingredients just begin to form a soft dough.
On a floured work surface, pour out the dough and roll into a 12″ circle.  Transfer the circle to your 9" tart pan or springform, allowing the dough to cover the sides of the pan about 1-2 inches.  Refrigerate for 30 minutes.
Preheat oven to 390F.  Line the bottom and sides of the tart shell with parchment paper (or foil would work) and cover with pie weights or dried beans (see Notes). Bake 15 minutes, remove weights or beans, then the parchment.  Return to oven for 5 minutes until crust appears dry.  Cool on a rack for several minutes while preparing filling.
For the Filling
Spread the jam across the slightly cooled crust.
Using a hand mixer or stand mixer, cream together the butter and sugar until pale and fluffy, about 5 minutes. Add the almond flour, egg, salt and almond extract and mix until incorporated. The mixture should be quite thick, sort of like thick oatmeal. Spoon on top of the jam in the shell and smooth with an offset knife.
Sprinkle the flattened top of the filling with the sliced almonds.
Reduce oven heat to 355F. Bake 25-35 minutes until top is golden and a toothpick or skewer inserted into the center of the tart comes out clean. Let the tart cool in the pan until completely cool.
When ready to serve, sift confectioners sugar over tart.
Notes
I use about 2 lb. dried beans as pie weights.  I keep them in a Zippered plastic bag in my pantry, marked Pie Beans, reusing the same ones over and over again.
Recipe Card powered by