I'm positively OBSESSED with podcasts. So much so, I listen daily. This probably has to do with the amount of time I spend walking our beloved black lab, named Oso.  He's such a sweetie, but requires lots of walking, lots of playtime.  Anyway, I could go on and on about my obsession with podcasts and which ones are too amazing to miss (S-Town, anyone?), but my latest obsession is with Malcolm Gladwell's Revisionist History, in which he discusses "overlooked and misunderstood" historical events.  What makes this podcast addictive is that it completely challenges things you think you know. Like so much of history. Incredible stories, totally worth a listen.  The current episode (entitled "Hallelujah" – so worth a listen)  discusses about different ways various artists create – some just know what they want to say and how they want to say it, so they spill it out on a page or canvas in one genius fell swoop, others deliberate, revise, agonize, edit and are really never finished, but for various reasons, publish anyway, while behind the scenes, revisions sometimes continue forever (reference the song "Hallelujah", one of my all-time favorites) and often become something so very different from how they began.  So why did this make me think of Grilled Spiced Cauliflower?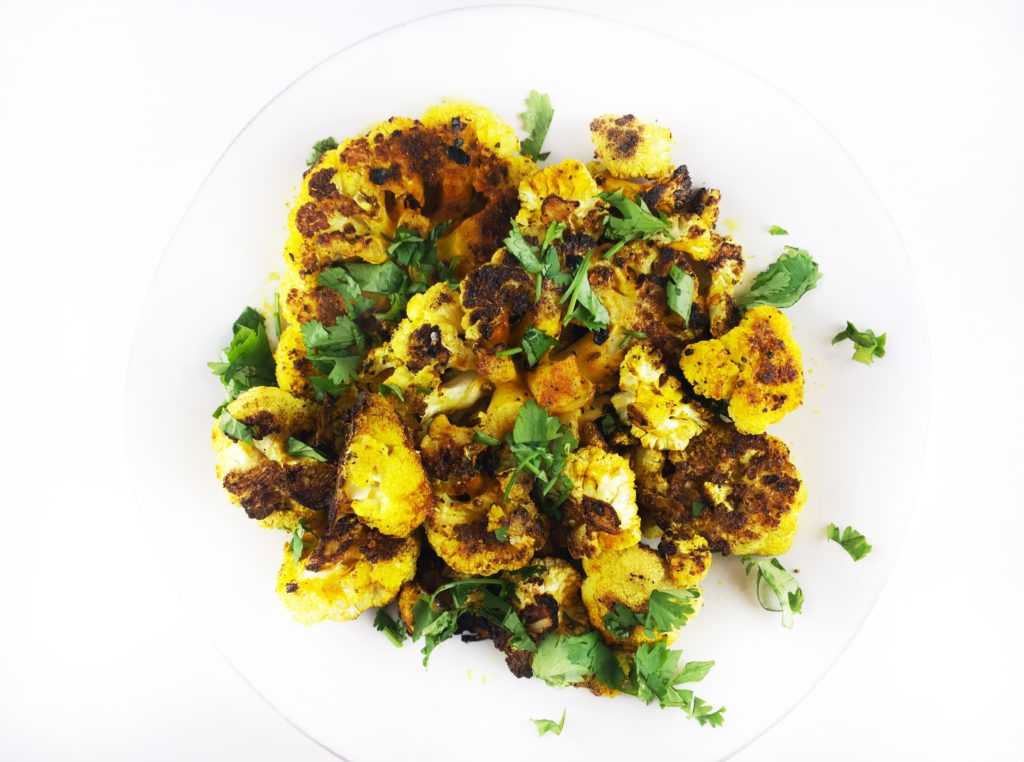 I found this Grilled Spiced Cauliflower recipe online.  Since it's grilling season and it included so many of my favorite spices I thought I'd give it a try. Now, I usually look at a new recipe and often make adjustments to suit my or my family's tastes.  If I try it and like it, I will often revise it a bit more to make it a "Love it!" Recipe.  This recipe however, is one of those that I found to be perfect as is.  Malcolm Gladwell would say this is like (in a greatly oversimplified way, to be sure) Picasso – the recipe is created quickly, I loved it the first time, no revisions necessary. It has the perfect blend of spices and lots of them!  And, rather than the kind of spicy that overpowers you, it's the type that makes you just want MORE!  And, for an unattractive vegetable, this dish is quite lovely, don't you think?  Crispy grilled on the outside with a golden color that is so appetizing.   Mmmmm.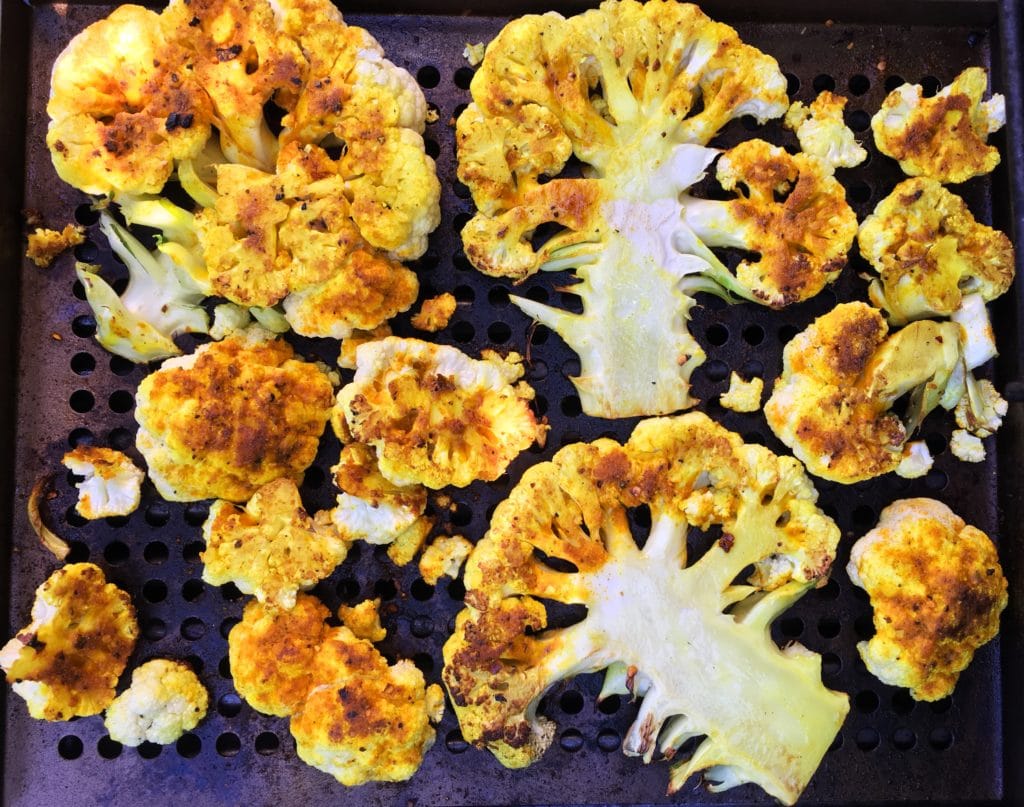 So give this "Picasso"-ish dish a try.  You won't be sorry.  It just may end up on your summer grill many times over. And, I'd love to hear if you have any Podcast recommendations – always looking for my next obsession!
Enjoy!
Print
Grilled Spiced Cauliflower
Author:
Prep Time:

5 mins

Cook Time:

15-20 mins

Total Time:

25 min

Yield:

4

servings

1

x
Category:

Side Dish

Method:

Grilled
Ingredients
For the Spice Mixture
2

t Kosher Salt

2

t Ground Turmeric

1

t Crushed Red Pepper

1/2

t Ground Cumin

1/2

t Ground Coriander

1/2

t Ground (powdered) Ginger

1/2

t Garlic Powder

1/2

t Ground Black Pepper
For the Cauliflower
1

Medium-to-Large Head Cauliflower, leaves trimmed, cut into 3/4″ Vertical Slices (through the core or stalk)

2

T Extra-Virgin Olive oil (Canola oil or other vegetable oil would be fine)

1

–

2

T finely chopped cilantro, for garnish
Instructions
For the Grill
Preheat Grill to Medium-High.  This recipe requires a "hot zone" and "cool zone" for cooking.  On my gas grill, I preheated the entire grill to Medium-High and cooked on a moveable grated tray, which is best, since some of the cauliflower pieces are small.  Instead of switching to the "cool zone", I just turned the heat under the cauliflower to the "Low" position instead of switching it to the "cool zone" – that way, I didn't need to even move the grate.
Once the grill is preheated, if you have a moveable cooking grate, place it on the grill to Preheat it.
Make the Spice Mixture
In a small bowl, combine all of the ingredients for the spice mixture. Stir until well-mixed.
Grill the Cauliflower
Brush one side of the cauliflower slices and pieces.  Sprinkle half of the spice mixture on.  Turn cauliflower over and repeat with oil and the remaining spice mixture.
Oil your grill grate then place cauliflower pieces on the grate.  Cook each side 3 minutes until slightly charred.
Turn grill temperature down to Low (or off if your grill runs hot).  Continue to cook until fork tender, about 10-15 minutes.
Remove from grill to serving dish, sprinkle with cilantro.
Nutrition
Serving Size:

1/4 Recipe

Calories:

70
Recipe Card powered by