Sticky. Toffee. Pudding. Thanks to the Brits! Tender, 1-bowl, no-mixer, date-sweetened brown sugar sponge, flooded with an easy and sumptuous buttery toffee sauce. Of course, there's more sauce to pour over the cake when you're ready to eat it! Yes, please!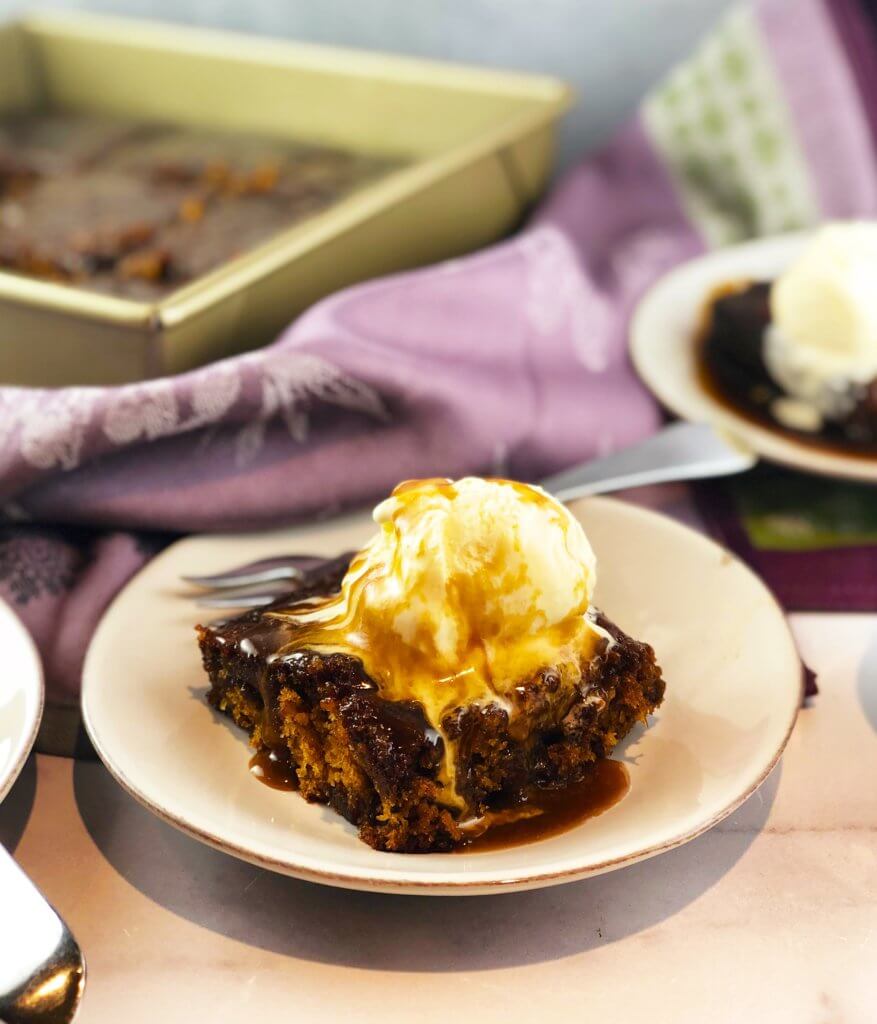 Let me just take a minute at the beginning of my post to offer my sincerest apologies to the British people. I'm not sure why, but at one point, I completely underestimated British foods, thinking them bland, uninspired, underseasoned dreariness. I'm so sorry. Please don't hold it against me. I've completely changed my ways.
So where did I get this idea? I mean, the home of Jamie Oliver, Nigella, Mary Berry, and the inventors of the Sandwich, what could be bad? (Not a thing!)
I think it was my first trip to London, so many (so many!) years ago, on a pauper's budget, at the time. It was difficult to know where to eat or what to eat, so we ended up with some less than wonderful dishes. We were thankful for the "Full British Breakfast" most days. One night, we ate "pizza" and "ice cream". Note the quotes. Because those were not pizza and ice cream, as I knew them. 
But I digress…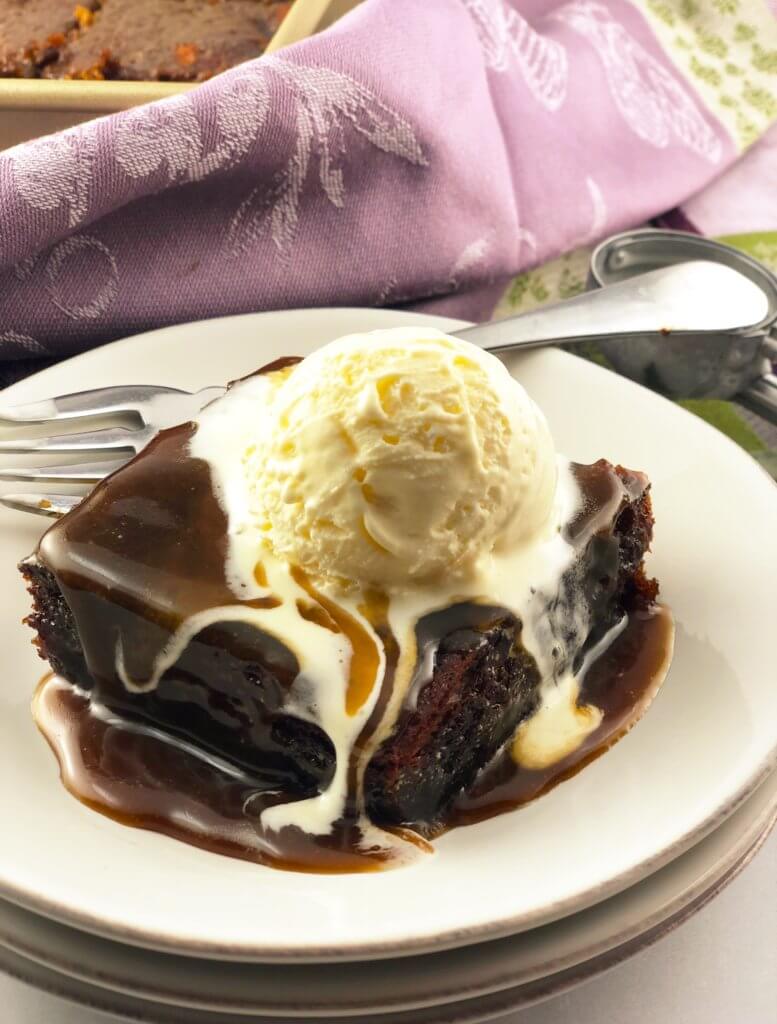 At some point in my cooking journey, along came Jamie Oliver. Jamie's Kitchen was filled with fantastic, flavorful dishes that served as the basis for many dinner parties. Subsequently I found his Roasted Chicken in Milk to be a super-simple wonder. Then, Nigella Lawson, with her no-need-to-be-perfect approach combined with her sensual voice. Mesmerizing. And the prim, proper Mary Berry. That Bakewell Tart!. OMG Magnificent!
So, British friends, I ask for your forgiveness. I was wrong. To prove my sorrow, I made Nigella's lush, appropriately sensual, and fantastic Sticky Toffee Pudding. It's so good, as evidenced by the fact she has many different recipes for it. Some ridiculously easy, others not so much. But this one fits right at the sweet spot for me. Easy, one-bowl cake that doesn't require a mixer. Enough sauce to pour over the cake and any other toppings (ice cream!) one might require. I love it and can't wait to make it again. Truly easy. Truly impressive.
This recipe, published in Food and Wine is originally from Nigella Lawson, with only tiny adaptations.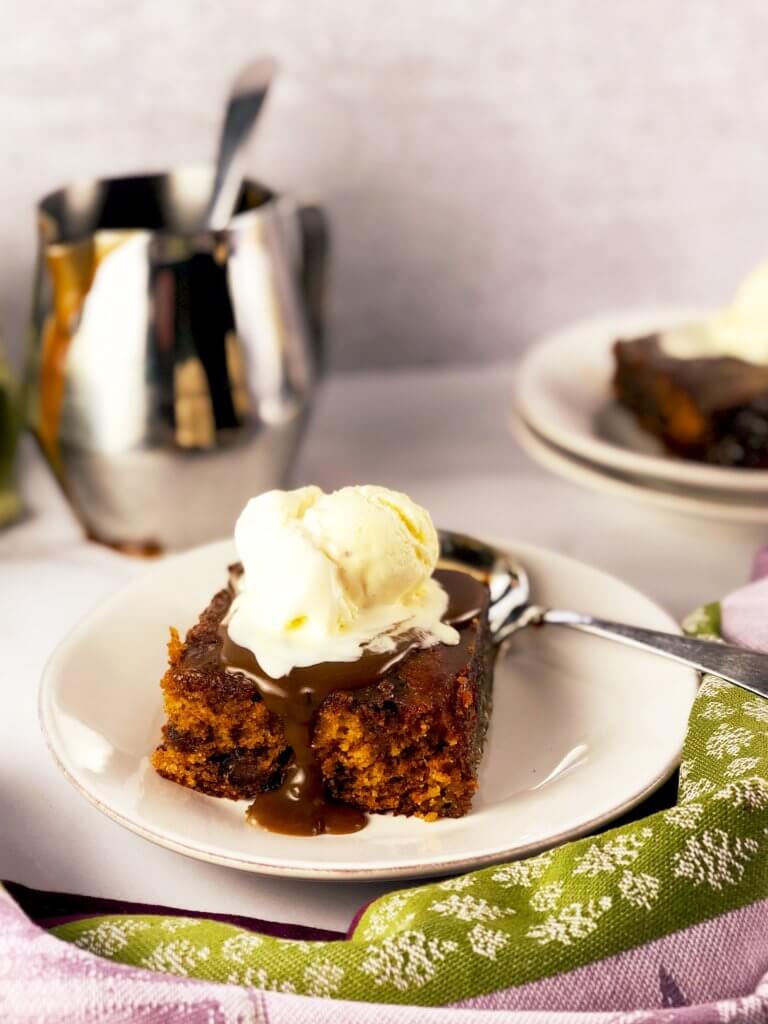 This British dessert would make a lovely end to Christmas dinner, but is easy enough for any occasion, even a Thursday night! Who knew? Clearly, not me.
Enjoy!
If you love easy and impressive desserts, check out my Pumpkin Bundt Cake with Salted Penuche Icing or this German Apple Cake 
And definitely don't these other British favorites: Mary Berry-ish Bakewell Tart or this easy and impressive Chocolate Biscuit Cake, said to be a favorite of the Queen, and certainly a favorite of mine!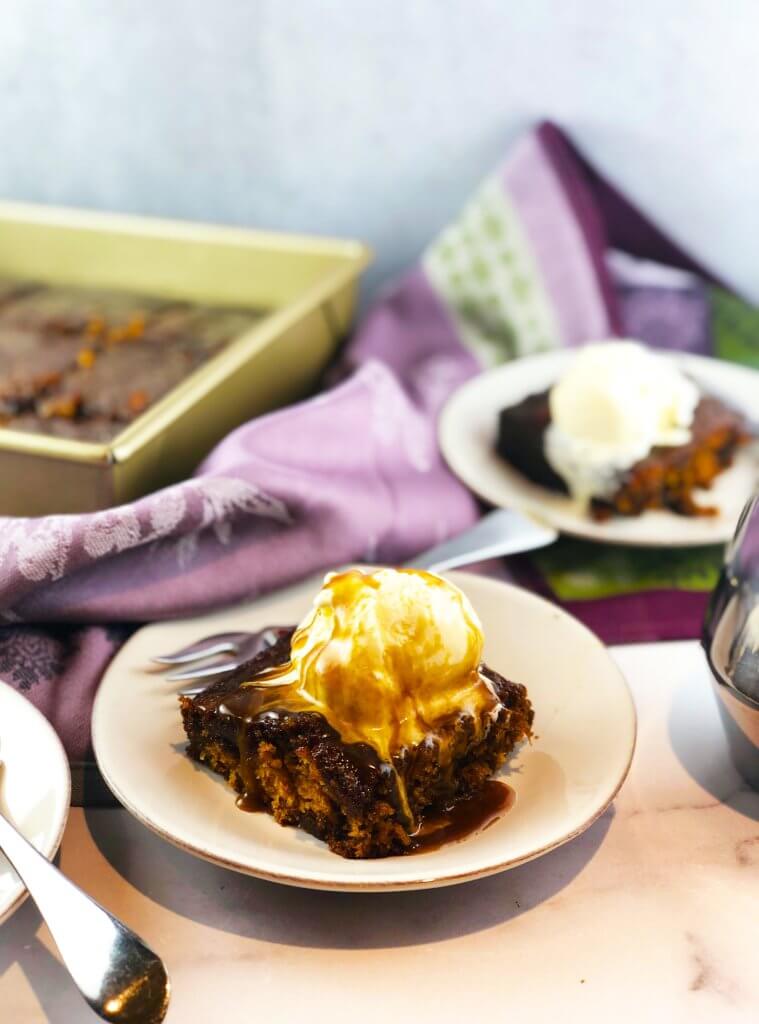 Recipe Details
This easy recipe makes a gorgeous sticky toffee pudding with a lush toffee sauce – no mixer required, and just one bowl to make the sponge cake batter!
You can use any type of dates, but Medjool dates are large, sticky, easy to pit, and available most places.
The sponge is super-simple. First soak the chopped dates in boiling water along with some baking soda. Let that set while you make the rest of the batter. In a medium to large bowl, cream the softened butter and molasses with a whisk. Then add the sugar, eggs, baking powder and flour. Next, add back the date mixture. The batter is finished! Pour it in a buttered pan and bake.
While the cake bakes, make the simple, 4-ingredient toffee sauce. Just melt butter, brown sugar, molasses in a pan over low heat, then add the cream. Turn the heat up and boil it until bubbly all over.
When the cake comes out of the oven, poke holes all over the surface with a toothpick or skewer. Pour 1/4 of the still warm sauce over the warm cake and let it seep in. The cake will be ready to serve in 20, but all the better if you can wait an hour.
Serve with more sauce poured over, and ice cream or a splash of heavy cream. So so good!
Creamed Butter + Molasses

Add Sugar, eggs, baking powder, flour

Pour date mixture into batter

Spread in buttered pan

Baked cake with poked holes

Shiny toffee sauce over cake
Print
Sticky Toffee Pudding
This Sticky Toffee Pudding recipe is from Nigella Lawson, slightly adapted from her book At My Table. 
A simple, one-bowl, no-mixer required sponge cake is baked. While it's baking make a simple toffee sauce. Poke holes in the war cake and pour some of the syrup over the warm cake so it gets absorbed.
Serve with more syrup and ice cream or whipping cream. 
Completely Dreamy!
Author:
Prep Time:

15 min for cake, 10 min for sauce

Cook Time:

28-32 min

Total Time:

43-47 min + 20-60 min wait for sauce to seep into cake

Yield:

1

–

9

" square or round cake

1

x
Category:

Desserts

Method:

Bake + Stovetop

Cuisine:

British
Ingredients
Cake Ingredients:
7 oz

. (

210g

) Medjool Dates, pitted and roughly chopped

3/4 cup

+ 1 T water, (

195

ml) boiling

1

t Baking Soda

5

T Unsalted Butter, (

80g

) softened, plus more to grease pan

2

T Molasses

1/4

C (50g) Dark Brown sugar, packed

2

Large eggs, room temp

1

c + 2 T (

150g

) AP Flour 

2

t Baking Powder
Sauce Ingredients:
10

T Unsalted Butter (

141g

)

1 1/2

c (297g) Dark Brown Sugar, packed

1

T Molasses

3/4

c + 1 T (195ml) Heavy Cream, plus more for serving, if desired
Instructions
Make the Cake:
Preheat oven to 335F (Convection/fan) or 350F (Conventional). Lightly grease 9×9 baking pan (can use 8×8 or a pyrex that holds about 2 qt/2l) with butter. 
Place the chopped dates, boiling water and baking soda together in a bowl, stir a bit and leave for 10 minutes
Using a whisk or a stand/hand mixer on medium, cream the molasses and butter until well-mixed, then add the brown sugar and continue to mix until smooth. Add the egg and continue beating until fully incorporated, then repeat with second egg.
Using a large spoon or rubber spatula, add the flour and baking powder and stir it in until the batter is smooth and thick.
The dates should be coloring the boiling water mixture, and it has likely cooled a bit by now. Squish them a bit with a fork, then pour the entire mixture into the batter and gently mix in.
Scrape the batter into your buttered dish. Bake 27-35 minutes, until a tester comes out clean. (My 9×9 took 29 minutes, an 8×8 would likely take 32-35 minutes) While the Cake bakes, make the sauce.
Make the Sauce:
In a small-medium saucepan over medium-low heat, melt the butter, sugar and molasses. Let the butter mostly melt first, then stir gently until the sauce is entirely melty and begins to become smooth. 
Stir in the cream. Turn heat up to Medium/Medium-High. When the sauce becomes bubbly, take it off the heat.
Sauce the Cake:
Once the cake is out of the oven, poke lots of holes over the entire surface. Then, slowly pour 1/4 of the smooth, hot toffee sauce over the entire surface of the warm cake, making sure it covers every bit and gets to the edges. Leave the sauce to infuse the cake for 20-60 minutes, the longer, the better.
Put a cover over the sauce remaining in the pan to keep it warm.
Serve slices of cake with more of the warm toffee sauce, and top with cream or ice cream.
Notes
1. Nutrition information is for 1/9 of the spongecake which has 1/4 of total syrup poured over it.
Keywords: Sticky Toffee Pudding, Sponge Cake, Toffee Sauce, Nigella Lawson Recipe
Recipe Card powered by
PIN Sticky Toffee Pudding ->