Hearty and Satisfying, this Spatchcocked Chicken and Homemade Egg Noodles dish will become an instant family favorite!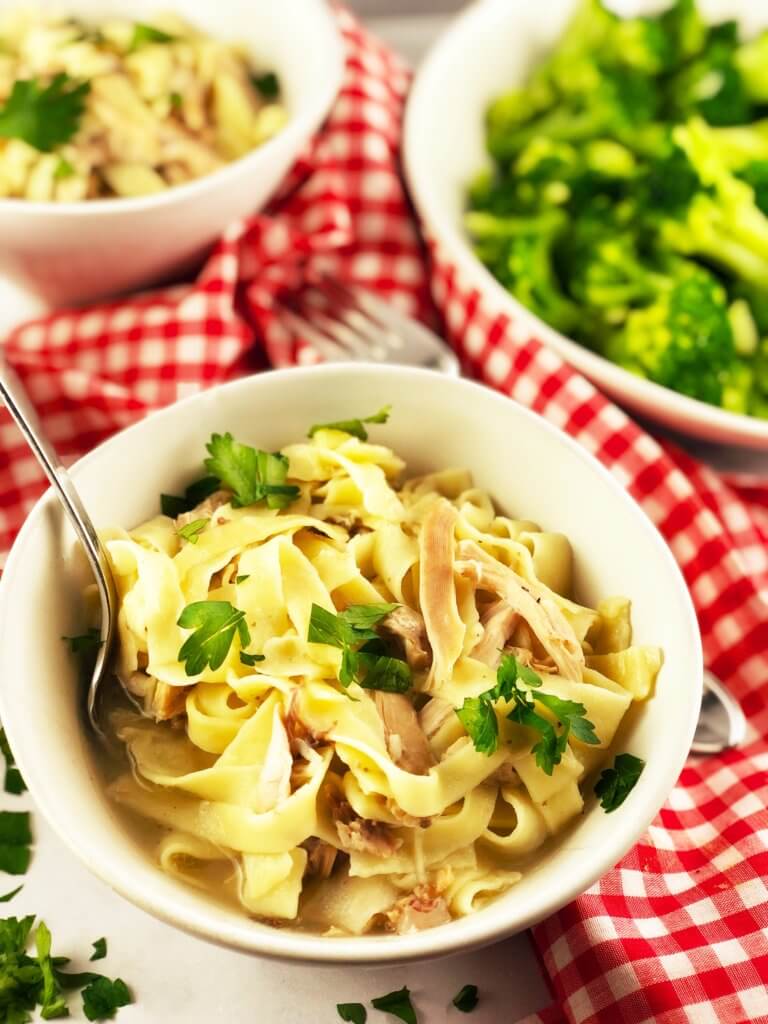 "We can do this the easy way, or we can do it the hard way." How many times have you heard that? From your parents, perhaps? Or in cop shows, or movies? It's the kind of dramatic statement that gets one's attention, letting you know there are some options here, some more painful than others.
Sometimes the easy way IS better. But truly, not this time. These Homemade Egg Noodles with Chicken are all they claim to be – satisfying, thick, but tender noodles, savory chicken and a thick broth that fills your soul. Truth be told, really, the "hard" way is just that it's time-consuming, but there's really no difficulty at all.
You can take shortcuts – a roasted chicken from the grocery plus a bag of egg noodles and a box of chicken broth. You'll get Chicken and Noodles for sure. But they won't be THESE Homemade Noodles with Chicken. That's why for this dish, I (almost) always choose the hard way. I make these noodles every Thanksgiving, serving them with meat from the turkey neck, backbone and giblets instead of Chicken. I (have the butcher at my grocery) spatchcock the turkey, reserving for me the neck, backbone, and giblets for the broth. But for this post, I'm substituting chicken for a family dinner.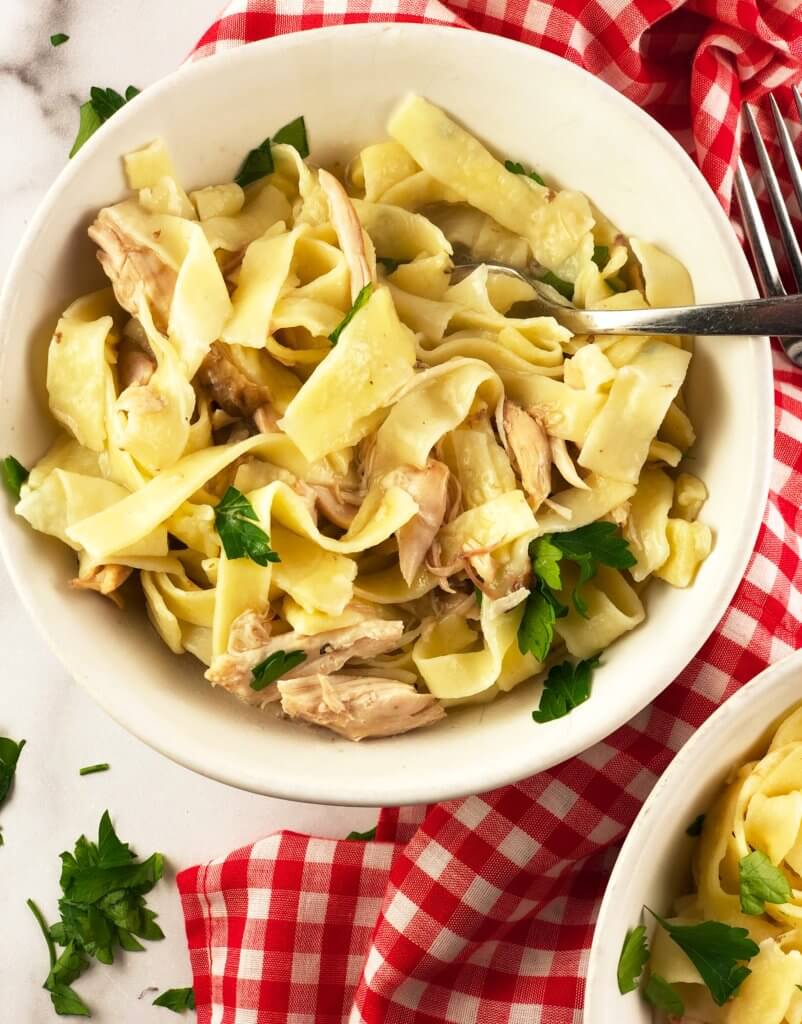 Spatchcocking (in addition being a fun and provocative word to say) is removing the backbone in order to "butterfly" a chicken or turkey, producing more even and quicker cooking. Spatchcocking my Thanksgiving turkey definitely eliminates the "WOW!" factor of presenting perfectly roasted whole turkey at the Thanksgiving table (a la Norman Rockwell). That may or may not be ok with you. For me, it's all good. You know, because Thanksgiving is all about the sides, one of them being Homemade noodles with turkey. So I don't mind bringing a sliced turkey to the table.
But spatchcocking a chicken can be done at home with a sharp knife or cleaver. Check out this tutorial from Martha Stewart to see how easy it is. If you're not into the spatchcocking, just roast 4 or so chicken thighs or breasts and use the meat from them along with a couple boxes of chicken broth. Some shortcuts are better than others, you know?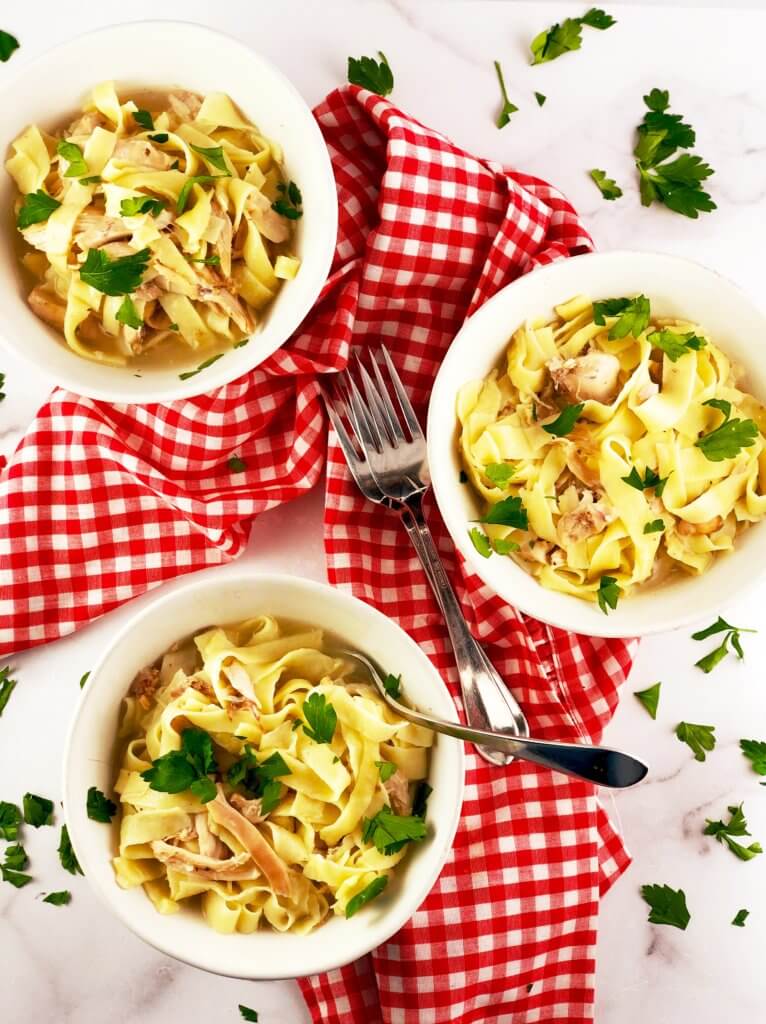 But the star of this show is the Homemade egg noodles. And, making Homemade egg noodles truly is not difficult. Time consuming, yes. Detail-demanding – not really. An easy, 1 bowl, 4-ingredient dough. A bit of stirring. Some rolling out, a little folding, and some cutting. The waiting for them to dry is the hard part.
But, there's just something about the texture of homemade noodles, especially when cooked in that broth…just cozy, warming, yum. You really should try it yourself. You may never look at that bag of egg noodles the same way.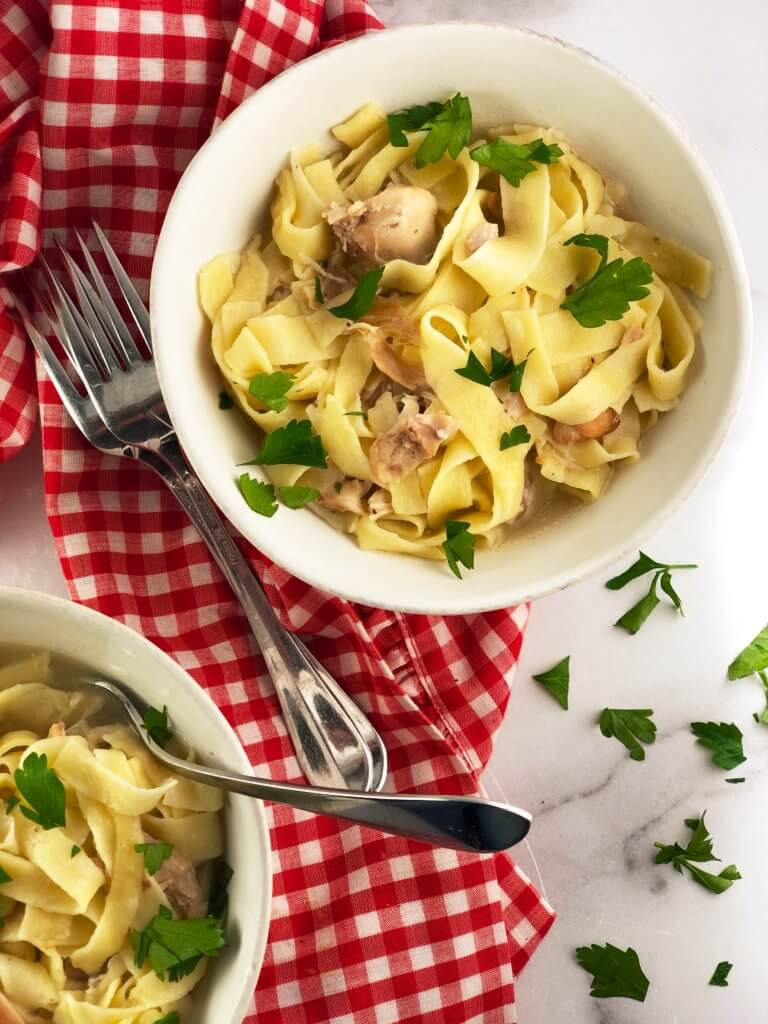 So, take the slightly less easy way with your egg noodles. You can take shortcuts where the chicken is concerned, and I do outline them here. But try a batch of homemade egg noodles. You (and anyone to whom you serve them) won't be sorry.
Enjoy!
If you like pasta dishes, be sure to check out this Lemony Arugula Cacio e Pepe or this Pumpkin Penne with Sausage and Spinach or this Homemade Gnocchi.
Other cold weather recipes include my Autumn Buddha Bowl or these Sheet Pan Roasted Root Vegetables.
Recipe Details
Spatchcocking a chicken is actually pretty easy and straightforward. It's a great way to roast a whole chicken in minimal time. Martha Stewart shows photos of the process here, but really, you'll just cut out the backbone, spread out the chicken, then you can break the breastbone to flatten the chicken as shown in the photo below. Then salt and pepper both sides, 45 minutes in the oven and it's done. Set it aside to cool then shred and add to your cooked noodles.
So take the neck, giblets and backbone and put them in 3 quarts of salted water or broth. Simmer away while you make the noodles. This will be your broth. You'll want to make the noodles before roasting the chicken so that while they are drying you can get your chicken roasted.
Another option here would be to just use 4 chicken thighs or breasts, roast them, shred the meat and add it to a box or two of chicken broth. No need to roast a whole chicken.
The noodle dough, from Betty Crocker, comes together in just a few minutes, but it does take some time to roll out, cut, and dry the noodles. They don't need to be crispy-dry, but should spend at least 2 hours on your board or counter before boiling. So just separate the dough into quarters. Roll each quarter out into a see-through-thin sheet. Fold the sheet into thirds, then cut noodles. Eighth-inch dough sections make thin noodles and Quarter-inch sections make wide noodles. You can make the noodles the night before if you like, just leave them on the counter, covering lightly with tea towels. Or up to a week in advance and place them in a plastic bag in the fridge.
When the chicken has cooled enough, shred the meat and discard the skin and bones. Drop your dry noodles into the boiling broth, and cook 2-3 minutes. We like the noodles to be in a kind of thick-ish sauce, so at this point I'll usually ladle out much of the water, then mix 3-4 Tablespoons of flour with cold water. Pour about half into the remaining noodles and let it thicken a bit. If it's not thick enough at that point, add the rest of the flour-water mixture. Cook another minute or two, then add the chicken in. So the noodles should cook about 5 minutes total. Be sure to check they are done to your liking. Stir it up and serve!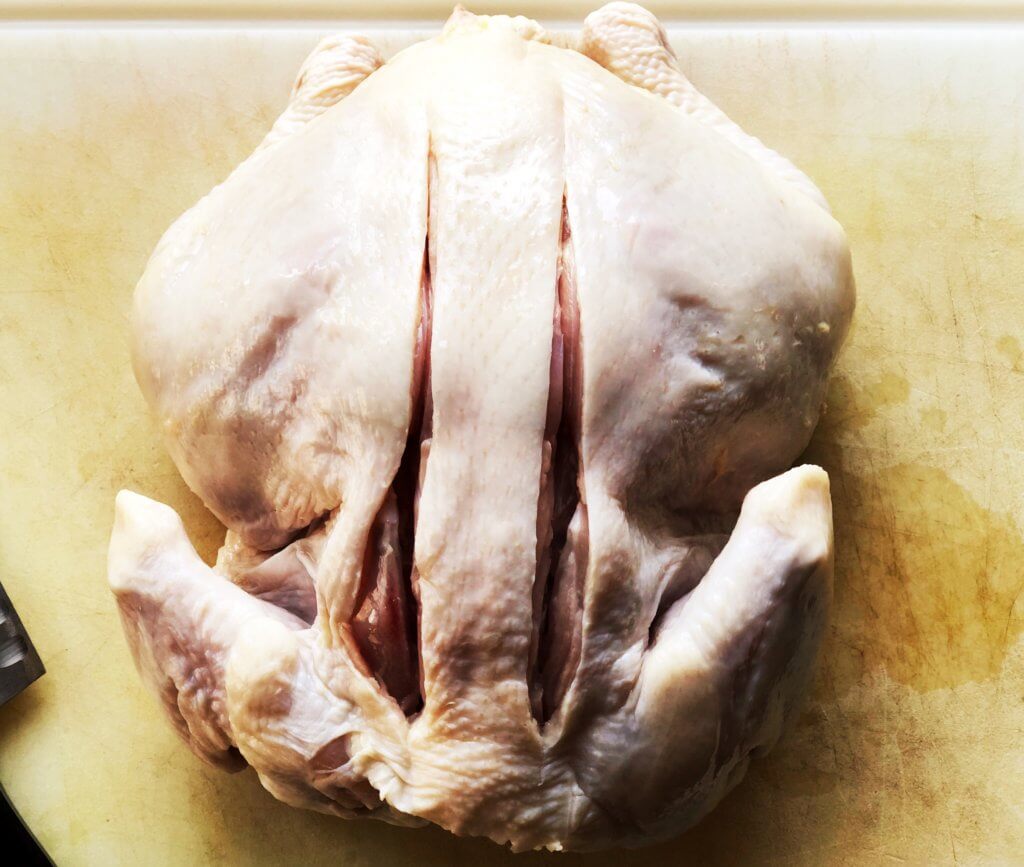 Print
Spatchcocked Chicken and Homemade Egg Noodles
Homemade Noodles with Spatchcocked and Roasted Chicken! An awesome traditional hearty meal. Egg noodles may take some extra time, but the dough comes together quickly and easily. You can dry them in a couple hours or overnight. Or make ahead and keep in refrigerator up to a week.
Author:
Prep Time:

2 hours

Cook Time:

1 hour

Total Time:

3 hours

Yield:

8

servings

1

x
Category:

Main dish

Method:

Roast, Stovetop

Cuisine:

American
Ingredients
For the Noodles:
2

c AP Flour

3

egg yolks

1

egg

2

t Salt

4

–

8

T Water
For the Chicken:
1

3 1/2-4 1/2 lb Chicken
Salt and Pepper
Optional, for thickening the broth:
3

–

4

T AP Flour, to with 2-3 T water
Instructions
Make the Noodles:
In a medium-to-large bowl, place the flour. Make a well in the flour. Into the well, place the egg yolks, egg, and salt. Mix thoroughly to incorporate all ingredients.
Spoon in the water, a tablespoon at a time, until dough is stiff, but easy to roll out. For me, this usually takes 5-6 Tablespoons of water, but use your own judgment. Form the dough into a ball, then place on a well-floured work surface. Divide the dough into 4 equal-ish parts.
One at a time, roll out a section of dough into a large, paper-thin rectangle, about 12×18 inches. Keep the remaining dough pieces covered with a tea towel. You will know if the dough is thin enough if you can sort of see the surface underneath the dough when looking at the rectangle.
Dust the rectangle with a bit of flour, then fold the dough into thirds, as if folding a letter, but in the long direction. You should end up with a long rectangle, loosely folded, of about 4×18 inches.
Cut crosswise into strips 1/8"-1/4" thick for narrow or wide noodles, respectively. Unfold each noodle onto a large flour-covered surface to dry.
Repeat with remaining 3 sections of dough. Let noodles dry, at least 2 hours. Then break into smaller pieces.
Spatchcock The Chicken: (or purchase a roasted chicken and shred the meat, and cook noodles in a box or two of chicken broth) 
Preheat oven to 400F. 
First, using a sharp knife or cleaver, cut the backbone out of the chicken. Holding the chicken upright, with the neck of the chicken facing up and in front of you, slice the backbone by making downward cuts 1/2-3/4" to the each side of the backbone. 
On a rimmed pan big enough to hold the chicken, spread the chicken apart, so the inside of the chicken is facing down. Then press with your palm to flatten the chicken breast as much as possible, so the most chicken makes contact with the roasting pan. (Feel free to press as hard as you can, it's ok to break the breastbone.
Sprinkle both sides with salt and pepper. Roast 45 minutes, or until internal temperature of the thigh meat reaches 160F.
Place the backbone, neck and giblets into a large pan of water. Add 1 T salt, 1 t pepper, and heat to boiling, then reduce to simmer. Simmer 30 minutes and up to several hours. Season with salt and pepper to taste.
Assemble the Dish
When chicken is done, let cool a bit before shredding. The meat should easily come off the bones and shred.
Remove giblets and bones from the broth. Bring the broth to a boil, drop the dried noodles into the water and cook 2-3 minutes. If you want to thicken the broth like we do, mix 3-4 tablespoons of flour with a few tablespoons water and pour into the mix at this point. The broth will thicken and continue to cook the noodles over the next 3-5 minutes. You may want to ladle out some of the broth if it seems more than you want for the final dish. Noodles should cook 5-7 minutes total. (Test them to make sure they don't overcook!)
Salt and pepper to taste. Add the shredded chicken. Mix together and serve.
Keywords: Egg noodles, homemade, chicken,
Recipe Card powered by
PIN Homemade Egg Noodles Recipe ->