Are you having a small-group Friendsgiving or Thanksgiving? Or just wanting fewer dishes to prepare? Try these Roasted Balsamic Sweet Potatoes and Brussels Sprouts with Pancetta. Thanksgiving Vegetables that are so easy, healthy, and delicious!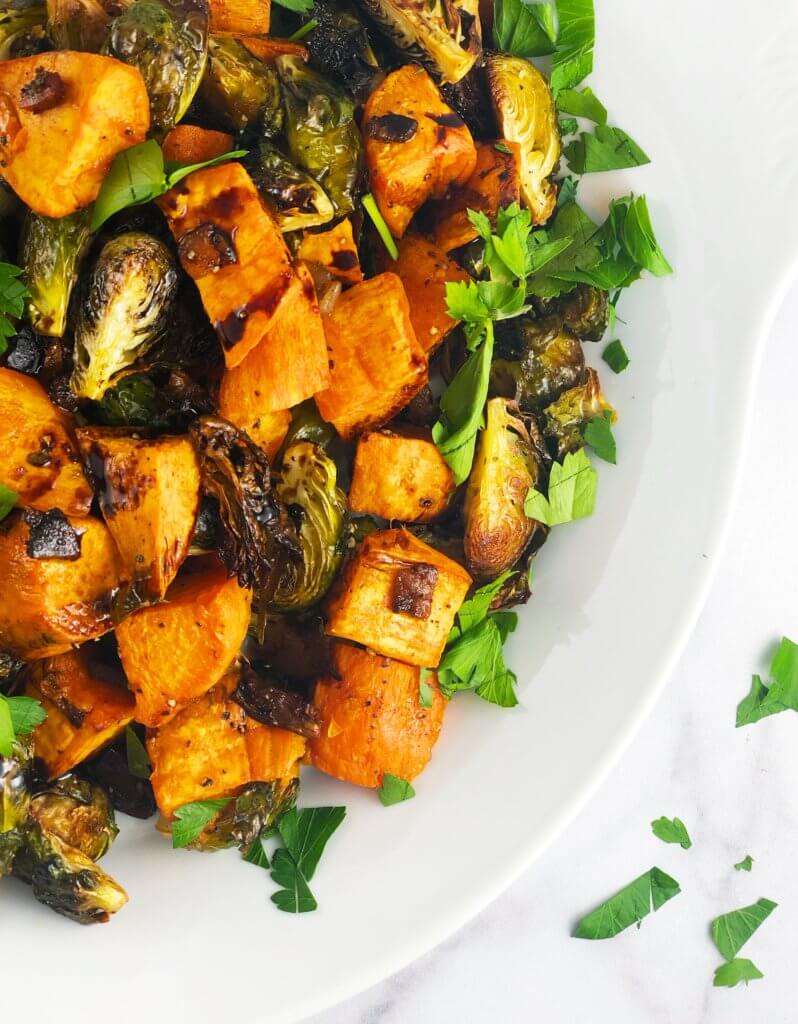 I love Thanksgiving! It's the only Holiday that's truly about just being together with friends and family! I can't remember the last time I didn't host the meal. It's arguably the perfect holiday…..except….not that I'm complaining…. but sometimes, there are too many dishes to prepare, even when inviting several guests. With the turkey and stuffing, mashed potatoes, sweet potatoes, Brussels sprouts (This dish, Balsamic Brussels Sprouts with Bacon, from Ina Garten, is the one I always make, and posted when HT was just a baby blog!). Not to mention desserts!
The key is to trim the menu make as many dishes as possible a day or two in advance. Truly, this reduces unnecessary Thanksgiving day stress. Because the best of all Holidays shouldn't be stressful. And we want to be certain everything gets its due time in the oven. Precious real estate. It would be different if our large, extended family lived nearby, but, alas, they don't.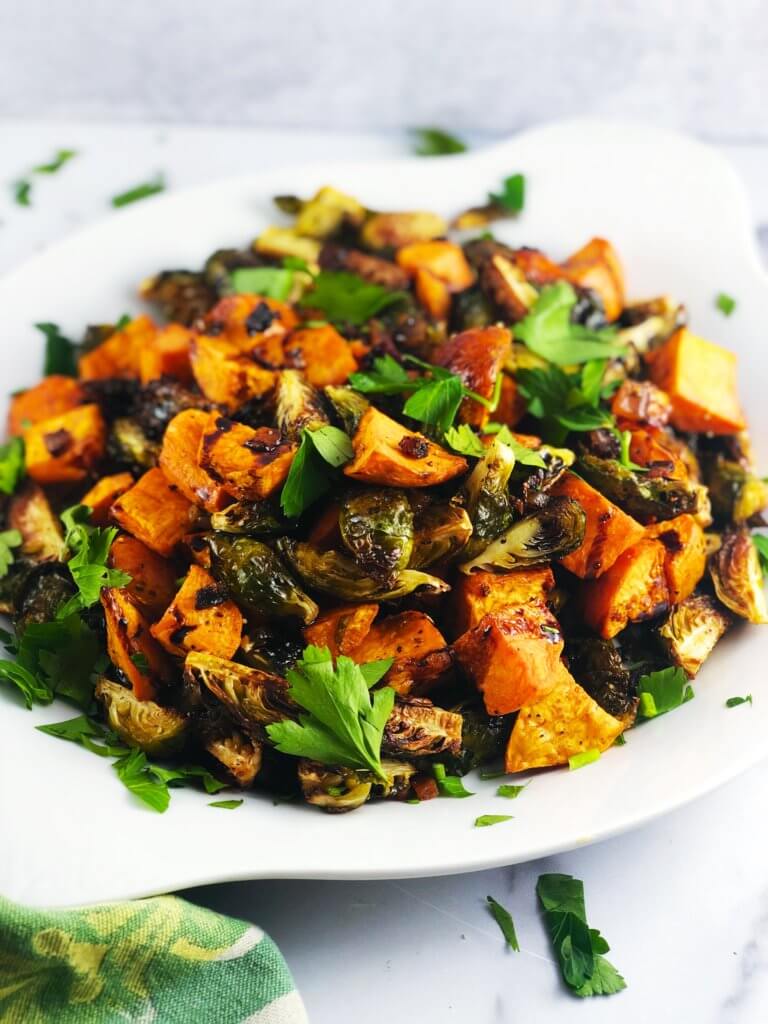 I've made (feeble) attempts to reduce the number of dishes. A few days before Thanksgiving, I always pose the question to my family, "Mashed (White) Potatoes or Sweet Potatoes this year?" Their answer, (shockingly😯!) is NEVER "Sweet Potatoes!" (Since I keep asking, you all know which would be my answer.) So I'm not even asking this year. This dish is how I intend to (brilliantly) slide the sweet potatoes in.
I've decided to combine 2 dishes into one. For my Thanksgiving Vegetable dish, I'm adding Roasted Sweet Potatoes to my Brussels Sprouts with Bacon! Combines two favorites into one super-easy Sheet Pan side.
Tender, roasty sweet potatoes, crispy-tender roasted Brussels Sprouts, nice pieces of Pancetta (or bacon!), all on the sheet pan. Really just a riff on the usual Brussels Sprouts Dish. Drizzle with reduced Balsamic at the end, and it's heavenly. Hits all the notes – Savory, Sweet, Smoky, Crispy, Tender, Lush.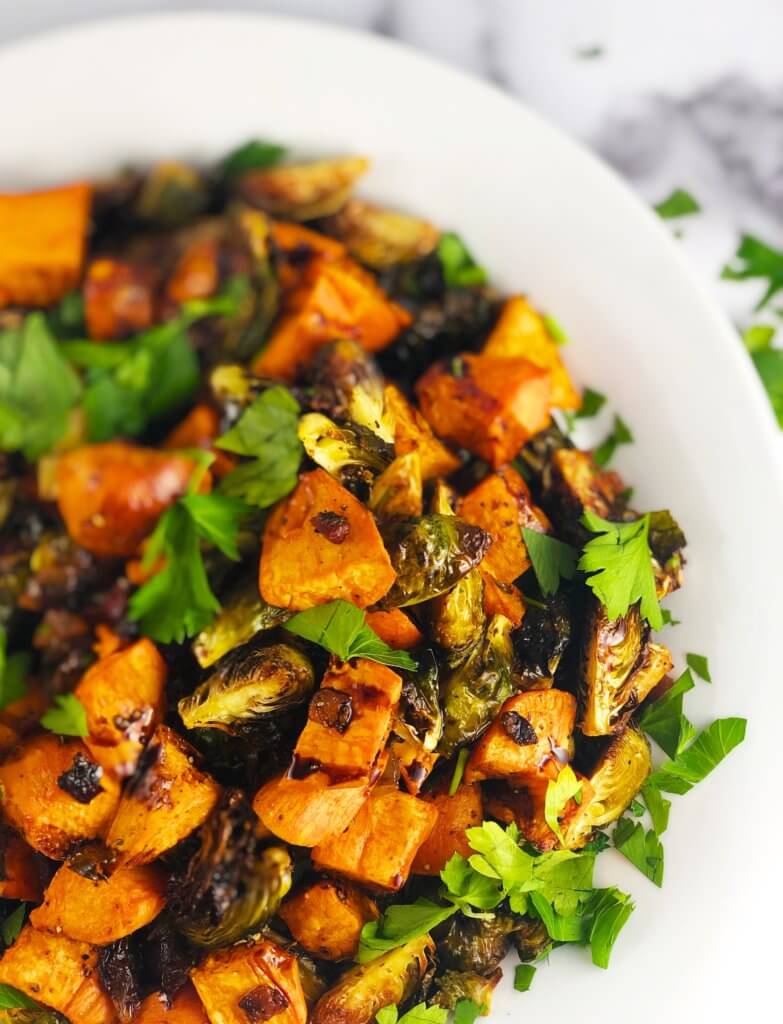 And, now that my kiddos are grown(ish), I'm planning on enlisting their assistance even more, because everyone should know how to prepare a meal for the best Holiday there is, right? And, keeping to my true form, I'm totally eyeing this from scratch Green Bean Casserole at the awesome The View from Great Island website. Because more Thanksgiving Vegetables is always better, right? 
So tell me, am I wrong to try to trim up the dish list? Have you ever crossed a traditional dish off your list? I'm curious (and feeling a bit guilty). 
Enjoy!
If you're looking for easy Thanksgiving recipes, don't miss my Roasted Stuffed Turkey Breast.  Or this Gingerbread Chocolate Pie with Orange essence. And who wouldn't love these Pumpkin White Chocolate Blondies?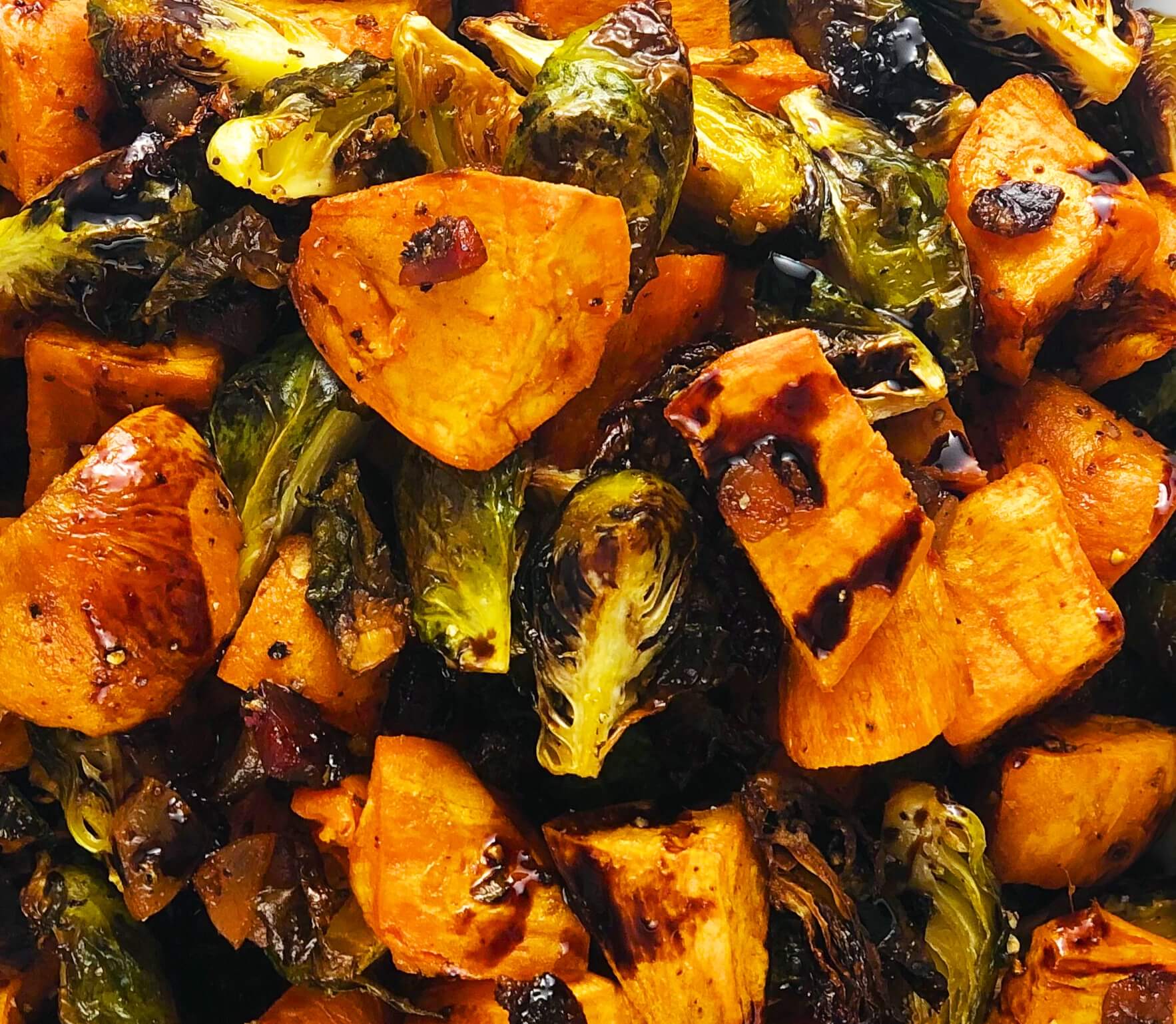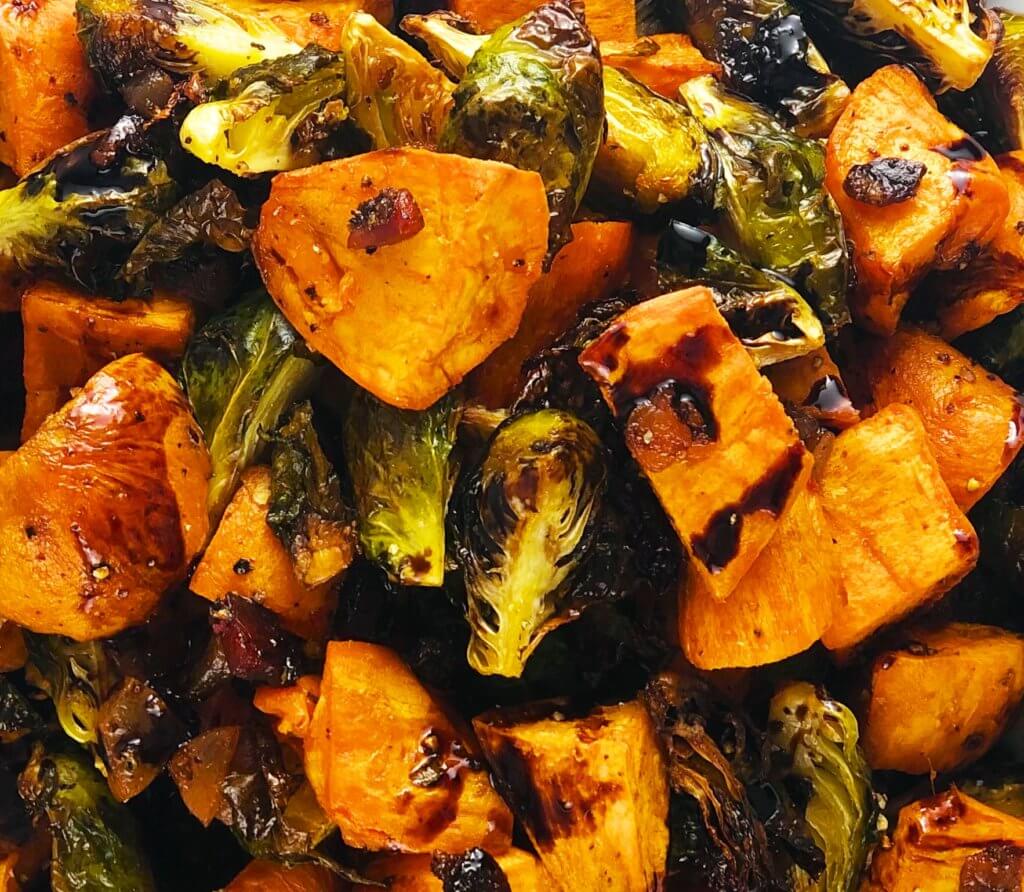 Recipe Details
This is the easiest Thanksgiving dish you can make! Just cut the sprouts into quarters for the large ones, halves for the small ones, and cut the (peeled or not) potatoes into 1" cubes. Coat with Salt, pepper, and Olive oil, toss with the chopped Pancetta. Then pour them out onto sheet pans – 2 should do for this amount.
Roast in a 400F oven for 35-40 minutes. Stir once or twice during the roast.
When the veggies are about done, just heat the Balsamic Vinegar up in a small saucepan over Medium Heat until it is reduced to abut 2-3 Tablespoons. Drizzle this magical stuff over the veggies and serve.
A couple ideas if you want to jazz it up further:
Add some dried Cranberries
and/or add some chopped, roasted and salted pecans.
Brussels Sprouts and Pancetta

Sweet Potatoes and Pancetta
Print
Roasted Thanksgiving Vegetables
A super-easy recipe that can go in the oven while the Turkey is "resting" after it's time in the oven. Just 35-40 minutes to roast, these caramelized Sweet Potatoes and Brussels Sprouts will be the hit of your Thanksgiving Spread! 
A drizzle of thick, sweet, Balsamic Glaze makes them irresistible!
Author:
Prep Time:

20 min

Cook Time:

40 min

Total Time:

1 hour

Yield:

10

servings

1

x
Category:

Vegetables, Thanksgiving

Method:

Bake

Cuisine:

American
Ingredients
2

lb (900g, 2-3 large) Sweet Potatoes, peeled if you like, chopped into

1

" cubes

1 1/2

lb (675g) Brussels Sprouts, quartered (or halve if they are small)

4 oz

. (

120g

) Pancetta or Bacon, diced into 1/3" cubes

4

T (60 ml) Olive Oil

1

T  Kosher Salt

1 1/2

t Black Pepper

6

T (90 ml) Balsamic Vinegar
Instructions
Preheat oven to 400F. Drizzle olive oil over two sheet pans.
In a large bowl, place the chopped vegetables and pancetta. Sprinkle with salt and pepper. Drizzle olive oil over chopped vegetables. (You may need to do this in two batches- just divide the veg and salt and pepper, and try to use half the pancetta in each)
With a large spoon, mix until oil is evenly distributed.
Pour vegetables onto the two oiled sheet pans.
Roast in oven until well-caramellized, about 35-40 minutes. Stir the vegetables once or twice during roasting.
While the veg are roasting, heat the balsamic vinegar in a small saucepan until it is reduced to about 3 tablespoons and is syrupy. Drizzle over the roasted veg and serve.
Notes
Other suggestions:
Elevate this dish by sprinkling dried cranberries or cherries over when finished, or
Chop some roasted pecans and sprinkle over the dish.
Keywords: Thanksgiving, Roasted Vegetables, Sweet Potatoes, Brussels Sprouts
Recipe Card powered by
PIN Roasted Thanksgiving Vegetables ->