Are you hosting Thanksgiving dinner for 2-4 people? This stuffed Turkey Breast will give you all the flavor you need, without the leftovers!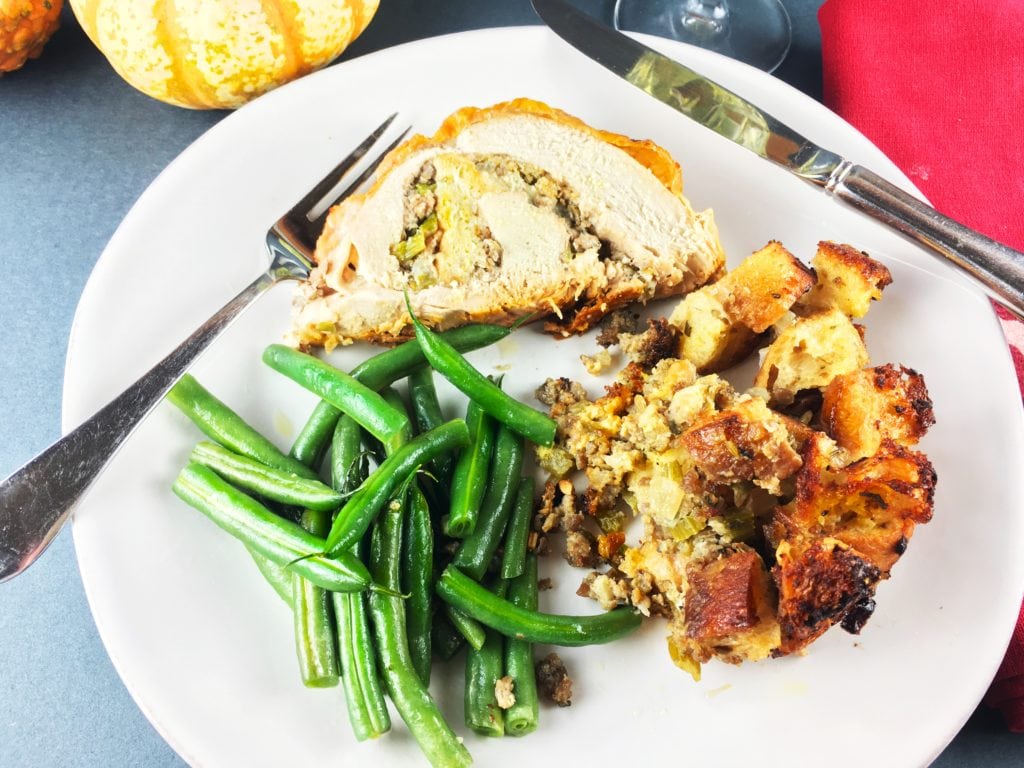 I remember, as a kid, asking how my Mom and Dad could even tolerate eating or drinking certain things. I'm sure you remember this, too! And, of course, all of these are foods and drinks I now love – olives, coffee, wine. "It's an 'acquired taste'", I was told.  Well, that's a taste I don't want to acquire!
And, can we really 'acquire' tastes? As it turns out we all can, and we do. We are all born with an innate preference for sweet foods. But it's more difficult for us to naturally like foods that are sour (lemon), pungent (stinky cheeses) or bitter (cauliflower). This is the reason we give babies the same new foods several days in a row – to help them "acquire" a taste for it.  Even though I didn't really understand what 'acquired taste' meant, I was pretty sure I wouldn't be acquiring tastes through repeated experience with them.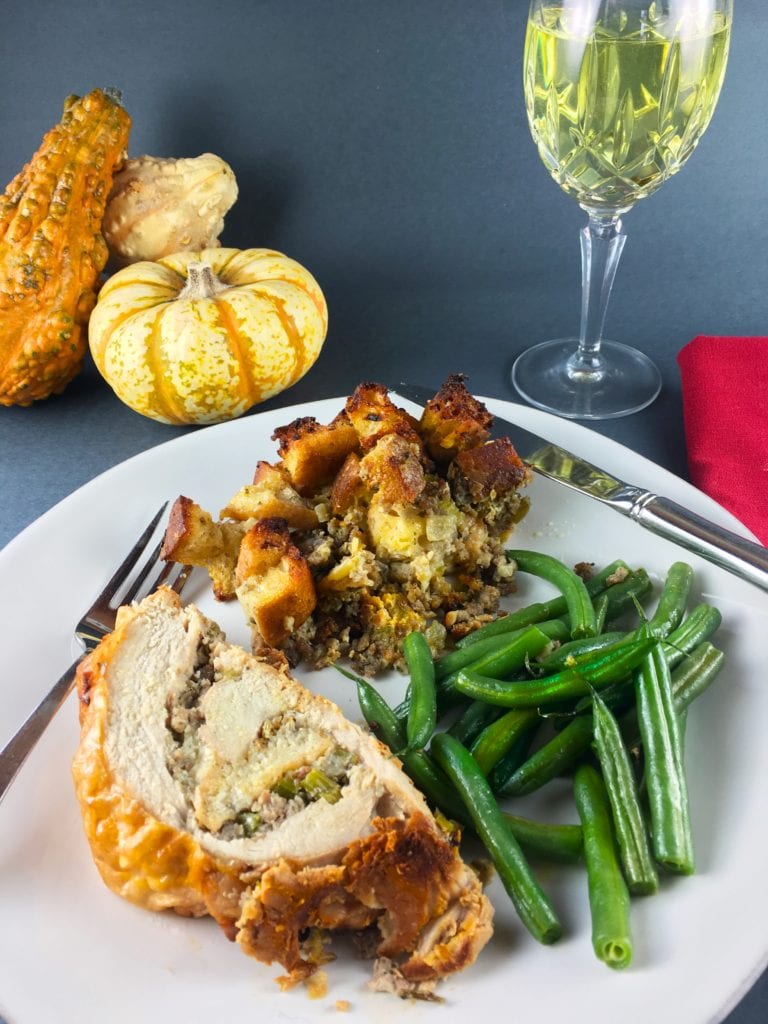 Kind of surprisingly, there are several Holiday foods that fall into this category of 'acquired tastes'. Dishes like Cranberries, Mincemeat Pie, and, yes, even Stuffing are all acquired tastes for some. Stuffing is one my kids needed to get on board for, because after several years, and so many variations – from cornbread to addition of apples, cranberries or nuts – and many exposures to it, my kids still didn't like it.  
As a result I finally figured out how to make a "small batch" of Stuffing, realizing they just weren't going to eat it. Trust me, this is no small feat after growing up learning to cook for a family of 8 Stuffing Lovers! But this Roasted Stuffed Turkey Breast makes a beautiful Thanksgiving dinner for up to 4-6 people (or 2, with leftovers), including a "small batch" of delicious Holiday Stuffing.
While this Stuffed Turkey Breast recipe isn't necessarily "quick", it is fairly easy and is super-impressive. If you don't know how to bone and butterfly a half-breast of turkey, that's ok. You could ask a butcher to do it for you, as most would be happy to, or see this excellent Video from Canadian Living. The stuffing is a fairly traditional bread stuffing, with onions, celery, sausage, rosemary and sage. For me, it's a small batch, requiring about half a baguette's worth of bread, enough to stuff the turkey breast and fill a 2-liter side dish.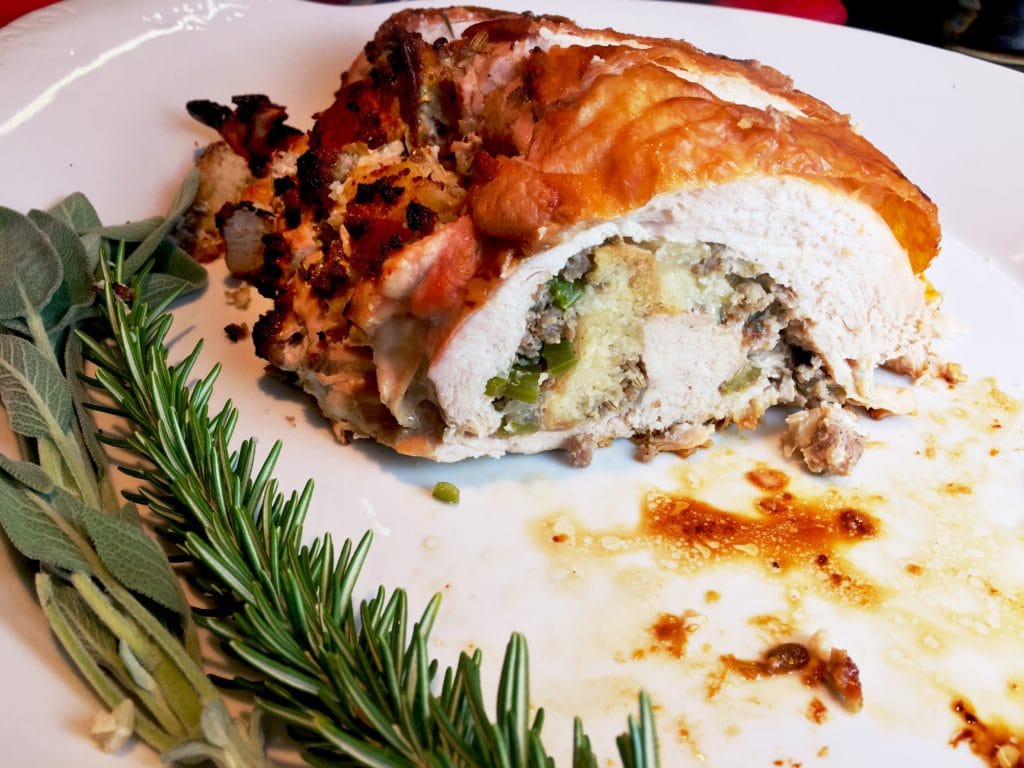 Surprisingly, my kids loved this stuffing!  Maybe it was my long-awaited return to traditional – no more dried fruits or nuts or whatever else I was trying out.  This sealed the deal for me – a a totally Traditional Thanksgiving for us.  Although I will still to make this traditional-in-my-house Chocolate Coconut Pecan Tart – to avoid an all-out mutiny on Thanksgiving. (If you make it, you will know what I mean.)
So celebrate this Thanksgiving in style, in flavors that don't need to be "acquired". The traditional flavors in Roasted Stuffed Turkey Breast make a stunning Holiday dinner for a small group with no messy leftovers. Enjoy!
Print
Oven-Roasted Stuffed Turkey Breast
This is the ideal Thanksgiving turkey for 2-4 people – not too time-consuming and minimal leftovers, but all of the traditional Thanksgiving flavor!  See Video from Canadian Living to view how to create a boneless half-breast, but keep the skin on.
Special equipment:  kitchen twine, to tie the stuffed breast is suggested, but not necessary.  We didn't use it, but if used, the resulting slices will be much rounder, rather than flat-bottomed.  Something to consider…
Author:
Prep Time:

30 mins

Cook Time:

95 mins

Total Time:

2 hr, 20 mins

Yield:

4

–

6

Servings

1

x
Category:

Thanksgiving

Method:

Oven Roast

Cuisine:

American
Ingredients
1 3-4 lb boneless (skin-on) turkey half-breast
12–16 oz. Bulk Sausage, preferably fennel or sage-flavored
1/4 c Extra-Virgin Olive Oil
1 lg onion, finely chopped
2 cloves garlic, peeled and minced
2–3 celery stalks, chopped
1 T Fennel Seed
3 c 1/2-inch stale bread cubes (or cubes toasted 10 min at 350F)
1/2 c Chicken Broth
2 Lg Eggs
1 T Fresh Sage
2 t Fresh Rosemary, chopped
Kosher Salt and Pepper
Instructions
Cook Stuffing Ingredients
If toasting bread cubes, preheat oven to 350F.
In a large saute pan, heat 2 T olive oil.  Cook the sausage, breaking into smaller and smaller pieces as it cooks, for about 5 minutes, until no longer pink.  Add onions, garlic, celery and fennel seed.  Cook about 5-7 minutes until onions and celery are softened.  Remove from heat and cool for a few minutes.  If toasting the bread cubes, place them on a baking sheet and into the oven for 10 minutes.
In a large bowl, toss the (toasted) bread cubes with the sausage mixture.  Add chicken broth, toss to moisten.
In a smalll bowl, whisk eggs lightly, then add sage, rosemary, salt and pepper and mix well.  Add the egg mixture to the bread and sausage mixture.  Mix with spatula or spoon.  Cover and refrigerate at least 30 minutes.
Butterfly the Turkey Breast
Turn oven heat to 325F.
Using a sharp knife and starting from the thinner long side of the breast, slice the breast horizontally almost all the way through, so it will open up like a book, or in something of a heart-shape. Place a sheet of plastic wrap over the opened breast, and pound lightly with a mallet (smooth side) to even out the thickness and shape of the breast. Remove the plastic wrap.  Season generously with salt and pepper, and move the breast to a baking sheet.
Spread a layer of stuffing (placing remainder of stuffing in a 2-liter dish for baking) over the breast and leaving a 1" border on all sides.
Starting from the long side of the breast, roll it up, jelly-roll style.  It may roll only about 1 1/2 times.  This is fine.
If needed, you can tie the rolled breast with 4-5 10" sections of kitchen twine.  This will allow more even roasting.  We did not tie ours, because it set nicely in the pan.
Brush top of breast with remaining olive oil. Place in preheated oven and roast until internal temperature of 155F, 1-1/2 hours. After 30 minutes, bake remaining stuffing, covered for the first 30 minutes, and uncovered 10-15 minutes to brown. Remove breast from oven, tent with foil and let rest for 10 minutes prior to slicing.
Keywords: Small thanksgiving, turkey breast, how to stuff a turkey breast, stuffed turkey breast, how to make stuffing
Recipe Card powered by