There's nothing like an heirloom recipe! Comfort food at its finest! And my Grandma's Sour Cream and Raisin Pie with its thick sour cream custard and soft, juicy raising, topped with mile-high meringue will give you all the feels!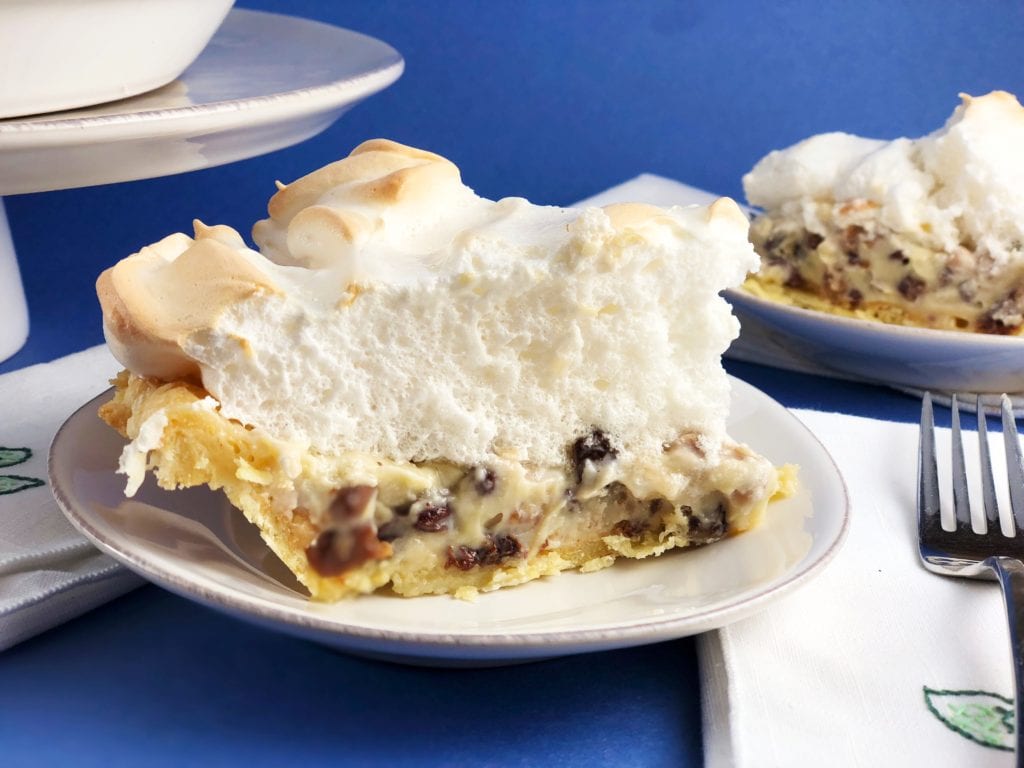 My paternal Grandmother, Clara, was a hard-working woman. Born in 1906, she grew up and married my Grandpa Cornelius, and they had 12(!) children, so naturally, her work was never done. There is a story of 3 sick children in 3 different hospitals at the same time (in different towns no less), each of whom she would visit daily while simultaneously maintaining the rest of her brood, a testament to her loving nature as well as her inherent grit. When I was a kid, we would travel to Kansas each summer to visit. She always made us her M&M Cookies that were so good, I wish I had the recipe. I've tried to duplicate it, but no luck – yet.
But best of all, each and every visit, she would make for my Dad her famous (in my family anyway), and his favorite, her Sour Cream and Raisin Pie.  Always taking care of others. I wish I had gotten to know her better. One thing about her that this Sour Cream Raisin Pie illustrates, though, is her knowledge that simpler is often better. Face it, if you had 12 children, when would you have time for any added complication? The custard of Sour Cream Raisin Pie is made so quickly and easily with just a few simple ingredients that you likely have right now in your pantry and fridge. It is prepared in a single saucepan – no crazy methods or multiple steps.  Just a simple sour cream custard, studded with soft, juicy raisins and walnuts.  Delicious. Comforting. Simple. Love.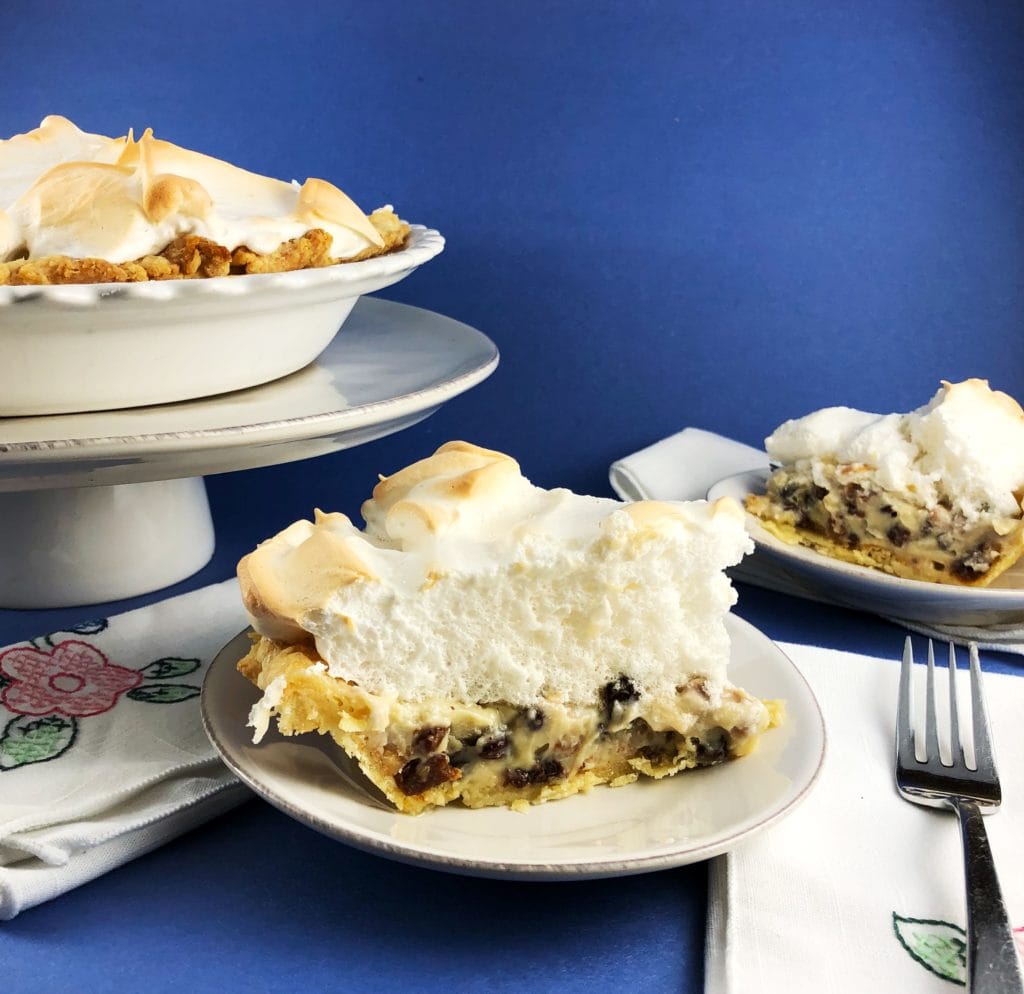 As a kid, I often passed over this pie for the aforementioned cookies, but as I got older, I would give it a try and always liked it. As an adult, I love eating it! I also appreciate its family history and the fact it is about the simplest pie ever to make from scratch. When she wanted to make the pie, Grandma would ask Grandpa to to out "to the farm" for a cup of fresh cream. I know Grandma would often "sour the cream" herself by adding a spoon of vinegar to a cup of cream, wait a few minutes, then stir.
The only thing I do differently from her recipe (with the exception of going to the grocery for sour cream, to adapt to my own taste, is to heap the salt on the 1/2 teaspoon, for just a touch of salty with the sweet custard.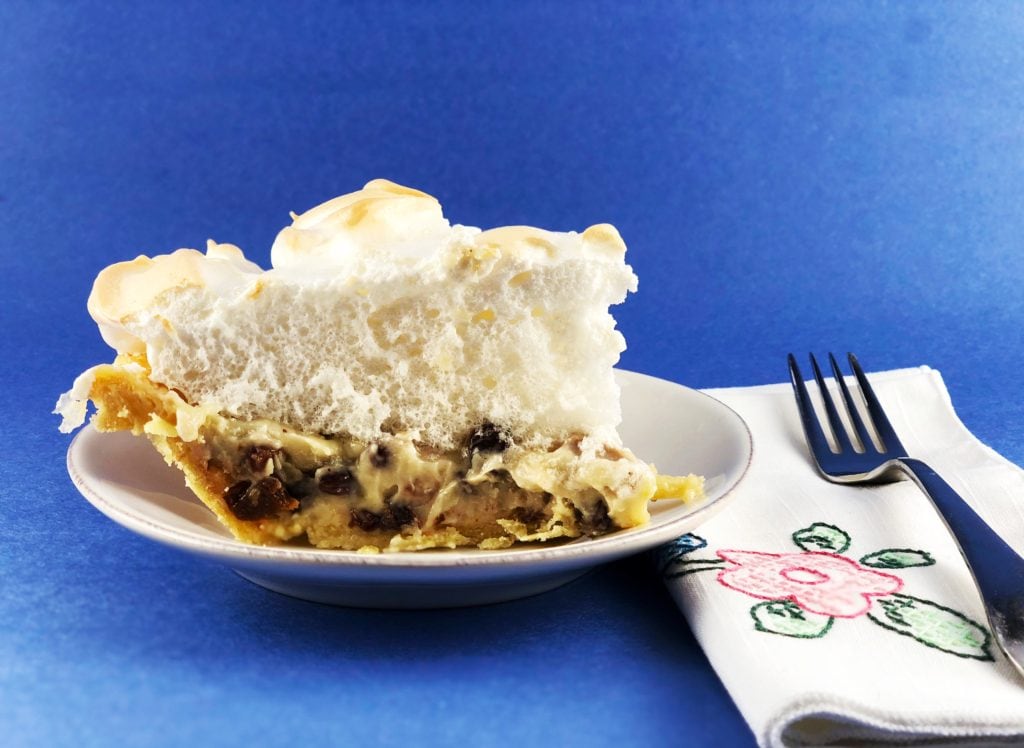 So be like my Grandma Clara. Know that simple ingredients, prepared in a simple way, are often the best. This Sour Cream Raisin Pie is evidence of that! This recipe is a true Heirloom! Enjoy!
If you'd like to make an heirloom recipe dinner to go with this pie, take a peek at my Grandma Alice's Slow Cooker Slow Cooker Beef Stew. I also give Instant Pot instruction if you prefer a quick cook!
Print
Sour Cream and Raisin Pie
This pie was made by my Grandma for my Dad every time we visited her.  It is a simple sour cream – vanilla custard, studded with raisins, topped with fluffy meringue.  You could substitute any dried fruit, I've used dried sour cherries, but I do like the raisins, as that's what my Grandma used.
Feel free to use your own pre-baked single pie crust or a store-bought one if you like.  Likewise, you can top the custard with a simple meringue of 2-3 egg whites and a few Tablespoons of sugar, or you could use the more complex one I've included, from Allrecipes, which creates a fluffy meringue that doesn't deflate or weep, even when refrigerated. (It is fantastic!)
Author:
Prep Time:

15-20 min

Cook Time:

20-25 min

Total Time:

35-45 min

Yield:

1

–

9

" pie

1

x
Category:

Pies

Method:

Stove and Oven

Cuisine:

American
Ingredients
For the Crust
Single, pre-baked pie crust of your choice
For the Custard
1

c

Sour Cream

1

c

Raisins, stewed (Pour boiling water over the raisins, let stew for 5-10 minutes,drain)

3/4

c

Granulated Sugar

2

lg egg yolks

1

t Natural Vanilla Extract

1

T AP flour

1/2

t Salt (I use a heaping

1/2

t)

1/2

c

Walnuts, chopped
For the Meringue
1/2

c

Water

1

T Cornstarch

8

T Granulated Sugar, divided

3

Lg egg whites

1/4

t Cream of Tartar
Pinch Salt

1/2

t Natural Vanilla Extract
Instructions
Make the Custard
In a medium saucepan, mix the sour cream, sugar, egg yolks, and flour over medium heat.  Stirring constantly, cook until thick, about 5-7 minutes.
Add vanilla, salt, drained raisins and walnuts.  Stir.  Pour into pre-baked shell.
Make the Meringue
In a small saucepan, heat the water, cornstarch, and 2 T sugar over medium-low heat, stirring constantly until thickened.  This should take just 2-4 minutes or so.  Mixture may remain cloudy.  This is ok.  Once mixture is thick and smooth, remove from heat and let cool a bit.
Place the egg whites, cream of tartar and salt into a metal (or glass) bowl attached to a stand mixer.  Mix until frothy.  Once whites are frothy, add the vanilla extract, and slowly stream in the remaining 6 T sugar and continue to whip until soft peaks are formed.
Slowly stream in the water-cornstarch mixture and continue to whip until stiff peaks are formed.
Pile meringue atop the custard.  Brown in 350F oven for 10-15 minutes or until it is browned to your liking.
Cool pie at room temperature, then store in the fridge until ready to serve.
Recipe Card powered by
Want to save this Recipe for later? Pin it!