Are you a Trend Follower? A bandwagon-jumper?  I usually am not, really.  I like to think of myself as one in the "Early Majority" on the Adoption Curve, not really "cutting edge", but not a "laggard" either. Majoring in Biology in College, I was taught to be the inquisitive skeptic concerning just about everything new, unless it was attached to results a Randomized, Well-Controlled trial with undeniable statistical significance. Then, it happened…one fine day, I jumped on the Bandwagon.  It was that bandwagon that was making the rounds a couple years ago that said, "Coconut Oil is a wonder!  Use it on and in EVERYTHING – food, hair, skin, you name it! Sure, it has lots of saturated fat, but it's healthy, I swear!"  Except that, for me, it wasn't really healthy, apparently.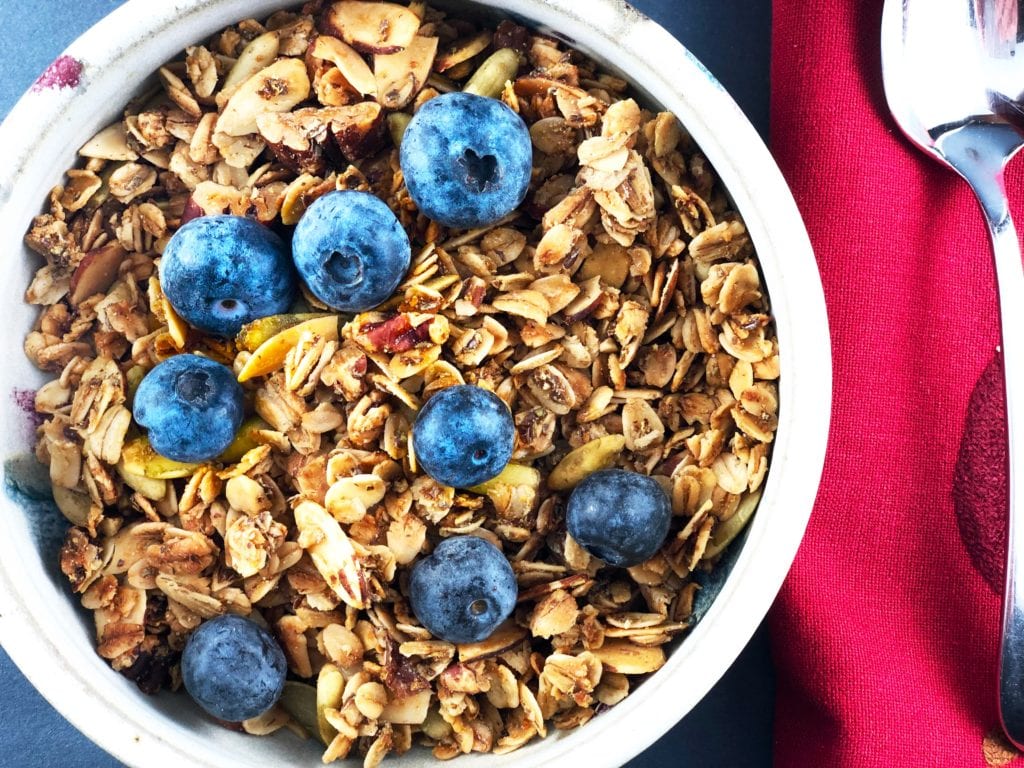 Just to give a little backstory here – I'm a granola-maker.  I've been making and eating My own granola for years now. I love it, I never get tired of it, I eat it just about every morning. Religiously. I eat my Healthy Homemade Nutty Granola over Greek yogurt and with some fresh fruit, adding some crystallized ginger and dried cherries. Starts my day just right! So the story here is that I used to use Canola or Sunflower oil in my Granola recipe.  Then that bandwagon went by.  I jumped on, and stayed on, for about a year.  Then, to my horror, my cholesterol jumped, actually, a full-on leap really. A full 50 POINTS!  Not the good cholesterol either.  What the Heck???!!!  So I spent some time, dwelling on those astounding numbers and I realized the only thing I'd really changed in my diet was my use of coconut oil instead of something unsaturated for my beloved Granola.  So I jumped right back to the canola/sunflower side of the street and a few months later marched myself right back to the lab to have my blood drawn.  And, Voila! Down 50 points (really 48, but … rounding is a thing here).  Whew!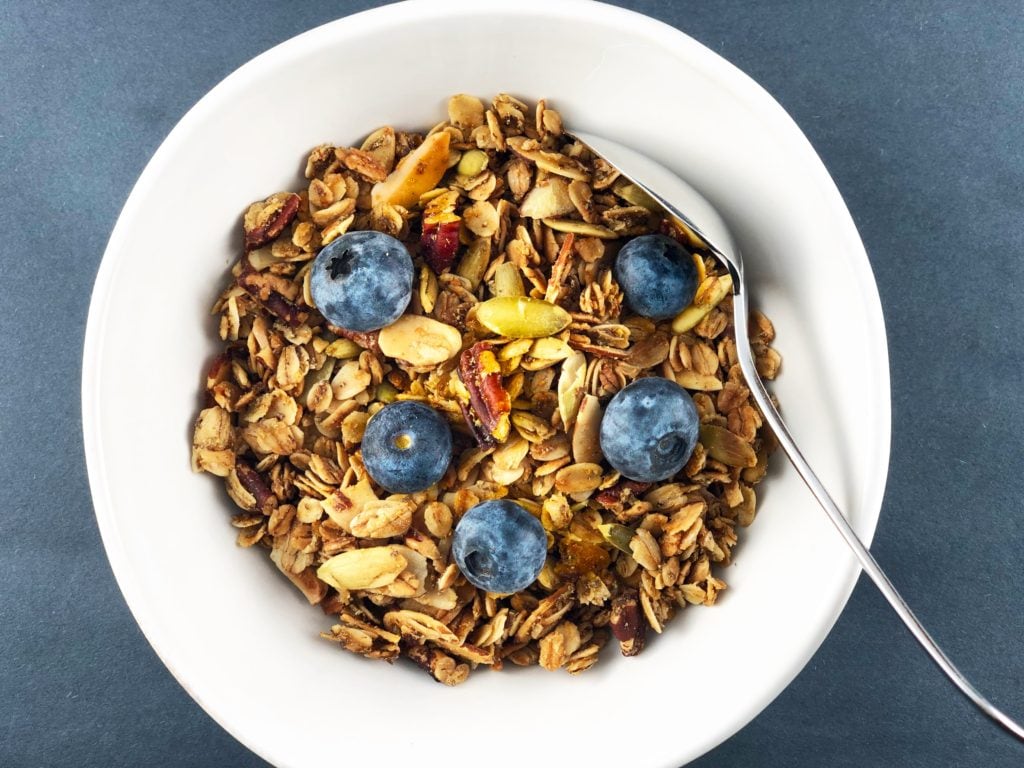 And maybe it's the scientist in me, but, seeing how that small change can make such a big difference, I decided I would give Extra Virgin Olive Oil (EVOO) a go in the recipe. Just as a comparison, a single-person study. (Hey, not really scientific, I know, but no judgment, ok?) My thought was that if coconut oil is bad, and canola oil is neutral, maybe olive oil will be good?  So I've adjusted my recipe to include olive oil instead of the others.  Even though the jury will be out for a few more months, I thought I should share the recipe. You see, I was hesitant to try EVOO since it sometimes doesn't make foods crispy, and I do like my granola crispy.  But I was wrong (twice in the same post, I'm freely admitting it(!)) again.  This granola is nice and crispy and oh-so delicious! Maybe cholesterol-lowering too, but of course, that's TBD.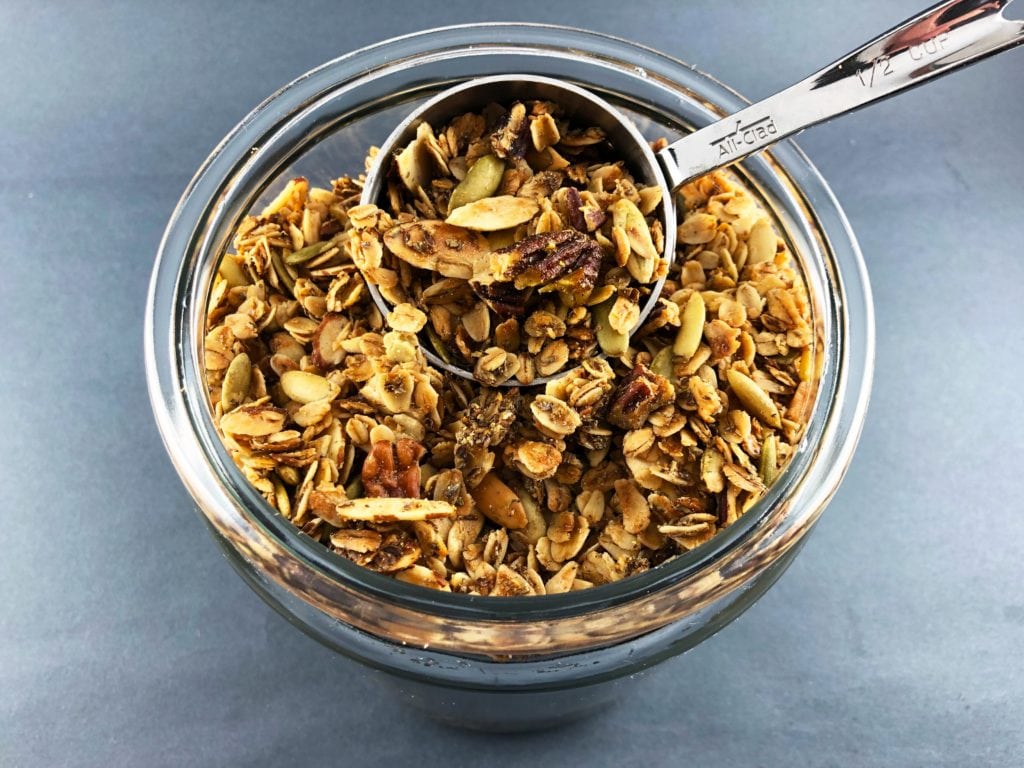 So feel free to jump on my Bandwagon!  The Healthy Homemade Nutty Granola Bandwagon.  I'm never getting off of it! Enjoy!
Print
Healthy Homemade Nutty Granola
My favorite granola!  Filled with nuts and oats, it's great on its own or served with yogurt and/or fruit!  I like it with dried cherries and crystallized ginger.  So easy to make, too!
You can pretty easily cut the recipe in half, too, if you aren't ready to commit to this much granola. No need to be exact, but 4 cups oats with a total of 1 1/2 – 1 3/4 cup nuts, 1/2 c flaxseed meal, 3/4 t salt, 3 oz. oil, 5 oz. maple syrup should get you there.
I've found that many ovens perform differently than mine for this recipe.  I bake on a "Pure Convection" setting of 335F for about 36-38 minutes, but it might bake faster on a traditional bake setting. And, I realize 335 is a different temperature, but it's the one that works.  So just keep an eye on it.
Author:
Prep Time:

10 mins

Cook Time:

38 mins

Total Time:

48 mins

Yield:

15

-

16

cups granola

1

x
Ingredients
8 cups

rolled oats

1

c flaxseed meal

1 1/2

c shaved almonds

1

c roasted/salted pecans, chopped

1

c pumpkin seeds (pepitas)

1 1/2

t salt

9 oz

. Pure Maple Syrup (1 c plus

2 Tablespoons

)

7 oz

. Extra Virgin Olive Oil (EVOO)
Instructions
Preheat oven to 335F. Line 2 large baking sheets with parchment paper (or brush with 1 T EVOO) In a large bowl, combine oats, flaxseed meal, almonds, pecans, pepitas, and salt.
In a medium bowl, pour in the maple syrup and EVOO (See Note).  No need to mix.
Pour the liquids over the dry ingredients, mixing as you go. Mix until all liquid is attached to the dry ingredients.
Divide mixture between the baking sheets. Bake 36-38 minutes, stirring occasionally until golden and crispy.  Cool on the sheetpans.  Store in air proof container or zippered bags.
Notes
For the liquid ingredients, I just measure them out in a 2c glass measuring cup, making sure the total is 16 oz.  Makes this step so much easier!
Recipe Card powered by