Ok, I know you see the title of this recipe and think its just a continuation of my Rant from last week, but I'm here to tell you – it is absolutely not!  While I do enjoy an occasional rant as much as the next person (especially when it is about me), this cake is rant-free, because it is so freaking delicious. You totally need it in your cake repertoire! I've been planning to bake this Olive Oil Cake since I saw and read about it in the November Bon Appetit. It really is EVERYTHING – easy to put together, one pan, so delicious on its own you don't even need to top it. But, of course, you will want to top it – I served it with lemon curd and raspberries! I also noticed that it's tall enough you could probably slice it horizontally and make it into a layer cake. And, if you're anything like me, you will be happy you don't have to decide among almond, lemon and vanilla flavoring because it includes all of them!  It serves as a breakfast or brunch dish as easily as a dessert, too, since it isn't overly sweet. (Because who doesn't want dessert for breakfast?)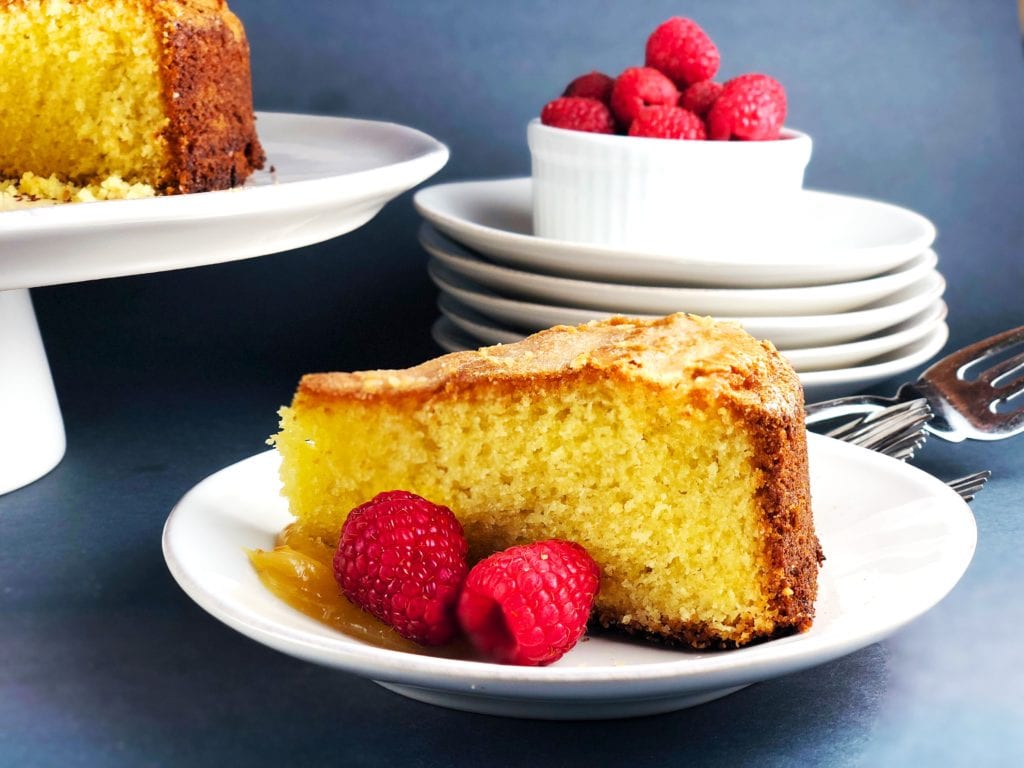 This simple-looking cake tastes anything but simple.  The top and bottom both have an ultra-thin layer of sugar to provide just a bit of pleasing crunch to every bite. And just to get it out there – Olive Oil Cake DOES NOT taste like olives! (Extra-Virgin Olive Oil is a neutral flavor.) The inside is fluffy and soft, with the flavor of poundcake but without the density. When you taste it, you definitely taste "homemade from scratch".  A hint of almond. A hint of lemon. A hint of vanilla. All distinct. And don't even get me started on the aroma. Seriously, you won't be able to stay away. Also, since there is no dairy, Olive Oil cake lasts for days when wrapped in plastic. I kept wanting to unwrap it, just to smell it – that was my excuse, anyway.?  So I couldn't tell you exactly how many days it lasts, as mine didn't make it past day 3.  And that's only because I wrapped it so tightly no one could get into it until day 2, as per the recipe. But, word has it, at least 4 days. Like many baked goods, it was definitely even better the second day.
Now, who wants cake?
Enjoy!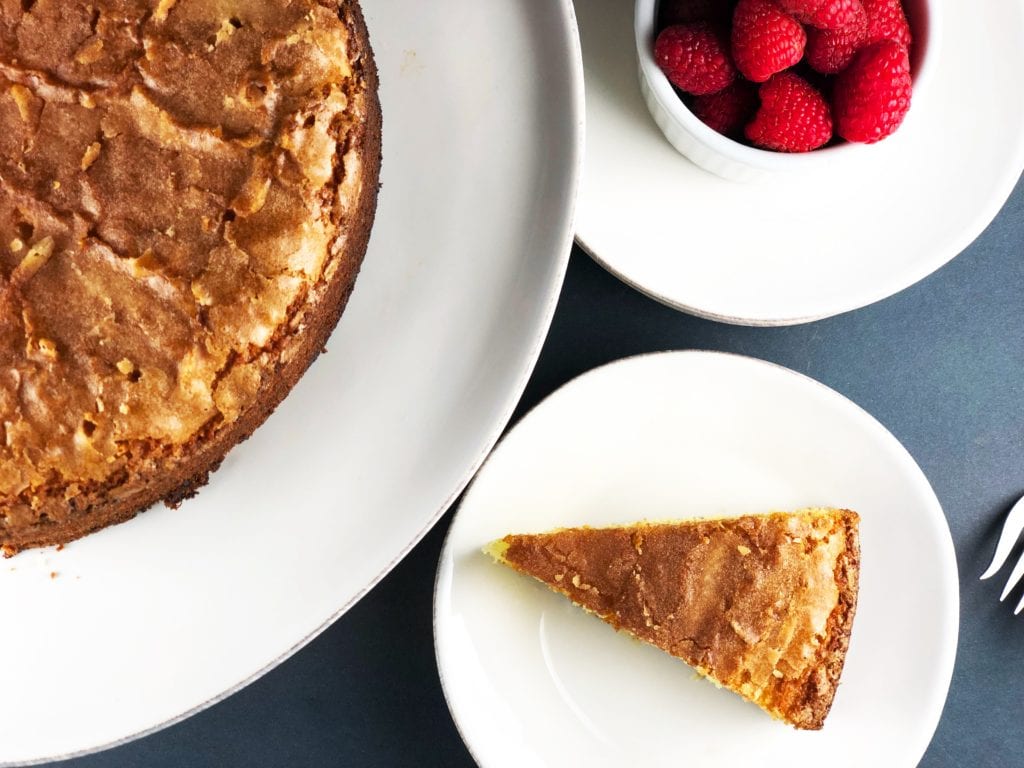 Print
Olive Oil Cake
A simple cake, made with olive oil instead of butter.  Almond, vanilla and lemon flavor this delicious cake!  It is scrumptious on its own, or top it with lemon curd, frosting, whipped cream and/or fruit. Perfect with afternoon tea!
Keeps for days when wrapped in plastic and stored at room temperature.
Recipe credit: Bon Appetit, November 2017
Special equipment: 9" Springform (or removeable bottom) Pan
Author:
Prep Time:

15 mins

Cook Time:

40-50 mins

Total Time:

60 mins

Yield:

10

-

12

servings

1

x
Category:

Cakes

Method:

Baking
Ingredients
1 1/4

plus 2 T Extra-Virgin Olive Oil (EVOO) plus more for pan

1

c plus 2 T Granulated Sugar, plus more

2

c Cake Flour

1/3

c Almond Flour (could substitute fine-ground cornmeal)

2

t Baking Powder

1/2

t Baking Soda

1/2

t Kosher Salt

3

T Amaretto, or other liqueur

1

T Fine-grated Lemon Zest

3

T Fresh Lemon Juice

2

t Vanilla Extract

3

Lg Eggs
Instructions
Preheat conventional oven to 400F, or convection oven to 350F. Brush or rub a layer of EVOO over bottom and sides of pan.  Place a 9" round of parchment in the bottom, smooth to eliminate bubbles, and apply a layer of olive oil over the parchment round. Sprinkle a generous layer of sugar in the bottom of parchment-lined pan. Lift and tilt the pan, tapping to create an even layer of sugar.  Tap out excess sugar.
In a medium bowl, whisk the flour, almond meal, baking powder, baking soda and salt.  In a small bowl, combine the amaretto, lemon juice and vanilla.
Using a stand mixer with the whisk attachment (or hand mixer works fine, too), beat the eggs, zest, 1 cup plus 2 T sugar, in a large bowl 3-5 minutes at high speed, until the mixture is very pale and thick and "falls off the whisk or beaters in a slowly dissolving ribbon".  While still on high speed, gradually stream in 1 1/4 cup EVOO and beat until incorporated. Mixture should be slightly thicker.
Reduce speed to low, and alternate adding the dry ingredients in 3 additions with the amaretto mixture in 2 additions, beginning and ending with the dry ingredients.  Fold batter several times with a large rubber spatula, while scraping the bottom and sides of the bowl.  Pour batter into prepared pan, smooth the top and sprinkle with more sugar (about 1 T).
Place the cake in the oven.  For conventional oven, lower temp to 350F.  Keep convection at 350F. Bake until top is light golden brown and tester comes out clean, about 40-50 minutes. (Mine took 40 mins.) Transfer to rack and cool 15 mins.
Poke holes all over the top of the cake with a toothpick and drizzle with remaining 2 T EVOO, allowing it to absorb into the cake. Run a knife around the ring of the pan and remove the ring from the pan.  Slide cake onto rack and let cool completely.
Best flavor and texture is achieved by wrapping cooled cake in plastic wrap and storing at room temperature for at least a day in advance of serving.
Recipe Card powered by