At Christmas time, we have many traditions – all centered around precious time with loved ones. One of my favorite is baking and candy-making. Each December I make my Chocolate-Dipped Macaroons and Ina Garten's Thumbprint Cookies to take to parties and give as gifts. But this year, I will be adding this fantastic English Toffee with Pecans. Many of you know I cook many Sundays with my good friend Teresa, and we've been doing this for years. I feature many of our creations here on this website. This past Sunday, when she came over, I offered her a piece of toffee I'd made the day before. "No, thanks" she said. "I just made a batch of my Mom's toffee this morning."(! – seems we sometimes cook together without even realizing!)
We compared recipes. Seems her recipe is virtually the same as mine. Equal parts butter and sugar with a bit of water and some salt. Hers looks different, she told me, a little darker and richer in color. Same recipe, but different results. Hmmmm. How does that happen? Can someone tell me why that would be the case, especially since the last time I made this recipe, mine was a bit darker as well. Could it be the weather? The humidity? Wish I knew. But that crunch! And the sweet buttery flavor with a thin layer of dark chocolate and some toasted pecans….. Mmmm. You can't beat it.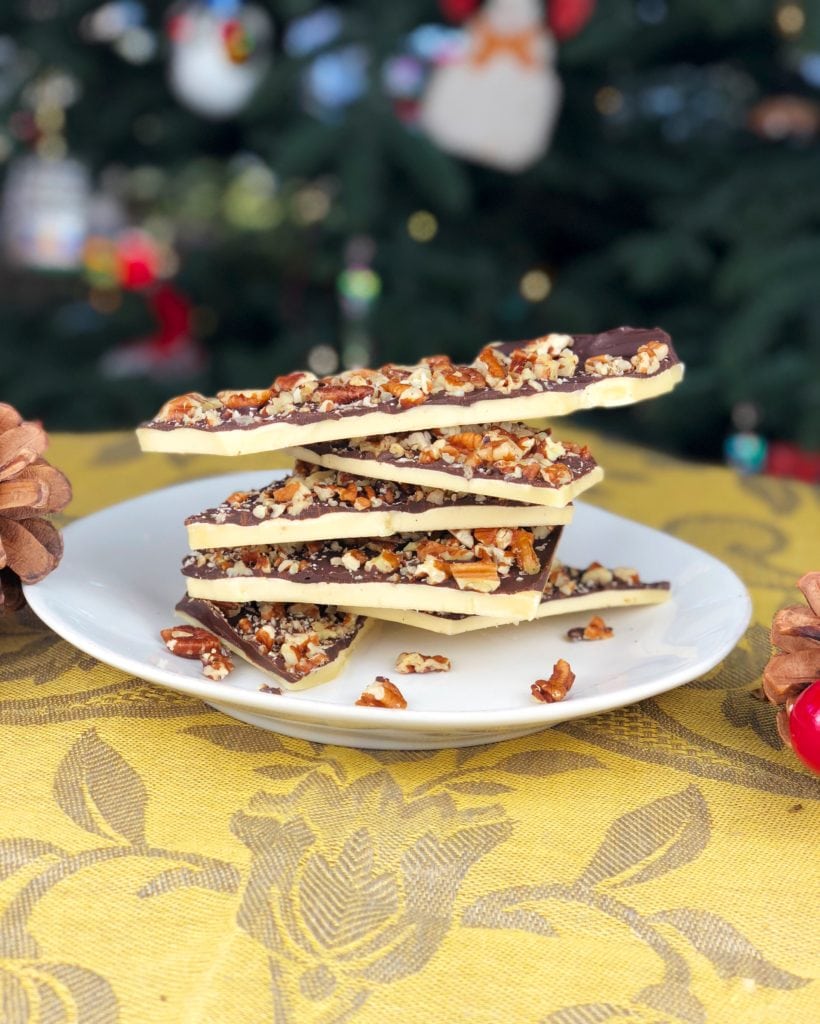 You would think this delicious candy would be difficult to make, given it can cost upwards of $25/lb or more at a candy store or even some markets. But, shockingly enough, it's pretty easy, as long as you have a Candy Thermometer and a little patience. It really is just butter, sugar, chocolate and nuts. Sounds simple, right?
The key is when heating the butter and sugar mixture, you need to heat it to 300 degrees F. It takes a while, maybe 20-25 minutes, and needs some pretty steady stirring. Much above the 300 degree mark, it will burn. Much below that temperature, it won't have that nice crack we like when we bite into it. When the temperature hits around 270F or so, it starts increasing pretty quickly, so I like to take it off the stove at 295 and pour it into the pan. That way, it likely continues to heat to just about 300 in the few short seconds it takes to get the pot to the pan. This logic hasn't failed me yet.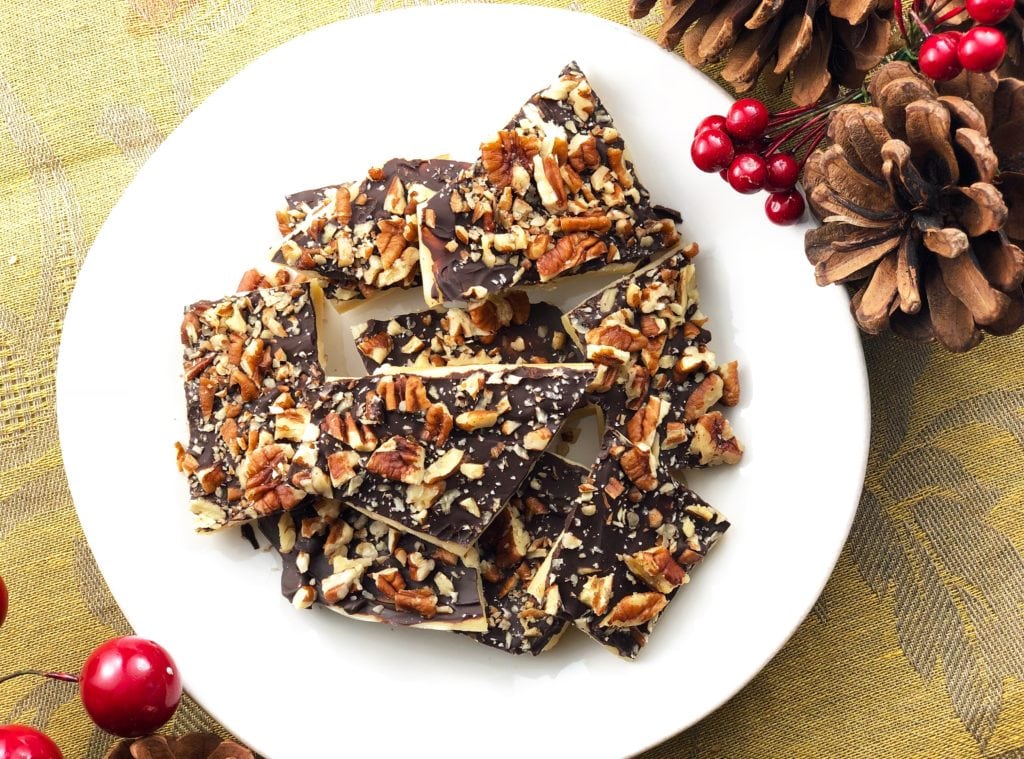 So make yourself or your loved ones some English Toffee with Pecans! Or take it to your next party. All who taste it will thank you. Enjoy!
Print
English Toffee with Pecans
This classic English Toffee is easy to make.  Just a few ingredients and a bit of time at all that's required.
This recipe makes 2 lb. of toffee, but if you want less, feel free to cut the recipe in half.
Special equipment needed:
Large edged sheetpan (aka jelly roll pan) – 12×17 or 10×15
Candy thermometer
Author:
Prep Time:

5 mins

Cook Time:

25 mins

Total Time:

30 mins, plus cooling

Yield:

1

–

12

x17 pan

1

x
Category:

Candy

Method:

Stovetop
Ingredients
For the toffee
1

lb

(2 cups, or 4 sticks, 454g)) butter, unsalted

2

cup

(400g) granulated sugar

1/4

cup

(57ml) water

1 teaspoon

salt
For the Chocolate Coating
2

c

(10-11 oz.) Bittersweet or Semi-sweet Chocolate Chips

2

c

toasted pecans, chopped
Instructions
Make the toffee
Line sheetpan with parchment paper, foil, or Silpat. In a heavy saucepan (3-4 qt.) with a candy thermometer attached, melt the butter.  Add sugar, water and salt.
Cook and stir over medium heat until sugar is dissolved.  Turn heat up a bit, and, stirring constantly, heat to 295 degrees. (This could take 15-20 minutes) The idea is to heat it to 300F, but the temperature increases pretty rapidly in range of 270 and higher, so that if you take it off the heat at 295F, it will probably reach 300 by time you pour it onto the pan.  If you wait to 300F, work quickly, as it will burn pretty quickly if you go much above 300.
Carefully pour the hot liquid over a buttered 12×17 Sheetpan, lifting and moving the sheetpan around a bit to make sure it is spread evenly.
Top with chocolate layer
Sprinkle chocolate chips over the toffee.  Wait 5 minutes, then spread evenly over the toffee layer.
Sprinkle chopped nuts across the melted chocolate, and press gently into the chocolate.
Allow to cool at room temperature for 2-3 hours, or place in refrigerator for at least 30-45 minutes. Then break into pieces.
Store pieces in an airtight container.  Ok to put in refrigerator or freezer for longer-term storage.
Notes
For easier (or more even) breakage, you can score the toffee with a pizza cutter after pouring it into the pan.  Just wait a couple minutes, and, being careful to not go completely through the soft toffee, score into a grid pattern.  Then top with the chocolate and the nuts.  When hardened, it's a bit easier to break into evenly sized pieces.
Recipe Card powered by