What's better than a buttery, shortbread-style cookie? I can tell you – what's better are buttery shortbread-style Thumbprint Cookies that have tangy jam and toasted coconut! Tender, buttery, coconut-ty, jammy! A cookie better than the sum of its marvelous parts!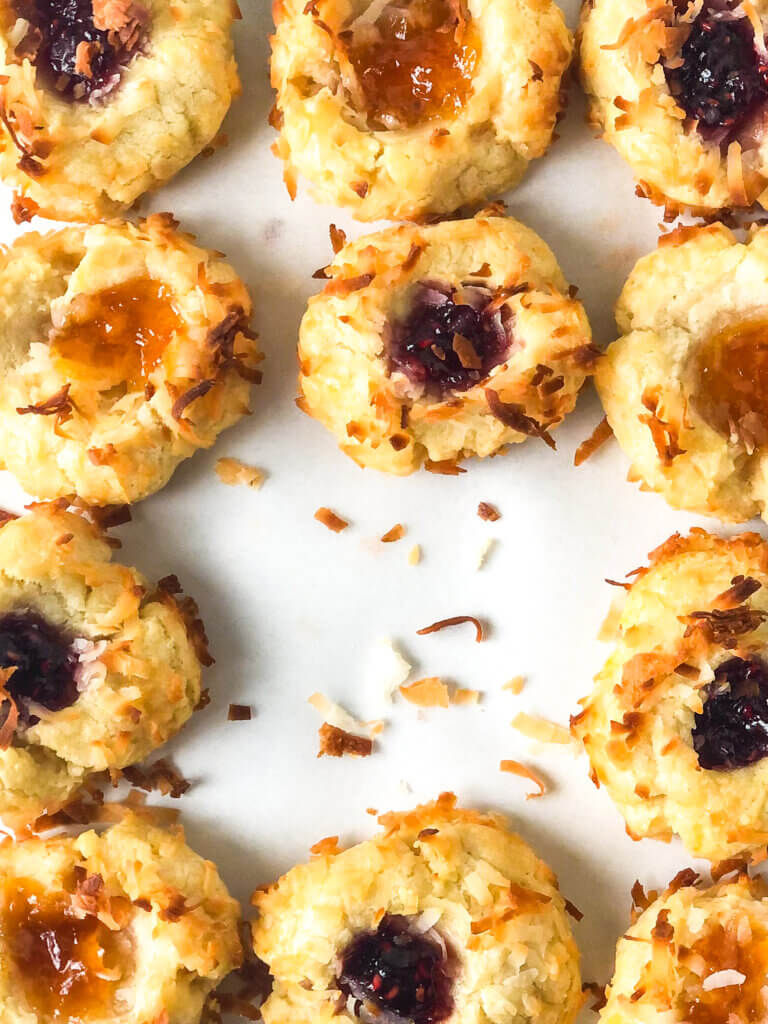 I've made these amazing cookies for years. They are among my all-time favorites: tender, buttery shortbread, toasty with coconut, tangy with fruity preserves. But, like many recipes, I was never able to make the number of cookies the recipe said it would make. And, I know this is picky, but I would consistently be able to make 29 or 30 cookies, when I should be able to make 32. Now, that may not bother you, but it did me.
I've finally figured out the problem. And I blame Mrs. Smulkstys. Now, don't get me wrong. I respect and admire Mrs. Smulkstys. She was my High School Chemistry (and Advanced Chemistry — yes, I was THAT student) teacher. She was from Lithuania, she was brilliant, and she had the most captivating accent. She taught me so many things. And, turns out, these things are also important in baking. Seriously, read on…
First, always have a clean space. Right? It's important to have a clean space to put your baked cookies, like you lab glassware, to cool, because you don't want them to be contaminated. Of course this makes sense. Second, be sure to properly measure all your chemicals (ingredients) into the appropriate clean container. Because details are important! This will ensure the reaction (recipe) works properly. And, third, be sure to remove all of the substance (ingredients) from the container when experimenting (baking!). Because, Yum!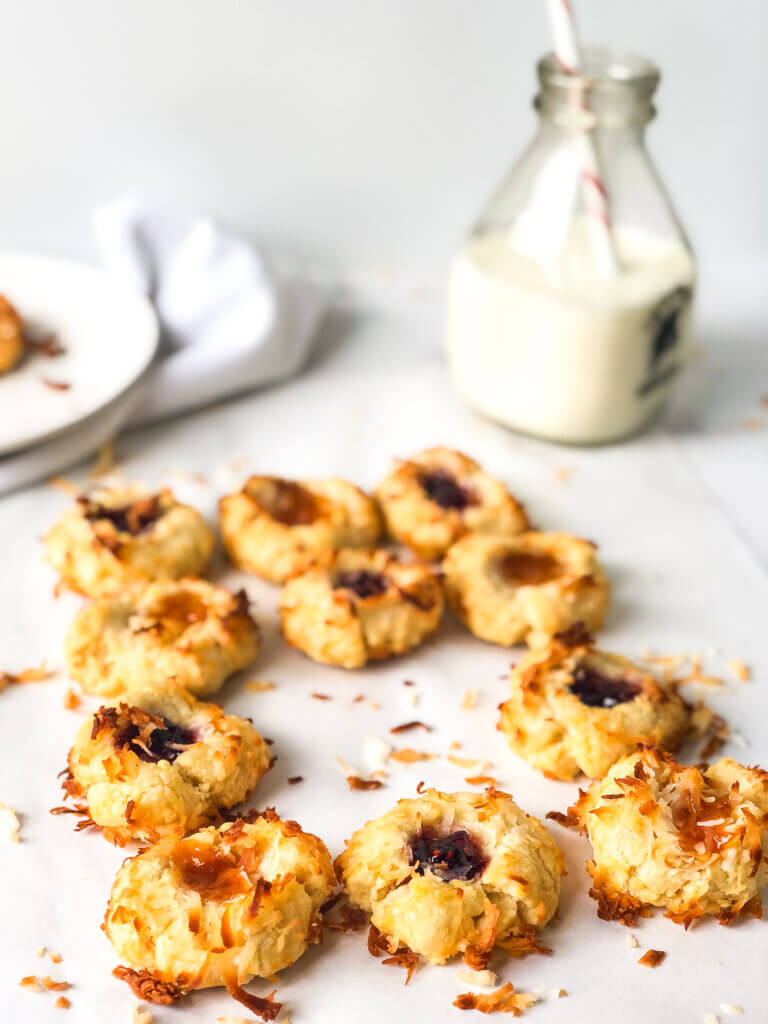 Ok, so it was Rule #2 where I went wrong. Mrs. Smulkstys taught us that 30ml was 1oz, which means 30g is 1oz weight. She obviously let us round, (possibly because we were 16-year-olds in charge of our own Bunsen burners) because obviously (is it?) 1oz is actually 28.3 grams. That means my 30g portions were too big. Whew! Now that I've solved that problem, I get exactly 32 cookies from this recipe. I hope you're as relieved as I am!
But, truly, whether you get 30 cookies or 32 cookies, the only real problem with these cookies is that once you make them, you won't be able to stop! It's a good thought to save them for the holidays, because they are THAT special. They are from the incomparable Ina Garten as seen on Food Network.
Over the years that I've been making these, with only the tiniest adaptation, I've found one secret to success is to pay attention to the butter. Be sure it is room temperature. Be sure it is unsalted. I add a bit more salt to the recipe than does Ina (I like 1/2 tsp, rather than 1/4 tsp.). This is another reason to be sure the butter is unsalted to begin with. This will allow you to make the perfect dough. But if you only have salted butter, don't worry, they will still be fantastic! You can always make a change next time you make them, because, these are per-fec-tion. You'll definitely make them again.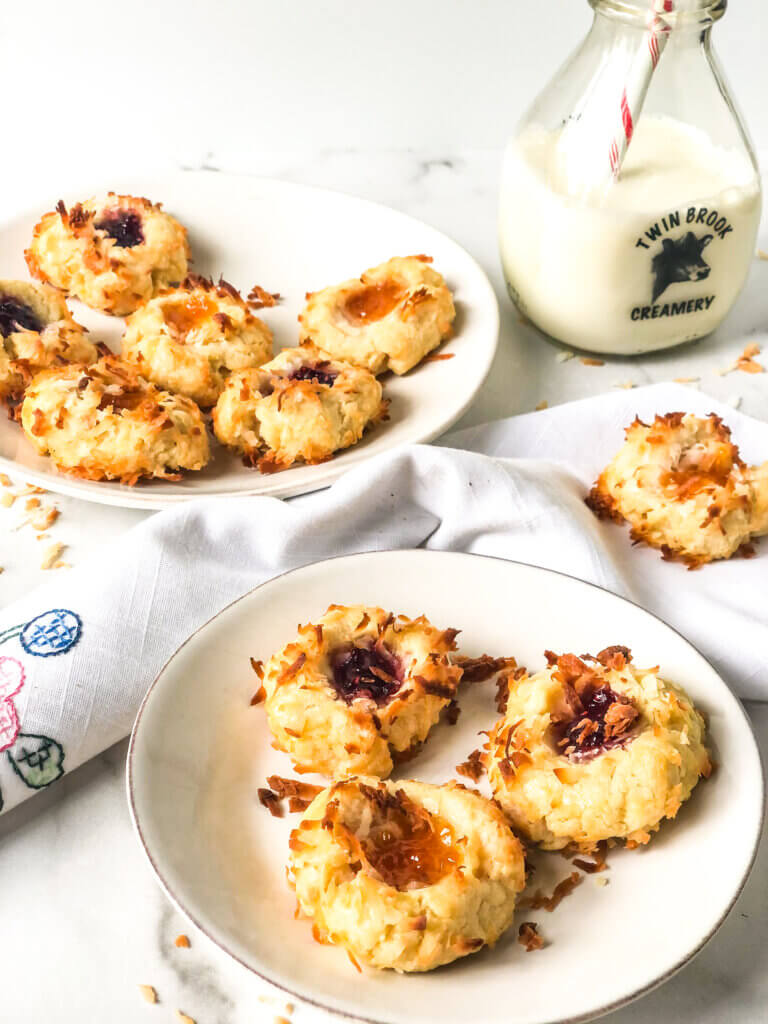 I look forward to these thumbprint cookies all year, and I so enjoy them at the Holidays! I hope you will, too!
Enjoy!
Looking for other cookie recipes? How about one (or more!) of these:
Chocolate-Dipped Coconut Macaroons
Chewy Ginger-Rye Molasses Cookies
Caramelized White Chocolate Peanut Butter Fudge
English Toffee with Roasted Pecans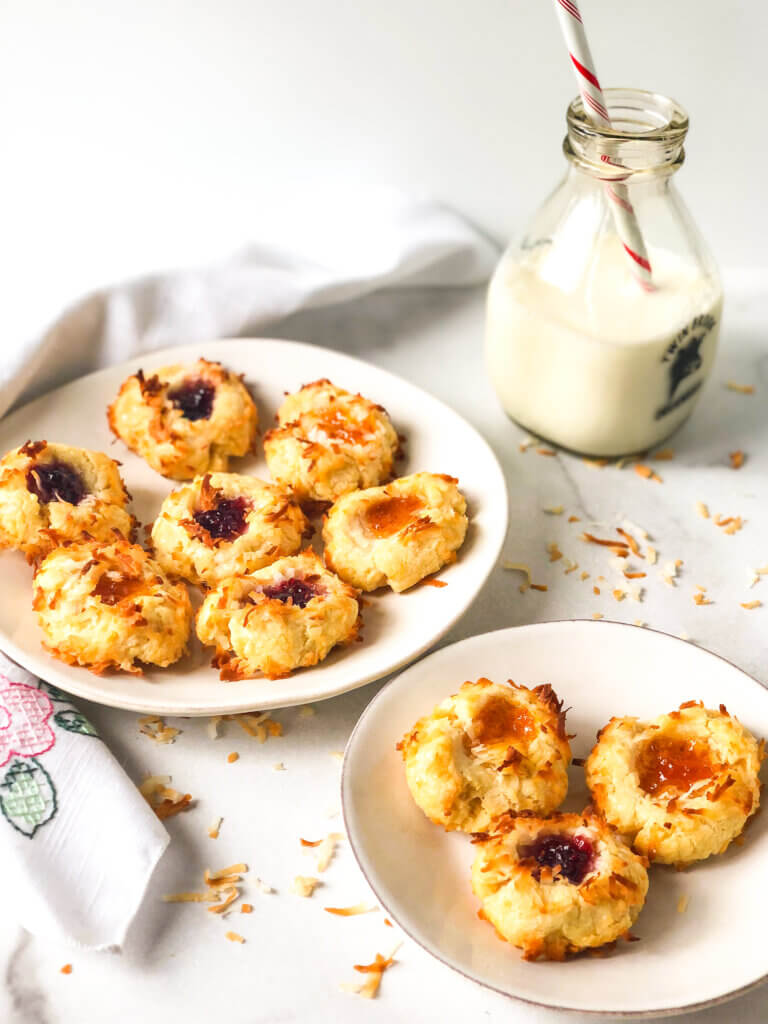 PIN Thumbprint Cookies Recipe for Later ->
Thumbprint Cookies Recipes Details ->
This post may contain affiliate links. As an Amazon Affiliate, I may earn a small commission, at absolutely no cost to you, for purchases you may make of items linked from this site.
Some items you may need for this recipe:
Stand Mixer – I use a Kitchen Aid, I just replaced the one I bought 30 years ago!
Kitchen Scale – I highly recommend using a kitchen scale. You'll be so happy you have one when you can easily measure ingredients and measure all the cookies to be the same size. This makes for even baking. They all work similarly, so choose one that fits the vessels you like to mix in. You won't believe how quickly you'll be able to recognize a 28.3 gram portion of dough, just by the feel of it. Seriously.
Sheetpans – preferably 2, if not 3, I love love love my USA Pan Sheets!
Sweetened Coconut Flakes – half a bag is all your need!
A good jam or preserves – for these cookies, I always use Bonne Maman Apricot and Raspberry, you don't need much, just 1/4 tsp per cookie.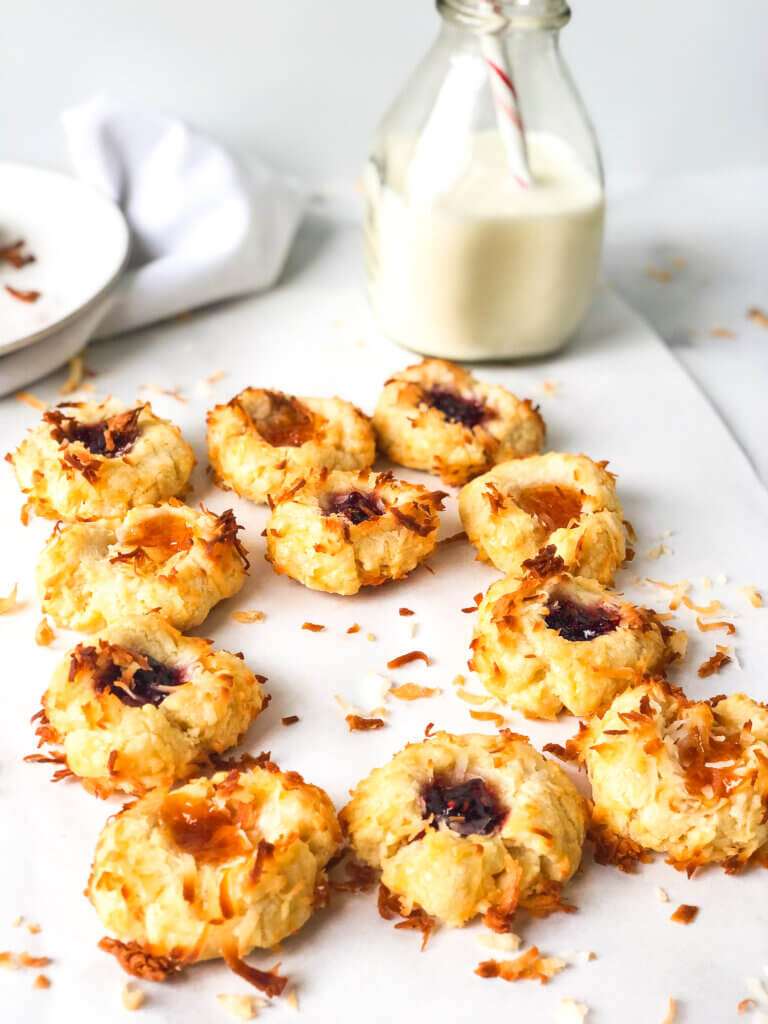 Making the Cookies
Now, these cookies are so easy to make. Truly, you'll just mix the butter – set it out the night before so it's room temperature – and sugar, at medium speed until they are combined – 2 to 3 minutes. Then add your vanilla, beat 20 seconds more. Sift your flour and salt over the butter mixture and beat just until a dough is forming – another minute or two. Next, dump that mixture out onto a sheet of plastic (or wax paper). Shape it into a disk, cover it tightly and into the fridge for 30 minutes.
That time will give you a chance to preheat the oven, line your sheet pans and set up your assembly for making the cookies. 
Measure all your dough into balls of 28-29 grams, or if you're can't help yourself and your scale measures to 28.3 grams, knock yourself out. Shape them into balls, dip the balls into the egg wash, then the coconut. Set the balls on the sheet pan. Then press your thumb into each to create a little indentation. Using a 1/4 teaspoon (4 ml) measure, place 1/4 tsp jam into each indentation. 
Baking the Cookies
Once the pans are ready, bake in the preheated oven for 18-22 minutes. Cookies are done when the cookie looks just set, starting to be golden, and the coconut is a lovely golden brown. Remove the sheets, let the cookies cool 2-3 minutes before removing them to your counter or a board to fully cool.
These delightful cookies are fresh when placed in an airtight container at room temperature for 3-5 days. They keep well in the freezer, if you separate layers with parchment, wax paper or plastic wrap and in an airtight container up to 2 months. 
Print
Jam Thumbprint Cookies
Jam Thumbprint cookies, just barely adapted from Ina Garten are one of the tastiest cookies around! Perfect for the holidays and easy enough to bake anytime! 
They are a tender shortbread-like cookie, covered in sweet, toasty coconut and have a little puddle of tangy, sweet, fruity jam! So so tasty!
Author:
Prep Time:

10 min mixing, 20 min forming cookies

Cook Time:

20 min

Total Time:

50 min + 30 min refrigeration

Yield:

32

cookies

1

x
Category:

Cookies

Method:

Baking

Cuisine:

International
Ingredients
3

sticks, (3/4 lb, 340g) Unsalted Butter, at

room temperature

1

c (200g) Granulated Sugar

1 tsp

(5ml) Pure Vanilla Extract

3 1/2 cups

(

438g

) All Purpose Flour

1/2 tsp

Kosher Salt

1

large egg, beaten with 1 Tbsp (15ml) water, for egg wash

7 oz

. (

200g

) Sweetened, Flaked Coconut 

8 Tbsp

(

112g

) Apricot or Raspberry Preserves or Jam
Instructions
Make the Dough:
Using a hand mixer, or a stand mixer fitted with a paddle attachment, at Medium speed, combine the butter and sugar. You don't want to whip it until it's fluffy, but just get it well-combined, about 2-3 minutes. Add the vanilla and combine until incorporated, abut 30 seconds. Sift the flour and salt over the butter mixture and beat at medium low until it begins to form a dough, a minute or 2.
Tear a sheet of plastic wrap about 20 inches long. Dump the dough out onto the sheet, and using the sheet, form the dough into a disk about 1-1.5″ thick. It will be 9-10 inches wide. Refrigerate the disk 30 minutes. 
Prepare the egg wash in a small bowl. Pour the coconut into a medium-sized shallow bowl or pie plate. Preheat oven to 350F (Conventional Oven) or 335F (Convection/fan).
Form the Cookies:
Line 2 cookie sheets with parchment or butter. After 30 minutes of chilling, remove the dough from the refrigerator and unwrap. Cut sections of dough that are 1-oz, 28.3g. (I used a kitchen scale and mine weighed 28 or 29g apiece.) Form the sections into a ball. Dip each ball into the egg wash. Then roll the egg-washed ball into the coconut, getting it nicely coated. Place the balls onto the lined cookie sheets, 12 per sheet.
Using your thumb, make an impression, or an indentation (maybe 1/2″ deep) into each ball. It will form into something like the shape of a volcano that has erupted. Place 1/4 teaspoon (1.5ml) preserves into each well. Once the pans are filled, bake in preheated oven until the cookies are just set, starting to color, and the coconut is nicely golden. If the coconut gets too dark, you will want to lower one temperature a bit. Bake 16-22 minutes. Mine were done at 18 minutes. If you bake 1 pan at a time, they will likely be done on the quicker side (16 minutes). Remove from oven. Let cool slightly on the pans for a few minutes, then remove to a cooling rack to cool completely.
Store cooled cookies in an airtight container, either at room temperate for 3-5 days, or in the freezer for up to 2 months.
Keywords: thumbprint cookies, jam thumbprint cookies, how to make thumbprint cookies, Ina Garten recipes, Ina Garten thumbprint cookies, Holiday cookies, Christmas cookies, shortbread cookies, jam thumbprint cookies, cookie recipes, easy recipes
Recipe Card powered by