These Chewy Ginger Molasses Cookies are absolutely the best I've ever tasted! Nice and chewy molasses cookie with warm spices and bits of crystallized ginger, a bit of crunch from the Turbinado Sugar streusel, and a uniquely beautiful flavor from rye flour!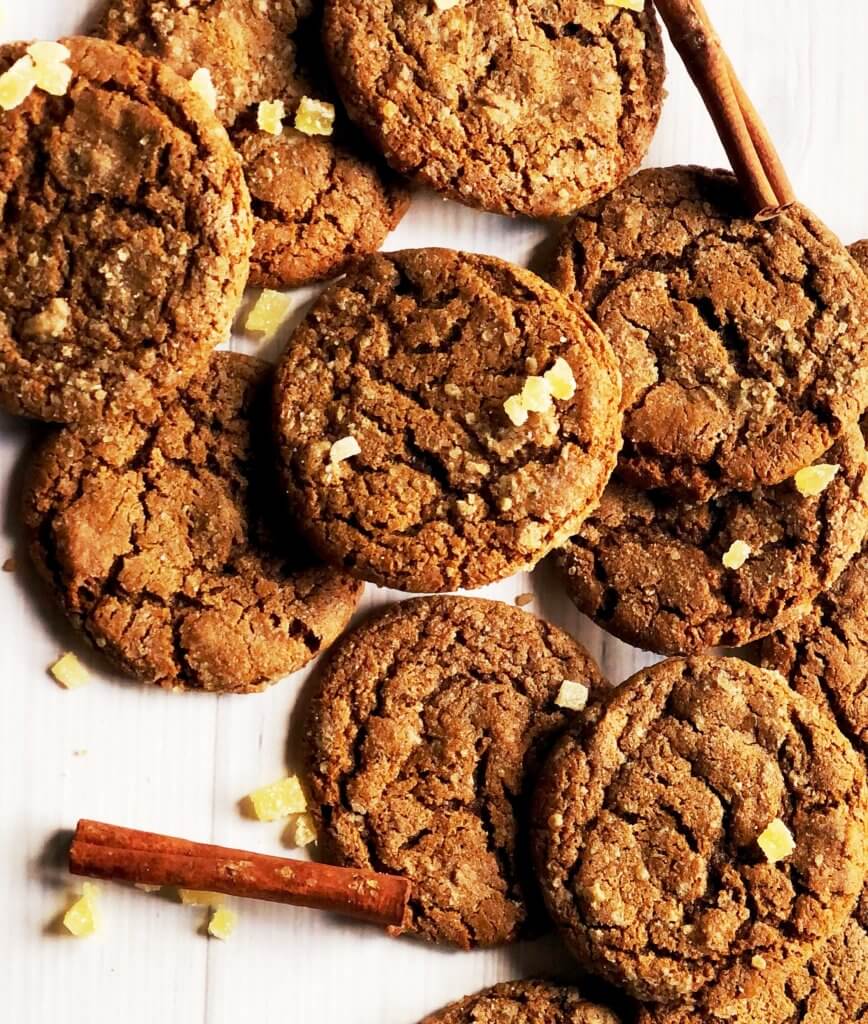 When I was a kid, I always wanted to make and decorate a Gingerbread House. Not because I had any architectural dreams or artistic home decorating ideas, but really just because I wanted to eat the gingerbread. So, one winter, our Mom made some gingerbread cookies and let us decorate them. I think because she knew we really cared more about eating the cookies than building the house (these were the days before those DIY kits with all the pieces already made). So she got the gingerbread cutters and made some dough, carefully cut out the gingerbread people and baked them. They were adorable!
We couldn't wait to eat them. We waited for them to cool, decorated them with frosting and cinnamon candies. It took awhile, because we were a family of 8, so she must've made 50 of those ginger people. So when they were finished, and the mess properly cleaned up, I took a long-awaited bite….. So disappointing! They were rock hard, kind of bland, and, well, not what I expected. Perfect for house-building but sadly, not for snacking. So I steadfastly avoided Gingerbread cookies most of my life.
But that's where these Easy Ginger Molasses cookies come it. They are as close to perfect as a gingerbread cookie can be: soft and chewy, with some crunch from the simple streusel topping, and chew from the bits of crystalized ginger. Their flavor is not overly sweet, but warm with gingerbread spices and molasses. Also they have an unexpected ingredient that adds a certain something special to the cookie. And that ingredient is what drew me in! Rye flour. Not as unexpected as you'd think. It adds some nuttiness, maybe a little "malty" flavor? And totally amps up the chewy texture! Something truly special that compliments all the flavors and textures in this holiday treat.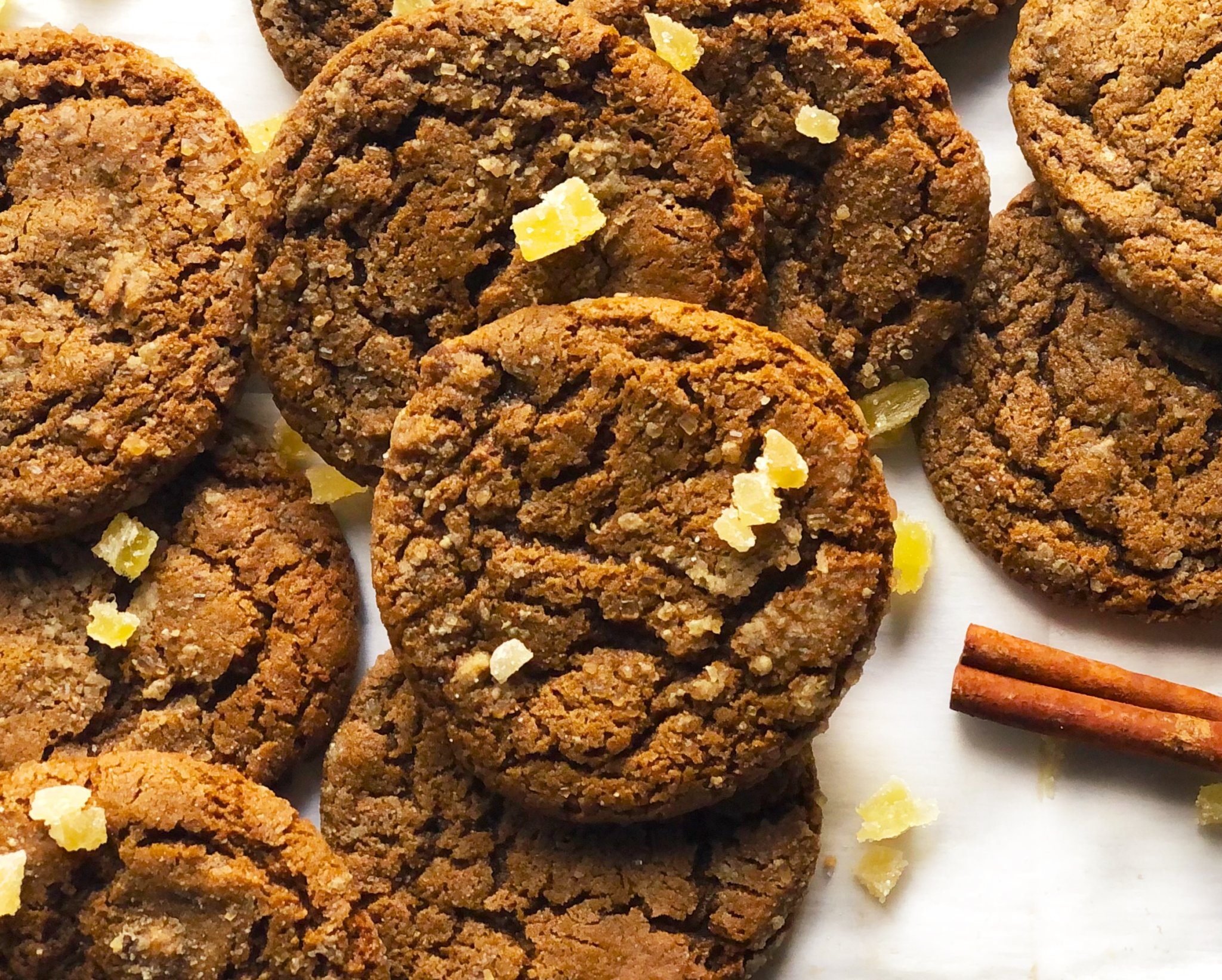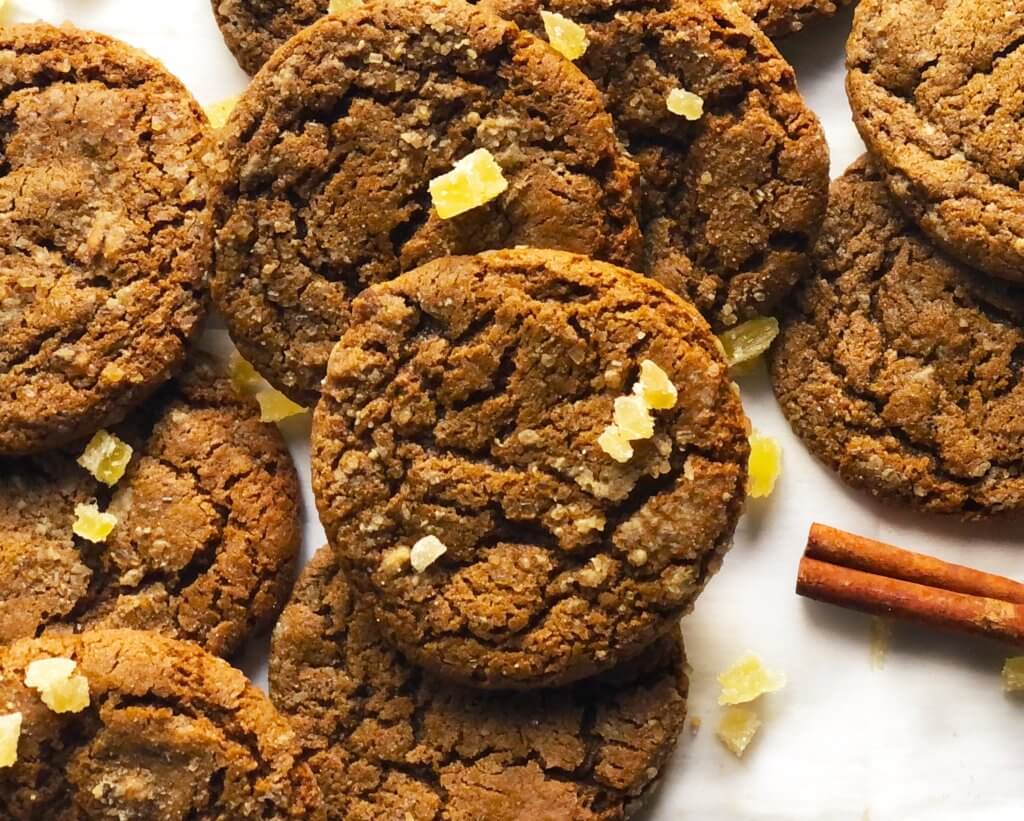 These soft and chewy ginger molasses cookies are a party of both flavor and texture. And to me, they are perfect as can be. I believe they will be for you, too! And will likely be a permanent fixture in my holiday repertoire.
This recipe is from Bon Apetit, December 2019. I baked these soft and chewy gingerbread cookies exactly as directed, except for substituting Turbinado sugar for Raw sugar. And I only made that substitute because I have had this big bag of Turbinado sugar in my house for awhile. But next time, I'll use raw sugar for sure because I believe it adds a little extra caramelly flavor. Not that these beauties need anything extra. They're pretty scrumptious as they are!
As an added bonus, no electric mixer is required, just a whisk and a spoon. Roll the dough balls in your palm and then dredge in the streusel mixture and pop them into the oven. I ended up with a lot of extra streusel, so I'd definitely recommend piling on the streusel as it does melt into the cookie while baking. Because, as we all think know, more is better, more is extra. And we all need a little extra sometimes.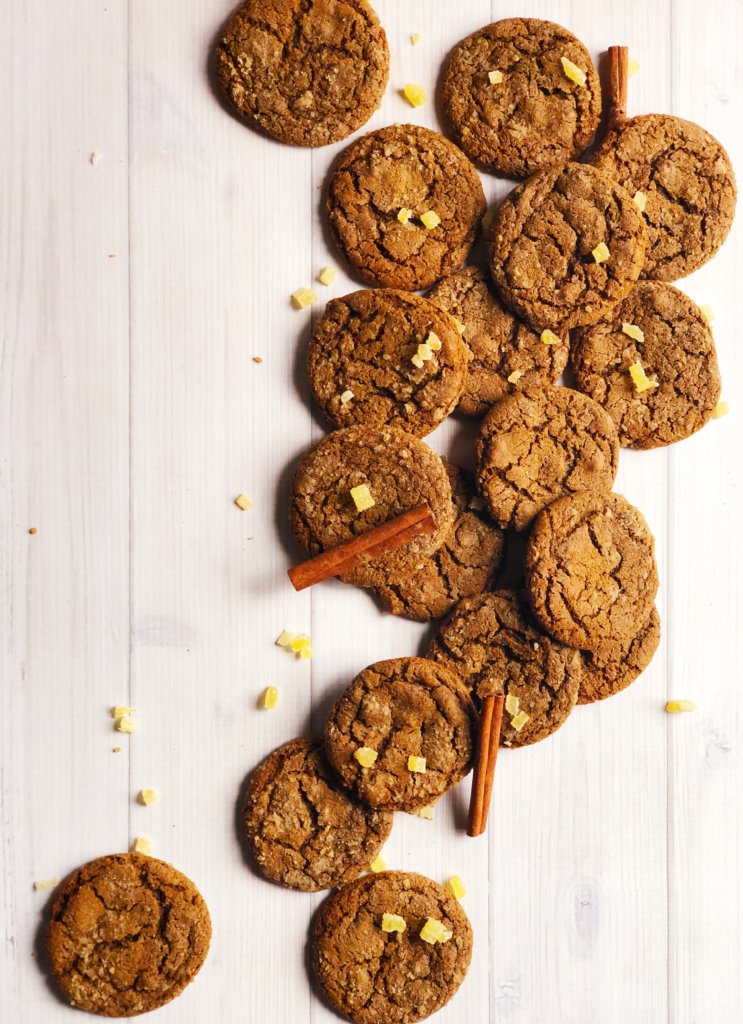 So try these Ginger Molasses Cookies made with rye flour. Let me know if they are your idea of the perfect Ginger Molasses Cookie. Because they are mine. And of others at my table. 
I'm curious to know: Have you ever baked with rye flour? What did you make? Because after tasting these Chewy Ginger Rye Cookies, I'm excited to use more of it in my baking!
Enjoy! 
These cookies are the star of my Christmas Treat plate this year, and will accompany my Chocolate-Dipped Coconut Macaroons, Ina Garten's Jam Thumbprint Cookies, my awesome English Toffee with Pecans, and this not-too-sweet Caramelized White Chocolate Peanut Butter Fudge.
Other Christmas treats include this White Chocolate Cranberry Loaf and my incomparable Chocolate Coconut Pecan Tart.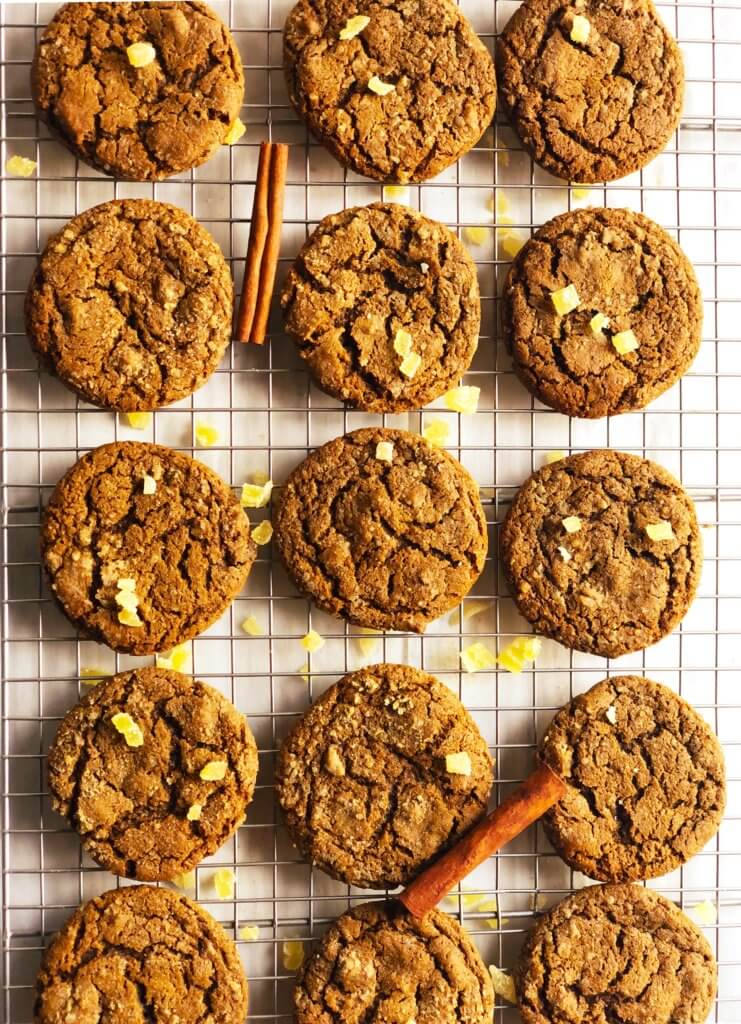 Recipe Details ->
These Chewy Ginger Rye Molasses Cookies are easy as can be. Just gather your ingredients, chopping the crystallized ginger tiny, like in my first photo below. Then whisk up the molassses, brown sugar, melted butter in a bowl. Add the yolks, whisk again. These are your wet ingredients.
Next, in a separate bowl whisk the dry ingredients: flour, spices, salt. Then stir in the finely chopped ginger. Fold the dry into the wet ingredients, just until there are no streaks of flour. Let that lovely dough rest for 30 minutes.
While you wait for the dough to thicken up a bit, preheat the oven and make the streusel. Just whisk together the dry ingredients, then take the back of a spoon and mash in the butter until the streusel looks like the photo below.
Then use a 1-oz, 30ml, or 2 T size scoop, (This is the one I use) and scoop balls of Ginger Molasses dough. Roll each in the streusel, place on a baking sheet, 3 inches apart. On a Standard half-sheet pan you should be able to get 8-10 per sheet. Bake until the dough is set around the edges and slightly cracked on top. Let them stay on the warm sheetpan 10 minutes, then transfer to a wire rack to cool completely. Cookies will appear puffy but will deflate a bit upon cooling.
You can store them in an airtight container at room temperature for 3 days, or in the freezer for up to 3 months.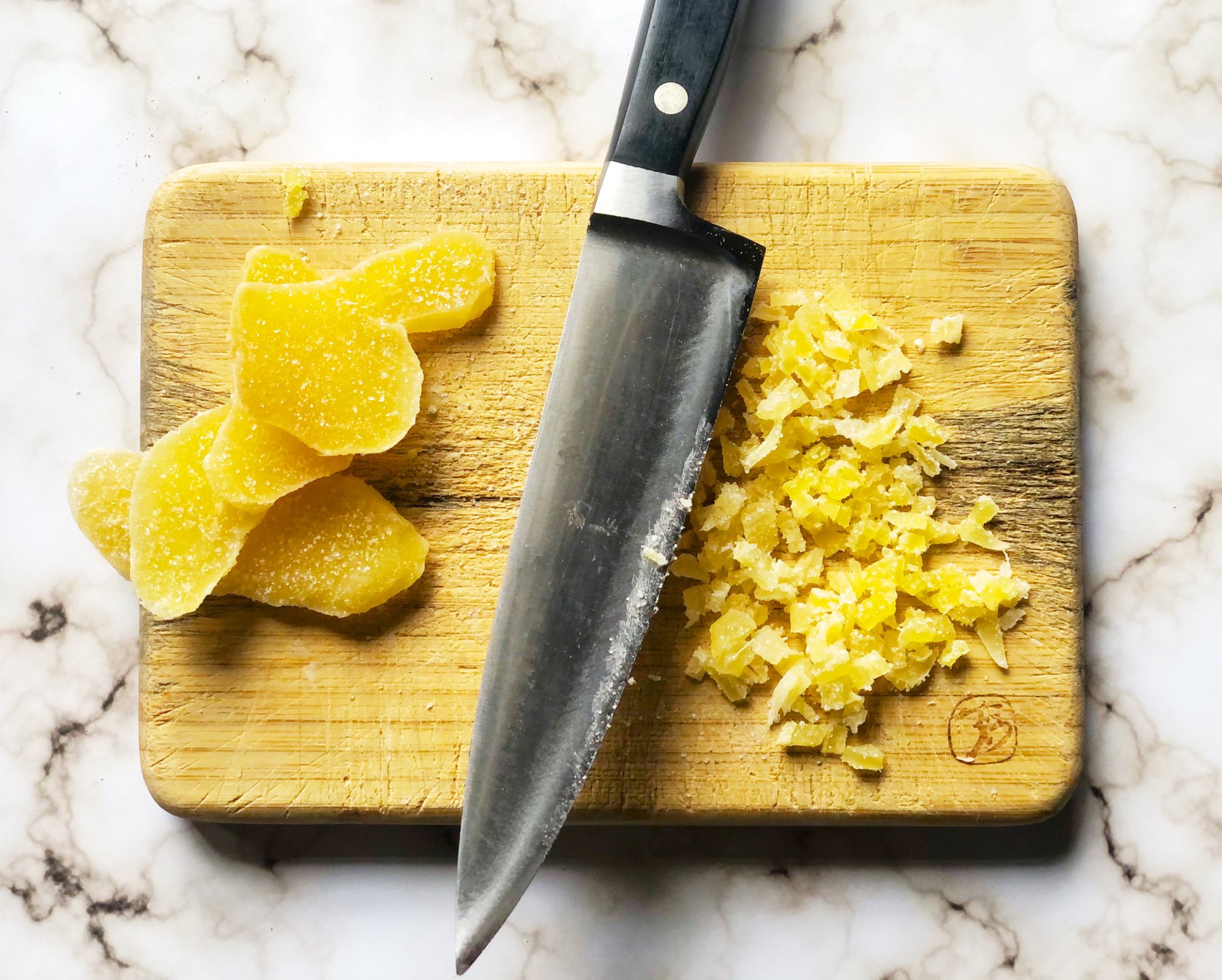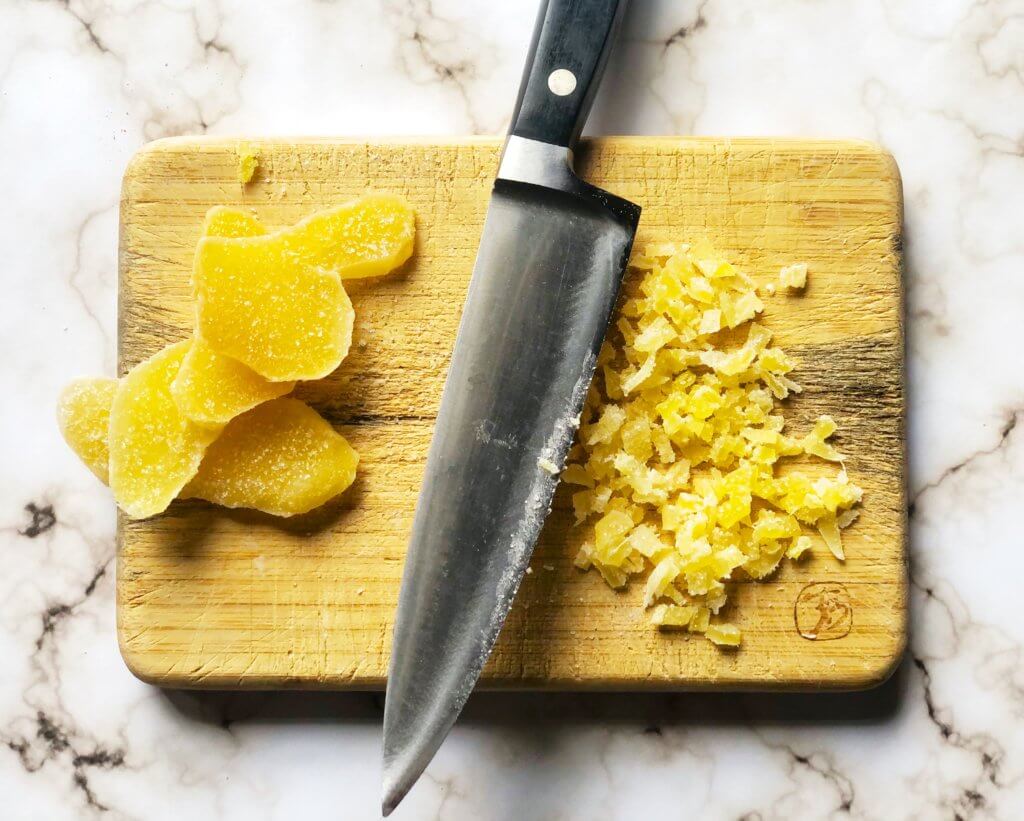 Print
Chewy Ginger Molasses Cookies
These Ginger Molasses Cookies are absolutely perfect! Warm spices in an ultra chewy cookie, studded with bits of crystallized ginger. Rye flour adds not only a lovely slightly nutty and a bit malty flavor, but also whole grains to the party. And it amps the chewiness of the cookie. Raw or Turbinado sugar in the streusel glaze adds a nice crunch! Seriously, these are EVERYTHING!
I found this recipe on Bon Apetit. I used Turbinado sugar instead of raw sugar. I think raw sugar would add a bit more caramel flavor, but turbinado was the sugar I had on hand. Be sure to get as much of the streusel as you can attached to the cookie dough, as it adds so much texture!
Author:
Prep Time:

15 mins

Cook Time:

8-10 mins per batch

Total Time:

55-65 min (includes wait time)

Yield:

24

–

26

cookies

1

x
Category:

Cookies

Method:

Baking

Cuisine:

American
Ingredients
For the Cookie Dough:
1 cup

(

128g

) AP Four 

1 1/4

t Baking Soda

1 1/2

t Ground Cinnamon

1/4

t Ground Cloves

3/4

c (110g) Rye Flour

2

t Ground Ginger

1

t Salt

1/3

c (50g) crystallized ginger, finely chopped

2/3

c Full-flavored (aka "dark") Molasses

1/4

c (50g) Dark Brown Sugar, packed

3/4

c Unsalted Butter, melted

2

Lg Egg Yolks
For the Streusel:
6

T (60g) Rye Flour

6

T (90g) Raw Sugar (can sub Turbinado sugar if necessary)

1

t Ground Ginger

1/4

t Salt

2

T Butter, room temperature
Instructions
Make the Cookie Dough
In a Medium Bowl, whisk together the AP flour, baking soda, cinnamon, cloves, rye flour, ginger and salt. Stir in the finely chopped ginger until evenly incorporated.
In a separate bowl, whisk together Molasses, brown sugar and melted butter, until nicely combined. Add in the two egg yolks and continue whisking for about 10 seconds until incorporated.
Add the wet ingredients to the dry, and fold in until you see no streaks of flour. Let the dough sit, uncovered at room temperature for 30 minutes (See Note). During this time, preheat your oven to 375F (Conventional) or 350F (Convection/Fan), and prepare the streusel.
Make the Streusel
Whisk the 6 T Raw (or Turbinado)sugar, 6 T Rye Flour, 1 t ginger and 1/4 t salt in a small bowl, making sure to combine well. Mash in the 2 T room temp butter until the mixture resembles wet sand.
Make the Cookies
Using a 2 T (1 oz, 28 ml) scoop, scoop the dough into 24-26 pieces. Roll each in your hands into a ball, then dredge the ball in the streusel. Place 9-10 streusel-coated balls on a baking sheet, 3 inches apart. Sprinkle a bit more streusel over the top if you like, as it melts into the cookies.
In a conventional oven, place the baking sheet on the middle rack in the oven and bake until they have spread and are just set around the edges and appear slightly cracked. Streusel should appear slightly browned. In my oven this took 8 minutes, but could take as many as 10 minutes. (If your oven is a Convection oven, you could put a 2 or 3 sheets in at the same time, on top and bottom levels of oven, as the heat is distributed by the fan.) (See Note 2)
Let baked cookies cool on the sheet a full 10 minutes before removing them to a wire rack to cool completely.
Cookies keep at room temperature several days, or refrigerated in an air-tight container up to a week.
Notes
1. As the batter sits for 30 minutes, it will thicken a bit.
2. In my convection oven, I baked the first sheet on the middle rack and subsequent 2 sheets on top and bottom racks. There was no perceivable differences between the cookies baked on any of the racks. But if you have a conventional oven, I would stick to 1 pan at a time on the middle rack. 
Keywords: Molasses Ginger Cookies, Chewy, Gingerbread
Recipe Card powered by
PIN Chewy Ginger Rye Cookies ->