Have you tried the new Hershey's Gold Bar? I was a skeptic until the first bite (you know, because it's not chocolate) – caramel, peanut butter and pretzels! Ummm… YES, please! So here is my version, a Caramelized White Chocolate Peanut Butter Pretzel Fudge!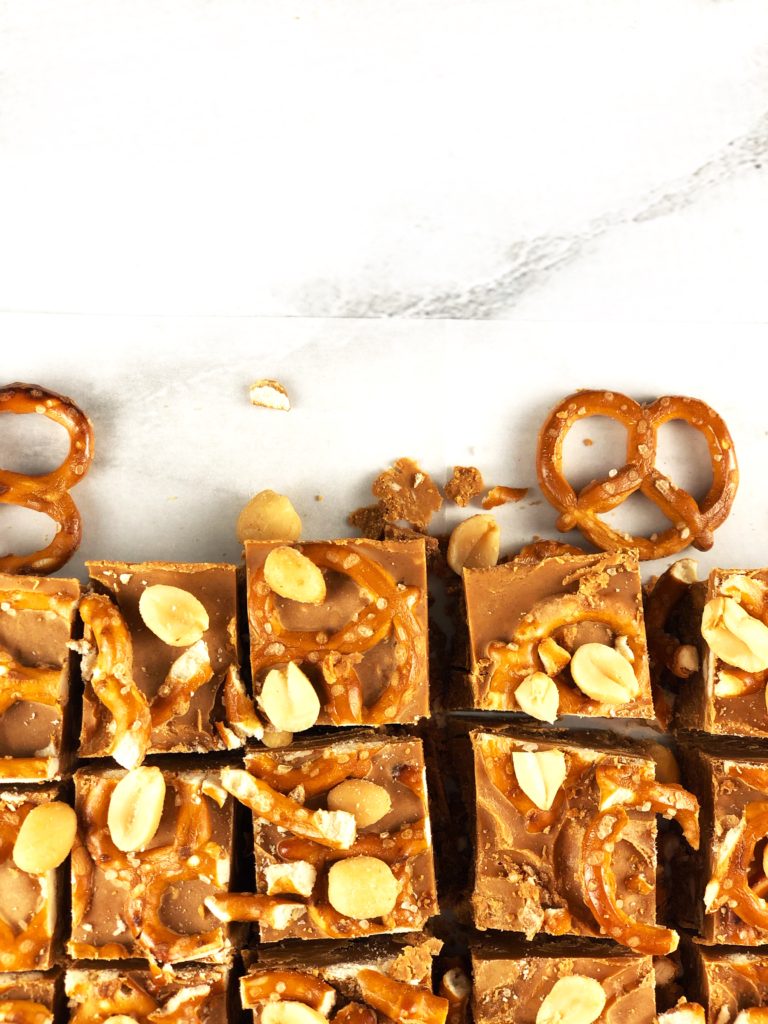 Each Christmas, my in-laws send a collection of traditional Christmas Cookies and treats – so so scrumptious! When it arrives, my family practically attacks the box, each reaching for their favorite! The first thing gone is Grandma's fudge, both chocolate and peanut butter – so she usually sends extra because my fam likes it so much (shhhhh! Don't tell!). Her fudge is LEGENDARY.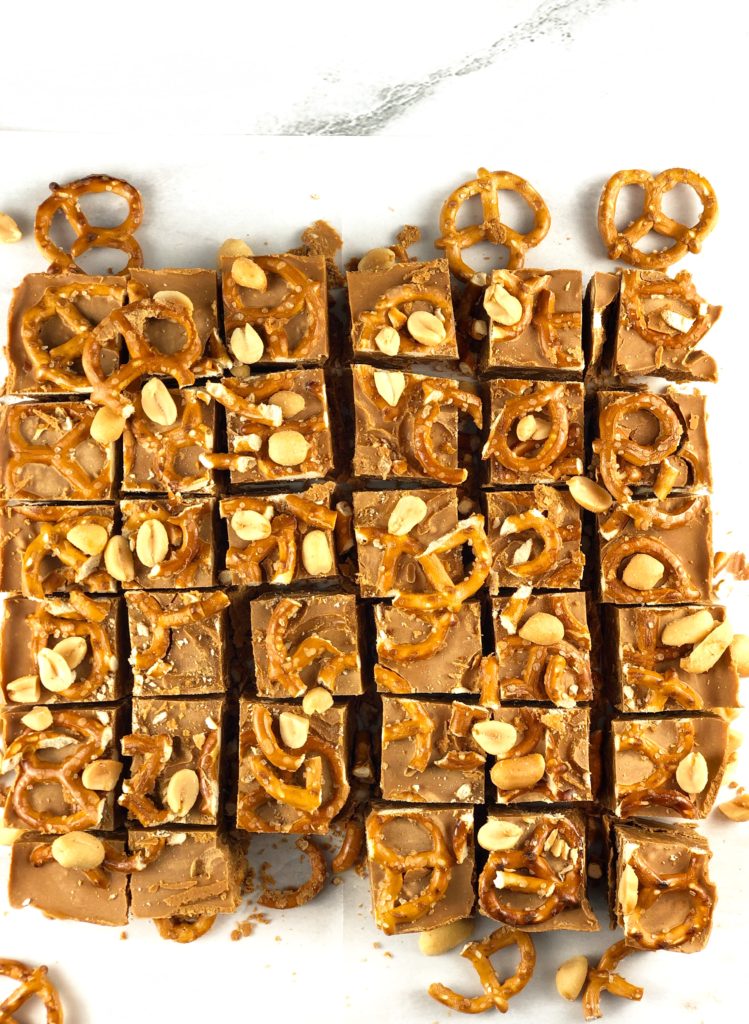 This White Chocolate Peanut Butter Fudge is NOT Grandma's fudge – I could never compete with Grandma! No, my 3-INGREDIENT Caramellized White Chocolate Peanut Butter Fudge with Pretzels is more of a twist on traditional fudge. I was inspired by the new Hershey's Gold Bar – it was the best thing in the Halloween bowl this year if you ask me. It is caramelly, peanut buttery, salty and sweet, with little tiny crunchy salty pieces. This is my version of that bar, made into the perfect Holiday treat, if you ask me!

I wanted it to have white chocolate, so I took white baking chocolate and caramellized it. The flavor of this stuff is A! MAZ! ING! Caramelly, white chocolatey. Hmmmm, What else can I do with it? Don't even get me started! Caramelizing white chocolate takes just one ingredient, and is so easy, you can do it with a little time, and any level of skill. Your oven does the work. The key here is buying the real white chocolate, meant for baking, with high cocoa butter content (Valhrona or Callebaut brand). Valhrona has higher cocoa butter content and will produce a smoother product in the end, but in this fudge recipe, Callebaut works just fine. It usually is found in the bulk section of the grocery, in discs or blocks. (Or Amazon!)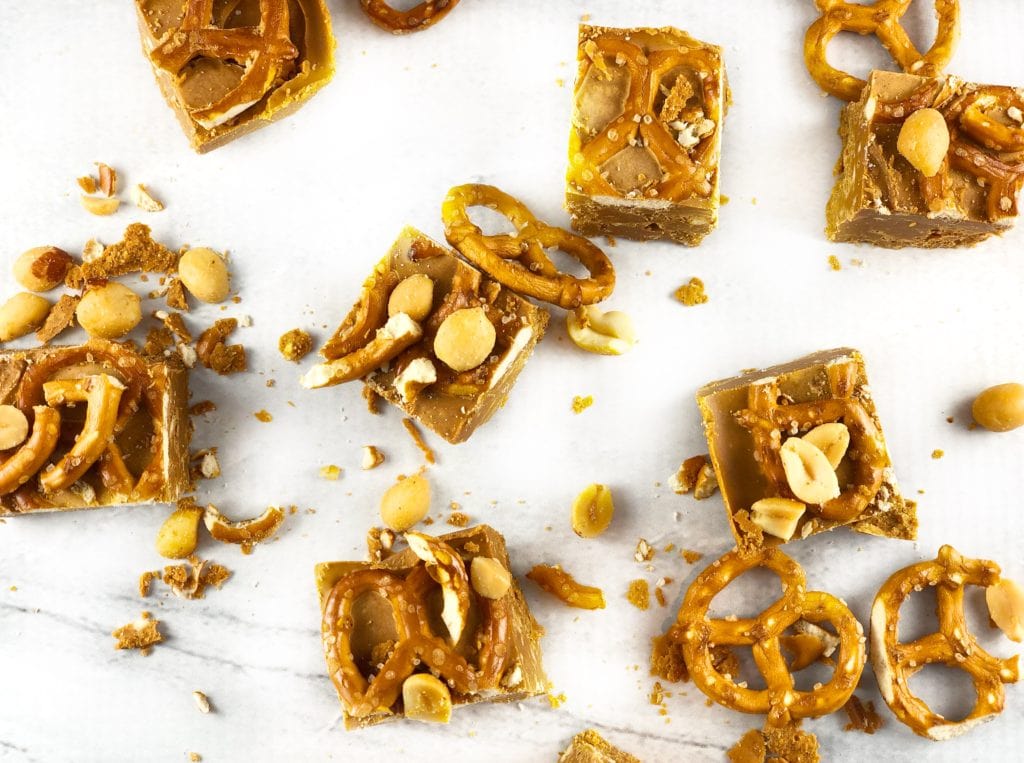 Anyway, you chop it up into thin pieces, put it in a low oven, let it melt and caramelize, stirring it every 10 minutes.  And, depending on your oven, it could be ready in 40-60 minutes. Take a look at my post for Homemade Peanut Butter Cups for more details and photos of the process! I know it's a time commitment, but, in all truth, it's totally worth it! You can tell it's done when it's about the same color as your peanut butter.  For extra inspiration, take a look at David Lebovitz  or Ree Drummond  making this magical stuff. But fyi, my white chocolate did not look as smooth and silky as theirs, and it still turned out perfect – it mixes right up with the peanut butter.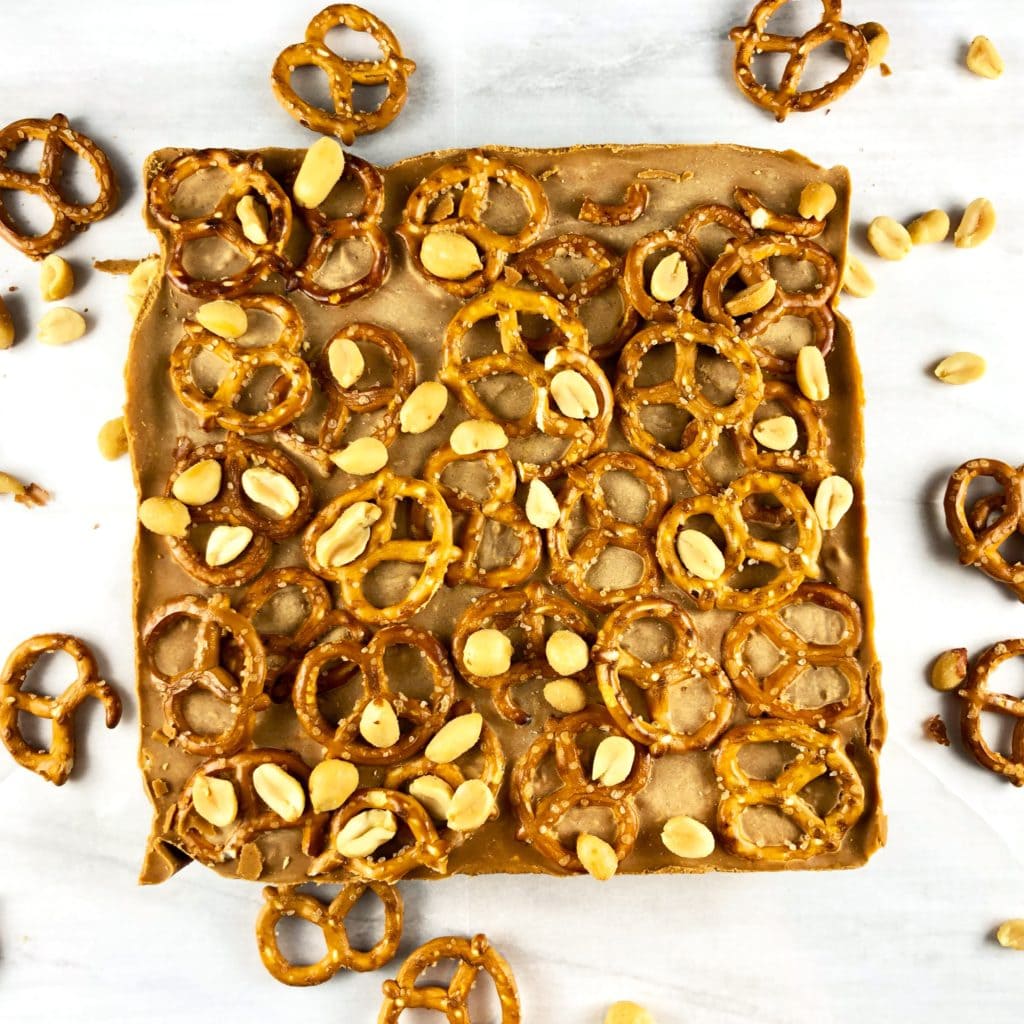 So you just mix the caramelized white chocolate with some warmed peanut butter, toss in a bit of salt and some crushed pretzels. Pour it all into a pan, refrigerate, then slice the pieces big or tiny. There you are! A 3-ingredient sweet, salty, caramelly, peanut buttery, rich Masterpiece!
So I'm hoping my Caramelized White Chocolate Peanut Butter Pretzel Fudge becomes as legendary as Grandma's Fudge, but for the time being, Enjoy!
And, If you're a peanut butter lover like me, don't forget these Wonderful Treats!
Or, if you are looking for more Christmas treats my favorites are these Chocolate-Dipped Coconut Macaroons and Ina Garten's Thumbprint Cookies. Or this super-easy English Toffee with Pecans !
PIN my Caramelized White Chocolate Peanut Butter Fudge ->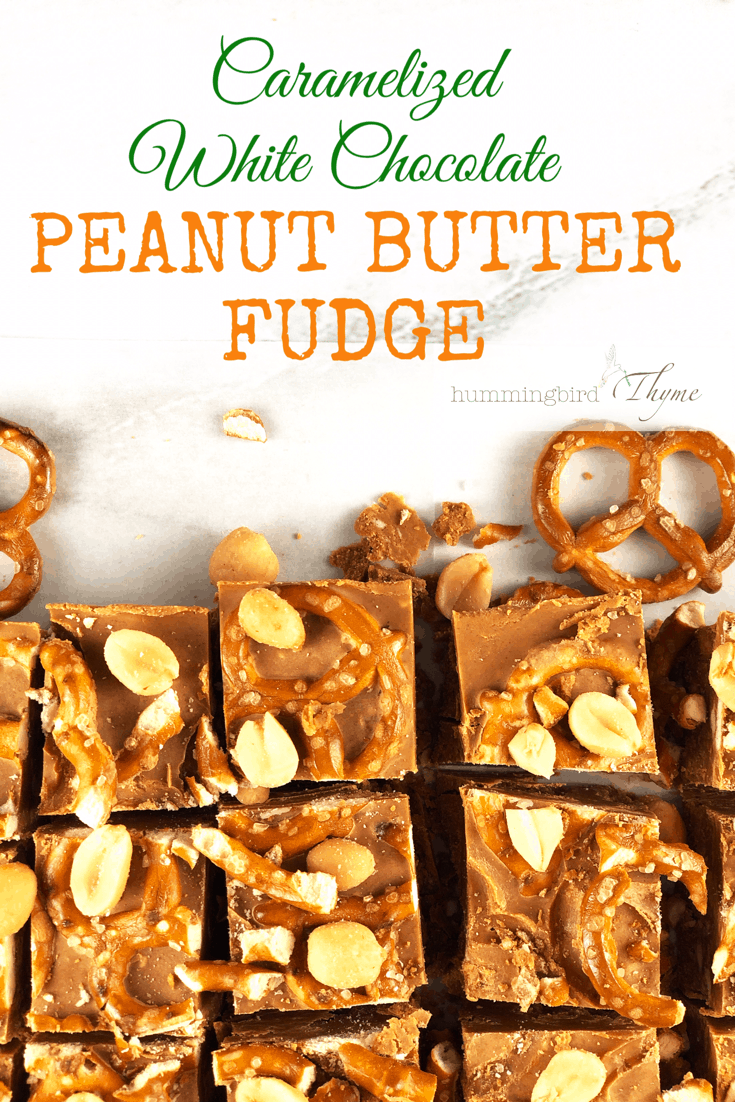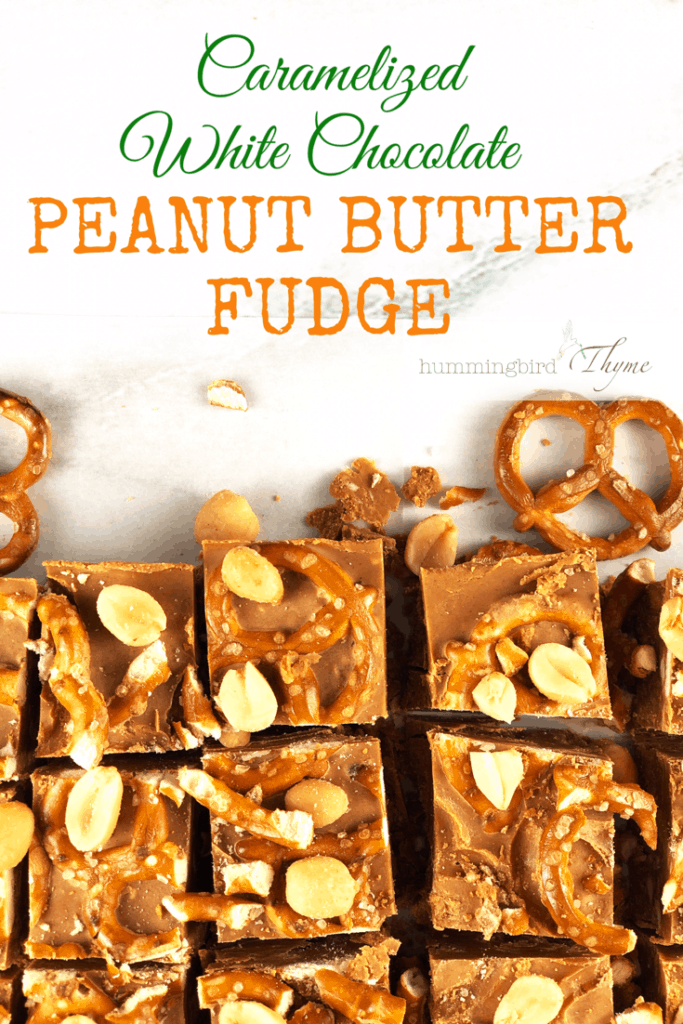 Print
White Chocolate Peanut Butter Fudge (copycat Hershey's Gold Bar)
This Caramelized White Chocolate Peanut Butter Fudge with Pretzels was inspired by Hershey's Gold Bars!  So so good! The first step will be caramelizing the white chocolate – it takes a bit of time, but very little effort.  Choose White chocolate discs or blocks made for baking for this.  The highest cocoa butter percentage you can find.  Valhrona or Callebaut are both good. During the caramelization, your final product may not be perfectly smooth.  Don't worry, as long as it is nicely caramelized – the color of peanut butter!
Author:
Prep Time:

5 min

Cook Time:

50 min

Total Time:

55 min

Yield:

36

pieces

1

x
Category:

Candy and Sweets

Method:

Oven, stovetop

Cuisine:

American
Ingredients
1

lb good-quality White Chocolate (such as Callebaut or Valhrona)

16 oz

. jar of Smooth Peanut Butter (I used all-natural, but any will do)

2/3

c thin pretzels, Crushed – should yield about

1/4

–

1/3

cup
Instructions
Caramellize the White Chocolate
Preheat oven to 250F. Chop the White chocolate into thin pieces.
Scatter across a large sheetpan.
Place chocolate into oven.  Stir and spread it over the surface of the pan, as best you can, every 10 minutes until it becomes the color of the peanut butter.  CAREFUL: DO NOT BURN!  This should take 40-50 minutes, but may take up to 90 mins, so be sure to check every 10 mins. The chocolate may become chalky and difficult to stir.  Just let it continue to caramellized and stir.  Once it reaches the correct color, stir it into the warm peanut butter.
Warm the Peanut Butter
In a Medium (2-3 qt.) saucepan, gently warm the peanut butter.  It may get a bit thinner in consistency, but the goal is make it a temperature that will not shock the caramellized chocolate.
Mix the Ingredients
Into the saucepan with the warm peanut butter, scrape the white chocolate, a nice pinch of flaky sea salt, and the crushed pretzels.
Scrape into prepared 8×8 pan, buttered and lined with parchment paper for easy lifting.
Refrigerate at least 4 hours, preferably 6 or more.
Slice as desired.
Nutrition
Serving Size:

1/36 recipe
Keywords: White chocolate, peanut butter, fudge, caramellized white chocolate, sweet and salty
Recipe Card powered by