Deeply flavorful, warmly spiced, this warming and oh-so-healthy soup will be a new favorite. Moroccan Vegetable Soup is a perfect bowl of comfort!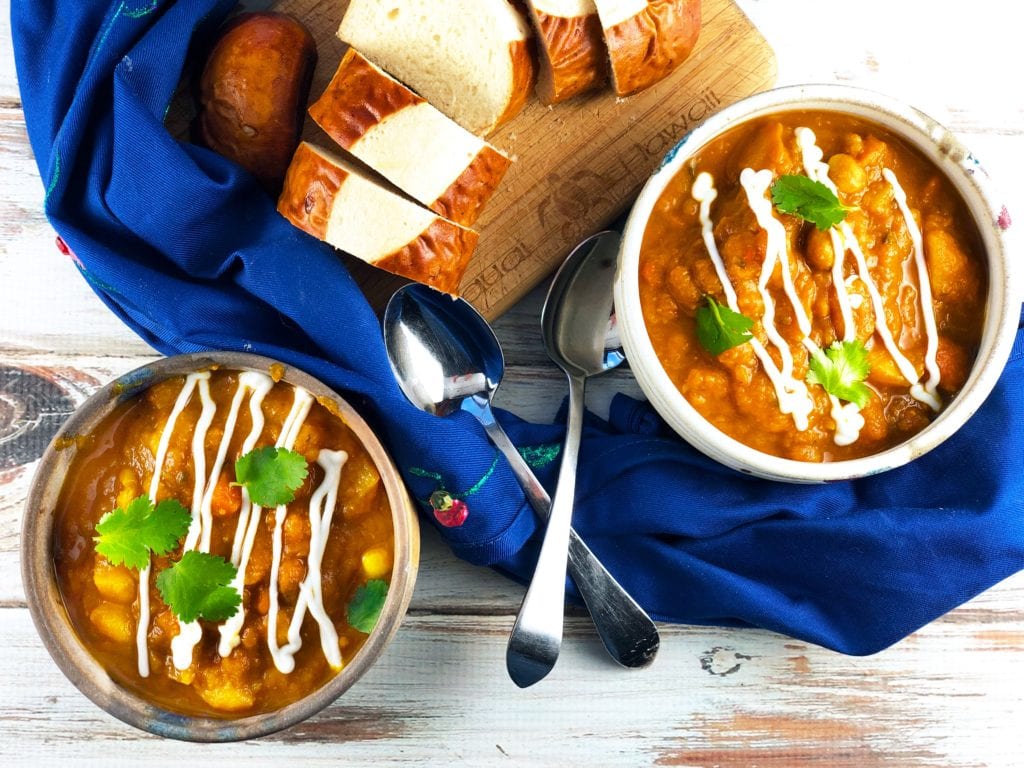 Might as well get right to it, I can't help myself, this dish is so good! – I'm here to talk about soup.  Not the kind that comes in a red-and-white can, although there's a time and place for that, on occasion. I've heard anyway. This Moroccan Vegetable soup is in a completely different league from that can, in every way possible. It is a full-on, completely satisfying meal in a bowl.  It has everything you want, and much, much more.  Hearty vegetables like squash, bell peppers, sweet potatoes. Some protein in the form of chickpeas. Abundant Moroccan spices – cinnamon, turmeric, ginger, garlic – all provide lovely flavor and aroma.  A touch of sweet. A touch of heat. This is my new favorite bowl of goodness! Did I mention it's Vegan?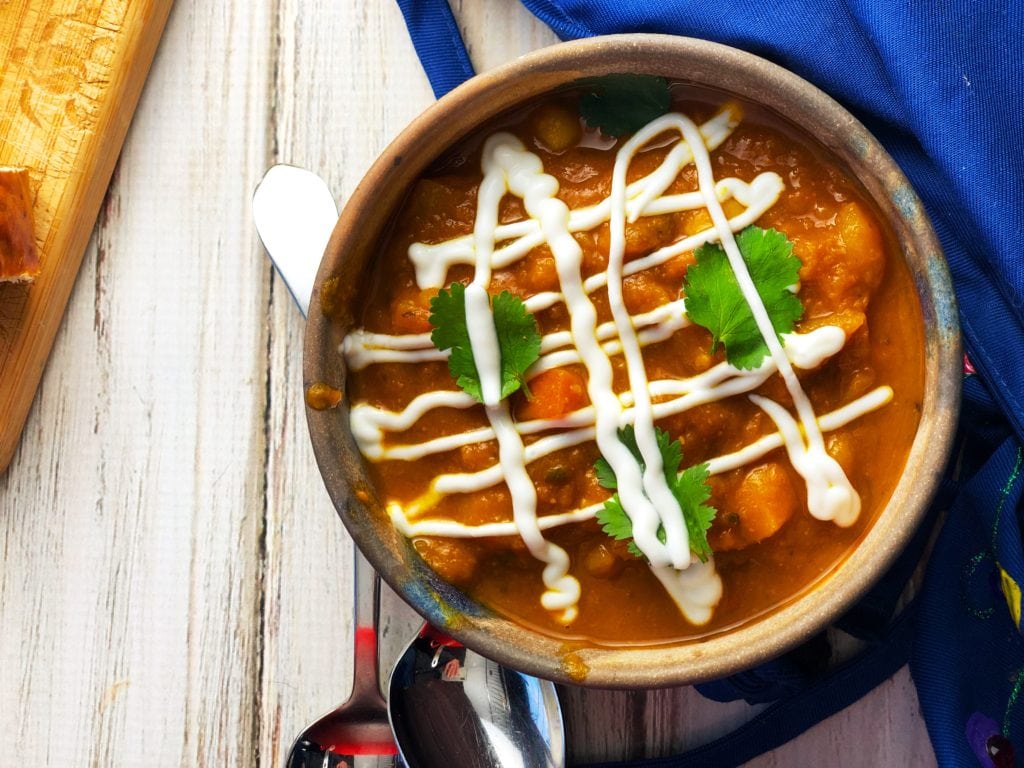 I got this recipe from Brianne Ryan at Queen Anne Coffee Company in Seattle. My friend Joyce and I had been positively bowled over (?see what I did there?) by this soup a couple weeks ago, and Joyce, who is a bit more assertive than I (lesson for me!), asked Bri for the recipe and she was happy to share. For the sake of home cooks, I've cut the recipe (below) in half.  Happily, I made the whole recipe, which makes about 8 quarts of delicious soup.  If your pot is big enough, you won't be sorry. The original recipe calls for an Acorn Squash and a Delicata. Feel free to get small ones or use half Acorn/half Delicata.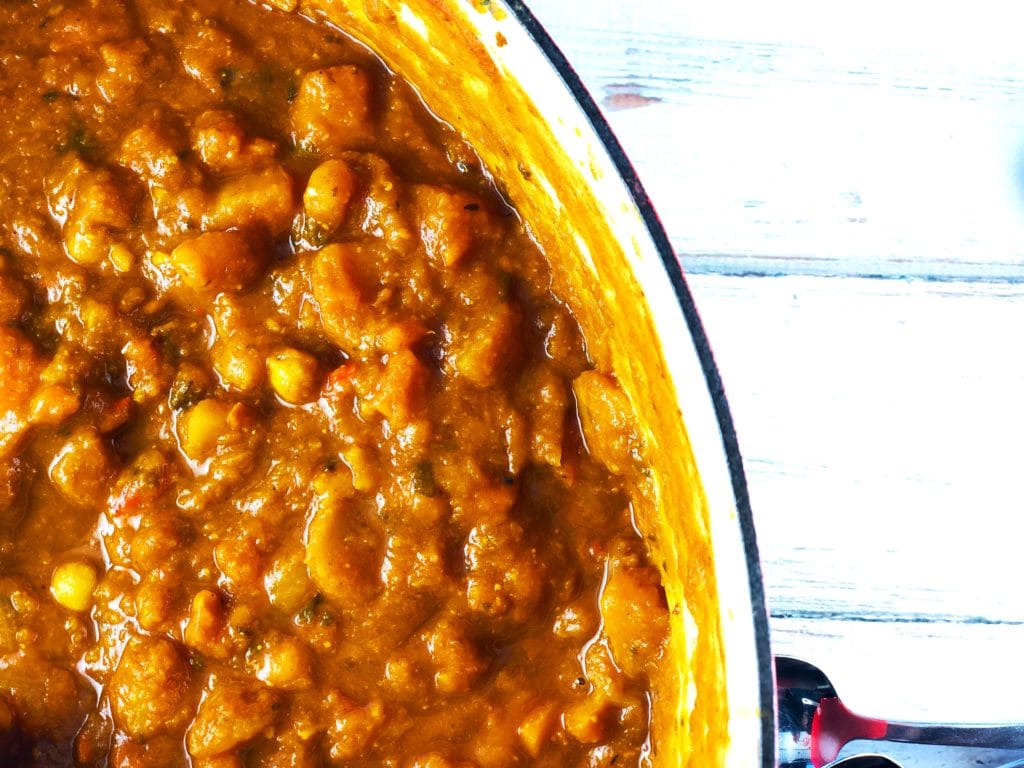 For me, one of the thrills of making this soup was using fresh Turmeric.  If you're not familiar with turmeric, a spice often used in curries, it's kind of the current "darling" of the spice world. This is because one of its ingredients, circumin, is known to have powerful anti-inflammatory and antioxidant properties. The fresh version of turmeric looks like ginger, as it is also a "rhizome", but is a brilliant orange inside.  (If you're curious, a rhizome is a modified stalk of a plant that grows horizontally from a root.) It's flavor is warm and a bit peppery. When you peel and chop it, you'll notice it stains your hands and fingernails a lovely golden color. So you won't be surprised it is also used as a dye.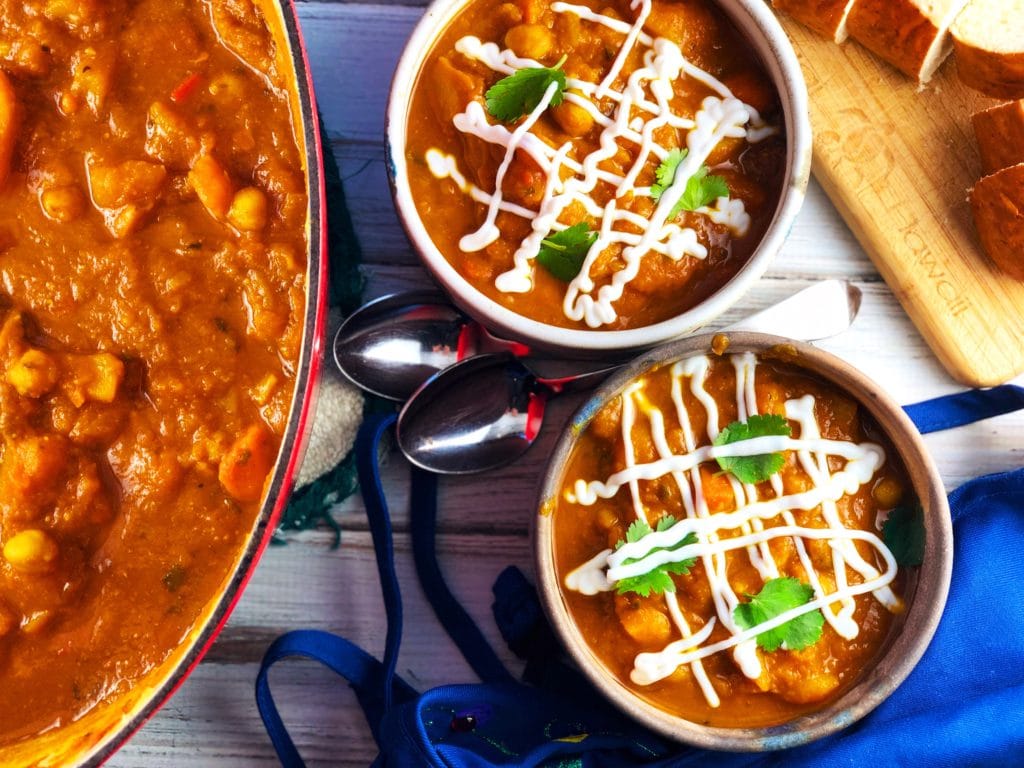 Moroccan Vegetable Soup takes some time to make, with all of its peeling and chopping. But it's time well spent, I promise! The rest of the time is simmering and enjoying the lovely aromas and editing the spices to your tastes, if you like. But be warned, you'll likely never return to that red-and-white can.  Enjoy!
If you like vegan recipes, sure to check out my other Vegan Recipes!
If you are interested in other soups, why not try another of my Soups and Stews.
PIN this VEGAN Moroccan Vegetable Soup ->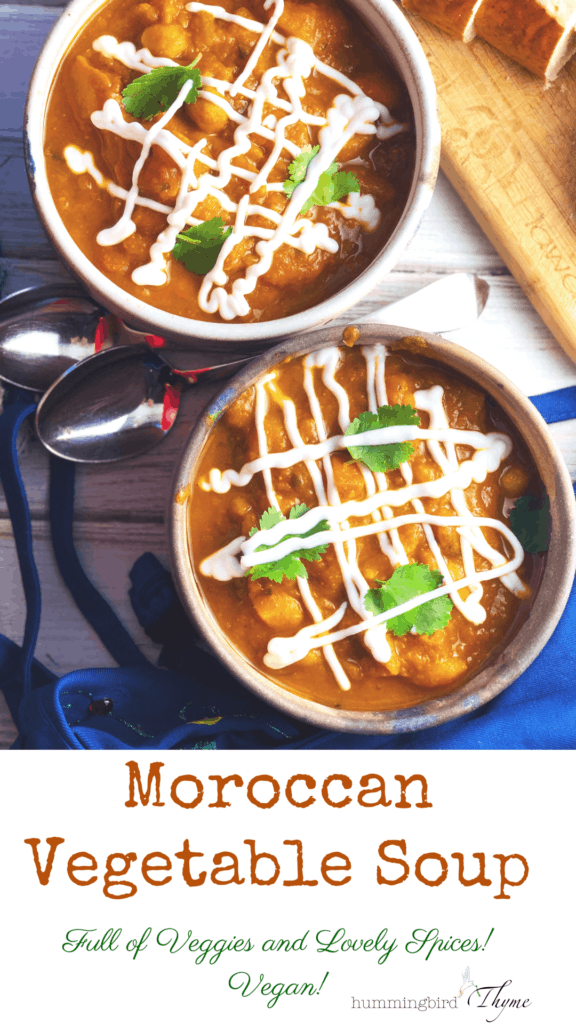 Print
Moroccan Vegetable Soup
This recipe was generously given to me by Brianne Ryan, at our local Queen Anne Coffee Company. I adapted it slightly to fit into a 4-5 quart pot. It combines Moroccan spices with hearty vegetables and chickpeas for a flavor combination you will crave again and again.
She recommends garnishing with Greek yogurt and cilantro leaves, if you like! Also, feel free to add additional cinnamon and/or fresh ginger to taste!
Since this recipe doesn't include a stock or broth, ingredients that usually add salt to a soup recipe, you will likely need to generously salt to achieve the flavor you want.
It makes a pretty big batch, (3-4 quarts) but you won't be sorry – it's THAT good!
Author:
Prep Time:

60 min

Cook Time:

1-2 hours

Total Time:

2-3 hours

Yield:

4 quarts

1

x
Category:

Soups and Stews

Method:

Stovetop
Ingredients
Vegetables:
1

Large Carrot

1

Large or

2

small Gold Potatoes

1

Squash (Delicata, Acorn, or Butternut), about

1

lb.

1

Medium Sweet Potato

1

Bell Pepper, any color

1

Small Zucchini

1

Med Sweet Onion

1/2

–

1

Serrano or Jalapeño chili, stemmed and seeded (Optional)
Fresh Herbs:
1/4

c Finely chopped Fresh Ginger

1

T Finely Chopped Fresh Turmeric

1/2

Bunch Cilantro, finely chopped

3

Cloves Garlic, peeled, chopped
Dry Spices:
2

T Ground Cinnamon

2

T Ground Turmeric

1/2

t Ground Ginger

1

T Powdered Garlic
Salt and Pepper to taste
Other Ingredients:
1

can (about

1 1/2 cups

) Chickpeas

4 oz

. Tomato Paste

2

T Maple Syrup (could substitute Brown sugar)

3

–

4

cups water

1

Small-Medium Lemon

2

T Olive oil
Instructions
Peel and dice the vegetables – See Note 1. Add oil to a large pot over Medium-High heat. Add the onion and saute 2-3 minutes, then add other vegetables and continue to saute, stirring occasionally, until they are soft and lightly caramelized.
Add the fresh spices – ginger, turmeric, cilantro and garlic.  Reduce heat, stirring regularly.
In a large measuring cup or bowl, whisk the dry spices into the tomato paste and water.  Add to the pot and cook, stirring occasionally for at least 1 hour.
Using an immersion blender (See Note 2), puree a fraction of the soup (20-25%).  This will allow the natural starches and fiber of the ingredients to thicken the soup.
Add the chickpeas and maple syrup. Salt and pepper to taste (See Note 3). Squeeze in the lemon juice.  Taste and add more maple syrup, salt and pepper, if desired.  If you like, add crushed red pepper for more heat, if you like. Add additional water if you would like the soup thinner, or if much has evaporated.
Garnish with cilantro and/or Greek yogurt if desired. (Note: Greek yogurt is not Vegan)
Notes
When chopping vegetables, it's a good idea to cut into shapes that maximize the surface area, so they absorb spices and flavorings. Thinly-sliced elongated rectangles are better than cube shapes, for instance.
If you don't have an immersion blender, feel free to use a potato masher or cool a fraction of your soup for 30 minutes or so in a separate dish, then puree in a blender. But be careful, hot items should not be in the blender, as the steam will pop the top off, risking a burn!  So please, cool any soup properly before putting in the blender!
Feel free to add more salt/pepper/maple syrup to taste!  Also, I used a whole jalapeño, but if you like, you can omit or use more, to taste! Feel free to sprinkle some red pepper flake at the end, too, for more heat, if desired!
Keywords: Moroccan, vegan, vegetables, soups, stews
Recipe Card powered by