Sometimes we all need a little elevated version of our favorites, don't we? You know, live music instead of Spotify, or a dress-up occasion instead of sweats at home? Even our favorite candy (and, be honest, it usually involves Peanut Butter and Chocolate, right?) can be elevated!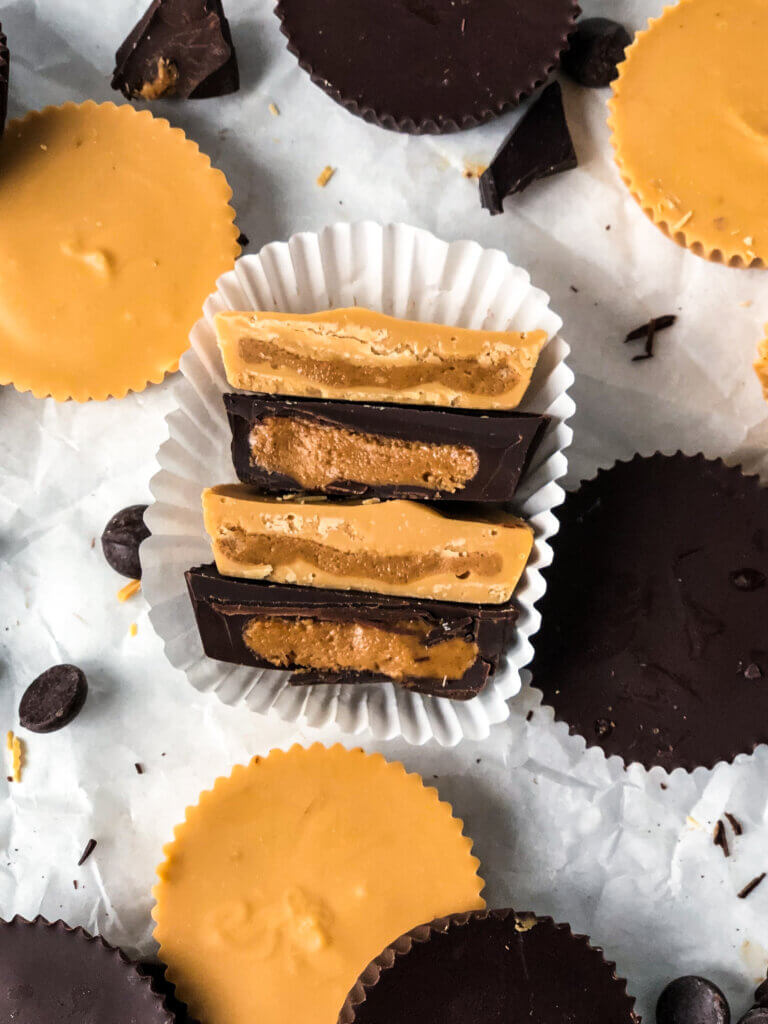 I'm going to warning you upfront – this is dangerous, but here goes… you can make your own Homemade Peanut Butter Cups at home. Yep. Who knew? And, what's more – they are EASY to make. And to raise up the warning level just a smidge further, they are way BETTER than Reese's cups. Seriously. I mean it. (Sorry, Reese's!)
As far as sweets go, peanut butter and chocolate is pretty much my all-time favorite combo – maybe it's yours, too! So when I was invited to a dinner party with some friends who are Vegan, I decided I would look for a Vegan dessert to make, figuring vegan dark chocolate should be easy to find. There are some vegan brands, but checking a few labels, I found that the Extra Dark (63% Cacao) Guittard Chocolate contains no animal products, so I went with that. [Ghirardelli brand are also quite good, but are not Vegan.]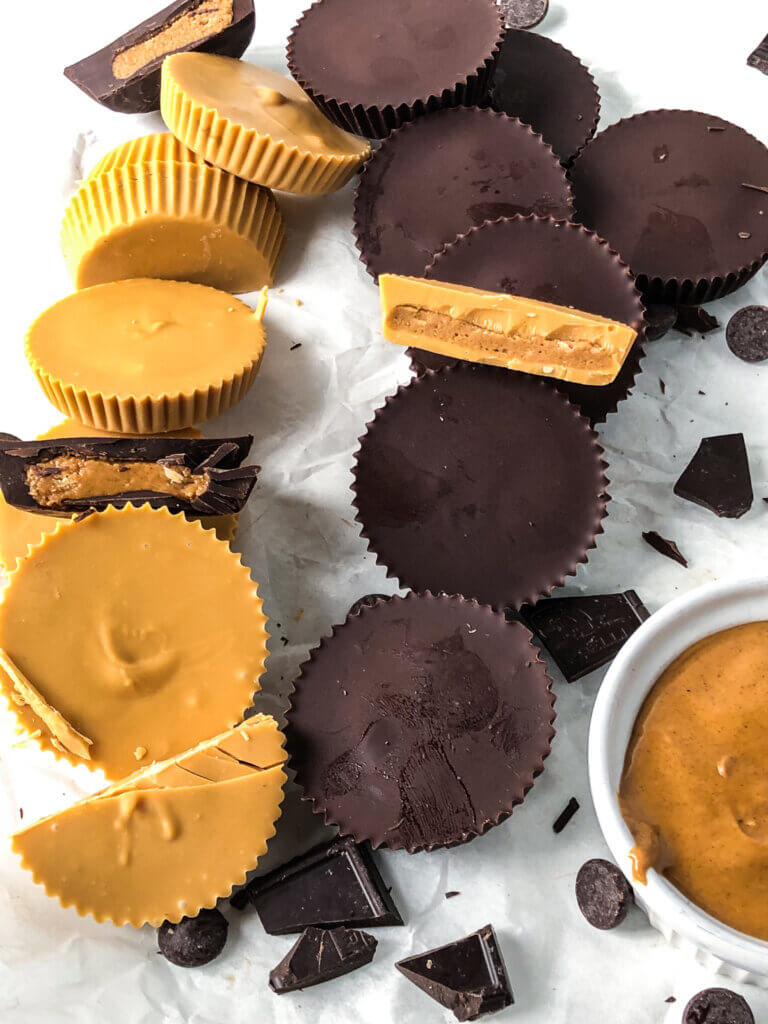 And, I really wanted the flavor to come close to that of the filling in a Reese's cup. It has that slightly sweet/slightly salty roasted peanut butter flavor with an ever-so-slight crunch. I have to say, this recipe totally rises to the occasion! A perfect filling for that rich bittersweet chocolate.
And, if you don't care for bittersweet chocolate, feel free to use your favorite semi-sweet variety, or even white chocolate! For this recipe, I made both bittersweet chocolate, and also caramelized white chocolate for an extra-special (albeit quite sweet) treat! I always like having choices, don't you?
In case you need even more choices, get this: You can make thicker or thinner cups, too! I like the thicker ones, with more peanut butter, but others prefer the thinner ones. So you can choose to make 12 thick, or 16 thin cups. You'll just need more chocolate for the 16 thin, if that's what you choose. But don't worry, I explain it all below and in the printable recipe!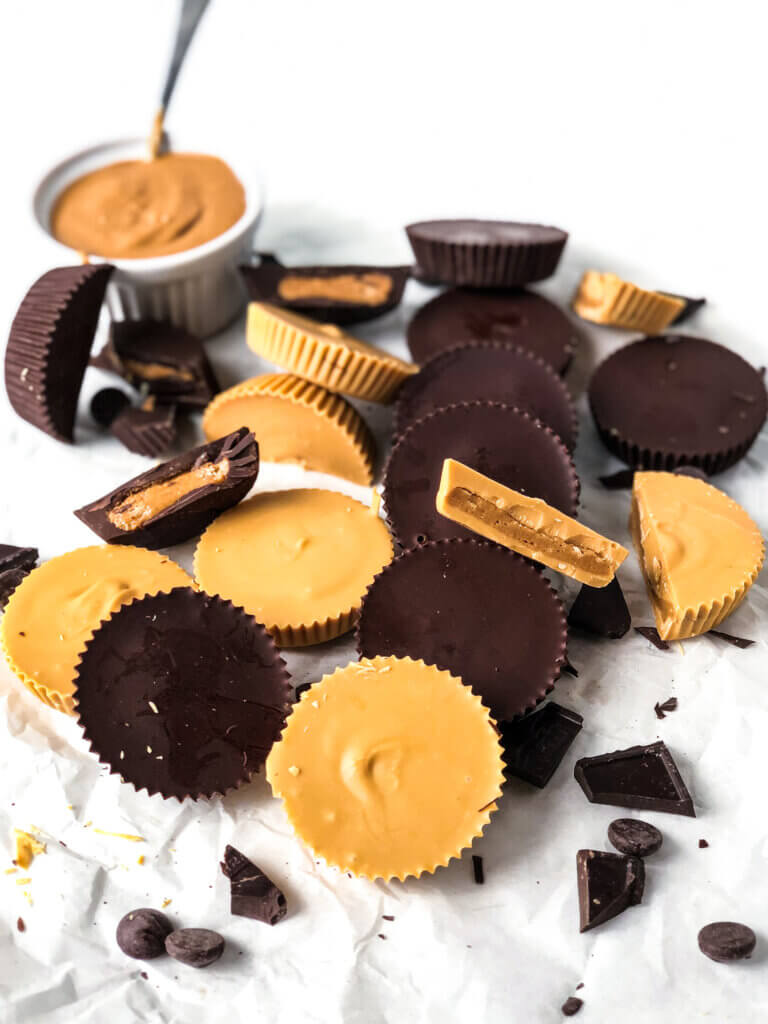 So give it a try! It's easy and it is fantastic! But don't say I didn't warn you! Enjoy!
If you're looking for another recipe using Caramelized White Chocolate, don't miss my super-scrumptious White Chocolate Peanut Butter Fudge with Pretzels. It tastes just like a Hershey's Gold Bar!
And, if you know me, you know I have other Peanut Butter and Chocolate recipes! Take a look at these:
No-Bake Chocolate Peanut Butter Cheesecake
Easy Peanut Butter Swirled Brownies
Easy Peanut Butter Chocolate Chip Blondies
Chocolate Peanut Butter Ice Cream Sandwiches
Chocolate Layer Cake with Peanut Butter Frosting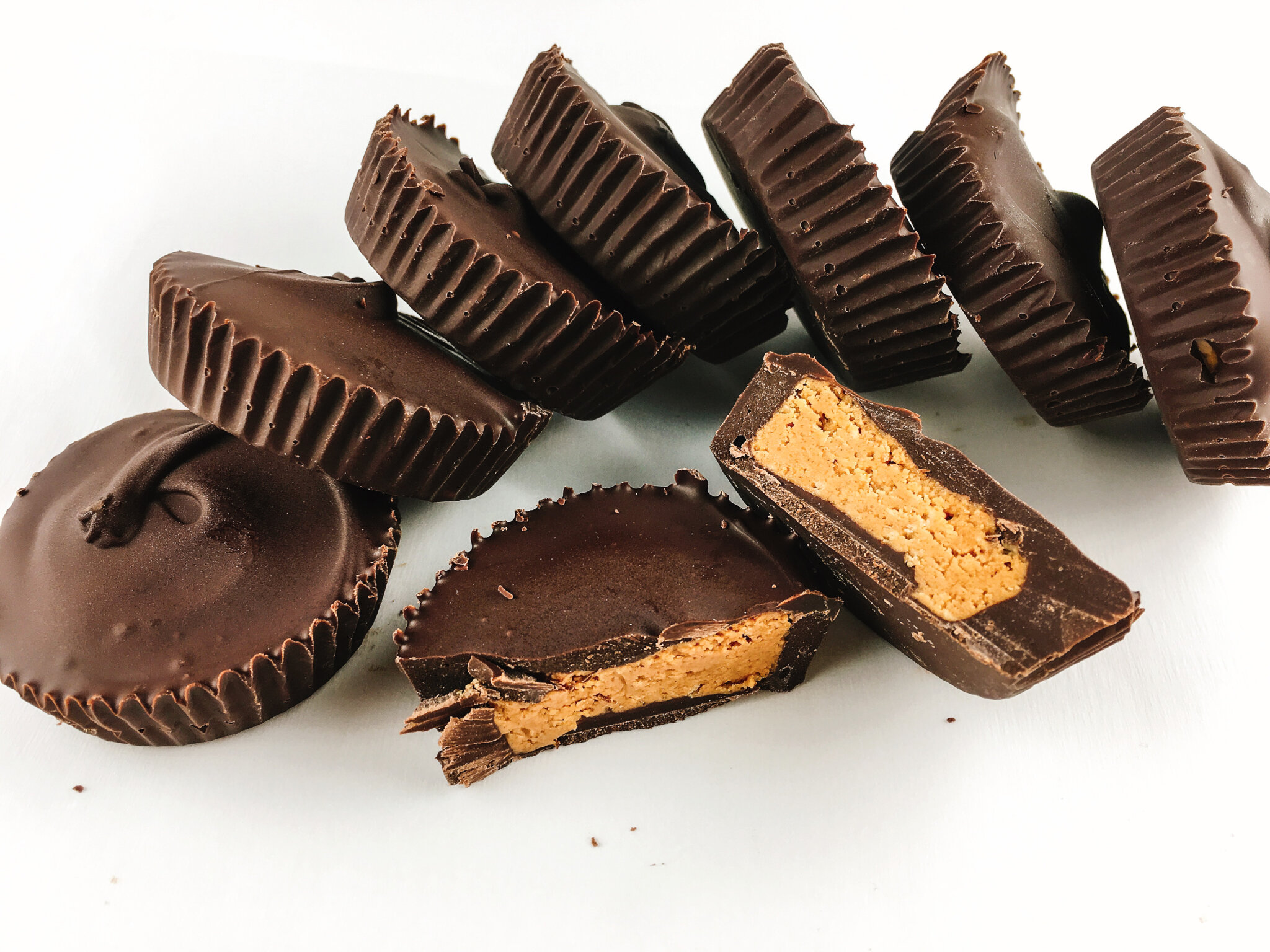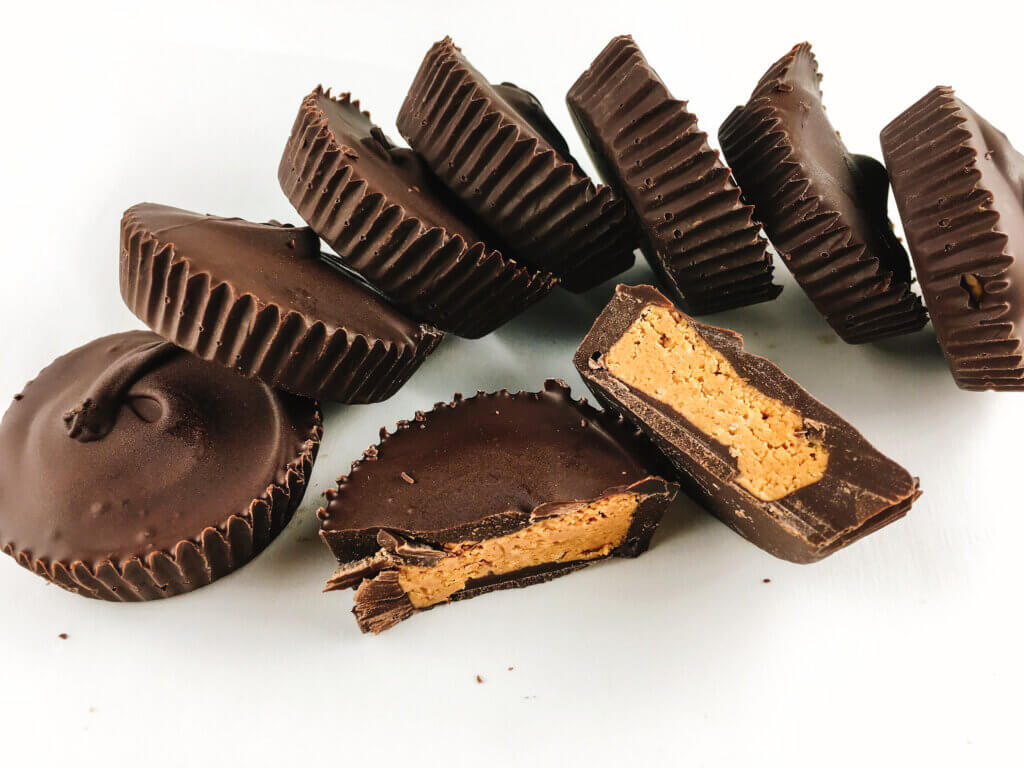 PIN Homemade Peanut Butter Cups ->
Recipe Details ->
This post may contain affiliate links. As an Amazon Affiliate, I may earn a small commission, at no cost to you, for purchases you may make of items linked from this site.
This is a recipe for which you have some choices. I've made them thicker and thinner, and for me, the thicker ones have the best chocolate-to-peanut butter ratio. But I've made them thinner as well. I have photos of both on this post.
You'll want to decide beforehand whether to make the thinner or thicker versions so you know how many muffin tins you need. If you want to get fancy, maybe use one of these lovely molds, that way you won't need the paper liners (or these cute reusable liners ) or muffin tins at all!
So, then, choose your chocolate: Bittersweet, Semisweet, White. You can use Feves, Baking Chocolate, Chocolate Chips. I like baking feves (small disks) and baking chocolate, but don't alway have them on hand. They produce a less "crisp", but a nice shiny, outer layer. But chocolate chips work wonderfully here, too. I recommend Bittersweet (my favorite is Ghirardelli Bittersweet Chips) if you're going with Darker Chocolate.
For White Chocolate Peanut Butter cups, you can use white chocolate or white chips, but for this recipe, I used Caramelized White Chocolate. It tastes just like it sounds, a bit Caramelly, and a bit white chocolatey. So good! Add some peanut butter filling, and it's indescribably wonderful! Here's how you make Caramelized White Chocolate: In a 250F oven, place a pan of white chocolate feves or chopped baking chocolate, stir every 10 minutes until it's caramelized. At the middle of the process, between 20-40 minutes, it can get a little stiff and "chalky", but keep stirring every 10 min and it will work itself out. It's that simple. Take a look: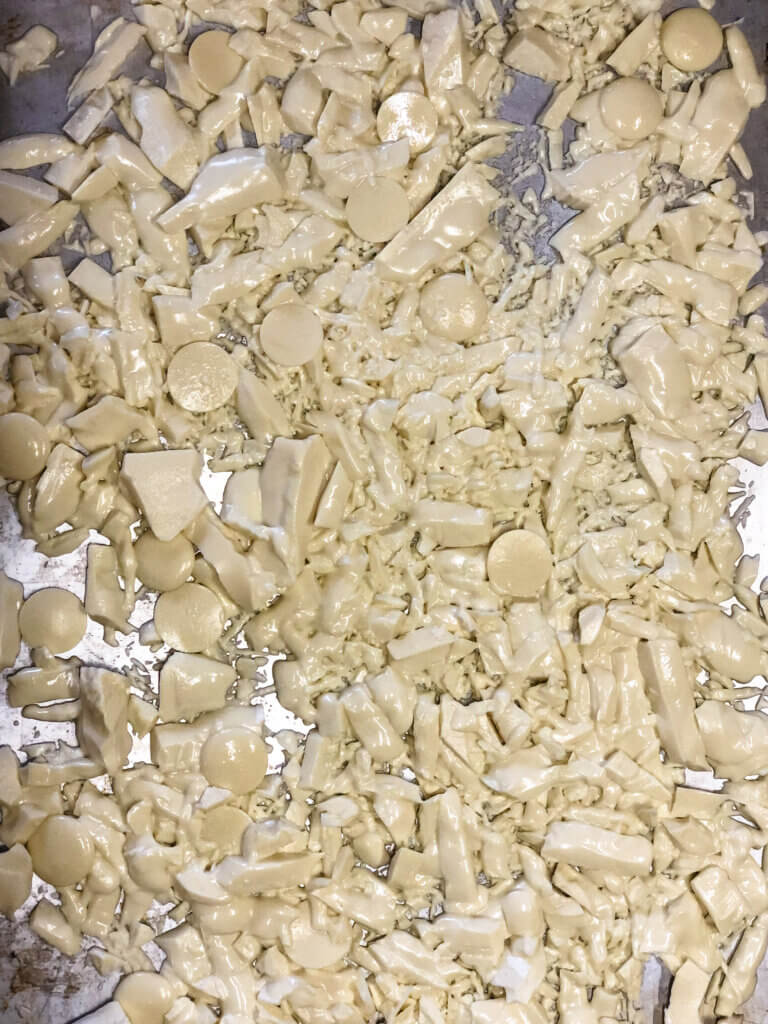 I include Graham Crackers in my peanut butter filling for texture. It adds an ever-so-slight crunch, similar to what you get in a Reese's Cup. The best way to turn the crackers into crumbs is to place the graham cracker squares in a plastic zip-top bag and use a rolling pin to smash them. I've tried using a spice grinder, but they end up too powdery and don't provide the desired texture. So you want to crush them well, maintaining their crunch, but not to the point they are powdery.
For the Peanut Butter Filling, I like using all-natural peanut butter – I have not tried other peanut butters, but all natural, just peanuts and salt, works wonderfully here. I add a bit of Confectioners Sugar for sweetness, and I like being able to control that sweetness myself. If you were to use sweetened peanut butter, the filling might be too sweet, so you would likely not need to add the extra confectioners sugar. But I have not tried this. If you do, let me know how they turn out!
If you're not caramelizing white chocolate, then you'll just melt your chosen chocolate (chips, feves or baking chocolate) in a heatproof bowl over a saucepan of simmering water.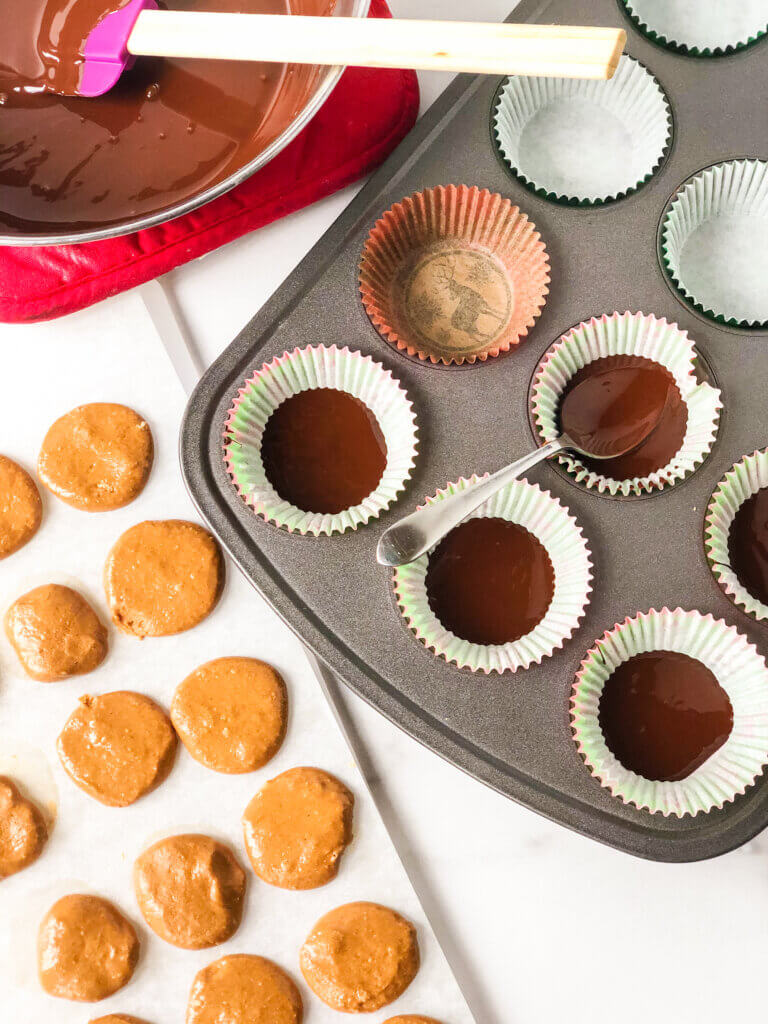 Then, using a teaspoon (the kind you use to stir tea or eat ice cream, not the measuring spoon), spoon a teaspoon full of melted chocolate into each cupcake liner. Then gently place the flattened disk over the chocolate, followed by about two teaspoons of melted chocolate. Once all the disks are covered, pop those cups into the fridge to harden. You can store them at room temperature, in the refrigerator, or the freezer, just make sure the container is air-tight.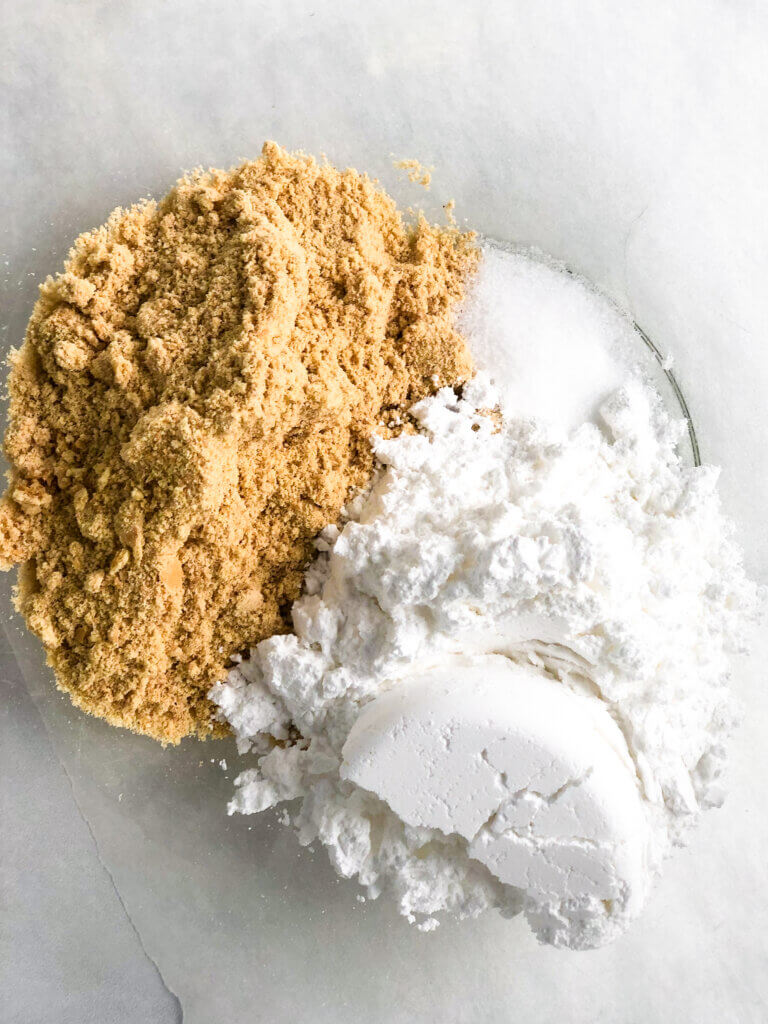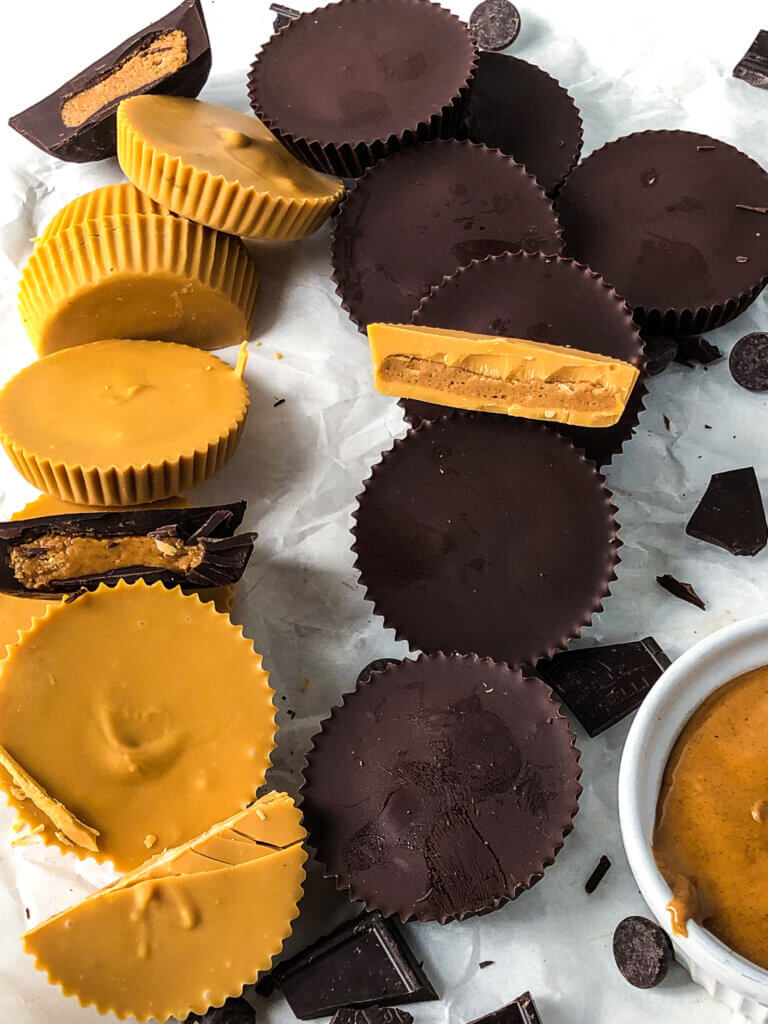 Print
Homemade Peanut Butter Cups (Better than Reese's)
This recipe presents several options. You can use White, Semi-Sweet, or Bittersweet Chocolate for these. I caramelized white chocolate for some, and used Bittersweet Chocolate Chips for the rest.
You can also make "Thick" or "Thin" cups. For me, the thicker have the better peanut butter-to-chocolate ratio, but you may like a bit less peanut butter. If so, use the larger amount of chocolate and make more peanut butter disks.
Author:
Prep Time:

20 min

Cook Time:

15 min

Total Time:

35 minutes

Yield:

12

–

16

Peanut Butter cups

1

x
Category:

Candy and Sweets

Method:

stovetop

Cuisine:

American
Ingredients
1/2 cup

(

128g

) Smooth, All-Natural, Salted Peanut Butter (I like Trader Joe's)

1/4

c (23g) Sifted Confectioners Sugar

1/4

c (about 25g) Graham Cracker Crumbs (about

4

squares' worth)

1/4 tsp

Salt

1/2 tsp

Natural Vanilla Extract

12

–

16

oz. (340-4

54g

)  (See Note 1) Semi-Sweet, Bittersweet, or white Chocolate chopped (or chocolate chips)
Instructions
Line a muffin tins with 12 (for thick) or 16 (for thin) paper cupcake liners or cups. Set aside.
Make graham cracker crumbs by placing graham crackers in a bag and crushing with a wine bottle or rolling pin. Be sure to stop crushing them before they become sandy or powdery. You still want some texture to the crumbs.
Whisk together Confectioners Sugar, Graham Cracker Crumbs and salt. Stir in the Peanut Butter, along with Vanilla Extract. This will be the peanut butter filling.
Divide the filling into 4 equal parts. Then separate each of the 4 parts into 3 (for a total of 12 Thick) or 4 (to make 16 Thin) small balls. Set each ball on a layer of parchment or wax paper, then place in the refrigerator until ready to use.
Using a heat resistant bowl placed over a pan of simmering water, melt the chopped chocolate or chocolate chips, stirring occasionally, until smooth. 
Spoon a small bit (a teaspoon, or a bit more [about 5- 7 ml, more or less] into the bottom of each cupcake cup. Using the back of the spoon spread the melted chocolate so it covers the entire bottom of the cup, or jiggling the muffin tin a bit works well, too. Then, remove the peanut butter balls from the refrigerator, and press each one gently with your forefinger to form a disk. Place one of the peanut butter disks on top of the layer of chocolate in each cup.
Spoon about 2 teaspoons or so of melted chocolate on top of each disk, smoothing the top and pushing it to the sides of the cup to cover the peanut butter disk. This will likely use most of the remaining chocolate. 
Place the filled muffin tins in the refrigerator to firm up. You can serve them cold or at room temperature. They will keep in an airtight container for a week or so, or longer in the refrigerator. (See Note 2)
Notes
To make 12 "Thick" cups, use 12 oz (340g), or, to make 16 "Thin" cups, use 454 g (16oz., 1lb)
Always store in an airtight container whether at room temp, in the fridge or the freezer. Peanut butter cups freeze extremely well. I've kept them frozen for up to 4 months. (They're also delicious frozen, BTW!)
Keywords: homemade peanut butter cups, better than Reese's, Reese's copycat, white chocolate, dark chocolate, caramelized white chocolate, peanut butter cups, easy
Recipe Card powered by