This Roasted Red Kuri Squash Salad recipe is for a warm salad of Red Kuri Squash, seasoned with chile-lime flavoring and topped with dried cherries and pepitas! All topped with a light creamy and cool dressing, this dish  is satisfying and nutritious and works as a main dish or a side!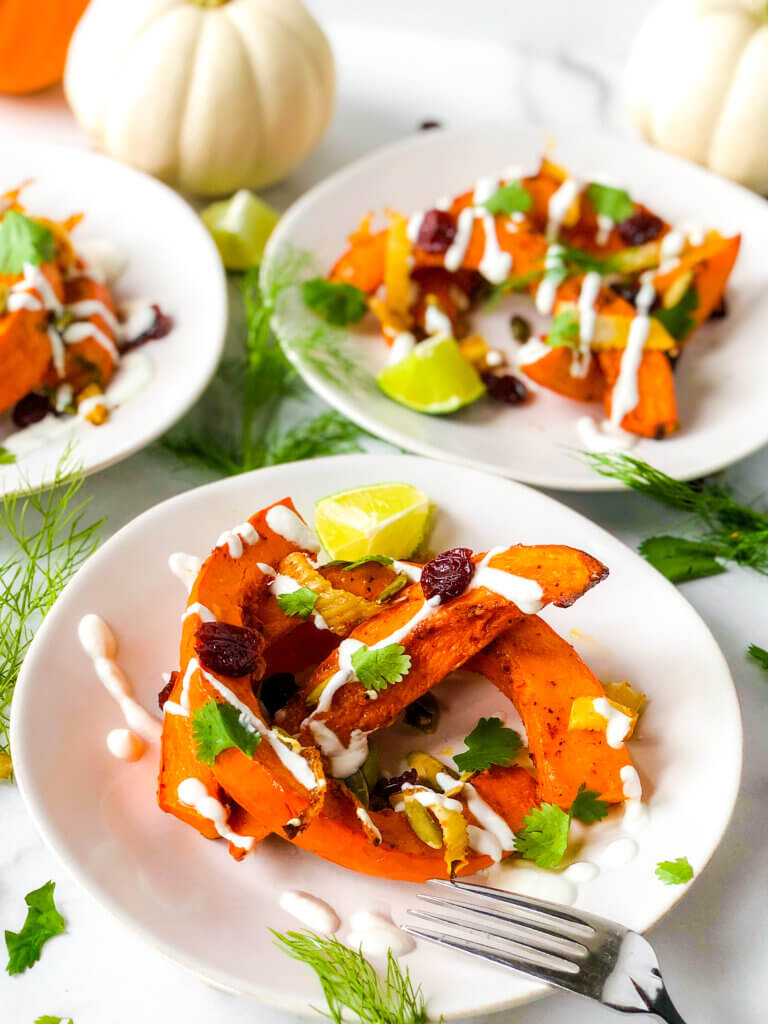 This past summer, I decided to expand my food horizons and order a CSA Box. CSA stands for "Community Supported Agriculture", and when you subscribe, you receive a box containing a variety of locally-grown, often organic, produce. Now, you don't necessarily choose what you receive. So, in my case, I've received many items I had never cooked, much less even heard of, before. For example, this beautiful and tasty Radicchio Castelfranco, and this Rosa Bianca Eggplant, and also foods I was aware of but never cooked, like Elephant Garlic.
A few weeks ago, I looked in my box and saw something vaguely familiar. It looked kind of like a pumpkin, but smaller, redder, and kind of tear-drop shaped. I looked at the list of fruits and veggies, and discovered it was a Red Kuri Squash. So…huh…what do I do with this?
 You know how I said receiving entirely new things in my CSA box is "exciting"? Well, perhaps I really meant it is "mildly stressful", because I hate wasting any fresh food. Therefore, I have to find a way to cook it that I (and my fam) will enjoy. So, I read about this particular squash and learned it had a more nutty flavor than many squashes, and it seems to have a firmer texture as well. And unlike many, the skin of a Kuri Squash is very thin and can be eaten, even pleasant. These all sounded like good things.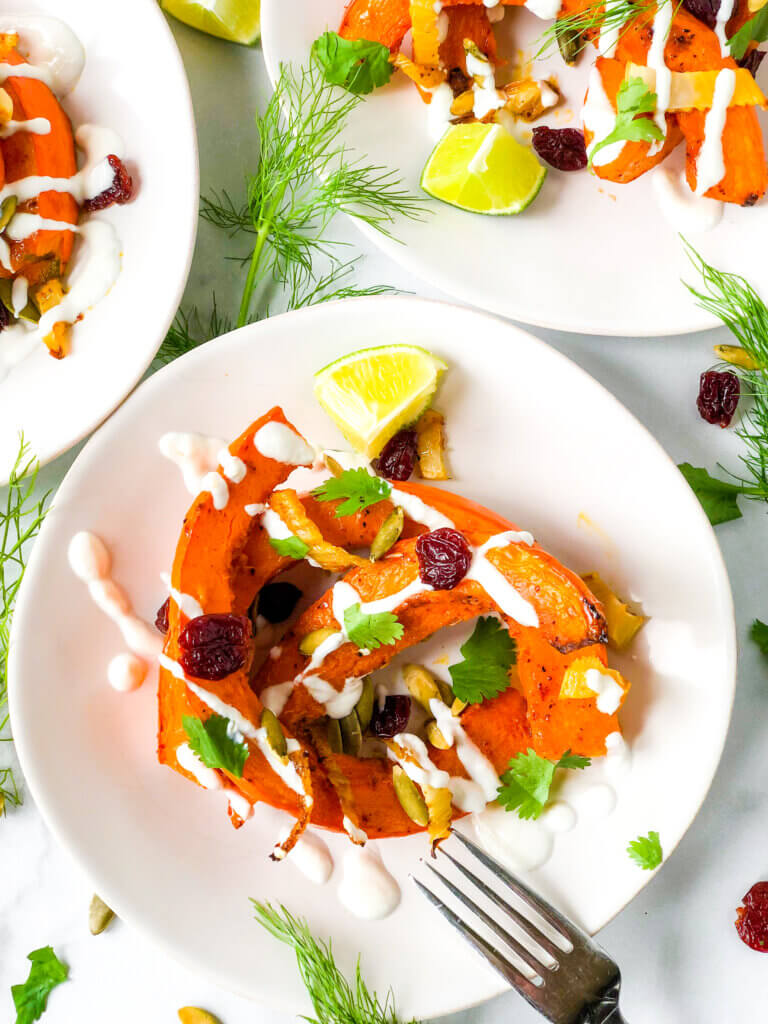 I usually make soup with squashes, but I really wanted to specifically taste the squash, so I decided to roast crescents of squash along with some fennel and make a warm salad, but with cool toppings. And, I found that not only was this super simple and pretty quick, this was definitely one of the best-tasting squashes I've ever had! And while the flavor of the skin was very mild, it indeed was easy to eat and didn't detract from the flavor of the flesh of the squash.
I wanted a flavorful seasoning for the squash so I rubbed the squash with Olive Oil and sprinkled it with Tajin, a popular lime-chile seasoning, before roasting it. Then I added some dried tart cherries; some roasted, salted pepitas, a light creamy dressing and some cilantro. And, I have to say, not only was this one of the best-tasting squash dishes, it was also quite satisfying! The warm Chile-lime-kissed squash with the cool dressing, chewy dried cherries, crunchy pepitas, was just a party of flavor and texture that can't be beat!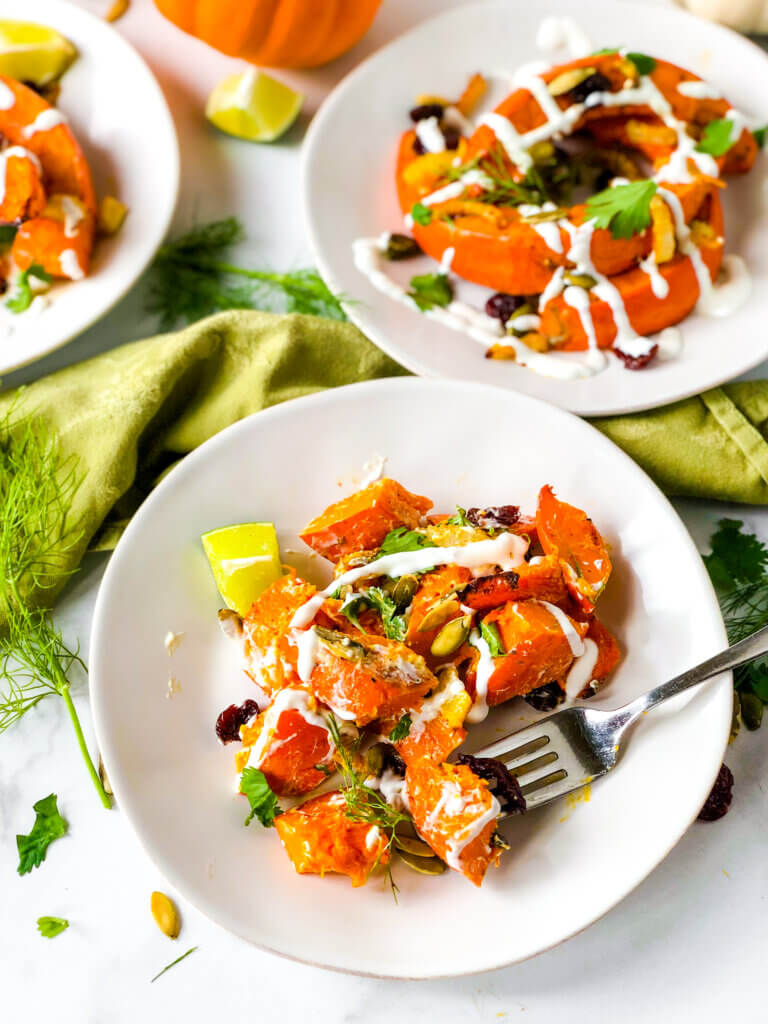 A great stand-alone lunch or in smaller portions, a nice side dish at dinnertime!
So, my new CSA box comes this week. It's been quite a learning experience as we've eaten so many vegetable-forward dishes and tried so many new things. I can't wait to see what's inside!
Enjoy!
If you're looking for other squash recipes, don't miss
Moroccan-Spiced Vegetable Soup (Vegan!)
Pumpkin Penne with Sausage and Spinach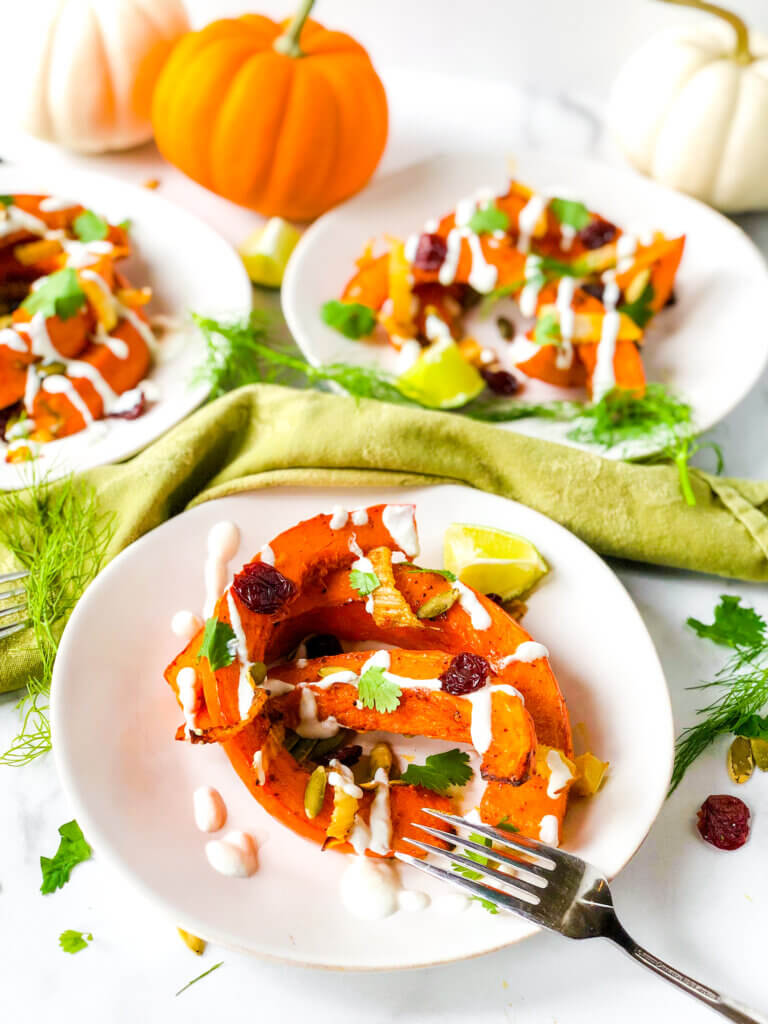 PIN Rosted Red Kuri Squash Salad ->
Kuri Squash Recipe Details ->
This post may contain affiliate links. As an Amazon Affiliate, I may earn a small commission, at no cost to you, for purchases you may make of items linked from this site.
This easy-to-make salad hits all the flavor and texture notes. It also contains good amounts of protein, fiber and healthy fats! You'll be thrilled with how simple it is!
First you'll want to preheat your oven and slice your squash. A large Red Kuri Squash might weigh 4 lb, so you'll want to use half of it, for 2-3 servings. If you need more, just use the whole squash. Once you stem and seed it, a half of this squash will weigh around 1.5 lb. Just slice it into 3/4-1″ wide crescents and rub oil and sprinkle the Tajin generously over each side. Then place them on a baking sheet (I love the ones from USA Pan!)
If you're unfamiliar with Tajin, you can buy it in most grocery stores, either in the Mexican foods or the Spice section, or you can buy it online here. Or you can make a similar spice mixture by mixing 1 tsp Chili (or Chile) powder, 1 tsp paprika and half a lime's zest and juice, and 1/4 tsp salt. You'll want to use about 1 tsp (or more, to taste) of this mixture to sprinkle over the squash crescents and the remaining to season the dressing or sprinkle at the table, if desired.
Alongside the squash, also roast some thinly-sliced fennel (about 1/2 a fennel bulb's worth), drizzled with oil. The total roasting time will be 20-30 minutes, and when done, the squash will be fork-tender.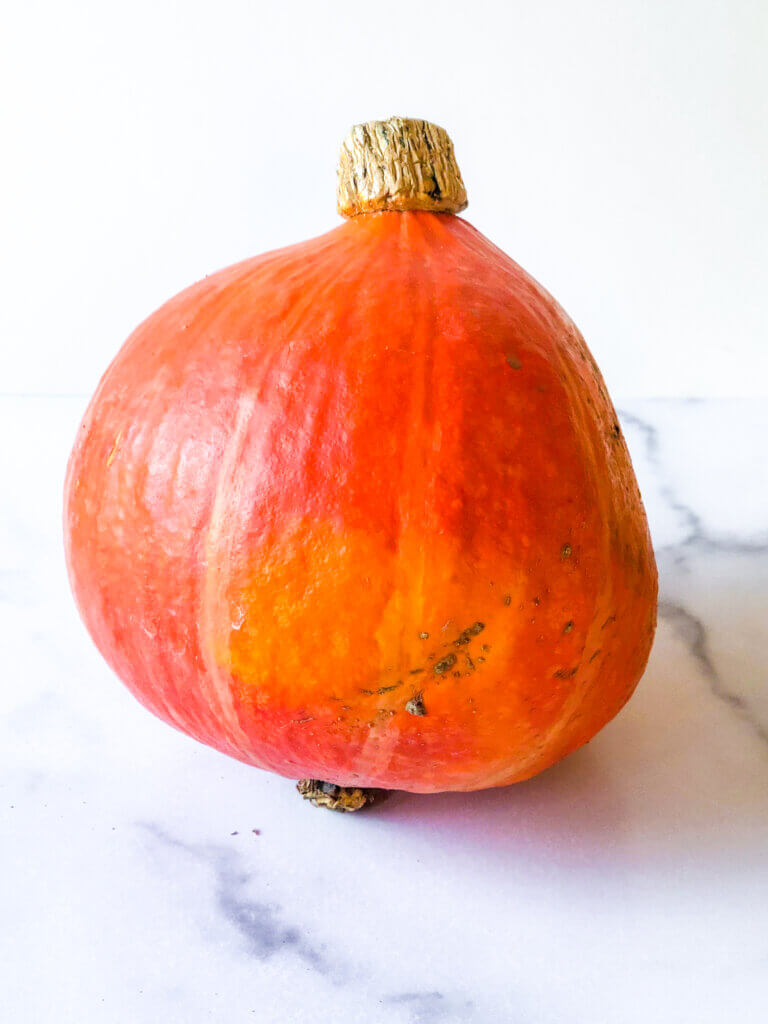 While the squash roasts, make the simple dressing. Just mix the yogurt and sour cream together, add a teaspoon of honey, a bit of lime juice, and a pinch of salt. Set aside. If you don't have honey, feel free to use Maple syrup or even sugar. 
While the squash is still warm, arrange the crescents and the fennel on a platter or individual plates. Drizzle with dressing, and sprinkle dried cherries (or cranberries!), pepitas (or pistachios!), and chopped cilantro. Serve warm or at room temperature.
I hope you enjoy this warm squash salad as much as we did!
Print
Roasted Kuri Squash Salad Recipe
A super-simple and tasty salad! Roasted red kuri squash has a slightly nutty taste. I seasoned mine with Mexican-style flavor and dressing. This salad is a good way to try a new squash or a new way if you're already a Red Kuri fan!
Author:
Prep Time:

5 mins

Cook Time:

25 min

Total Time:

30 mins

Yield:

3

–

4

salads

1

x
Category:

Salad

Method:

Oven

Cuisine:

Global
Ingredients
2

lb (.9kg) Red Kuri Squash (small or

half a

large Red Kuri), stemmed and seeded

1/2

Fennel Bulb, sliced thin (about

1/2 cup

)

1 Tbsp

(15ml) Olive Oil

1 tsp

(or more!) Tajin Seasoning, plus extra for sprinkling or for the dressing

3 Tbsp

dried cranberries or cherries

3 Tbsp

Roasted, Salted Pepitas (pumpkin seeds)

2 Tbsp

Chopped, fresh cilantro

2 Tbsp

(30ml) Greek Yogurt (full fat or 2%)

2 Tbsp

(30ml) Sour Cream (I used full fat)
Juice of

1/2

lime (about

2 tsp

-1 Tbsp)

1 tsp

(5ml) Honey or Maple Syrup
Instructions
Slice the seeded Kuri Squash into crescents that are 3/4-1″ thick at their thickest point. Half a large squash should yield 9-10 crescents.
Slice the fennel bulb into small strips.
Place the squash crescents and 1/2 cup fennel strips onto a sheet pan, lined with parchment if desired (but not necessary). Rub all over with the olive oil and sprinkle generously with the Tajin seasoning.
Place in preheated oven and roast until fork-tender, about 20-30 minutes (I removed mine at 25 mins.)
While the squash is roasting, prepare the dressing: In a small bowl, stir together sour cream, yogurt, lime juice, honey (or maple syrup), then add pinch of salt (or a pinch of tajin).
When the squash is done, remove and let cool just a bit, maybe 5 minutes. Remove to a serving dish or individual plates. Top with the strips of roasted fennel, dried cherries, pepitas, cilantro, and dressing. Serve warm or at room temperature.
Keywords: roasted kuri squash salad, roasted squash, what to do with a kuri squash, kuri pumpkin, red kuri squash, how to cook kuri squash, easy squash recipe,
Recipe Card powered by