Rich, creamy Sweet Potato Cheesecake Squares atop a gingerbread crust, that doubles as a crumble on top! Perfect for the Holidays and easy enough for every day!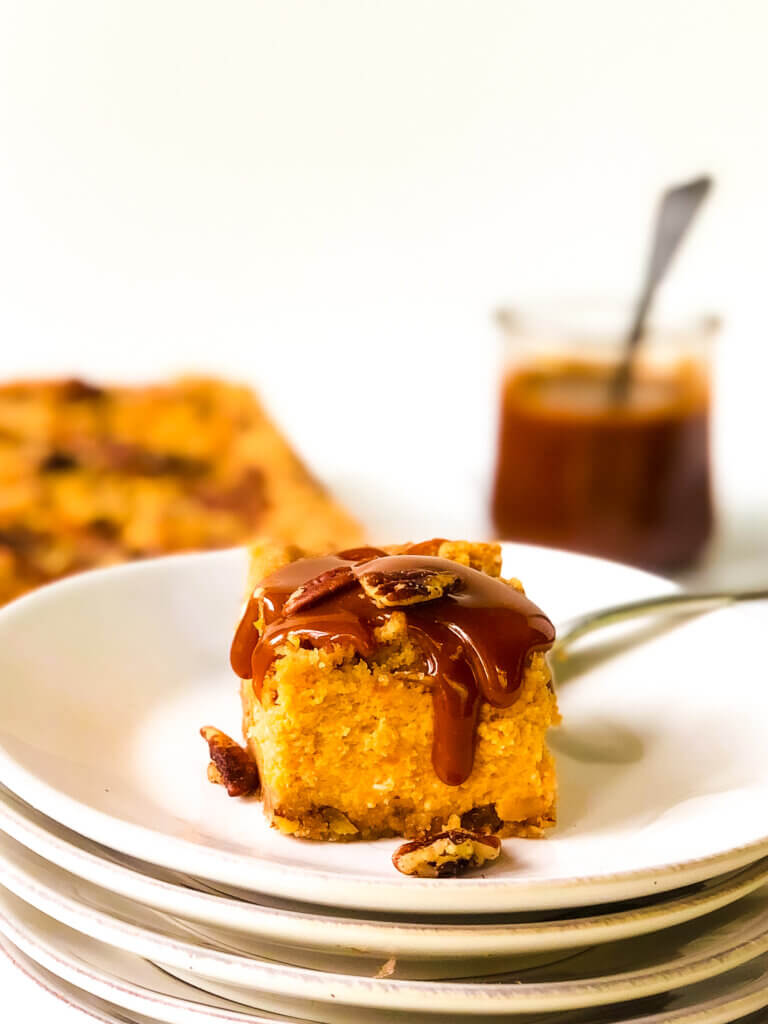 I have a history with Cheesecake. Do you remember the first time you ever heard the words "cheese" and "cake" together? Did you think, "Sign me up!" or "No, thanks, I'll pass on that!" To me, it was definitely the latter. Those were the days that, to me, "cheese" meant Cheddar or American cheese, not smooth, lush cream cheese. But then, eventually, I tried this cheesy cake. And, ever since, it's difficult to pass one by and not have a taste bite slice whole cake!
And, if you're a cheesecake lover like I am, I have a treat for you! Sweet Potato Cheesecake Bars are a bite of Autumnal Heaven! You may have tried Pumpkin Cheesecake, but have you ever made cheesecake with Sweet Potato? OMG, so good! And you can't deny the nutritional benefits of the Sweet Potato – a single small potato has a good supply of Vitamin A, needed for heart, lung, and kidney function. Also some Vitamin C, a bit of protein and some fiber! It also has more natural sugar than pumpkin, meaning you can add less additional sweetener to the cake.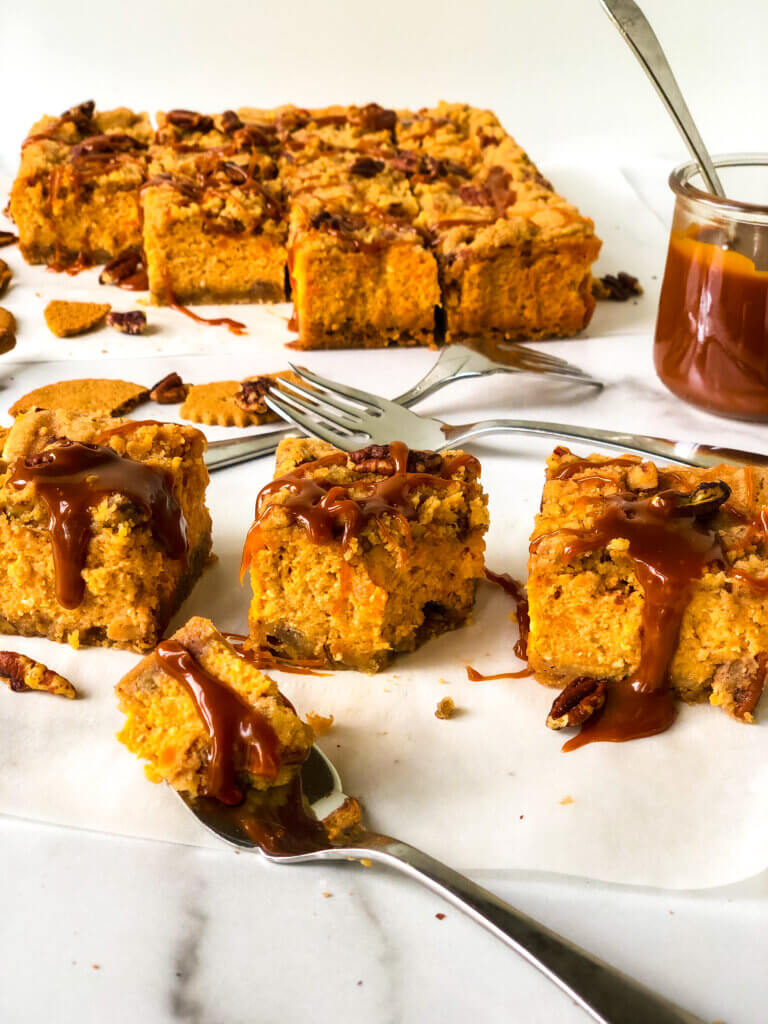 Now I'm not saying these Sweet Potato Cheesecake Squares are health food. But what I am saying is that compared to other sweets, they fare pretty well on the health-o-meter. But, let's just move on to the flavors here:
I made my crust (which conveniently doubles as the crumble on top!) with Gingersnaps! It's so easy, you can just put all the ingredients into a bowl and mix with your hands to form the crust mix. Press 2/3 of it into the pan, and you're ready to go. It is a bit sturdier crust than a graham cracker crust, also a bit crispier, so you could pick up one of these bars with your hand, and make it feel more like a snack than a dessert. You'll make the cheesecake filling with a hand- or stand-mixer in just a few minutes' time and pour it over the baked bottom crust. And the remaining gingersnap crumble on the top just seals the deal here. Then off to bake!
That thick layer of sweet potato cheesecake in between the crust and crumble, and maybe a bit of salted caramel on the top, and you have a winner of a dessert or snack, or even breakfast, if you're interested….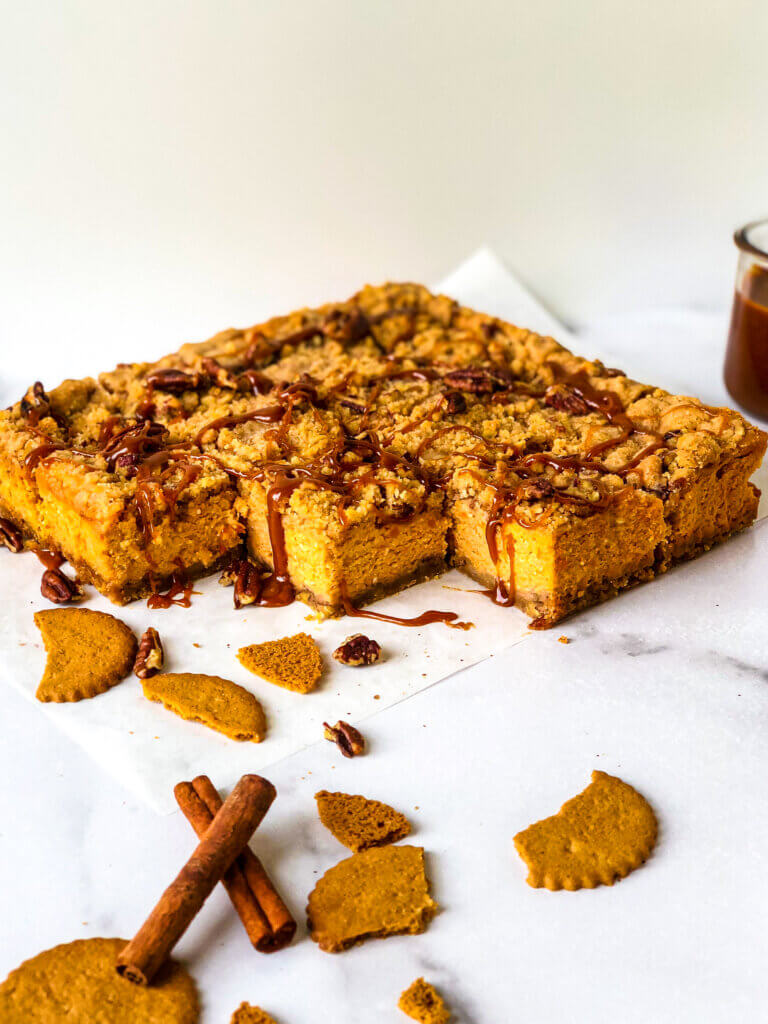 And, by making these lovely bars in an 8×8 baking pan, there's no need to worry about a water bath, because the crumble hides any cracks that may form.
So, have you tried Sweet Potato Cheesecake? If not, what are you waiting for?
Enjoy!
If you're looking for other cheesecake recipes, check out my:
No-Bake Chocolate Peanut Butter Cheesecake
The Best New York Style Cheesecake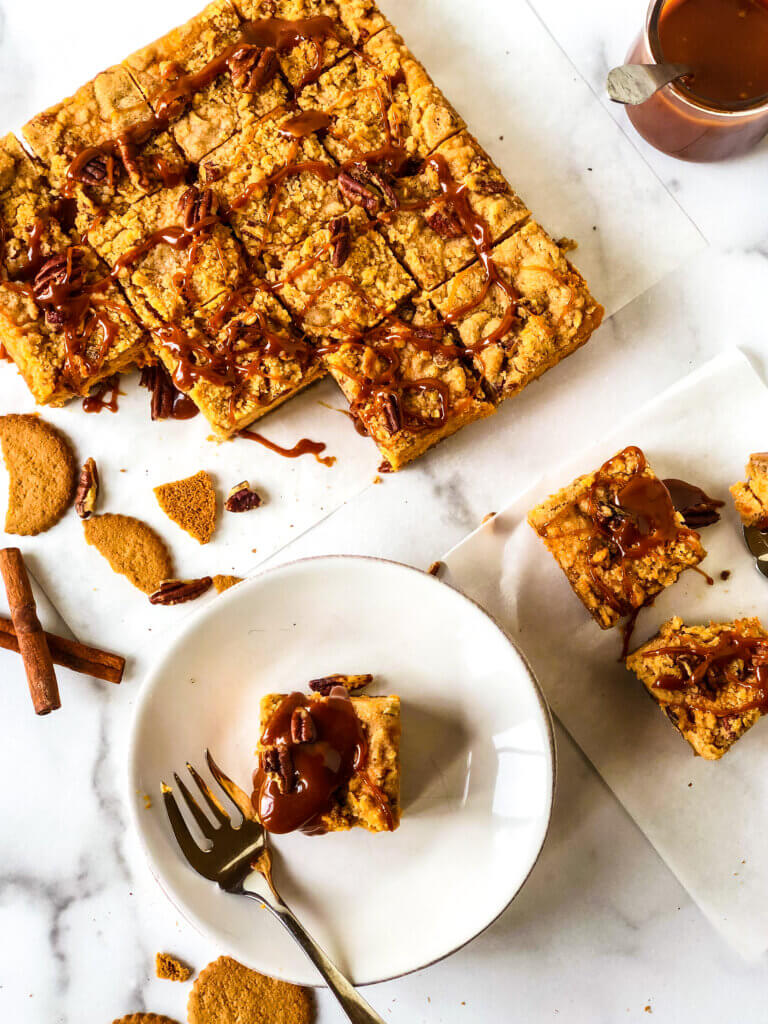 PIN Sweet Potato Cheesecake for later ->
Recipe Details ->
This post may contain affiliate links. As an Amazon Affiliate, I may earn a small commission, at no cost to you, for purchases you may make of items linked from this site.
Making cheesecake bars is much less fussy than making a round cheesecake in a springform pan, although if you like you could make this one that way. But the benefits of using an 8×8 pan and making cheesecake bars are:
No water bath needed, the crumble on top might cover any cracks that form during baking.
Quick, easy preparation
Easy to serve – you could even eat these bars out of your hand. The crust is nicely crisp.
And, these bars also use only 1-8oz package of cream cheese as opposed to up to 3-4 in a traditional cheesecake. They may not be quite as cheesy, but they are a wonderful, slightly less decadent bite of Autumn, so perfect for the Fall and Winter Holidays!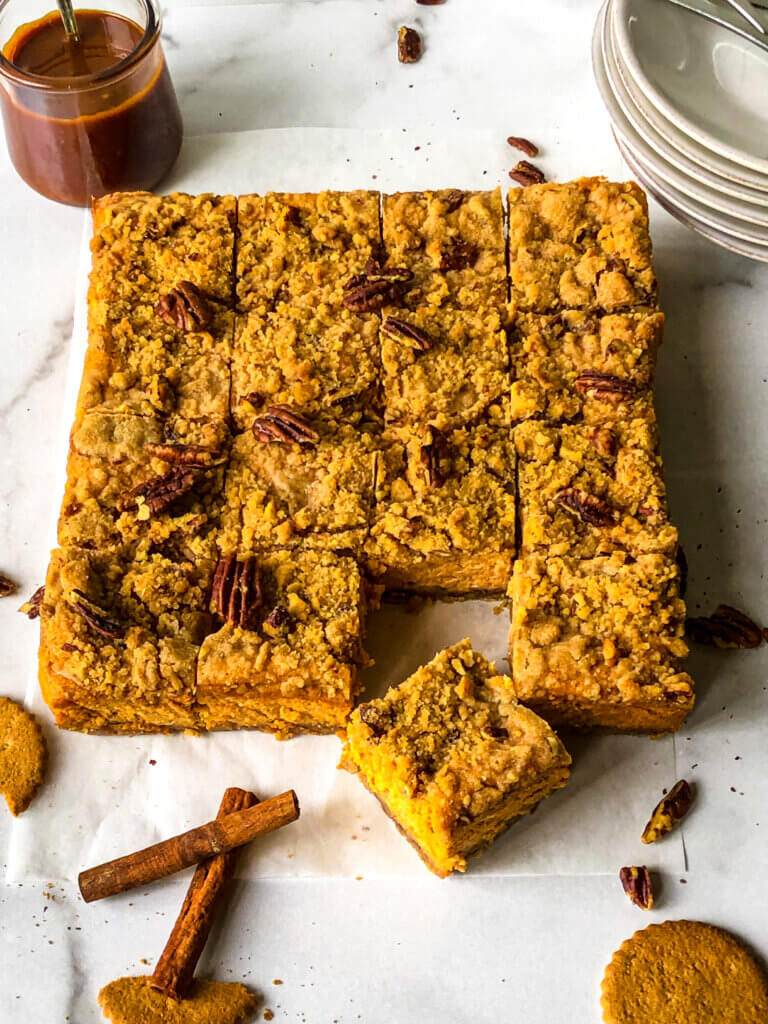 Here are a few hints:
Always Bake with Room Temperature Ingredients. Although this super-simple recipe is adaptable in many ways, there is one non-negotiable here. Be sure all ingredients are at Room Temperature! So, set them out in the morning, or at least an hour before you bake. They will be much easier to incorporate into a smooth batter and will bake up nicely.
Use a small Kitchen Scale to Measure Ingredients! This device has literally saved me so much time and angst when baking in the kitchen. I just measure my ingredients in the bowl in which I will mix them, to the gram, hit the "tare" button, which sets the measurement back to "0", then measure the next ingredient, right in the same bowl. That way, I don't have to switch (and dirty) multiple measuring cups and spoons. So many kitchen scales to choose from, I use this one, which I bought 7 or 8 years ago. A good hint would be to buy extra batteries when you buy the scale. They last awhile, but when they run out, you'd hate to have to go back to the old way of measuring!😉
Such easy preparation! The crust mixture, which you can make using your hands in a medium mixing bowl, also doubles as the crumble for the top. The filling is quickly made, with just a few steps, in a Stand mixer. If you don't have a stand mixer (I LOVE my KitchenAid!), a hand-mixer will do, or you could puree the filling in a blender (We love this one for Smoothies!).
Use a spice grinder to pulverize the Gingersnaps. It's quick and easy and grinds them into a nice flour-like consistency (see photo below). Perfect for the small amount you will need for this recipe. I've had this one, from Krups, for years! I grind coffee beans, nuts, spices and occasionally gingersnaps with it! If you don't have a spice grinder, a blender will also work.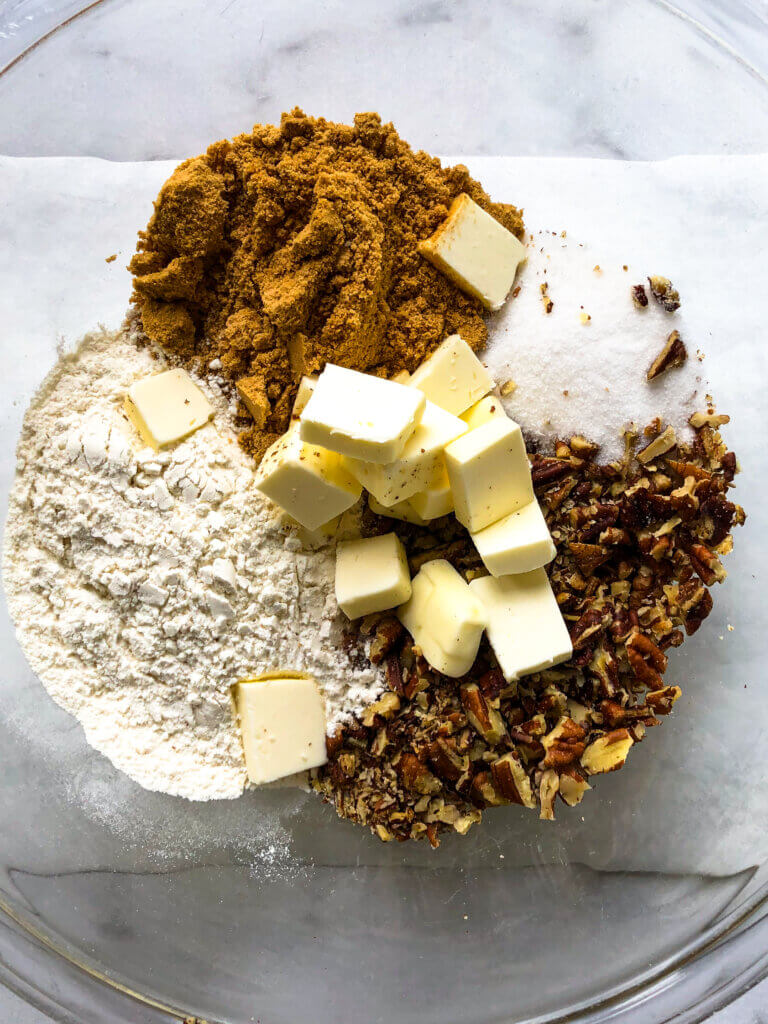 SOME QUESTIONS YOU MAY HAVE
Could I substitute Pumpkin for the Sweet Potato? Theoretically you could. However, sweet potato has more natural sugars than pumpkin, so you would likely need more sugar added. For this recipe, I strongly suggest sticking with sweet potato. I roasted a sweet potato the day before. By the next day, it was so easy just to slip it out of the peel and weigh approximately 15 oz. of potato, and mash it. As to which is the better health choice, check out the comparison done by Prevention Magazine, showing sweet potatoes have way more fiber, protein, Vitamin C, and a week's worth of Vitamin A in a single serving! Your lungs, heart an kidneys will thank you!
Could I use a 9×9 pan? I have not tried this recipe with a 9×9, and I feel the main drawback would be you might not have enough crumble for both the crust and top crumble. So, if you don't have an 8×8 pan, I would recommend using a 9-inch round cake pan or springform pan, as the area is almost the same as an 8×8 square. And, because of the crumb topping, you don't need to fear a crack or two in the cake.
How do I make the Caramel Sauce? I used the same recipe as I did in my Salted Caramel Apple Pie Bars, a classic recipe I adapted slightly from Sally's Baking Addiction. It's so simple and with just a few basic ingredients, you'll have salted caramel sauce!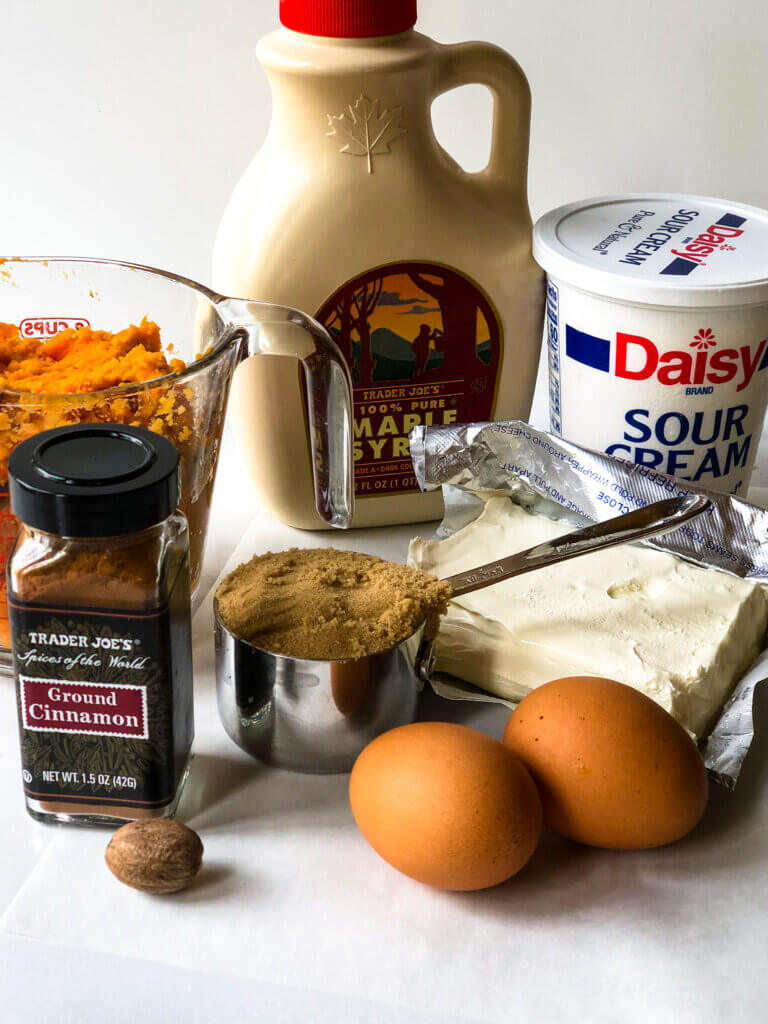 Print
Sweet Potato Cheesecake Bars
Rich, creamy Sweet Potato Cheesecake Squares atop a gingerbread crust, that doubles as a crumble on top! Perfect for the Holidays and easy enough for every day!
Author:
Prep Time:

25 min

Cook Time:

45-55 min

Total Time:

0 hours

Yield:

1

–

8

x8 pan of Cheesecake Bars

1

x
Category:

Dessert, cake, snack

Method:

Baking

Cuisine:

American
Ingredients
For the Crust (and Crumble):
3/4

c  (90g) AP Flour

1/2

c (about 62g) ground Gingersnaps (about

20

thin, crispy cookies)

1/3

c (67g) Granulated Sugar

1

stick (114g) Cold Butter, sliced into small (1/2″) cubes

3/4

c ( g) Chopped Pecans (I used roasted pecans, but raw are fine, too)

1/4

–

1/2

tsp Kosher Salt (I used the full

1/2 tsp

)
For the Filling:
1

–

15

oz (425g) can Sweet Potato Puree, or mashed, cooked flesh from a 1-lb (

454g

) Sweet Potatoes

8 oz

. (

227g

) Cream Cheese, room temperature

1/2

c (120g) Sour Cream (Low-fat is fine)

1/3

c (80ml) Maple Syrup 

1/2

c (98g) Brown Sugar (light or dark is ok)

1/2 tsp

Kosher salt

1 tsp

Ground Cinnamon

1/2 tsp

Ground Nutmeg

2

Large Eggs
Instructions
Make the Crust/Crumble:
Preheat oven to 350F (Conventional) or 325F (Convection/Fan). Prepare an 8×8 baking pan by spraying or buttering, and, if you want to remove the cake following baking, add a layer of parchment with overhang to lift the cake out once it's cool.
In a Medium-large bowl, whisk together the flour, sugar, ground gingersnaps, pecans and salt. Place the butter cubes in the bowl. Using a pastry cutter, 2 knives, or your fingertips, press the butter into the dry ingredients and breaking it into smaller pieces, until pieces are of varying sizes, but a clump of dough will hold together when squeezed in your hand.
Firmly press 2/3 of the buttery, powdery dough into the bottom of the pan.
Bake in preheated oven 10 minutes, then remove to cool.
Make the Filling:
In a stand mixer at Medium to Medium-high speed, or a large bowl, and using a hand mixer, combine the following ingredients until smooth, light and fluffy: Cream Cheese, Sour Cream, Maple Syrup, and Brown sugar. This should take several minutes.
Once smooth, add the pureed or mashed sweet potato, and mix until as smooth. Canned puree will incorporate smoothly easier than mashed sweet potato. Then add the spices and salt. Mix until incorporated, and smooth as you can get it.
Add in eggs, one at a time, until fully incorporated.
Pour the thick batter over the baked and mostly cooled crust.
Sprinkle remaining Crust/Crumble Mixture over the entire top of the cake, being careful not to press into the batter. 
Return to oven and bake until cake is set except for a slightly jiggly middle, 35-45 minutes. (See Note 1)
Remove from oven and cool completely.
Refrigerate before serving. (See Note 2)
Notes
1. All ovens are different. In my convection oven, my cake was perfectly done around 38 minutes. I removed it after 40 minutes. But use your own judgment, and when the outsides of the cake seem set, with slightly jiggly middle when you jiggle the pan lightly, the cake is done. 
2. Cake is best served a day or even 2 after it is baked. Cut into 16 squares, or 9 for hearty appetites, and serve topped with pecans, and caramel sauce, if desired. 
Keywords: Sweet Potato Cheesecake, Bars, Sweet Potato Pie, Sweet Potato Pie Bars, Thanksgiving, Sweet Potato Cheesecake Bars, desserts, snacks, Pumpkin Cheesecake Bars, Easy Cheesecake Bars,
Recipe Card powered by