I'm not sure if it's a post-holiday thing, a result of my recent kitchen breakdown , or if I'm just keenly noticing how cluttered everything in my life is:  my desk, my closet, my brain (too many "to-do lists" and mental calendars!). But lately the following phrases are just popping into my mind: Simpler is Better.  Less is more.  Simplicity is the ultimate sophistication. I know this is a kind of boring song I sing often, but how many times have you heard these phrases? Why do we routinely hear them? Because they are (usually) true (because we all know, there are, admittedly, occasions where More is More!).
And to me, this recipe is a fine example of the simplicity we all seek. Best of all, there are no secrets here – no secret ingredient, no crazy process, no mystery flavor. Simply put, this cheesecake is the best cheesecake recipe ever!  It is a straightforward classic where you truly can taste every luscious ingredient, from the tangy cream cheese to the fragrant vanilla. Some may call this cheesecake "plain".  But trust, there's nothing "plain" about this cheesecake. That tall, dense, creamy filling has but 5 ingredients.  Plain? Hardly. More like Classic. Sublime? Definitely.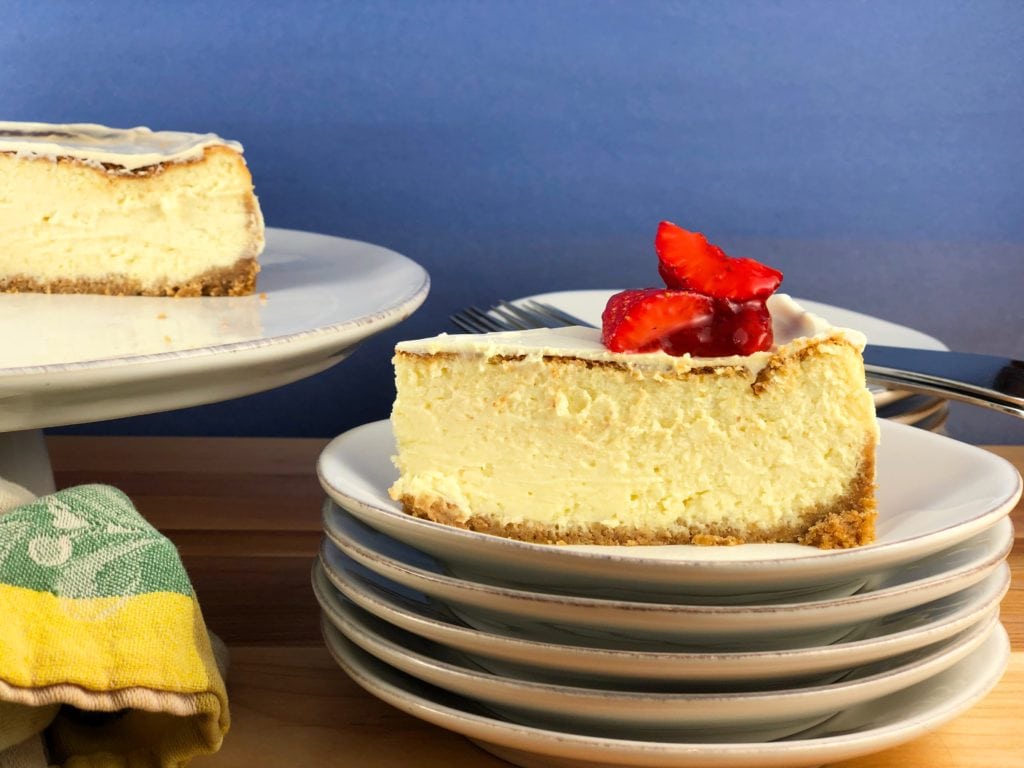 Now, if you're in one of the aforementioned "More is more" moods, try my fabulous Lemon Blueberry Cheesecake, or this decadent No-Bake Chocolate Peanut Butter Cheesecake.  Or, take a look at what my fellow blogger Kelsie does with cheesecake in Itsy Bitsy Kitchen  – so impressive! Any of these will certainly delight you! But this recipe, from Top Secret Restaurant Recipes 2,  is the classic Best Cheesecake, at its finest. It is one that will always be in your personal cookbook because it's both easy and impressive! Dinner parties, holidays, birthdays – who doesn't love cheesecake?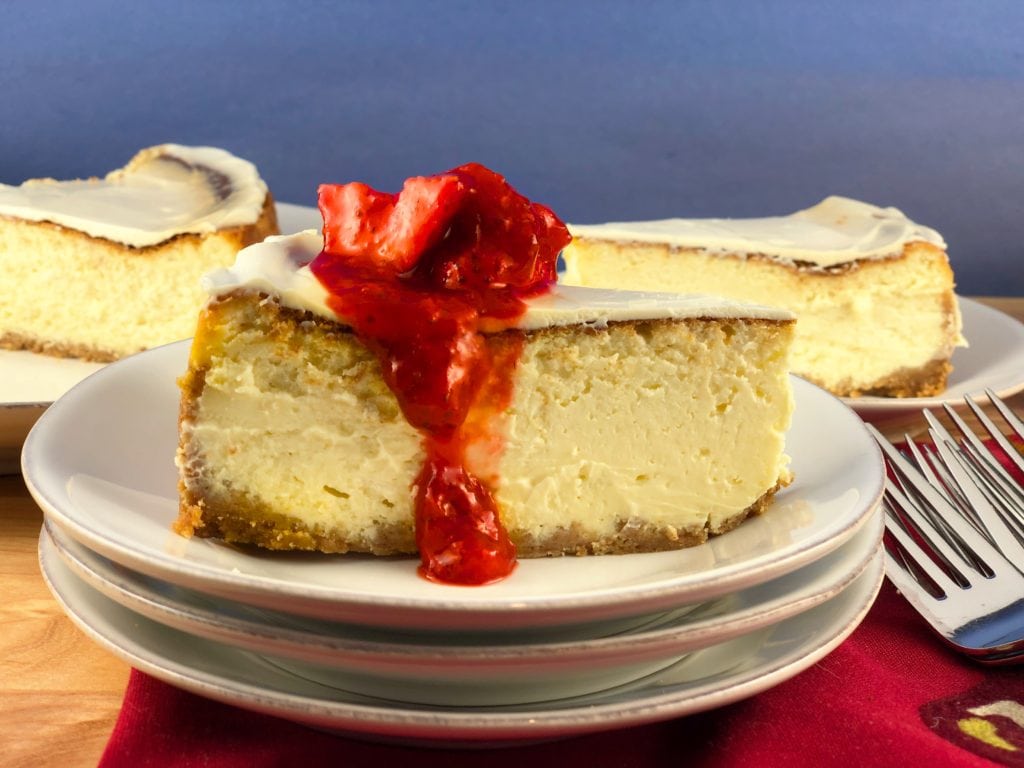 Do with it what you want – go ahead and gild that lily –  top it with fresh fruit, whipped cream, caramel sauce, lemon curd, jam, whatever…but one taste of this classic cheesecake and you will know. The simplest cheesecake really is the best cheesecake.  Add that to your quotable quotes list! And let me know: do you subscribe to the "Simpler is Better" philosophy or are you a "More is definitely More" person? Enjoy!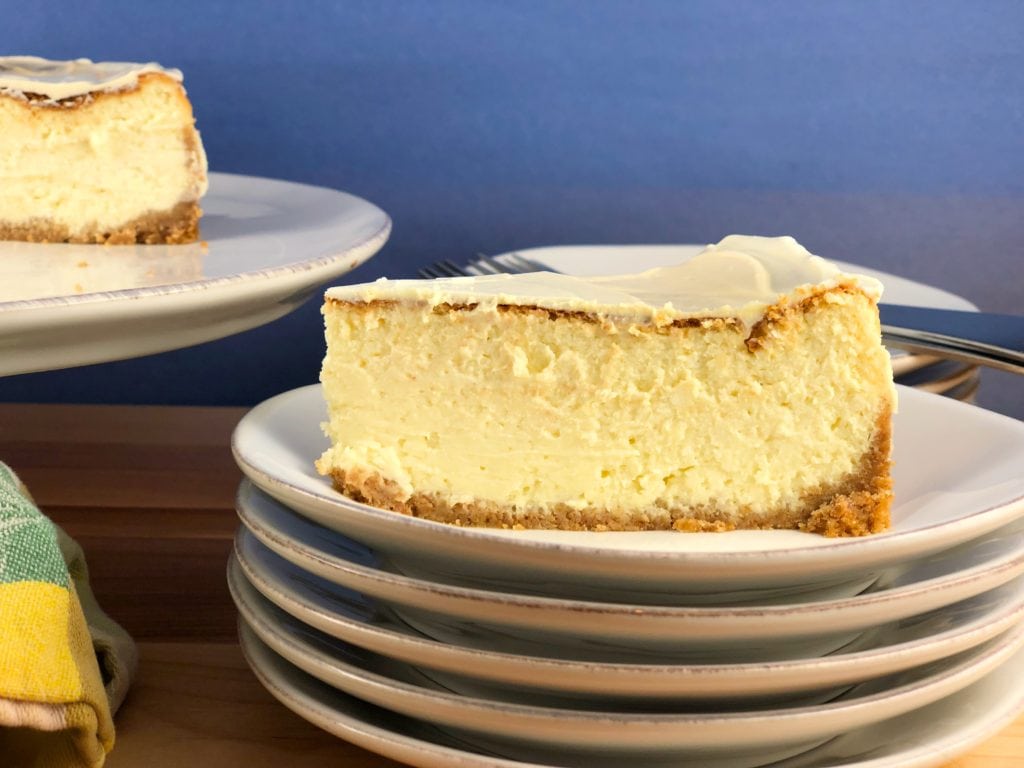 Print
The Best Cheesecake
Creamy, smooth, tangy cheesecake! This "plain" vanilla cheesecake will be your new favorite!  Add fruit topping, jam, chocolate sauce, or caramel! A blank canvas for your imagination. Or enjoy it plain!  So so satisfying.  Not too sweet!
Special equipment needed: 9" springform pan.
This recipe is adapted from one found in Top Secret Restaurant Recipes 2, as seen on Www.myrecipes.com
Author:
Prep Time:

20 min

Cook Time:

60 - 70 min

Total Time:

90 min

Yield:

12

servings

1

x
Category:

Desserts

Method:

Baking
Ingredients
For the Crust
1 1/2

c graham cracker crumbs

1/4

t Ground Cinnamon

1/3

c butter, melted
For the Filling
4

–

8

oz. packages Cream Cheese, at room temperature

1 1/4

c Sugar

1/2

c Sour Cream

2

t Natural Vanilla Extract

5

Lg Eggs
For the Topping
1/2

c Sour Cream

2

t Sugar
Instructions
Prepare the Crust
Preheat oven to 475F. Place a large rimmed pan (I used a sheetpan) in the oven, and pour 1/2" water into it. Line the bottom of a 9" springform pan with parchment paper.
Into a medium bowl, place the cracker crumbs, cinnamon and melted butter.  Mix with a spoon, then press into springform pan, covering the bottom and moving up the sides at least halfway.
Wrap a large piece of aluminum foil carefully and tightly around the bottom of the pan, and about 2" up the sides, to seal any cracks from which water could enter.
Freeze crust while you prepare the filling.
Prepare the Filling
Use a handmixer or a standmixer to mix together the cream cheese, sugar, sour cream and vanilla until creamy, making sure to scrape down sides so all ingredients are incorporated. In a seperate medium bowl, whisk the eggs together, then combine with cream cheese mixture until just incorporated.
Remove crust from the freezer.  Pour the cream cheese mixture into the crust, smoothing the top.
Place the cake into the water bath – the water should be pretty hot at this point.  Bake for 12 minutes.  Reduce oven temperature to 350F for 50-60 minutes until the top is golden-colored.  If all of the water evaporates, you can pour more water into the pan if you like, but it isn't completely necessary,  The cake should be slightly jiggly around the edges, with the center 2 inches being more jiggly than the edges.  It will firm up while it cools.
Remove the cake from the water bath and place on a wire rack to cool.
Make Topping
Let cake cool at least an hour.
Combine the sour cream and sugar.  Spread evenly over cake.  Cover and refrigerate at least 4 hours and up to overnight before serving.
Nutrition
Serving Size:

1/12 recipe
Recipe Card powered by
Pin for Later ->