Everything in my kitchen is breaking down. It all started innocently enough, with something old and small-ish, the toaster.  We'd had that toaster for so many years and had grown accustomed to only being able to toast on 1 side of the bread, then turning it over to toast the other side.  We put up with this for a several years, actually.  Pretty sure my kids thought this was how a toaster worked. But then, even the one-sidedness broke. Ok, new toaster. No big deal. But then came the microwave. And then the dishwasher. And those were just the beginning.  The long list of things needing replaced in the past 9 months also includes the food processor, coffee maker, kitchen scale, immersion blender, cookware (my saucepans each split all around the top edge!), and last, but certainly not least, my beloved range – the king of my kitchen! And horror of all horrors, they no longer make the part that will fix the range. (We had gotten used to replacing this certain part every year or two.) So while I wait for the new range to be installed (that lovely but dishearteningly unfamiliar thing is sitting right in front of me, uninstalled, due to an insufficient electrical connection), so the installer will have to be scheduled to come back a second time.  UGGHHH! (I know, a "first-world" problem) But, did you know I got an Instant Pot for Christmas?  That's where I made this lovely and delicious, take-your-mind-off-the-broken-stuff Instant Pot Chicken Adobo!
A traditional Filipino dish, Instant Pot Chicken Adobo just might become your new favorite chicken!  It hits all of the right notes – a little zip of sour, a nice helping of salty, a touch of sweet.  And those carmellized onions draping it are so lovely and sweet.  And the chicken is fall-off-the-bone scrumptious! Like many of my favorite dishes, the star of the show is the sauce.  I could pretty much just drink the sauce, it's that yummy, but that would be wrong……wouldn't it?  And shockingly quick and easy in the Instant Pot! I do give instructions for cooking it in the slow-cooker or stovetop as well, so there's really no reason to not make this for dinner any given day.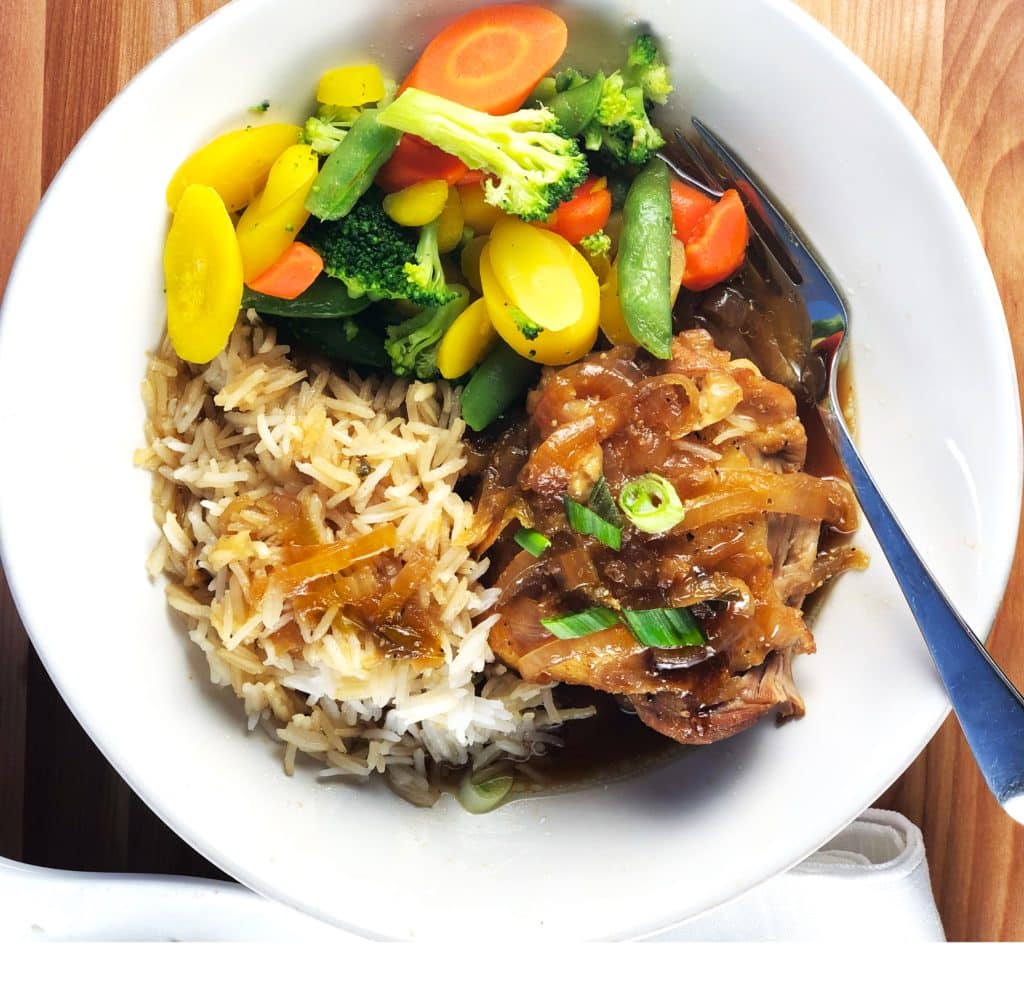 Now, I'm not complaining about all of my appliance breakage – I know and am happy all of my aforementioned goods all had a long and well-loved life, so I'm not complaining about the bomb cyclone of breakage. They must have been exhausted by all the use they got during their lives. And I'm thrilled that, in their own way, they brought me to Instant Pot Chicken Adobo!  But now I'm researching new Washer and Dryer sets – I'm pretty sure ours have anywhere between 2 hours and 2 months left.  Any ideas here? Enjoy!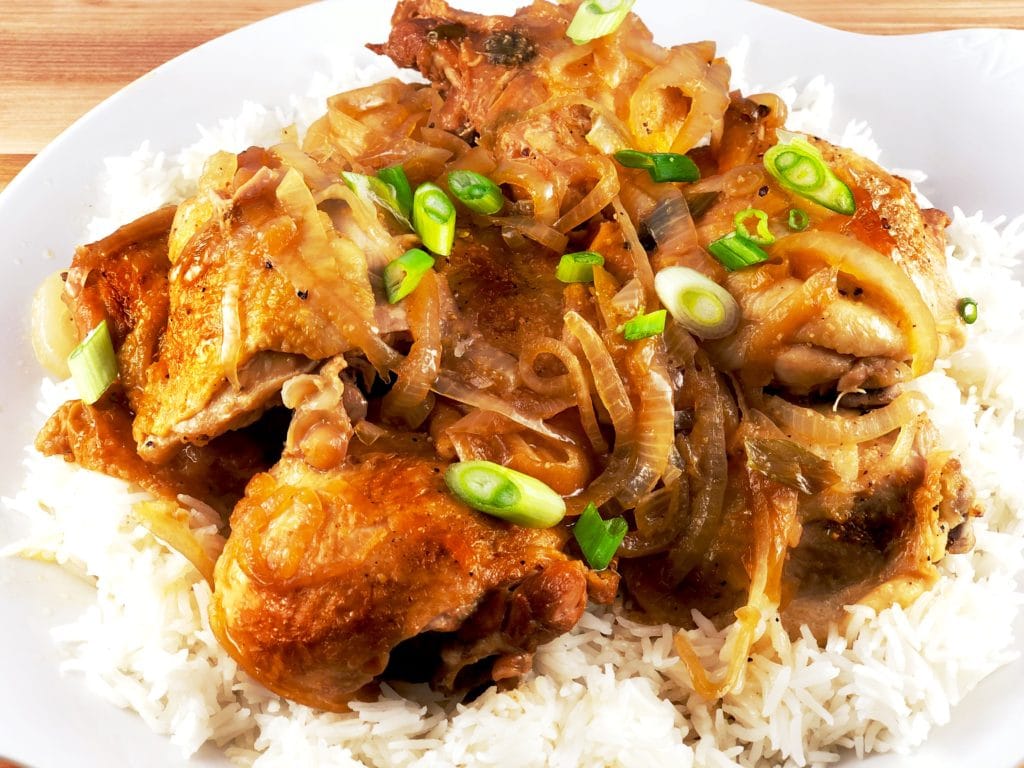 Print
Instant Pot Chicken Adobo
A traditional Filipino dish, this salty-sour-sweet dish will be one you will want to make again and again. It is traditionally served with white rice.  So delicious!
The recipe calls for 3 lb chicken pieces – feel free to use a whole cut-up chicken, or bone-in, skin-on legs, thighs and/or breast halves.
Make this dish in Crockpot, InstantPot or Stovetop!  Be sure to read and understand any specific usage and safety instructions for the cooker you use, all are different!
Author:
Prep Time:

5 min

Cook Time:

40 min

Total Time:

45 min

Yield:

6

servings

1

x
Ingredients
For the Chicken
3

lb. chicken pieces (I used

10

chicken thighs)

2

T vegetable oil or other high-heat-tolerant oil
Salt and Pepper
For the Sauce
1

lg or

2

medium yellow onions, halved, sliced thin

2/3

c Soy Sauce (low sodium is ok)

1/2

c White vinegar

1/3

c Sugar

8

cloves Garlic, peeled and smashed

4

Scallions, sliced
Instructions
Brown the Chicken
Salt and pepper the chicken pieces. On the stovetop or InstantPot, in 2 T oil, brown the chicken until golden on skin side.
Make the Sauce
In a 4-cup measuring cup or a medium bowl, mix all of the sauce ingredients, leaving aside the sliced onions.
Instant Pot Directions
Put all of the browned chicken pieces in the InstantPot, layering with the onions. Pour the sauce over the chicken and onions.  Using the Pressure Cook setting, pressure cook the chicken for 15 minutes.
After cooking is complete, release the pressure manually.  Once the pressure is released, open pot and place chicken on a platter.  Turn pot to Sauté and reduce the sauce for 10-20 minutes until thickened as you like.  Pour over chicken and serve with rice.
CrockPot Directions
Place all of the browned chicken pieces in the Crockpot. Pour the sauce and onions over the chicken.
Cook on Low heat 8 hours.  Remove chicken to platter.
Reduce sauce as desired in separate pan on stovetop.  Pour over chicken. Serve with rice.
Stovetop Directions
In the same pan you browned the chicken, add the onions and saute 8-10 minutes, adding the garlic during the last 2 minutes.  Once onions begin to become translucent, add the remaining sauce ingredients, stir, then add chicken to the sauce.
Cook covered over medium/medium-low heat 40 minutes or until chicken is cooked through.
Remove chicken pieces and reduce sauce as desired.  Serve with rice.
Recipe Card powered by
Pin for later ->