When you need a restaurant quality dish that is way easier than it looks or tastes, ask a pro! Lidia Bastianich's Pork Chops with Capers and Lemons are all that and more!
I used to work downtown, in a big office on the 11th floor of a big building. One day, a new gym opened up about a block from the office. They offered a "New Member Special" complete a few personal training sessions, just to get people in the door. A few colleagues and I decided to spend a few lunch hours a week there. After all, what else were we doing with that that time? Feeding our faces? (Never mind we still had to eat after working out – try to fit that in after spending lunch hour doing something else!) Anyway, they assigned me to this trainer named Vincent.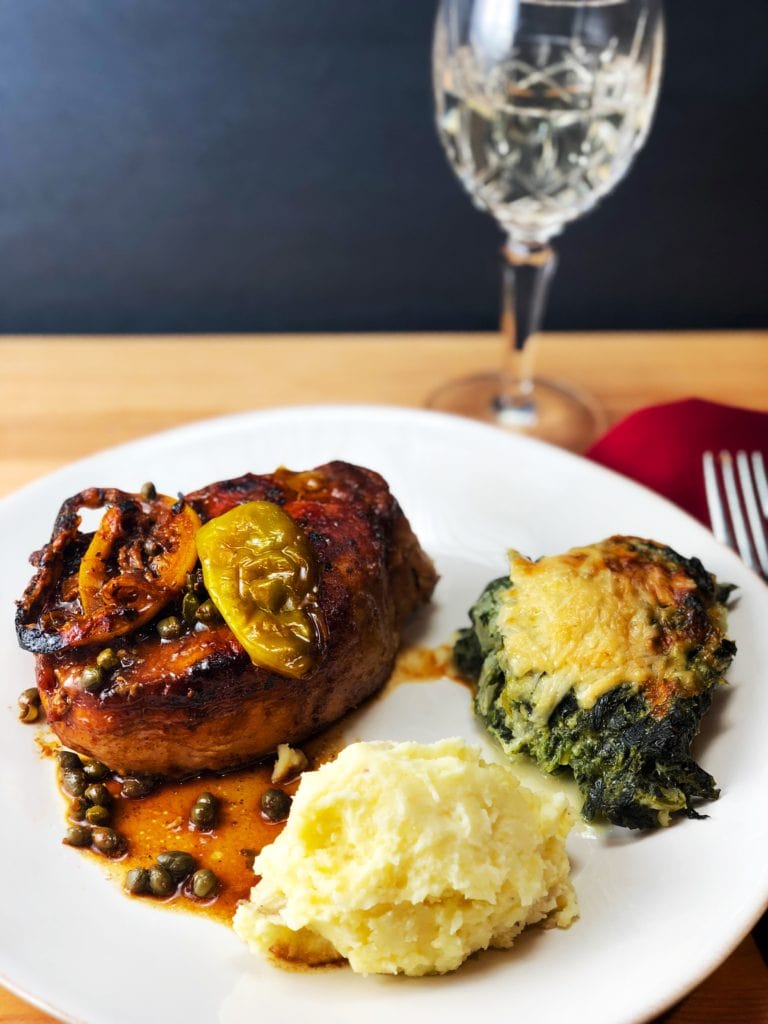 A few days after Vincent had shown me this special machine designed to tone the backside, I asked him, "How long before I can expect to see results of doing this?". His reply, "Well, Is that really important to you? Because in order to maintain a result, you really have to keep doing this for the Rest. Of. Your. Life." That answer stopped me in my tracks. Made me think. Made me realize that if you make a change for the better, you need to keep up with that change. Crap. He was right. I can't tell you how many years later, but I still do that exercise. And how did that story lead me to these magnificent Pork Chops with Capers and Lemons?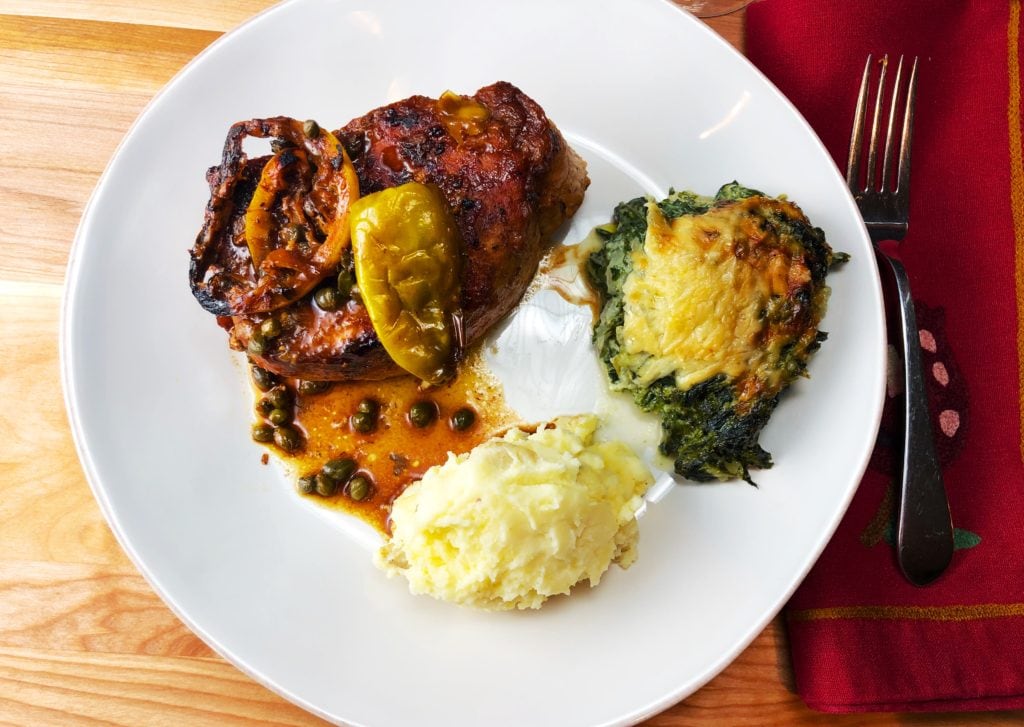 Many of us, after, let's face it, a couple of months of indulgence – because the "Holidays" pretty much started at Halloween, didn't they(?), aim for a bit of a re-set. Some of us even make a resolution to eat healthier, exercise more or just generally rein things in a bit. I'm not really a resolution maker because: a) I realize that I won't stick with them, and, b) Vincent made me realize a resolution is no good unless you continue it, like, forever.  I like to think that I maintain a good, healthy lifestyle most days of the year, so a bit of indulgence doesn't really hurt.  (Whether that's true or not is up for debate.)
So, last Sunday, when my friend Teresa came over to cook, I was fresh out of ideas. I was really wanting something easy and impressive with flavor greater than the amount of work required, just like with that weight machine.  Teresa let me know this particular recipe was one of her favorites, and now it's mine, too!  Probably one of my all-time favorites! You really need to cook this Pork Chops with Capers and Lemon from the incomparable Lidia Bastianich. You WILL keep making it, probably for the rest of your life! It's bound to be one of your all-time favorites, too!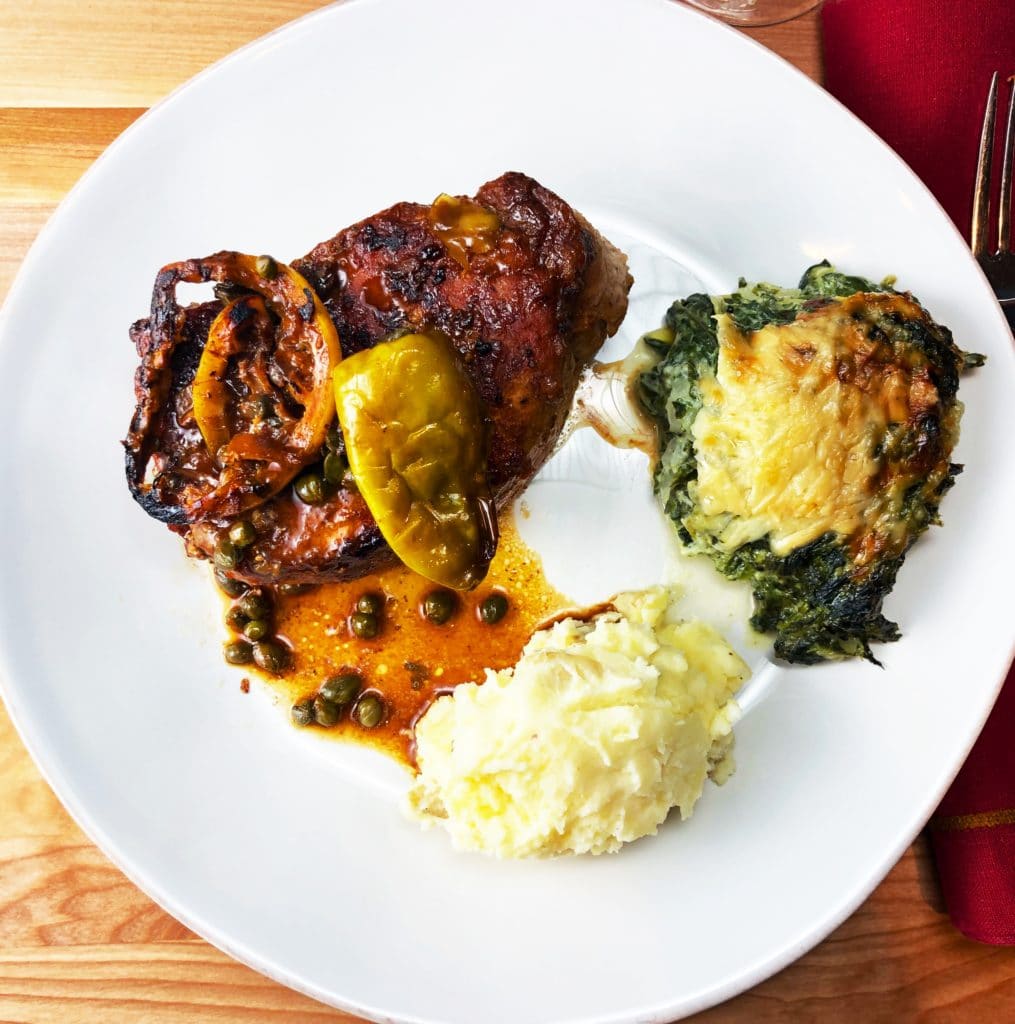 This particular recipe is from Lidia Cooks from the Heart of Italy. But there are some good photos and directions on Cooking from Books. We followed it pretty much to the word, and it is a keeper for sure! The perfectly cooked pork chops, along with a delectable silky sauce of caramellized lemon, caper and pepperoncini pepper – if your mouth isn't watering just at the thought of all of that in one bite – I'm not sure I can help you. Just do it! It's THAT great!
Besides Pork Chops with Capers and Lemons, other great pork recipes I've posted include this flavorful Posole Rojo, this amazing Cajun Jambalaya, and this elegant Sausage and Spinach Stuffed Pork Loin. All good choices!
Enjoy!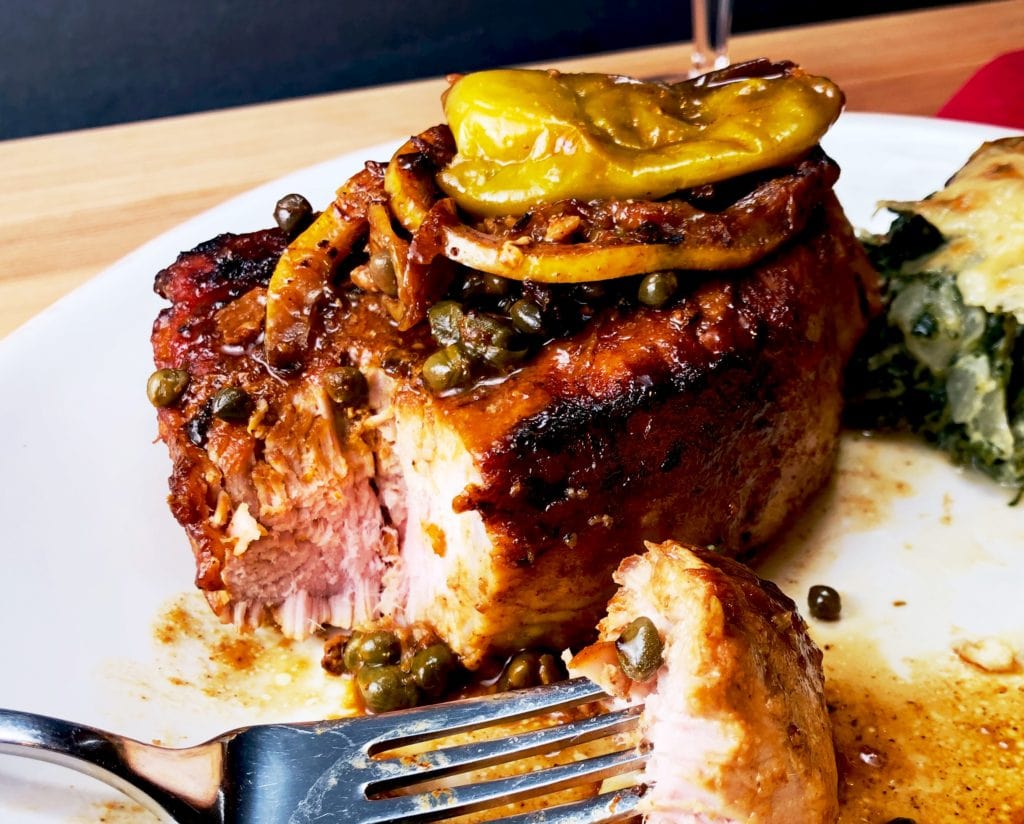 Print
Pork Chops with Capers and Lemon
Succulent Pork, adorned with caramellized lemon, capers and peperoncini peppers is so flavorful, you will make it again and again.
You can make this recipe with pork loin chops or bone-in pork chops, but since loin chops are often leaner, be careful not to overcook or they will be dry. Bone-in chops will be more forgiving.
Author:
Prep Time:

10 min

Cook Time:

30 min

Total Time:

40 min

Yield:

6

chops

1

x
Category:

Pork

Method:

Stovetop

Cuisine:

Italian
Ingredients
6

bone-in pork chops, about 1 1/2" thick (ok to substitute boneless loin chops, but see Note)

1

t Kosher Salt

2

T Butter

2

T Extra-Virgin Olive Oil

4

Garlic Cloves, peeled, crushed

1/2

c AP Flour

1

Large Lemon, thinly sliced

6

Whole Pepperoncini, drained

3

T Capers, drained

3/4

c White Wine

1

T Lemon juice

2

T chopped Flat-leaf Parsley
Instructions
Brown the Chops
Salt the chops.  In a heavy-bottomed pan (cast-iron is ideal), over medium-low heat, add the butter and olive oil.  Salt the chops. Place the flour in a dish and dredge the chops, shaking off any excess flour. Add the garlic to the pan.
Let garlic sizzle a bit (10-20 seconds, making sure it doesn't burn), then place chops into the hot oil/butter.  Begin to brown them.  Place the lemon slices on top of the chops, and nestle the pepperoncini peppers between them.
After about 5 minutes, turn chops, letting the lemon slices fall into the pan. Continue to brown and turn chops about every 4-5 minutes.  Maintain the medium-low heat.
After chops are beginning to be golden brown on both sides (a total of 18-20 mins), add the capers and gently shake down into the pan.
Make the sauce
Clear a small space in the pan, preferably right above the flame or "hot spot" of the stove.  Pour the wine and lemon juice into this hot spot and let it reduce a bit. Sprinkle in remaining salt, and let sauce thicken.  Turn chops occasionally so they get coated on both sides with the thickening sauce. Check for doneness, and, if done, remove the chops to the serving plate while the sauce thickens.
If chops are not yet done, continue to check for doneness while the sauce thickens. After about 10 minutes, sauce should be syrupy. and chops should be completely cooked through.  Toss in the chopped parsley, coat the chops in the sauce on both sides. Remove chops to serving plate and pour thickened sauce over them. Serve.
Notes
I used boneless pork loin chops in this recipe, but I feel like bone-in pork chops, as they are less lean, would work better, as they are less likely to dry out.  If using a boneless chop, be sure it is on the thicker side, as it needs to spend a bit of time in the juice.
Be sure to reduce times given if your chops are less than 1 1/2" thick. Continue to check for doneness.
Recipe Card powered by
Pin for Later ->